With significant implications for all hurdling and novice divisions expected from Fairyhouse, Newbury and Newcastle this weekend, this second edition of Road To Cheltenham focuses on the established staying and intermediate-distance chasers.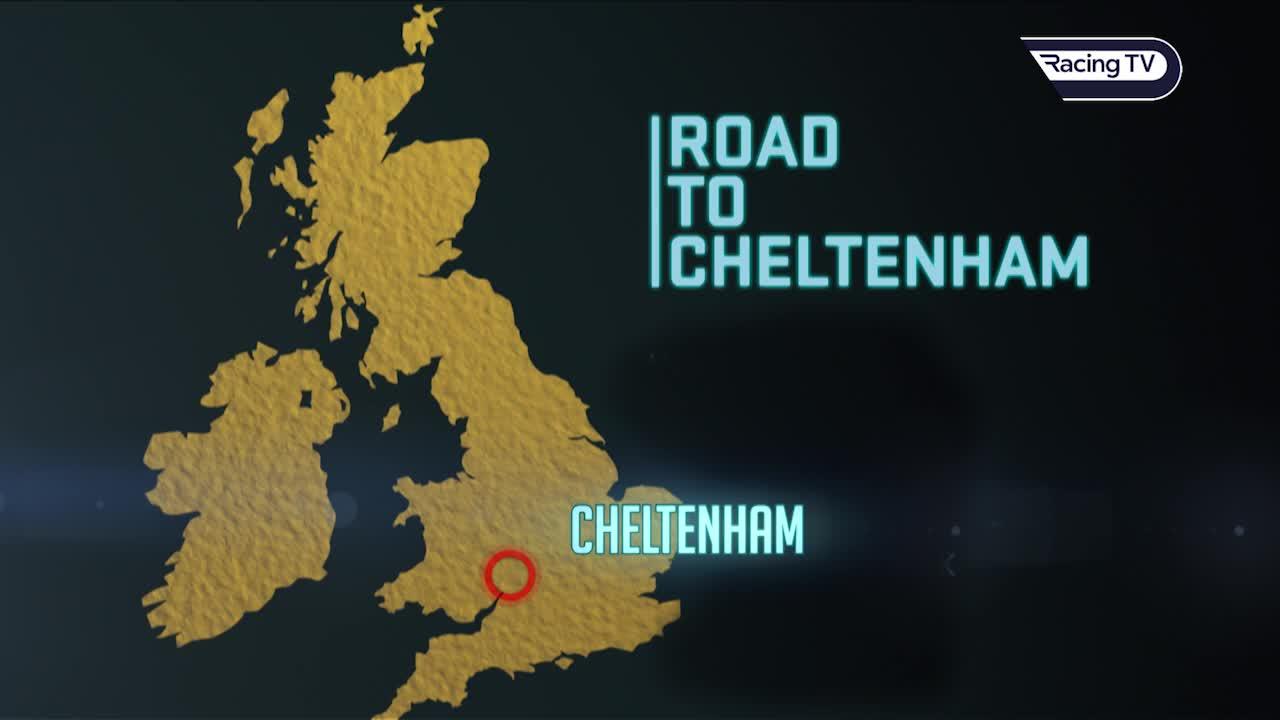 Watch the latest in the Road To Cheltenham series, including Lydia and Ruby's assessment of Shishkin's chasing debut at Kempton
MAGNERS CHELTENHAM GOLD CUP
Minella Indo owes his new position as 8-1 third favourite for the Gold Cup less to his peaceable victory in Navan's inaugural Grade Two Chase last Sunday than to his previous two outings. Yet it was this latest chase success – not even the third-best staying performance of the past week – that inspired this market reshuffle.
To be fair to last season's RSA Insurance Chase runner-up, in a four-runner race of that standard it would have been pretty much impossible to outmatch Bristol De Mai's third Betfair Chase victory or Presenting Percy's phoenix-like success at Thurles – or even Clan Des Obeaux's two-length defeat in the former of those two events.
Yet whereas all three of these top-class chasers are deemed busted flushes specifically in Gold Cup terms – perhaps precipitately in Percy's case – and three refugees from last term's renewal, Lostintranslation, Monalee and Kemboy, also underperformed to a greater or lesser extent last weekend – Minella Indo is yet to besmirch his claim. Thus, more as an aftershock, the first upheaval in this rather fossilised market took place.
At last year's Festival, Minella Indo and Allaho got down to it far too soon – taking each other on aggressively from three out, having raced together throughout the contest. This left them vulnerable to Champ's sustained finishing effort, after he'd just about hung in there when his jumping threatened to unravel on the final circuit.
On that RSA form alone, supplemented by his 2019 Albert Bartlett success (impressive for such an inexperienced horse), Minella Indo was entitled to be considered a leading pretender for this term's top staying contests. His seasonal debut offered further ballast, even if a quick glance at that form might fool you into thinking it was as uncompetitive as his latest victory.
Four ran last month at Wexford and only one rival was truly involved, but that horse was last season's Kim Muir winner Milan Native, also race-fit from downing thrice-placed Festival stalwart Discorama at Galway. Milan Native kept company with Minella Indo, pretty much matching him for pace and jumping, until cracking on the home turn.
The winner was widely reported to have needed this first run from a fitness perspective, yet still forged clear over the final two fences. His round of jumping was also impressive, containing a couple of stand-off leaps and various bits of fancy footwork when he got in close to a fence.
MISSED LYDIA'S FIRST ROAD TO CHELTENHAM COLUMN? CLICK HERE!
At Navan last Sunday, Minella Indo again jumped well but didn't need to reproduce that seasonal debut effort to beat Brahma Bull by seven-and-a-half lengths. The quartet observed strict social-distancing rules, the winner and second separated by the width of the track in the home straight, while last term's National Hunt Chase winner Ravenhill jumped persistently right and Dream Conti pulled up before halfway after reportedly losing his action following a bad mistake.
On the hitherto 385-day absentee Brahma Bull, jockey David Mullins accepted from the second last that he had no chance of success and took a circumspect view on his desired proximity to a race-fit rival with Grade One aspirations. In short, this Navan event was a lucrative schooling session for Minella Indo, but here's where it gets tougher.
Winning trainer Henry de Bromhead is intent on next tackling Leopardstown's Savills Chase over Christmas. Minella Indo will have to take his form up another notch in order to get involved – he has about half a stone to find with the best around – but he does appear to possess the essential tools. I like him for the Gold Cup.
At the flat left-handed track that is Haydock, Bristol De Mai routinely matches the gold standard in this division – and surely put in the best performance of the season when beating Cue Card by 57 lengths in the 2017 Betfair Chase, a record winning margin for a Grade One chase. He's smart there whatever the ground, but on the heavy stuff he almost seems to feed off the fatigue of his rivals.
Last Saturday, he had Bellshill – in new ownership and patriated in Scotland with Sandy Thomson from Willie Mullins' yard – for company on the first circuit, for which winning rider Daryl Jacob later said he was grateful. "Obviously, [Bristol's] getting a little bit older, he's getting a little bit cute," he admitted, fondly. "I kind of needed him [Bellshill] at times to bring me along again."
But after leaving a Bellshill-sized hole in the ninth fence – leading me to wonder whether Haydock has oscillated wildly from the overly stiff fences that drew complaints two seasons ago back to the permissive structures that immediately preceded them – Bristol De Mai's company beat a retreat. Bellshill's literal form here was woeful – tailed off by 83 lengths – but he paid the price for mixing it with Bristol De Mai, was hacked around once beaten and has always been at his best on a sound surface.
The more defensively ridden Keeper Hill lost touch soon after and even Lostintranslation was only clinging on as the winner bounded into the straight. "I needed to go a good strong gallop from start to finish," Jacob commented. "I got some wonderful jumps the whole way round. It just kept me going forward."
You can see Lostintranslation palpably struggling to raise a sufficient gallop in the mud approaching four out. Rider Robbie Power was just intent on getting him home safely from then on, but even the effort of staying in touch with the winner that long meant he was scrambling to repel the markedly inferior Keeper Hill for third at the line.
"We'll go through things and make sure it was nothing more than the ground but Robbie has been saying for the last two and a half years that he is a better horse on better ground," assistant trainer Joe Tizzard acknowledged. "Dad and I thought he was physically strong enough to handle it, but the two times he's been up there on really heavy ground he's been well beaten."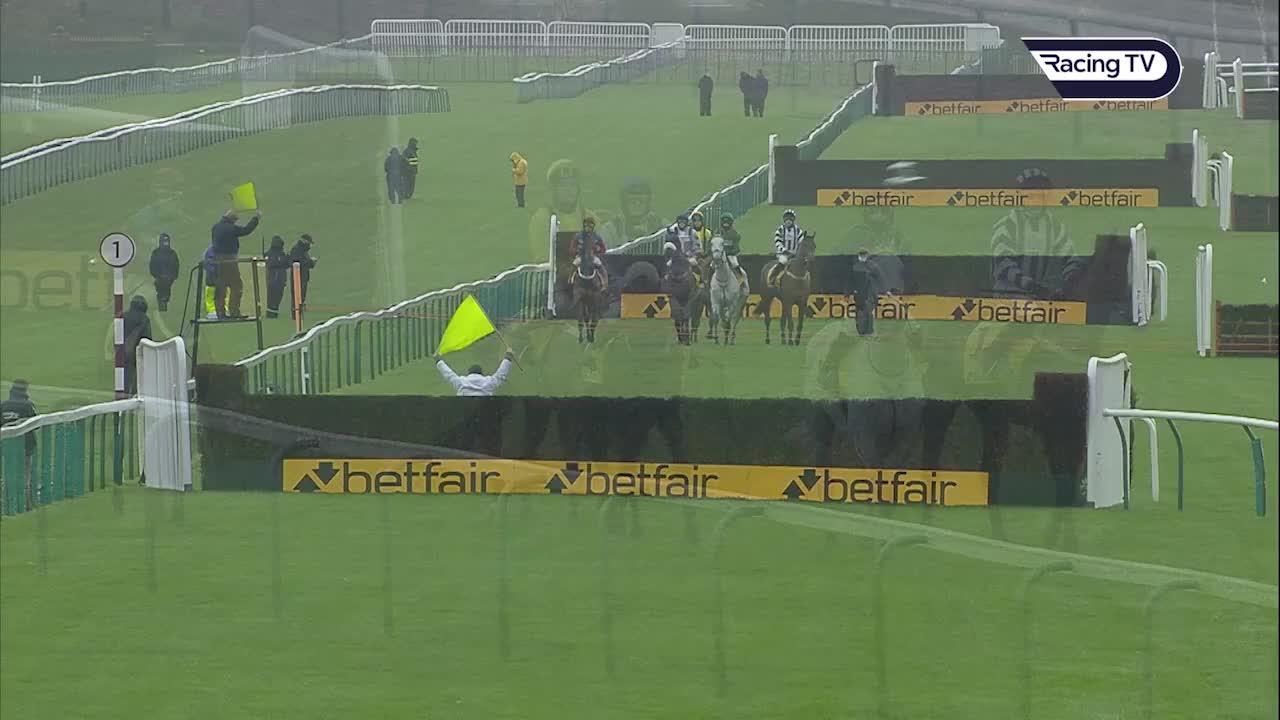 Watch a full replay of the Betfair Chase
Lostintranslation didn't enjoy (less) testing ground in the 2019 King George – conditions that also exposed a breathing problem – and Tizzard warned he could bypass that race this year if the going "turned out to be really heavy or holding". In that scenario, he'd instead use the Denman Chase as a springboard to the Gold Cup – as the yard did successfully with Native River in 2018. "One race doesn't make him a bad horse and he'll bounce back," Tizzard added, reasonably.
Lostintranslation's overarching profile does indeed remain that of a top-class chaser, who may not yet have shown us his best. He ran a belter when third on his Gold Cup debut last March, leading narrowly between the final two fences before finding only the one pace. However, the steady early fractions probably played to his advantage, conserving a still-unproven stamina for a strongly run race on the undulating, exacting New Course. Were there an ante-post market for Aintree's Betway Bowl, that's the race I'd back him for.
Back to the Betfair Chase, in which Clan Des Obeaux proved the only rival capable of making a race of it, ranging up to press Bristol De Mai two out. But the grey kept on putting one relentless foot in front of another, jumping metronomically, and pulled away again approaching the last. The runner-up rallied courageously on the run-in, asked for one final effort by Sam Twiston-Davies, and managed to narrow the gap to two lengths yet without ever quite threatening.
At the start of the season, Paul Nicholls had asserted in his racingtv.com stable tour that eight-year-old Clan Des Obeaux was "at the peak of his life" and let it be known that he was primed for Haydock. "He was beaten by a real good warrior on that track and ground," he later reflected in the Racing Post. "I think he just didn't quite stay that last little bit on the heavy ground."
Punters who fancy Clan Des Obeaux's chances of winning a third Ladbrokes King George VI Chase next month now have the imponderable consideration of how much Haydock might have taken out of him. After all, it's a truth universally acknowledged by Nicky Henderson that Cyrname v Altior at Ascot last November bottomed both horses for the rest of the season – an assertion Nicholls was still railing against even after a lacklustre Cyrname took a tired fall on his final start last season.
If only Nicholls hadn't mentioned "the Altior thing" himself after Cyrname finished a tame second to Clan Des Obeaux at Kempton. Now it seems as though he's tacitly come around to the idea again, as betrayed by the differing preparations enjoyed by his two staying flagbearers this term. They're best-priced as 5-2 joint favourites ahead of their attempt to win a 12th King George for their trainer.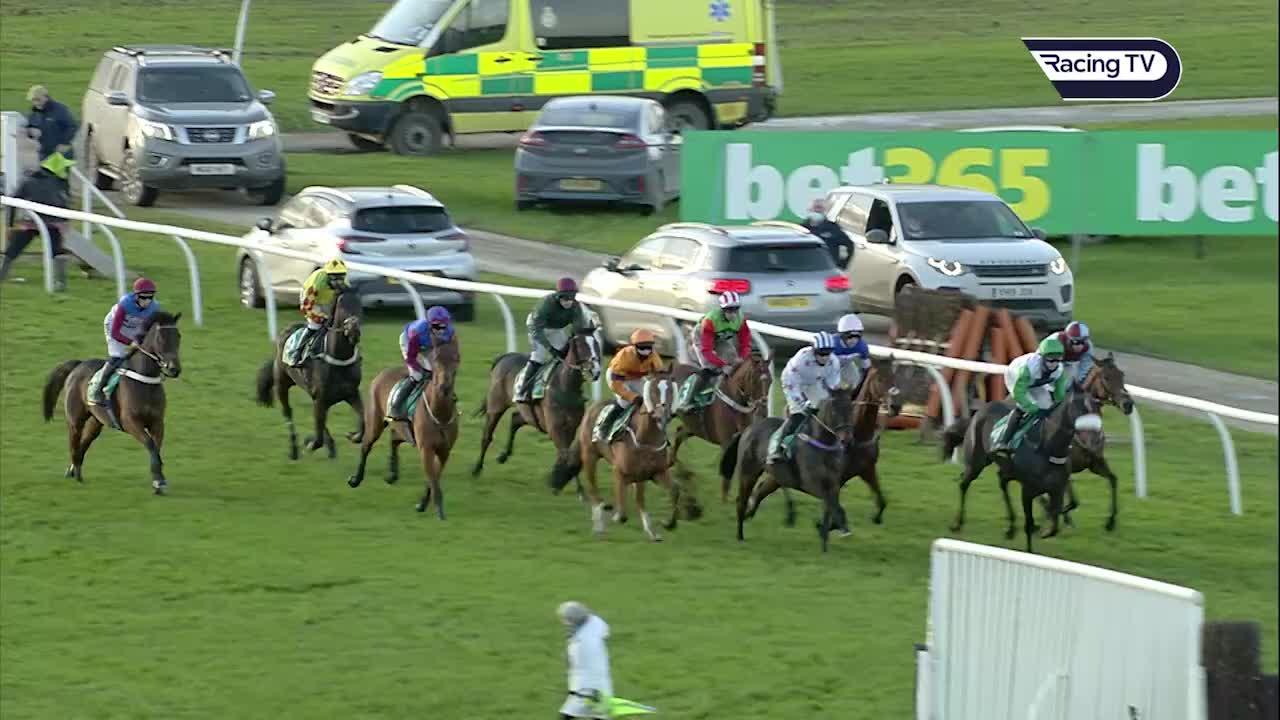 Cyrname was not extended to land the Charlie Hall Chase
"It's almost a swap of last year as Cyrname had a hard race in the 1965 Chase at Ascot on this [Betfair Chase] weekend, which came a bit close to the King George," said Nicholls. "But he ran three weeks ago at Wetherby, which we wanted this year. Clan's had the reverse and had the harder race this season, so he's got to get over it. He's probably a different horse to Cyrname and has five weeks [to recover], so should be fine."
It's exactly that element of individuality which makes quantifying the impact of 'a hard race' so difficult – often even for those closest to the horses involved, let alone for the punter weighing evidence from afar. For what it's worth, I suspect Clan Des Obeaux – particularly at the age he is now – probably is better equipped to withstand such an exacting assignment than the highly strung Cyrname.
His campaign has surely also been front-loaded quite intentionally, as his trainer has long believed right-handed tracks suit him best and has stated, after two no-more-than-respectable attempts on the Gold Cup, that "he's not going back to Cheltenham, whatever happens". Perhaps Clan Des Obeaux's season pivots around the twin peaks of Kempton and Punchestown?
Nicholls is convinced Cyrname is "much more relaxed now", as evidenced by his Charlie Hall success when Harry Cobden allowed him to bowl along on the outside of the forward flank – the pair plainly enjoying letting rip at fences down the back straight – rather than torching his opponents' via aggressive front-running domination.
Cyrname's two-length defeat of Vinndication last month was significant on many counts – his first success beyond 2m5f and his first left-handed, having jumped waywardly right on his previous two attempts at that orientation. Plus, this was his first start since he lay winded for so many anxious moments after the final fence at Ascot last February. It was great to see his tangible enthusiasm restored.
"I never had it in my mind that it would be an issue going left-handed," Nicholls said. "That was more when he was being an idiot as a young horse." This isn't entirely true. Cyrname's track record is littered with contrary quotes from his trainer such as "he has won round Kempton, it's the right way round" and "his form says he is undoubtedly better racing this way round" and "he's slightly better right-handed" and "we learned at Newbury he is better going right-handed".
However, Nicholls is never scared to pay to find out, especially in a Grade One – a policy that has served the 11-times British champion jumps trainer well, along with those of us racing fans who actually like to see horses, you know, race. He would surely have run Cyrname in the Ryanair last season but for the wheels falling off so dramatically at Ascot.
Yet in this as well, Nicholls has signalled another break with the past. Having entered Cyrname in the 2020 Ryanair and Queen Mother Champion Chase (withdrawing from the latter at the first forfeit stage), Nicholls said at Wetherby: "I thought if he was successful today, [after the King George] we'd go to the Denman Chase and Gold Cup. I don't see any reason why he won't get that trip and I don't think he's got the pace to be a Ryanair horse."
There was not a whiff of Cyrname jumping right in the Charlie Hall, albeit Cobden positioned him with controlling that propensity in mind. Yet the Gold Cup demands much more stamina than Wetherby's flat three miles, of course, and its participants will serve up a much more searching interrogation than could the stamina-laden Vinndication in a race that was a test of speed, relatively speaking.
Last season's Ultima fourth is one of my favourite horses in training but his repeated hesitations and right-handed adjustments only conceded further advantages to Cyrname. We should learn more about the substance of the Charlie Hall form when/if he and third-placed Aye Right – beaten 37 lengths in fifth in last term's RSA Insurance Chase – both line up in the Ladbrokes Trophy at Newbury on Saturday.
A large proportion of Nicholls' mental energy currently appears to be focussed on Project Cyrname. He's the horse whom Cobden must ride, both with unfinished business in the King George, and who's being primed to deliver a career-defining success to match his lofty position in the Anglo-Irish Jumps classifications for the past two terms.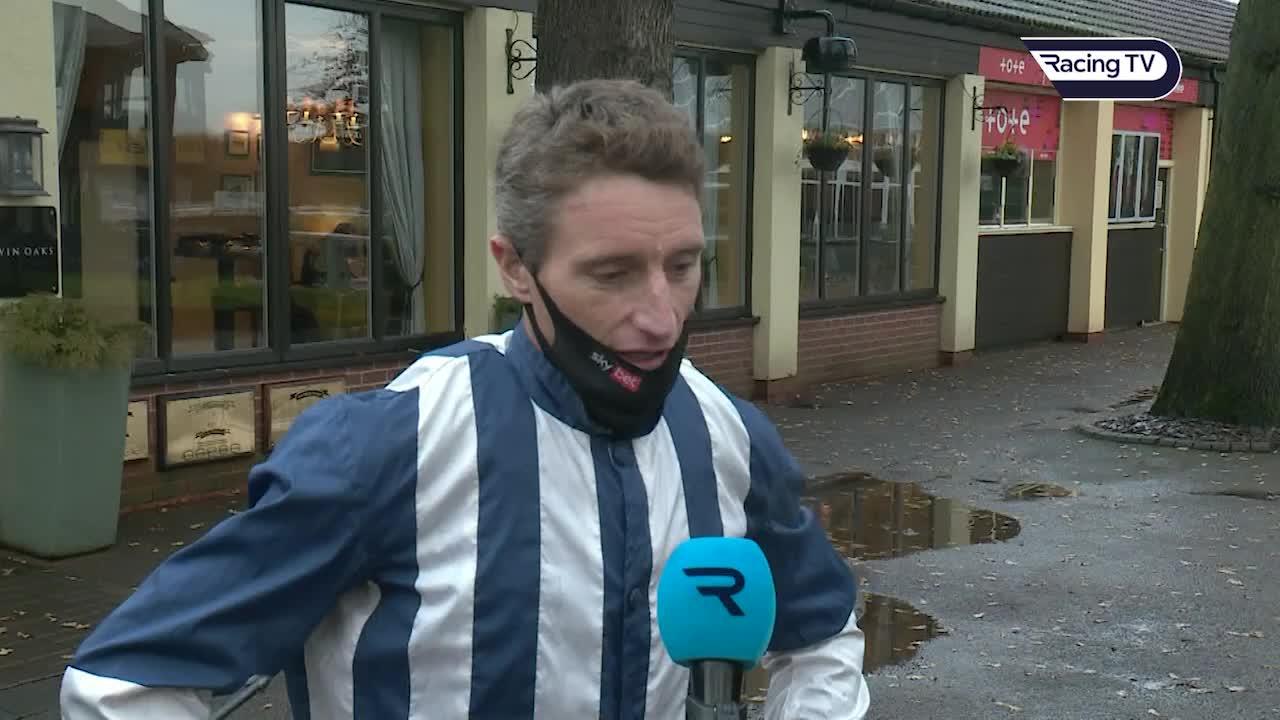 Jacob tells Niall Hannity more about Bristol De Mai
If the Gold Cup potentially beckons for Cyrname, Betfair Chase hero Bristol De Mai's season has been framed more in terms of the Randox Health Grand National by both Jacob and part-owner Simon Munir. Indeed, his jockey revealed that he was thinking primarily in those terms even during his mount's third attempt on the Cheltenham showpiece last season.
"The Gold Cup didn't really work out for him last year and it was probably me as, when he wasn't really facing it, I was half thinking about the Grand National," Jacob confessed at Haydock. "I'd love to see him in the Grand National. His jumping is very good and he can be very brave when he needs to be. He's nine, rising ten, and if there's a season that's going to be it, I suppose it will be this one."
Clearly, Team Double Green – as Munir, Jacob, fellow owner Isaac Souede and racing manager Anthony Bromley style themselves – will need to ensure trainer Nigel Twiston-Davies gets the memo. Last Sunday, he was still talking about "the Grand National or the Gold Cup" to follow a crack at the Cotswold Chase, but did demonstrate hitherto-unknown powers of restraint in the campaigning of this horse in recent seasons. You can teach an old duffle coat new tricks.
The Grand National was also mooted for Presenting Percy following his back-to-form triumph in the boomerang.ie Chase at Thurles last Thursday. Indeed, he's even vying for favouritism with dual Aintree hero Tiger Roll, following that horse's downbeat return at Cheltenham two weeks ago, whereas he's only fourth or fifth best in the Gold Cup market at odds of 16-1.
This turned a page in Percy's weighty tome of a career – the recent chapters mostly comprising footnotes. Owner Philip Reynolds made the "very difficult decision" to move all eight of his horses from Galway trainer Pat Kelly's yard in July, the single best-known horse among them heading to Gordon Elliott's Co. Meath premises.
Kelly had won both the 2018 RSA Chase and 2017 Pertemps Hurdle with Presenting Percy, not to mention the 2016 edition of the latter Festival contest with the ill-fated Mall Dini, for those white-and-greens silks.
But Reynolds – habitually and cheerfully – did all the translating for the silent and elusive Kelly, which resulted in an unfortunate air of opacity. In the 2019/20 season, Presenting Percy was just as elusive as Kelly – racing just twice, including an utterly uncompetitive eighth in the Gold Cup when finishing lame, but nonetheless inspiring Galway to reverse their fences en route for a VIP schooling session just for him. The high ratio of yak to facts was off-the-scale irksome back then, and it nagged away that the established lines of non-communication came in handy when there was something you didn't want to say.
Last term, we saw a lot more of Presenting Percy but he was unable to make the expected impact – even his Irish Gold Cup third behind now-stablemate Delta Work was laboured. Then at Cheltenham, when trying to get involved and not yet asked by Davy Russell for his full effort, he landed too steeply and fell two out.
Still, it was hard to be dogmatic about what he might have achieved, given his finishing effort had hitherto been so muted that season and the steady early pace of the Gold Cup meant most of the field was still well-bunched just three fences from home. Perhaps Reynolds was disappointed with these seeming under-achievements, albeit he accounted for his break with Kelly as merely "the right time for a change".
For his part, Elliott has been unabashedly excited about his new acquisition, telling the Irish Examiner in October that "Presenting Percy is a horse I looked up to over the last couple of years" and mapping out – hallelujah, be praised – a clear plan for his season.
"He probably has to improve half a stone to be a Gold Cup horse, but he had a few good runs last year in Ireland and he could be bang there," Elliott said. "But for me, he has Grand National all over him. He's a good jumper, has a bit of class, can travel in a race, and he'd be a classy horse in a Grand National. I hope to win a Gold Cup with him but if that doesn't happen, the Grand National is in the back of my head."
Percy might already be halfway towards achieving that requisite improvement following his most convincing display since taking top novice-chasing honours three seasons ago. Perhaps this revival has come a year too late – a ten-year-old hasn't won the Gold Cup since Cool Dawn in 1998, after all – but this was the sweet-travelling, silky-jumping Presenting Percy of old and a vast improvement in both departments on his Down Royal debut for the yard last month. As a smart hurdler as well as chaser, he's certainly got the requisite technique for the modern National.
"We had race-fitness on our side but he put in an exhibition of jumping," said Jack Kennedy, who partnered him in public for the first time. "I've ridden him at home, but he's a different horse on the track. The way he quickened up at the back of the second last really impressed me.
"There was not a whole lot between them, so I was fairly confident of having the edge over them on the fitness side of things... but maybe not as impressive as that. There was plenty left – he went down to the last and pricked his ears and winged it and came up the straight from the back of the last with his ears pricked as well. So, there's more to come, hopefully."
That said – a bit like Nicholls and Cyrname but with less to show for it – Elliott retains a conspicuously enduring faith in Delta Work, whom he still considers a Gold Cup horse despite his comfortable defeat in March and an underwhelming seasonal debut last month.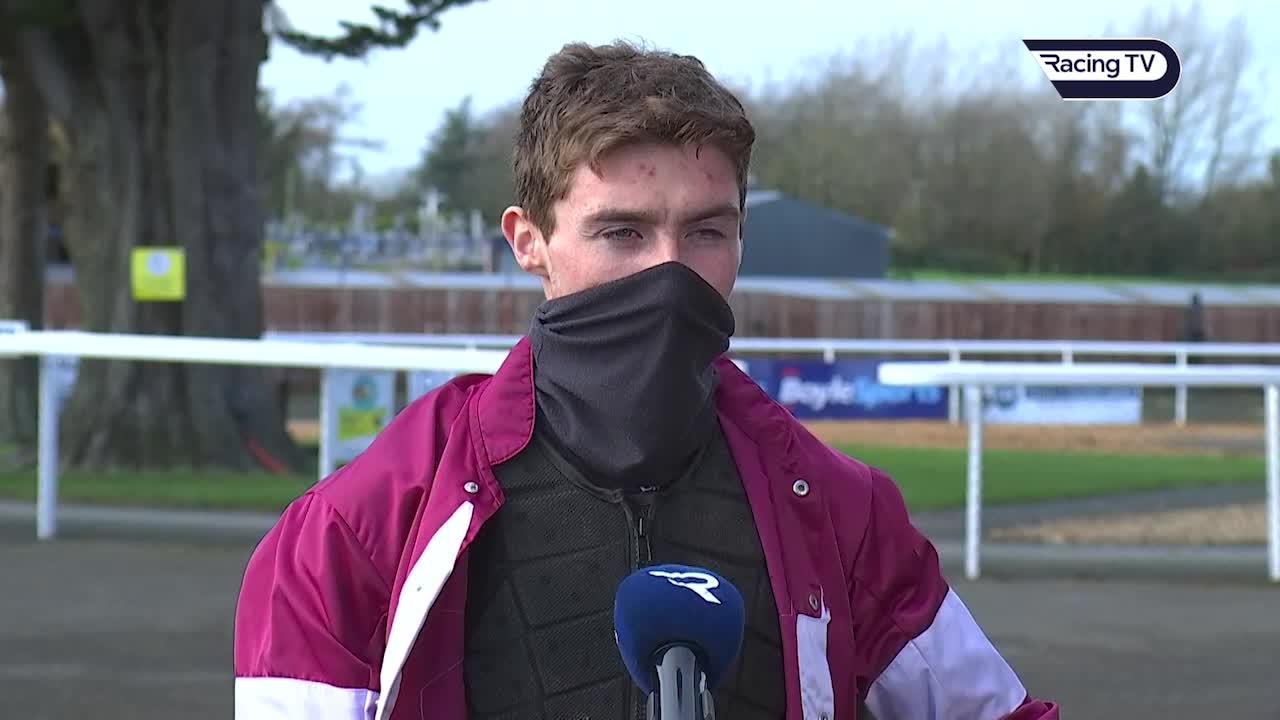 Jack Kennedy gives his verdict on Presenting Percy
"Jack Kennedy was very happy with him at Down Royal," Elliott said in his sportinglife.com stable tour. "He's a horse who always takes his first run and had a blow during the race. He missed a couple of fences at the wrong time, but he'll head to the Grade One [Savills Chase] over Christmas and I'd expect improvement... I'd say he's stronger this year - he's a young horse and there's improvement in him."
It would be foolish to weigh the testimony of 2016 winner Don Cossack's trainer lightly and Delta Work undoubtedly has age on his side. However, he still doesn't jump well enough at Cheltenham, whether you study the 2019 RSA or last term's Gold Cup, and that is the primary reason for the appreciable gap between him and the first four home in the latter event.
Returning to Thurles, second-placed Kemboy's habitual right-handed adjustments were in full effect, even at that right-handed track. On this first run of the season, he was keen and his jumping lacked fluency, putting the tin lid on his chances at the last when Paul Townend saw a stride and his mount added a shuffle to jump through it, rather than over it. It was a respectable opening bid, nonetheless.
In this year's Gold Cup, he was unable to hold his pitch and his jumping came increasingly under pressure despite the steady early pace. His body of work suggests Cheltenham isn't for him but it sounds like Willie Mullins still plans to return there, via Leopardstown's Dublin Racing Festival, and then to Aintree and/or Punchestown beyond – all tracks where he has produced superior form. His trainer attributes that to better ground.
For me, the real disappointment of the Thurles race was third-placed Monalee, who ran to my eye like something was bothering him. At least twice when presented with a fence, he shaped as though the last thing he wanted to do was jump it and he was inclined to hang right approaching the last and then left, in behind Kemboy, afterwards.
By contrast, I was inclined to mark up Monalee's fourth in the Gold Cup last March as one of those most disadvantaged by a steadily run affair. He was also hampered by Santini against the rail at the top of the hill before the third last, causing him to be shuffled back into a pocket until approaching the final fence, after which he also received an accidental strike over the nose from Nico de Boinville's whip when rallying just behind the runner-up all the way to the line.
Perhaps he was just rusty on his seasonal debut? Trainer Henry de Bromhead was certainly "happy with him" and is "still thinking about going for the King George" with him next, meaning that owner Barry Maloney has two chances of Christmas cheer with both Monalee and Savills Chase contender, Minella Indo.
Gold Cup sixth Real Steel was also in action on Saturday, making his debut for Nicholls at Ascot but his new trainer believes him to be "a Ryanair horse" according to his racingtv.com stable tour. I agree he "looked a non-stayer" in March, fading in a steadily run race after travelling well under a wide course set by Brian Hughes, so he's discussed in the next section.
Meanwhile, Santini surely delighted Nicky Henderson when stepping out in the safe space of last week's Ladbrokes Winter Carnival gallops morning rather than contesting the Betfair Chase – a dodge that must have further contented his trainer when he saw the state of Haydock's ground.
Henderson had warned some weeks in advance that his Gold Cup runner-up probably wouldn't be ready for the Betfair Chase but perhaps his subconscious mind had long been at work because he "never thought Haydock was likely to be his track either". The Grade Two Many Clouds Chase on Saturday week is now earmarked as Santini's comeback target, not that Aintree's sharp Mildmay track is likely to be a quantum improvement for this big lump of a chaser.
I say that with fondness – he's exactly the sort of horse I like, to the bafflement of many. Against the backdrop of 2020's alien and isolating world, there was something warm and reassuring to witness with our own eyes Santini begrudgingly almost keeping pace with his stone-inferior stable companion at Newbury, causing commentator Richard Hoiles to acknowledge "Beware The Bear just doing it a little bit more easily". That's my lad.
Finally, I have frequently referenced how last season's Gold Cup was run – steadily for the opening mile, as comparisons with front-running Marcle Ridge in the following Foxhunter ably illustrate, and then quickening classily from five to three out.
Al Boum Photo, who successfully defended his 2019 crown, was primarily responsible for this pace injection, in cahoots with the less smooth-travelling Santini – despite first-time cheekpieces – and Lostintranslation. With a neck between winner and rallying runner-up at the line, there are grounds to argue those placings could be reversed in a more strongly run renewal.
A year on, might Henderson try more intense headgear come March and de Boinville consider a more forcing ride, akin to the Native River method? Has Santini's cottonwool treatment – he's clearly not the most straightforward to train – hitherto resulted in his mental strength limiting the expression of his ability? Is there still some potential for improvement in how he races, rather than merely in the scenario that the race falls right for him? I'm not sure.
On all known evidence, Al Boum Photo is by far the more versatile of the pair – you can count the races that would suit Santini on the fingers of one hand, after all – and his stamina for an attritionally-run edition is merely an unknown, rather than a doubt. The dual titleholder's jumping lacks the catlike deadliness of Best Mate, whose record of three straight Gold Cup wins could be matched this season, yet crucially he was good under pressure when it mattered in March.
His season works for him, if not necessarily for the wider sport (depending on how you like to view these things): one run at Tramore on New Year's Day and then straight to the Festival. He's 5-1 favourite right now and I must admit – in the ex-parrot context of ante-post betting – that looks fair enough.
RYANAIR CHASE
At Cheltenham last March, Imperial Aura jumped like a graded horse, travelled like a graded horse and clocked like a graded horse when comfortably winning the now-defunct novices' handicap chase. Consequently, it should have been no surprise when he won the Grade Two Chanelle Pharma 1965 Chase at Ascot last Saturday.
Again, his jumping was faultless. Indeed, when he narrowly headed early leader Black Corton at the ninth, he immediately forced an error from that rival and another at the next, unseating Bryony Frost. When Real Steel later ranged upsides, winning rider David Bass asked for aggressive leaps at the fifth and fourth last, resulting in that under-pressure rival also ploughing through three out.
Real Steel shaped like the second-best horse in the race, given he tried to press Imperial Aura from five to two out, whereas eventual runner-up Itchy Feet was simply unable to keep up, his jumping too deliberate from the outset. He merely picked up the tired Real Steel at the furlong marker, having never been remotely involved with the impressive winner.
Itchy Feet had even enjoyed the benefit of a prep run, finishing third behind Nuts Well in Aintree's Monet's Garden Old Roan Limited Handicap Chase last month, and faces the prospect of stepping up in trip or down in grade. Meanwhile, Real Steel's plan remains the Ryanair.
"I'm told he is better right-handed and his form suggests that," Nicholls commented, of a factor that neither he nor the horse's former trainer Willie Mullins would permit to curtail their plans. A dual Grade Two chase winner in Ireland, Real Steel certainly travelled well for long enough under a wide trip in a Gold Cup context to merit consideration for Festival's intermediate event.
However, he's got plenty to find with Imperial Aura, whose connections plan to work backwards from that Grade One event when plotting the rest of his campaign this season. It appears they are not tempted to supplement for the Ladbrokes King George VI Chase, even though his style of racing suggests that would be a highly suitable target.
Ian Robinson, who founded owners Imperial Racing – a group which takes its name from their 2010 Gold Cup hero Imperial Commander – told the Racing Post on Sunday: "I had a text off Kim's assistant Mat Nicholls asking if I was disappointed not to be in the King George and my answer was, 'No, I'm not'. I think it's probably a year too soon.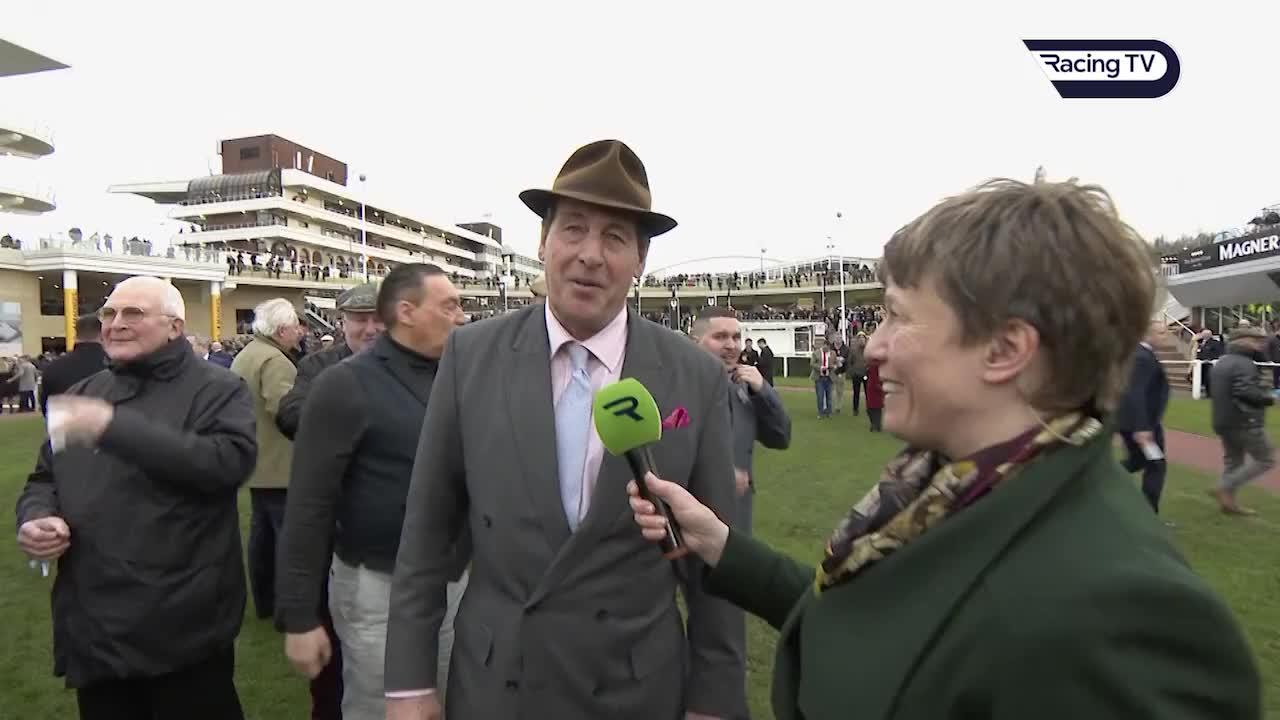 Flashback: Kim Bailey talks to Lydia after Imperial Aura's Festival victory
"He's lightly raced and still developing and if we're serious about the Ryanair then we should count back. A really tough race in the King George is probably a race too far at this stage. We're set on the Ryanair route and I'm happy to stick with that, and there's the Grade Two Silviniaco Conti Chase at Kempton in January that is probably the next port of call."
There are similarities between the Imperials - Aura and Commander. When the latter won the Ryanair in 2009, he utilised it as a developmental stepping-stone to the Gold Cup – with the corollary good timing of delaying his encounter with Kauto Star and Denman until they were in the relative twilight of their careers. This latest Imperial also has the aura of a future staying chaser.
So, what type of horse tends to win a Ryanair? Well, as ever that's hard to say at this stage of the season because it very much depends on whether sub-Gold Cup stayers or sub-Queen Mum two-milers turn up in the majority on that Thursday in March – and we often don't get to assess that until 48 hours beforehand.
Last term, Paul Townend had a versatile accomplice in Min, who finally got his Festival laurels in the Ryanair after twice chasing home Altior in the Supreme and Arkle. As a recovering two-miler, he readily handled the strong early pace whereas the previous Festival's novices' handicap chase winner A Plus Tard struggled to acclimatise his jumping to the required speed.
Townend then prevented Bryony Frost from replicating the winding-from-the-front tactics she'd employed to maximum effect on the more staying-oriented Frodon when winning the 2019 edition from the front, by allowing Min to take over on – or press for – the lead from the fifth fence. The pair then hit a deadly rhythm in the back straight that rendered his main rivals either unable or unwise to try to tackle him.
Paul Townend enjoyed an outstanding Cheltenham Festival this year – his first as number one jockey for Willie Mullins – and, amid the praise he rightfully received for his Gold Cup ride, his setting of this finely judged tempo has perhaps been a little overlooked. He made the right moves at the right time to facilitate a horse for whom the Ryanair trip – at least at this track – is at the upper end of his stamina limitations.
On runner-up Saint Calvados, Gavin Sheehan also rode intelligently in response to these tactics – keeping his mount away from the lead and then delaying his challenge until the straight. On reflection, however, he might wish he'd given himself more options approaching the second last rather than committing to the inside or bust.
When Townend asked Min for a bold leap at the last and allowed him to roll left on landing, it was indeed bust for Saint Calvados – checking his stride, forcing him to switch around the winner – and thus, although he was inching closer, the line came too soon by a (long-looking) neck.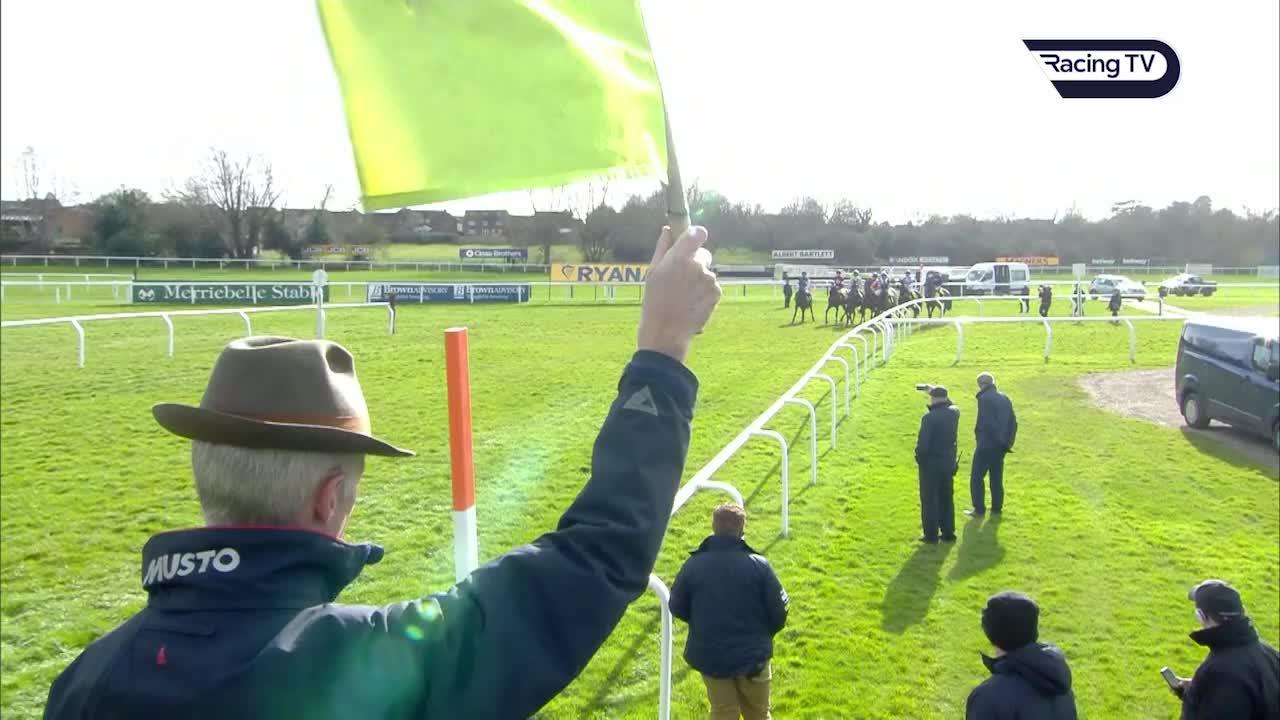 Watch a full replay of last season's Ryanair Chase
It's to A Plus Tard's credit that he hung in there, beaten less than two lengths come the line, in a race in which he was always reacting and never in control. He returned this month with a respectable second to Castlegrace Paddy in Navan's Grade Two Fortria Chase over two miles, his jumping lacking the necessary alacrity – especially when he'd worked hard to give himself a chance approaching the last.
There are reasons to believe that this season's Ryanair might be the deepest edition yet because, unusually, there appears to be a fistful of horses – not just Imperial Aura – who might well make it their primary Festival target rather than a fallback option from the Champion Chase or Gold Cup.
Take the first three home in last term's thrilling edition of the Marsh Chase, for example. All three – narrow winner Samcro, luckless Melon (whose nose was in front a stride before and a stride after the line) and resurgent Faugheen – appeared most comfortable with this intermediate trip over fences at that stage in their careers.
They dominated a race that was more of a test of speed than stamina, with idling Samcro leaving his jaw hanging out after regaining the lead after the last but finding Melon – a horse who's now finished second on four occasions at the Cheltenham Festival – unable to put him away and Faugheen not quite quick enough to land a blow.
Of that trio, only Samcro has to date made it to the track this season, finishing a highly-respectable third behind stablemate Battleoverdoyen and the Mullins-trained Easy Game at Down Royal last month after making a couple of rusty-looking errors on the way round.
It might be that trainer Gordon Elliott has now perfected the terms and conditions of this A-lister's contract, meaning his training relies less on artistic improvisation. I trust, for example, the open-air annex to his stable is still to Samcro's liking and he's getting all the nebuliser he might need.
Admittedly, Mullins is wondering whether Melon is a Gold Cup horse but that's his default setting and owner Joe Donnelly already has a certain Al Boum Photo for that contest.
The Closutton trainer also stated in his sportinglife.com stable tour that Faugheen "picked up a small injury the other day", so his intended reappearance has been set back a few weeks. It's also no guarantee that he'll be considered suitable for a Grade One Festival assault at the age of 13 next March but if he is, this will surely be the target.
Mullins also seems to be reluctantly musing on whether RSA third Allaho might also be a Ryanair, not a Gold Cup, horse. "I was hoping he might turn into a stayer but he has a really high cruising speed and maybe coming back in trip might suit him," he acknowledged.
Having mixed it with Minella Indo up front in the RSA, Allaho duelled with him from three out and even got the better jump at the last but, fatigued by their sustained exertions, they had little answer when Champ improbably picked them off late on.
If Allaho does head to the Ryanair, he'll probably need to buddy up with a fellow stayer to change the fractions of this race and ensure he can't just be out-speeded by a quicker horse. Perhaps that buddy could be Imperial Aura? Who knows at this stage?
You can fashion a case at a big price for Marsh fourth Mister Fisher, as he came from a less advantageous position towards the rear compared with the first three and had to swing wide to make his challenge entering the straight, prior to keeping on well.
He'd have hated the testing ground when pulled up on seasonal debut in the Paddy Power Gold Cup and still boasts a strong performance on the clock at this track last season. However, I do wonder whether he quite possesses the class if the Ryanair turns up deep this year, even were it were suitably run.
Certainly, in this context, you can understand why such targets had not even crossed Paul Nicholls' mind even after Master Tommytucker won Haydock's graduation chase by 15 lengths last Saturday. "I need to have a look at what there is," he said. "I haven't really got a plan and it's not that obvious, so I need to think about it."
He's not alone.
Click here to claim your FREE Racing TV Christmas Jumper!