The past week has been packed with high-class – or distinctly promising – performances, ripe for analysis. Edwardstone and Jonbon starred over fences at Sandown whilst Facile Vega made his much-anticipated hurdling debut at Punchestown to great fanfare. But there was no doubting the dominant storyline – the eclipse of dual Champion Hurdle heroine, Honeysuckle.
Analysis of the staying chasers – for reasons that should be obvious to those who watch the show, but also to those who navigate as far as the foot of this column – I will leave to this week's edition of the Road To Cheltenham show on Racing TV.
Hurdlers
It was likely to happen at some point – although most of us were probably expecting the superb mare Honeysuckle to retain her unbeaten record at least until March. Instead, what was already due to be her final season in training opened with a defeat that stunned her fans into silence at Fairyhouse.
That it was likely to happen is a tribute to how Honeysuckle is campaigned. After securing the Grade One mares' trophy at Cheltenham in 2020 – having already won the first of her trio of Hatton's Grace and Irish Champion Hurdle prizes – she resolutely kept to open company and thereby forged her international reputation. Until Sunday, she was unbeaten in 16 starts.
(Yes, she may be disproportionately advantaged by receiving 7lb from the boys but it's only females of the highest calibre for whom this is true – as you move down the ratings scale, the more mares need every ounce of their gender allowance.)
An unbowed record, particularly if guarded into retirement, is most usually indicative of conservative operations rather than world-beating prowess. It should not be fetishised, as this sport and many of its followers tend to do. That's self-defeating for the wider argument of what we're all doing, watching and betting on – which ultimately impacts on breeding and owning – horses running in loops in a series of fields around Europe.
That's why it's so alarming that retirement was immediately raised by so many as an option, if not a likelihood, after Honeysuckle could manage only third behind Teahupoo and Klassical Dream rather than winning an unprecedented fourth Hatton's Grace.
Thankfully, that body of opinion does not necessarily include owner-breeder Kenny Alexander, however. It was crystal clear from the well-grounded speech he gave Racing TV's Gary O'Brien on Sunday, whilst still no doubt somewhat shellshocked, that he will remain guided by trainer Henry de Bromhead on what to do for the rest of the season.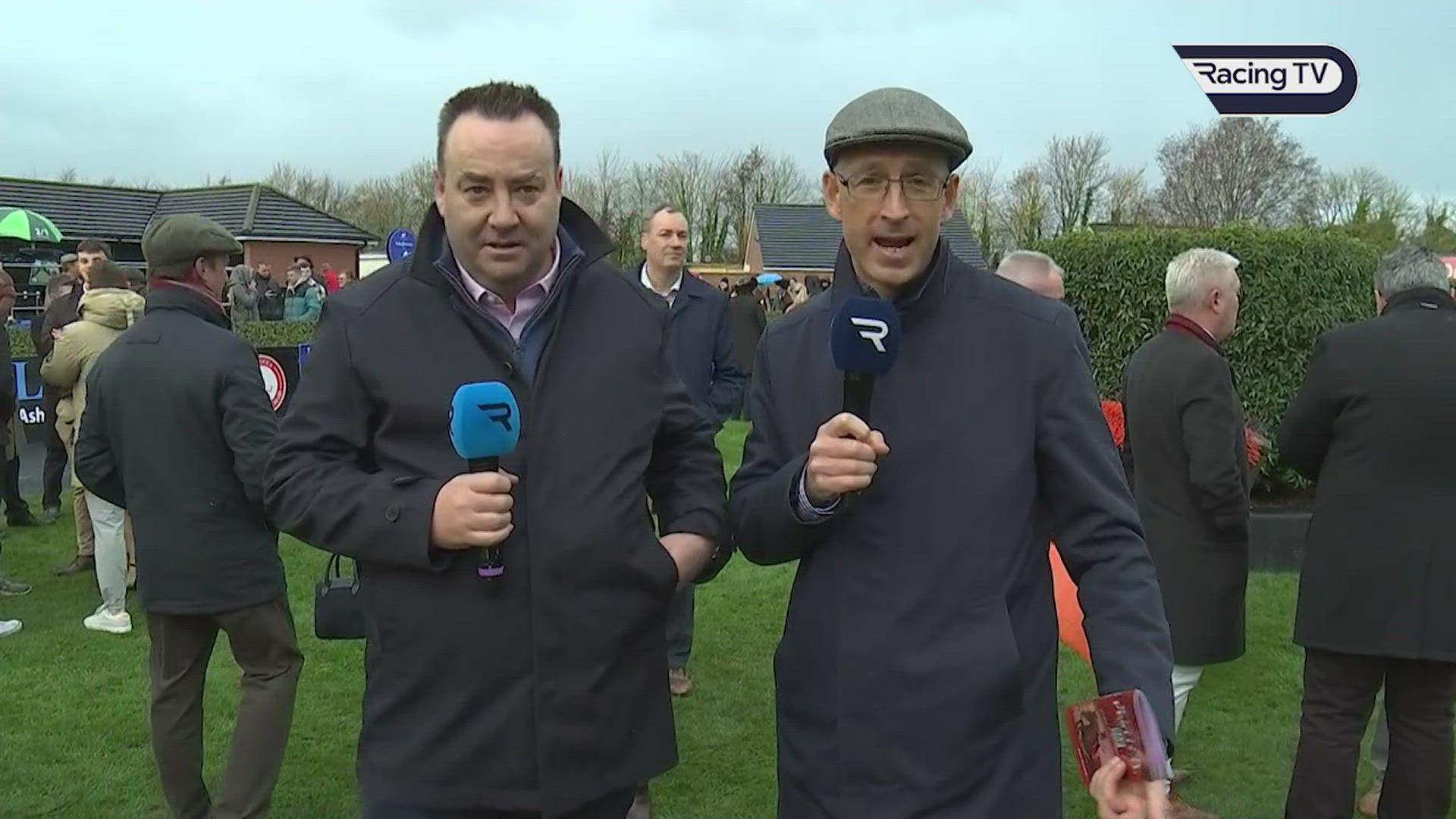 Kenny Alexander gave his reaction in the immediate aftermath of Honeysuckle's defeat
"It doesn't take anything away from what she's achieved. She's taken me to races – competing in races and winning races – I never, ever would dream to do. Today just wasn't to be, but life goes on," a generous Alexander said.
"She's a superstar and she's been doing it for years and years. Who knows, maybe time has caught up? Who knows? But she's only been beaten once. Henry's the guv'nor. If he wants to keep going, we'll go. If he wants to take on Constitution Hill, we'll take him on. If he wants to stop it, I'll say stop it. He's been unbelievable with this horse."
Not only has Honeysuckle only been beaten once, she was not unrecognisably below her best either. Typically settled on the outer, tracking leader Ashdale Bob and prominent racers Darver Star and Saldier, she didn't jump as well as she can – out to her left at the first and three out, in close at the second and seventh, making a mistake on the latter occasion, and airy three out.
Most tellingly, however, was the way in which she travelled. Rachael Blackmore was already nudging her into four out and rounding the home turn to the second last – where Honeysuckle habitually makes her move – she had to work hard to get the better of Ashdale Bob, a horse then rated 13lb lower than her and who was conceding her a further 7lb.
The mare eventually managed to lead at the second last, where she adjusted left, bu Klassical Dream, Teahupoo and Echoes In Rain were travelling menacingly well on her heels. The last-named mare of that trio, who had pulled characteristically hard, sadly crashed through that hurdle and checked out with a somersaulting fall – the first of her career.
Honeysuckle was immediately hard ridden, receiving two reminders, but she had already been headed by her remaining two challengers approaching the last. Blackmore – wisely, given how her mount had hitherto jumped – opted to shepherd her safely but deliberately over the flight before having one final go. Hard ridden again on landing again, Honeysuckle was always being held and even faded near the line.
There is no doubt this was a lesser effort than 12 months earlier when she dispatched Ronald Pump by eight lengths, but it was better than her half-length scramble over the same horse in 2020 and comparable to her nine-length trouncing of Bacardys the year before. Given she was also making her seasonal debut – albeit that factor in effect applied to the winner and runner-up, too – she can reasonably be expected to improve for the run.
It's something of a paradox that Honeysuckle jumped better last season compared with the previous term and yet her 2020/21 form is superior to 2021/22. She seemed to combine the worst of each here but was still beaten less than three lengths by Teahupoo. The push-button, all-angles-covered mare did not turn up but neither was her performance so abject so to justify Alexander pressing self-destruct prematurely. Hopefully, we will see her at the DRF in February.
Beyond that, whether it's attempting a third Champion Hurdle or switching back down to the Close Brothers Mares' event over half a mile further is open to question. As the preeminent two-mile hurdler of at least the past two seasons, perhaps three, she really should be defending her title if she rolls on to Cheltenham. Let's hope connections' sporting instincts once again prevail.
Up at the front end of the race, Teahupoo had been galvanised by Jack Kennedy from two out to challenge on the outside of Klassical Dream. That rival narrowly gained the lead at the last, rising first, but was gradually worn down approaching the line and lost by a neck.
Giant-killer Jack Kennedy, who added Honeysuckle's scalp to that of Tiger Roll in last season's Festival Cross Country Chase, was enjoying a Grade One double following Mighty Potter's Drinmore success and thus the injury-plagued rider has already eclipsed his best-ever season's total with this success.
He reported: "I was kind of just riding him to run well and hopefully run into a place. Turning into the straight, I thought 'He's after running a lovely race, he'll be either second or third' and it all just fell into place – he kept finding and has done it well."
Kennedy believes Teahupoo is particularly suited by two-and-a-half miles and testing ground (officially soft, but heavy on times), but will come on for the run. Trainer Gordon Elliott was also inclined to blame quicker ground for the two abject efforts with which the horse signed off last season when not beating a single rival in either the Champion Hurdle or Punchestown's version. He is inclined to target the Stayers' Hurdle, but ground would remain a potential concern.
Runner-up Klassical Dream – fifth in that long-distance event at last season's Festival and winner of Punchestown's version – ran right up to his best, as can often be the case on seasonal debut but both Ashdale Bob and fifth-placed Sire Du Berlais regressed from their first starts of the season.
Meanwhile back in Britain, Nicky Henderson eventually concluded that rather choosing between First Street and Epatante to run this weekend in Saturday's Unibet International Hurdle – better known as the Bula - he'd declare both.
Epatante lining up - frost permitting - in that Grade Two would potentially leave open Kempton's Christmas Hurdle, a Grade One she has twice collected, to Constitution Hill and thereby also unfortunately reduce the likelihood of the new 2/5 Unibet Champion Hurdle favourite crossing over to Ireland for the Matheson Hurdle.
Finally, last season's Dawn Run Mares' Novices' winner Love Envoi made a winning return at Sandown on Saturday with a career-best performance on her first step outside novice company. Trainer Harry Fry had her "fairly ready" first time out for taking on the boys in a handicap from a mark of 139, which connections evidently felt was more than fair.
"Throughout that race, for most of it, I didn't think I was going well. Compared to last year when she was always keen and forward, whereas today she was quite relaxed – so maybe she's getting a bit of sense and she's settling down," jockey Johnny Burke reported. "Halfway down the back [straight] I wasn't happy, I wasn't travelling. It wasn't until I straightened up [for home] she came alive. She's so tough – as soon as she feels something coming, she picks up again."
Fry has Love Envoi's season mapped out – back to Sandown for a two-and-a-half-mile Listed mares' event on Tolworth Hurdle day, Warwick for a similar contest in February and culminating with the Close Brothers Mares' Hurdle at the Festival. The mare had lost her unbeaten run when thumped eight lengths by Brandy Love at the end of a hard season at Punchestown but has come back better.
Two-mile chasers
Edwardstone stars in the Betfair Tingle Creek
He was worth waiting for. Edwardstone made an exemplary graduation into open Grade One company when winning a deep edition of the Tingle Creek, clocking a marginally better overall time than Jonbon in the earlier novices' event over the same course-and-distance. In doing so, he brushed aside by nine lengths Greaneteen – a rival particularly suited to Sandown and who was thriving going into this proper two-mile showdown.
Tom Cannon rode the winner patiently, watching on from rear as Gentleman De Mee emerged as the front-runner only to be pressed by Greaneteen from the fourth fence. Shishkin quickly proved to be irrelevant to his calculations, niggled along to go the pace from as early as approaching the third where he jumped out to his left and into the back of rank outsider Dunvegan.
Edwardstone didn't jump the third cleanly and got in too close, down on his nose, when travelling strongly at the first of the trio of Railway Fences but he recovered immediately – jumping the next well and leaping right into contention when asked at the third of them.
Greaneteen took over in front as the field turned towards the Pond Fence, the heading of Gentleman De Mee exposing the gulf of class between Edwardstone and his end-of-term Aintree conqueror. Whilst Shishkin and Funambule Sivola – last term's Queen Mother Champion Chase runner-up – were grittily hanging in there, Edwardstone tanked towards it in behind.
A critical safety stride and left-handed adjustment at the Pond ended Shishkin's pretences as a threat, hampering Funambule Sivola in the process and bringing him to the end of his tether. Greaneteen and Edwardstone bounded away from them, seemingly setting up the race for a tremendous duel but Cannon's mount simply jumped past the leader at the second last with a race-winning surge.
A near-tearful Alan King spoke like a the true racing fan that he is about how much this victory meant to him in interview with Racing TV's Tom Stanley.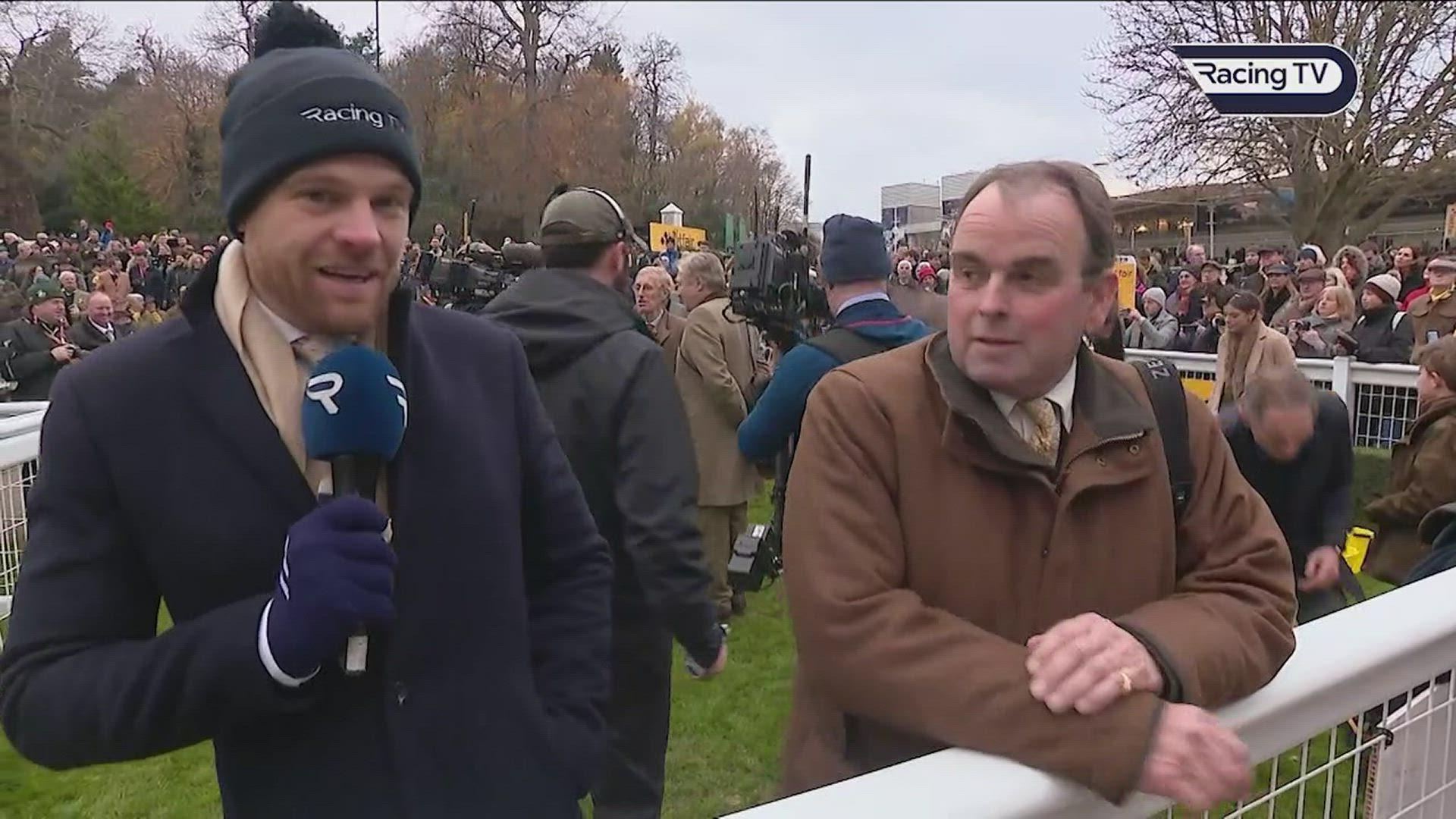 "Very special" - see the full Alan King interview after Tingle Creek triumph
"The Tingle Creek has been one of my favourite races. I've been second in it, I think, three times. Voy Por Ustedes was second a couple of times [to Kauto Star in 2006 and Twist Magic in 2007] and we ran Kumbeshwar [2012] just to get prize money a few years ago – he finished second behind Sprinter [Sacre].
"But to win it is very special," he said. Referring to the photograph of the eponymous flash-jumping chaser, with Steve Smith Eccles on board, on the front of Sandown's sales catalogue that day, he added: "That's when I was falling in love with racing, following those sort of horses."
Naturally, King plans to work backwards from the Champion Chase with Edwardstone's campaign. He had planned to go to the Desert Orchid Chase at Kempton next, adding that Newbury's Game Spirit next February "will come into it" but both are Grade Twos and Ascot's Clarence House Chase at the next level surely merits greater consideration now. "Whether we go one or two runs, I don't know," he added. "He has exceeded my expectations."
King also paid tribute to Nicky Henderson, who not only lent King the use of his gallops to prepare Edwardstone but also one of his best work riders to lead the gallop. "I owe Nicky a huge thank you," he said. "We got a proper bit of work into him over a mile one. It was just to get him away and get a proper blow into him. Whatever he did today, he was going to come on for it. He is a big heavy horse and that is why we couldn't risk him earlier in the season."
Edwardstone now clearly tops the British order of merit at two miles, Greaneteen plainly having run his race bar perhaps one or two less-than-ideally-fluent jumps when trying to stretch his strong-travelling rival. The weight of expectation in this division now swings towards Cheltenham's titleholder Energumene, who is set again to return in Sunday's Hilly Way at Cork – weather permitting.
This will surely be the last time we see Shishkin over two miles, but the negative chat about him on social media – even extending to retirement – is massively overblown. Given he has repeatedly shown that he adjusts left at his fences and struggled to lie up with Energumene in the Clarence House at Ascot last term, it wasn't the biggest surprise that his first taste of Sandown was not to his liking.
However, as he also showed at Ascot – and prior to that, when triumphing over adversity in the 2020 Sky Bet Supreme Novices' Hurdle – he does not lack for heart. Even though he was clearly flat to the boards from an early stage, he hung in there until the Pond Fence undid him. That strongly indicates that the rare bone condition, diagnosed after his abject display at Cheltenham last March, was not the cause of his discomfort on Saturday.
Henderson has mentioned before that he had been inclined to step Shishkin up in trip – there was talk about this season's King George 12 months ago – and that will be his response. "I think it was obvious from halfway down the back straight he was going as fast as his legs could carry him," he told the Racing Post when the dust had settled. "He kept at it but you always felt they were going a stride too quick for him, and it looked that way.
"His next run will be over a lot further than that. I'm not going to rule anything in or out. I'd like to see him in a race where he likes the pace they are going. This doesn't surprise me, in a funny way, if you watch him at home."
Novice chasers
Jonbon may have clocked a slower overall time than Edwardstone over the same course and distance at Sandown last Saturday, but he remained a deeply impressive winner of the Grade One Henry VIII Novices' Chase – both in terms of how zestfully he jumped and, having upped the ante after the last of the Railway fences, how readily he then motored away from Boothill's brief threat two out.
Perhaps the runner-up's jockey Johnny Burke put it most straightforwardly. "I jumped the last Railway bang on his tail and yet he was five lengths clear at the bend. In a matter of strides, he was able to just put daylight between me and him," he explained.
"Boothill is a decent horse – he's probably a good Grade One horse on good ground. The ground being a bit slow [today] probably found me out. I'm not saying the ground made any difference because it wouldn't have done, yet I felt Boothill gave him a fright two out – Aidan said that himself – but in a matter of strides it was over."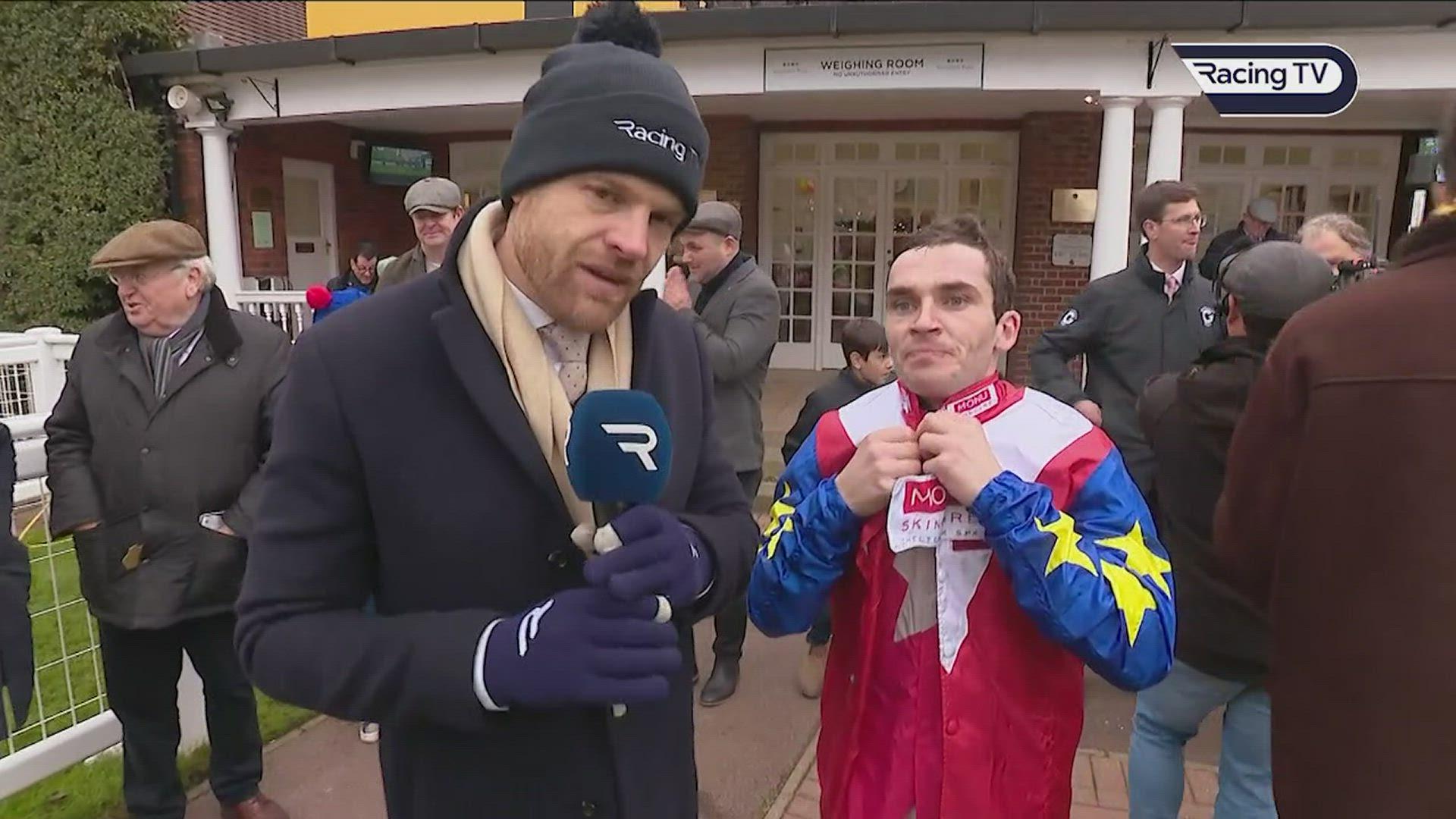 Johnny Burke speaks on Boothill towards the end of this interview last Saturday
Winning trainer Nicky Henderson said Jonbon's performance was "as good as you could wish to see". "He's very clever, with a very high cruising speed," he told Racing TV's Tom Stanley. "He was enjoying himself and can go both ways, when you're under no pressure you can afford to be careful and if you want to be showy and have a yahoo, he can do."
Henderson didn't name his route to Cheltenham because he's mulling over how much more experience Jonbon needs but going back for to Warwick for the Kingmaker or heading to Doncaster for the Lightning Chase – he would carry a Grade One penalty in either – are the obvious stepping-stones.
Runner-up trainer Harry Fry will be hoping Kempton's Wayward Lad Novices' Chase over Christmas won't be on the agenda, as that's where Boothill heads next. He's thought to prefer a soundish surface and a flat track, both of which he should get there.
Of Jonbon, Henderson tantalisingly added: "He's a genuine two-miler at the moment but I said to JP [McManus, his owner] I'd love to find out how far he can stay. Don't worry, we're not going anywhere else at the moment – we'll stay at two miles for now because he's so quick."
He also summed Jonbon's character up exactly when adding: "He's a busy sort of horse who puts a lot into life." Henderson's latest two-mile star is best-priced at 7/4 for the Sporting Life Arkle and although Willie Mullins is yet to unleash Sir Gerhard or Appreciate It – the latter entered this coming weekend – they will need to be every bit as smart as their billing to touch him.
Jonbon's star quality was evident here in his acceleration, making up around 20 lengths comparatively on Edwardstone from the last of the Railway fences to the line. Yes, he had raced sedately by comparison to the Tingle Creek, but that's a transformational way to finish.
The next day Ireland staged a competitive but scrappy edition of the Grade One Drinmore Novice Chase, which was surprisingly conducted at a crawl. When previewing the race on last week's Road To Cheltenham show, both Ruby Walsh and I had expected Banbridge to make the running in the sprightly manner of his Gowran and Cheltenham successes.
But he was sluggish into stride at the start, needing to be nudged into the bridle by JJ Slevin, and was beaten to the lead on the inside by El Barra, who promptly jumped across him. He was then intermittently keen tracking the leaders under what then seemed deliberate restraint and struggled to respond in heavy ground when the race developed into a sprint from two out.
In the winner's enclosure at Cheltenham, it was the instinct of trainer Joseph O'Brien to think this race would come up too quickly and I think he was right the first time – this was a flat run from Banbridge. O'Brien also mentioned he'd seek to miss any heavy-ground targets over Christmas, so this horse might have a double excuse. I prefer to judge him on his earlier form and not this.
Banbridge is better judged on this Cheltenham effort last month
Another novice who might be given a free pass is Three Stripe Life, who was made favourite here and was travelling well until belting the eighth, causing Davy Russell's saddle to slip and irons to be lost. His error did come from nowhere, however, with trainer Gordon Elliott reporting he "just galloped into the fence". He's entered in the Grade Three Klairon Davis this Saturday, so we should learn more then.
In Banbridge's stead, the erratic-jumping Shadow Rider made the running but went out to his right on more than one occasion and left the winner Mighty Potter up front with a solo lead from five out. Jack Kennedy took full advantage of this, even though his mount then stumbled on landing at the next and took three out far too low. He was still in pole position when the sprint began, however, and negotiated the last two obstacles adequately despite appearing distracted on the run to the last.
At Down Royal last time, he had looked unsuited to making his own running but his rider felt he had learned from that experience. "I think that made a job of him, you know, helped him grow up a little bit, have to go and do it himself," Kennedy said afterwards. "He's still a baby, though – when he's in front, he's kind of looking around and taking his eye off the ball but when you let him on, he sticks his head out and goes and does it then."
Elliott said he had seen "something there that I really liked" from Mighty Potter when he schooled at Navan the previous Monday, adding that further Grade One targets over Christmas (he told Johnny Ward on racingtv.com that Limerick was his preference) and the at the DRF could be on his dance card.
Runner-up Gaillard Du Mesnil was patiently ridden by Paul Townend over a trip far short of ideal and a race scarcely run to suit, bearing in mind how he stayed on late in the Brown Advisory and finished third in the Irish Grand National last season. He boasts the ideal profile for the NH Chase, for which he was tightened to 3/1 favourite.
In fourth Authorized Art – three times a winner over the summer – made one significant error three out and could never muster the pace to get involved from a disadvantageous position, and stablemate Adamantly Chosen, himself a dual winner in the autumn, threw in a round littered with errors. Nonetheless, he'd made a quick move into contention when critically lacking fluency two out and petering out for fifth.
Thedevilscoachman, who raced keenly and made mistakes, was weakening significantly when taking a tired fall at the last. Enniskerry, who'd posted two substantial winning performances on much better ground in the late summer at Galway and Roscommon, never seemed to recover from a bad blunder at the third.
"3-2-1 Jump!" Kennedy repeatedly said to Minella Crooner from the third fence onwards in the 2m5f beginners' chase at Fairyhouse the following day. His mount had ballooned the first and braked into the second, so thereafter he was compelled to see a stride and jumped better, if not ever fluently. Although it was good enough to beat the chronically left-hand-jumping I Am Maximus, it really shouldn't have been.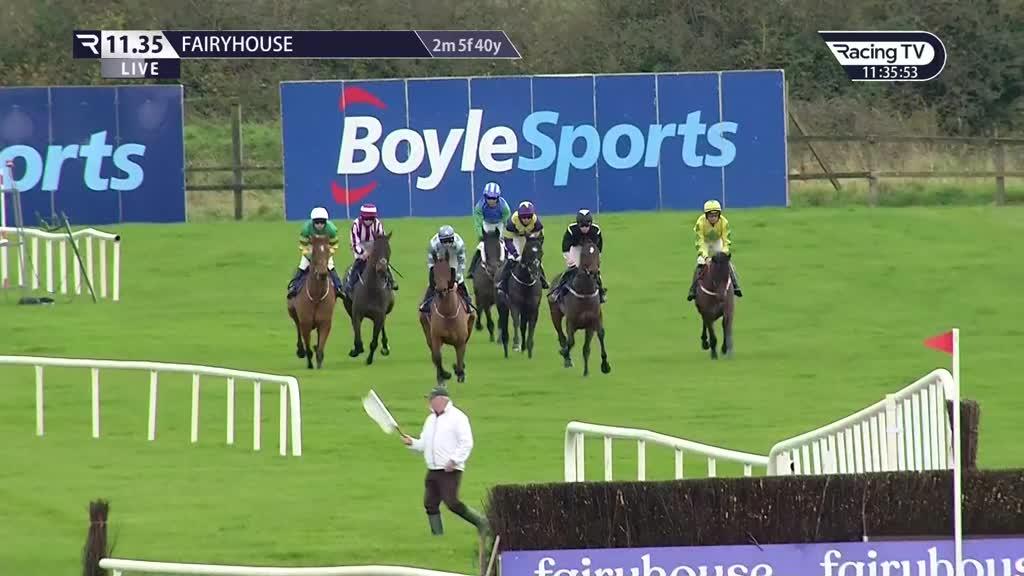 Minella Crooner lands the spoils - just - from I am Maximus
I Am Maximus was making his debut for Willie Mullins, his owner Michael Grech having moved all of his British-based string to Ireland after relocating much of his own work to that country. He had also jumped left on his hurdling debut at Exeter for Nicky Henderson last year but then progressed to win by a wide margin at Newbury and finish a good second to Hillcrest in a Cheltenham Grade Two. But he made little impact behind Sir Gerhard in the Ballymore, losing touch by halfway.
He jumped, adjusted or ran down every single fence to the left on Saturday, wasting energy and losing momentum. This trait was particularly marked two out, shortly after the right-handed home turn, when running across third-placed Largy Debut and causing him to swerve right to avoid him on take-off and to land awkwardly.
However, I Am Maximus still managed to head Minella Crooner on the run to the last but got in tight and adjusted left, handing an opportunity to that rival. Despite rallying after losing the lead, I Am Maximus was denied by a rapidly diminishing short-head. He clearly needs to be confined to left-handed tracks.
The winner wore first-time cheekpieces and shapes like a thorough stayer. A step up in trip will offset his deliberate jumping to some degree, but it's still going to need to get slicker if he's to take high rank as a novice chaser. Tellingly, winning trainer Gordon Elliott mentioned the NH Chase rather than the Brown Advisory, although his overall profile wouldn't be suggestive of that race.
A promising runner-up over hurdles at the DRF as a novice, Minella Crooner had previously been narrowly denied by the highly experienced and race-fit mare Darrens Hope when ambitiously pitched into Grade Two company at Punchestown on his chase debut last month.
Yet the hallmark of this Fairyhouse event was poor jumping. Largy Debut breasted the first, Rachael Blackmore doing well to maintain the partnership, and then ran keenly. The mare Must Be Obeyed jumped left and made mistakes. Coqolino was uncompetitive and – again – careful until walloping the last. Boston Hillwas utterly outclassed. Four-year-old French recruit Kamus – who fell at the first on his Irish debut here last month – hinted at some promise for when he tackles the right grade, however, even if he didn't jump that cleanly either.
At Exeter last Friday, Gelino Bello – who missed the Grade Two engagement won by his stable companion McFabulous at Newbury a fortnight earlier – beat chase debutant City Chief in a relatively eventful match.
As he had at Wetherby on debut, the winner adjusted or jumped out to his right at virtually every obstacle, that habit particularly marked at the fourth and third last after rider Lorcan Williams had been administering taps to his neck to maintain his concentration going into the straight.
The winner remains in Paul Nicholls' mix for the Grade One Kauto Star Chase at Kempton, which is at least mercifully right-handed, but that will be a very different experience to a pair of victories that were largely schooling sessions.
Gelino Bello's adjustments could conceivably be less marked at a more conventional pace and not having to make his own running, as Williams told assistant trainer Charlie Davies, but you'd worry they could cost him when it matters.
City Chief had made a howler when not getting high enough at the seventh, sprawling on landing with his nose in the turf. Although the sedate pace set by Gelino Bello enabled him to get back into the race – and even briefly jump into a share of the lead and burrowing up the leader's inside until losing his stride when colliding with the running rail – that early error was significant enough to take its toll later. I hope City Chief wasn't too sore the following morning.
Novice hurdlers
The first Grade One of the season in this division went to Marine Nationale, who came with a well-timed challenge under his highly promising young pilot, Michael O'Sullivan, but also did well to overcome scrappy errors over the final three flights at Fairyhouse last Sunday.
It was a strongly run edition of the Royal Bond, with recent Navan Grade Three winner Hercule Du Seuil making the early pace but harried by the highly experienced Prairie Dancer from after the second. Both made errors at the fifth, causing the former soon to drop away disappointingly whilst the latter was driven to maintain his lead over the pressing attentions of Champ Kiely.
Tanking along, that horse – hitherto unbeaten under Rules, including a defeat of Fred Winter victor Brazil in a Tipperary Grade Three in October – then pulled to the front at the next flight. Paul Townend's mount deserves marking up for playing his cards too early, upping the gallop before the home turn, no doubt sooner than his rider would have preferred. Galway maiden hurdle winner Path D'Oroux was soon dropped as a result and quickly eased down.
Similar comments, if not to quite the same degree, apply to Irish Point, who was urged to join the leader turning for home and jumped the second last alongside. Both Marine Nationale, covered up on the inside, and the mare Ashroe Diamond appeared to be going well on their heels, but the latter started to paddle approaching the last.
Irish Point looked to have made the winning move when leading at the last, with Champ Kiely finally weakening on his inner, as Marine Nationale made a complete hash of it after being eased out to challenge. But O'Sullivan's mount rallied bravely and managed to get up by a head at the last, with Ashroe Diamond rallying past her exhausted stablemate Champ Kiely for third.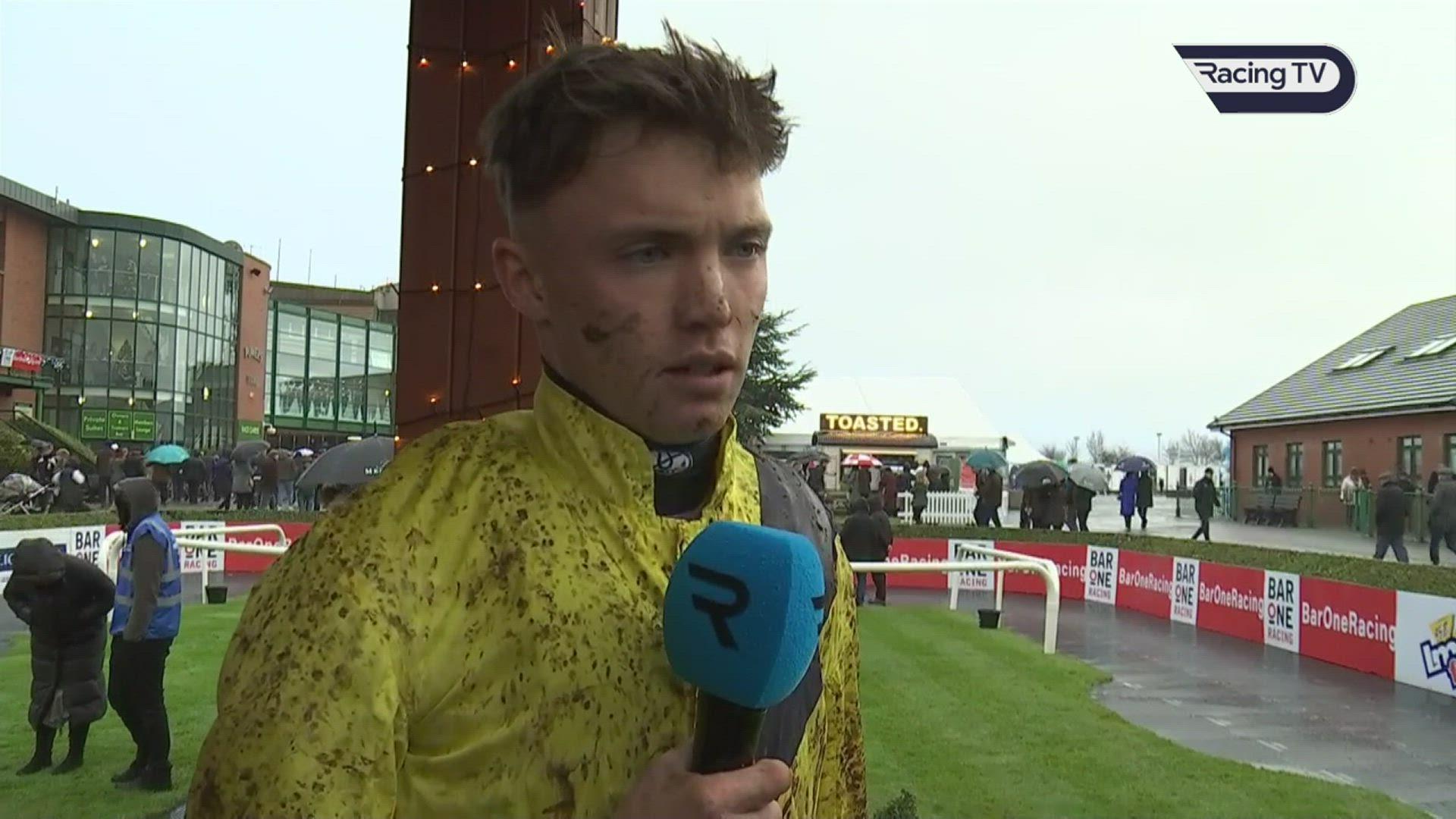 A landmark day for Michael O'Sullivan - here's what he had to say afterwards
Thus, the more inexperienced hurdlers held sway, Irish Point graduating from an encouraging debut victory at Cork last month and the unbeaten Marine Nationale stepping up from his opening Punchestown maiden win in October.
This was a first success at the highest level for O'Sullivan, who was unable to use his 5lb claim in this graded contest and who had been worried that the heavy ground wouldn't suit his mount. It was also a first Grade One victory in his new guise for ex-rider and owner-turned-trainer Barry Connell.
"I've ridden Cheltenham winners, I've owned Cheltenham winners, but this is a different league altogether," a thrilled Connell told the Racing Post. "He nearly threw it away at the last with a bunny-hop, but he dug in. It was the first time he's ever been off the bridle in his life and he had to be tough.
"I didn't know what he'd do off the bridle. Sometimes these bridle horses don't find a whole lot, but you'd love the way he battled and toughed it out... We ride him for speed. He's actually a Flat-bred horse, so we were always going to sit in behind the fancied ones and have a go."
Connell plans at a minimum to skip any Christmas engagements in favour of the Dublin Racing Festival and has even uttered those dread four words: "He runs well fresh and has been on the go all summer, so I'd say we're probably leaning towards going straight to Cheltenham."
Marine Nationale now trades at a best-priced 10/1 for the Sky Bet Supreme Novices' Hurdle at the Cheltenham Festival, has shown he can deliver off a searching gallop, and is expected by his connections to be better when returned to a sounder surface. Deeper contests, containing better horses than he faced at Fairyhouse, will be staged in the meantime, however. If you like him, there is zero rush to back him.
Later on the same card, Merlin Giant rounded off a great weekend for Emmet Mullins when winning the valuable two-mile hurdle without Donagh Meyler having to get remotely serious. Although the field largely ignored rampant front-runner Flaming Moon, they were still dragged through at a decent pace but the winner travelled smoothly throughout and settled matters with a bold jump at the last.
This was only Merlin Giant's fourth hurdles start, albeit he also had as many spins on the Flat over the summer, and he's progressed for each of them. He does jump to his right, but he clearly had plenty in hand from a mark of 127 and the Irish handicapper duly raised him 13lb. He has a high-class Flat pedigree, being by Camelot out of a half-sister to Derby third Astrology. His trainer seemed to have Ireland's spring Festivals in mind.
The previous day, when racing took place on Fairyhouse's inner track, last season's preeminent bumper horse Facile Vega made a highly encouraging start to his hurdling career, whilst doing no more than odds of 1/9 would entitle on his debut and little to excite on the clock. This was one for Da Visual Kidz – and bookmakers, who giddily made him best-priced 5/4 Supreme favourite.
Yet there remains no doubt this as-yet-unbeaten horse has much more to offer. Wearing ear-plugs and racing freshly, Facile Vega dictated a sedate pace with his rivals following at a deferential distance. He jumped soundly, bar for running about on the approach to the third last when he briefly seemed to lose concentration.
Townend then allowed him to extend on the home turn, but it was utterly unsurprising that his rivals could not close on his lead after conceding track position throughout. The impressive part was that Facile Vega won hard held – less so that he reportedly kept galloping well past the line, given he'd been allowed to put on such an uncontested exhibition.
Trainer Willie Mullins was impressed, based as much on what he knows about the horse at home as what he had just seen on the track.
Willie Mullins gives his post-race verdict on Facile Vega's performance
"This horse has been showing me that all the time," he said, before identifying either Plan A of the two-mile Paddy Power Future Champions Novice Hurdle or the Lawlors Of Naas over 2m4f as his next step, both Grade Ones. "I don't think trip is going to really worry him, so we have options," he added.
In behind, it was good to see runner-up An Mhi back on the track after losing his footing, falling and bringing down a rival approaching the last at Cheltenham in October. Third-placed Wild Dollar caught the eye for handicaps after making this the best of his three starts over hurdles to date on his return from a three-and-a-half-month break.
Just 35 minutes earlier, however, Joyeux Machin had clocked a better overall time over the same course and distance as Facile Vega in the first division of this pair of maiden hurdle events – albeit even that race was conducted at only a marginally quicker pace. Despite a mistake at the last, the winner surged past the keen-going Viva Devito on the run-in.
Joyeux Machin had pulled up behind Facile Vega in the heavy conditions that prevailed in the Cheltenham Festival bumper last March and may well encounter that rival again, as his trainer Paul Nolan mentioned the same two Christmas-time options.
Later that same day, Landrake took a good step forward to land Fairyhouse's 2m4f rated hurdle – jumping well, if frequently adjusting left, and staying on stoutly to draw further clear in the straight. Stable companion and one of three co-favourites The Four Sixes refused to settle, carting Russell to the front after the fourth and swiftly pulled up once headed on the home turn.
At Tramore on Tuesday, another much vaunted member of Team Closutton took his first steps of the new season when Boodles Fred Winter runner-up Gaelic Warrior embarrassed a field of marked inferiors by 86 lengths to land odds of 1/12. It was good to see the mare Littel Flour, who made the running but often jumped left, hang on for second by a head because she was the only rival ever seen in the same camera shot as the winner from after the second hurdle.
Gaelic Warrior himself adjusted right, as he had to his cost at the Cheltenham Festival when run down by Brazil, and that caused a coming together with Littel Flour at the fifth as the winner jumped into the lead. That was game over, as he extended so far clear that the camera failed quite to catch him jumping two out. This was little more than proof of life for him, but his preferred method of jumping would make you wary around the Old Course again.
Finally, back in Britain, Henri The Second won Sandown's Grade Two Ballymore Winter Novices' Hurdle the day after his debut Chepstow conqueror, Chianti Classico, had already advertised the form by following up by a wide margin under a penalty at Market Rasen. The former, a half-brother to stablemate Enrilo and himself a nascent chaser, took a step up in grade and – despite keenness and greenness – won comfortably by more than four lengths.
Ruby's portfolio
Advised 01/12/22: Noble Yeats at 66/1 for the Boodles Gold Cup with William Hill
Lydia's portfolio
Advised 01/12/22: Ahoy Senor at 25/1 for the Boodles Gold Cup with various bookmakers