By Andy Stephens
John Ferguson refused to put the blame on Saeed Bin Suroor when speaking in depth for the first time about his departure from Godolphin on Racing UK on Sunday.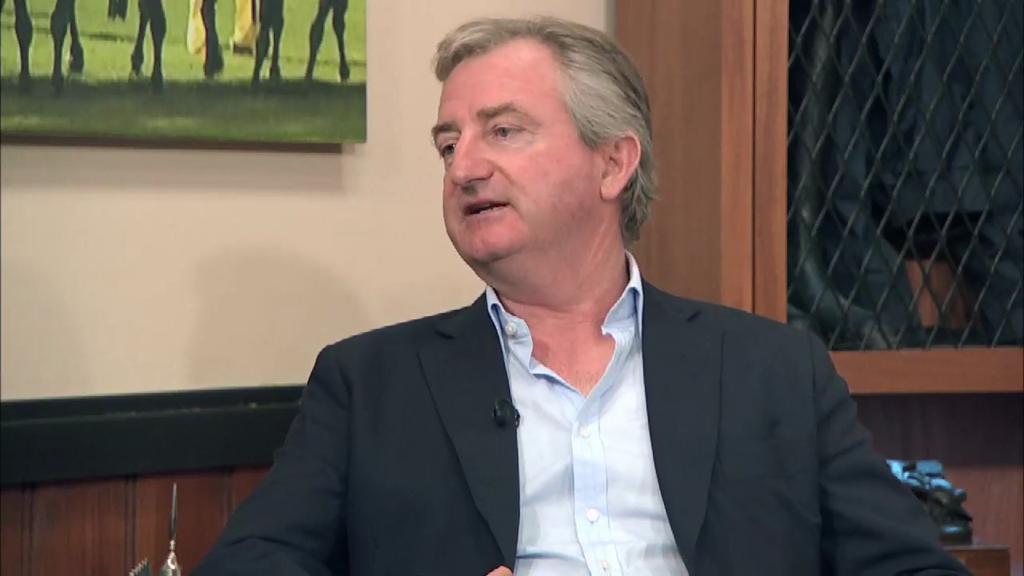 A guest on the channel's new weekly show, Luck On Sunday, Ferguson told presenter Nick Luck that "the time was right to move on" after 25 years with Sheikh Mohammed's global operation.
Ferguson quit a week before Royal Ascot after an apparent breakdown in trust with Bin Suroor but denied tensions with the trainer were the only reason he walked away.
He said: "The time was right [to leave]. Godolphin is a fabulous organisation run by a fabulous man and I am so grateful to him for everything he has given me, but you are racing in breeding in England, Ireland, France, America, Australia and Japan and you are constantly on the move and managing processes.
"When I started with Sheikh Mohammed I think there were four people in the stud office and when I finished Godolphin employed 1800.
"You get to a stage where your are managing processes and people. Although great fun and a huge honour to have the job there is a time for everybody when they should step down and the time was right for me."
The relationship between Bin Suroor and Ferguson became fractured with the former openly lamenting Simon Crisford's departure and, in his view, his fellow Godolphin trainer, Charlie Appleby, getting all the best two-year-olds.
However, Ferguson insists he was already on the brink of walking away.
"I was thinking of moving on any way," he said. "It doesn't matter who you are, when you are training beautifully bred horses you have huge pressures on you - and huge pressure on you to perform.
"Within Godolphin a lot of the pressure is self-induced because Sheikh Mohammed does not put pressure on you himself but you are so desperately to do well for him, so I don't criticise Saeed for his comments at all. He had absolutely the right to say what he said; he felt it was the appropriate thing to say and 'no problem'.
"The time was right to take a step back and think about what my next chapter would be. I'm 57 years of age and feel I've still got an awful lot to give to this industry - an industry I love."
Ferguson was also asked for his views on Godolphin's biggest rivals, Coolmore, and later added that the long-term policy of not buying the stock of Galileo - recently reversed after about 12 years - was not his decision but that of the Maktoum family.
On the subject of Coolmore, he said: "They have a phenomenal set-up. I have incredible admiration for not only John [Magnier] and the team but Aidan [O'Brien]. I think Aidan is an extraordinary human being and that result in the Dewhurst yesterday was something we should all be in awe of.
Ferguson enjoyed many great days with Godolphin (Racingfotos)
"Every one can say 'oh well he's getting the best horses' but at the end of the day you've got to train them and he's not the only man getting Galileos. Sure, he is getting the best ones but they will run through a wall for him. A furlong out they are bang upsides but they are two clear at the finishing post and that is to do with their supreme fitness.
"And look at his success with [the progeny of] War Front - who would be a very different type of horse to Galileo - and you can bet your bottom dollar they are trained very differently as a result."
When asked about Godolphin refusing for so long to entertain buying the progeny of Galileo - a decision that has left them lagging behind Coolmore for more than a decade - Ferguson paused for a lengthy period before saying: "Decisions are made and you follow instructions. You are an employee. I'm sure many people will say it was a mistake but, ultimately, at the time, it was felt it was the right thing to do and you honour and accept that. I'm delighted now that is no longer the case.
"I never made every decision to do with Godolphin."
Since leaving, Ferguson has returned to his roots and is running a bloodstock agency with the assistance of Sam Haggas, son of trainer William.
"It's invigorating to be back doing what I did originally," Ferguson said said. The two of us are flat at it and will be concentrating on all aspects of racing and breeding. The whole gambit."