Two titans of the sport produced a race that will be talked about for decades to come, Andy Stephens reports from Ascot.
It takes two to tango. And it takes two to make an epic horse race.
We admire freakish one–sided demolitions. Frankel routinely pummelled the opposition during his outstanding career and before him there was such as Shergar's ten-length Derby romp and Hawk Wing's astonishing Lockinge rout.
Magic moments, but it is the eyeballs out, head-to-head confrontations which truly stir the soul and always linger longest in the memory.
There is no finer sight in the world than half-tonne thoroughbreds wearing their hearts on their sleeves and stretching every sinew to be leader of the pack.
Many racing fans of a certain age will tell you that the King George showdown between Grundy and Bustino, in 1975, was without equal. "The race of the century" developed into a mesmerising battle between two brilliant protagonists with Dahlia, a dual winner of the race, left languishing in third.
After today, though, it will be impossible to mention Grundy and Bustino without also making reference to Enable and Crystal Ocean. Perhaps, in time, it will even be remembered the other way round.
This was one of those "I was there" days as Enable dug deep into her reserves to secure her eleventh successive triumph – nine of them at the highest level. She became only the third two-time winner of the midsummer showpiece and the first to reclaim her King George crown. She showed guts, and came away with yet more glory.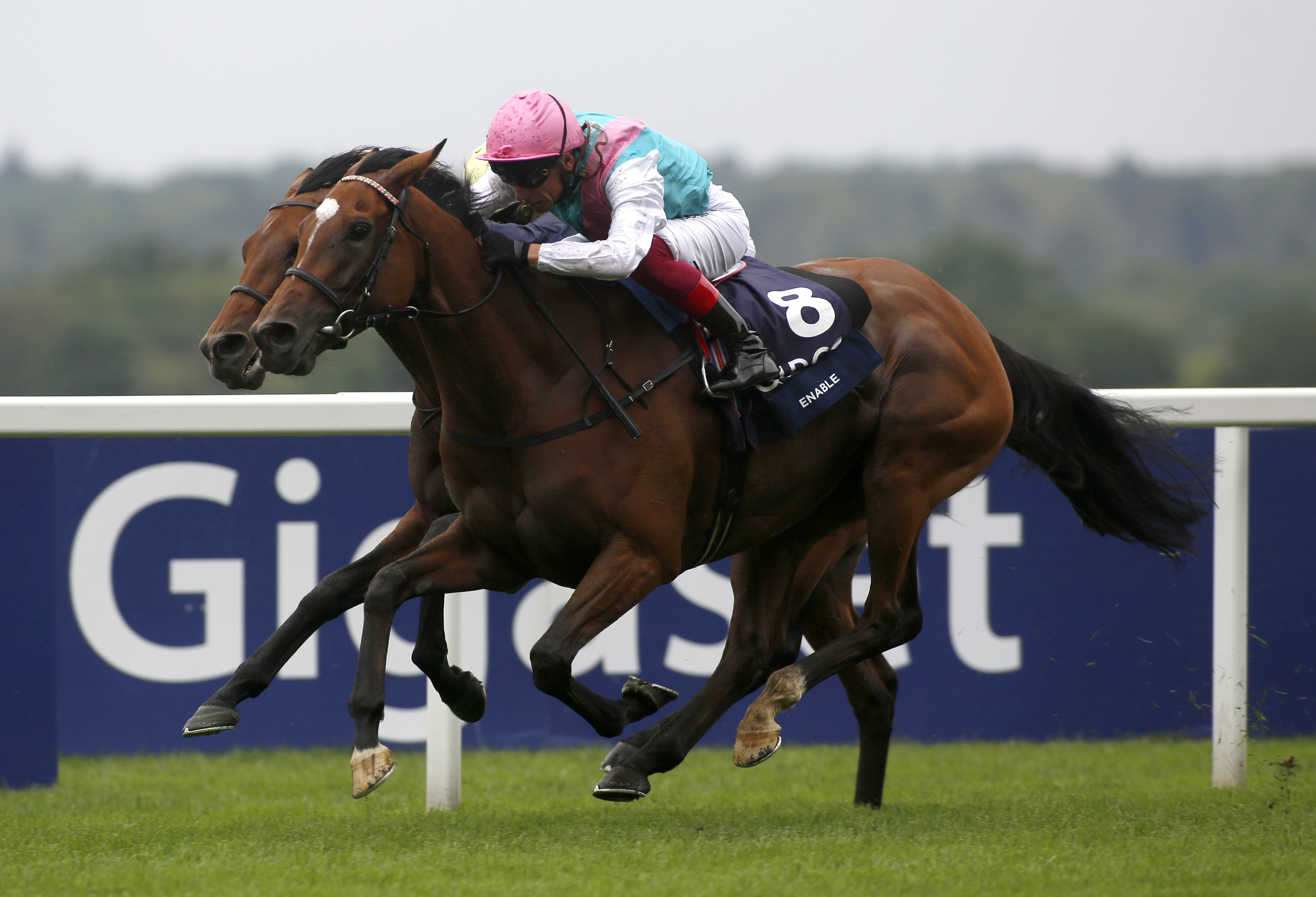 Racing's queen captured all our hearts long ago but we will love her all the more now.
Ears back, heart pumping, Frankie Dettori gave her just one tap of the whip – recognising that asking her to try and go any faster would have been futile.
We've always known she has a bottomless amount of class. Now, we also know she has courage in equal measure.
For all her brilliance, it was impossible not to feel some sympathy for the runner-up, who went into the race officially rated the world's highest-rated horse and, like a great heavyweight boxing champion, was not going to surrender his title lightly.
Many lesser horses would have thrown in the towel but he went down throwing punches until the final bell before finally his resistance was broken.
We had witnessed two thoroughbreds who simply did not want to lose. Who looked each other in the eye two out and said "come on then, let's see what you've got". Then, a furlong further "is that all you've got?"
Drawn wide, Plan A for Dettori was undoubtedly to get out quick and tuck in behind the leaders. But she could not get over and the Italian was stuck on the wing and had to switch to Plan B, then Plan C as he got shuffled back towards the rear.
Meanwhile, the cards were falling kinder for Crystal Ocean, who got in a nice position behind the Ballydoyle battalion setting strong fractions that were intended to bring the stamina of Derby winner Anthony Van Dyck into play.
But the Epsom hero, sweaty and dull in the paddock, ran a stinker and did not show any inclination to roll up his sleeves and battle in his first-time cheekpieces. He will have plenty to prove next time.
Incidentally, O'Brien has now run 27 runners in Enable's past 11 races and all have returned home to Ballydoyle defeated. He cannot get anything past her.
Dettori made his forward move after the turn for home and when Enable nosed ahead two out it seemed she might stretch away in her customary fashion. But Crystal Ocean was having none of it and, aided by the far rail, came back at her.
The pair spent much of the final quarter of a mile locked together. Neither flinched. Neither would buckle. Ascot roared its approval as the market leaders pulled ahead and fought out a private duel.
It was prolonged, edge-of-the-seat stuff and the outcome hung in the balance until the final yards when Enable finally edged ahead to prevail by a neck.
"In all my career it is probably the hardest and most hard-fought race I've ever had," Dettori said.
Beforehand, there had been no playfulness or mischief from him - the 48-year-old had looked half-terrified as he chewed on gum walking around the paddock. Gosden said afterwards he thought his jockey was too nervous, too on edge. "I'm carrying the pressure of the nation. She is unbeaten for two years" the jockey said later, by way of explanation.
Only those with cold hearts could not feel some sympathy for the heroic runner-up, who had been beaten a neck by Poet's Word, his stablemate, in a similarly riveting renewal 12 months earlier.
On that occasion, Sir Michael Stoute could console himself that he trained the first two home but this time he had to settle for the often lonely spot reserved for the second.
A packed winner's enclosure acknowledged Crystal Ocean's effort by giving him a loud ovation when he returned; the kind usually reserved for the gladiators placed at the Cheltenham Festival.
John Gosden, the trainer of Enable, had said on the Newmarket gallops at tne start of the week that he welcomed the deep competition Enable faced, and that nobody swould take much pleasure in her being 1-5 and winning by half the track.
"It's what it's all about," he said, admiring his mare before half-jokingly saying that he had berated his jockey for hitting the front too soon. He added: "She's everything you ever want. She's a brave and wonderful filly, and what a great battle."
In total, she has now beaten now beaten no fewer than 43 individual Group One winners –more than Frankel and Sea The Stars combined.
Gosden was euphoric, but he will no doubt have a degree of concern as to whether this scrap has left a mark ahead on Enable of her attempt to win a historic third Prix de l'Arc de Triomphe in October.
Beforehand, the mare will almost certainly still grace the Ebor meeting at York next month. The chances of her competing in the Juddmonte International have probably decreased, as the Yorkshire Oaks run 24 hours later would almost certainly offer a softer target before her France.
If it was up to Gosden he would go for the latter, but he said Enable, via her wellbeing, would herself make the decision nearer the time. The owner, who sponsors the Juddmonte, might also have something to say on the matter.
Neither Grundy or Bustino were to win again after their mighty duel. The pair left part of themselves on the track that momentous day.
We must hope Enable and Crystal Ocean's emerge fully intact, neither blunted by a bruising mental and physical experience.
But whatever lies in the store for the pair, this will always be remembered as one of the greatest races the sport has seen. A tango any judge would mark as a perfect ten.
ENABLE'S GROUP 1 SCALPS:
Enable has beaten 43 horses who were Group One/Grade One winners at the time, or who have gone on to win one. Here's the full list (updated November 2019):
1 Rhododendron. 2 Coronet (Enable has beaten her three times). 3 Sobetsu. 4 Intricately. 5 Ulysses (twice). 6 Highland Reel. 7 Benbatl. 8 Desert Encounter. 9 My Dream Boat. 10 Jack Hobbs. 11 Sixties Song. 12 Queen's Trust. 13 Nezwaah. 14 Cloth Of Stars 15 Order Of St George. 16 Brametot. 17 Dschings Secret. 18 Iquitos. 19 Winter. 20 Zarak. 21 Seventh Heaven. 22 Statono Diamond. 23 Capri. 24 Crystal Ocean (twice). 25 Sea Of Class. 26 Waldgeist (three times). 27 Kew Gardens. 28 Study Of Man. 29 Magical (three times). 30 Glorious Empire. 31 Channel Maker. 32 Talismanic (twice). 33 Defoe. 34 Hi Happy. 35 Sadler's Joy. 36 Robert Bruce. 37 Quarteto de Pardos. 38 Zabeel Prince. 39 Mustashry. 40. Cheval Grand. 41 Anthony Van Dyck. 42 Danceteria. 43 Arklow.
Frankel beat 24:
1 Nathaniel (twice). 2 Treasure Beach. 3 Roderic O'Connor (twice). 4 Dream Ahead (twice). 5 Excelebration (five times). 6 Pathfork. 7 Casamento. 8 Zoffany. 9 Wootton Bassett. 10 Grand Prix Boss. 11 Canford Cliffs. 12 Rio De La Plata. 13 Immortal Verse. 14 Dick Turpin. 15 Poet's Voice. 16 Side Glance (twice). 17 Helmet. 18 Farhh (twice). 19. St Nicholas Abbey. 20 Twice Over. 21 Planteur. 22 Cirrus Des Aigles. 23 Pastorius. 24 Master Of Hounds.
Sea The Stars beat 18:
1 Rip Van Winkle (three times). 2 Mastercraftsman (three times). 3 Lord Shanakill. 4 Cityscape. 5 Fame And Glory (three times). 6 Crowded House. 7 Conduit (twice). 8 Cima De Triomphe. 9 Jukebox Jury. 10 Twice Over. 11 Casual Conquest. 12 Youmzain. 13 Cavalryman. 14 Dar Re Mi. 15 Stacelita. 16 Vision D'Etat. 17 Getaway. 18 Hot Six.