Racing often resembles a giant game of Snakes and Ladders for its participants, both human and equine. Frankie Dettori has spent his career at the top of the board but the game will look very different to him after his sudden split with John and Thady Gosden.
Dettori finds himself in need of a new job at the height of the summer surrounded by "No Vacancy" signs. He's going to need a gap to present itself and, let's face it, he hasn't been getting many of those in recent weeks.
The "sabbatical" that Gosden Sr announced on Friday night theoretically leaves the door open for a return but clearly the relationship, which has flourished for much of the past seven years, is strained.
Neither party probably saw the irony in using the term "sabbatical" with the dictionary definition being "a period of paid leave granted to a university teacher or other worker for study or travel, traditionally one year for every seven years worked". This feels much more like a seven-year itch.
Gosden has said he will not appoint a stable jockey. And why would he?
Rab Havlin is a trusted lieutenant who has already had 101 rides for the yard in Britain this season – that's 29 more than Dettori has had for the team - and in Benoit De La Sayette he has one of the rising stars of the sport at his disposal.
Dettori may have been the No 1 at Clarehaven but he has ridden only 72 of the stable's 260 runners this campaign. That's about one in four.
Many of Gosden's owners already have retained riders, too, and he's not going to go short of suitors for horses such as Inspiral and Emily Upjohn.
Who will partner Stradivarius, who has unwittingly found himself a third party in the divorce? It must be a short price that Andrea Atzeni will belatedly be reunited with him in the Goodwood Cup next month. Atzeni is 3/3 on the star stayer and has already guided him to two Goodwood Cup triumphs.
While Gosden has riches in the weighing room to pick from, Dettori's outlook is a lot less certain.
He's still one of the most gifted riders in the world and, of course, has successfully reinvented himself in the past, not least after his 18-year partnership with Godolphin came to an end in 2012.
However, the 51-year-old gave up the daily slog of riding here, there and everywhere several years ago. Instead, he has focused on the main meetings, assured that any number of finely tuned Gosden-trained stars will be waiting for him on the biggest stages.
All of us strive for the perfect work-life balance and Dettori looked to have found it. A distinguished career, spanning 35 years and in the region of 3300 winners in Britain alone, had earned him the privilege.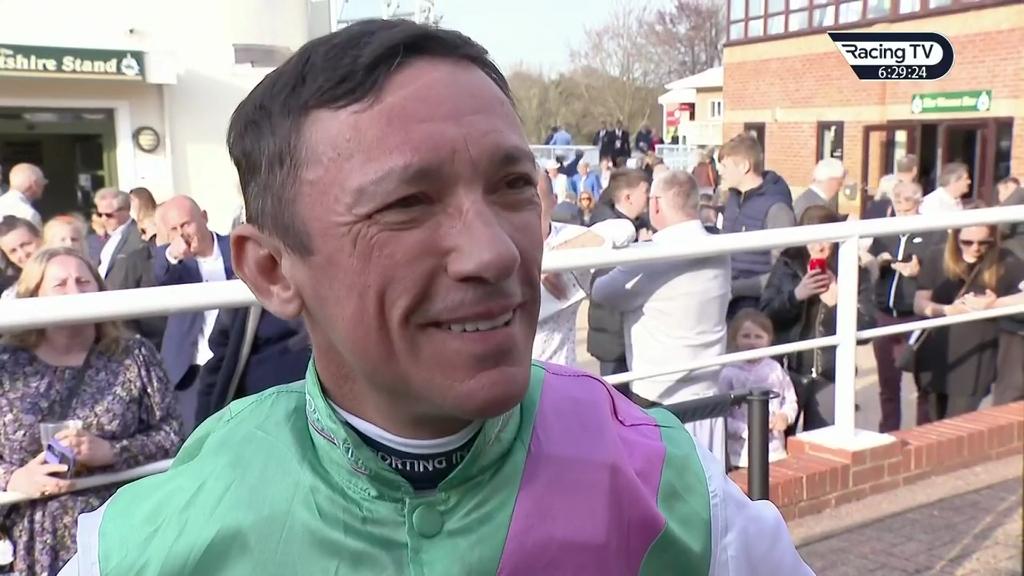 Dettori avoids racing's daily slog, as he joked about with Alex Steedman after winning on Samburu at Salisbury this year
But if you are only going to turn up on the showpiece days, then you are going to have to keep sprinkling magic dust everywhere. Luxury items can quickly lose their lustre and in the past year there have been high-profile defeats that have clearly rankled.
Gosden publicly chastised "our hero" for his defeats on Stradivarius and Saga at Royal Ascot, which came in the space of 40 minutes. This was a Terrible Twosome on a track where Dettori will always be remembered for his Magnificent Seven.
There have been other instances of the five-time champion trainer publicly speaking his mind, including when Palace Pier was beaten in the Queen Elizabeth II Stakes in October when Dettori spent much of the race looking over his shoulder.
Dettori's manager, Peter Burrell, has been banging the drum, insisting on Friday: "He's absolutely fired up. As we know we've had several peaks and several troughs and that's when he's at his most dangerous – he'll come out fighting. He's much tougher than people think."
But right now the bubbliest and most charismatic man in racing will be hurting, floored by a right hook that it seems he didn't see coming.
Will the popular Italian have the stomach to get up off the canvas and come back swinging? Will he resume chasing winners up and down the country and, if he doesn't, will other trainers be smashing his door down to employ him in the top races?
Dettori has said many times in the past year that he has no desire to quit. And when he does, he will want it to be on his own terms. Perhaps after landing a July Cup, the only Group One race in Britain to have eluded him.
On Saturday, before racing at Newmarket, Dettori assured Racing TV viewers he would definitely carry on riding until at least the end of next year and then offered a perfect riposte by winning on his only ride on the card in the Listed contest. He returned to the winner's enclosure punching the air and blowing kisses before delivering an enthusiastic flying dismount. Great theatre, as ever with Frankie.
The victory will have no doubt given him huge satisfaction but the next few weeks will reveal plenty more, and the stats for this year are hardly compelling.
Dettori has had 88 rides in Britain this year, with 72 of them (83 per cent) being for John and Thady Gosden. Only ten of the other 16 have been for British trainers.
He had 18 rides for the Gosdens at Royal Ascot this month, meaning that he was free for the 17 other contests. But he was snapped up in just four of them, with two of those being 40-1 chances. American trainer Wesley Ward, who has routinely used his services in the past, was among those who overlooked him.
It could have been that Dettori rejected rides or made himself unavailable, but that seems unlikely.
Similarly, at Epsom this month, Dettori had a single ride for the Gosdens on Oaks Day and then another for them on Derby Day 24 hours later. That left plenty of outside opportunities but he had just two other rides at the meetings, albeit they were in the Group One races.
Another example came on 2000 Guineas Day at Newmarket last month when his only ride all afternoon was in the Classic itself.
He's not riding on Monday, just like the previous nine. Tuesdays are not generally for him, either, with only Ascot getting in the way of eight successive absences. It's a similar story on Wednesdays. You get the drift.
Last year, Dettori had just ten winners trained by people other than Gosden. Aidan O'Brien, Dermot Weld and Ward accounted for four of those. He had just 49 rides for British trainers other than Gosden.
Flashback, too, to when Dettori and Godolphin parted company a decade ago. Dettori found himself a free agent in 2013, but he struggled for support and rode just 16 winners.
A retainer for Sheikh Joaan Al Thani got the ball back rolling for him again before his tie-up with Gosden led to many glorious days with such as Enable, Stradivarius, Golden Horn, Palace Pier, Too Darn Hot, Coronet, Star Catcher and Logician.
You won't see many rides better than the one he gave Anapurna when winning the 2019 Oaks and he was perfection the following month when helping Enable beat Crystal Ocean by a neck in a pulsating King George, giving the great mare just one tap when others might have lost their cool. That year, he rode 17 Group One winners and, in total, he has rattled up 271 triumphs at the highest level.
But that was then, and this is now. Dettori needs to land on a few of those ladders.
---
More on Dettori and Gosden
The show goes on vows Dettori before winning on only ride
Dettori needs to roll some sixes in game of Snakes and Ladders
John Gosden and Frankie Dettori to 'take a sabbatical'
Dettori "in the dark" after being left off Gosden runners
Gosden and Dettori: five stars of a hugely successful alliance