Cracks in the relationship between John Gosden and Frankie Dettori have widened with the jockey not riding any of the trainer's three runners at Newmarket on Saturday.
The biggest star in the weighing room will be at Headquarters to ride the Ralph Beckett-trained Lezoo but finds himself surplus to requirements for the three John and Thady Gosden-trained runners on the card – Sunray Major, Stowel and Mimikyu.
It seems the snub has caught Dettori by surprise with his manager, Peter Burrell, admitting on Thursday: "We're in the dark and searching for answers like everybody else."
Whether today amounts to a slap on the wrists or a fracture that won't heal will no doubt become apparent over the coming days. If it's the latter, then the future of 51-year-old Dettori will be uncertain as nowadays he avoids day-to-day involvement in the sport. He tends to stick to the bigger days and has had only 87 rides in Britain all year.
Dettori has ridden Sunray Major, owned by Juddmonte, in seven of his eight races and he has partnered the Nat Rothschild-owned Stowell, who ran creditably at Royal Ascot last time, in his past six races.
However, the pair will both have new jockeys this weekend. James Doyle will ride Sunray Major in the Criterion Stakes with Rab Havlin on Stowell in the Fred Archer Stakes. Havlin will also ride Mimikyu for owner George Strawbridge in the fillies' handicap.
The news comes after a torrid Royal Ascot meeting for Dettori and the Gosdens.
Two of the most successful characters in racing, who combine to form one of the sport's most formidable partnerships, teamed up in 18 races and won only once, with outbursts and regrets outweighing flying dismounts.
Dettori came in for some blunt criticism from Gosden Sr after his ride on Stradivarius in the Gold Cup, and in the next race when Saga, owned by The Queen, failed by a head to catch Thesis in the Britannia Stakes.
Gosden, 71, said in the Gold Cup aftermath. "I was bit surprised from having been in the box seat that we dropped back so far. The problem is when they sprint, you had to come wide to get a run and he had to come widest of all. He had a chance the last furlong and the race slipped on him. I just wish we had been a little handier and not had to go through a wall of horses."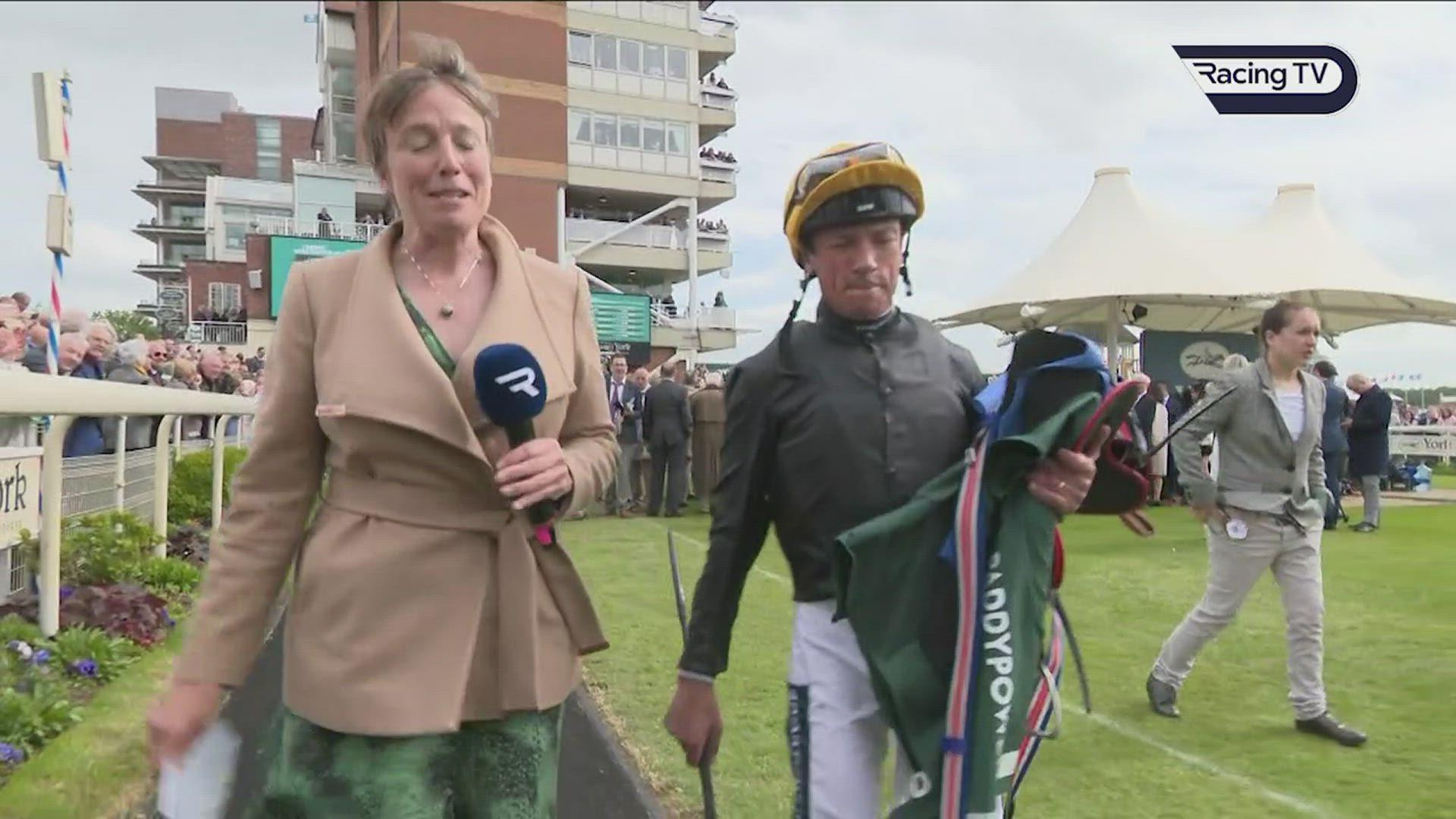 Happier times: Dettori reflects on Stradivarius's record 18th Group win at York
It was not the first time in the past year that Dettori and Stradivarius have not been seen to best advantage and he was subsequently given a two-day whip ban. His snap reaction had been that Stradivarius "had every chance to get them, but they were stronger than me. I laboured a bit at the end and I was never going to get them." That didn't tally with how most saw it, including his employer.
Before that, Lord North had been left at the start of the Prince of Wales's Stakes after Dettori had struggled to remove the horse's blindfold in the stalls. Some also questioned the jockey's tactics when Emily Upjohn was beaten a short-head in the Oaks at Epsom last month, although Gosden Sr was not among them.
Dettori did guide Inspiral to an emphatic win in the Coronation Stakes last Friday and had four more Ascot rides for the Gosdens, all confirmed ahead of the Gold Cup, before the meeting came to a close on Saturday. He hasn't ridden since, spending a few days in his native Sardinia.
After Inspiral had won, Gosden again reflected on the Gold Cup: "Our hero overcomplicated it yesterday and I was clear in my definition of that. I think it's right to say what you think. It's over, it's past, it's finished and we move on."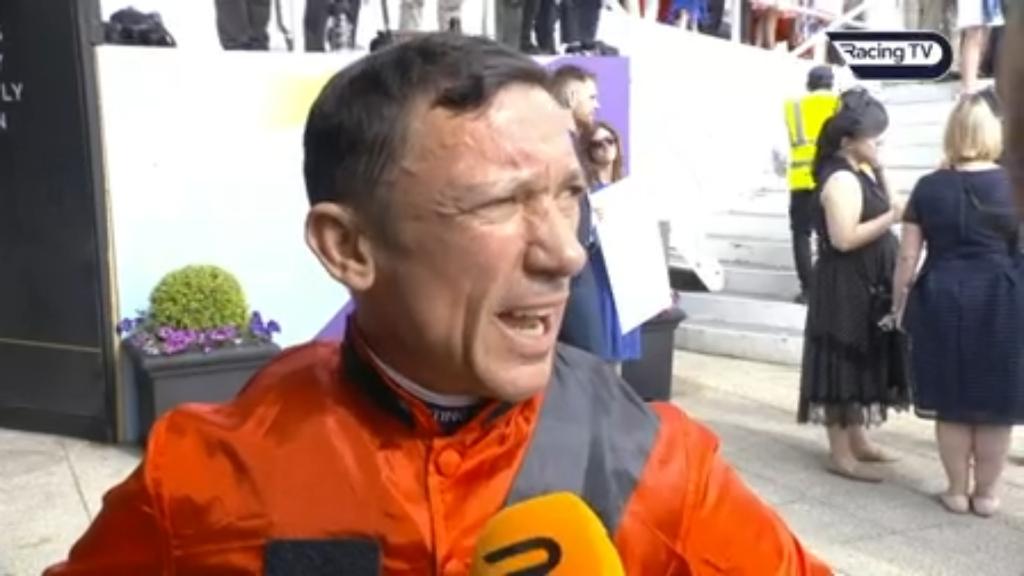 Dettori reflects on the defeat of Emily Upjohn
But, inevitably, what moving on now looks like has become clouded, with Betfair opening a book on who will be the next retained rider at Clarehaven.
They make Hollie Doyle 4-11 favourite, with James Doyle and Colin Keane both 7-1. Others are 14-1 or bigger. Doyle guided Nashwa to French Oaks glory for the Gosdens on Sunday.
Betfair spokesman Barry Orr said: "Off the back of reports that Frankie Dettori won't be riding any of the Gosden runners in Newmarket, we have offered betting on who would replace him as stable jockey should the Calrehaven team wish to do so.
"With John Gosden having spoken so effusively about Hollie Doyle and her considerable talent on more than one occasion, she is a red hot favourite to land the plum job that would see her and her husband, Tom Marquand, become the first power couple of Newmarket. Irish Champion, Colin Keane, is also a interesting proposition but it could take a lot to lure him away from Ger Lyons."
While it is not unusual for Dettori to miss the midweek action, as he has this week, it seems he was expecting business as usual this weekend.
However, he has been left with just Lezoo to ride at his beloved Headquarters, in the Listed Maureen Brittain Memorial Empress Fillies' Stakes. The filly is owned by his friend, Marc Chan.
Gosden helped get Dettori's career back on track following his split with Godolphin and the pair have enjoyed tremendous success in recent years. The likes of Enable, Stradivarius, Golden Horn, Palace Pier, Too Darn Hot, Coronet, Star Catcher, Anapurna and Logician have all helped keep Dettori at the top table.
Overall, Dettori has ridden about 600 winners for Gosden in Britain from more than 2200 rides. But he will not be boosting either tally on Saturday.
Who will be John and Thady Gosden next retained rider – Betfair Betting: 4/11 Hollie Doyle, 7/1 James Doyle, 7/1 Colin Keane, 14/1 David Egan, 16/1 Rob Havlin, 20/1 William Buick, Tom Marquand. Market settled on official announcement from John & Thady Gosden or their representatives, no announcement before 1st May 2023, all selections voided