It was 11 years ago today on a dank and damp Friday evening at Newmarket that Henry Cecil dutifully accepted a request to speak to Racing TV after scooping what must have been the umpteenth maiden of his decorated career.
The much-loved and much-missed trainer rarely wasted any words, often communicating with tilts of the head and flicks of his hair, but on this occasion there was a spring in his step and a hint that this colt, Frankel, might just be something a bit special.
"We didn't know if he would go on the ground, so we are delighted with him," the drenched Cecil said as he watched a replay in the company of Stewart Machin. "We were always going to be very easy on him and Tom [Queally] hasn't really had to ask him for anything. I haven't really galloped him but he's got good engagements. Let's hope he goes the right way. Potentially he could be very nice."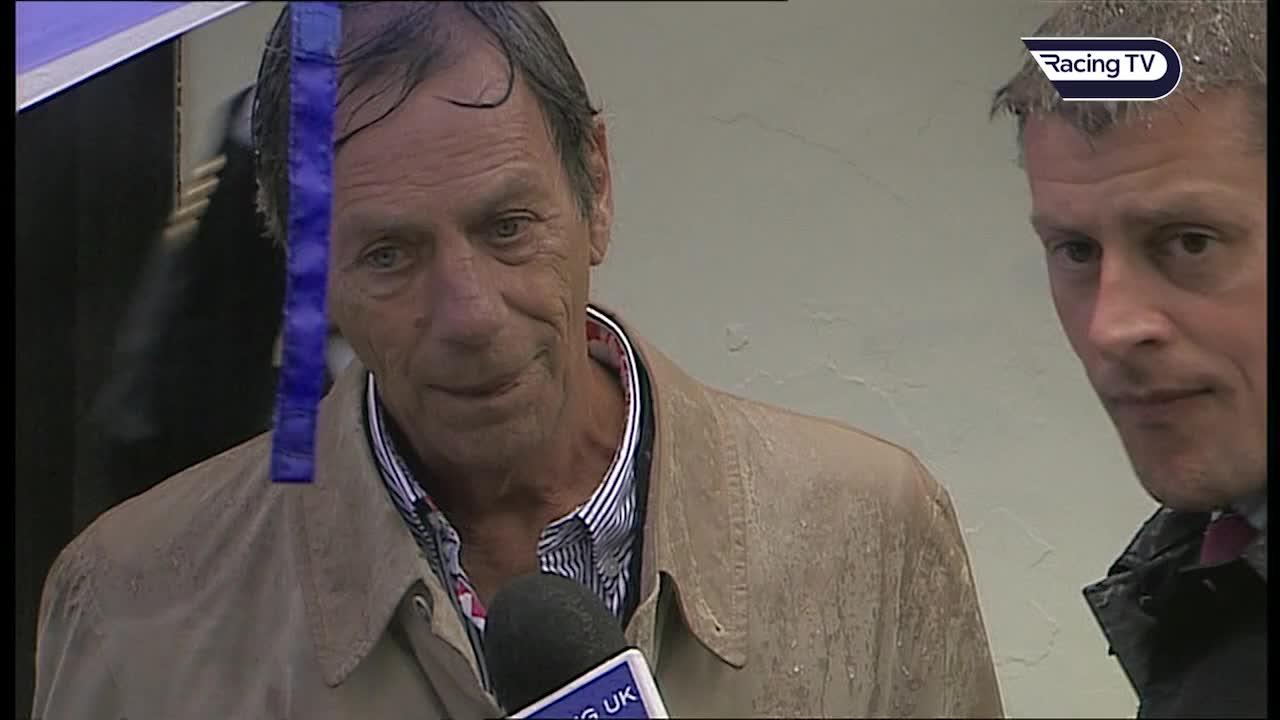 Cecil talks to Machin after Frankel's debut success
His final six words resonated. Then, polite as ever, he signed off by saying "thanks for talking".
We've been talking about Frankel ever since.
He ended his spectacular career unbeaten in 14 starts, hailed by many as the greatest thoroughbred there has been, and as a stallion his success story has yielded new chapters all around the world.
But let's go back to the start and that opening first night when a crowd of 22,049 had the July Course humming despite the inclement conditions.
Very few were there especially to see the 6.45pm – the mile maiden chosen as Frankel's first assignment.
The majority were there to instead watch pop band Westlife perform after the racing had finished. They threw in Flying Without Wings and You Raise Me Up towards the end of their set, and either would have made a suitable accompaniment to Frankel's race. And future races.
Cecil had not been deceptive when suggesting he hadn't really galloped Frankel but a piece of work the previous month, on the Limekilns, had been illuminating.
Queally was on his back and had the brake on for the first five furlongs of the workout before inviting his partner to lengthen. The response was electric.
Teddy Grimthorpe, racing manager for Prince Khalid, was among those watching and his reaction was recorded in Brough Scott's book, Henry Cecil - Trainer Of Genius.
"I've never seen anything like it," Grimthorpe said. "One moment Frankel was with them, the next he was streaking away as if others had lead in their legs.
"I have to watch a lot of gallops and know how misleading it can be when you don't know all the horses, weights and instructions. But you could not mistake this. He was going so fast in the end we thought he would finish in the Newmarket High Street.
"When we gathered afterwards, nobody said anything, and Queally was as white as a sheet. What could we say?"
Whispers about Frankel's exuberant homework, coupled with his pedigree and athleticism, led to him going off 7-4 favourite for his first run. It was to be the only time he started at odds against.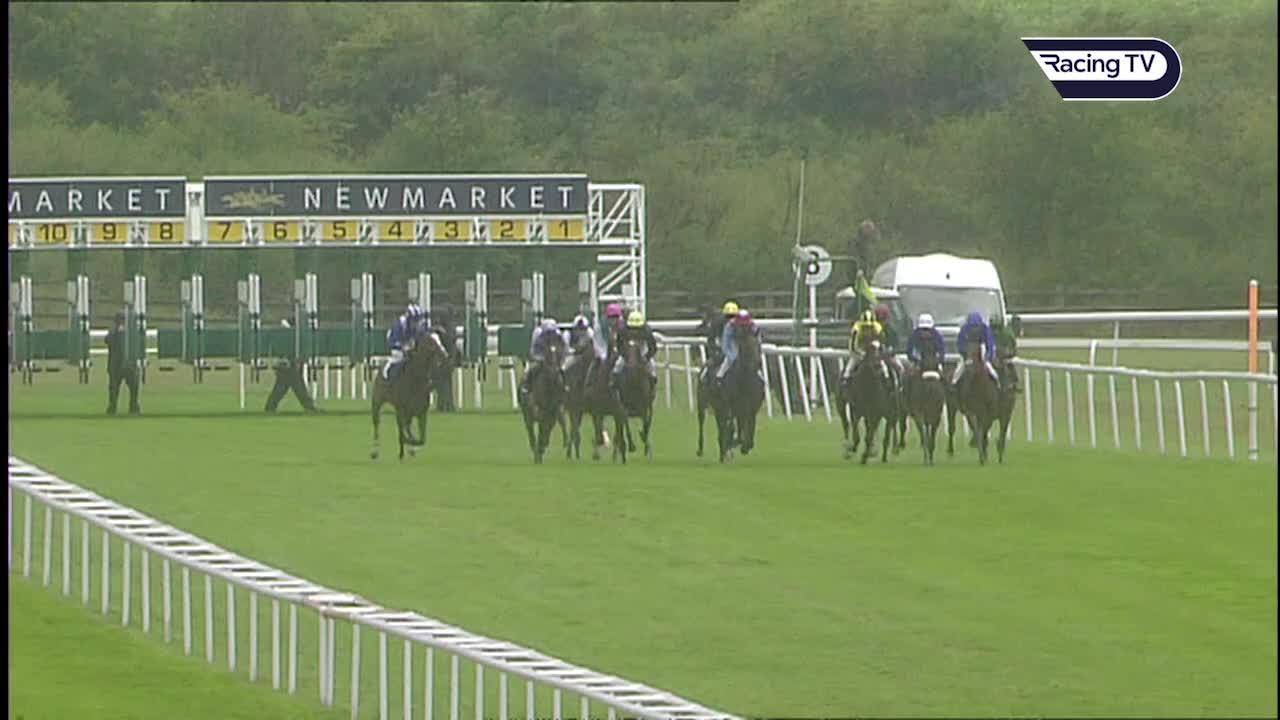 Watch a full replay of how Frankel mastered Nathaniel on their respective debuts at Newmarket
The rain-softened ground was a niggle plus there was a lot of market confidence in Nathaniel, a well-touted newcomer trained by John Gosden who was backed from 7-1 down to 3-1.
Little did anyone know that Nathaniel, too, would prove himself an outstanding performer – one who would go on to win the King George at Ascot the following summer and, as a stallion, sire none other than Enable.
Godolphin had two interesting candidates among the field of 12 in Genius Beast and Dortmund, both sent off at 15-2, while David Simcock's Maher was not unfancied, either, at 8-1.
Cecil had no other runners on the six-race card, so his focus was clear.
When the gates opened, the Mick Channon-trained Bonita Star dived right and carried Frankel with him.
It was a less than ideal start but it at least prevented the market leader getting anywhere near the front and Queally was able to anchor him in rear, albeit while having his arms vigorously exercised as Frankel yearned to go quicker.
The race began to develop three out when, initially, Queally had to bustle Frankel along to relay the business end of the contest was imminent.
Nathaniel was directly in front of him and appeared to be going a bit better, while away from the pair Dortmund was at the head of affairs and going well.
In-running punters on Betfair sniffed an opportunity to make money and were laying Frankel at up to 6-1.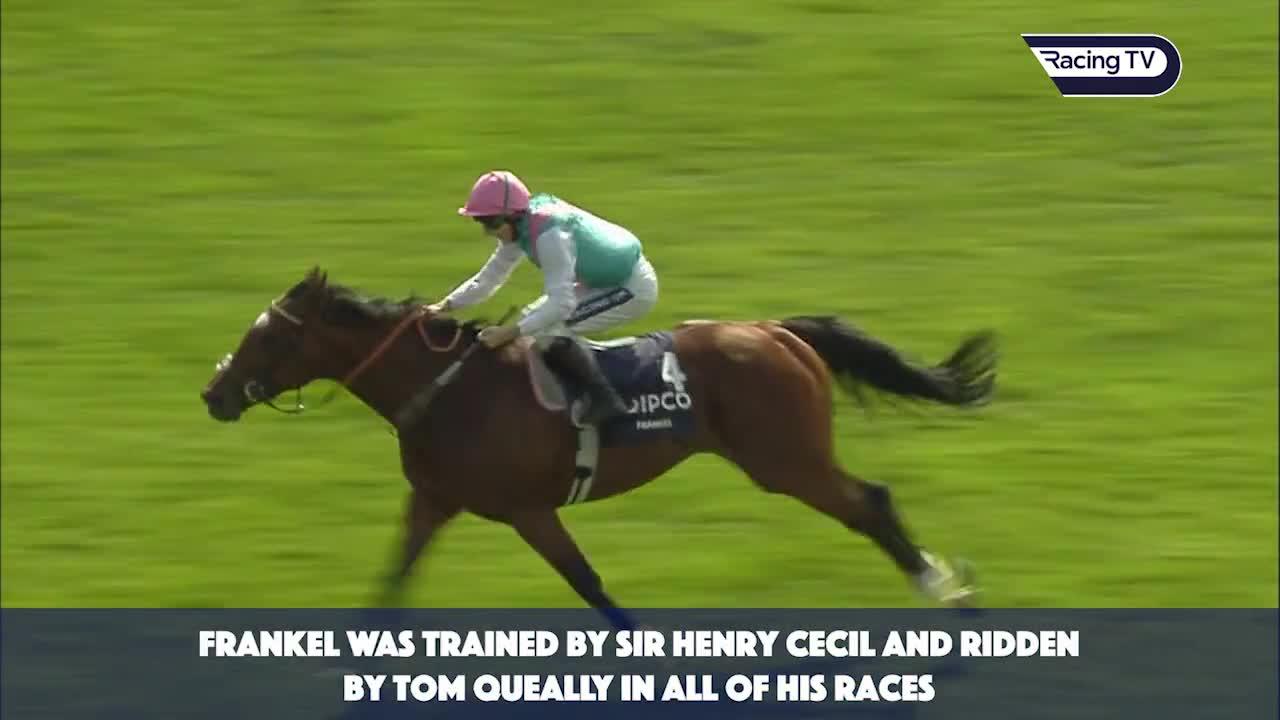 Two out, Frankel was very much in the thick of things and half a furlong further he was back on the bridle full of running.
Nathaniel stuck gallantly to his task but in the closing stages Frankel clearly had his measure and Queally nursed him home by three quarters of a length without resorting to his whip.
A perfect start for the perfect racehorse. One who will never be far from the lips of racing fans.
Want to know more about Frankel? Read Andy Stephens' Horses That Made History essay on him.