Paisley Park survived a last-flight blunder to justify favouritism and record a fairytale success for his connections in the Sun Racing Stayers' Hurdle at Cheltenham.
Emma Lavelle's seven-year-old – whose owner Andrew Gemmell has been blind from birth – had enjoyed a perfect season to date with four impressive victories which saw punters send him off at 11-8.
With confidence building behind former champion hurdler Faugheen in recent days, however, and Ruby Walsh having him in the perfect position throughout, Paisley Park faced his toughest test to date.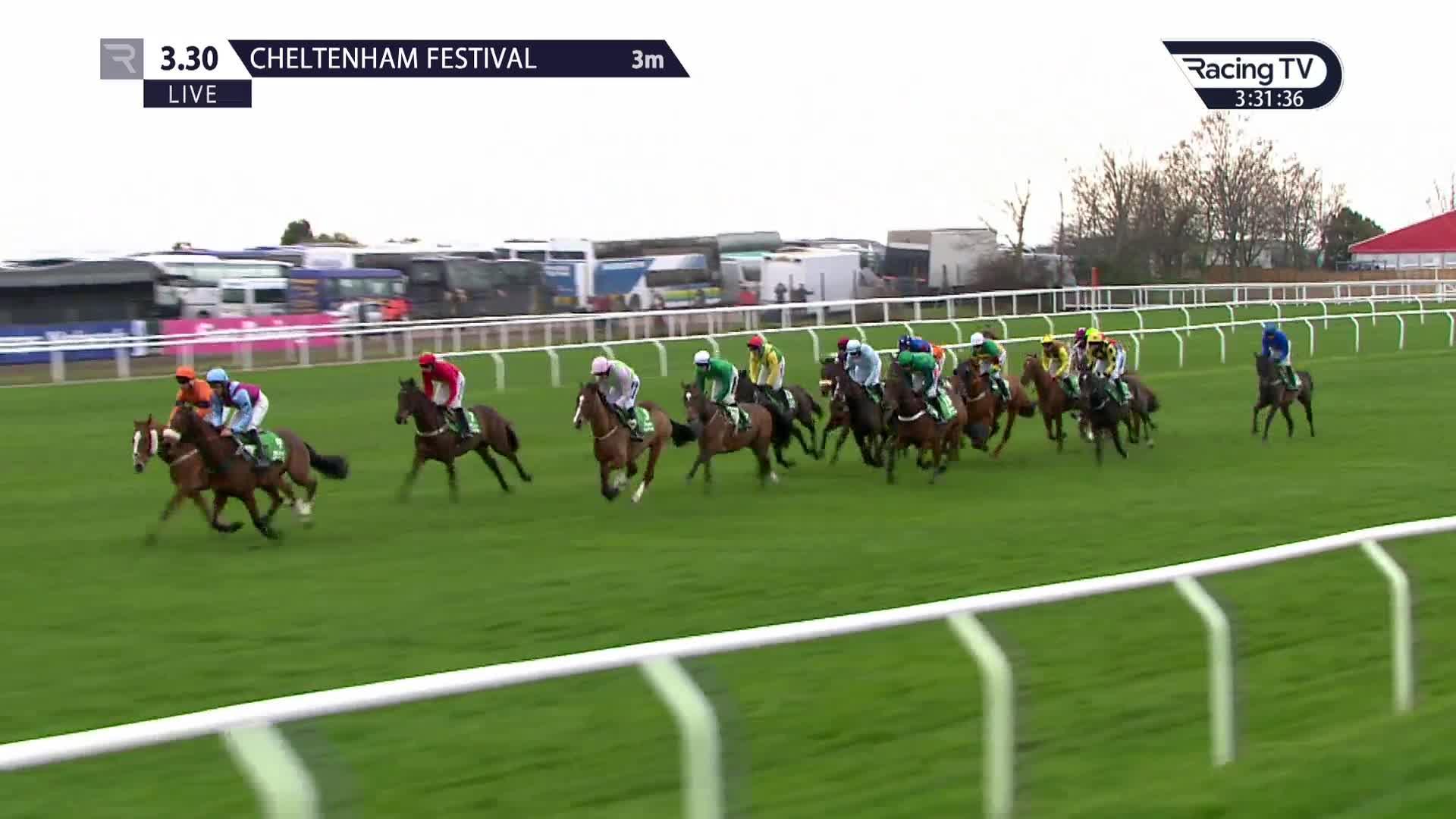 As he has in the past, Paisley Park had got a little outpaced with a mile to run, but just like in the Cleeve Hurdle, he came charging around the outside to take over from Sam Spinner, a 33-1 chance this year having been sent off favourite 12 months ago.
With Faugheen now running on empty in third it looked a foregone conclusion, but with a length lead approaching the last, Paisley Park launched himself at it, managing to stay on his feet before winning by two and three-quarter lengths.
The story of his owner has been well told in the build up to the meeting and hot on the heels of Bryony Frost bringing the house down aboard Frodon in the Ryanair Chase, the Cheltenham crowd welcomed home another popular winner.
Gemmell was all smiles in the winner's enclosure and told Racing TV's Lydia Hislop: "This is fantastic and a real dream for me. I cannot believe it has happened.
"I still had hopes [during the race] because we know that is the way Paisley Park runs.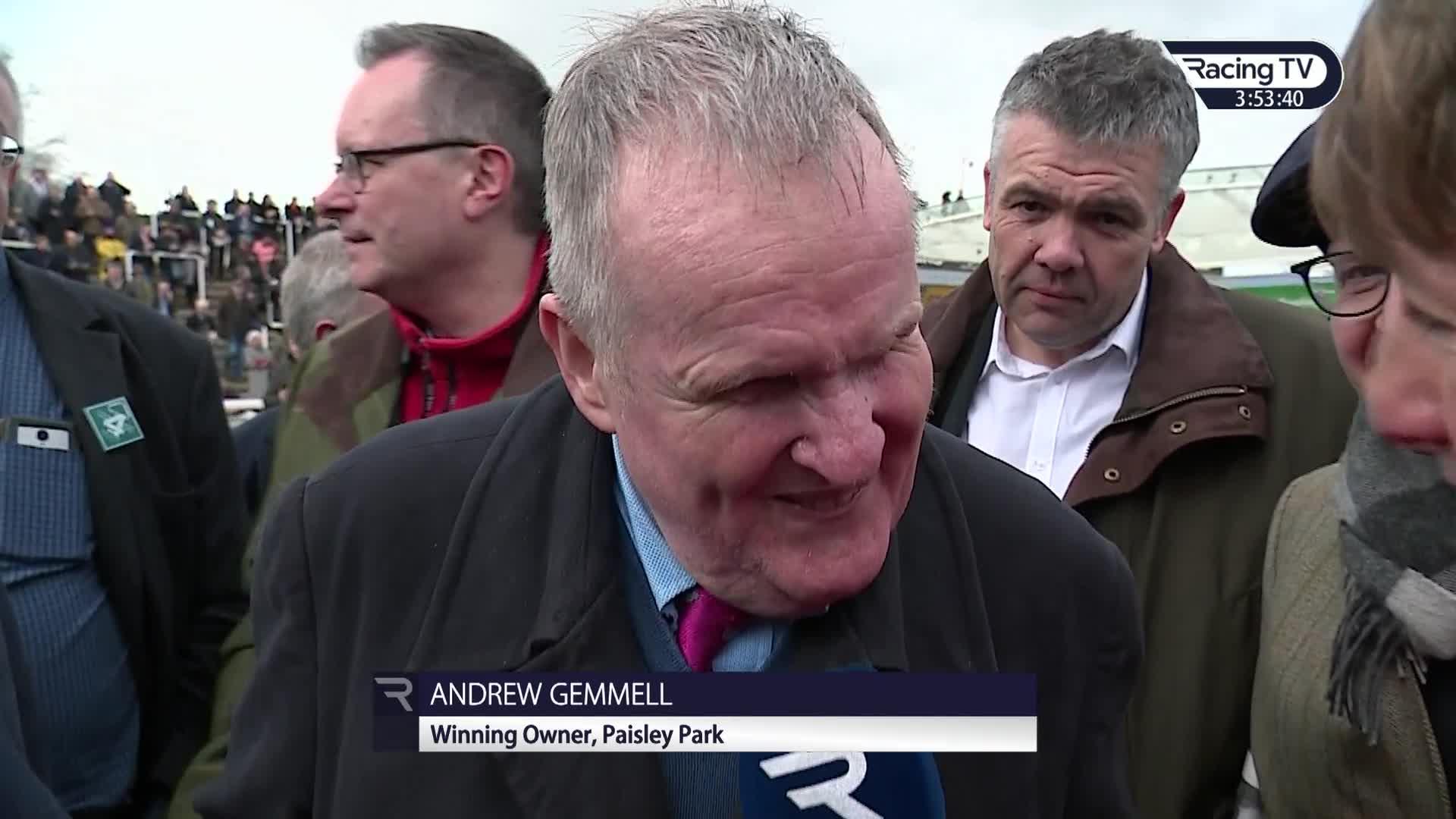 Lavelle waited 20 years for a first top level win courtesy of Paisley Park in the Long Walk Hurdle at Ascot in December, but she had less than three months to wait for a second with the same horse at the Festival.
"It's different gravy. It's just a different level," she said. "People are giving three cheers for Paisley Park! It's just phenomenal for everyone. All the lads are at home watching on TV.
"It's amazing. Watching the race we wondered if he was too far out of his ground, but Aidan (Coleman) knew what he had and said he still got there too soon. These real true stayers need to travel off the bridle, and then they need to find it when asked. That's what he's done. He's had a proper race today, and I'm so proud of him."
While most of Paisley Park's supporters had their hearts in their mouths when he hit the last and lost momentum, Lavelle didn't even see it.
She explained: "I watched it from the stands and had a tannoy right in front of me across the last hurdle, so thank God I never even saw the mistake.
"But when I watched it on the replay it was maybe not absolutely ideal, but apart from that Aidan said he probably jumped the best he's ever jumped. He just missed that one. What a special horse."
Asked about the pressure she must have felt in the build-up, Paisley Park having become one of the meeting's 'people's horses' owing to his hugely progressive profile Gemmell's widely reported sight impairment, she replied: "Weirdly I felt calm until the race was about to jump off and then I thought I was going to burst into tears.
"You just kind of feel those fairytales don't happen, and the most emotional I've been today is after Frodon won for Bryony. I thought 'Oh my God, that's amazing, but now she's gone and stolen the whole fairytale'. But we got a chunk of it so it's OK."
Coleman has had to wait 10 years for a second winner at The Festival - Kayf Aramis was his first, in the 2009 Pertemps Network Final Handicap Hurdle.
"It was super. You are never expecting to go round on the bridle on Paisley Park, but that's what makes him such a good horse because he races behind the bridle, but it is the Stayers' Hurdle and what he does is stay, exceptionally well.
"Because he's quite a relaxed horse to ride, that allows him, when he hits the hill, to really finish. Although coming down the hill you'd like to be going that little bit better, you do know that when you meet the rising ground you're going to get there. He's a fantastic horse to be associated with - I'm just living the dream at the moment.
"Hitting the final hurdle wasn't ideal but we had to do something wrong, didn't we? I thought for a second, 'oh, we're beat', but he just took a second and I gathered him again and we just took off. That shows how good he is, how classy he is and how tough he is.
"Andrew is a great fella - the whole thing is just very special and I'm loving it."
Paisley Park is 3-1 favourite with Paddy Power for next year's Stayers' Hurdle.