Watch a full replay of how Harry Angel won the Group One showpiece in stunning style at Haydock on Saturday plus Peter Naughton's interview with winning trainer Clive Cox.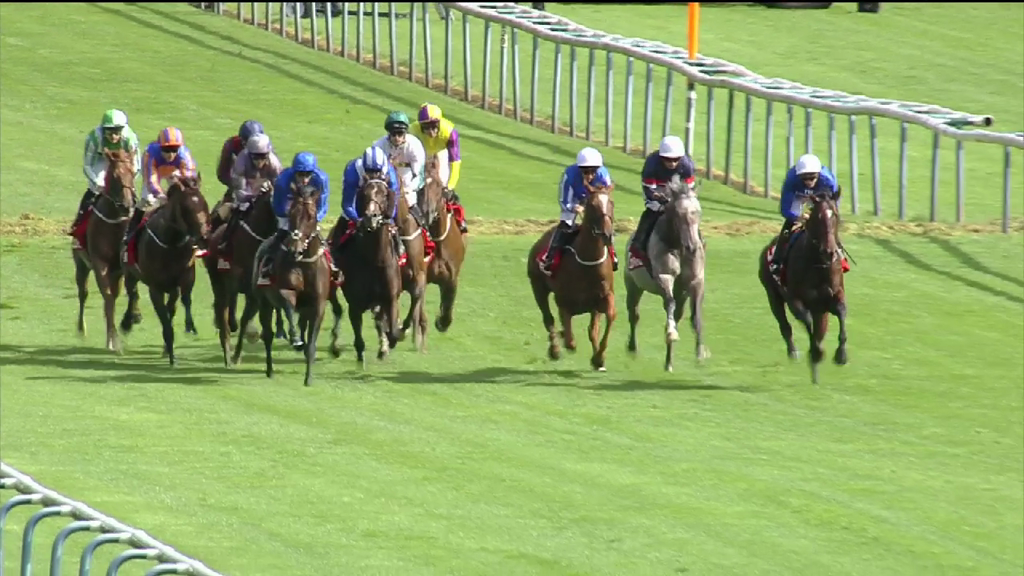 By Andy Stephens
We will never know just how close Harry Angel came to being pulled out of the 32Red Sprint Cup but Clive Cox's "journey into the unknown" with him was gloriously vindicated at Haydock on Saturday.
Cox only gave his rapid colt the green light to run on the heavy going less than an hour before the feature. He underwent a fretful journey from Lambourn, walked the track and consulted Adam Kirby after he had ridden in the first race.
"Every time the wipers went on the way here I was getting more worried," the trainer told Racing UK. "Having ridden at Haydock many years ago, I was aware of how deep it gets here."
Cox was also troubled by memories of four years earlier when Lethal Force, the fastest horse he had trained before Harry Angel, also started favourite for the Sprint Cup having previously won the July Cup.
The grey had won at Newmarket in record time earlier in the summer (it still stands) but his brilliance was blunted by the attritional surface at Haydock. He trailed home a distant ninth and never raced again - a sad farewell for a career decorated by moments of brilliance.
"It was a case of 'deja vu' - we had the same decision to make with Lethal Force a few years ago and he hated it," Cox admitted. "Harry Angel's so good on fast ground there had to be a chance he wouldn't go on it - that ground is as bad as it gets - but he's maturing all the time and thank goodness we made the right decision."
Kirby gives Harry Angel a celebratory pat after his Haydock success (FocusInRacing)
Harry Angel had been 5-4 at the start of the week but, with doubts about his ability to cope with conditions, touched 3-1 on Saturday morning.
He eventually went off 2-1 and favourite backers never really had an anxious moment. Adam Kirby instantly bustled him to the head of affairs and, while the pace was not breakneck, it was honest enough given the going.
The crunch point came with two furlongs to run when there were still plenty sitting in behind the market leader ready to exploit any chink in his armour.
Some horses can flounder when asked to stretch in the mud but Harry Angel stretched away when Kirby invited him to put his stamp on proceedings. The combination quickly put distance between themselves and their pursuers, who were simply unable to respond.
Brando never got going and was a disappointment but the form makes sense, with the other fancied contenders - Tasleet and The Tin Man - filling the places. Neither could get within four lengths of the winner.
It is rare for any Group One sprint to be won by such a large margin, regardless of conditions, and William Hill responded by making him 6-4 to secure a third successive Group One triumph in the QIPCO British Champions Sprint at Ascot last month. Paddy Power went further, making him Evens.
Cox confirmed that would be his next race, with a tilt at the Prix de l'Abbaye beforehand discounted.
"It's difficult to change gear on ground like that and to win by four lengths against soft-ground horses was super," Cox said. "He's a champion on fast ground and he's proved a champion on easier ground now, I'm so pleased."
Tasleet and The Tin Man will have another crack at Harry Angel at Ascot. "We're going to have to come up with a way of beating Clive's horse. We can't just let him have an easy lead and put the race to bed," said William Haggas, the trainer of the runner-up said. "It's clear we're better on soft ground now so we'll head to Ascot next I think."
Fanshawe said: "He ran very well again, but the ground has blunted his speed. Ever since Royal Ascot the main aim has been to head back to Ascot on Champions Day, as he runs so well there."
Kirby had insisted earlier in the week that he did not believe Harry Angel would be beaten by the ground and was vindicated.
"I'm a believer in a proper champion can win on any ground, but he's so fast I was a little bit concerned," he said afterwards. "It's a great team effort and all credit to Clive. I knew he'd won as soon as he picked up.
"He's a machine. He's got speed to burn and that's not how good he is, he's there now mentally and he'll keep on getting better."
Cox also believes the best is yet to come from Harry Angel and, given the sporting nature of Godolphin, there has to be a chance he will be back for more in 2018.
"I hope he stays in training next year," Cox said.
And so say all of us.