Watch how Montego Grey won at Market Rasen to give Dan Skelton his 200th winner of the season.
Dan Skelton became only the second National Hunt trainer in history to register 200 winners in a single season as Montego Grey won the Racing TV Standard Open National Hunt Flat Race at Market Rasen on Sunday.
Only Martin Pipe, who was quick to pay tribute, had previously reached the milestone in Britain, doing so on eight occasions, but Skelton has had the landmark in his sights all year.
He began the day on 194 winners and, with the season ending on Saturday, was running out of time. But he got there with a flourish on Easter Sunday, achieving a stunning six-timer to enter the record books.
The trainer was not at the races - his family commitments including an Easter Egg hunt with his young daughter - and perhaps he might adopt the tactic more in the future as he had never previously had six winners in a day.
Skelton enjoyed four winners at the Lincolnshire track, with Present Ranger (5-6 favourite), Gortroe Joe (6-4 favourite) and Zamparelli (11-8 favourite) also triumphing, while Istimraar (6-4 favourite) and Kereman (9-4) were on the mark at Plumpton.
Two of this three other runners on the day finished second and sixth, with his other unseating.
"It's a marvellous way to do it, to have six winners on the day is incredible," Skelton said.
"It's been such a team effort, we've had loads of runners all season and it's been a magnificent effort by all the staff, Harry (Skelton) and Bridget (Andrews) and all the other jockeys have been brilliant.
"I didn't think we'd do it. Back in the winter we didn't even have our eye on it, but as we got to mid-March we thought we might give it a go.
"The horses have been in good form all year, it's been incredible, all the team - the owners, the farriers, the vets, everyone. To achieve that number is quite remarkable.
"To achieve something that only Martin Pipe has previously done makes me feel very proud."
He added: "It's been an incredible season from everyone and I'm so proud of every single one of them.
"I set very high standards and targets, and for them to keep meeting them speaks volumes. They go racing day in, day out - it's been an incredible effort and a remarkable season."
Skelton's team may lack star names but he has skillfully got the most out of every horse in his care. The way he has placed his horses has been masterful, with brother Harry partering no fewer than 170 of them.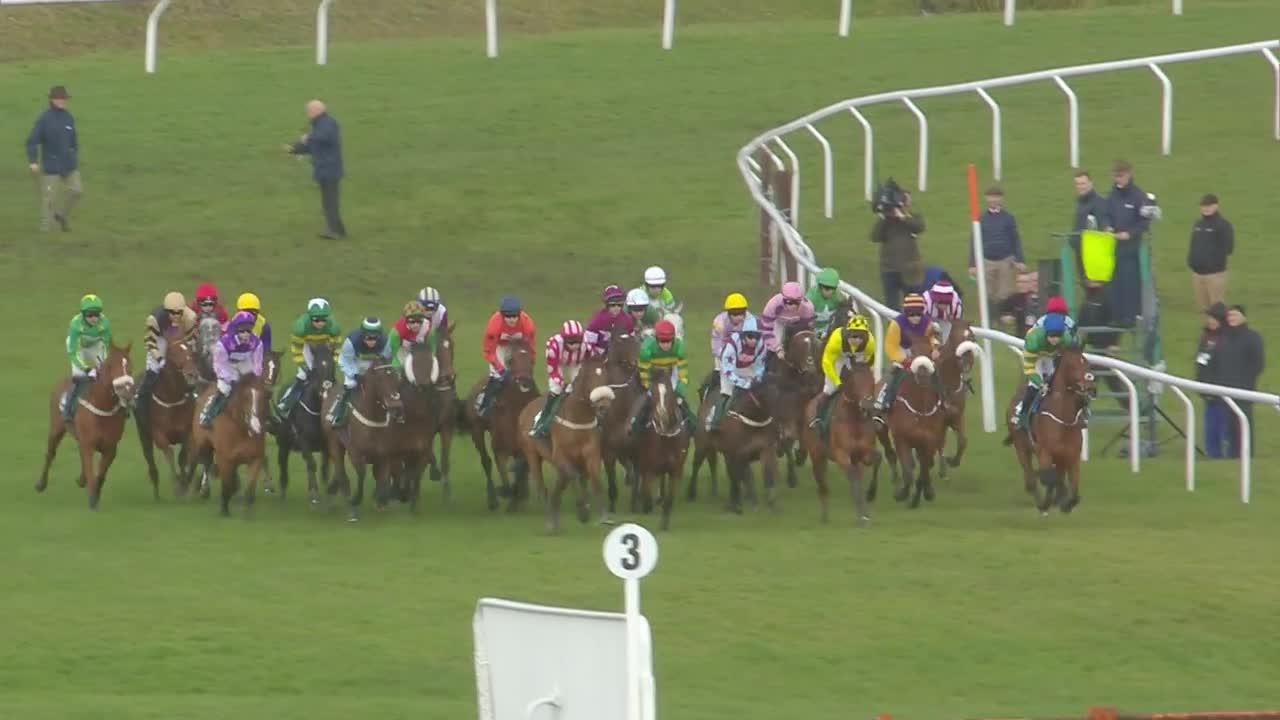 Skelton's massive haul included the Cheltenham Festival win of Ch'tibello
Seventeen of his horses have won at least three times this season, with Hatcher and Peppay La Pugh chalking up six wins each. The latter may not be finished yet as he is among his six entries for Monday's jump cards.
The unheralded Ange Des Malberaux has been another of his prolific scorers, winning five times.
"Every horse counts - you can't get to 200 without 45 or 92, that's how we look at it. Every horse and every day counts," he said.
"We've also had the big winners at Cheltenham and Aintree to go with it, which we're proud of. It's been great to be a part of, racing is our passion, it's magic."
The trainer spent nine years as assistant to Paul Nicholls before striking out on his own in 2013, with Willow's Saviour a notable winner in his first season.
Skelton has since added a clutch of Cheltenham Festival wins, with Ch'tibello making it three County Hurdle wins in four years for the yard when triumphing in March.
The Skelton brothers - sons of Olympic showjumping great Nick Skelton - also enjoyed Grade One success at this year's Festival when Roksana won the OLBG.com Mares' Hurdle, a first win at the highest level for the prolific stable.
Nicholls was quick to hail his former assistant's achievement in sending out a double century of winners.
He said: "I've just spoken to him and asked him why it took him so long as he had 80 or 90 winners by October! It's a great achievement and I'm very proud of him.
"He gets stuck in and races horses all year round. He's probably had a lot of runners as he attacks at both ends of the season - racing on fast ground in the summer and then through the winter.
"He thrives on winners though, as does Harry, and he's done very well. I'm really pleased for him and it's a great achievement."
Click here to join Racing TV now and watch complete coverage from 61 British and Irish racecourses as well as exclusive feature programmes and racing from across the world on your TV and online.