Harriet Graham doesn't just have total faith in her leading Ladbrokes Trophy contender Aye Right. She also has complete confidence in his jockey Callum Bewley.
The 26-year-old Scot will be a new name to many punters amid a sea of famous faces who will draw down their goggles in those nerve-jangling moments shortly before 3pm on Saturday.
Bewley partnered the 100th winner of his career only a fortnight ago. The bulk of those victories have been achieved at staples of the northern circuit like Sedgefield, Hexham, Perth and his local track of Kelso.
None have yet come amid the bright lights of Cheltenham or Aintree or Newbury.
Not surprisingly for a horse vying for favouritism for one of the iconic races of the jumps season, Scottish Borders-based Graham has fielded her share of enquiries from jockeys' agents keen to seek out a prime opportunity.
Bewley has never ridden at Newbury before; and his biggest win came aboard Donna's Diamond in the Rendlesham Hurdle at Haydock in 2018, when he was still a 3lb claimer.
He has ridden Aye Right in all bar one of his 19 career starts, including last time out in the Charlie Hall Chase at Wetherby, when a seven-length third to Cyrname and Vinndication caught the eye of many an ante-post punter.
And Graham, who is perhaps better known as clerk of the course at Musselburgh and Hamilton, believes the unmistakeable synergy Bewley and Aye Right have built up in the three years since he finished third on his racecourse debut in a Kelso bumper outweighs his lack of big-race experience.
She said: "Callum isn't our retained jockey but he's always ridden for us. He's earned this opportunity. Richard Johnson is the only other jockey to have ridden Aye Right, and won on him, and we sometimes use other jockeys just to get a different opinion about a certain horse. To get feedback from someone like Richard can be invaluable.
"We've had a few offers from agents, but Callum is so bought into the horse and knows him inside out. I think that showed in how he rode him so positively at Wetherby last time. We were absolutely thrilled with that run.
"Newbury is a fairly straightforward track. It doesn't have too many idiosyncrasies, so I don't have any worries about the fact Callum hasn't ridden there before.
"The other advantage, and I don't underestimate this point, is that I know Callum will be available. He doesn't have a ride in any of the earlier races, so he won't get bashed up in a fall, which can be a real risk. The last thing you want is to be left scrabbling around for a replacement who has never even set eyes on the horse before, let alone sat on him."
Fate has already smiled kindly on Bewley. A seven-day ban, for using his whip above the permitted level when finishing second on Get Out The Gate at Kelso this month, concludes on Friday.
Ordinarily, you'd find a jockey bumping his gums at such a suspension. But when Bewley sees the misfortune which has recently befallen weighing-room colleagues Henry Brooke and Lucy Alexander, both of whom face lengthy spells on the sidelines through injury, he admits being forced out of the firing line this week could yet turn out be a blessing a disguise.
He said: "No one likes missing racing but I've been quite lucky really. You see all these tales of jockeys who've missed out on a big winner because they've got injured in a fall a day or two before.
"To look back and think you missed out on riding the winner of a race like the Ladbrokes Trophy because of something like that would be hard to take."
Unlike Graham and Bewley, owner Geoff Adam is no stranger to big-race glory. The Dick Allan-trained Pat's Jester carried his colours to success in the 1988 Scottish Champion Hurdle and, four years later, to a seven-length victory over Katabatic in the Newton Chase, a Grade 1, at Haydock.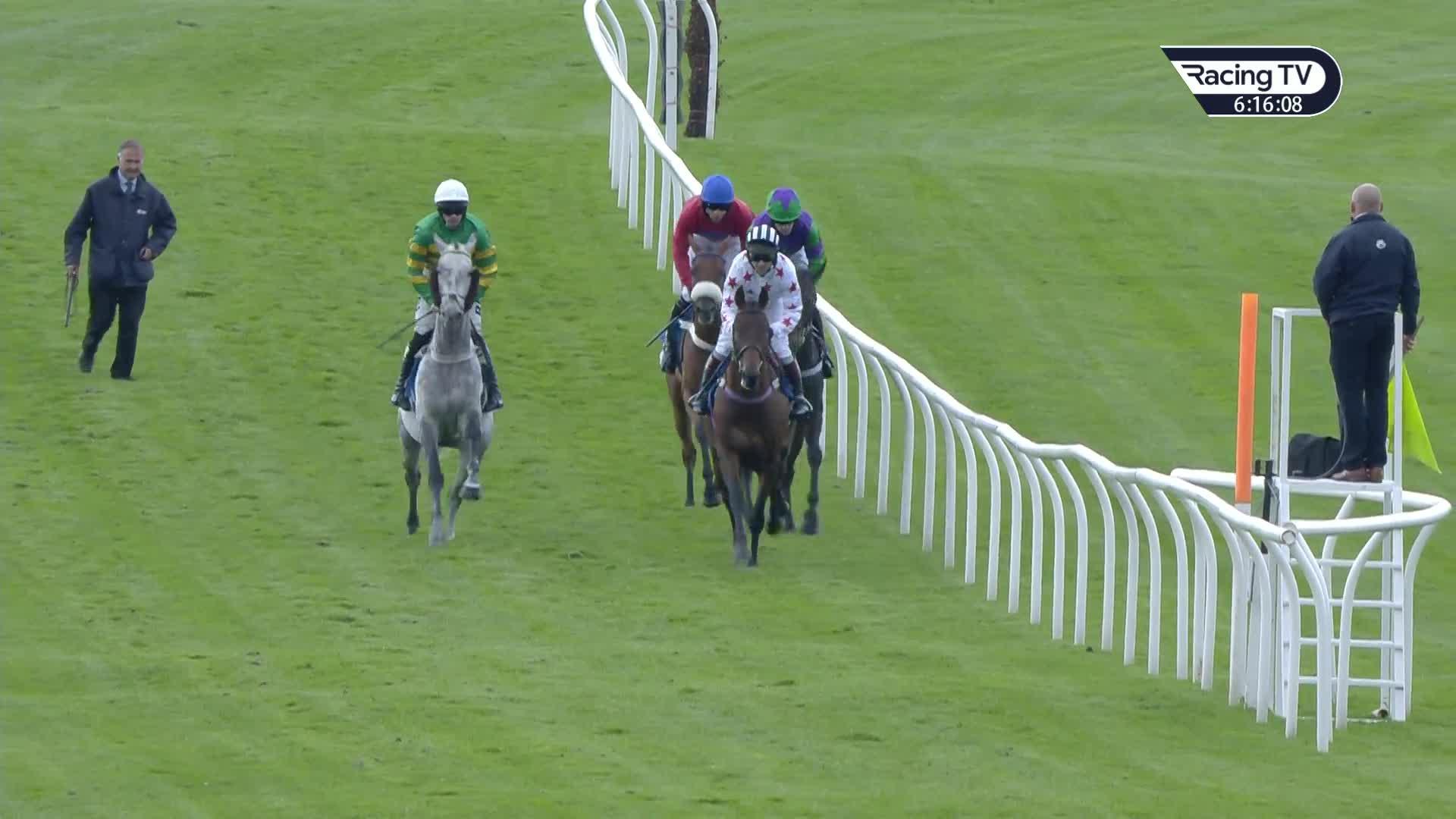 Aye Right secures another win at Kelso last season
Perhaps more famously, however, Pat's Jester finished runner-up to The Fellow, ridden by the late Adam Kondrat, in the 1992 King George VI Chase.
Aye Right is the best he's owned since then – and Bewley is indebted to Adam and his wife Elspeth for the faith they continue to show in him. He added: "The day Richard Johnson rode Aye Right to win at Kelso, I was recovering from rupturing my spleen. For his next run, Geoff and Harriet had Aye Right entered for a Pertemps qualifier down at Cheltenham. I was out for at least two-and-a-half months and was pushing myself to get back.
"But there was also a meeting at Kelso that day and I had the prospect of decent book of rides. Geoff called me to reassure me that Aye Right was my ride, but that I should go to Kelso. He knew I had a few rides in the pipeline and that it was also much closer for me to make my comeback.
"Richard was booked to ride Aye Right again. But it absolutely tanked down at Cheltenham, the ground went heavy and Aye Right ended up being a non-runner."
Bewley isn't fazed by the prospect of riding such a fancied contender on Saturday. Pressure, he says, is for tyres. Much of that relaxed demeanour stems from the unshakeable belief he has in his favourite partner in crime.
Bewley added: "I've said right from the word go that Aye Right is a very good horse. I know how lucky I am ride be able to ride a horse like him. He's definitely the best I've ridden, he's relentless.
"He's not the easiest because he can be very keen. He just always wants to go forward, but it's not an issue. He's just such a willing horse.
"It's a strong race on Saturday, a very open race, but I don't think he'll be far away. He jumps and gallops and if we turn into the home straight still on the bridle, I think he'll take an awful lot of beating. That's a bold statement to make, I know, but I really do think he's that good."