Watch the discussion Nick Luck and John Ferguson had about the bloodstock sales sector on Sunday
By Hary Allwood
John Ferguson put up a vehement defence of the bloodstock sales sector on Racing UK on Sunday when he insisted 99 per cent of the people involved in it are honest people.
There has been criticism in some quarters about certain activities in the sales sector and the BHA has launched a review after receiving evidence of alleged criminal wrongdoing.
However, Ferguson, 57, who has almost a lifetime's experience in bloodstock sales, said on Luck On Sunday that certain newspaper stories had been wide of the mark and offered education on a variety of subjects. Here are the subjects the pair addressed:
Nick Luck: Does the whole world of the bloodstock auction need a root and branch review from the BHA?
John Ferguson: There is a thing called the code of conduct and the BHA have decided to review the code of conduct which basically says the dos and don'ts of bloodstock.
To me, it is very simple. The bloodstock sales are a microcosm of life and at the end of the day, if you break the law, you should be punished.
The fact of the matter is that 99 per cent of people who deal in the bloodstock world, whether it be consignors, buyers or trainers, are honest people carrying out an honest day's work.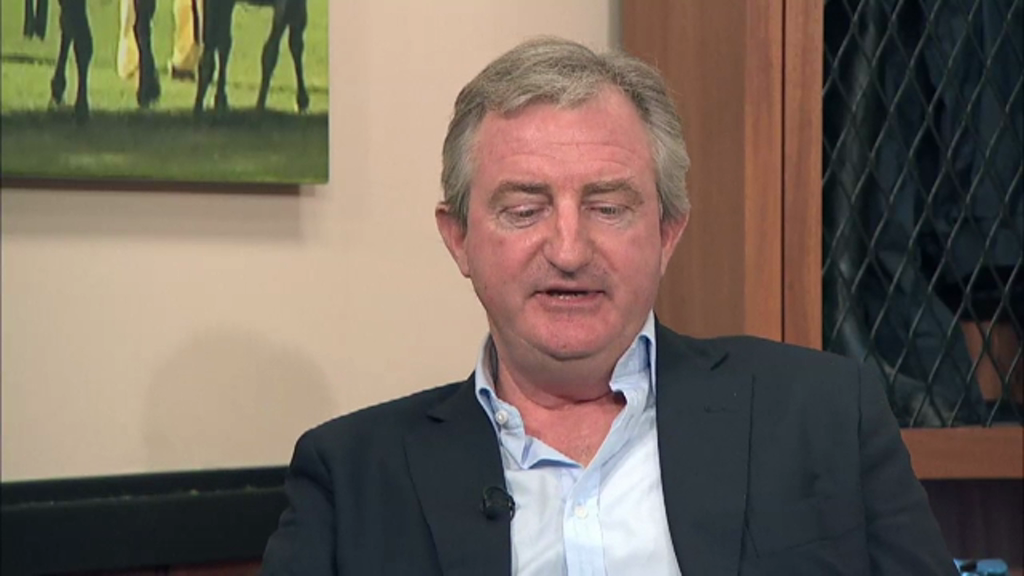 I must say, I believe that the BHA were very, very honourable in their intentions of having a look at the bloodstock industry and I see nothing wrong with that but I think to sensationalise that as if the bloodstock industry is in bad shape I think is very, very wrong of the Racing Post.
I feel that we are all in this together and if the Racing Post have proof or have an article with real depth and understanding, which helps solve the problem, then I am all in favour.
However, write an article condemning the bloodstock industry during the sales I think is possible very counterproductive.
NL: Lee Mottershead, who has written this piece in the Racing Post, has been following the story, checking his sources, has anecdotal evidence from players in the bloodstock industry saying they have been bribed, coerced, and threatened. That is all the evidence you need, isn't it?
JF: I will put it very simply. I have probably bought more horses over the last 30 years and I can only speak from my own experience. I can honestly tell you that nobody has ever offered me an incentive to buy a horse in my life and have never been bribed. No one has even approached me to offer me something.
Secondly, because I knew I was coming on the programme, I went around a few of the consignors and asked if this is prevalent. They all said to me, in their experience, no one had ever come up to them and asked them for anything.
Ferguson says he has never been offered an incentive to buy a horse a the sales
I am not suggesting for one second that it is pure as driven snow and I am not suggesting we live in a monastery. I am sure, like in any walk of life, there are people out there who are perverting the sales industry.
All I am saying is that it is nothing like as prevalent that people are suggesting. What I am also suggesting is, if somebody has an example of where they have been threatened, coerced or bribed, come up with a name.
Tell us who they are, report it to the sales companies who can then in turn report it to the police.
NL: There were a lot of issues raised in the Racing Post piece and they are interconnected but are quite different. Is it acceptable to bid on your own horse to inflate the price?
JF: Yes, because you are not necessarily inflating the price of your own horse. I read in the Racing Post that they were saying they felt that you shouldn't be allowed to bid on your own horse.
Within the bloodstock sales, there are several horses that belong to more than one person. A thing called a foal share is if you own the mare and I own the stallion, you don't pay your stud fee. We join her together, we have a foal, we own it 50-50.
You must be allowed to bid on your own horse because, at the end of the day, the marketplace is going to decide the value.
NL: Is it acceptable to get another person, on your behalf, to bid for your horse to artificially give the impression of a bidder who is not an actual bidder?
JF: Absolutely, because you may want to remain anonymous from me. I have the stallion, you have the mare and the foal is owned 50-50.
You want to go and bid for your horse but you don't want to me to necessarily know that it is you bidding for it so you ask someone to bid on your behalf. There is nothing wrong with that.
NL: You don't think that is subterfuge?
JF: Not at all.
NL: You don't think you should always have to be playing with an open hand?
JF: Not at all. At the end of the day, your anonymity in a sales ring is important. That is why people hide behind pillars. I think that is not a problem.
With partnerships, you should be allowed to bid or allow somebody to bid on your behalf. I see no problem with that.
I firmly believe that you should be allowed to bid on your own horse, even if you own 100 per cent of it, because at the end of the day you value your horse to a certain level.
The bit that I think everywhere is making a mistake is that, if you are the owner and I am the agent and you come to me to buy a horse, you tell me what you would like to bid for that horse. In other words, you have a value.
I have never walked into a yearling sale, to buy a yearling, without knowing the last bid that I will make. Therefore, you protect yourself. If the owner of the horse has decided he actually values it more and doesn't sell it, that's fine, that's his problem and I will go and find another and he has to pay the 2.5 per cent commission.
NL: If I buy a horse off you for £300,000 and you give me a percentage of that money back as luck money, is luck money acceptable in that regard?
JF: No. What I would say about luck money is that, if you buy a horse and someone gives you five euros, you could argue that one euro is too much. It is an old Irish tradition that someone will give you five euros.
Where it becomes seriously dangerous is if someone were to give you a considerable sum of money, which you have the right not to accept and I would never do, you are representing the owner and the client that you work for.
NL: Surely people's main disgruntlement with any practise in the sales is if there is third party involvement and the new owner, for arguments sake, is cut out of the loop. So, a new owner says to the agent I have got £200,000 to spend, the agent goes around the sales and says to a vendor how much do you want for that horse and the vendor says he wants £100,000. The vendor then says I will bid £200,000 for it and we'll split the difference. Not only are they then getting 5 per cent declared commission from the owner, they are also getting a 25 per cent undeclared commission that no one knows about. Has that sort of thing happened in your experience in the bloodstock world?
JF: People are going to think I am rather naïve. I will tell you now, I have never heard have never been told, categorically, that that man did it to that man.
If somebody is told that, and they have proof, they must tell the sales company who must tell the police. What you have just described is a criminal offence.
The sales companies don't want to condone criminal offences any more than anyone else does.
What I am saying is that the law of the land, fundamentally, is sufficient providing the sales companies or whoever get the proof to do something about it. If I was an agent and I went around doing that, that is as much breaking the law as robbing a post office is.