Out star columnist Lydia Hislop reflects on Shishkin being ruled out of the Tingle Creek Chase and. studies the staying chasers, hurdlers and novice chasers in her latest column. Watch Road To Cheltenham, the show, at 9pm on Thursday. Last week's show is below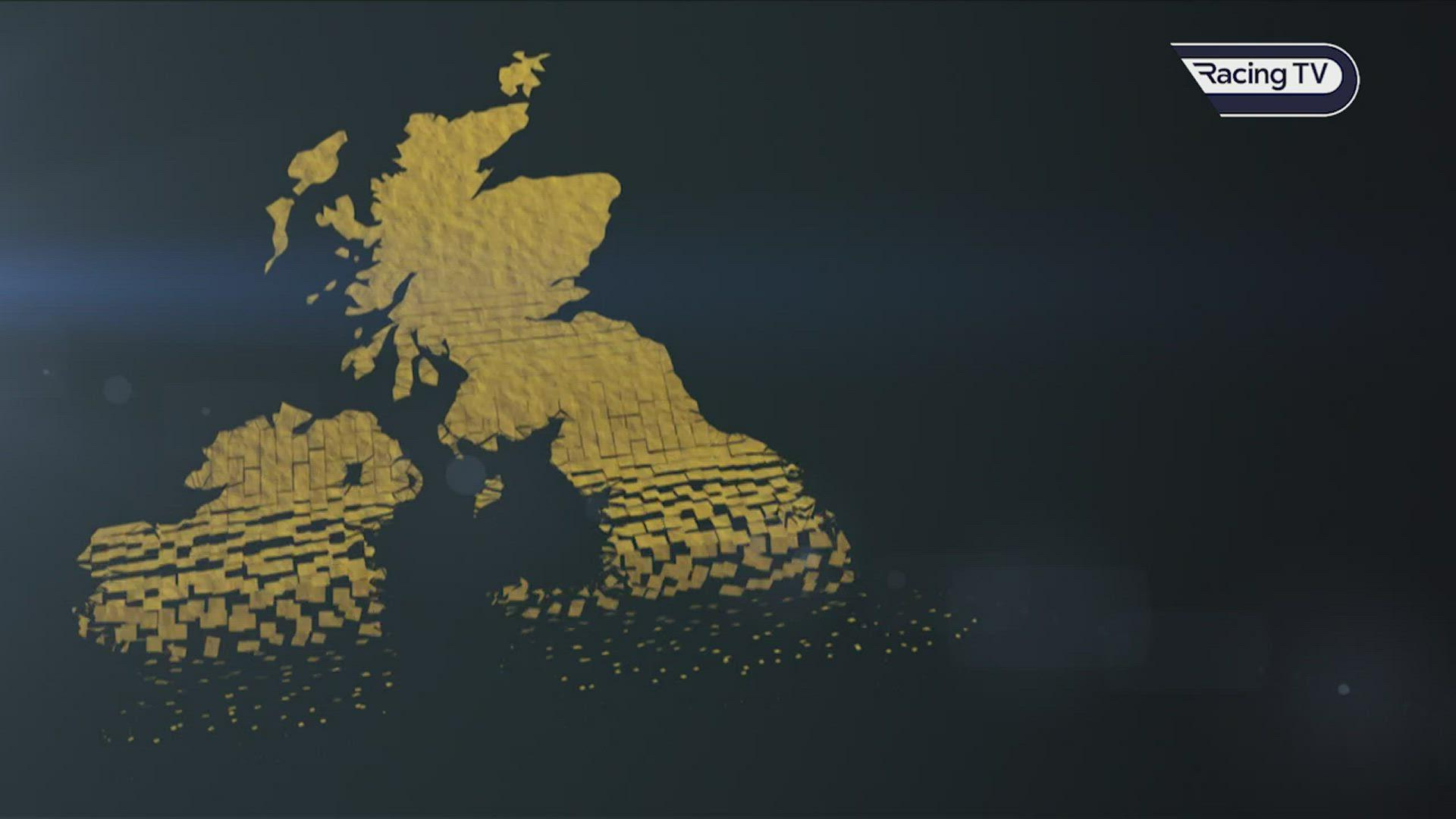 Since I wrote the main body of this column, news has broken that Shishkin will not run in the Betfair Tingle Creek on Saturday week. Trainer Nicky Henderson will instead push back the return of last season's star two-mile novice chaser to the Grade Two Desert Orchid Chase at Kempton over Christmas.
Speaking to the Racing Post, Henderson explained: "There's nothing wrong but Nico [de Boinville, his jockey] and I feel he's not quite there. He's never been a brilliant work horse and that makes life difficult in assessing him. I'd love to have been able to work him on grass. The best thing for the horse is not to get chased – I'd have to put the gun to his head a bit too much, I fear [by trying to get him ready for the Tingle Creek]."
He added: "He just hasn't quite come – it's as simple as that. He had a brilliant summer and looks a million dollars now... He's fit enough, but I just don't feel he's sparking enough and not quite giving us all the right vibes I'd like to see.
"He's not injured – we don't go cantering injured horses. He's all right, but Nico and I aren't 100 per cent happy with where he is and you can't go running them when they're like that. He's just not where we want him to be at this moment. We want to be at Sandown, but it's not the right thing to do and I'm not trying to keep him for anything, but he's not where I want him at the moment and Nico feels the same."
It is, of course, Henderson's prerogative – as for any trainer and owner – to decide where and when his horses run. It is part of a trainer's skillset to judge when to push a horse and when to back off, when to run and when to sit out, with the bigger picture in mind. In this strict sense, Henderson cannot be criticised: he judges Shishkin isn't ready and so, by his own logic, he should not run.
The problem for British racing comes, however, when so many of the best horses are currently trained in Ireland and the remaining handful from the top-drawer trained over here are collected in so few hands – and yet they continue to be serviced by a bloated race programme. In this context, it becomes an exacerbating factor if one such pair of hands takes a broadly conservative attitude to campaigning.
Yet Henderson absolutely must not shoulder the blame for this crisis – even though so many of us have been openly joking he would surely get the yips about running Shishkin at Sandown ever since Willie Mullins let it slip that one of his Big Three (Chacun Pour Soi, Allaho or Energumene) would be turning up.
Henderson's quote at the time of Mullins' announcement was revealing of the underlying issue. "I can see Willie's point," he said then. "He's got two or three [horses] to play with and is going to have to come here with something, otherwise he'll run out of race in Ireland." The clear implication is, to Henderson's mind: if you've got three horses, you need three races. God forbid two should ever clash before March – except in the extremis of a King George, perhaps.
Yes, the problem goes far deeper than one trainer. There are too many options, too many dodges, too many paper tigers – primarily in British racing. If it isn't the ground, it's the track. If it isn't the track, it's the timing. If it isn't the timing, you can bet your bottom dollar it'll be something else. Fans are getting bored of it. And, sadly, they're right to be.
You cannot level a wholly comparable charge in Ireland because its fixture list is much tauter, meaning Irish trainers don't have the luxury of picking and choosing. Their horses must run where they can and the bigger yards frequently line up more than one horse in a race.
So, remove duplications – among other augmentations – in the British programme book and you would funnel horses together sooner. Might this actually benefit those horses, seasoning them for tougher targets ahead or rationalising their campaigns more appropriately? You know, a bit like the Irish do? (Has that gone well for them, can you tell me?)
In the meantime, why should we expect British racing fans to remain interested in this sport outside of the Cheltenham Festival and Grand National? If they're not seeing many clashes of quality from May to February, why should they pay hefty enough prices to pass through the turnstiles at racecourses? Why should they switch on ITV Racing? British jump racing needs to be able to answer those questions better than it currently can.
Staying chasers
Watch a full replay of the Betfair Chase
An utterly dominant performance from A Plus Tard in last Saturday's Betfair Chase not only provided Ireland with a first victory in that Grade One event but propelled the winner to favourite for the Cheltenham Gold Cup – and anything else he's likely to contest in between.
It was pretty much a flawless display. Settled towards the rear, his jumping was sound and he crept steadily closer without being asked. A jaunty jump at the fourth-last caused rider Rachael Blackmore to rein him back on landing, so easily was he travelling. Yet there was nothing capable of going with him from after the next and he went clear, uninterrogated, on the bridle. He adjusted right a few times, but that's always been his habit. The winning margin was 22 lengths.
There is no doubt that A Plus Tard has begun this season at least as well as he ended his last. This was merely his fourth start at three miles or beyond and, given he's still only seven years of age, his potential in this division has not yet been fully exposed.
However, did we learn enough to merit his odds halving to a best-priced 7/2 for next March? I doubt he needed to improve to win at Haydock, even though comparative times with the succeeding course-and-distance handicap admittedly indicate he ran to a big figure.
Runner-up Royale Pagaille was suited by the flat track but did not jump cleanly, would have preferred deeper ground, was making his seasonal debut and returned with a wound on his right-hind pastern. Chatham Street Lad made mistakes and was never involved in the race in any meaningful sense. Fourth-placed Clondaw Castle was tailing off before the home straight.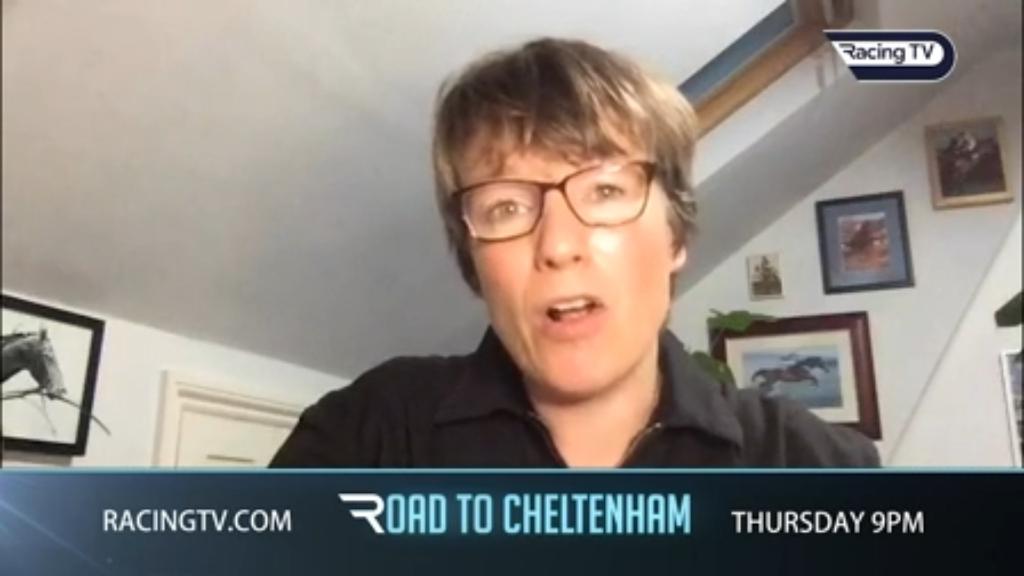 Bristol De Mai's jumping lacked its usual fluency at his favourite track, on a much sounder surface than is customary for this event and from a horse who's rising 11 years of age. Waiting Patiently jumped poorly in last and hung persistently right. Imperial Aura suddenly fell before the race even started to unfold. In short, A Plus Tard beat a field full of not much by a long way.
The best of British – Clan Des Obeaux, namely – was not present and, of course, A Plus Tard split two compatriots in Minella Indo and Al Boum Photo when second in last season's Gold Cup. So, given he will encounter all or some of those horses in future, not to mention ascendant second-season chasers, this task will surely turn out the easiest of his campaign.
The key difference between A Plus Tard and Minella Indo last March was jumping. Whereas there were more evident concerns about the latter going into Cheltenham – following a fall in the Savills Chase and a reticent display in the Irish Gold Cup – in last season's Road To Cheltenham series Ruby Walsh highlighted A Plus Tard's tendency to be tardy when resuming stride after jumping. At the time, this analysis was to highlight what was holding the horse back over two miles, but it turned out to be pertinent over almost twice as many fences and ten furlongs further, too.
Watch the 2021 Gold Cup back and you'll see Minella Indo routinely getting away from his fences more swiftly than A Plus Tard. (The winner also made fewer errors whereas – albeit never looking likely to fall – A Plus Tard made a mistake at the 16th and slowed into four out, the knock-on effect being he subsequently got squeezed out, on the backfoot, between Al Boum Photo and Black Op when trying to hold his position.)
But it's the last two fences that best illustrate this point. Minella Indo seemed to round the home turn more readily than A Plus Tard, who was playing catch-up after the above incidents and adjusting right three out but responding doggedly to Blackmore's urgings. Then – critically – Minella Indo landed farther ahead after the penultimate flight than the superiority with which he had taken off. A Plus Tard again adjusted right, took no chances.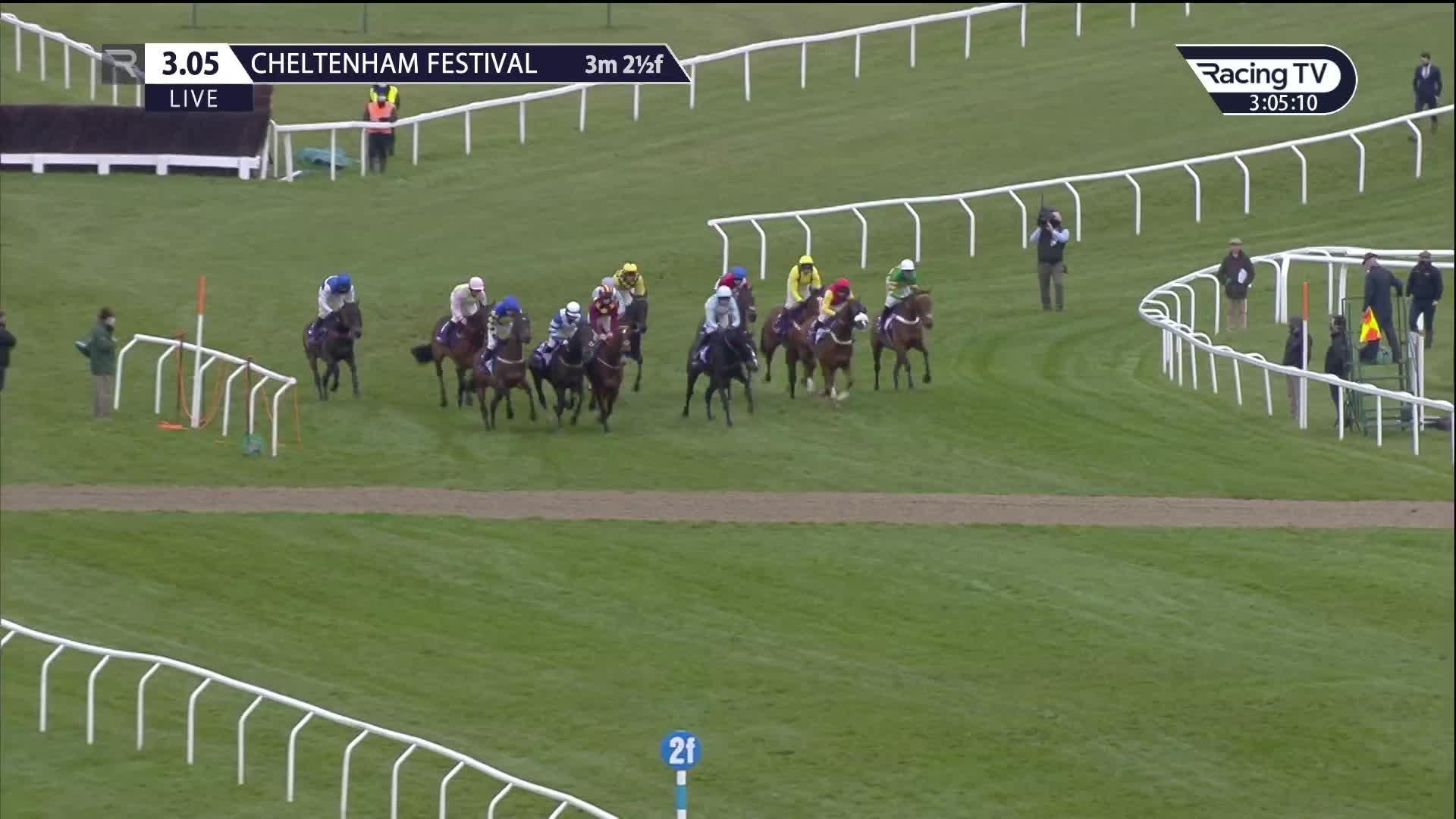 Approaching the last, again Blackmore had worked to get A Plus Tard closer and needed a flyer she didn't get. Instead, her mount got in close, jumped safely, and then again inched ever closer on the final climb until the winning-line intervened.
Has A Plus Tard's technique improved? Has he grown confident enough to stand off a fence and land galloping? The jump at Haydock's fourth-last was perhaps encouraging, but the context is doubtless important – he was toying with lesser rivals at the time and not needing to produce an advancing jump, under pressure, against peers. Might it be that – examined at the very highest level – he will always lack a fraction of scope? Or has that reticence been conquered?
Such is his current consistency of form at this trip, however, this only becomes a chance-defining difference if his main rivals give their best running. But currently at 7/2 and not 7/1 for the Gold Cup, it matters. A Plus Tard heads next to defend his Savills Chase title, from which he went straight to Cheltenham last term.
The King George is Royale Pagaille's next target, for which he will be match-fit and suited by the track. His connections will be hoping for a lot of rain in the meantime which, if materialising, could make existing ante-post offers of 25/1 and 33/1 look rather large on an each-way basis.
This was an encouraging start to his season, even if Gold Cup aspirations appear beyond him for a variety of reasons. His presence should ensure Kempton's Grade One is conducted very differently from Frodon's expand-and-contract front-running performance of last December, as he won't want to sit off a steady or stop-start pace.
Royale Pagaille and Bristol De Mai might bump into each other in the latter part of the season, their preferences having plenty of overlap in the Venn diagram – albeit the latter can now fully embrace the veteran era whereas the former is still a young horse. Bristol De Mai returned sound after pulling up at Haydock and was deemed to have hated the ground by co-owner Simon Munir.
I thought Chatham Street Lad might return to the scene of his standout performance in Cheltenham's Caspian Caviar Gold Cup Chase last December, as the New Course clearly suits, but he hasn't been entered and, intriguingly, instead holds an engagement in a staying-handicap hurdle next week.
Clondaw Castle is running above his grade and it's back to the drawing-board for connections of both Imperial Aura and Waiting Patiently – the latter reportedly "very fit", according to Ken Pitterson's Inside Track column.
The former had an operation to augment his breathing prior to Haydock and – prior to attaining the ignominious honour of being the first horse to fall in 17 runnings of the Betfair Chase – had jumped fine. However, Imperial Aura has now failed to complete his last three starts, including when making a catalogue of errors and taken right off his feet by Allaho in the Ryanair on his penultimate start, and needs his sights re-lowering.
Although Waiting Patiently ran well at left-handed tracks in his novice-chasing days, even beating Politologue at Haydock, his best form has since been recorded exclusively right-handed. Ascot might be worth a re-visit, albeit he also holds a King George entry – the race in which he was a picking-up-the-pieces second last Christmas.
At Ascot last Saturday, Lostintranslation returned from his third bout of breathing-augmentation surgery to win the Chanelle Pharma 1965 Chase over 2m5f. Sitting off the pace set by race-fit Master Tommytucker – who made a habit of parting the birch at most fences – and pressed by Dashel Drasher, he led approaching the last and sealed the deal with a super final leap.
Joe Tizzard, currently assistant to his father Colin but set to take over in May, observed afterwards that the winner "was clearly wrong last year and we couldn't pinpoint it". "He's not a horse who bleeds," he added. "[And yet] he bled terrible in the King George and he had a job to complete a race last season. Today was the comeback and, if it didn't work, we were scratching our heads."
In a successful return from his first operation, Lostintranslation claimed third in the 2020 Gold Cup but later that year finished the tailed-off beaten favourite in the Betfair Chase and failed to complete in the King George for the second season running. More surgery followed, only to see him weaken quickly in the Denman Chase in February and lose his pitch even before the final circuit of following month's Gold Cup.
The Tizzards have always believed him compromised by heavy ground, explaining away his 2019 King George (merely soft on times) and 2020 Betfair Chase efforts that way. Ascot was his first convincing effort since that length-and-a-half third in Al Boum Photo's second Gold Cup, and over a trip that's surely his minimum. But he will need to upgrade his form again to play a part at either Kempton or Cheltenham.
"We've got to keep him right for the spring, but he's entered in the King George and we always thought that would be perfect for him before," Tizzard added. "I'm not saying it's set in stone. We'll see how he is and make a plan… He loves spring ground, which is a key factor if the rain comes. We'll be gearing to the spring and the Gold Cup, but the King George is there if he's right."
Master Tommytucker likes to take a risk with a low-slung jump and Ascot's fences seemed surprisingly accommodating, repeatedly taking little out of him. With the benefit of a spin over hurdles, he saw off Dashel Drasher soon after being pressed for the lead five out but had no response to the winner. The latter hadn't run for 273 days and would have preferred deeper ground, also meaning he was unable to dominate. It was a decent start from a horse who tends to improve for a run.
Defi Du Seuil was sent off the 3/1 favourite, despite his last signs of life dating from longer ago than the winner's. He, too, had undergone an operation to improve his breathing – albeit for the first time – and was facing marginally the longest trip of his career to date. He briefly threatened to get involved but a ponderous jump at the fourth last and a mistake at the next put paid to that. He's on a serious retrieval mission but could well have needed the run.
As warned when Ruby and I discussed a couple of weeks ago Willie Mullins' plan to campaign Al Boum Photo less sparingly this season, continuing dry weather has counted against an early return in this Thursday's Listed 2m6f BetVictor Chase on good ground at Thurles. It's a far lesser event without him, with stablemate Cilaos Emery needing only to kick Darver Star out of the way.
Mares' chases
After tasting her first defeat in five starts at Cheltenham's Old Course earlier this month, Put The Kettle On is scheduled to step back up in trip and take on her own sex in a mares' chase at Fairyhouse on New Year's Day. This time around, it seems trainer Henry de Bromhead and Road To Cheltenham analyst Ruby Walsh are more aligned in their choice of target.
"I thought it was a similar run to last year in the Shloer, it was just the ground was a lot softer last year, which gave her a chance to come back at them," de Bromhead said of the reigning Queen Mother Champion Chase and 2020 Arkle winner's seasonal debut.
Asked which race she will contest at the Festival, he added: "We'll see how it all unfolds. It's not certain [that she will defend her Champion Chase crown]. She'll probably have a few entries – obviously there's the Mares' Chase and there's also the Ryanair. I would say she'll be entered for all of those and we'll see nearer the time. She seems a different lady in the spring, so we'll see what way the ground is."
I don't believe a strongly run two miles has always taken Put The Kettle On off her feet – her Arkle success disproves that, albeit on softer ground than last term's Champion Chase – but it is possible that, as she has aged, she has lost a yard of pace. If that's the case, she surely must contest the Ryanair as it would be a travesty to see a dual Festival Grade One winner contesting a Grade Two prize as soon as next March. But such dilution of competition is the risk you take when scheduling too many overlapping races at the same meeting.
Hurdlers
Buzz made short work of his opponents in the Coral Ascot Hurdle last Saturday, jumping well and travelling so comfortably that Nico de Boinville was able to toy with leader Song For Someone in the straight, joining him upsides on the bridle at the last and then urging his mount to sprint clear on landing. They won by three-and-a-quarter lengths.
After an upwardly mobile last season, culminating with second in the Grade One Aintree Hurdle, and more recently a career-best success on the Flat when triumphing in the Cesarewitch, Buzz is very much still in the mood. He didn't need to improve to win but remains unexposed at this intermediate trip – albeit trainer Nicky Henderson plans to step him further up in trip.
"Buzz will come back here for the Long Walk Hurdle before Christmas and we'll find out about three miles," he said at Ascot. "I wanted to start at two-and-a-half [miles] and he travelled and jumped so well, but you would not want to come back down in distance.
"The softer the ground the better. That was the only worry today – was it soft enough? There's no point coming back to two miles and there's nothing at two-and-a-half, so we'll try three. It's some journey, he was rated 130-something at the start of last season!"
That figure was 136 to be precise – so the official handicapper says he's improved by 19lbs and he will need to progress again to trouble the best staying hurdlers, even in a division as relatively open as this one. I wasn't sure Buzz would stay 2m2f on the Flat given he'd previously not got home over 14 furlongs, but he's clearly a stronger and more mature horse now. It was only late on that he overhauled the less well-drawn filly Burning Victory at Newmarket, so stepping up in trip over hurdles is certainly worth a go.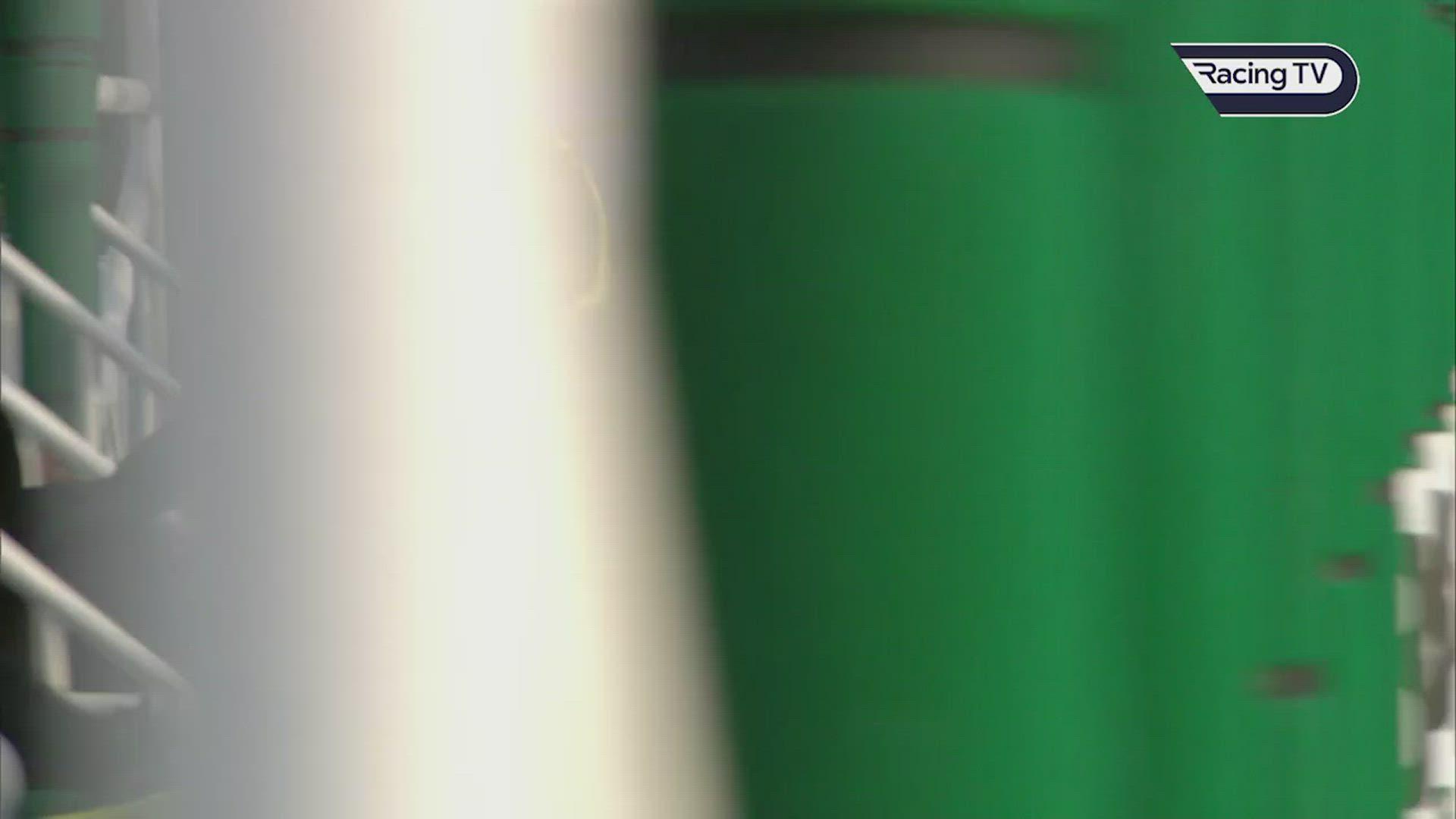 Watch how Buzz won the Cesarewitch in October
He might even have finished closer to Abacadabras at Aintree in April had a loose horse not repeatedly got in the way as he was trying to stay on. That said, the winner – who could make a slightly belated return to action in Sunday's Hatton's Grace Hurdle after missing the Morgiana due to stiffness – does idle in front.
Back at Ascot, Song For Someone was back to form following an operation to ameliorate his breathing. He started last season strongly, winning this Grade Two prior to following up in the International, but then was thumped by Goshen in the Kingwell prior to a listless showing – his rider unhappy even from the first hurdle – in that same Aintree Hurdle. This is his level, however, so it will be interesting to see what trainer Tom Symonds does next.
Fourth-placed Goshen was pretty listless himself here, after failing to build on last February's great comeback at Wincanton. He couldn't handle the tight, ever-turning, left-handed Old Course in the Champion Hurdle prior to running flat and lacking fluency at his hurdles when a distant fifth at Punchestown. This was a muted resumption and trainer Gary Moore's options appear limited with a horse with a long list of requirements and quirks, but perhaps he's settled enough now also to try over further?
The unbeaten Honeysuckle, who won both of the above Grade One contests, returns to action in the Hatton's Grace Hurdle. Her hurdling will merit scrutiny. It was largely much improved last season and was especially slick at Cheltenham. However, she produced a range of inferior leaps at Punchestown – awkward at the first, slowing into the fifth, ballooning the second last, prior to slowing markedly into the last and jumping left.
Trusty partner Rachael Blackmore had caught the more patiently ridden runner-up Sharjah on the hop with an injection of pace prior to the home turn, to ensure a greater emphasis on stamina, but her mount's final-flight hesitation rendered her briefly vulnerable.
Epatante, the 2020 Champion Hurdle winner and third at Punchestown, is also slated to make her return this weekend in Newcastle's Fighting Fifth Hurdle. Trainer Nicky Henderson has blamed back problems for her inferior jumping last season but had not schooled the mare due to the ground when last issuing an update.
Finally, some target observations – two of which involve Epatante's stablemates. Dual former Champion Hurdler Buveur D'Air will be tried over three miles this season, a leg injury having foiled such a plan at Punchestown in April. He'll need to settle better than in the 2m4f Aintree Hurdle for this project, albeit he was unfortunate to have been broadsided three out by that same loose horse who bothered Buzz (pesky right-adjusting Jason The Militant).
Having jumped so horribly in last season's Gold Cup – also blamed on back issues – it's far from unlikely that Champ could end up the latest recruit for the Stayers' Hurdle. He's 20/1 across the board for that Cheltenham target, but is said to be heading for the Grade Two Many Clouds Chase at Aintree next month. Low sun permitting, that should test his jumping.
Finally, this weekend's chase entry notwithstanding, it must be more likely that 2020 Champion Hurdle third Darver Star will revert to hurdles soon. He's no fan of a fence.
Novice chasers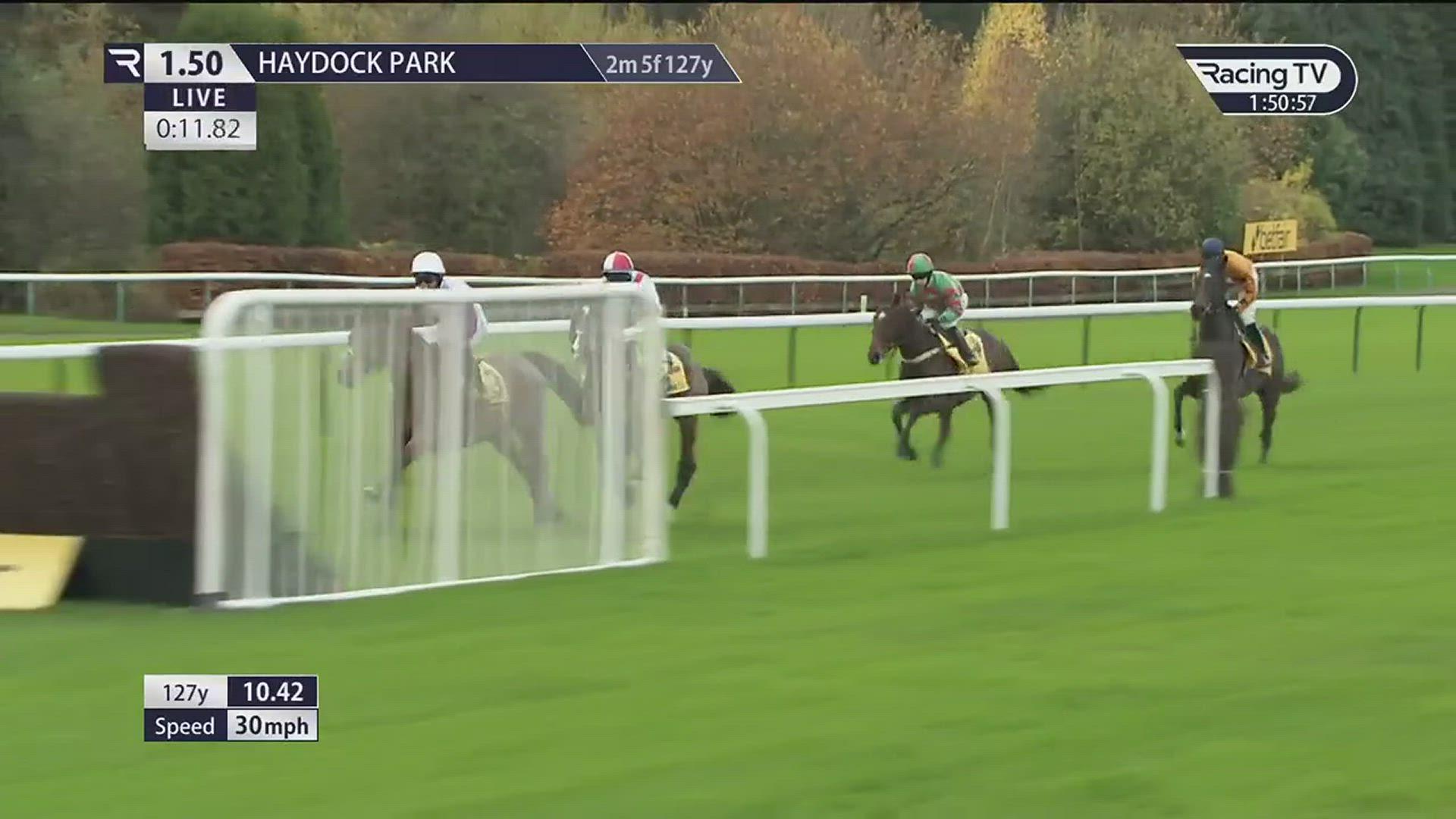 Enjoy an 80-second montage of Bravemansgame's jumping at Haydock
Bravemansgame was back in action on Saturday, trainer Paul Nicholls deeming the ground safe enough to resume his novice-chasing campaign after discarding earlier options at Wincanton and Cheltenham.
Again, he was taking on much more experienced chasers in an intermediate chase rather than fellow novices, this time at Haydock. Again – as when downing subsequent fortunate Charlie Hall winner Fusil Raffles at Newton Abbot – he dished out a drubbing.
Both second and third, Itchy Feet and Pay The Piper, were match-fit. The former had been an awkward-looking second to Allmankind in the Old Roan Chase (in which third-placed Midnight Shadow, the subsequent Paddy Power winner, shaped best before a lack of fitness told) and the latter had put up a fight against Fiddlerontheroof in another intermediate event at Carlisle. Itchy Feet was giving weight to the winner and Pay The Piper was receiving it.
Bravemansgame dictated the tempo in positive mood from the outset and Itchy Feet played a useful supporting role, ranging up alongside in the back straight to examine whether the novice's jumping was as assured when pressured for the lead as when racing solo. It was. He's good long or short – scopey enough to stand off a fence, and reach if he needs to, but nimble enough to fashion a clean jump when getting in too close, such as at the fourth last on Saturday.
Itchy Feet got within three lengths of the winner at the line, but only because he finally consented to run on once it was all over – he'd got a reminder before halfway. Pay The Piper never got involved and might prefer an easier jumping track, as these Grade One fences made him look a shade small.
As a high-class hurdler last season, Bravemansgame has interwoven form-lines with various other nascent novice chasers who – on early evidence, at least – also look capable of making a splash in this division. In Aintree's Grade One Sefton Hurdle, for example, he was evidently lacklustre when splitting winner Ahoy Senor and third-placed Oscar Elite.
Both of those rivals have since made promising chase debuts without managing to complete the course. Ahoy Senor sprawled on landing in the same Carlisle intermediate chase mentioned above, unseating his rider after only being headed for the lead at the second last. Prior to that, he'd looked born to the job – utilising his scopey frame to bold-jumping effect.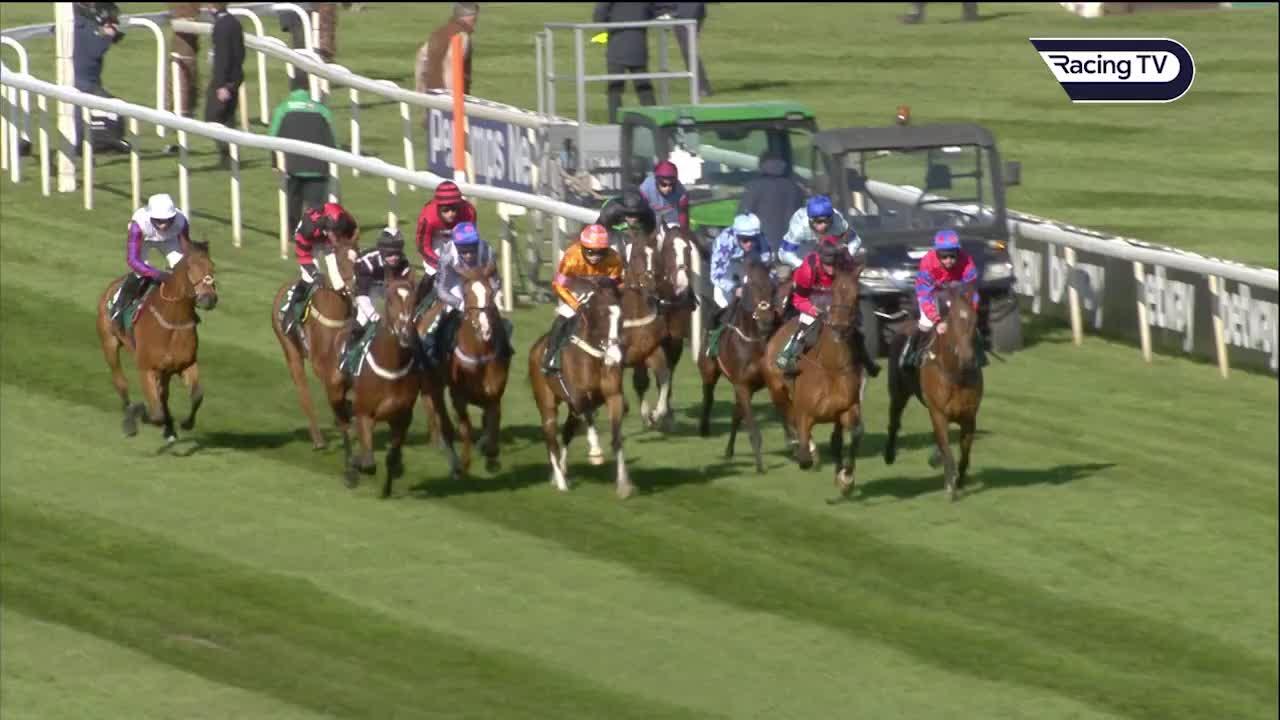 Ahoy Senor beats Bravemansgame and Oscar Elite at Aintree in April
He may take on exciting Chepstow winner Tea Clipper and Irish raider, the de Bromhead-trained Mr Incredible, in Saturday's Grade Two John Francome Novices' Chase at Newbury's Ladbrokes Winter Festival. Tea Clipper has an alternative entry in the day earlier Berkshire Novices' Chase, where he could encounter comfortable Ffos Las novices' handicap chaser winner Pic D'Orhy.
After a largely convincing round of jumping, Oscar Elite didn't get high enough at the third last in a three-mile novices' chase at Cheltenham two Sundays ago, when shaping like a serious threat to the winner Threeunderthrufive – who's also trained by Nicholls and thus far considered a Welsh National and National Hunt Chase type.
At Haydock, Nicholls observed that Bravemansgame is "very athletic for a big horse" and identified the Grade One Kauto Star Novices' Chase at Kempton as his next target. Asked by Niall Hannity on Racing TV about the suitability of the trip, he added: "It's an easy three [miles] around there – but he got three at Aintree when he wasn't right. Two-and-a-half, three – he can probably win over either. It won't be a problem anyway – and he'll be back against novices then."
There is more than enough visual evidence to back up Nicholls' reading of Aintree. Despite having been keen to post, Bravemansgame was niggled along by Harry Cobden as soon as after the first hurdle and was hanging persistently left when trying to give chase to the all-the-way winner at the other end of proceedings.
"He used to be keen last year," Nicholls added at Haydock. "Harry said anything that took him on, he used to tank off, but now he's got much more relaxed… He's maturing all the time… Harry did say just then you could ride him any way you wanted to now."
Of course, Bravemansgame was brushed aside over hurdles by Bob Olinger when they clashed in the Ballymore Novices' Hurdle in March – Gaillard Du Mesnil, who's yet to make his debut over fences, splitting them in second. There were 12 lengths between first and third at the line. It will be fascinating to see whether larger obstacles bring them closer together – or even reverse their fortunes. (Unless, of course, they dodge each other at Cheltenham, as dilution has enabled.)
Despite the calibre of horse she's now accustomed to riding, rarely – if ever – can Rachael Blackmore have enjoyed the Grade One push-button experience that Bob Olinger gave her at the Cheltenham Festival. Wherever she wanted to position him was where he instantly went.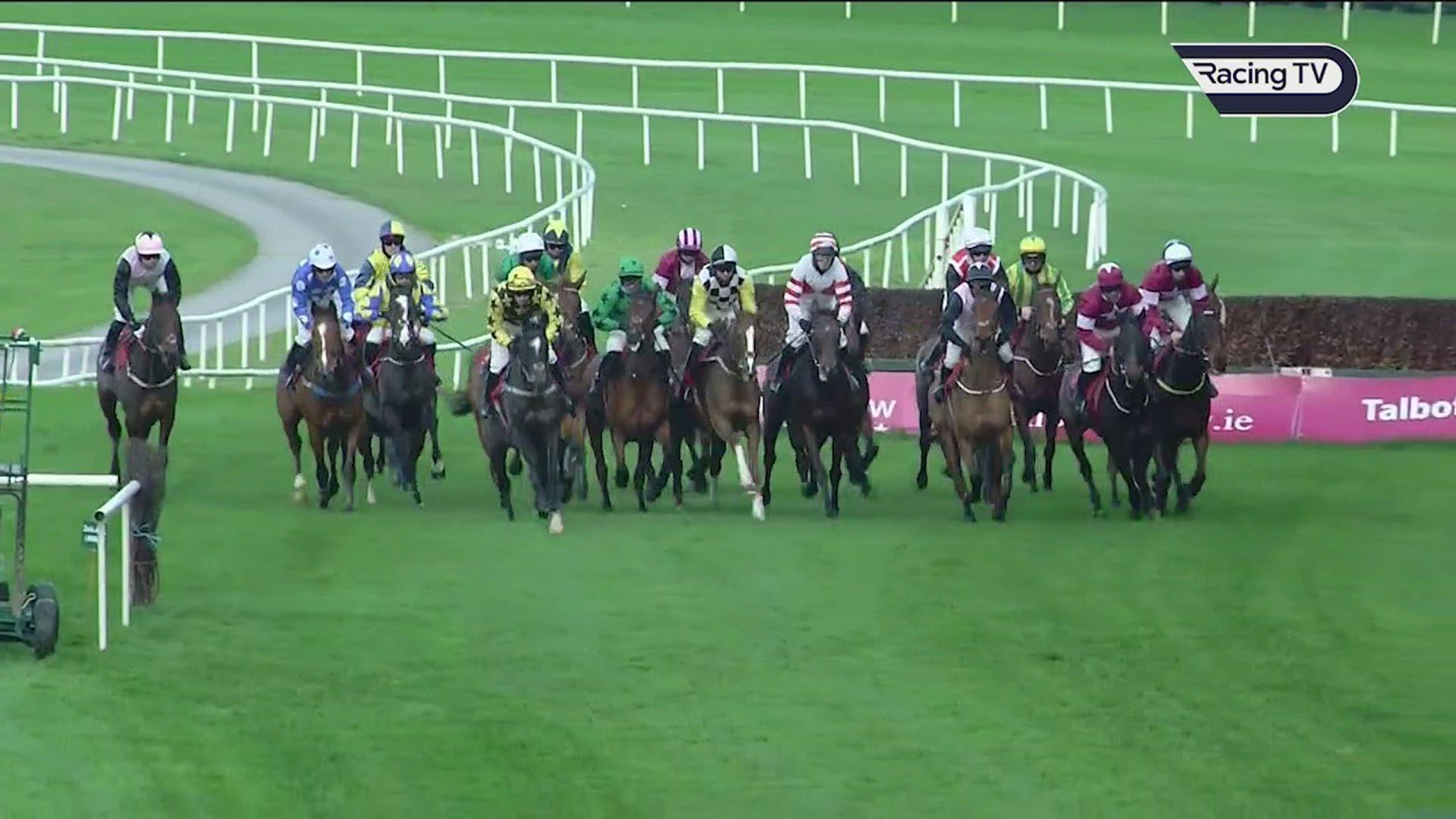 Bob Olinger beat a big field on his chasing bow
Down the hill towards three out, she moved back towards the inner and then, at the penultimate flight, upsides the front-running Bravemansgame – both to head him narrowly and immediately push Gaillard Du Mesnil into a pocket behind them. Cruising alongside the eventual third on the home turn, she led approaching the last and raced further clear on landing. From swaggering into the parade ring until exiting the winner's enclosure, Bob Olinger was the star turn.
He missed Punchestown – where Gaillard Du Mesnil beat a small field at odds-on over 2m4f – due to coughing and also his intended chase debut there with a stone bruise earlier this month. Instead, Bob Olinger started his campaign seven days later in the same Gowran Park contest that launched Energumene last year. It can be no criticism of Bob to say he wasn't that impressive; however, he wasn't as proficient as Bravemansgame either.
Entrusted to Darragh O'Keeffe whilst Blackmore was busy riding stablemate A Plus Tard in Britain, Bob Olinger was positioned alongside ten-year-old Bacardys at the fore of an 18-runner field. Twice placed at the Cheltenham Festival, including when third in the 2020 Stayers' Hurdle, that veteran had yet to win in four chase starts. Finishing second here, he was completing over fences for only the third time.
Nonetheless, he provided a substantial enough opponent and even kept Bob Olinger on his toes by taking him out to his left in the latter half of the race. Dual Grade Two-winning novice hurdler Ashdale Bob was also no pushover and it was his intervention – rider Sean O'Keeffe nosing him between the leaders after the fourth last – that altered the race with an injection of pace.
However, Bob Olinger had already seemingly quelled that challenge as the trio turned for home to face the third last… only to knuckle on landing. He might have been rendered more vulnerable had he not recovered his equilibrium so quickly and had his rivals jumped it better – or completed at all. Bacardys scrambled over it to his left, in the style of an unnatural chaser, and Ashdale Bob pitched, pecked and unshipped his rider starboard.
After that, Bob Olinger negotiated the final two fences safely – adjusting left at both, getting in far too close and ungainly at the last. To sum up his round, it was short and safe-ish; never once did he truly let fly. Now perhaps that had something to do with Darragh O'Keeffe's super-sub mission being Not To Stuff Up – he had a tight hold of his mount's head and safe completion was clearly his overriding intention. He admitted as much afterwards.
"If you want to be critical of him, you could say he was a little bit novicey over some of his fences," O'Keeffe conceded. "But it's his first start in a chase and these fences take plenty of jumping. Overall, I thought he jumped very good and he'll come on plenty for today.
"He has the scope and won a Point-to-Point for Pat Doyle. We know he has the engine and today was about getting around and seeing how things go. It's unbelievable to get the chance to ride a horse like him."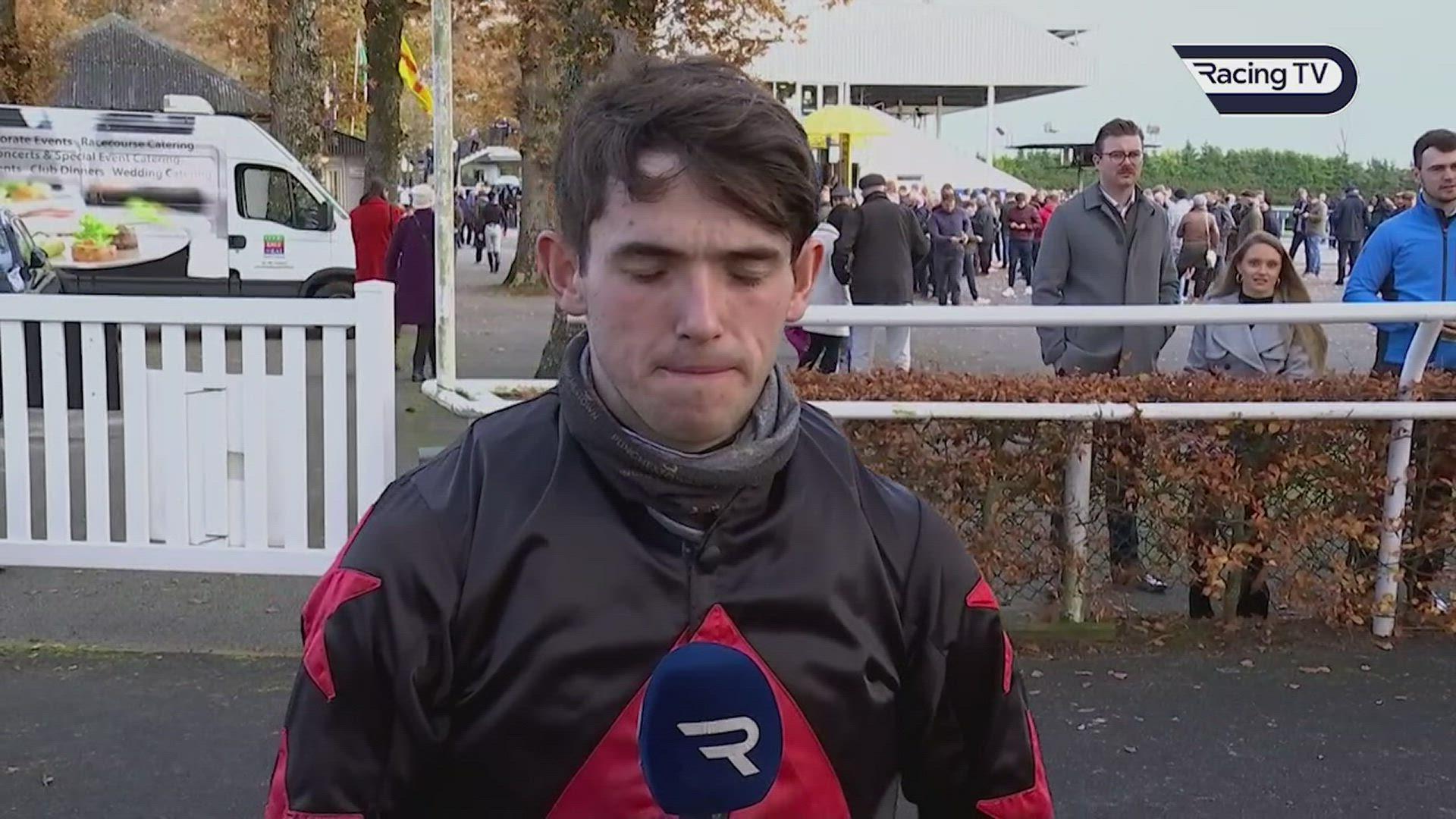 O'Keeffe gives his verdict on Bob Olinger to Fran Berry
De Bromhead, who watched Bob Olinger's chase debut from the racecourse betting shop at Haydock, suggested his next assignment might be the Grade One Faugheen Novices' Chase at Limerick over Christmas – won last year by the smart now-retired mare Colreevy.
Further back in the field at Gowran, third-placed chase debutant Master McShee didn't get involved with the leaders and shaped with some encouragement for handicaps, while Coqolino jumped poorly and Diol Ker, in his second season over fences, awkwardly. It might have been a new discipline for Column Of Fire but he displayed the same propensity for a chance-ending blunder. Low Lie The Fields caught the eye as better than the bare form.
Returning to interwoven form-lines of second-season chasers, Vanillier beat Oscar Elite into second by an authoritative 11 lengths in the Albert Bartlett with Threeunderthrufive more than five lengths further back in sixth.
As previously discussed, the winner had made an encouraging chase debut behind Lifetime Ambition over an inadequate trip at Down Royal last month and then headed to Punchestown ten days ago for the Grade Two Florida Pearl Novice Chase over three furlongs further, facing just three rivals. However, two failed to complete and Vanillier was unhassled on the lead, albeit he showed determination and stamina to recover quickly when headed three out.
"I would have liked it if something had joined him earlier in the race, just to force a bit more pace into it," trainer Gavin Cromwell admitted. "He's just a dour stayer… He's a big, lazy type of horse who wants to get his toe in… He's a big horse and we want to mind him in terms of the ground." Going will determine whether Vanillier next runs in the staying novice chase at Leopardstown or Limerick over Christmas.
Finishing 26 lengths adrift – the only other horse to complete at. Punchestown – was Fancy Foundations, who'd previously been withdrawn from Cheltenham to leave that fateful match between Gin On Lime and My Drogo but had also fallen when close up behind the mare in the Grade Three she won at Tipperary in early October (albeit that's quite a long way from home).
The Grade One Drinmore Novice Chase this Sunday at Fairyhouse looks like being a strong affair, with Lifetime Ambition seeking to confirm he's a superior model over fences by taking on recent course winner Gabynako and Cork Grade Three winner, Cape Gentleman – himself recently embarrassed by the very smart four-year-old filly Riviere D'Etel (as discussed on last week's show).
French Dynamite finished well adrift of Cape Gentleman on a tough ask for his chase debut and has since got off the mark over fences, with cheekpieces reapplied, at Punchestown. Then at Navan last Sunday, Cork runner-up Run Wild Fred rocketed to the fore of the National Hunt Chase ante-post market after winning the Troytown Handicap Chase by seven-and-a-half lengths from a mark of 145.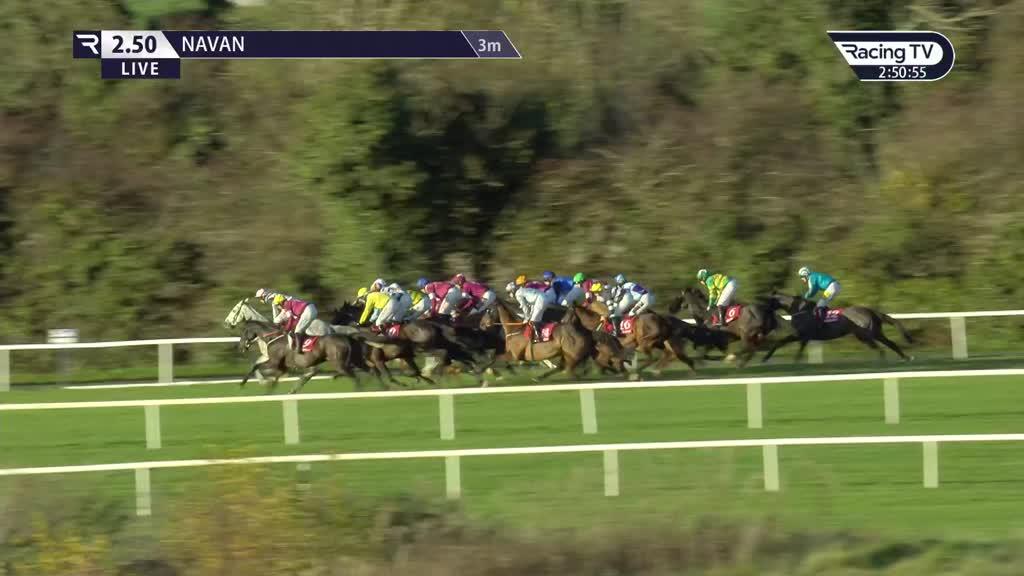 Run Wild Fred could have "National Hunt Chase written all over him"
As a second-season chaser who's already finished runner-up in the Irish Grand National, he could scarcely have a more copybook profile for winning Cheltenham's Grade Two marathon. Gordon Elliott – who, as the usual trainer of Galvin, would have won that race for the fifth time in the past 11 years had he not been suspended for six months by the Irish Horseracing Regulatory Board at the time – was duly swift to nominate Run Wild Fred's long-term target.
"I think the National Hunt Chase could be written all over Run Wild Fred," Elliott said. "Michael [O'Leary, of owners Gigginstown Stud] might have different ideas, and it's a long time from here to March, but I think the National Hunt Chase is made for him and I'm a big believer in going for the race you think you can win."
At Thurles last Thursday, West Cork Wildway was positively ridden by Darragh O'Keeffe to beat The Bosses Oscar and Stratum over 2m6f. He jumped better than either rival, despite having tipped up on his chase debut at Killarney in October.
Runner-up The Bosses Oscar – also second at a relatively short price in last season's Pertemps Hurdle at the Cheltenham Festival – was the beaten favourite for the third consecutive occasion over fences, again shaping as though his jumping would be better suited to the pace of a longer-distance affair. Trainer Elliott has also mentioned the National Hunt Chase for him.
Chase debutant Stratum – winner of the Queen Alexandra at this year's Royal Ascot and the 2019 Cesarewitch – blundered at the seventh and didn't immediately have a cut at his fences afterwards, so he was always playing catch-up with the all-the-way winner. Trainer Willie Mullins had been talking about sticking to the staying-hurdle route prior to this change of plan.
Lydia's portfolio:
Advised 26/04/21: Energumene at 14/1 (general) for the Ryanair Chase
Advised 10/11/21: Nube Negra each-way at 25/1 with Bet365 [20/1 also acceptable] for the Champion Chase
Ruby's portfolio:
One of Willie's in Willie's selected race (nap)
Simply sign up and deposit (minimum £15) with one of our 15 betting partners, complete the form and we'll send out you the all new Racing TV Christmas Jumper for free.