Richard Hannon Jnr has enjoyed lots of big-race success since taking over from his father in 2014 with the likes of Night Of Thunder and Billesdon Brook providing him with Classic success.
Hannon was also crowned champion trainer in his first season and has recorded a Group One victory every season during his training career.
He has a whole host of exciting horses who are likely to reach a high level this season and will be aiming to beat his tally of 172 winners last year.
The Unibet ambassador talks us through his team for the 2019 flat season.
ALHAKMAH:
She bumped into a good one at Newbury. She, I think, is a very good filly. Physically she has done well, we have given her all the time in the world, but she is going to need plenty of time yet.
I am not sure we will see her months and months before royal ascot, she might come out around that time. She has got to come into her coat, she is moving ok at the moment, but we are not doing a lot with her.
She needs plenty more of the background work, rather than the fast work, and then we can step things up.
ANNA NERIUM:
She is a stone better on soft ground, so we are going to follow that around.
She is in the Lockinge Stakes, she will be entered in the Dahlia Stakes and the listed race, the Conqueror stakes and if it is soft ground she may well turn up at Sandown for the mile Group 2 (The Bet365 Mile) but she has to have soft ground, it is as simple as that she is a stone better on it.
She is only a little filly but, somehow, she goes through the soft ground and loves it.
BILLESDON BROOK: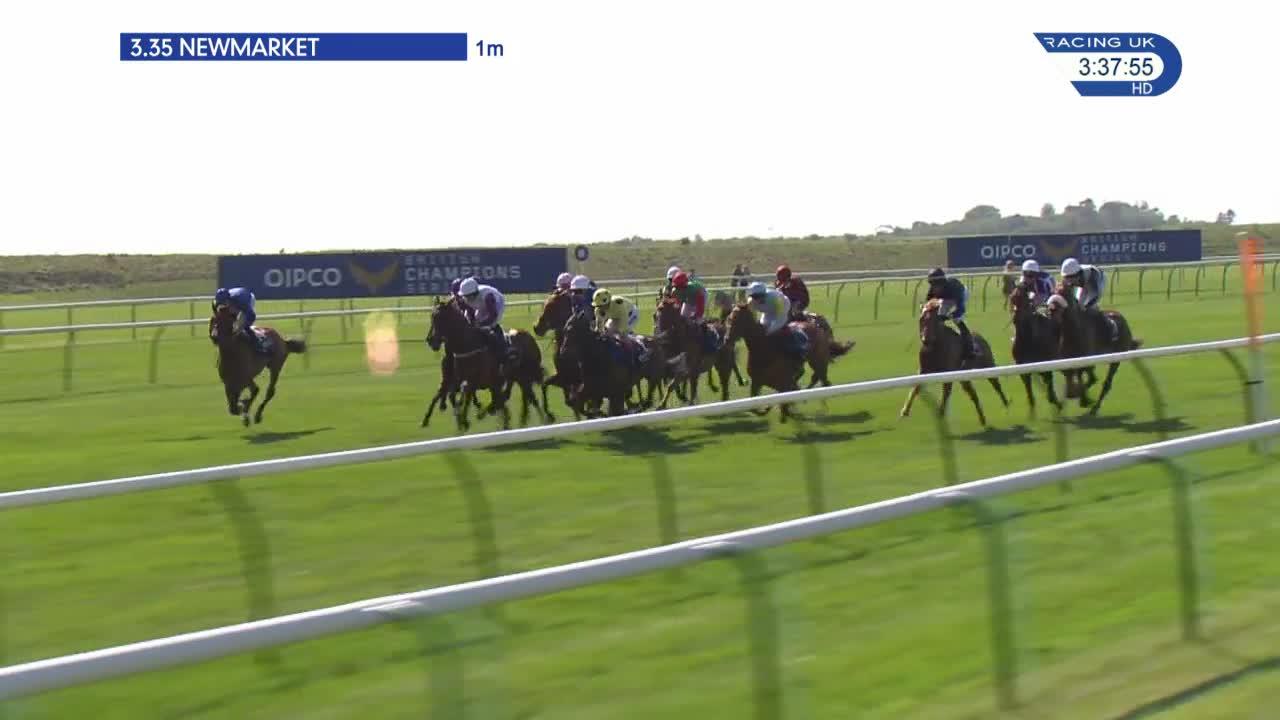 She chose the right race to win last season (The 1000 Guineas)! The race at Goodwood is her race, it is called the Conqueror Stakes and it is written for her.
It is a listed race for £50,000 at Goodwood, she gets no penalty, she has won there twice already, and she will take a lot of beating in that, I hope.
BOITRON:
He did (run well in the Prix Jean-Luc Lagardere), I was a little bit disappointed he wasn't put in the race as much as I would like.
I wasn't sure whether he would get the mile and he rode him a little bit like we didn't know he would get it, and they got a run and all we did is make up ground going to the line. I think he is better than that. It is nobody's fault and I think he will run very well.
If it turns up soft ground at Newbury, I think he will like that. He obviously won his maiden there, he won the Denford Stakes there, a listed race.
He is very capable of going out in front and keeping up that cruising speed. He will run very well and if it's as well, I hope, I might have a one-two. You never know.
COME ON LEICESTER:
Come on Leicester worked very well this morning, she is going to have to settle. I am looking at the Fred Darling Stakes because I think they will go a good clip in that, and it is straight.
I am not sure that she will get seven furlongs, but I think it is worth having a go at now, if we need to, we can come back to six furlongs or even five furlongs.
There is a listed race for her at bath, but it is sort of teaching her to blow her top a little bit, I would just like to see her settle and she did this morning so we will probably go to Newbury.
DANEHILL KODIAC:
He is fine, he is over his problems now, he looks great and we have got him fit now, he is sound.
We might go back to Chester but again there are races for him in France as well - he could have a big year. He always ran a lot of very good races finishing second to decent horses, hopefully he can convert those into wins this year.
I think him and Raymond Tusk could be potential Melbourne Cup horses. I am not known for my Melbourne Cup prowess, but you never know.
DIVINE COVEY:
Divine Covey is a very nice filly of Her Majesty's. She has shown a lot of speed so far and we're looking at maybe running her this weekend or Newmarket the following week.
She has impressed me; she has done it all very naturally. We haven't gone looking for her she has just shown up. Every time we work her, she works very well and with a lot of speed, she seems to know what she is doing.
Newbury is always a nice place to start them off and Lord Carnarvon used to say the 5Ibs sex allowance is a bit of an advantage when you are taking on colts.
FOX CHAMPION:
He ran a super race (at Doncaster) and he would have needed that, and he did it the hard way. He carried a penalty, he made the running, the others sat and got a lovely lead off him and he did well to stick his neck out and win and we will go on from that.
Where we are going to go from here, I don't know yet. There is a conditions race next week at Newmarket, he might be a Britannia horse, he might be a Jersey horse, but a pretty good horse I think.
KUWAIT CURRENCY:
He barely beat the ambulance that was following them at Newmarket, and I couldn't believe it. I thought - "I don't have many better than that" - and he was last.
He then went to Lingfield the next time and won by eight lengths or something. Then he won the Stonehenge Stakes at Salisbury which was very nice. He deserved to do that and then perhaps at the end of the year he might have gone for one good race too many.
He is back now, and I think he is well handicapped off a mark of 101. He goes to the Bet365 European Free Handicap and I like to think that he will be very competitive. He wants a mile, and some give in the ground. He might be a bit of a dark horse.
He has done well physically and temperament-wise for a breeze up horse he is a gentleman. He has been very well produced and we have been very happy with him since the day he came in, he hasn't been a problem.
LEROY LEROY:
He worked very well, he is in a race in France next week and he looks to me like a horse that has improved so he will run well wherever he goes.
MAN OF THE NIGHT:
He is by Night of Thunder, he came from Deauville, I think he cost about €350,000. Gorgeous, gorgeous horse, he has worked pretty well.
He is a very nice colt and one we are very excited about. Night of Thunder was obviously trained here, and he has got some really nice stock with us.
I am not going to lie, I hope he is a little bit special but we get it wrong with these horses, they show up and the one's that show you loads quite often when you shake the reins at them they don't pick up but hopefully he will, he has done it all very easily.
NOONDAY GUN:
He is a gorgeous horse but don't get excited about him, you're not going to see him for a long time as is going to need loads of time.
A horse for the backend of the year by Dubawi out of Sky Lantern, you don't get much better than that. He is definitely one we are delighted to have but he is on the back burner and just going through the motions; he will tell us when he is ready.
RAYMOND TUSK:
It could be his first race in the John Porter Stakes although that looks like being a very hot race. Defoe is in there and you probably don't want to take him on, but he loves that track and it looks like we might get a bit of soft ground.
He has been to Qatar and we have kept him just ticking over since. He could do (run in the John porter stakes) but I am sort of favouring other races. There are some nice races in France, and we might take on one of those.
A lot of these Group 3s, early on, have a lot of Group 1 horses having their first run and they tend to be very hot. I think if we can avoid that and go elsewhere it would be more to our advantage.
I think the Ascot Gold cup might be a little too far for him, but I think he would get a mile and six furlongs no problem. He might get further but he is not doing much wrong over a mile and a half trips at the moment and there is a lot of prize money at that level over that trip.
I hope he can win a Group 1. He won the Italian St Ledger at the end of last year so I'd love to think there could be one in him. He is a very honest horse and I think he will get better as he gets older because he will fill his frame. I'd like to think there is a very good race in him somewhere.
RED STARLIGHT:
I think she will come on massively from her run at Doncaster, I thought she ran a super race. She is a big filly and she is obviously fitter than she looks.
There are a couple of handicaps for her, I am very keen to win a listed race, but I think if we can utilise her handicap for the time being.
She is off 100 and I think the winner of the Doncaster listed race was off 110 so you could have a chance in the big 1m handicap at Bath. She is in the Spring Cup as well.
She takes her racing very well and we will have a lot of sport with that filly; she is tough, honest, and has got a lot of ability. She is a real pleasure to have.
STAR TERMS:
I think the seven furlongs is going to be too short for her at Newbury (in the Dubai Duty Free Stakes), she might win anyway but I think her future probably lies at a mile/mile and a quarter something like that.
This is a nice race, up the road on a lovely track, there could be a bit of give in the ground which will suit her. I think she will run very well and if she does, we will look at the Guineas and then make a plan from there, but she will be better over a mile.
URBAN ICON:
I think that is where we are going to go (Greenham Stakes), He has been working really, really well. Physically he is an awesome horse to look at.
Tom Marquand, who rides him, has been very pleased with him. He has been to Kempton and I have been really pleased with him. Tom tells me that he might like soft ground but I'm not sure and I don't like finding out on a day like that he is not alright on it, so as long as the ground is not desperately soft that is where he is going to go.
He won his races last year very easily. I think he was drawn one or two at Windsor and still won four or five lengths pulling up at Windsor from a draw that, on a general basis, you cannot win from, so he is definitely a horse that we are excited about.
He is a very pleasing horse on the eye, he moves lovely and we decided to look after him after his second win. We bought him off Willie Carson, so we have to deal with him! He rings up quite a bit asking about him.
He has always been a little bit different. How different? I don't know, you don't know until you take these good horses on but he is a horse we are pretty excited about now.
Is he a Guineas horse, is he a Jersey horse, or is he a listed horse? We are going to find out pretty soon.
WALKINTHESAND:
He is showing us that he wants a mile and a quarter. He is in the Guineas and he is in the French Derby as well, but I think he is showing us that he wants a mile and a quarter.
He looks really well, probably looks a month ahead of all of the other horses in terms of his coat and we have been really pleased with him. He won a very nice race at Sandown, a conditions race and won that very well.
He is another exciting horse that we can have a look at at Newbury
WATAN:
I saw him win his maiden well and I thought Too Darn Hot probably isn't that great, lets take him on. Got that a little bit wrong!
I think he got the same two-year-old rating as Frankel. He didn't turn that day and he didn't settle. He slightly had a bee in his bonnet so forgive him that run, he won well at Leicester last time and he has been working fine - he doesn't take a lot of work because he is quite light framed.
He is a horse with a lot of ability, I had him in the conditions race at Chelmsford, but I think we will probably go to the Craven and see how we go there.
YAFTA:
He is a trainer's horse! I think he started last year off 76 or something and ended up off a mark of 114 so he showed a massive amount of improvement.
I was saying to Sheikh Hamdan, when he came down to see him the other day, that he had to chuck in a bad run sooner rather than later. He had run so many good races and you know it is coming and it came on his last run of the year and then we put him away.
He has come back in great form. There are a couple of nice races, he is in the Duke of York stakes as well, that might be worth taking on with him. He is a really honest, sound, tough friend. He is on your side and that makes a big difference.
WELL DONE FOX:
Well Done Fox had a busy year last year. He won his two listed races, which was very pleasing for us, and he ran very well in the Windsor Castle and then was second in the Cornwallis stakes.
He then went to the Breeders' Cup and it turned up very soft ground and he didn't go on it, but we were already there, so we had to let him have a go.
He is a lot better than that. He is in the Group One at Royal Ascot and the Duke of York. He is a very fast horse, very honest, big year for him hopefully. It is going to be hard because he is a three-year-old and I don't think he will get further then six furlongs.
He also has a listed penalty, so he is going to need to have improved, but I am sure he is able for it.