Got more questions about Racing TV? Click here for our Q&A page.
Simon Ellen spoke on Saturday about the quantity and quality that Racing TV will offer when it is launched at the start of next year.
Ellen, the chairman of Racecourse Media Group, parent company of Racing TV, was interviewed by Tom Stanley before racing at Newbury. He revealed details of the rebrand and spoke about how excited he was that the channel would bring British and Irish racing together all under one roof.
Racing TV has been agreed as the new brand name to better communicate and market Racing UK's combined British and Irish racing content from next month.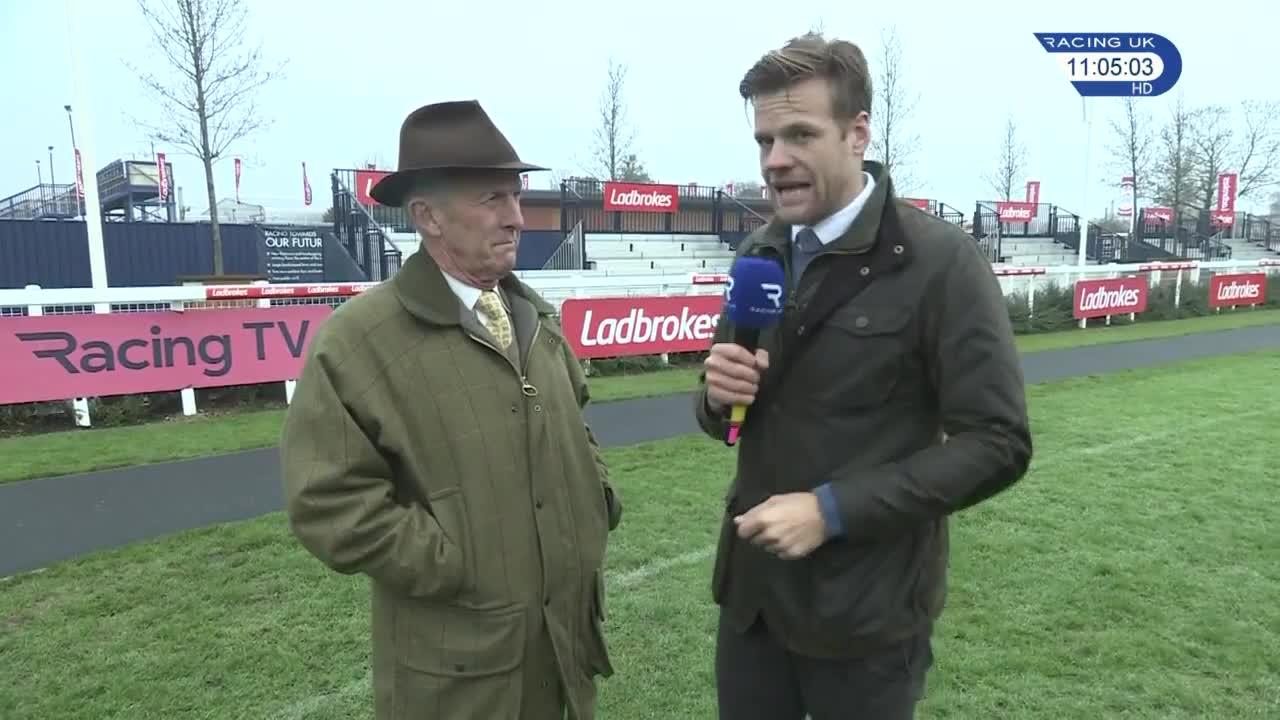 Ellen said: "We have a greatly improved opportunity for our viewers. We've got 61 racecourses to bring you content for from next year – which is 75 per cent or so of all the British and Irish racing available.
"It's also 90 odd per cent of all the Group and graded races, so that's a really important quality focus for us.
"The most exciting thing now is that Racing TV viewers will be able to see the best of British and best of Irish as they come together for some of the important Festivals next year."
Ellen said Horse Racing Ireland (HRI) had been a tremendous help along the way.
"Building the narrative is very important and I must say in that regard HRI have been incredibly helpful," Ellen said.
"One of the issues we've come under some pressure on is the subject of fixtures and congestion and I can't say how grateful we are to HRI for the help that they've given us in managing little conflicts of interest. Timings and things like that have worked out really well."
On January 1, the meetings include Catterick, Cheltenham, Exeter, Fairyhouse, Musselburgh and Tramore.
Ellen said: "I think if you had one day to launch, January 1 would probably be the busiest but let's look at it from the other side. Let's look at what isn't the case anymore, which is the number of blank days. Racing TV subscribers will now have one blank day next year.
"When we started this channel it was 35 or 40 days, so that's a huge improvement for them. From a price point of view, we are not asking or seeking an increase. I'm really excited about the additional content."
The rebrand will also feature an 'Extra' stream to ensure full coverage of all 61 racecourses.
It was announced 10 months ago that Racing UK had secured the rights, previously held by ATR, for all the action from Ireland's racecourses as well as Chelmsford's all-weather track in the UK.
RMG's statement on Saturday morning read: "Racing UK has today announced that it will become Racing TV – as the channel looks forward to welcoming racing from all 26 Irish racecourses from January 1 2019.
"From next year, Racing TV will broadcast live racing from 61 racecourses – equating to more than 70% of all racing from Britain and Ireland, including nearly 90% of all Group and Graded races.
"It means that Racing TV will have only one day without any live racing outside of Good Friday and four days at Christmas."
The release added: "Gary O'Brien will spearhead the Racing TV team in Ireland, where he will be joined by Kevin O'Ryan, Kate Harrington, Ruby Walsh and Donn McClean – while new programming and extended broadcast hours, including a daily Mark Your Card preview programme, are also being introduced.
"Each of the 61 racecourses will have its own dedicated live stream available on Racing TV Extra, a feature of Racing TV's digital platform.
"This means live coverage of every British and Irish race in its entirety, as well as uninterrupted paddock, going down and unsaddling coverage, will be available to Racing TV members. Racing TV Extra will be available via the website, mobile and TV Apps for all members, whose membership fee will remain the same."
RMG chief executive Richard FitzGerald said: "This is the start of an exciting new era for the channel.
"From next year, Racing TV will be showing complete coverage from a total of 61 racecourses, including the increasingly popular racing from Chelmsford City.
"Much work has been done over the last few months to ensure there is minimum congestion and clashes on race fixtures and times, and we're delighted with how the schedule is looking.
"We've coveted Irish racing for nine years and we're honoured to be entrusted with the broadcasting rights to Irish racing. We cannot wait to get started on January 1."