Plans to allow racegoers to attend the final day of the Qatar Goodwood Festival have been scrapped after the Government announced the cancellation of further pilot events for the return of crowds to sporting venues due to the coronavirus pandemic.
The Sussex Downs were due to welcome a crowd of 5,000 on Saturday, which would have been the first time racegoers have been allowed on a racecourse since March.
The fixture was selected as part of a series of pilot events, along with two county cricket matches and world championship snooker at The Crucible in Sheffield.
However, an announcement from Prime Minister Boris Johnson in a news conference on Friday lunchtime means racing at Goodwood will again take place behind closed doors.
Johnson said: "Indoor performances will not resume, pilots of larger gatherings in sports venues and conference centres will not take place, and wedding receptions of up to 30 people will not be permitted."
A two-day county cricket friendly between Surrey and Middlesex took place with spectators in attendance earlier this week, but it appears that for the time being that will be as far as it goes in a tightening of restrictions to limit the spread of coronavirus.
Adam Waterworth, Managing Director of Sport at the Goodwood Estate, said:
"The Prime Minister announced at lunchtime that due to the increase in infection rate nationally they've postponed all the measures they had announced to start on August 1. Along with the various other bits that were due to be relaxed from today, pilot sporting events he has asked to postpone for at least two weeks.
"I'm gutted to be honest, especially for the team. Sarah Bullen, who is our operations manager is eight months pregnant and has been an utter star, she has put in all the hours in the world and we were all ready to go but there is not a lot we can do about it.
"We were always sort of aware that a local flare up could have had an impact and we've watched the news where there has been these local flare ups and the rates did seem to be increasing. We were hopeful that because the West Sussex and local rates remained relatively low that we might be able to carry on, but we were given the heads up at about 11am this morning that DCMS (Department for Digital, Culture, Media and Sport) had been told this was likely to happen.
"We are putting a statement out to our members to let them know. It's a communications exercise rather than a logistical one for us. We've got quite a few benches to return to racecourses and golf courses that we've been collecting over the last few weeks. The racing will still be fantastic tomorrow and thank God we are still racing behind closed doors and that is the important thing."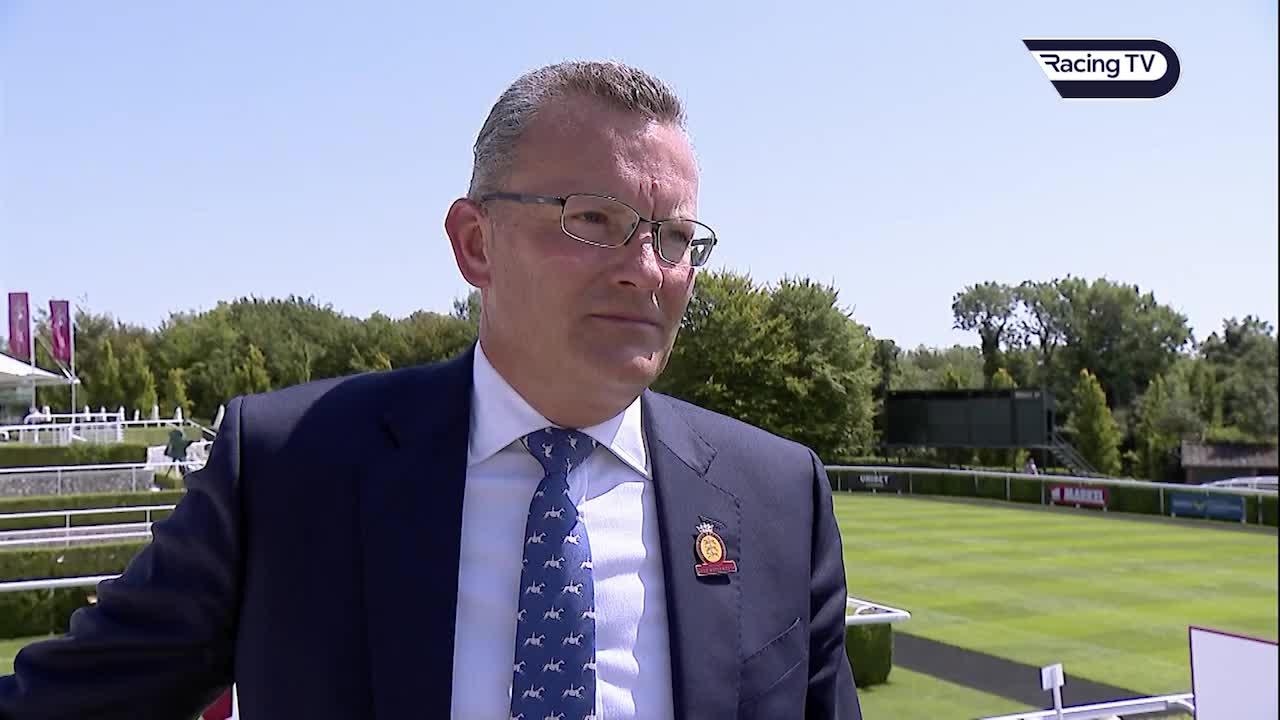 Adam Waterworth spoke to Lydia Hislop at Goodwood on Friday about the Government's decision
Waterworth is keeping his fingers crossed a pilot event for the return of crowds on a racecourse will take place sooner rather than later - whether that is at Goodwood or at another venue.
He added: "I think it will be done on a certain date and whoever happens to be the first meeting and is able to put a crowd together safely should be the first to go.
"It is not about the kudos of the racecourse - it is about making progress as quickly as we can, from my point of view.
"I would say get the trial done as soon as possible and learn the lessons. The whole point of the pilot was about getting the feedback and getting the guidelines in place for the coming weeks so that sport in general, and in our case horseracing, can try to get some movement to get some crowds back sooner rather than later.
"This is a big kick as there was a bit of light there, having thought we'd actually done it."
The decision to cancel the pilot will, of course, have financial implications for the track.
Waterworth said: "It has cost us six figures (to plan the pilot event), but I can't give you an exact number as we haven't actually finished adding everything up yet.
"No one needs refunding for tickets, but there are some refunds as we were doing picnic hampers and that sort of thing.
"It was never about the money. We weren't making massive revenues out of it and we weren't expecting to. We didn't mind spending the six figures if it advanced our cause.
"It is a huge sum in what is already a year when the loss figure is getting gradually bigger and bigger - it is not helpful.
"For us crowds is what we are all about. Between 70 and 80 per cent of our revenue is from people coming through the gate."
Asked whether the racecourse could pursue compensation, Waterworth added: "I think there is a conversation to be had with DCMS about the costs incurred to carry out the pilot and now not being able to deliver it, but I think that is one for next week."
David Armstrong, Chief Executive of the Racecourse Association, the RCA, said; "The RCA is very disappointed to learn that the pilot event at Goodwood Racecourse scheduled for tomorrow has been postponed. We understand and respect the issues raised within the Prime Minister's announcement and have always maintained that public health has been paramount to any event, be it racing resuming behind closed doors or with crowds.
"The work undertaken by the sport, and especially the Goodwood team, to bring the safety protocols to life has been very thorough and detailed. It is worth reiterating there were no concerns with the protocols put in place by the sport and Goodwood Racecourse and we wish them the very best for the final two days of the Qatar Goodwood Festival which will take place behind closed doors.
"The RCA will continue to work closely with Government to plan future pilot events to welcome back crowds subject to the latest public health advice."