Nicky Henderson has hit out at the way the BHA handled the Altior affair this week but added that in future he will relay market-sensitive information via the Press Association rather than blogs issued by Unibet.
The five-time champion trainer found himself facing criticism when announcing through social media on Tuesday that ante-post favourite Altior would miss an intended weekend engagement at Kempton.
A fuller explanation was made via one of his regular blogs on Unibet soon after, although Henderson revealed on Racing TV at Kempton on Saturday that he had informed the BHA he was "not happy" with the horse about three hours before.
The absence of the most high-profile National Hunt performer from the Unibet-sponsored Silviniaco Conti Chase at the Sunbury track was signalled via ante-post betting moves before any official annoucements were made.
The long odds-on Altior was usurped as favourite by Top Notch, his stablemate, whose price contracted from 5-1 to 8-11.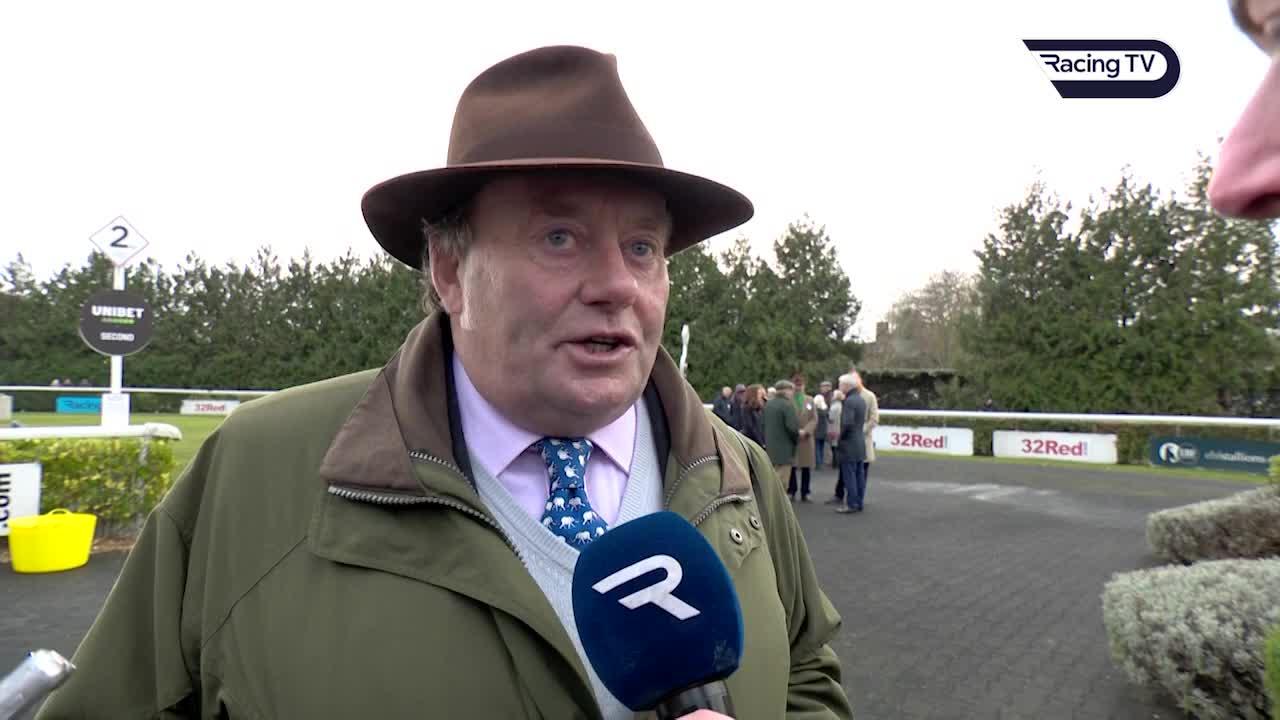 Henderson talks to Nick Luck about a "taxing week"
Only small sums were involved and Unibet were among those to refund ante-post bets on Altior, but the episode did not reflect well on the sport and led to fresh criticism of trainer-bookmaker relationships.
Asked by Nick Luck on Racing TV how he would revisit communications from Seven Barrows, Henderson said: "These announcements will be made through the PA (Press Association) when it comes down to delicate situations.
"We've had a very good relationship with Unibet, they are great guys, great sponsors and huge supporters of National Hunt racing, and we want to appreciate them and I don't see why we shouldn't, but these sort of issues [Altior being a non-runner] will be dealt with through the Press Association.
"I will continue to do our day-to-day stuff with Unibet. A lot of other trainers do the same thing and are connected with bookmakers. We have to appreciate these bookmakers are putting a lot of money into racing and we want to support them as well."
Henderson was also keen to stress that he had informed the BHA before 9am on Tuesday of rumours circulating about Altior. "A lot of things have been said and a lot of things have been written, probably without all the information they should have had before they made judgements," he said.
BHA officials issued a statement on Wednesday evening, calling on Henderson to clarify his position on the dual Champion Chase winner in what it called the "interests of fairness and transparency", as Altior was still entered in the Kempton race and had not yet been scratched.
The BHA also sent a veterinary surgeon to examine Altior at Henderson's yard on Thursday, with the trainer officially scratching the horse at 12.27 that day.
Henderson insists he informed the BHA of a possible issue before the news of Altior's absence was tweeted on Tuesday and described himself as "furious with the whole thing".
He said: "On the Tuesday morning, when I and Nico [De Boinville] looked at him and took a view he just didn't look what we wanted him to do, we decided not to do what we were going to do with him that morning and very early on there was a rumour.
"The first thing I did – and nobody seems to have mentioned it, and the BHA certainly haven't mentioned it – was at quarter to nine, or five to nine, on that Tuesday morning, I rang the BHA to tell them that I was not happy with the horse and there is a rumour.
"Most people assumed there wasn't anything until I made an announcement at 12' o'clock [but] the BHA were well aware, I told them, before 9 o'clock that morning. That has never been mentioned.
"Why couldn't the BHA have mentioned that in all these statements that have been coming out of there?"
He added: "I've been furious with the whole thing. Who is getting shot the whole time through?"
A BHA vet visited Seven Barrows to see Altior on Thursday and gave him a clean bill of health. Henderson's own vet was also happy with the ten-year-old and, apparently looking brighter than earlier in the week, Henderson was tempted to do a U-turn and run Altior after all.
He said: "I wanted to run but because of the whole schmozzle and, under the whole circumstances, I told [owner] Pat Pugh let's forget it."
Ironically, Henderson said he would have been inclined to withdraw Altior on the day had he been declared because of the tacky underfoot conditions at Kempton.
"On that ground out there today the chances are I wouldn't have run him," he said, thankful that twist did not have to be played out. He added he did not want to speculate where Altior might run next.
Ryanair Chase winner Frodon, trained by Paul Nicholls, won the feature with Top Notch fading to be third.
Henderson did land the Lanzarote Hurdle on the card via Burrows Edge, albeit in fortunate circumstances after Debestyman, who was in the lead and looking likely to win, unseated his rider at the final flight.
Don't forget to claim your FREE Racing TV gilet! Click here to find out more details!