Want the latest news and plans on Nicky Henderson's powerful team for the months ahead? The Unibet ambassador talks us through his team for the 2020-21 Jump season. Videos courtesy of Unibet.
ALLART
He is going chasing. He is well-schooled and jumps great. He is a two miler, he was fifth in the Supreme Novices' Hurdle. If you are knocking on the door in the Supreme or the Ballymore you've hopefully got a pretty bright future. He is a good horse in his own right.
ALTIOR
Last year was a disaster, he should not have run at Ascot in the first place, that was our own fault. It took him a long time to get over it, but he did get over it in time for the Game Spirit at Newbury. That was fine and everything was going terrific heading into Cheltenham, until about four or five days before. He got this splint and he was lame and it was sore. It has been there all along and has never affected him. It was just bad luck and he had to stay at home.
That's all mended and he is in great form, I have never seen him move better. We are going to go back to the tried and tested route - Tingle Creek and to the Champion Chase. That is the plan, the only variation that might come, is he could go for the two-and-a-half mile race at Aintree or wait for Sandown, or go to Punchestown.
Politologue won the Champion Chase last year and we know where we stand with Politologue. He is in terrific shape – moving and booming. He hasn't galloped yet, but we have time. He is in good form and he was so well going into Cheltenham, we were confident he was back to his very best.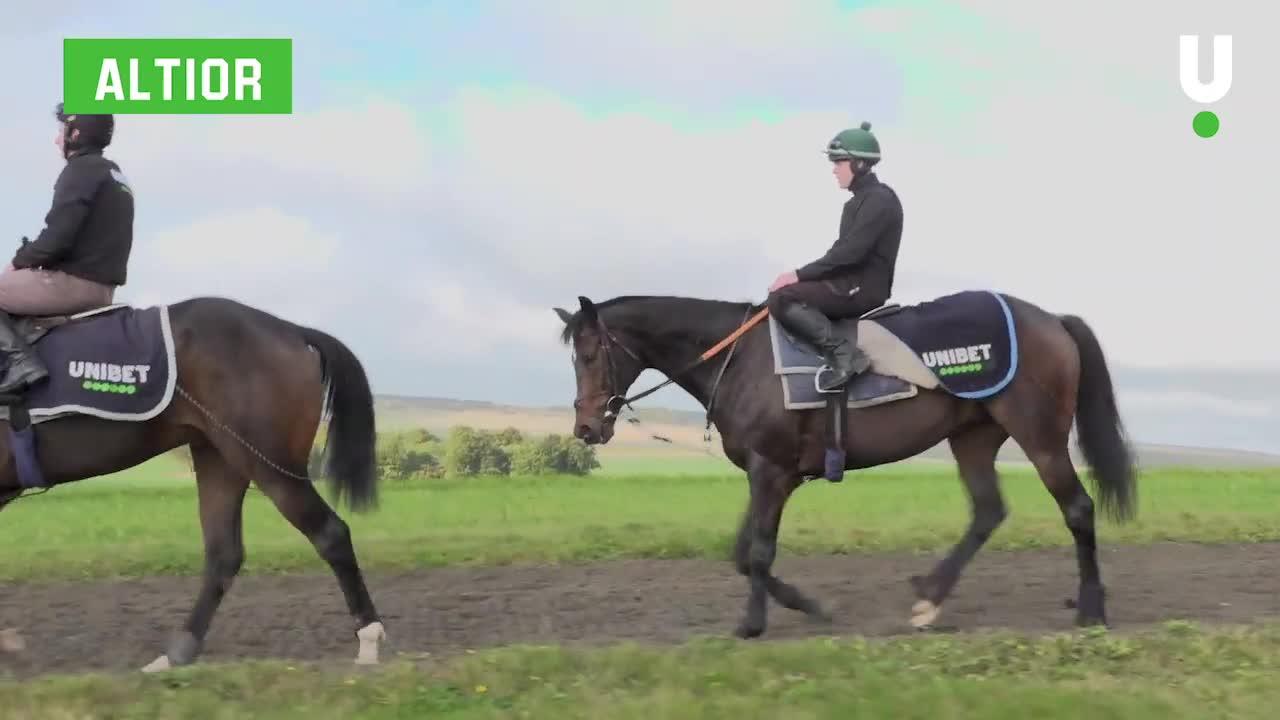 Nicky Henderson on his chasers
APPLE'S SHAKIRA
She is very settled and relaxed, she is doing a lot of cantering. She is not the easiest, she has had niggling injuries all along. She is not an Apple's Jade but she is talented. She is very good at the moment.
BEWARE THE BEAR
The aim will almost certainly be the Grand National. That was the plan all the way through last year. I might think of running him in the Becher Chase as well.
BLAIRGOWRIE
He is a lovely, great big horse by Yeats. We would have run him in a bumper in the spring. He will go to a bumper and then novice hurdling.
BUVEUR D'AIR
He is going well, we are very pleased. They did a lot of work with him at Martinstown Stud and got him going. It was it was a bizarre, but horrible, injury. He is cantering away quite nicely, Hannah Ryan, who has ridden him every day, is very happy with him at the moment and long may it last. We have got a long way to go. He won't be ready for the Fighting Fifth. We will have to see what happens come Christmas.
I would be perfectly happy if we only managed to get the one run into him before the Unibet Champion Hurdle. We have always used the Contenders Hurdle at Sandown. The timing is very good and soft ground at Sandown does not worry Buveur D'Air. If that were the only race he had, that wouldn't worry me.
BUZZ
He had been going quite a long time last season, he had been running all summer on the Flat and then went straight over hurdles. He's had a good summer break.
CARIBEAN BOY
He is a great big bruiser of a chaser. He came from France and has always looked like a chaser. He likes soft ground. I don't know about his best trip, but he is not slow. Whether it is over two-and-a-half or three miles I don't know, but I expect he will get three miles.
CHAMP
We have just done a wind operation on him. We were doing some schooling with him the other day, I wanted to tidy up his jumping. He was good, but his technique wasn't flawless, and he had a week with Henrietta Knight. Nico went and schooled him and we started to hear a rather suspicious noise. I wouldn't be surprised if that was there last year, I am almost certain it was.
Before the second last in the RSA at Cheltenham in March, he was trying to get this second wind. Barry had to sit still and get a breather into him, he then got his second wind and he ran. Maybe I am being a total optimist, but he certainly needed it doing. I think you can expect quite a lot of improvement and I am hoping his jumping will be slicker. If it all fits together, we will be in good shape. Even if he is the same horse as last year we're in quite good shape. He is the winner of the RSA and he's won every steeplechase he has completed.
CHAMPAGNE PLATINUM
The Kim Muir Chase at Cheltenham was too far for him. We are starting all over again, he has also been over at Henrietta Knight's. He started off being a very good jumper, but I think it worried him a little bit. We have done a lot of schooling and I would think two-and-a-half miles is his trip, he didn't stay at Cheltenham.
He is going novice chasing, no doubt about it. He wants two and a half miles, so there is no clash with Shishkin. He ran in the Supreme because J.P. McManus had Sporting John in the Ballymore. We always thought he wanted two-and-half miles but they needed splitting up. To be fair, Chantry House was never going to beat Shishkin and he wouldn't have beaten Envoi Allen anyway, so he finished third in the Supreme and he might have been second in the Ballymore.
He is a novice chaser who we are all looking forward to enormously. He has schooled over fences and he is a natural. He is a beautiful horse.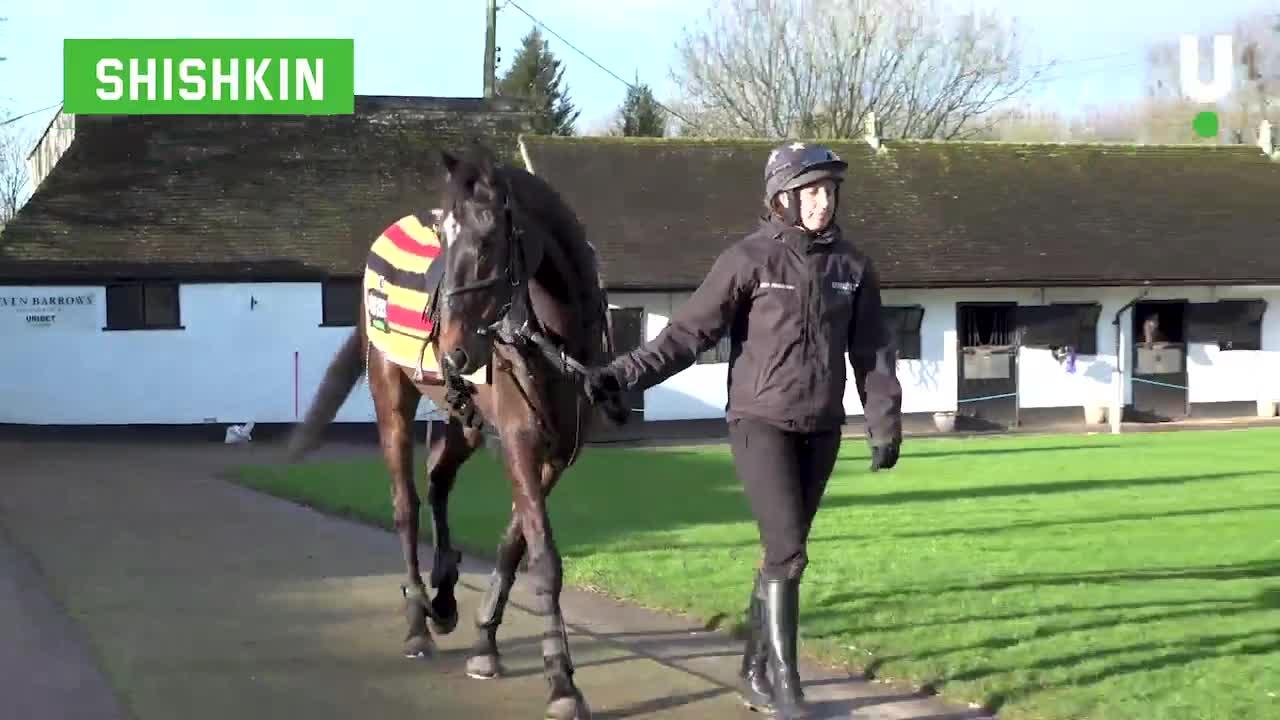 Nicky Henderson discusses his novice chasers
DAME DE COMPAGNIE
I think we will school her over fences and see what she tells us. She looks like a chaser, she is a gorgeous, strong filly.
She was the best two-mile hurdler around last year. She is great, she is like all really good hurdlers – she is very slick, very quick and she has pace. She's not the biggest in the world, we are not going to make a chaser out of her. We better get on and win three Champion Hurdles! She will aim to begin in the Fighting Fifth at Newcastle.
FIX SUN
I like him. We have schooled him over fences, but I don't think he is a chaser at the moment. I would like to give him a run over hurdles. He will appear at Cheltenham this weekend.
He was second at Newbury in very bad ground, we nearly didn't run. We then went to Kempton, because he came back so fresh, and well and he won by 20 lengths. I think Barry (Geraghty) said it was the easiest bumper winner he had ever ridden in his life. He has looked very, very good from the word go. He has a lot of pace and appears to jump very well. He is an incredibly enthusiastic horse.
FLORESSA
She is going well and in good form. She was very good last season, she did nothing wrong until the end. She will probably stay over hurdles and go to Wetherby for the mares' race over two miles. I reckon she could get a little bit further if she wanted.
GLYNN
We don't know much about him, we only ran him once. He ran at Doncaster and then we were waiting for Aintree but of course that didn't happen. I wouldn't want to go chasing with only one run under his belt. I think we ought to be looking at those introductory hurdles - they are made for him. I think we will go quietly down that route to begin with.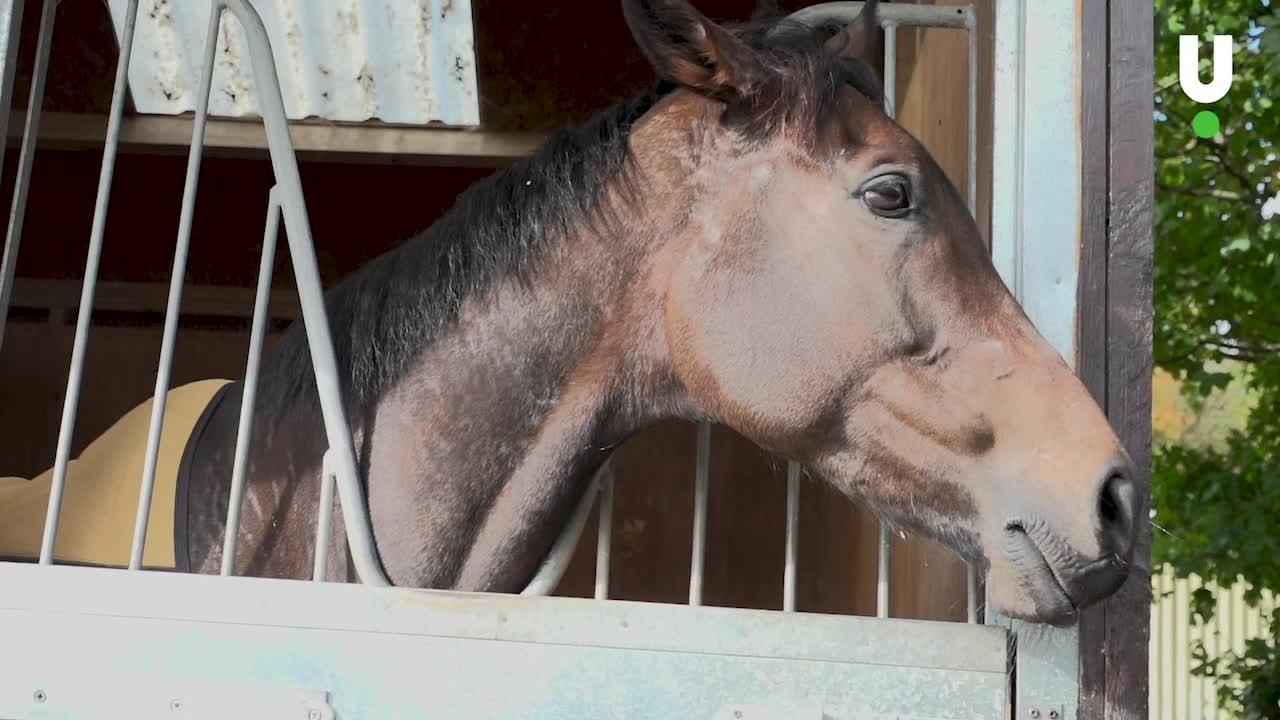 Nicky Henderson outlines plans for his hurdlers
IT SURE IS
He was very disappointing last season. His last run at Newbury was terrible, I was mortified. He is a beautiful horse; he looks like another Shishkin. I thought he was going to be everything over two-and-a-half miles last season but it didn't work out at all. Everything is going really well at the moment. He could go straight over fences but I am sure he could win a hurdle race on the way.
JANIKA
I was quite surprised by his win in the Haldon Gold Cup last season, I didn't really think he was a two miler. I would be surprised if he was a genuine two miler, I think he is a two-and-a-half-mile horse.
MARIE'S ROCK
Unfortunately we had to stop her before Cheltenham, I thought she would have been one of our best chances. She had a small chip which had to be mended. She is having her soft pallet cauterised, so she won't get to Wetherby in time for the mares' race. She is a very good filly.
MISS FISHER
She hasn't quite got the size or scope of Mister Fisher but she is a very sweet and attractive filly. She would have run in the bumper in the spring had the season continued.
MISTER FISHER
I think two-and-a-half miles is his right trip, although, I would be surprised if we didn't look at three miles sooner rather than later. He won over two miles last year as well, but two-and-a-half miles looks ideal. I would say the most likely objective would be the Ryanair.
OK CORRAL
He was heading to the Grand National having won at Doncaster, which you would say is the perfect preparation. Derek O'Connor was going to ride him, who knows the horse really well. I thought he was coming into the Grand National with a great chance.
He wants soft ground, you wouldn't run him on fast ground. He was difficult to train early in his career but he has been good so far. We could look at the Ladbrokes Trophy, but I don't know at the moment. We will be hunting round those sorts of races.
PATROCLUS
He is gorgeous, I love him. He finished second in a point to point in Ireland. I did one bit of work with him in the Spring. He is lovely.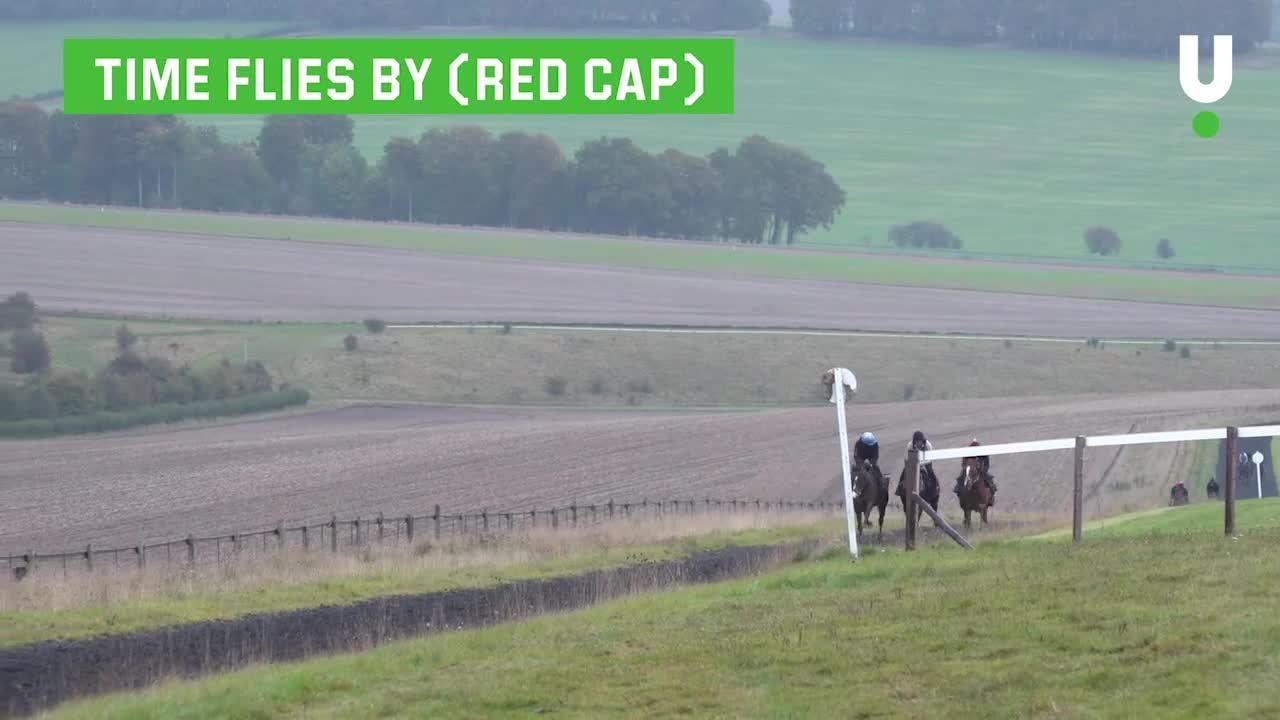 Nicky Henderson on his novice hurdlers
PRECIOUS CARGO
I am sure he is a stayer, although he did win over two miles. It was very unlucky when he got brought down at the second last in the Northern Trust Handicap Chase at the Cheltenham Festival. He got brought down and got a kick on his noise. He is a grand horse, loves soft ground and will stay.
He did very well over the summer and is still quite heavy. The plan is to go to Haydock (for the Betfair Chase). I think him and Champ fall into the same category, I don't think Haydock is necessarily a great track for either of them. They are both proper staying chasers but you haven't got a lot of options.
There is no Jockey Club bonus, but we have to start somewhere. We are working back from March, on the assumption and hope that both are Gold Cup horses. The Cotswold Chase would have to come into it for one of them and the Denman Chase at Newbury would also be an option for one of them. Ireland would also be a possibility, certainly for Champ anyway.
Santini jumps and gallops like a Grand National horse. He is the ideal sort, but he would be even more ideal if he was 15 pounds lighter. It's a big task for those with big weight's in the Grand National but it could come into the equation.
SHISHKIN
We are going to go novice chasing. The plan is to stay over two miles. He is very, very good and he's very speedy. He is a genuine two miler, I have no doubt about that. He would get two-and-a-half miles, the same as Altior gets two-and-a-half miles, but he is also a genuine two miler.
He did incredibly well to win the Supreme from where he got to because Asterion Forlonge, who is also owned by Joe Donnelly, took him into the car park coming down the hill. Nico (De Boinville) did a remarkable job at getting him back into the race. He was good enough to get back and get up and win, which required a lot of speed.
You can start in a Beginners' chase anywhere you like. I like Kempton and Newbury, they are really nice for introducing novices.
SON OF CAMAS
There might just be a good handicap hurdle in him, but he has schooled over fences and he's very, very good. I don't think he stayed three miles, at least not last year. He is a big strong horse, I love him. He has had a wind operation as well, which he probably needed all along.
TIME FLIES BY
He won his bumper and he could have stayed down the bumper route and run in the Champion Bumper at Cheltenham, but I am not a great fan of the race. He is a lovely horse and he has been over hurdles, but we threw him in very deep. It brings him into his novice hurdle campaign with experience and a bit more streetwise. He is a lovely horse.
TOP NOTCH
He is in great form. We cauterised his pallet not so long ago. When you have been going that long it isn't surprising the screws need tightening up a bit. I think it will help him. We just felt at the back end of last season he was starting to make funny noises. He is in great form, he won the Peterborough Chase last year and I don't see why he wouldn't do it again.
VEGAS BLUE
I do not know how she didn't win one last year - probably trainer error. She looked very uncomplicated and professional when winning at Huntingdon though on her seasonal debut.
Bring home the Jumps with Racing TV! Watch complete coverage, live and uninterrupted, from the best British and Irish racecourses. Click here for more details.