It was brought to my attention last week that too many jokes about Boris Johnson might have caused some readers to struggle to get past the kipper. (Don't know what I mean, eh? You get rewarded for honest endeavour under the governance of this column.) [Is that another BoJo jibe? – Ed.]
I'll therefore strive to balance my future pieces with jokes about Jeremy Corbyn. If only there was something morally reprehensible that he, too, was persistently declining to address.
Nobody mentioned Jo Swinson, though. Odd.
By the way, when I put "Jo Swinson" into a search engine, in order of most popular notions, auto-complete suggested "Jo Swinson: voting record... measurements... Twitter... husband... Question Time... MP... squirrel killer" which is deeply depressing and fascinating at the same time. Obviously, I had to click on it. Just to find out. His name is Duncan Hames.
Anyway, uncharacteristically, I digress. You'll have spotted I didn't tackle the hurdlers last week so, with the Fighting Fifth, Hatton's Grace and Long Distance contests on the immediate horizon, I've corrected that omission here. I've also reacted to the major events of last weekend, ready for Ruby Walsh to monster all my arguments barely a day later.
Talking of which: make sure you tune in at 9pm on Thursday for the first full edition of Road To Cheltenham: The TV Spin-Off. Think of it as Mork & Mindy to Happy Days. Torchwood to Dr Who. Jo Brand to Sandi Toksvig. Russell Brand to Davina McCall. (These are TV references, Millennials . . . you know, that thing your parents use to watch programmes at the same time each week? Oh, never mind.)
Ryanair Chase: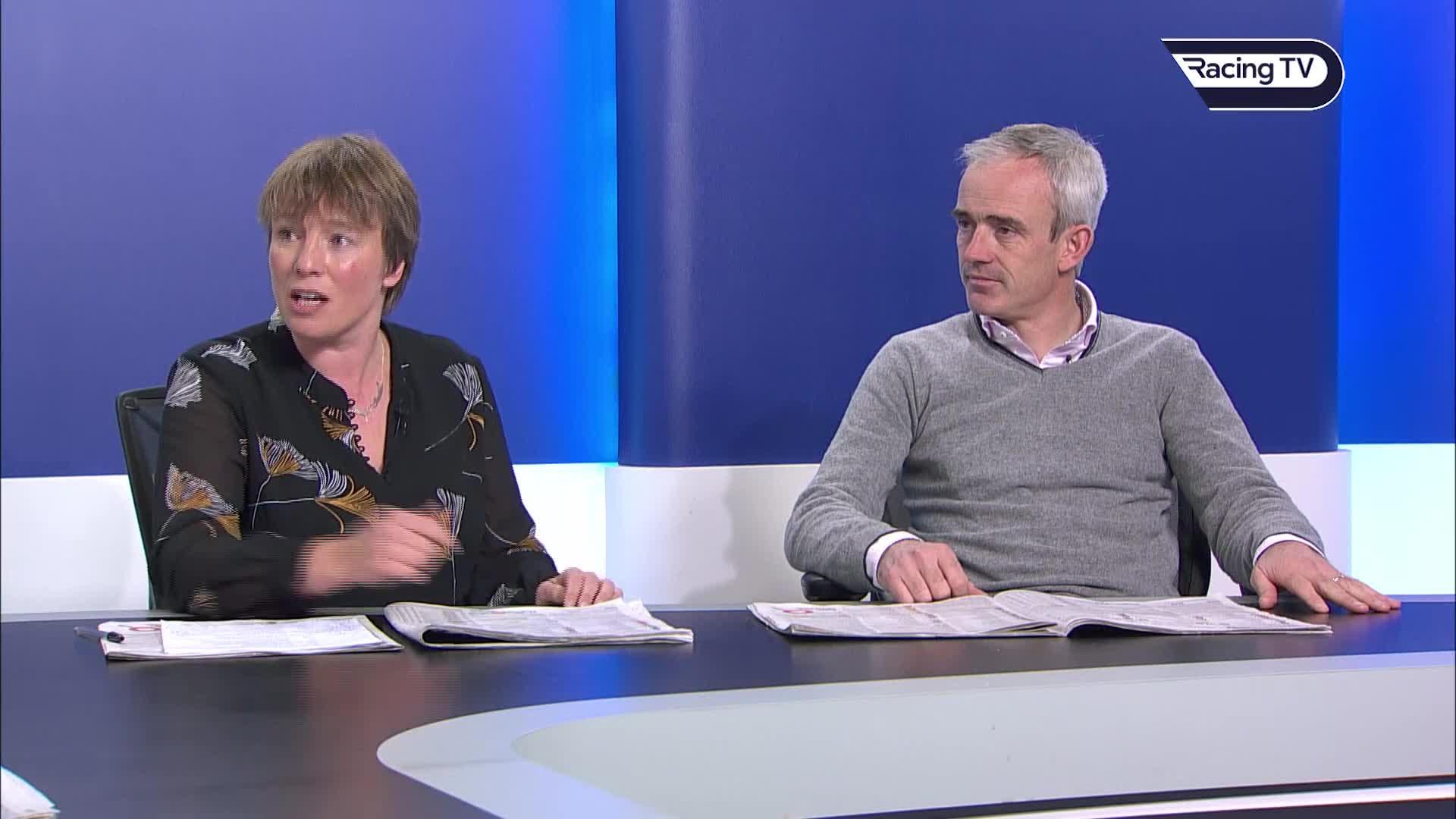 Don't say he didn't tell you: Ruby Walsh spoke about Altior's jumping before he ran at Ascot on Saturday
When Cyrname halted Altior's run of 19 straight successes last Saturday, he did so mostly for the reason that Ruby Walsh cited when we trailed the new Road To Cheltenham programme on Racing TV last Thursday morning. "I think it's fences that slow him down a bit," Walsh said.
That trait was very much in evidence in the Christy 1965 Chase at Ascot. Whereas Cyrname was quick to get over and away from his fences, Altior was nearly always losing some ground on his new foe and sometimes adjusting left. Harry Cobden controlled the race on the winner but Nico de Boinville found his mount wasn't ever jumping or travelling fluently enough to match him anyway.
Fitness would have been a factor, although probably not to the degree that Nicky Henderson initially relied on it as a reason for Altior's defeat. Not surprisingly, Cyrname was primed for his reputation-confirming clash – fitter than Altior. My paddock spy WhatsApp-ed me to say: "Cyrname fit. Altior OK but will benefit." (Timecoded seven minutes before the 'off', cynics. Lovely cynics. Quite right to be sceptical. You're in a safe space here.)
However, Altior was keeping on more strongly than Cyrname on the flat at the finish, providing some encouragement for connections in their post-race determination to keep to the original Ladbrokes King George VI Chase plan – but rather belying Henderson's view that "he got very, very tired". He just wasn't slick enough, surely?
Walsh was hinting last week that some form of headgear might be in order for Altior and I tend to agree. I doubt it would be applied if he is indeed upped to three miles for the first time on Boxing Day at Kempton, but I can just see it working a treat first (or second) time in the Ryanair.
Yet most bookmakers pushed Altior out to 14-1 for the Festival's intermediate-trip Grade One – the price at which I advised him for the race last week. An exception was the firm for whom Henderson blogs, Unibet, who offered 16s (#ad). This made me laugh, based as it is on humans drawing red lines around decisions they can't yet make. Ask Theresa May how that flies.
So, I can't for the life of me work out how, after losing ground at his fences over 2m 5f, Altior should be trimmed for the premier Grade One event over two miles? If you'd priced up Altior at 10-1 or less for the Ryanair (as most firms had), how – if using one's eyes – did Saturday make that a less likely destination? How did they think that the horse might end up running in a Ryanair?
The only reason to revert to the two-mile division would be if it turned out to be the weakest – perhaps even (whisper it) to avoid Cyrname.
It is worth paying close heed to the fact that Henderson's feet have got much colder about the King George since the weekend. Having been initially undeterred by defeat, he's now saying no decision will be made "for at least two weeks".
"I remember when he won the Champion Chase and he hadn't recovered in time to go to Aintree – and that was four weeks later," he said. "If he is not ready for the King George, then we will have to find another race for him."
And yet the Champion Chase was the target, so Altior was entitled to recoil from that, whereas Ascot was meant to be a stepping-stone to the King George, not the cause of him missing it.
"I don't really think he travelled with his usual zest," Henderson further expanded in his Unibet column. "And, to be honest, I thought Nico would have trouble holding him, therefore I suspect the ground does have something to do with it but we'll get him fully checked over... purely as a precautionary measure, and evaluate the situation after that."
From any punting perspective, this should make you uneasy. Remember, Altior also had an operation to correct his breathing over the summer. Are connections tacitly worried he's on the wane (from dizzy heights, of course)? Not that they'd ever admit it but that's certainly the biggest concern I now have about my 14-1 for the Ryanair.
His conqueror heads to the King George with more than mere handicappers and time analysts now convinced of his ability. It would be Cyrname's first attempt at three miles and, if anything, I'd fancy Altior to be the stronger stayer of the pair, albeit the relentless gallop of a King George should play to the former's strengths for 80 per cent of the race.
Incidentally, his presence poses an interesting choice for Cobden: does he ride the highest-rated chaser in Britain or the titleholder, Clan Des Obeaux?
Post-King George, if the scenario I'm envisaging pans out, I suspect we'll see Cyrname returned to Ascot in February for the Grade One in which he thumped Waiting Patiently last term and then, despite comments about his preference for racing right-handed littering his career notices – including in the aftermath of Saturday – trainer Paul Nicholls won't be able to resist the Ryanair.
He's already breaking down his own defences.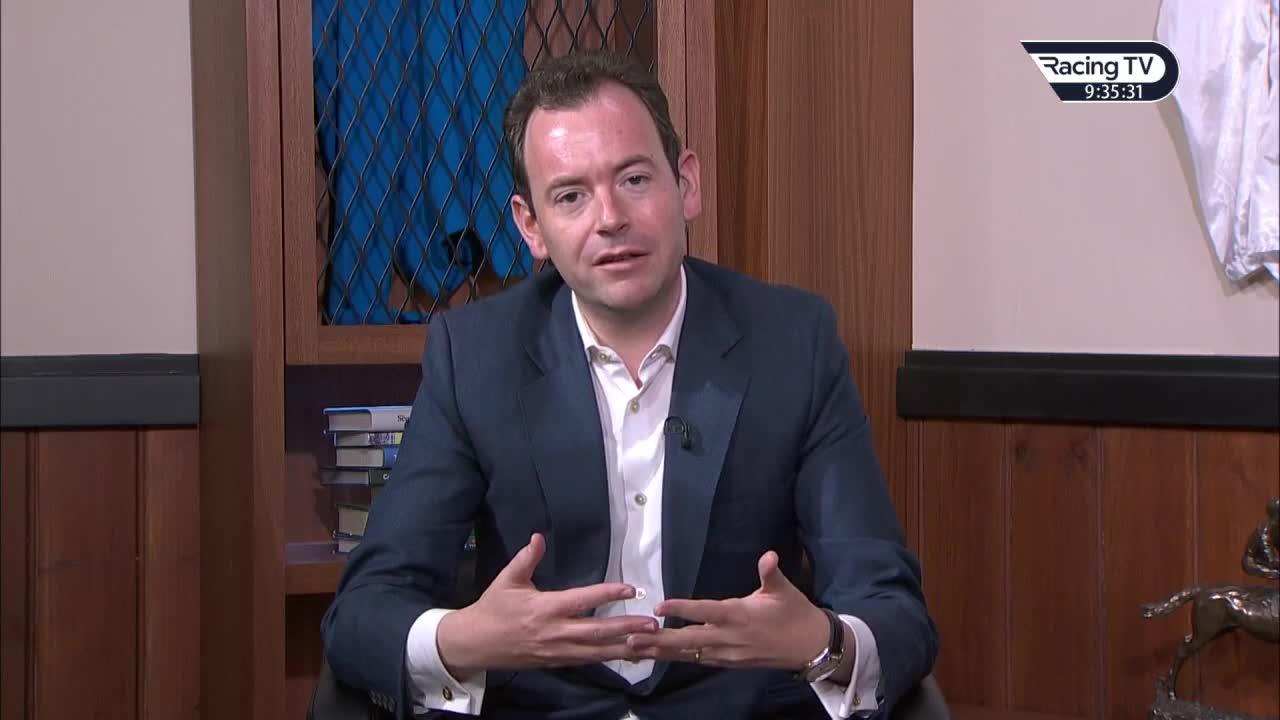 Paul Nicholls spoke about Cyrname's defeat of Altior on Luck On Sunday
"(Cyrname) loves going right-handed, we know that, and I'm sure that three miles around Kempton will play to his strengths and I'm very confident he will stay," Nicholls said on Sunday. "I'm sure one day it'll happen and he'll run at a left-handed track – I'm not worried about that as I don't think it will be a problem.
"We're looking forward to the King George as things stand and there's plenty of time to talk about Gold Cups, but Cheltenham is not the be-all and end-all. There are other options."
The right-handed Punchestown Gold Cup is one such option – the one Cobden had been contemplating before Saturday and a more credible target in my book than Cheltenham's original version.
If you're wondering why Cobden, Nicholls, assistant trainer Harry Derham and I keep referring to Cyrname's preferred orientation, take a look at his overall profile and specifically Aintree in April 2018 and Newbury in December 2017. His best left-handed chase form is approaching 30lb shy of his peak and 10lb short of his novice-chasing best, when he last tried anything other than a right-handed track.
An almost certain Ryanair participant is stable companion, Frodon, after what stamina he possesses was dragged out of him by the second last – if not the home turn – in Haydock's Betfair Chase last Saturday.
"In Grade Ones, three miles might just be stretching him slightly and over a shorter distance he can use his jumping better," acknowledged jockey Bryony Frost.
Frodon is at his deadliest when ratcheting up the pace at which others must jump, tactics Frost couldn't risk over three miles at Haydock against Bristol De Mai; her mount even missed a beat in the back straight. However, Frodon hasn't yet regained his form of last season and this run, though admittedly magnified by the unsuitable trip, was a regression from his seasonal debut.
It was great to have Footpad back in the room at Thurles last Thursday. He'd been unable to make any impact when beaten 26 lengths into eighth by Frodon in last term's Ryanair and it later transpired he'd broken a blood vessel – an end to his season that was sadly not out of kilter with the rest of it, plagued as it was by a fall and two overreaches.
This was a straightforward dispatch of doughty Mala Beach and fizzy Jetz, with a deeply disappointing and quickly beaten effort from 2018 Ryanair hero Balko Des Flos thrown in.
Betway Champion Chase:
If you were going to back one horse for the Champion Chase on the basis of last weekend, it would be Cyrname at 14-1 rather than the new best-priced 3-1 favourite, Altior.
Clearly, the left-handed orientation of Cheltenham would be a concern but you're getting odds for that. You'd have no worries on all other fronts: namely suitability of the trip, speed of jumping and calibre of ability. Just saying.
Or, in an open division at a whacking 50/1, you might consider his stablemate, Capeland. Don't laugh: he's progressing fast (though will need to continue) and is now on the premises of graded company. Granted, last Saturday at Ascot he was able to compete from the same mark as when forced through the wing of the last and therefore disqualified three weeks earlier, but this was a much better performance.
"He has improved as a seven-year-old and last year didn't work out in small fields – that didn't suit," explained trainer Paul Nicholls. "It might be Graded races now." Capeland lost all chance in last year's JLT with a four-out blunder but looks a better horse at two miles anyway.
Magner's Cheltenham Gold Cup: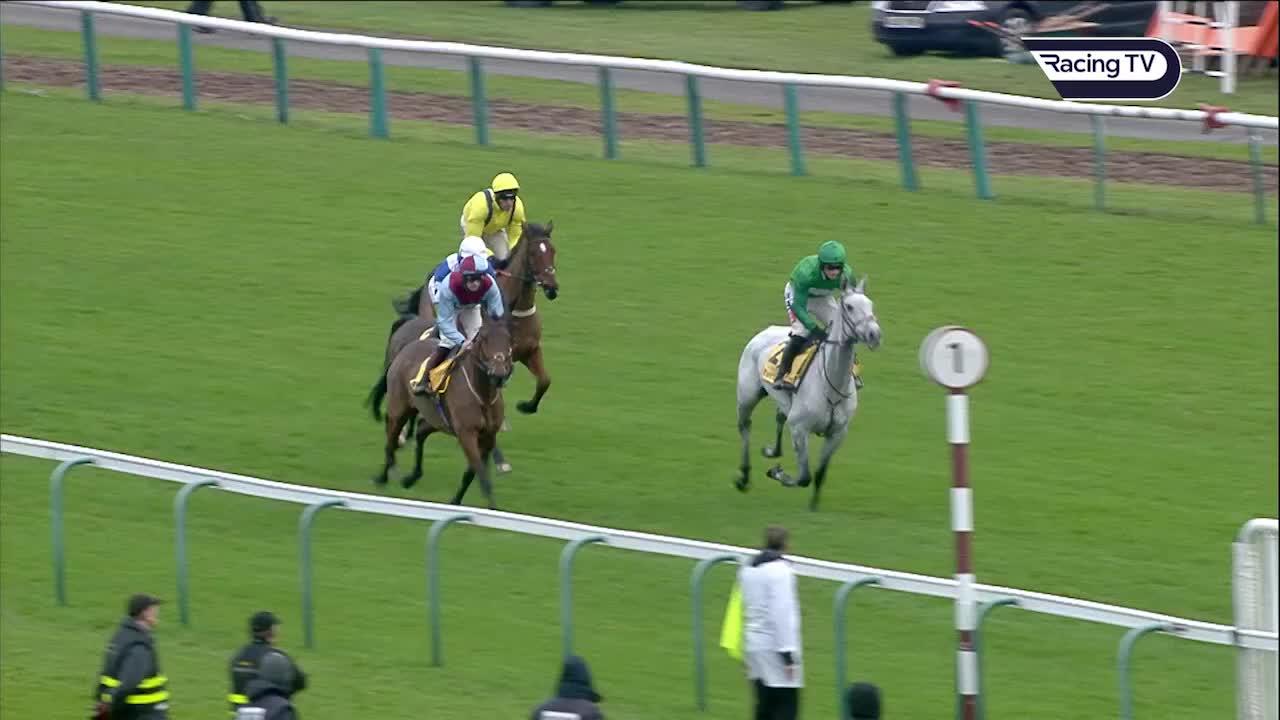 Watch a full replay of the Betfair Chase
Going into last Saturday, I had expected Lostintranslation to show flashes of the level of ability required to beat Bristol De Mai when taking him on his favourite stomping ground for the Betfair Chase. Instead, we got the whole light show.
By taking the first steps towards realising the £1 million Jockey Club Chase Triple Crown, this exciting second-season chaser also decisively mapped out his campaign from now until next March. It's King George and Gold Cup for him – perhaps with a race in between, God love the Tizzards – chasing the dream that former stablemate, the superb Cue Card, came within three fences of realising back in 2016.
Proud Tizzard Sr proclaimed his latest star inmate "a fantastic creature" in his post-race response, commenting: "We've seen two sides of Lostintranslation today. He travelled beautifully and jumped immaculately but, after the second last, I thought 'This is not put to bed yet' and he had to stay. I think we outstayed Bristol De Mai."
Robbie Power played his hand wisely. In a clearly sensible adaptation of his mount's habitual tactics, he watched on from rear as Frodon intermittently tried to take an unconvincing fight to Bristol De Mai, in his customary role of metronomic grinder. Haydock has played host to most of the apogees of that grey's distinguished career and Power wouldn't have wanted his mount to eyeball him sooner than necessary.
When they did, Lostintranslation blinked, diving through the second last and briefly appearing to cede a critical advantage. But Power galvanised a recovery and the pair jumped into the lead at the last with a low but safe leap and then stayed on strongly to maintain that advantage.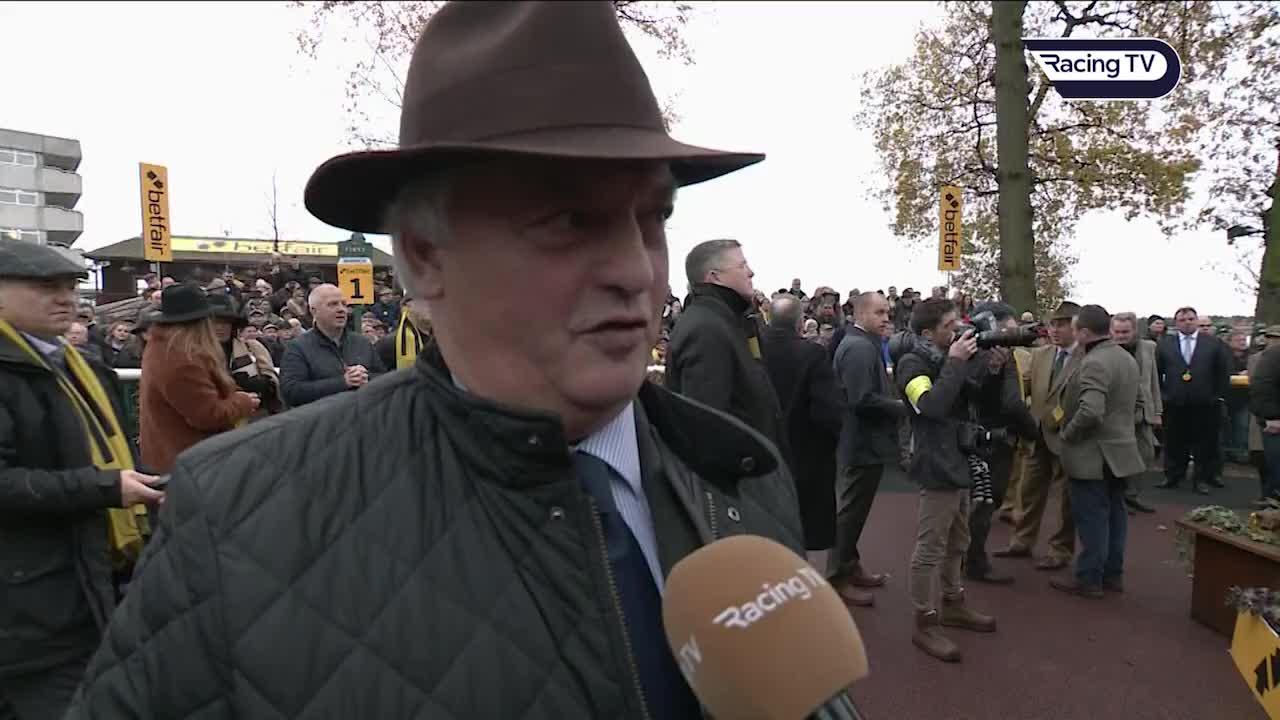 Colin Tizzard gives his verdict on Lostintranslation's Haydock triumph
Afterwards, Power confessed he'd produced his partner rather sooner than intended, such was the response he got to a couple of shakes after three out, and implied that was the primary cause of the scruffier closing jumps from a horse whose major asset is the efficiency and accuracy of his fencing. After Aintree in April and now this, more patient tactics in a more strongly run contest could prove his absolute beau ideal – again, only a plus in this division.
Kempton will be a first for Lostintranslation, who has rarely raced right-handed. The figures testify to him running well when a narrow second to Defi Du Seuil in the Grade One Scilly Isles at right-handed Sandown last season, although it should be noted that Colin Tizzard did report Richard Johnson saying he was "lugging in a little bit left-handed" and used that as fuel for pre-Festival yak.
Otherwise, Lostintranslation is endowed with the right blend of speed and stamina for his Boxing Day task. The Gold Cup, over two-and-a-half furlongs further of undulating territory, is another matter but my post-Carlisle feeling that 7-1 for the Festival showpiece was "over-excitable" has proven to be precipitate itself. He's now best-priced 9-2 favourite!
Nigel Twiston-Davies suggested that, given Bristol De Mai was making his seasonal debut and the winner had prepped, the runner-up had "probably just needed the race whereas the winner didn't". "He looked like he was going to win at the second last but didn't get home, and the good ground was against us," he added, of his yard's flagbearer.
The ground at Haydock was good to soft on Saturday, both on times and officially, and therefore more testing than in 2018 when on his seasonal debut Bristol De Mai beat Native River, Thistlecrack, Clan Des Obeaux and Might Bite in this race but not the quagmire of 2017 when the grey recorded his outstanding 57-length demolition of Cue Card.
Like his trainer, I'm not actually convinced that Bristol De Mai set fractions akin to his relentless best but it required an indubitably high-class performance to take him down nonetheless.
The runner-up "probably" won't be going to the King George, interestingly. "He'll be better for the run but, having not won this, we probably won't got to Kempton now," Twiston-Davies said, in tacit acknowledgement, perhaps, that the track has never showcased this horse to great effect.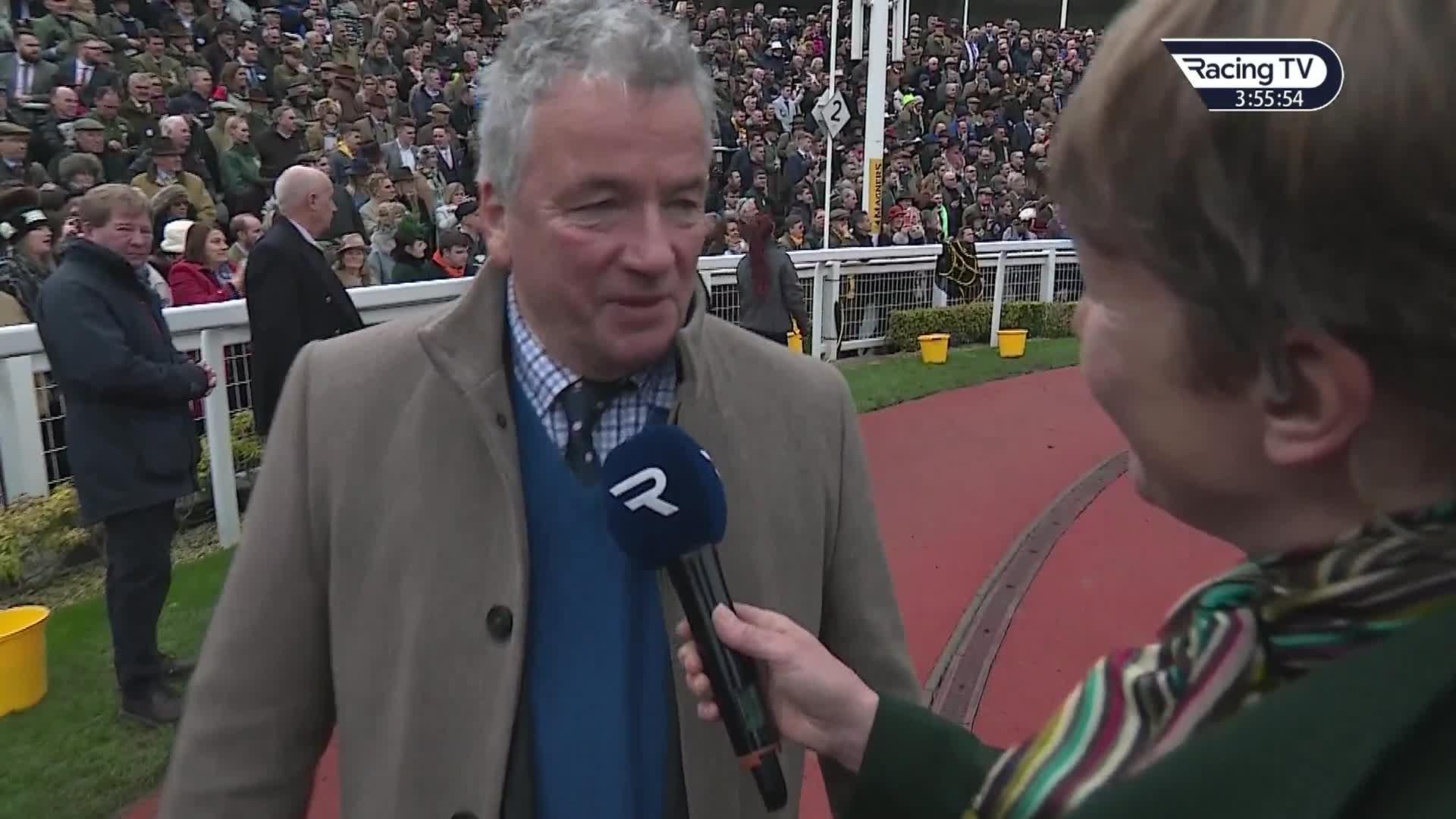 You are all mad! Twiston-Davies talks to Lydia after last season's Gold Cup
Just don't say that – or anything like it – to his face. Even injudicious compliments (watch above) can prove bear-traps, as I found after Bristol De Mai finished third in last year's Gold Cup: Sorry, Nige. I meant well.
Unibet Champion Hurdle: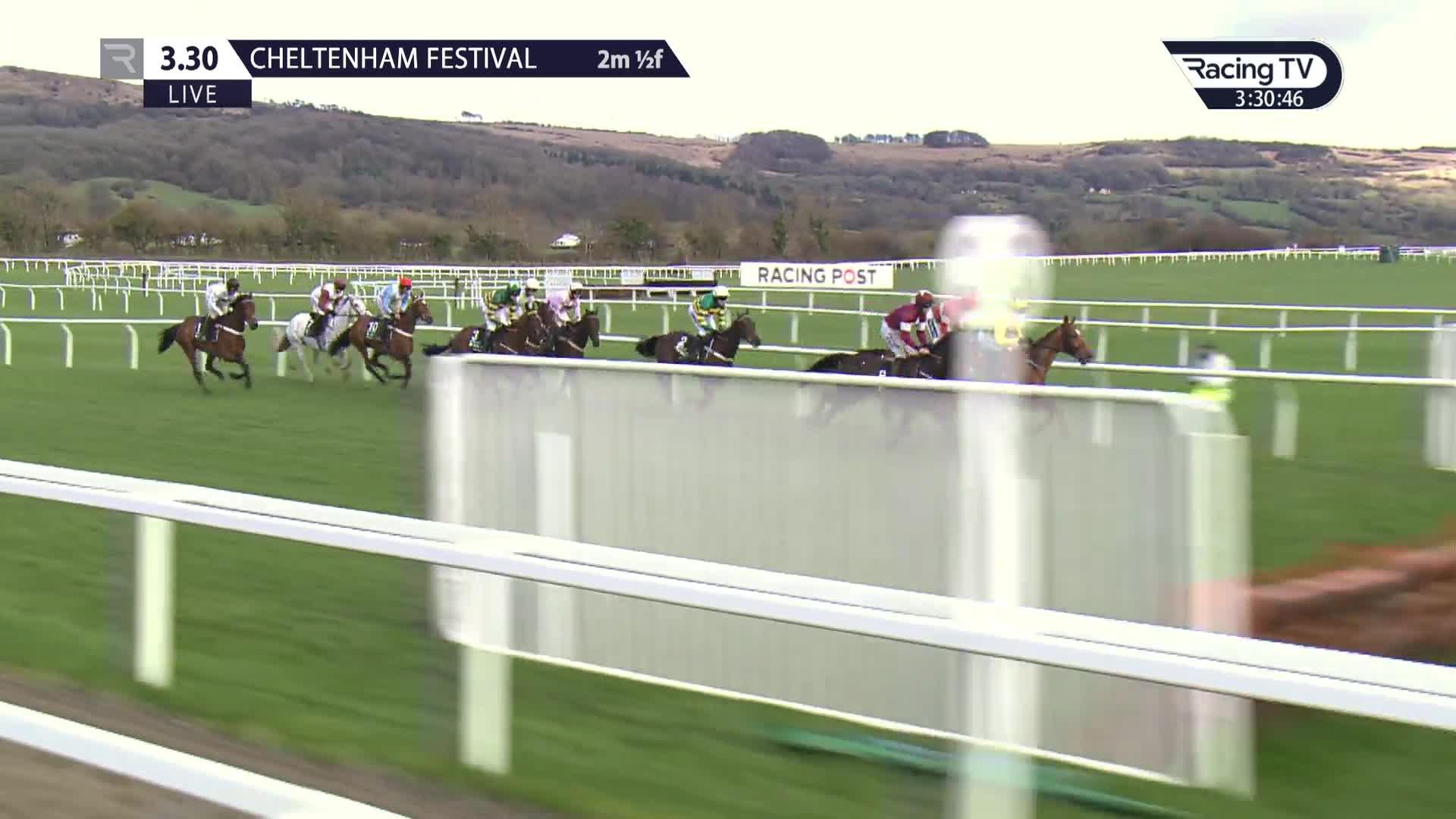 Watch a full replay of last season's Champion Hurdle
Last term's Champion Hurdle got smashed right up and, preposterously, a five-year-old ran away with it by 15 lengths – the widest winning margin in the race's history. We were all looking forward to seeing what Espoir D'Allen could have done in a more conventional edition and when, da statz boyz tell us, he would have been mature enough to cope with the task at hand.
But devastatingly for all connected with him, he suffered a shoulder injury when spooking during a routine gallop in August and his condition deteriorated to such an extent that, two weeks later, vets at Fethard Equine Hospital concluded that "it was inhumane to persist with treatment". It is a huge shame that we will never get to know the full extent of his burgeoning ability.
His absence leaves behind a vacuum of power in this division, just as there was a yawning gap back to runner-up Melon in March. First-time cheekpieces had laid the ground for a reviving change of tactics on that horse with the welcome side effect – oh happy coincidence – of undermining the jumping of Apple's Jade. Pretty much from the outset, she was a busted flush – yet again underperforming at the Festival.
The fall of Buveur D'Air at the third, bringing down Sharjah, removed two other players from the contest and when Apple's Jade dropped away from the fifth, Paul Townend on Melon and Ruby Walsh on big-jumping Laurina pressed on from as far as three out. Mark Walsh was happy to slipstream them before producing Espoir D'Allen with a devastating move entering the straight.
The margin of the winner's victory was surely exaggerated by the way the race developed – meaning that Melon and Laurina, who ultimately finished fourth, can be marked up a shade – but this didn't influence the result itself. Silver Streak picked up the pieces for third after being ridden to maximise his finishing effort but nonetheless getting outpaced.
Of these horses, few are currently likely to pitch up in the race this term. Melon and Laurina have gone chasing, the latter with more initial success. Keep an eye on whether the former, three times a Grade One second-best at the Festival, gets a fallback engagement in this race when entries close in January. Put it this way: I wouldn't lay him at 40 on Betfair.
Unless there's a drought, you'd imagine the call of the 2020 All-Weather Championships will this time prove too strong for connections of never-involved fifth-placed Verdana Blue. That mare was a surprise winner of last term's Christmas Hurdle – a race that was highly entertaining at the time and very telling in retrospect about her more feted stable companion.
If Apple's Jade runs at the Festival at all, it won't be here. I suppose Sharjah might show up but conditions are unlikely to be ideal and, like Silver Streak, he's not good enough. Yet what is "good enough", anyway?
The market takes the default position of saying the deposed dual winner is. But Buveur D'Air was never at his best last term, for a second successive season on his figures. Whereas you could conceivably mobilise a staunch defence originally, when so many objections have since come to light it's much harder to make a credible case for him second time around – even in this most barren of contexts. (*Kipper redress. Well, mostly.)
After his no-longer uncharacteristic mistake at the Festival, Buveur D'Air went on to job-swap bride and bridesmaid with Supasundae – finishing second at Aintree and then winning at Punchestown – but that rival had also been firing on fewer cylinders than the previous season. In short, this is a readily attainable standard of form.
We'll learn more when the former champion faces a maximum of five rivals in Saturday's Betfair Fighting Fifth Hurdle at Newcastle – a race he's won for the past two years and in which, last season, he produced probably his best effort since triumphing in the 2017 Champion and Aintree Hurdles.
Sharjah has been out and about already, proving no match for stablemates Saldier and Klassical Dream, as well as relatively senior citizen Petit Mouchoir, in a serious-looking renewal of Punchestown's Grade One Morgiana Hurdle this month. This was an underwhelming start to Sharjah's campaign in the race he won last year, though admittedly with a summer campaign then under his belt and on ground doubtless softer than ideal.
Instead, it was the least fancied of the Willie Mullins-trained trio who triumphed. Saldier had been sidelined for just over a year since falling at the last in a Naas Grade Three – he got into the bottom of it when probably about to get the better of a certain Espoir D'Allen, Mark Walsh on the latter having gone for more than Ruby Walsh on the former when the duel ended prematurely.
"We let nature take its course after his injury last year and it appears to have worked," his trainer observed afterwards. "His run at Naas last year showed us that he could be Grade One material and he is."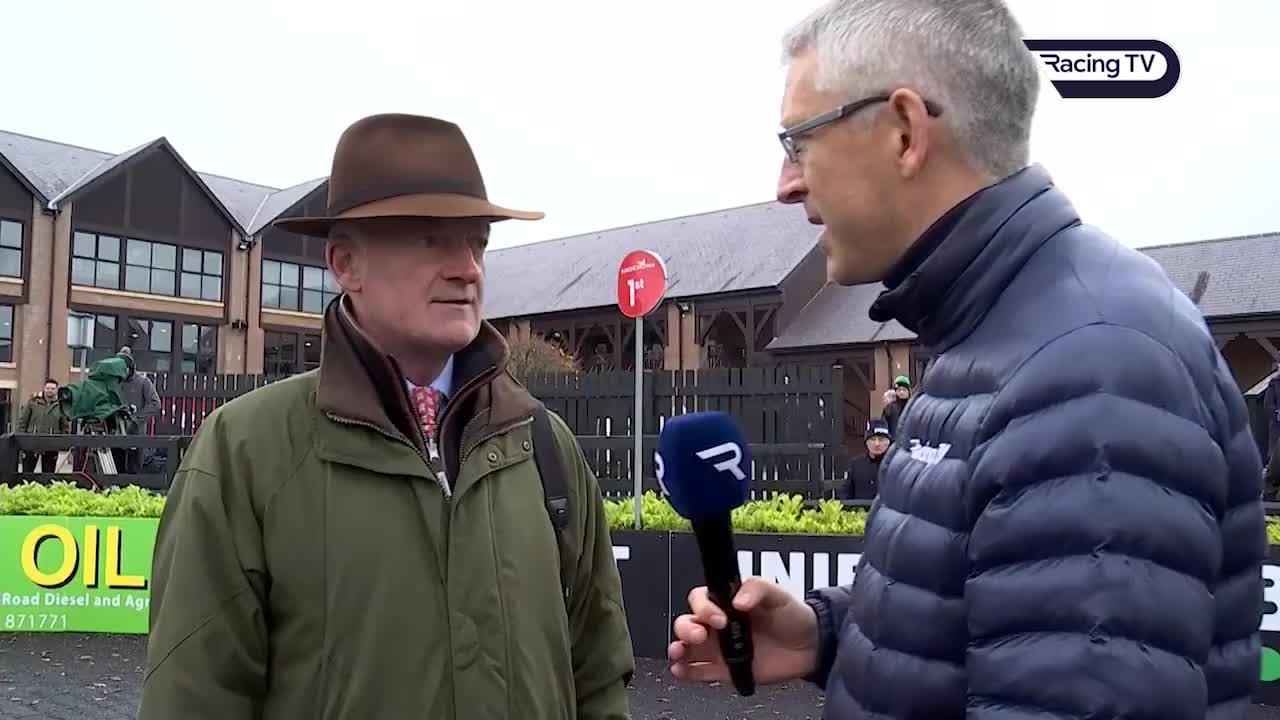 Willie Mullins reflects upon the performances of Saldier, Sharjah and Klassical Dream with Gary O'Brien
More than once, jumping has been an issue for Saldier. He was clumsy before weakening markedly into fifth before the last in the 2017 Triumph, on just his second career start over jumps, and made mistakes next time at Fairyhouse, too. However, he put it all together when trouncing Triumph runner-up Mr Adjudicator at Punchestown on his final start as a novice.
He still looked guessy at times under Danny Mullins in the Morgiana but, after travelling comfortably into the race and then being chased along to challenge, he sealed the deal with the best jump at the final flight and then retained that advantage to the line. It was a much-improved performance and propelled him to 6-1 joint second favourite for the Champion Hurdle.
Stable companion Klassical Dream was sent off the 2-5 favourite – strong in the market, suggesting no fitness doubts – having previously been undefeated over hurdles for Mullins in a campaign that last season took in both the Supreme and Punchestown's Grade One Champion Novice. His trainer noted that he "threw himself at the first and from there was just too keen". "I think he'll improve from that and a stronger gallop will suit them all," he concluded.
It didn't look a dawdle, however, and I wonder whether Klassical Dream has quite got the technique to go right to the top over hurdles. He might have been a tad rusty but the first was not the only obstacle at which he overjumped or hung in the air longer than ideal.
At the last, he took off in front but got in too close and was overtaken in flight by the winner and landed upsides the eventual second, Petit Mouchoir, whom he'd only just worked hard to get past.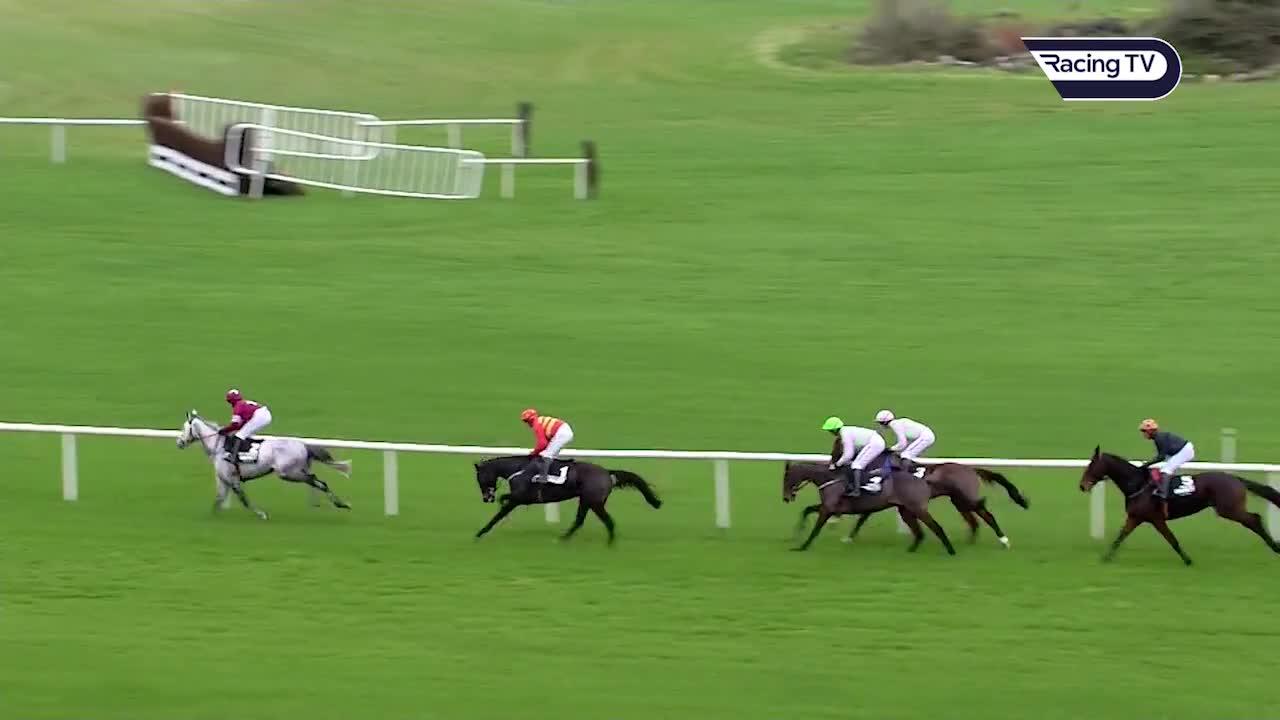 Saldier bounced back with a bang in the Morgiana Hurdle
Nonetheless, I don't doubt he's a talented athlete and – as I've been arguing – this is hardly the deepest division, as things stand. He's 6-1 for the Champion Hurdle, too.
Petit Mouchoir held the form down for some but he was allowed an unchallenged lead for much of the race, had enjoyed the benefit of a prep and it was only as long ago as Buveur D'Air's pomp that he was good enough to finish third in a Champion Hurdle. I think it's entirely conceivable that this was one of his better recent attempts.
To wrap up this section, we must acknowledge the winning returns of four-year-olds Fusil Raffles and Coeur Sublime in open-age Grade Twos. These differed in style but perhaps not so much in substance.
The latter's at Down Royal was the more visually pleasing – for the efficiency of his hurdling rather than the 15 lengths back to stablemate Coko Beach in second. Yet trainer Gordon Elliott was keeping it low in response.
"He a lot stronger this year and Davy [Russell, jockey] says he feels a feels a different horse," he said. "We'll have plenty of fun with him this year. He'll have to improve to go the Champion Hurdle route but there are plenty of Grade Twos and Grade Threes to be won."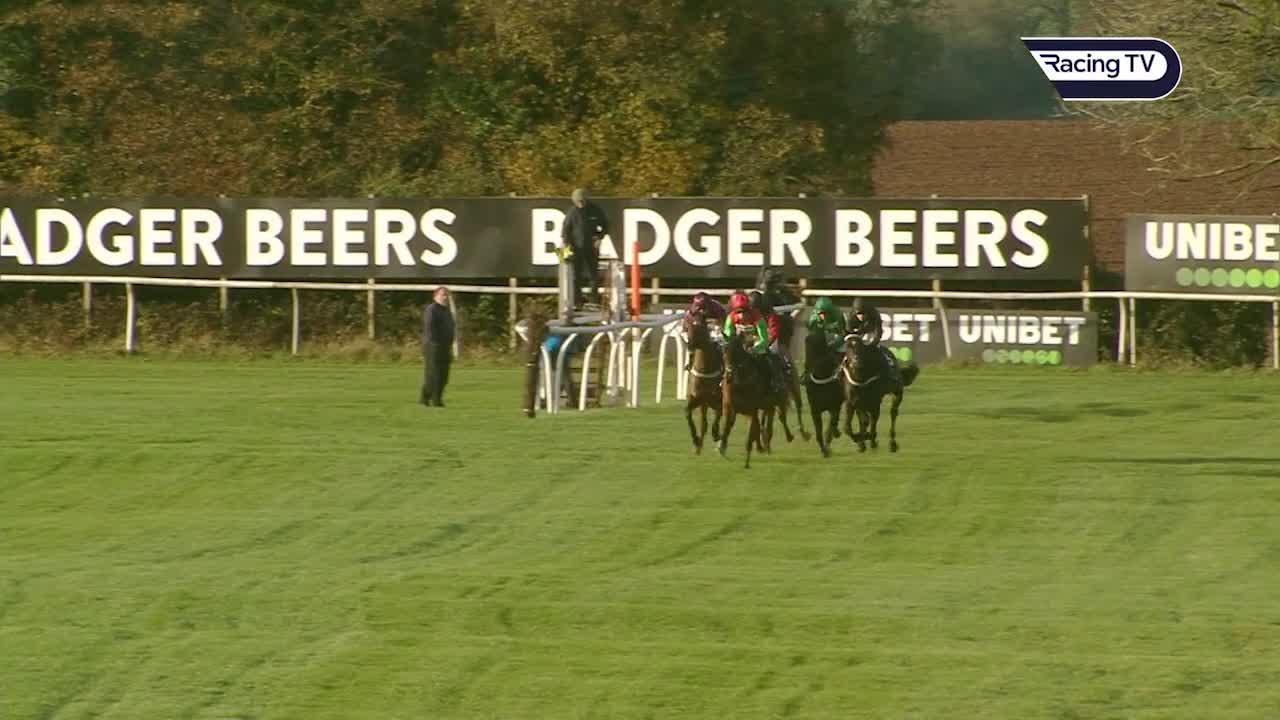 Fusil Raffles had to dig deep to scoop the Elite Hurdle
Fusil Raffles had to work a lot harder to quell the year-older Grand Sancy in the Elite Hurdle at Wincanton – a rival who'd had the benefit of a prep (albeit one that ended with a final-flight fall) and twice previously won at the track, including a smart defeat of Sceau Royal in the Kingwell.
Grand Sancy didn't jump as well as he can and fluffing the penultimate hurdle enabled the winner to get on terms approaching the last, which hadn't looked a certainty for much of the straight. But once Fusil Raffles had jumped the last soundly and got away well, he had wrestled control of proceedings.
Henderson had warned beforehand that the winner "wasn't fully tuned up" and subsequently stressed that it had materialised that he was in fact very short of fitness, "so he'll come on a bundle for the run".
He cited the Christmas Hurdle as his next target – a calling point for stable companion Buveur D'Air for the past two years – where he could run into the Colin Tizzard-trained Elixir De Nutz, who himself beat Grand Sancy in the Tolworth last term. Both he and Fusil Raffles missed the Festival due to setbacks.
Henderson pulled out the Triumph winner anyway in Pentland Hills, of course, who appeared to outsprint runner-up Coeur Sublime after working his way into a steadily run race despite a near-cataclysmic error at the first. He's due to reappear in the International Hurdle (chorus: the Bula!) next month. His trainer reports that he's worked with Buveur D'Air and Altior as well as having benefitted from a racecourse gallop already.
Final word on Fusil Raffles: his sole defeat appears to have come on a left-handed track. However, I am unfamiliar with French provincial racecourses and distrustful of my attempts at researching their topography on the internet. I am ready to be corrected but this appears to be, at best, an unknown for his Champion Hurdle prospects.
Miss part one of Lydia's Road To Cheltenham? Click here to read it.
Sun Racing Stayers' Hurdle:
Paisley Park, who rocked a run style redolent of illustrious precursors Big Buck's and Inglis Drever last season, is a best-priced 5/2 favourite to retain his crown in this race. But those horses likeliest to prove his main rivals come March are probably yet to identify themselves this season.
The exception could be If The Cap Fits, who improved for stepping up to three miles at Aintree last season and has since downed Call Me Lord on their seasonal debuts at Ascot, despite conceding him 6lb and looking sure to get the worse of the battle after the second last.
Cheekpieces have also encouraged him to travel better and here he worked his way back into things determinedly, gaining much the better jump at the last for his efforts. The runner-up rallied and stuck on well but couldn't get back on terms.
Of course, last season Paul and Clare Rooney, the winner's owners, instructed their trainers not to enter their horses at Cheltenham due to "concerns over injury rates at the course". However, intensive talks and information-sharing between the couple, Cheltenham officials and the British Horseracing Authority resulted in the lifting of their self-imposed ban in February.
Yet last season the Rooneys still only had four runners there and have fielded just one so far this term. So it's conceivable that, given his career has thus far been dominated by flat-track assignments, If The Cap Fits' campaign may not revolve around the Festival but rather a defence of his Liverpool Hurdle title.
He's set to face a returning Paisley Park for an interesting edition of the Long Distance Hurdle at Newbury this Friday. There, they could also encounter the 1-2 from the West Yorkshire Hurdle, The Worlds End and Unowhatimeanharry, the former having beaten the latter under suitably dominating tactics and in receipt of 6lb.
Intriguingly, Thistlecrack is also set to line up in the latest renewal of a race he won four years ago, using it as a prep for the King George. It's not impossible that the Stayers' Hurdle – a race he took by seven lengths in 2016 – will end up his Festival target at the age of 12. In fact, I'd go so far as to say it's his likeliest destiny.
Remember this? Thistlecrack runs away with the 2016 Stayers' Hurdle
To wrap up the Ascot race won by If The Cap Fits, Call Me Lord shaped like a non-stayer over three miles last season and is believed to require a right-handed track. Ultimately finishing 11 lengths further behind in third, 2017 Stayers' Hurdle runner-up Lil Rockerfeller raced lazily from the outset for new rider Jamie Moore; he got outpaced when the tempo lifted but responded to pressure and plugged on for third in refitted blinkers.
Last season's fortunate OLBG Mares' Hurdle winner Roksana raced wide with a not-untypical high tail carriage under Harry Skelton and loomed up briefly from four out but was beaten by the second last. This was a step backwards from her seasonal debut there behind Top Notch earlier in the month.
Over in Ireland, Apple's Jade failed to recover the imperiousness that attended her in the first part of last season when comfortably brushed aside by Bacardys in the Grade Two Lismullen Hurdle earlier this month. Given her underwhelming Cheltenham record, there's surely zero chance connections will be tempted to try this race for size in March – if indeed they persist with her at all.
The winner jumped better than can often be the case, even if his rather carefree negotiation of the last might have caused hearts to miss a beat among those who know him well. He's an underachiever at base, albeit he has rarely completed an uninterrupted season and it might help to have been hurdling all season come the Festival rather than having to switch from fences, as he did when contesting this event the last twice.
Finally, stable companion and 2018 Stayers' Hurdle hero Penhill – who triumphed with a near carbon copy of his Albert Bartlett success, over the same course and distance, the previous year – is entered in the Grade One 2m4f Hatton's Grace Hurdle at Fairyhouse this Sunday. He missed last season's Festival through injury but trainer Willie Mullins reports him to be working "brilliantly".
Don't Miss the first full Road To Cheltenham show with Lydia and Ruby Walsh on Racing TV on Thursday at 2100(GMT)!
Mares' Hurdle:
Last year, Benie Des Dieux and Ruby Walsh played out an agonising reprise of Annie Power's dramatic exit four seasons earlier when falling at the last with this race at their mercy.
That left Roksana, who'd been grittily trying to keep tabs on that mare from the home turn, to repel Benie's persistent stablemates, Stormy Ireland and Good Thyne Tara, despite running down the final hurdle to the left – almost into the path of her prone rival – and then wandering right up the run-in.
The moral winner went on to win a Grade One at Punchestown and lift the French Champion Hurdle, just to underline the injustice she suffered at Cheltenham when trying to achieve back-to-back successes in this confined event. Benie Des Dieux holds a Hatton's Grace entry and, like Penhill, has been mentioned in dispatches as a potential runner. Quite the clash for Mullins.
As mentioned in the Stayers' Hurdle copy, Roksana failed to build on her encouraging seasonal debut at Ascot last Saturday and, in this race last term, was in the process of being outclassed before lucking out in a major way. Her chances are again each-way at best.
Stormy Ireland has returned to action with success in the same Listed Punchestown event as last year and in a similar vein of form, whereas Good Thyne Tara has gone chasing. Fourth-placed Lady Buttons, a mare who mixes hurdles and fences with equal class, has already won over the smaller obstacles at Wetherby but is best suited to shorter trips and flatter tracks – or both.
The greenhorn is Honeysuckle and as she has not yet had a chance to prove Benie Des Dieux's inferior, she's second favourite at a top price of 5/1. As a novice, she was ruled out of last season's Cheltenham the week before but later became a fine winner of a Fairyhouse Grade One and has since returned with a straightforward success there a fortnight ago.
Putatively, she's in the Hatton's Grace, too – as is three times titleholder, Apple's Jade. You sense it's a pivotal moment for one of jump racing's stars of recent seasons – an utterly brilliant performer in her prime but listless on her return at Navan earlier this month, where she typically jumped right but without her usual pulverising tempo.
Having put together the best sequence of her career with four wide-margin successes in the first half of last season, she was spiked in the Champion Hurdle – at a course we can now confidently say does not suit – before underperforming but bravely refusing to go down without a fight at Aintree and then making little impact at Punchestown.
Unless her revival is steep this Sunday, you suspect owner Michael O'Leary will be inclined to draw stumps on the ten-time Grade One-winning career of his favourite mare.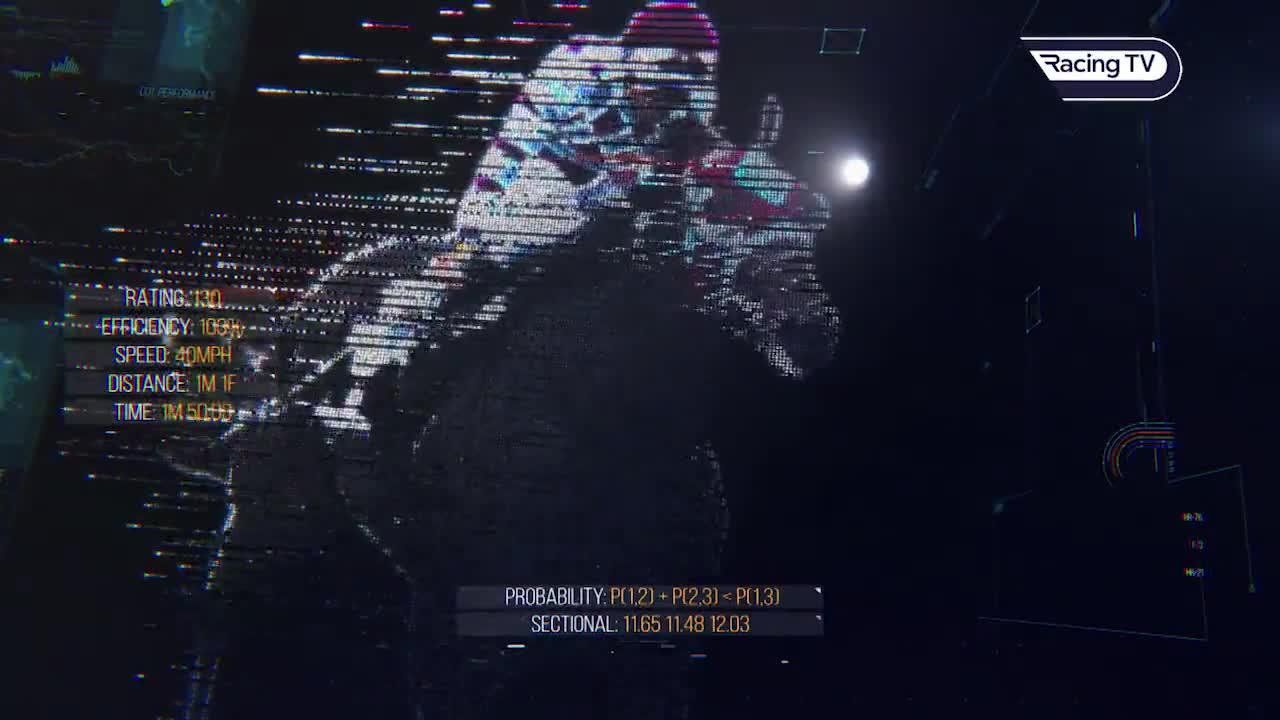 Angus McNae and Dave Yates reflect upon the latest showing from Apple's Jade
Novice chasers:
Both Willie Mullins and Henry de Bromhead were surely pleased with the outcome of last Saturday's beginners' chase over 2m4f at Gowran Park, in which their respective debutantes Laurina and Minella Indo finished first and second.
Having comfortably tracked the pace set by a stable-companion, Paul Townend asked his mare to take the initiative approaching the home turn, requiring Rachael Blackmore to respond on her hitherto more prominently positioned rival.
The pair then moved on, as the market and their opposition expected, before Laurina settled matters on the run to two out. There she made a mild mistake, requiring minor adjustment on landing, before striding home by eight lengths.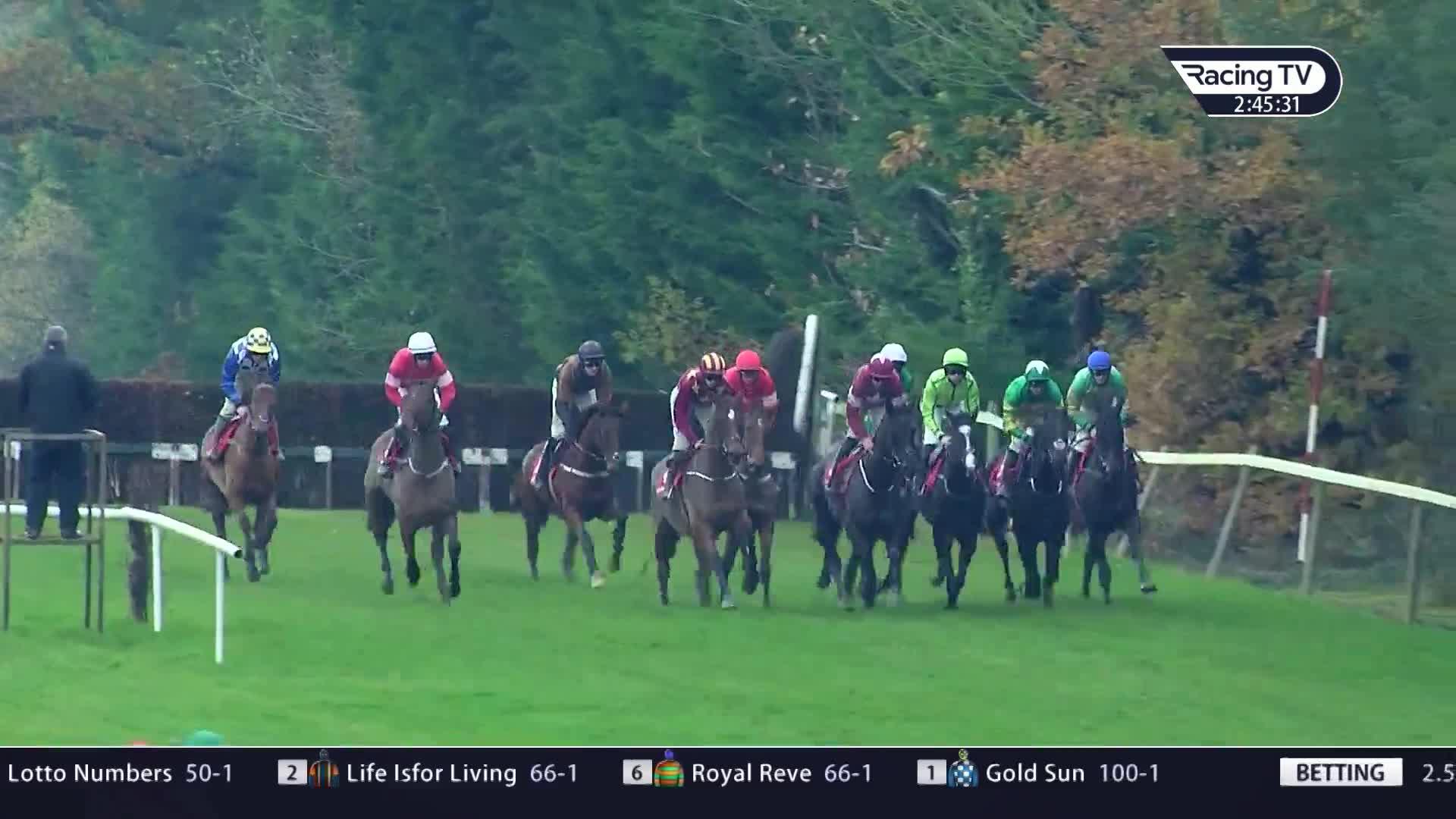 Watch as Laurina gets the better of Minella Indo in a good race at Gowran Park
Wide-margin winner of the 2018 Dawn Run mares' novices' event at the Festival and deemed good enough to contest the Champion Hurdle last term, Laurina has long promised to do better over fences based on her physical scope and an overly airy hurdling technique. As her 7lb mares' allowance made her competitive at the highest level over hurdles, it stands to make her fearsome over fences.
Afterwards, the only Cheltenham Festival target Mullins mentioned was 16 months away: the new Grade Two chase confined to mares and earmarked for launch in 2021 (at the expense of an as-yet-unidentified existing race and doubtless not the one you or I would want to get rid of). Yet she was nonetheless catapulted to the head of the Racing Post Arkle market at a top-priced 11/2 and to second favourite behind Samcro in the JLT at a best-priced 9/1.
"I wouldn't mind going back to two miles but Paul thought today's trip was probably what she wants," Mullins said. "The obvious target for her would be the 2m3½f Grade One novice chase at Limerick over Christmas (but) Faugheen might be going there, so we'll see. There could be a mares' chase somewhere that she could tackle… we could even let her take her chance against the older mares."
In last term's relatively lightly raced Albert Bartlett winner Minella Indo, Laurina was doubtless taking on a rival for whom Gowran was too much of a test of speed. In that context, this was a highly encouraging chase debut underpinned by a sound round of jumping. He's now 10/1 joint second favourite for the RSA Insurance Chase.
The same two trainers had taken each other on last Thursday with the principal players in a mares' 2m2f beginners' chase at Thurles; this time, the plaudits went the other way. Sinoria and Good Thyne Tara had the race between them, goading each other on to establish a long lead from the third – it was no wonder they both finished tired in testing conditions.
Although a smaller-scale model judging by TV pictures, the de Bromhead-trained Sinoria was always getting the better of the Mullins-trained Good Thyne Tara – outjumping her a few times and usually getting away from the obstacle with the fleeter foot. Her jumping unravelled as her legs started to wobble late one, the plunge over the last an inevitability from several strides out.
Salsaretta, another Mullins-trained mare, comfortably accounted for a field of fair geldings in an open novices' chase at Punchestown on Tuesday. Her jumping took a while to warm up but she looked menacing when taking closer order from six out and, although she was a shade chancy at the third last, she was solid enough thereafter and responded to Danny Mullins' urgings to come right away after the next.
"Salsaretta jumped a bit high early on but, once she settled into it, was very good," her trainer said. "Danny thought from about four out that, with any reasonable bit of luck, he was going to win and it worked out that way. We'll look at all the mares' chases but she could go against geldings again if there's nothing there."
Back in second, five-year-old Galvin – on his third start over fences – caught the eye as capable of better than the literal form, perhaps ultimately over a bit further given the way he jumps.
Last week, with unwitting dramatic irony, I omitted to mention another of de Bromhead's sparky young chasers: Notebook. This was indeed an oversight because the Punchestown Grade Two that he won 11 days ago is a race his trainer has targeted in the past with his best two-mile novices – a division in which he tends to be long-suited.
Notebook jumped notably well – the de Bromhead hallmark – and beat stablemate Moon Over Germany, the Red Rum Handicap Chase winner no less, then rated 151 and now ineligible for novice contests, by five lengths. There was also a clear indication of the winner's Festival target. "His jumping is so quick and flamboyant that he'll stick to two miles," his trainer said. Odds of 20/1 for the Arkle are therefore interesting to say the least.
Turning to Britain, Master Tommytucker was burdened with comparisons to horse-du-jour Cyrname by their mutual trainer Paul Nicholls when winning at Kempton on Monday. Having been off games for 408 days and not wearing a hood for decoration purposes, he set a good pace from the outset and really found the measure of these fences in the second half of the race.
This got last year's Supreme third and even-money favourite Thomas Darby in trouble – he couldn't go fast enough to keep up – but couldn't quite shake off talented dual-purpose rival Who Dares Wins. The latter was outpaced on the home turn but drew on his comparatively vast racing experience to hang in there and even work his way to the front at the second last.
Master Tommytucker made a mistake as he was headed but knuckled down likeably himself to get the quicker, better jump at the last and repel his tenacious rival on the run to the line. That was the winner's fourth start under Rules whereas the runner-up has literally ten times that level of experience.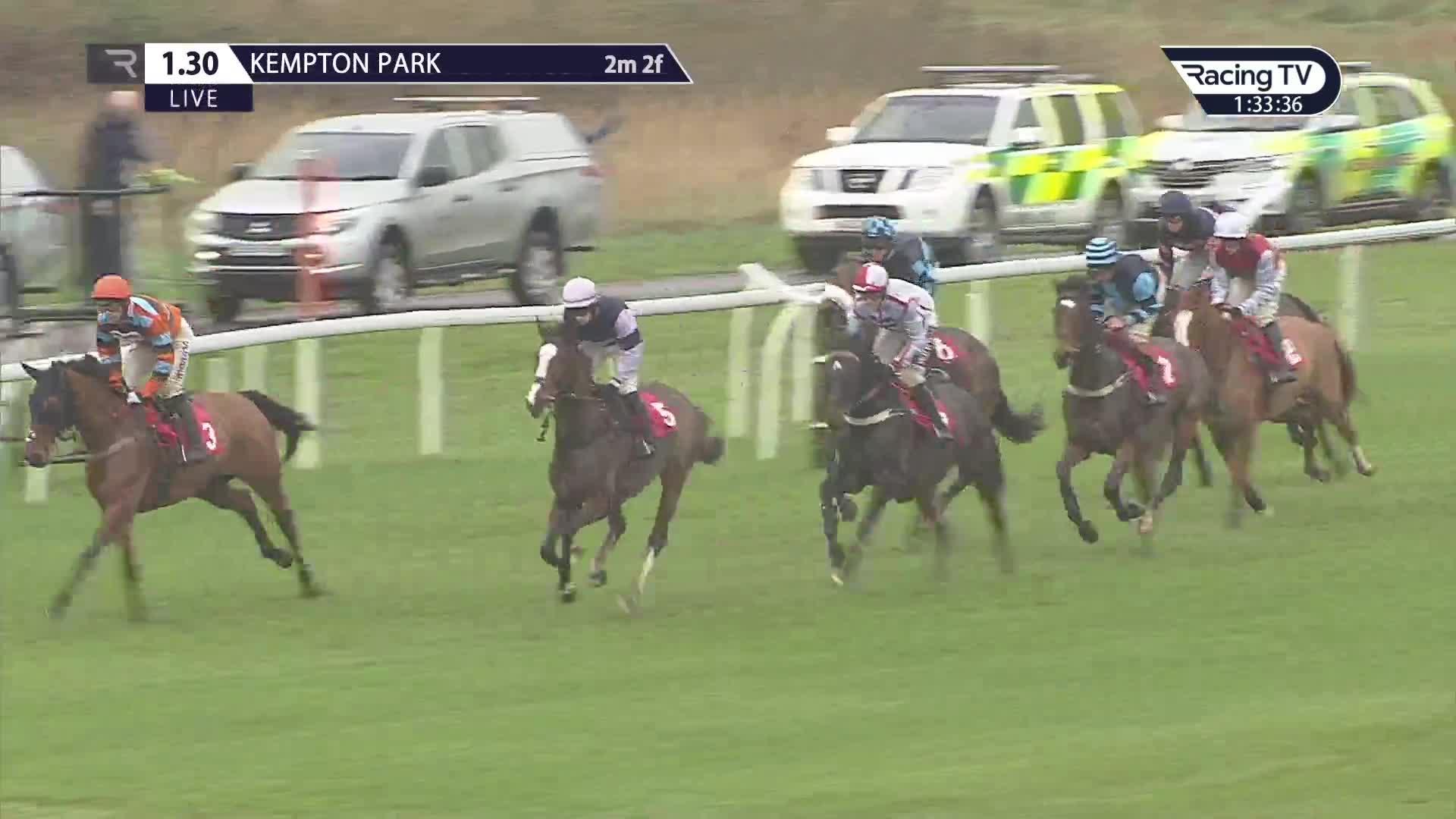 Master Tommytucker fights back after being headed to score at Kempton Park
"I'm really pleased because we thought he'd need it, mentally as much as anything because he hasn't run much," Nicholls told Racing TV. "He won his only two hurdle races and would have won over fences at Chepstow last autumn when he had a really horrific fall and ended up fracturing his knee. He's spent a lot of time in his box.
"To show that level of ability on his first run back promises a lot for the future. He's a very good horse, without a doubt. He's not unlike Cyrname in a lot of ways, when Cyrname was a lot younger. We let him bowl along in front because if you go in behind with him, he just pulls and tears off and doesn't concentrate."
At Ascot last Saturday, a step up in trip appeared to unlock Pym's latent ability in the three-mile novices' handicap chase. Nico de Boinville reverted to the more positive tactics he had employed on his mount's novice-hurdling debut, resulting in some particularly impressive jumping when the chips were down over the final two obstacles. Pym hadn't previously looked the easiest horse to win with but trainer Nicky Henderson suggested he is "growing up all the time".
Novice hurdlers:
As with the novice chasers last week, I'm just going to highlight a handful of novice hurdlers at this undeveloped stage of the season.
Envoi Allen is unbeaten in six career starts – a point-to-point, four bumpers including the Cheltenham Festival Champion event and now his hurdling debut at Down Royal. That was a straightforwardly impressive debut: yes, controlling the race from the front, but jumping well and cranking up the pressure effortlessly from three out.
The job gets harder in the Grade One Royal Bond at Fairyhouse this Sunday, where his most notable rivals on paper would appear to be stable companion, Champion Bumper fourth and improved Navan winner Abacadabras and the Joseph O'Brien-trained Midnight Run, a wide-margin winner at Cork on his hurdles debut.
You'll be surprised to learn that JP McManus holds a strong novice hand. Andy Dufresne (also in the Royal Bond) and Unexcepted were authoritative winners at Navan and Fairyhouse respectively, whereas strong-travelling Champion Bumper runner-up Blue Sari scrambled home at Punchestown after hinting that he might jump better going left-handed and/or when getting a lead.
At Cheltenham two weekends ago, another Champion Bumper graduate was on the march. Third-placed Thyme Hill had already made a winning debut in Chepstow's Grade Two Persian War and then carried a penalty to victory over 2m5f at the same level when dispensing with Champagne Well – a winner at Prestbury Park in October – by three lengths.
"Thyme Hill is not the biggest in the world but he's very genuine and tough and copes with soft ground," trainer Philip Hobbs said afterwards, pinpointing Newbury's Challow Hurdle just after Christmas as the next target. "It was difficult keeping the condition on him last season. He's definitely better this season but you wouldn't want to be running him every week."
Hobbs had no hesitation in pronouncing this horse in the vanguard of his novice-hurdling troops and was equally adamant in characterising him as a stayer. I note some tipsters have made a Ballymore case for him but the Albert Bartlett is clearly his race, for which you can back him at a marginally longer 14/1. The more experience he can garner en route, the better.
The other novice hurdle winner at the truncated November Meeting was Hang In There for Emma Lavelle in the Grade Two over the minimum trip. Keen and edgy in the paddock – something to worry about should he return here in March – he made all to beat five-time hurdle winner Pacify by three lengths in receipt of 5lb. The latter is a hardened character compared with the cut of his jib when racing on the Flat and emerged with credit but the race didn't strike as being that deep.
Juvenile hurdlers:
It's one thing to hurtle around Warwick with the choke out on your hurdling debut but quite another to do so against better opposition in testing ground at Cheltenham – and yet Allmankind successfully managed to achieve both.
He'd held a Derby entry when trained by Michael Bell on the Flat and, more realistically, I'd got him on my Melrose long-list over the winter. (Mental high five for shoehorning the M-word into a jumps column.) But he lost his head as a three-year-old, failing to beat a rival in two starts until brought to his senses with the double slap of a gelding and wind operation.
New trainer Dan Skelton has still wisely equipped him with a hood and tongue-tie, helping Allmankind to find plenty from the home turn earlier this month when beating Botox Has – previously an 18-length winner at Fontwell – by two-and-a-half lengths. The winner hugged the inside – often a disadvantage at that meeting but subsequent events suggested no bias at play so it probably was just the shortest route home.
Skelton believes this horse needs only one prep run between now and the Triumph. He also thinks the razzamatazz of the Festival will have little discernible impact on this already highly strung character. "He could boil over at a one-man party," Skelton observed phlegmatically. Still, it would bother me.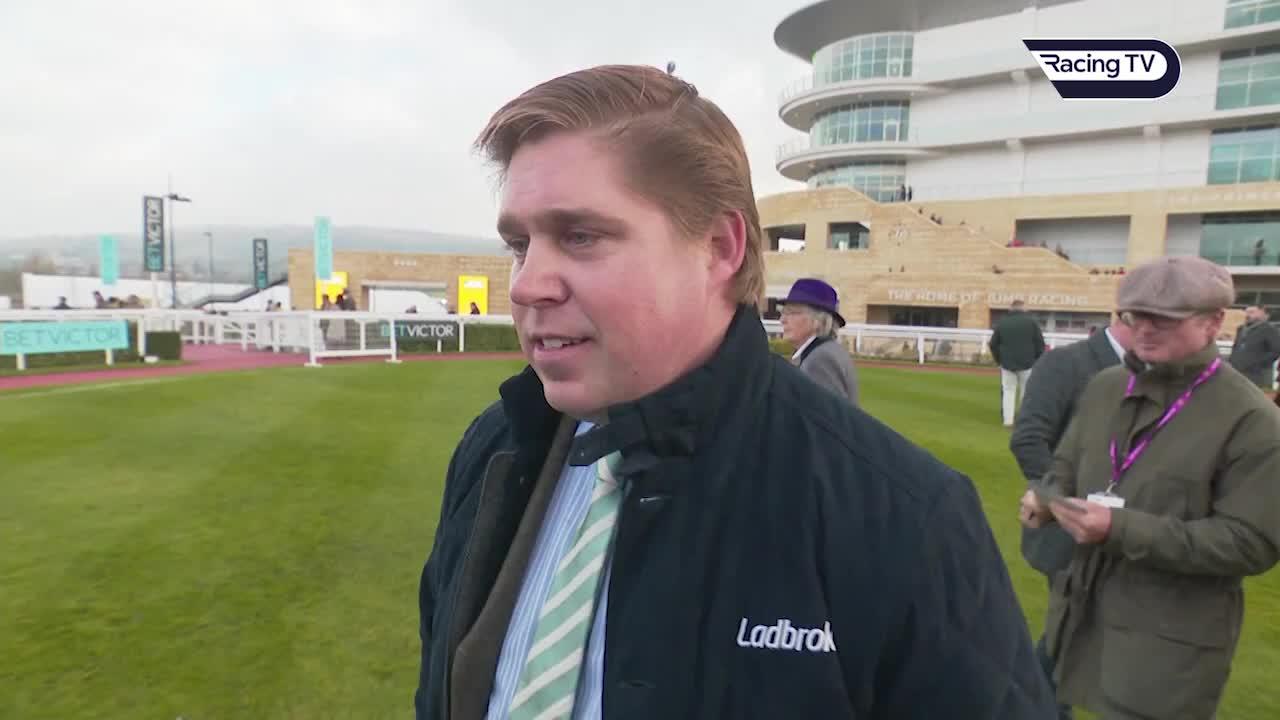 Dan Skelton talks to Lydia Hislop at Cheltenham after Allmankind's latest victory
The only other juvenile to have really caught my attention so far this season is Goshen, a progressive stayer on the Flat for trainer Gary Moore and already an emphatic winner over hurdles under his son, Jamie, at Fontwell. He's a thorough stayer with an individual mind.
More than once, he palpably contemplated returning to the stables prior to consenting to stride remorselessly on and have the race sewn up by the third last. If it wasn't for his increasingly marked tendency to run down his hurdles to the right, you'd hand him the trophy for Chepstow's Grade One Finale Hurdle right now.
Lydia Hislop's Road To Cheltenham Selections: Advised on 20/11/19: Altior 14/1 win only with William Hill for the Ryanair