As promised, this week I am focussing on the novice-hurdling action from the entire Festive period, right through to THAT performance last weekend at Sandown.
For presentational purposes, I am, for the first time this season, going to consider this division of horses under the headings of their potential Cheltenham Festival targets.
However, this cannot be considered definitive, with important races yet to be won at the Dublin Racing Festival and elsewhere – most immediately in this Sunday's Moscow Flyer Novice Hurdle at Fairyhouse.
Some of the horses discussed below also might be more appropriately targeted at the later spring festivals at Aintree, Fairyhouse or Punchestown, so that's also discussed on a case-by-case basis.
SKY BET SUPREME NOVICES' HURDLE
Britain currently finds itself in the unlikely position of housing, within its borders, the first and second favourites for this Grade One contest.
This ought to be nothing out of the ordinary, of course – especially when both horses are trained by Nicky Henderson and have each so far maintained unbeaten records in good style. But that 23-5 drubbing by Ireland at last year's Cheltenham Festival could make you a little queasy about such a breezy assumption by the market. Of course, it might also mean there is good value to be had elsewhere.
Clearly, if there are to be instant green shoots of recovery for the domestic racing population, the novice-hurdling division is logically where you'd most likely find them. The vast majority of its constituents had yet to be tested in anything other than Points or Bumpers – if at all – when Minella Times and pals were hammering home their dominance with ten of the first 11 finishers in the Grand National at Aintree last year.
But this has not been a conventional season to date. An unusually dry autumn stretching into winter has caused debuts to be postponed, often more than once, in the calendar. Whilst Henderson has managed to get both Constitution Hill and Jonbon out twice already this term, the likes of Sir Gerhard, Dysart Dynamo, Hawai Games and El Fabiolo have only thus far made it to the racecourse once for Willie Mullins.
There is obvious potential for major disruption here. It's not just that Mullins has dominated the Supreme in recent years having landed four of the past eight renewals. Gordon Elliott's team is bristling with talented novice-hurdlers too – such as Mighty Potter, who triumphed in the Grade One Paddy Power Future Champions Novice at Leopardstown over Christmas.
Given what we know about the scale of Irish domination last season, it strikes me as a reasonable hypothesis that their leading Irish novice hurdlers might generally have achieved more than their British counterparts by the time they line up at Cheltenham.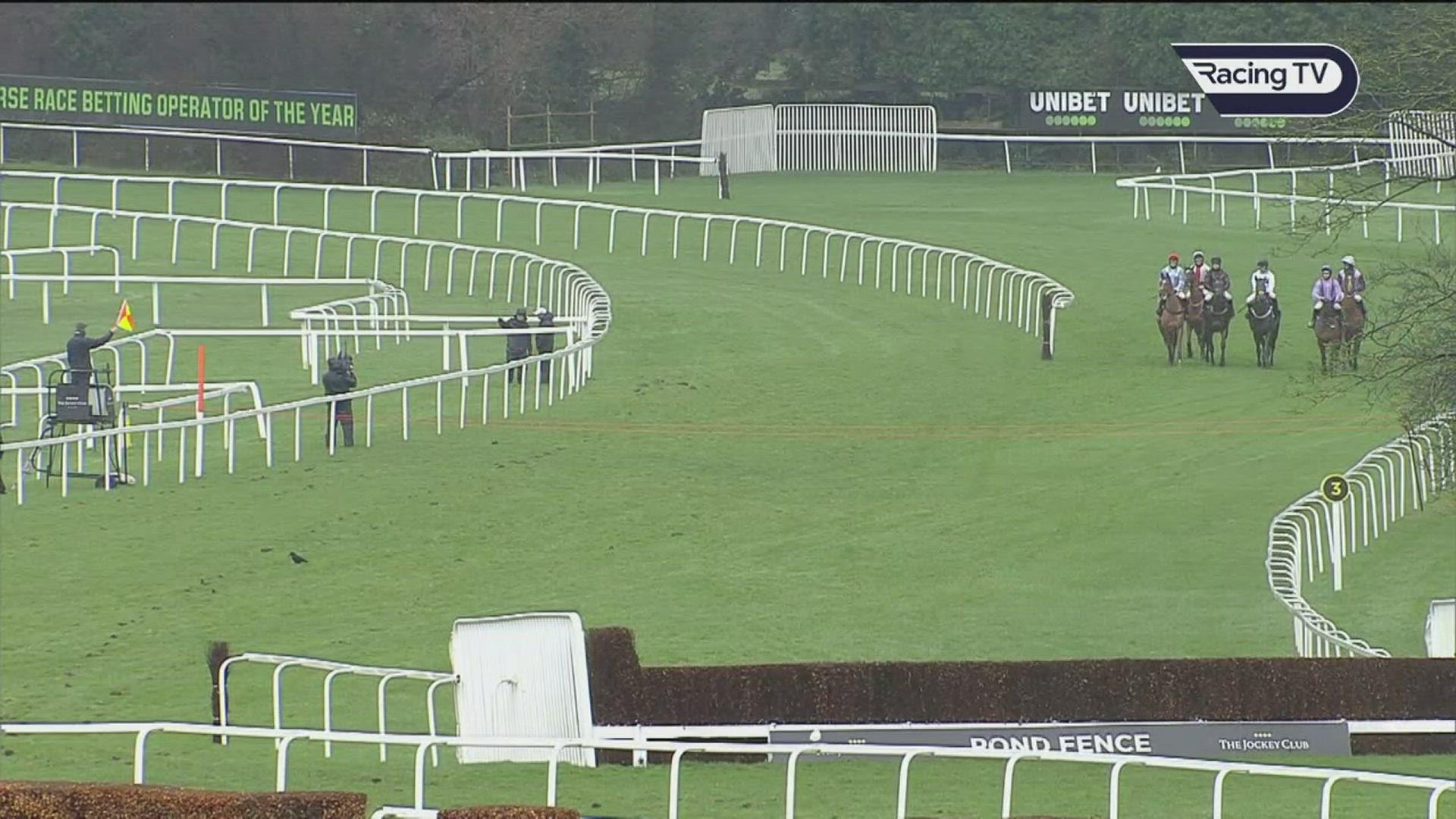 Full replay: Constitution Hill's hugely impressive Tolworth Hurdle victory
By triumphing in this weekend's Moscow Flyer, or next month's Chanelle Pharma Novice Hurdles, the winners will, in all likelihood, have had to dispense with a greater number of more substantial rivals. Yet, on figures, you can fairly argue that both Constitution Hill and Jonbon have already achieved enough to be placed in most Supremes, so we could be set for one of its more compelling renewals.
The other major potential impact on this market is whether Henderson opts to split up his chief contenders. Both horses have shaped like two-milers to date and, following last Saturday's Unibet Tolworth Hurdle at Sandown, when the trainer was fishing with jockey Nico de Boinville on whether Constitution Hill could go up in trip, he got a plain "no".
But when questioned on the subject on Luck On Sunday the following day, the trainer volunteered a memory of pitching Simonsig into the 2012 Ballymore to keep him apart from Darlan in that year's Supreme.
"The only way you could force the issue [now] is to come to a conclusion that one of them would get another half a mile," Henderson explained.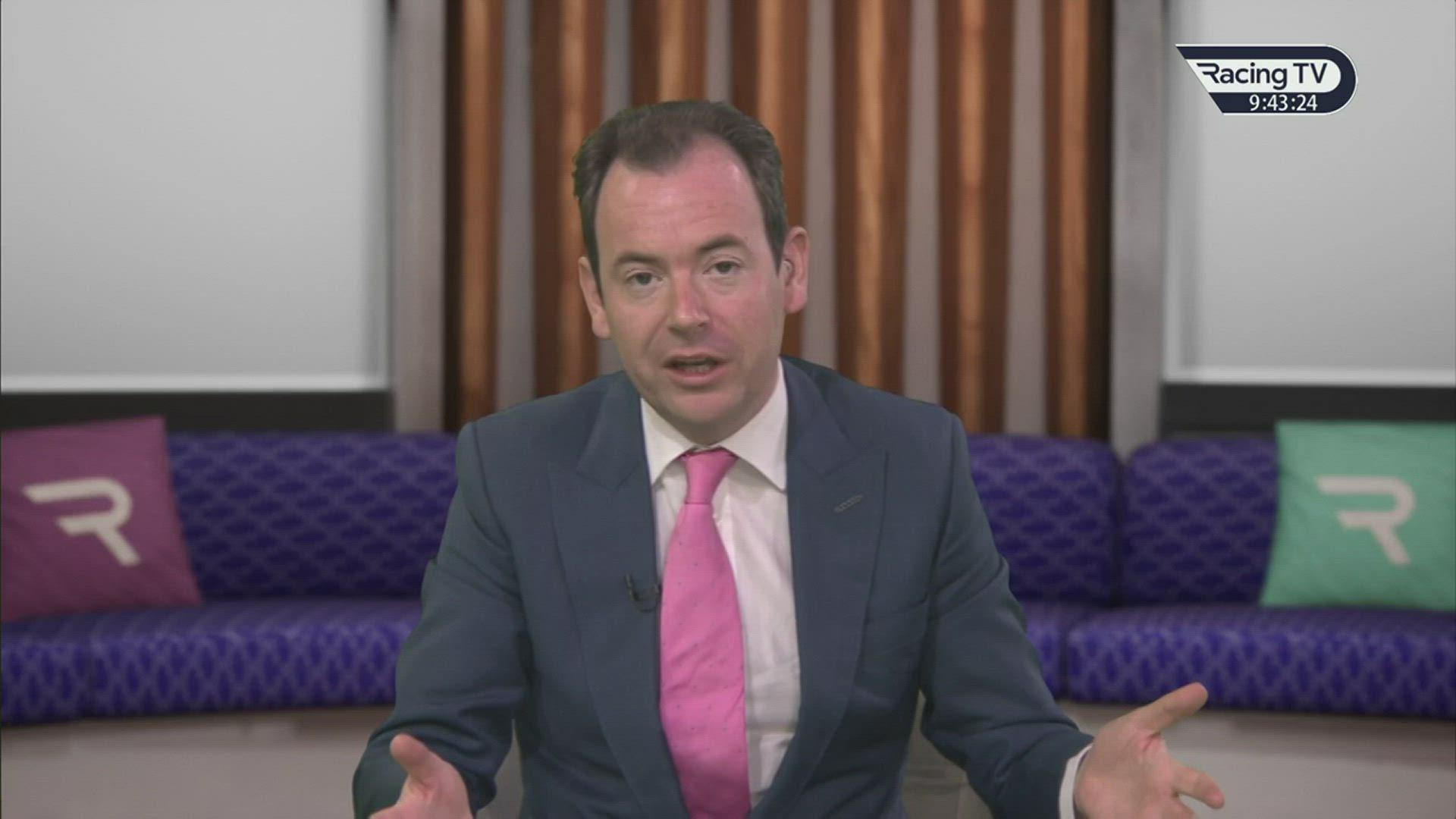 Watch: Nicky Henderson discusses Jonbon and Constitution Hill at length on Luck On Sunday
"A long time ago, when we had Simonsig and he used to be very strong... he looked like a two-miler, but we actually ran him in the two-and-a-half [Ballymore], which he won very, very easily...
"Barry [Geraghty, then stable jockey] felt it would be easier to settle him at two-and-a-half than he would at two [miles], because it offered a slightly slower pace. And it was a very good call."
This year, permission will be sought from Michael Buckley and JP McManus, the respective owners of Constitution Hill and Jonbon, to enter their horses in both races. The widely received assumption has been that, if he could find a good reason, of the pair Henderson would prefer to step up the former in trip, but on watching this interview again, I started to wonder whether he was making a comparison between Simonsig and the more high-mettled Jonbon!
But Henderson eventually concluded: "They look as good as we've got, anyway – although we've got a few [yet] to run. But they look like two-milers to be honest with you."
Of course, the Seven Barrows handler has also got form for running two very good horses against each other in Supreme – triumphant Altior and the McManus-owned third Buveur D'Air in 2016, and the Buckley-owned runner-up Spirit Son and third-placed Sprinter Sacre five years earlier (both beaten by Al Ferof).
It's clear that, temperamentally, this season's pair of novices could not be more different. "You'd hardly know he'd been anywhere yesterday," Henderson reported of Constitution Hill last Sunday. "He looks as if he'd had a day in bed. But that's him. He's as fresh as paint." The trainer has previously mentioned that this horse is so laidback he's liable to take a post-race nap at the racecourse stables.
"In all his slow paces, they're not slow – they're even slower than slow," he said. "But if you put him in behind a couple of horses, [his riders] say you don't know you're sitting on anything until you just pull him out and say 'come on'. Then, it's just like changing gear and he takes off."
Of Jonbon, Henderson said: "He's a completely different character. He can be on his toes, he can get a bit warm – although he's getting better and is much more relaxed at home, too."
Next stop for that horse will be either Haydock's Rossington Main, where his trainer fears very testing ground, or Sandown's Contenders Hurdle – a non-novice option previously used by the yard to prep both Buveur D'Air and Binocular for the Champion Hurdle. If he took the former option, intriguingly he could face Might I – the horse trounced by Constitution Hill, trying to concede him weight but with the advantage of prior experience, on his hurdling debut.
To date, I've found concerns expressed about Jonbon's excitability somewhat overstated. What fizz there has been seems to be dissipating with experience and it has never yet impacted on his performance, despite two steadily run races inviting every opportunity. Admittedly, however, there is nothing like the Festival to set the nerves jangling. By contrast, it would be a big surprise – and clearly a negative – were you to spot Constitution Hill playing up in Cheltenham's preliminaries.
It's this unflappable attitude that contributes to the Tolworth winner's reputation. He's pulled out wildly impressive performances, to the eye and on the clock, given the powerful manner in which he's finished off both of his Sandown triumphs. He travels strongly and jumps confidently – a pinpoint accurate leap two out killed the Tolworth, instantly. In those extremely testing conditions, he seemingly even managed to produce a turn of foot. Jonbon's technique is slicker, however, and he's probably not yet been seen to best effect as he's twice had to make his own running.
Whereas Jonbon had to dispense with the (now) 140-rated second-season practitioner Colonel Mustard in Ascot's Kennel Gate Novices' Hurdle, Constitution Hill has beaten little of substance to date. Of course, ratings at this stage in any horse's career are comparatively amorphous and it's one thing posting a big figure when humiliating lesser horses and quite another to get the job of winning done against an assortment of talented rivals.
Tolworth runner-up Jetoile was rated merely 125 going into this, but is steadily improving for Ryan Potter in his first full season as a trainer and saw off more considered rivals with an honest front-running display, before being brushed aside at the penultimate flight. The well-regarded dual winner Mr Glass – a tall, chasing type and then rated 129 – was outpaced entering the straight and finished third.
Headstrong Shallwehaveonemore – who was taken early to post, buried in rear and settled far better than at Ascot – could never muster a challenge on the ground. He could yet be a dangerous floater in Aintree's Top Novices' Hurdle if trainer Gary Moore continues to campaign him like an elite horse this season, rather than fixate on shedding his maiden tag.
German recruit Whizz Kid, handed a stiff ask on his hurdling debut, never quite settled and finished tailed off. Datsalrightgino, who lined up with a rating of 132, was pulled up after never jumping or travelling from the second hurdle. Trainer Jamie Snowden, who blamed the ground, can take further comfort from a dual form boost to his Cheltenham success last month via wins from likeable runner-up JPR One at Taunton this week and fourth-placed Socialist Agenda on New Year's Day at Catterick.
To round up Team Henderson, Broomfield Burg merits mention. He bullied markedly inferior opposition at Kempton following a rather inglorious defeat in handicap company at Cheltenham last month, when he hung in behind the winner despite looking to have the capability to go past.
After this wide-margin victory, Henderson hailed the successful removal of the hood from a young horse who's "learning", also suggesting his Cheltenham conqueror had perhaps been "too well-handicapped". Lively Citizen was having his tenth hurdle start and whilst it was his best to date, he was no blot. If you're feeling forgiving, perhaps a flat track will suit Broomfield Burg best, but I will be inclined to oppose in any race likely to get him off the bridle.
Let's now consider the Irish form in this division to date, with the stated caveat that the pecking order seems more inchoate than Britain's. In terms of form achieved, it's reasonable to start with Mighty Potter following his success at the highest level of novice competition at Leopardstown.
He'd clearly learned plenty from being pitched in deep in the Grade One Royal Bond on his second start in late November, when he'd raced too keenly amid steady fractions and lost his position as the race started to develop, only to stay on strongly in the straight. With a cleaner jump two out and a clearer run late on, he would have got more closely involved with the 1-2 Statuaire and My Mate Mozzie.
The Future Champions Novice started unpromisingly for Mighty Potter, however. The hard-pulling favourite Largy Debut jumped the first of many hurdles violently out to his right, pecking and tasting turf, before being brought carelessly back across by Rachael Blackmore, causing Mighty Potter to clip heels and stumble quite badly under Jack Kennedy. (The stewards, however, subsequently accepted the minimising evidence of the riders involved and took no action.
Mighty Potter took the setback well, settling well enough in the fore of mid-division whilst Largy Debut – who'd previously scalped the much-vaunted Kilcruit on their Cork hurdling debut – tugged himself into a four-length lead.
He'd been throwing his head around in the preliminaries and wasted further energy by jumping, or running down, his hurdles to the right, ultimately also hanging in that direction when the whole field left him behind at the second last. The following day, trainer Henry de Bromhead reported that he'd also broken a blood vessel when examined after the race.
Arctic Warrior, who has a patchwork race-record, was asked to slip up Largy Debut's inside as the field exited the back straight but blundered two out, the impetus of which briefly threatened to take him off the track. That's where the mare Grangee – his stablemate at Mullins' yard – made a rapid challenge after having been niggled along at times in the back straight.
Arctic Warrior's mistake inconvenienced Mighty Potter on landing, putting him on the back foot as the leaders pressed on. Three Stripe Life, his stable companion at Elliott's, was also playing catch-up after dragging his hind legs through the hurdle.
Mighty Potter soon recovered to wrestle control of the race on take-off at the last and then found plenty when Three Stripe Life threw down a final challenge. Patiently ridden Farout – another Mullins runner – got up under stern pressure to deny Grangee third but could never get more meaningfully involved. Arctic Warrior unfortunately took a crashing tumble whilst weakening.
The winner shaped as though the experience would again be meaningful to his development, as Kennedy acknowledged afterwards.
Jack Kennedy discusses Mighty Potter
"He's a horse with loads of ability but he's still a big raw horse, still he's very green. He probably showed that as well today – didn't jump the best but probably just won it on raw ability," he said, also reporting that it took him a long time to pull the horse up.
All this suggests the Ballymore would be a more suitable target for Mighty Potter, as it doesn't look quite so stacked with talent at this stage and a deep Supreme might be a shade too exacting for this promising horse at this stage in his career. However, trainer Elliott has identified the shorter race as the target and plans to head straight there.
Perhaps Three Stripe Life – fourth in last term's Champion Bumper at Cheltenham despite being fractious at the start – might represent Elliott in the Ballymore, for which he's 25/1? Or perhaps in a Festival handicap? This was just his second start over hurdles and he's progressive in his own right, his quality in defeat here having been underestimated. He'll stay further and, interestingly, he's entered against more experienced horses at Fairyhouse this Saturday.
Grangee notched the best effort of her career to date in defeat and remains a player for the Dawn Run Mares' Novices' Hurdle, which has been identified as her seasonal target. In a wide-open market for that contest – discussed later in this column – she's available at 10/1.
The previous day at Leopardstown, the 2021 Weatherbys Champion Bumper winner Sir Gerhard made his eagerly anticipated debut over hurdles. Sent off the 2/9 favourite, defeat by any of the 17 inferiors who faced him would have caused a shock. And the yard's dunce corner was already being occupied by Kilcruit.
In the event, however, Sir Gerhard was entirely convincing – setting off directly in front, unchallenged from the second flight and easing clear approaching the last. He finished off the race strongly, having dictated a steady pace beforehand. He hurdled with increasing professionalism – reaching for one, corrected himself proficiently at another and rapping the last like an old hand before cruising clear by eight lengths.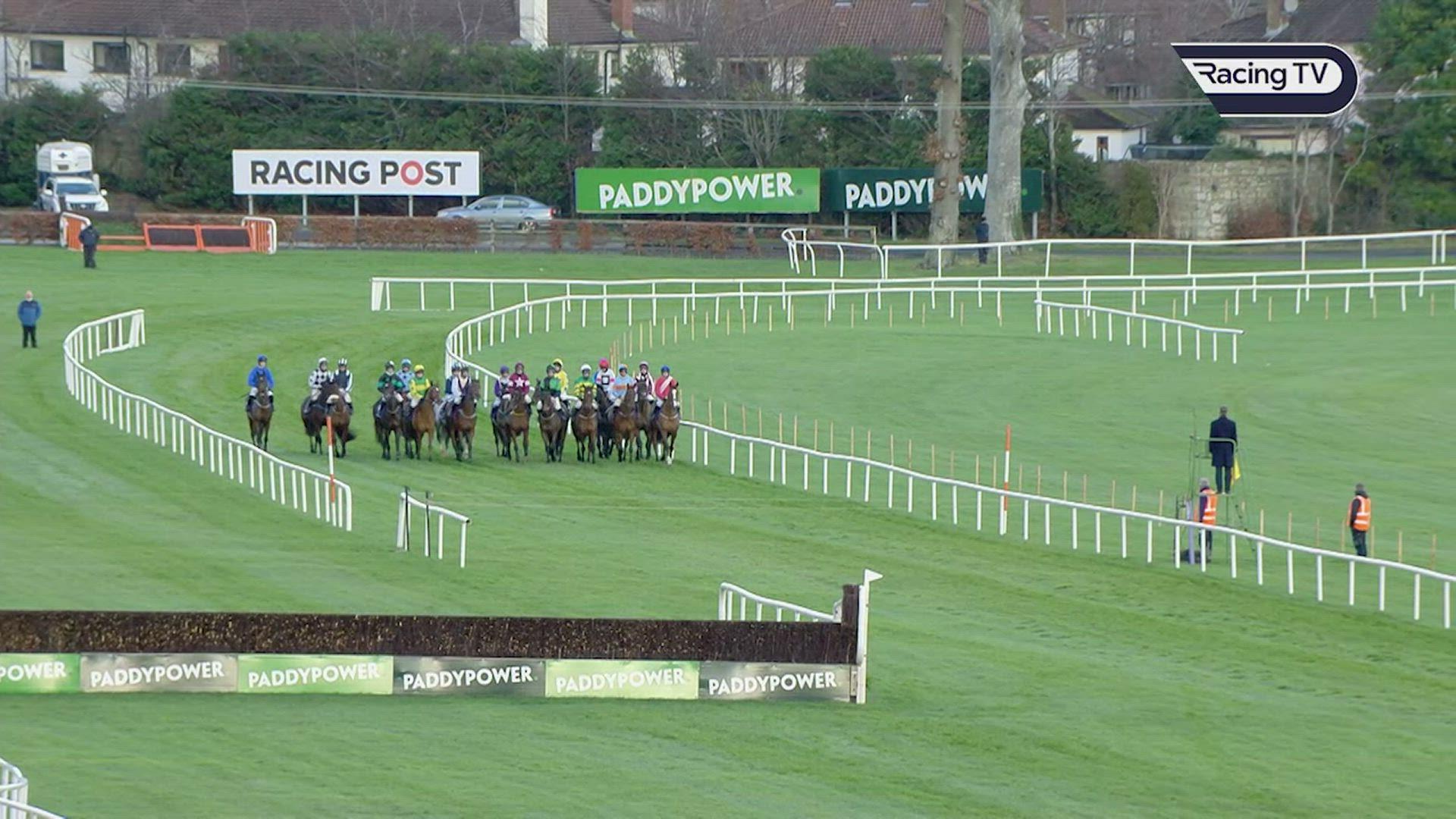 Sir Gerhard makes a stylish switch to hurdles at Leopardstown
"He went down to his hurdles and flicked them like a handicapper would," Mullins said, indicating with his next sentence that an advanced technique had been expected from his schooling. "I sort of toyed with the idea of running him in the Grade One and maybe I should. But I always say 'Start off at the lowest end and work your way up' but I'd say he could go straight into Grade One now."
Pre-season, the Closutton trainer had mentioned the Ballymore as a potential target for Sir Gerhard but currently prefers two miles. "He could go out in trip if he wants to, but he looks very comfortable at that trip," he said.
That all adds up to: next stop the Grade One Chanelle Pharma at the Dublin Racing Festival. It's a race won by Mullins in eight of the last nine years, on four occasions by horses that went on to win the Supreme – Champagne Fever in 2013, Vautour in 2014, Klassical Dream in 2019 and Appreciate It last year. Like the last-named winner, Sir Gerhard is a seven-year-old already. Now that we've seen the cut of his hurdling jib, his position as 5/1 third favourite probably underestimates him.
Mullins also unleashed another notable novice when El Fabiolo won over two miles at Tramore on New Year's Day. Always at the fore in a soon well-strung-out field, this ex-French recruit was making his debut for the yard. He kept galloping and drew unassailably clear approaching the second last to win by 13 lengths.
Afterwards, his trainer compared him with Penhill, Saint Roi and Laurina – all of whom won at Tramore prior to going on to win various Cheltenham Festival contests. In Saint Roi's case, it was this very race en route to the 2020 County Hurdle on his next start.
This was a second notable novice success for owners Simon Munir and Isaac Souede during the holiday period, after O'Toole had made a winning debut in the double-green silks for trainer Stuart Crawford at Down Royal on Boxing Day. After lobbing around comfortably, he began his challenge from three out and asserted his authority over lesser rivals approaching the last.
Crawford hailed O'Toole as "in a handful of the most exciting horses, certainly in Ireland, this winter... a proper Gold Cup type". "We don't want to get to the bottom of him this season," he added. "I really can't wait to jump fences with him but we won't get too far ahead of ourselves. He'll come on plenty for that and the further he goes the better he'll be. I would be hoping I'd be here talking to [the media] after the [Grade One] James Nicholson one day with him."
It wasn't all Christmas gravy for Mullins, however. Quite aside from the disappointment of Kilcruit's second defeat – discussed in the next section – odds-on favourite State Man tipped up, bringing down the Elliott-trained Hiaou, in the four-year-old maiden hurdle that opened Leopardstown's Christmas meeting. Both looked likely to have played a key part in the finish.
That left Watch House Cross to make a winning Rules debut for Henry de Bromhead and Sean Flanagan, the jockey having his first ride since returning from a fractured vertebra. The winner jumped carefully at times but, after avoiding the trouble caused by that incident (which perhaps prompted the leaders to trap on too far out), he soon chased down the breaking leaders. Joining them at the last, he pulled out the best jump of the trio and stayed on inexorably to the line.
BALLYMORE NOVICES' HURDLE
Having inflicted further damage to Kilcruit's once-fearsome reputation by defeating him at Leopardstown over Christmas, Journey With Me is now the narrow favourite for this Festival event with all but one bookmaker. William Hill is that exception, having taken the precaution of making Constitution Hill their 5/1 favourite. But this contest is essentially up for grabs.
Concerns had been expressed about whether Journey With Me – a three-mile Point winner who'd won a bumper at Gowran Park over 2m2f in testing ground by a wide margin – would have the boot for this task, especially on Leopardstown's sharper inside track.
But Rachael Blackmore sent him to the front before the second and although he was joined by Kilcruit after the de facto last, he was never conclusively headed. He jumped a little haphazardly, but was conceding experience to the odds-on favourite. Trainer Henry de Bromhead afterwards maintained the winner is "a real galloper".
It's hard to be anything other than sharply disappointed in Kilcruit. He travelled as well as his opponents and jumped better than most. All appeared well as he loomed alongside Journey With Me around the home turn, but he looked ungainly under pressure – something he has done previously, in defeat at Cheltenham and prior to victory at Punchestown – and abruptly started to weaken even before needing to steer around the final omitted flight.
Ignominiously, he was even caught for second by Minella Crooner, hitherto unbeaten in a Point and two bumpers but who had jumped out scrappily to his right for much of the race. I find it difficult to believe that Kilcruit failed through want of stamina. It looked like a different order of problem to me – either physical or mental. Is it blasphemy to suggest cheekpieces?
Following his success in the Grade One Lawlor's Of Naas Novice Hurdle, Ginto is now widely positioned as second favourite for both the Ballymore and the Albert Bartlett – in the latter case, behind compatriot and dual Cheltenham winner Blazing Khal. Third-placed Hollow Games – Ginto's stable companion at Gordon Elliott's yard – had hitherto been shorter in both ante-post Festival markets, but now trades at 25/1 and 8/1 joint third-favourite (with Journey With Me) respectively.
At Naas, Jack Kennedy dictated the tempo on the 5/4 favourite, whose Navan form had been twice franked going into this event – by runner-up Eric Bloodaxe at Limerick over Christmas and prior to the festivities by third-placed stablemate Mr Fred Rogers at Thurles. Here, Ginto again jumped right – clearly a trait that might give some cause for concern if contesting the Ballymore, on the tightly turning left-handed Old Course.
It was exactly such an adjustment at the third last that inconvenienced Churchstonewarrior, who was already being nudged to hold his position, with a knock-on effect in a closely packed field to both Whatdeawant and Hollow Games. The former, who'd beaten Ginto in a bumper 12 months earlier at Fairyhouse, lost the position he'd just worked his way into. The latter lacked fluency himself and was then shuffled back, unable to use his stride in a pocket behind the leader and against the rail.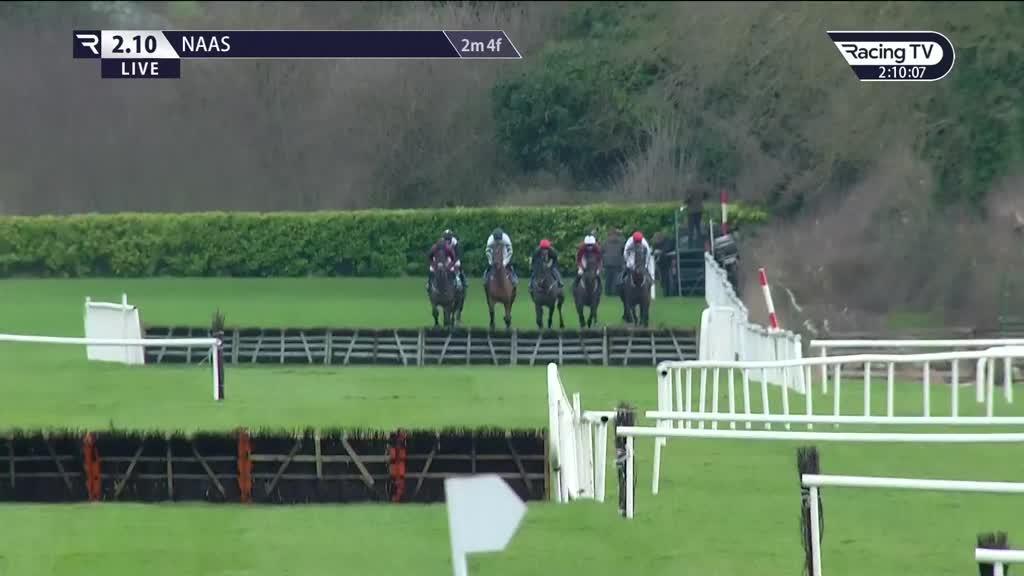 Ginto toughs it out to win again at Naas
But Ginto's lesser leap and causational scrimmaging enabled the patiently ridden Grand Jury – who had earlier been a shade deliberate at some of his obstacles – to launch a firm challenge around the outside of the field. Committed to move clear of the bottleneck created on his inside, he appeared to be going much the best exiting the home turn. Yet Ginto dug out extra and Grand Jury found less than seemed likely, wandering left in behind approaching the second last.
Back in a decisive lead, Ginto wobbled and adjusted right at that flight, inconveniencing Grand Jury. Both Hollow Games and Whatdeawant had recovered onto their heels, but the former blundered – a mistake that proved the last straw for his prospects. Whilst Ginto stamped further authority on the race by more than four lengths, Hollow Games tried to rally as Grand Jury hung left into him from the last but failed to secure second by a neck.
Kennedy said afterwards that the race had gone to plan – to tip along in front and wind it up – for a "big, strong horse" whose minimum trip is 2m4f. "But he's not just a slogger. He has a bit of class, but he's a stayer," he warned, adding that Ginto used to get "a little wound up" but had "grown up a lot" lately.
Elliott, who regards the horse primarily as a future chaser, reported that Kennedy felt he'd be better with a lead. It was the trainer's fourth success in the race, which has provided the Ballymore winner for the past two years in former stable companion Envoi Allen and Bob Olinger. Most importantly, it was a first Grade One victory for Noel and Valerie Moran via their Bective Stud.
The trainer had thought Ginto an Albert Bartlett type going into this race but now plans to enter him in both Festival novices and take a view nearer the time.
He will, however, go straight to Cheltenham whereas Hollow Games will take in the Dublin Racing Festival because he "needs more experience". Elliott also referred to rider Davy Russell regretting going down the inside on the horse – a reflection that's easy to agree with. The third was much better than this literal form.
Grand Jury looked a bit immature when first placed under pressure, but did stick to his task and registered a large step forward in the quality of his form. He can do better.
Willie Mullins referred to that "schmozzle three out" when analysing Whatdeawant's performance. He did look to get outpaced in a steadily run race, as well as stuttering into a few hurdles, and will have more use made of him in future. But his finishing effort was still relatively tame.
Mullins was the architect of his own downfall at Clonmel last Thursday when hopes of Classic Getaway making a winning debut over hurdles were thwarted by testing conditions, a tactical race and elder stable companion Cash Back.
Rated 156 as a chaser, the winner is very evidently a talented horse but he is also buzzed-up by nature and things have fallen apart over fences since he was a narrow second to Notebook in the 2020 Irish Arkle. His next three starts all ended in falls and, unsurprisingly, he could make no impression on his previous start in the 2021 Hilly Way won by Energumene in early December.
Switched to hurdles here for the first time since May 2019, Cash Back set out to make the running at a slow pace under Danny Mullins. Having just his second start under Rules following success in a Tipperary bumper last May, Classic Getaway showed his inexperience by refusing to settle for Paul Townend, who opted to let him stride on at the sixth rather than continue to try convincing him to accept a lead.
But the ground was exhaustingly deep at Clonmel, inspiring the four-strong field to plot the widest course possible in search of less chewed-up going, and it was obvious from approaching the home turn – Mullins having checked behind, twice, that the other two horses were beaten – that he fancied taking Classic Getaway's measure with a single well-judged attack.
Slipstreaming him until the second last, he executed his plan there and although he got the slightly lesser jump, Cash Back was quicker away from the hurdle and steadily extended his advantage from the last. Racing TV's Gary O'Brien reported that both horses pretty much stopped to a walk soon after the winning post, so draining were the conditions.
Classic Getaway is, of course, burdened by his £570,000 price-tag but it was no disgrace to be beaten by Cash Back, even in receipt of 9lb, in these circumstances. The winner may be ten years of age, but he is essentially the speedier horse.
On the other side of the Irish Sea, Stage Star won the Challow Hurdle at Newbury just after Christmas in an overall time marginally slower than Grade One-winning chaser Dashel Drasher managed in the earlier course-and-distance handicap hurdle. The novice contest even provided some cross-border collateral-form guidance, with the Elliott-trained Gringo D'Aubrelle finishing more than ten lengths adrift in third.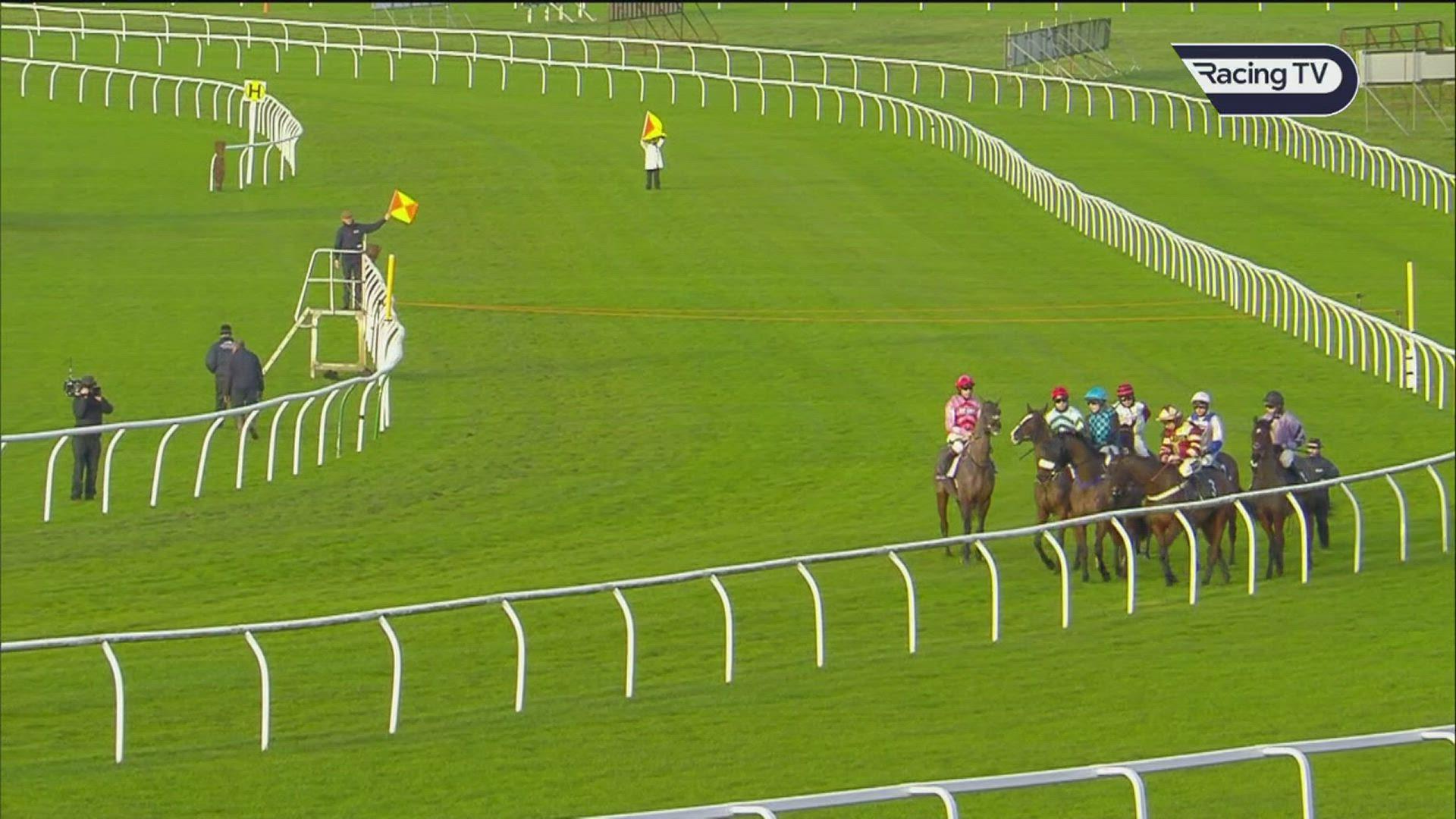 Stage Star powers away to win at Newbury
The field was taken along by the ex-Irish multiple Point winner High Stakes, attended by the blinkered Grade Two Winter Novice Hurdle winner Lossiemouth and with the favourite Stage Star settled on the inside of Gringo D'Aubrelle.
West Balboa, the Dan Skelton-trained mare who won at Warwick in November, and recent Ascot winner Party Business sat behind, with Olly Murphy's highly regarded Bangor winner Go Dante anchored on the outside in last.
The pace was only fair and although the field was already quite stretched out as they passed the grandstand for the first time, they bunched up again in the back straight. The ground was properly soft and there was quite a strong headwind into their faces every time they hit the straight.
Fresh at first, Stage Star soon found a happy rhythm and jumped accurately whereas Go Dante never found any fluency and a moody-looking Lossiemouth also made a series of errors. All bar the winner, West Balboa and Gringo D'Aubrelle had already been niggled along prior to turning for home but Party Business – who'd made a significant error at the last hurdle in the back straight – was finding for pressure and there wasn't much between the entire field at that stage.
With his head on one side, Lossiemouth pressed High Stakes for the lead three out but again made an error whilst doing so and was driven on landing, weakening and hanging left. Stage Star was switched right around High Stakes to lead at the next flight, where another error from Party Business claimed him just as he moved into second. His fall hampered Go Dante.
The relatively compact West Bilboa had been slipstreaming Stage Star until he kicked away from her approaching the last – comparative sectionals backing up the evidence of the eye about the strength of the winner's finish despite a combination of sapping conditions.
The mare stuck on gamely into the headwind to finish a six-and-a-half-length second. Denis O'Regan brought Gringo D'Aubrelle more towards the stands' side in the straight and, although his mount appeared then still to be travelling well, he was unable to make any impact and finished third. High Stakes took a heavy tumble at the last.
Despite this impressive success from Stage Star, taking his unbeaten sequence over hurdles to three, trainer Paul Nicholls professed to be disinterested by Cheltenham – a stance that these days seems somewhat reflexive from the Ditcheat trainer.
"That was a very taking performance – by far and away the best performance he's given. He's obviously got better and fitter and learned his job," he told Racing TV's Nick Luck. "Harry [Cobden, his rider] was quite surprised about how well he won, really... As well as him staying, he's got so much speed. All in all, a great performance from a horse who's going to be a lovely chaser in time.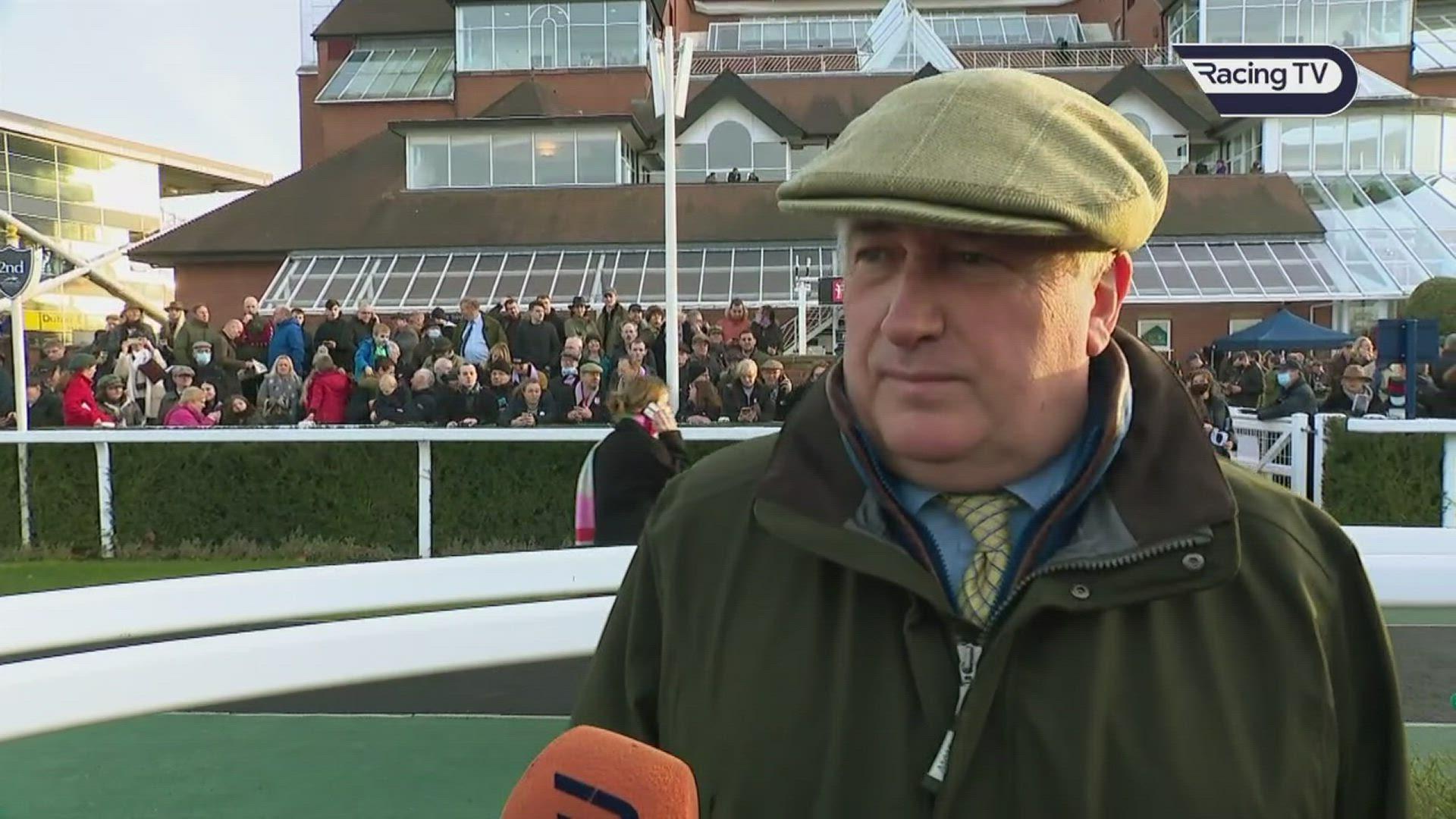 Paul Nicholls unpicks future options for Stage Star
"He's just needed a little bit of time. We haven't been too serious with him until after the last run because we knew today would be a tough task – he'd have to be at his very best. He'll certainly need a little break after today to let him get over that...The way he quickened up from the back of the last was really good."
Reminded of the precedents of his previous Challow winners – Bravemansgame last year and the mighty Denman in 2006 – when asked about future plans, Nicholls added: "Well the same sort of way as whatever we did with those, if we go to the Festival. I'll talk to the team and monitor what's happening with horses in Ireland. I'm not afraid to wait until Aintree with them, but the most exciting thing about this horse will be when we start jumping fences with him – as Bravemansgame did, and hopefully he'll follow the same sort of route."
Pressed whether omitting Cheltenham would be contingent on whether a "superstar" emerges across the water in this division, Nicholls said: "You want to go to Cheltenham and win. You don't want to go to Cheltenham and finish fifth or sixth and give yourself a hard race unnecessarily. You've got be competitive. I've learned that even more so over the last few years.
"You're better off if you can win a Grade One, say, at Aintree if you [aren't] going to win at Cheltenham with a horse with needs a bit of time, you're not going to do anything wrong. But if we can win at Cheltenham, we'll be there."
Stage Star is undoubtedly worth his place in the Ballymore line-up – at this stage, he probably boasts the best form in this division – so it's fascinating to witness what appears to be the effect on Nicholls' strategy and/or mindset of Bravemansgame's defeat at the Festival race last year, combined with the wider impact of the Irish domination.
Of course, the Challow hoodoo also looms large – that 17 winners have contested the Ballymore and none has won – but there seems to be little logical reason for that statistical blip, except perhaps horses with a liking for flat tracks not being at their best at Cheltenham. That thought might yet prove relevant to Bravemansgame, indeed, but there's less cause to think along those lines with Stage Star at this juncture. He'll surely get an entry and, from there, Nicholls will probably be talked into it – primarily by his own competitive nature.
Runner-up West Bilboa ran a stormer on just her second start under Rules, from a yard that's long-suited in mares. It's interesting therefore, in terms of their perceived relative merit, that stablemate and fellow novice Elle Est Belle merited a Close Brothers Mares' Hurdle entry when those engagements were published this week.
Gringo D'Aubelle is unlikely to be among Elliott's leading novice-hurdling lights but, equally, no slouch. He'd been beaten by current Albert Bartlett ante-post favourite Blazing Khal on his hurdling debut but has since won a bumper and a maiden hurdle at Fairyhouse. This step back up in trip had been thought helpful, but he faded out of things after turning for home seemingly with every chance. He could be a handy sort for the County.
Party Business was unfortunate, but he needs to smarten up his jumping. Given conditions here were quite testing, he's been given a very quick opportunity to do so with an entry in Warwick's Grade Two Leamington Novices' Hurdle this Saturday. Perhaps Lossiemouth needs to step up in trip, but the worry is that he ran out on his racecourse debut and looked uncooperative on this occasion.
Recent Doncaster winner Surrey Quest could be heading to Warwick, too. He raced brightly and hurdled neatly when carrying a penalty to victory just after Christmas. 7lb-claiming rider Nathan Brennan felt he "probably hit the front too early" but there was little he could do, with his mount travelling so strongly and being left in the lead by a blundering rival at the third last. Brennan then waited in front, only asking his mount to assert after the penultimate flight.
This was when the reasons for his ministrations became apparent because the babyish Surrey Quest – having just his third start in public – ran about gawkily all the way to the final hurdle prior to jumping it remarkably proficiently in the circumstances. This was quite a taking effort, especially as his closest pursuers had adopted far more patient tactics and many of his rivals finished very tired. Sandown's EBF Final looks a likely Spring target.
On the same card as the Challow, Peking Rose improved on his Ascot debut to win the two-mile introductory hurdle and beat Olly Murphy's French recruit Hardi Du Mesnil by 11 lengths. He made most and also had to deal with that stiff headwind in the straight, which may partly account for his wandering between the third- and second-last hurdles and how tired he was by the finish. The field returned at long intervals. Trainer Fergal O'Brien believes a step up in trip is in order.
On New Year's Day at Cheltenham, the gargantuan Hillcrest outpointed favourite I Am Maximus in the Listed Ballymore Hurdle. Trainer Henry Daly said he didn't have a measuring stick long enough to be certain of the winner's height, which he estimates at above 18 hands, but in terms of ability he did subsequently compare this likeable giant with Mighty Man and Behrajan – two of his best-ever horses.
It was a front-running ride of particular poise from Richard Patrick, who – as Daly later highlighted – did not pick up his stick once. This was despite I Am Maximus joining him at the fore on the home turn, appearing to be getting on top approaching the last and his mount overjumping that flight, pecking on landing.
Instead, hands-and-heels encouragement was enough for Hillcrest to respond by surging clear again on the climb to the line. "Richard said he has not begun to get to the bottom of him," an exhilarated Daly said.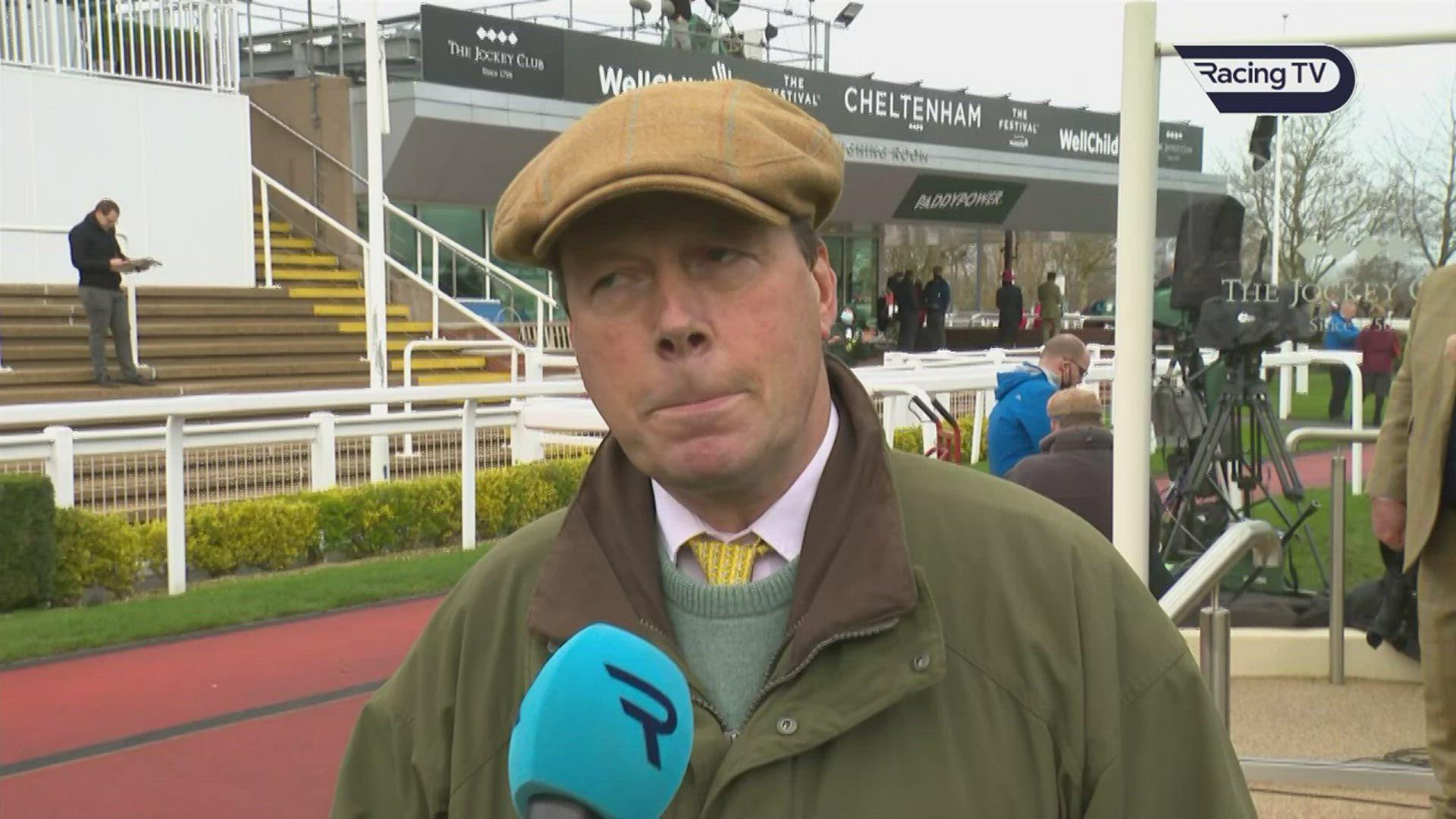 Henry Daly can't help but get excited about Hillcrest's future
I Am Maximus had two handlers in the preliminaries, but that didn't stop him getting worked up and threatening to boil over on the way to the start. However, it's hard to argue this affected him much in the race itself, because this was a sharp improvement in form on his first try beyond two miles and he pulled 11 lengths clear of the third.
Hillcrest is a "classic T Hemmings", as Daly has said – a chasing type, given time to mature. This was only his fifth start, at the age of seven. His next assignment will either see him returned to Cheltenham for a similar event on Trials Day, or else take him to Doncaster for the three-mile River Don.
"Quite honestly, it is a bit of a toss-up and there is also the possibility of not running in either of those races," Daly has since said. "He wants nice ground. Good-to-soft would be fine. He won his bumper in good-to-soft at Doncaster and handles it perfectly well... But he is a big boy and like most of those, they don't take a whole lot of hammer, so we are very conscious of that and we are trying to do the best thing without making a balls of it."
Just after Christmas, the colours of the late Trevor Hemmings had also been carried into the winner's enclosure by another young horse when Harbour Lake returned to the scene of his successful racecourse debut. He carried a penalty to an 11-length victory in murky conditions at Wetherby. Free and raw, he hurdled awkwardly at the third- and second-last flights when under some pressure to pick up the leaders, but his stamina had kicked in by the final obstacle.
Typical of the stock of his late owner, he looks a long-term project and already in need of further than two miles. Trainer Alan King would be unlikely to risk him at Cheltenham, but he could pitch up at Aintree, if indeed he goes that deep at all this season.
On New Year's Day at Exeter, Dubrovnik Harry built on his debut at the same track to win by 25 lengths over an extended 2m2f for trainer Harry Fry and conditional jockey Lorcan Murtagh. In deep ground, the only two rivals who'd been able to keep touch once he took over on the lead at the seventh were then beaten before he entered the straight.
He'd hurdled well until blundering and stumbling three out – perhaps having lost concentration after so long up front alone because he also wandered on the approach to the next. However, he held it together at the last to register a promising first success.
If both Stuart Crawford and Richard Spencer are correct, we've seen two future Gold Cup-winning novice-hurdlers in the space of two-and-a-half weeks. Just as Crawford lauded O'Toole at Down Royal, Spencer made that same claim of Wonderwall at Doncaster on Tuesday. The six-year-old had just lowered the colours of the Henderson-trained City Chief in a 2m5f novices' hurdle.
He'll have to jump fences more accurately than he currently does hurdles if he is literally to justify his trainer's warm review, but it was nonetheless a taking performance from Wonderwall. A smooth traveller, his dominance was such that he afforded jockey James Bowen the luxury of deciding when to ask him to challenge long-time right-adjusting leader Lubeat Foras. City Chief had got outpaced approaching the third last, where he was also inconvenienced by an opponent's blunder, but he stuck to his task to claim second.
Spencer told Sky Sports Racing's interviewer Luke Harvey that Wonderwall "doesn't respect a hurdle as much as he does a fence", before adding that the Ballymore is the plan – via either Trials day at Cheltenham or the Sidney Banks at Huntingdon next month, in the latter of which he could meet another Henderson-trained rival in dual winner Balco Coastal.
ALBERT BARTLETT NOVICES' HURDLE
This is perhaps the most incoherent of the divisions, with the retarded start to the season having limited the amount of valuable experience that trainers have been able to pack into their nascent stayers.
Blazing Khal is understandably the best-priced 5/1 favourite, following two victories full of potential at Cheltenham and with this race as his long-identified definite target. However, his campaign hitherto means he has more of a borrowed British profile, having beaten the same horse Gelino Bello (set to run at Warwick this Saturday) on both occasions. Come March, unless he also runs at the Dublin Racing Festival, it's likely that a few of his compatriots will have been swimming in deeper waters.
The market anticipates that any of Ginto, Hollow Games and Journey With Me, who are prominent in the Ballymore betting, could yet be as likely to pitch up here. In the case of Hollow Games, perhaps more so.
But there were some other notable performances to note with this target in mind over the festive period. Chief of these was perhaps Eric Bloodaxe, who won the Grade Two Lyons Of Limerick Jaguar Land Rover Novice Hurdle over 2m7f by seven-and-a-half lengths for Joseph O'Brien and Bryan Cooper.
He'd made some errors when racing towards the inside rail for the first circuit, but switching towards the outer from the sixth didn't greatly improve matters, with mistakes at the seventh and four out (the latter when perhaps jumping out to his left).
The field was still quite tightly bunched turning for home and Eric Bloodaxe was switched towards the inner after being pumped along and finding himself briefly in traffic. That enabled him to slip into the lead and put some impressive distance between himself and the rest from the second last. He probably didn't have much to beat, however, and will need to improve quite a bit to get involved at Cheltenham.
Cooper stressed that his mount "has a gear". "The ground wasn't in his favour and I saved as much as I could. The trip was a question mark but that was a pleasing performance and he can only improve," he added.
Two more unexposed stayers to mention are both trained by Gordon Elliott. Gerri Colombe won a 2m4f maiden by a wide margin at Down Royal on his hurdling debut on St Stephen's Day, travelling strongly and jumping soundly. This maintained an unbeaten record accrued in a Point and two bumpers.
"Gerri Colombe is still very green for a horse who has done so much," observed winning rider Denis O'Regan. "He still has a lot to learn. He jumped well and he's a beautiful horse to look forward to. There's a nice bit of class there and he stays well."
Two days later, his stablemate Bold Getaway won a 2m5f Limerick maiden on his second attempt over hurdles. Travelling strongly and looking at home on testing ground, rider Jordan Gainford wisely waited until the penultimate flight to unleash his challenge and, although his mount was untidy at the last, the partnership was always in control. He can do better.
Back in Britain, it's worth giving a quick mention to the Galia Des Liteaux, who thumped a field of fellow mares by 30 lengths over an extended 2m3f at Wetherby on Boxing Day. This was her Rules debut for the Skeltons, having won an Irish Point last October, and she was well backed for what was largely a professional jumping display.
"Galia Des Liteaux is five years old and we decided we wanted to crack on and get a bit of experience to go chasing next season," Dan Skelton reported. "She's a big, strong mare. We'll find another race under a penalty before we start thinking fancy, but it wouldn't surprise me if she had one more and then went to the Listed three-mile mares' novice at Doncaster."
However, I keep coming back to the abundant staying promise, combined with gutsy application, that Hollow Games demonstrated when beaten by stablemate Ginto in the Grade One Lawlor's Of Naas Novice Hurdle.
I like the fact that Elliott is keen to get more experience into him by running at the Dublin Racing Festival. That will only stand him in good stead for this Cheltenham contest, which rewards experience perhaps more often than it does brilliance. Let's take the 8/1 now.
DAWN RUN MARES' NOVICES' HURDLE
Allegorie De Vassy now tops this market, at a best price of 6/1, following her successful debut for Willie Mullins on New Year's Day at Fairyhouse. This scopey-looking French recruit, a maiden after four starts in her native country, ballooned her first two Irish-style hurdles but her technique improved a tad thereafter and she eased clear of some fair opponents approaching the last.
This five-year-old mare is owned by Rich and Susannah Ricci, whose silks were carried to victory in this Cheltenham race by Limini and Let's Dance for the same yard in its first two editions in 2016 and 2017. In fact, Mullins had monopolised this contest until Henry de Bromhead trained the 1-2 last year, so it's understandable that any of his potential runners are given maximum respect.
However, the observations of assistant trainer David Casey – though positive – did make me wonder whether there might be more suitable mares for this specific task. "She'll be a great mare to jump fences when you look at the size of her," he said. "She had been working well at home and on her French ratings she was thrown in."
Her stablemate Dinoblue – a half-sister to 2019 Champion Bumper runner-up Blue Sari and from the wider family of Grand National runner-up Royal Auclair – looked more of a hurdler when winning on her racecourse debut at Clonmel last week.
There was a lot to like about this 15-length triumph over stablemate La Prima Donna – not least that, in sapping conditions, she still managed to win with great authority despite rider Mark Walsh steering a more inside line than her outer-skimming main opponents, and those taken by Cash Back and Classic Getaway later in the day. By that time, the inner would admittedly have been far more chewed up but Dinoblue's main opponents still had cause to race wide.
Back at Limerick just after Christmas, stable companion Glens Of Antrim took advantage of a much weaker race than either Allegorie De Vassy or Dinoblue to get off the mark over hurdles. A second-season novice, she was a comfortable winner over 2m4f.
She had finished sixth, beaten just over 12 lengths by Telmesomethinggirl in last term's Dawn Run, but does not appear to be improving. If anything, she needs to move up in trip rather than return to 2m1f, and to step into the more feasible waters of handicap company.
As discussed above, on either side of the Irish Sea both Grangee and West Bilboa produced performances against the geldings in Grade Ones to make them leading players in this division. But I was so taken with Dinoblue's high-calibre effort for one so inexperienced – already positioning her not far off what more seasoned leading lights have achieved – that I'm suggesting a bet at 8/1.
Lydia's portfolio:
Advised 26/04/21: Energumene at 14/1 (general) for the Ryanair Chase
Advised 10/11/21: Nube Negra each-way at 25/1 with Bet365 for the Champion Chase
Advised 30/12/21: Galvin at 6/1 (general) for the Cheltenham Gold Cup
Advised 06/01/22: Telmesomethinggirl at 13/2 with Bet365 for the Close Brothers Mares' Hurdle
Advised 06/01/22: Burning Victory at 16/1 with Paddy Power for the Close Brothers Mares' Hurdle
Back now: Hollow Games at 8/1 with various firms for the Albert Bartlett Novices' Hurdle
Back now: Dinoblue at 8/1 (general) for the Dawn Run Mares' Novices' Hurdle
Ruby's portfolio: 30/12/21: Al Boum Photo at 16/1 (general) for the Cheltenham Gold Cup. He can move, move, move any market.
Add an unlimited number of horses into your Racing TV Tracker and never miss a winner again! Click here for more details.