By Will Hayler at Newmarket
At 79, Jim Bolger has wrestled with most of racing's problems in his time, but he now hopes that 2021's greatest challenge could be the mission of keeping the two outstanding colts he has in his care apart for the rest of the season.
Along with 54-year-old jockey Kevin Manning, Bolger's son-in-law and half of one of the sport's most enduring pairings, he struck to land Newmarket's QIPCO 2000 Guineas - "the best race in world" - with Poetic Flare - "the most complete racehorse that I have ever had".
Bolger has been known to make the occasional less-than-measured statement when in the throes of victory and here, speaking from his Coolcullen headquarters, he was in ebullient form after Poetic Flare's exciting head-bobbing victory over Master Of The Seas, owned by his longtime allies in Sheikh Mohammed's Godolphin operaton.
"He's the complete package," Bolger said. "You couldn't find a fault with this horse. If he was sent to a new trainer in the morning he'd pick up and go from there. That's the sort of horse he is.
"To my mind, the 2000 Guineas at Newmarket is the best race in the world and when you win one of those, you've really done something.
"I remember John Magnier said to me a few years ago - we were going up into the stand to watch the 2000 Guineas and it was the year that Dubawi was beaten (2005) - he said to me 'This is the one that matters'. I didn't disagree with him then and I still don't disagree. It is the race.
"I'm not too concerned about him getting further in time. Kevin did say in the interview on TV that he thought he'd stay 10 furlongs, but at the moment I'm not thinking about going anywhere except the mile.
"He has buckets of speed and I even entered him in the Commonwealth Cup in the unlikely event that he didn't stay, as he's that quick and you always have some doubts about whether the very quick ones will stay or not. The St James's Palace [Stakes at Royal Ascot] would definitely be on the cards."
There are few peaks Bolger has left to conquer in horse racing in Britain and Ireland and Newmarket has proved as happy a hunting ground as any.
In victory here, Poetic Flare established himself as unquestionably the best son of his sire Dawn Approach, winner of this race by five lengths in 2013, Dawn Approach's own sire, the Derby winner, having been beaten only a nose in the same race in 2008. Both were trained by Bolger, as were Poetic Flare's dam, the once-raced Maria Lee, and her dam Elida. Even the maternal grand-dam Saviour raced for Bolger, winning three races more than 30 years ago.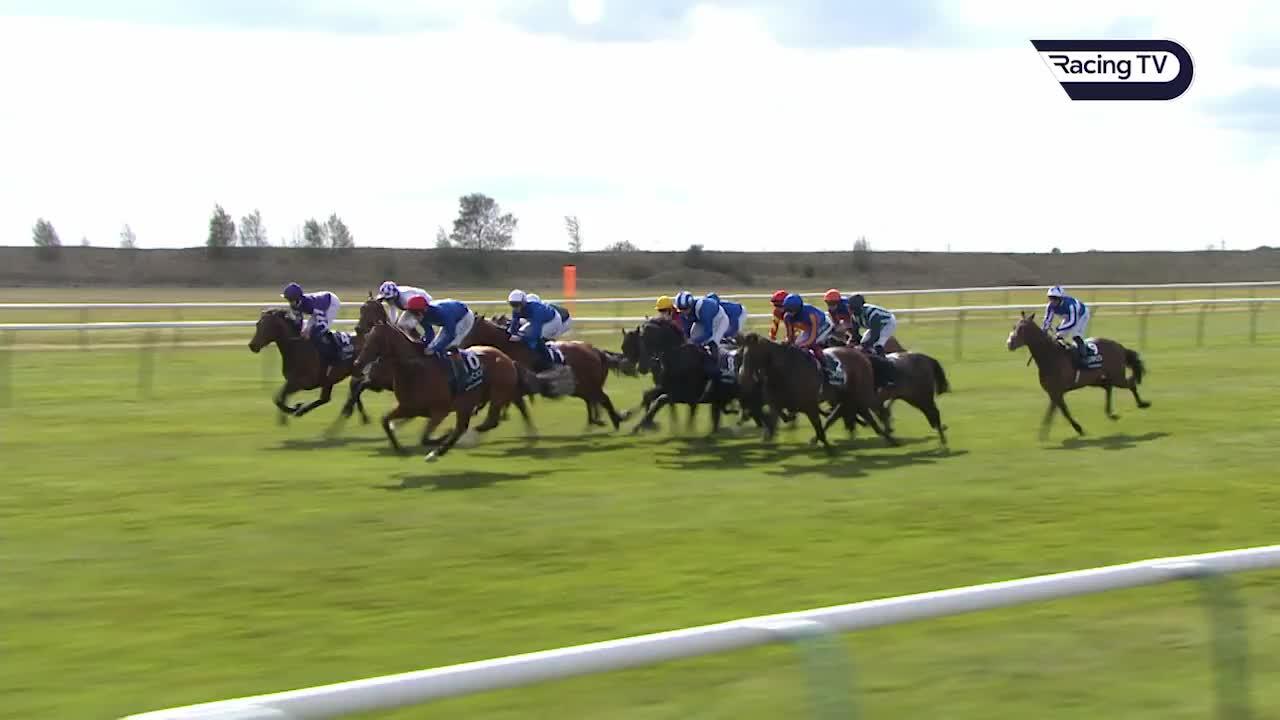 Watch a full replay of a Guineas which produced a fabulous finish
But victory in the Irish 2000 Guineas has eluded Bolger to this point, New Approach running second a fortnight before his Epsom glory. Poetic Flare could bid to put that right - or it could be stablemate Mac Swiney, Group One winner at Doncaster last season and en-route to a tilt at next month's Cazoo Derby.
Manning said after this success that he had ridden both in separate pieces of work on the grass three weeks ago, after which Bolger had asked him which he would prefer to ride were he to be forced to make a choice. The jockey had not been able to make that call.
"We can't separate the two of them in our own minds," said Bolger. "I've been thinking all along that I've never trained a horse to win two Guineas, but this could be the horse.
Watch how today's Classic at Headquarters unfolded for Declan McDonogh on Thunder Moon. The combination were well-fancied but trailed home last
"Mac Swiney would be most likely next Sunday in the Derrinstown Stud Derby Trial and if he didn't run there he could go in the Irish Guineas - if we had to give Poetic Flare a break, Mac Swiney would pitch up there in the Irish Guineas after the Derrinstown, provided I felt that there would be enough time to get him to Epsom. It's a nice problem for us to have."
He described the victory as having been "fairly necessary" in order to support his comprehensive breeding and racing operation.
"I don't mind admitting that the way I live is high-risk stuff. These type of horses don't come along every year, but for me to stay in business I need one every few years. I don't mind admitting that. To be able to pull it off is marvellous."