Gordon Elliott has told Racing TV that he is determined to prove that he is "not the monster some people are making me out to be" when he returns to the training ranks on Tuesday after serving a six-month ban.
Elliott was suspended from training for a year (six months suspended) by the Irish Horseracing Regulatory Board in early March over a photograph that showed him sitting on a dead horse, subsequently identified as Morgan, on his gallops. The picture, which had been taken a couple of years earlier, caused a public furore.
In an exclusive interview with Gary O'Brien, Elliott apologised repeatedly for his actions and revealed that he goes to bed every night thinking of the "terrible mistake" he made. The three-time Grand National-winning trainer, who also spoke about a BBC Panorama programme in which he featured this summer, hopes he will be given "a chance" as he seeks to rebuild his career.
Within days of the photograph surfacing, sponsors cut their ties with Elliott and many of his best horses were removed and sent to rival trainers. They included Quilixios, Sir Gerhard and Galvin, who would win at the Cheltenham Festival just days later, plus Envoi Allen, who was unbeaten at the time and potentially the best horse in his yard.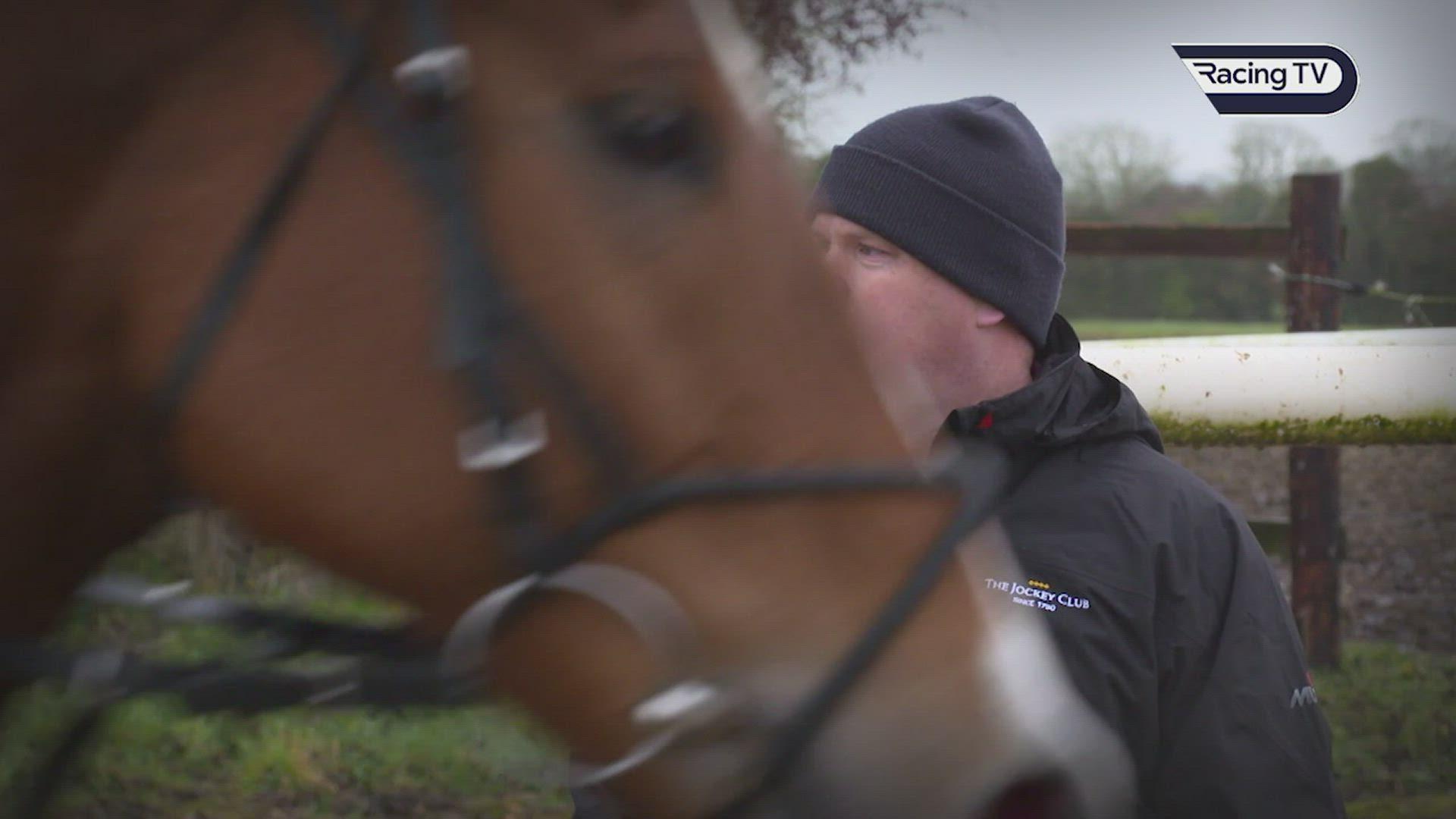 Watch the full interview
Denise Foster, an unknown to many racing fans, was allowed to temporarily take charge of Elliott's Cullentra House Stables in County Meath, and had 49 winners while at the helm, including Tiger Roll, Black Tears and Mount Ida at Cheltenham.
But Elliott, who began training in 2006 after a brief career as an amateur jockey, is now on the brink of making his return to a sport in which he has enjoyed more than 1800 winners. He has one runner on the Flat at Punchestown on Tuesday, with another entry being a reserve.
"It's something I'm going to have to live with for the rest of my life. I feel embarrassed about it and cannot apologise enough," Elliott said. "For someone in my position, it shouldn't have happened. It's something I want to put behind me and move forward.
"As soon as I'd seen the photograph [about 5pm on February 27 while saddling runners at Fairyhouse], I knew it wasn't good. I got an awful shock when I saw it myself. It's something I never want to experience again. It was a terrible mistake."
The story made national headlines and Elliott found himself at the centre of a storm. He said: "You think you are thick-skinned until you see something like this. It was terrible. We got a week of very bad social media, newspapers, television, Twitter and everything else like it.
"For me, it was something I've never experienced or would like to ever experience again but for my family and staff in the yard it was unbelievable; for something foolish I did. All the pain I put them through. I probably didn't show my face in Summerhill for three or four months afterwards.
"I made a mistake and deserved to be punished. It's something I never want to happen again and would not wish on anyone."
The identity of the person who released the photograph into the public domain remains unknown. Asked if he wondered what their motivation might have been, especially so long after it was taken, Elliott replied that he thought it was malicious and added: "They obviously had it in for me. For this to come out nine days before Cheltenham Festival, it seemed like it was timed perfect. I went from having probably as good a yard horses going to Cheltenham as anyone could have, or wish to have, and then it was taken from under my feet.
"There were a few other incidents happening in and around the yard at the time and there was a Garda investigation. It's still being dealt with and I can't say much more about it at the moment. I just want to put it all behind me. All I want to do is get back doing what I love most, which is training horses."
Those horses will not include high-profile performers such as Envoi Allen, Quilixios, Sir Gerhard and Galvin. Any one of the four would be a standout star in most yards.
"Watching them leave was very tough," Elliott said. "Not just for me, but for the staff in the yard who adore these horses and put their whole life into them. For a mistake I made, they lost them. I'd be telling you a lie if I said I didn't lay in bed every night thinking about Envoi Allen, Quilixios, Sir Gerhard and all the rest of them. I'm going to suffer for the next three or four years for doing something silly."
Elliott naturally had a whirl of emotions watching horses he had primed for Cheltenham over previous months win for others. He took solace in Henry de Bromhead, Willie Mullins and Ian Ferguson, the trainers who benefited, all being quick to make contact. Apparently, Mullins texted a message to Elliott even before Sir Gerhard, winner of the Champion Bumper, had even pulled up.
"I was heartbroken to see them winning not in my name, but happy [at the same time] as Cheltenham had long been the plan," he said. "The bit I could take out of it was that I had these horses trained to the minute for the Olympics of our sport."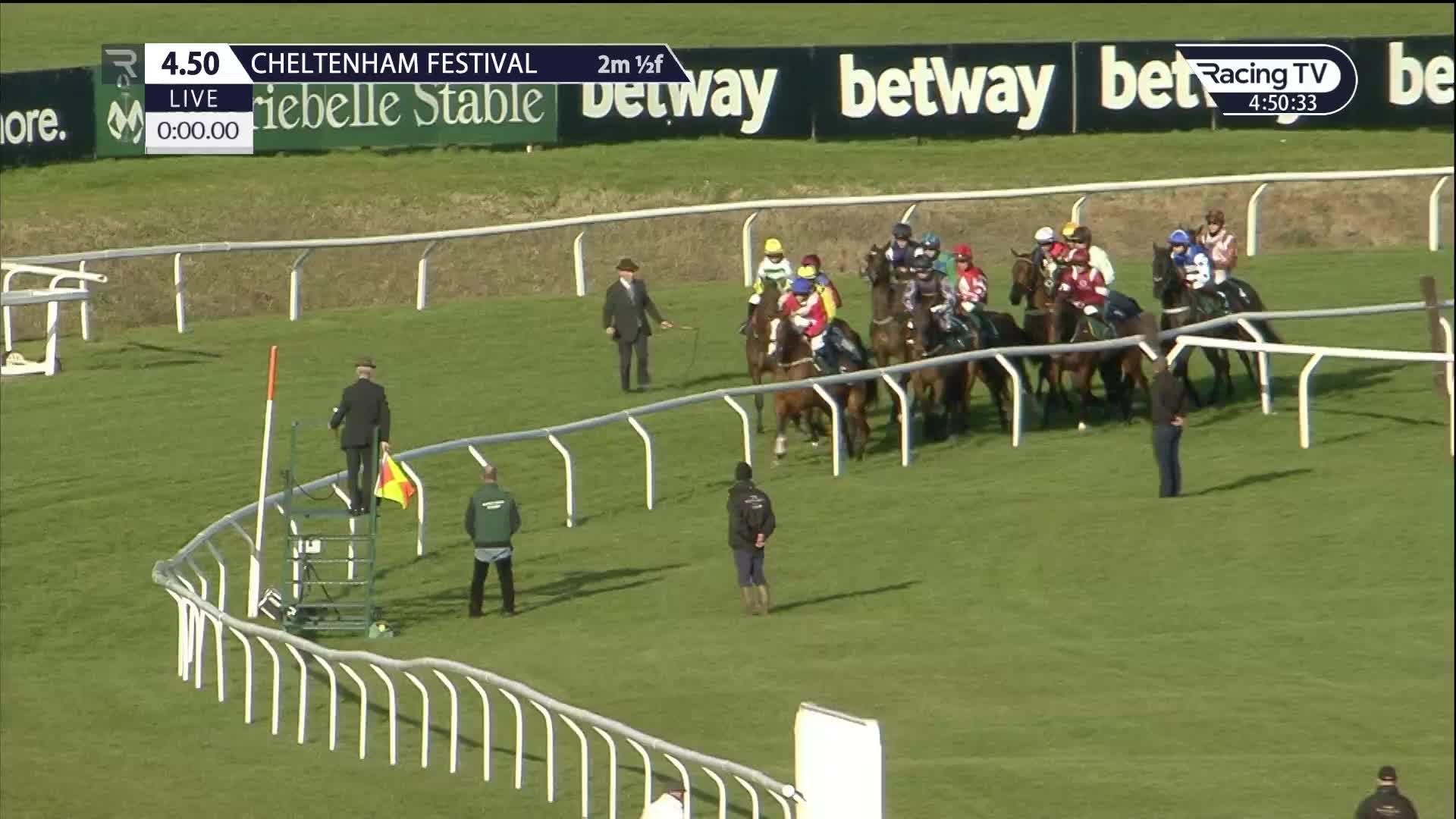 Sir Gerhard won the Champion Bumper
When O'Brien inquired if the whole episode had served as a wake-up call on a personal level, or changed his life, Elliott, 43, said: "Yes, it's definitely been a wake-up call. I've been training since 2007/08, and you get into a bit of a rat race. You get on that wheel and don't know when to come off it. All I cared about was training winners, where the next race meeting was, where the next horse [was] I could source. I probably became a little bit selfish and only cared about myself.
"It's probably given me a bit of time to think more about my friends, family and, most of all, my staff. They've been brilliant and if it wasn't for them we wouldn't be sitting here having this conversation."
Nobody can be sure how Elliott will be greeted when he returns to the racecourse. Is he expecting people to look at him differently, or treat him differently?
"It's probably something I've thought about every night since it happened," he said. "Anyone who knows me, knows I love going racing, going to the Sales, and training horses to win races is what I love doing most All I can ask for is that people will give me a chance. It's going to be tough, but I can't wait to get back and am determined to prove to people, my staff, my owners, everyone in the industry, that I'm not the monster some people make me out to be."
In July, Elliott was back in the public spotlight when he featured in a BBC Panorama programme called The Dark Side Of Racing. It investigated the fate of racehorses who had ended up in abattoirs.
Three of the thoroughbreds were formerly trained by Elliott, including a popular grey called Vyta Du Roc. Simon Munir and Isaac Souede, whose colours he raced in during his racing days, have subsequently taken away horses from Elliott.
The trainer insists he is innocent of any wrongdoing and explained keeping track of horses who have left him is not straightforward. In the past three years alone, he says he has rehomed about 50 horses.
"I can't say too much about it [the programme], as we are in the middle of getting legal advice about making a complaint to the proper authorities," he said. "But it wasn't nice to see what happened. I've never seen anything like it in my life.
"All the horses had left my yard and I didn't know that they were going to end up in an abattoir in the UK; nor did I give my permission for them to be there." He added: "Going forwards, I think it's something our governing bodies are going to have to give us a bit more advice on, a bit more of a roadmap."