Watch a full replay of the 2017 Breeders' Cup Classic won by Gun Runner at Del Mar on Saturday and read Geoffrey Riddle's report with all the reaction.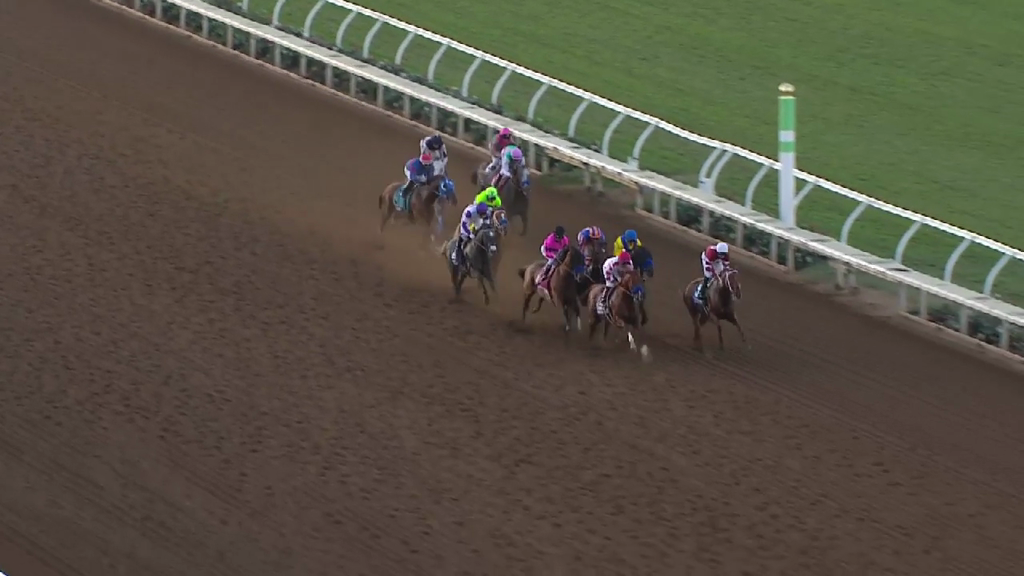 By Geoffrey Riddle
If there was anywhere in the world where Gun Runner could prove his stamina over ten furlongs it was the tight, flat track at Del Mar.
As Breeders' Cup night wore on in California and favourite after favourite bit the dust, in the end it was the most logical and obvious result for the biggest race of all.
Gun Runner produced a stunning front-running performance to run out a convincing winner of the Breeders' Cup Classic on Saturday, and in the process register his fifth victory in six starts.
Defeated in all three previous attempts over a mile and a quarter, as well as in both prior meetings with Arrogate, Florent Geroux took little time to get his mount to the front of the field, as fellow market leader Arrogate jinked left at the start and was floundering from then on under Mike Smith.
Much of the pre-race talk had been focused on whether Gun Runner could still produce his best, having finished second to Arrogate in the Dubai World Cup in March.
Despite a string of victories to his name throughout the summer, Gun Runner was friendless in the betting but justified odds of 11-4 to become the first horse to run in Dubai and scoop the $US6million Classic in the same season.
He did it in 2minutes 01.29s.
An ecstatic Asmussen, who won with the mighty Curlin in 2007, said: "It's a good team and he's an incredible horse. Incredible horse. Everyone is part of the team and they did a phenomenal job. Scott (Blasi, assistant trainer), Angel (Garcia, exercise rider), Florent (Geroux, jockey), the owners.
Gun Runner defeated Collected by two and a quarter lengths to win the 34th Classic
(EclipseSportswire)
"We did the right things at the right time and all that made it special. What an awesome feeling this is. Florent has the ultimate confidence in Gun Runner and he rode Gun Runner.
It's all part of the process. We had discussed what we'd see (in the race) through the day and I told him to 'ride Gun Runner.' I'm the lucky trainer of the Horse of the Year."
It was a fourth win at the Breeders' Cup for Geroux overall, but his first in the showpiece event.
"This (win) means a lot," the Frenchman said.
Florent Geroux saluted the 37,692 crowd packed in to the grandstands
(EclipseSportswire)
"It's the biggest win of my career. It's the big race with Horse of the Year on the line. I'm glad he was the best horse."
"I think he was the quickest horse in the race from the beginning of the race."
"(Trainer) Steve (Asmussen) was the one who gave me the opportunity to ride this horse. We knew from the beginning he was the real deal. We were so confident going into the Kentucky Derby; we really thought it was his best chance ever to win it."
Although Bob Baffert saddled runner-up Collected and third-placed West Coast, the first three-year-old home, it was scant consolation for the eclipse of reigning champion Arrogate, who trailed in fifth.
It was a third consecutive defeat at Del Mar for Arrogate, who looked nothing like the relentless galloper who picked up and spat out Gun Runner at Meydan.
"Arrogate. I don't know," a disconsolate Baffert said.
"He just can't find the plate. He's like a pitcher who can't find the plate. Gun Runner is a really good horse and he ran a great race. My other horses ran great. I hate to make any excuses for the big horse (Arrogate), but he's just not the horse he was. He struggles over this track.
Bob Baffert was targeting an unprecedented fourth consecutive win in the Classic
(EclipseSportswire)
"When he broke, he broke flat-footed and broke in and he weaved in. He lost a lot of momentum there. We were hoping to really send him away from there. I don't know what happened to him. I don't know if it's this track or what. He's just losing interest and I think that's what it is. He's run so many incredible races that I really think he's just losing interest. That's what it is. It's time (for him to retire).
"But he has done so much. What he accomplished in a short period of time, the Travers win (in track and stakes record time), beating California Chrome (in the 2016 Classic), winning the Pegasus and the way he won in Dubai. You have to give Gun Runner credit. He laid it down and he took a lot of heat."
He added: "He is one of the greatest horses I have ever trained. After that he took a step back. I am really disappointed to see him go out like that. At the same time he has given us the biggest thrills in racing.
"You feel like you have let your son down."
Mike Smith was also visibly disappointed.
"Everything went wrong," the jockey said.
"From the word go. He rode very awkward. He doesn't get hold of this racetrack, for what ever reason. I 'd hate to blame it on the track but he has shown it time and time again. I keep trying to talk myself in to it that he would like it one day.
"I'm lost for words, to be honest with you."
"He certainly didn't run his race today, he maybe put in a C effort and still got beaten by five lengths. I know how good he is and I hope he goes to the breeding shed and makes some champions."
Churchill was the first home of Aidan O'Brien's two runners in sixth, with the inexperienced War Decree ninth.
It appears the dual Guineas winner will race on next season.
"Churchill has had two or three hard races," O'Brien said. "We will go back to the turf with him next time. He seems OK after the race and appears relaxed."