Since the below column was first published, and the latest Road To Cheltenham show recorded, news emerged that Ferny Hollow had suffered a setback and will miss the rest of the season.
Owners Cheveley Park Stud tweeted on Thursday afternoon that the favourite for both the Arkle and Irish Arkle Novices' Chases had sustained a "minor suspensory ligament issue", prompting major upheaval in both ante-post markets.
This is the second time in as many seasons that Ferny Hollow, unbeaten over obstacles, has been sidelined by injury. He also suffered a stress fracture in December 2020 when ante-post favourite for the Supreme Novices' Hurdle.
The impact of his absence on the two-mile novice-chasing division – and the likely knock-on reshuffling of trainer Willie Mullins' pack – will be fully analysed in next week's column.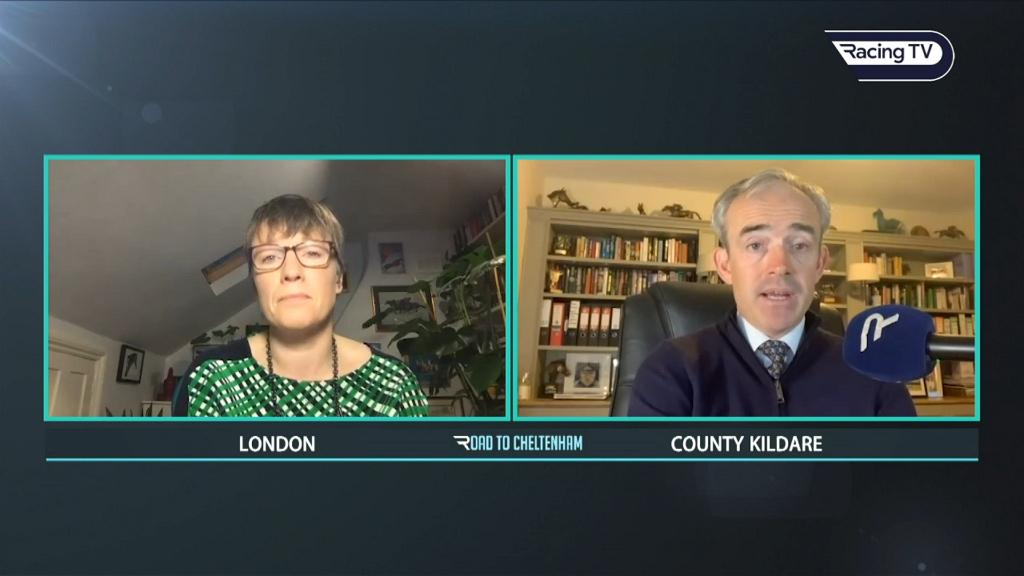 Enjoy the latest episode of Road To Cheltenham
Betway Queen Mother Champion Chase
Last Saturday's SBK Clarence House Chase was a reminder of what this sport can be at its best: three high-class horses taking each other on, and the two reputed superstars in the line-up not blinking once, before or during the race. Shishkin's defeat of Energumene, shrugging off titleholder First Flow as if he were second-rate, was one of the best races I've seen for years.
Neither of the two second-season chasers had been tested like this before, thanks to Energumene missing the 2021 Cheltenham Festival due to injury and Shishkin signalling he needed a break when workmanlike in victory at Aintree (not that he'd have headed on to Punchestown anyway). Time analysis of each novice campaign had suggested they possessed untapped potential.
Both began this campaign encouragingly. Energumene left Notebook shattered for daring to take him on in the Hilly Way, also proving he could jump faultlessly whilst going toe-to-toe with a substantial enough rival. Shishkin started later than advertised due to a minor infection, but just after Christmas brushed aside the recent Tingle Creek winner Greaneteen – who was admittedly perhaps not quite at his best. Again, sectional analysis promised better to come.
Minutes after that Kempton success, trainer Nicky Henderson confirmed Shishkin had been entered for the Clarence House – the race already identified by Energumene's trainer Willie Mullins as his next target – but suggested his participation was unlikely. Yet within days, the vibes had changed – Shishkin evidently thrived after the Desert Orchid Chase. It was our first indication that the game might be afoot.
Energumene's participation depended to a greater degree than was generally acknowledged on the wellbeing of stablemate Chacun Pour Soi. He'd returned home stiff after jumping poorly in the Tingle Creek and was subsequently diagnosed with a hamstring injury that had aggravated some pre-existing issues.
Had that horse clearly been set to miss next month's Dublin Chase, Mullins might well have kept Energumene at home rather than travel to Britain in the weeks preceding the Cheltenham Festival – a scenario he regards as sub-optimal, as he repeated in a pre-race interview on Sky Sports Racing with Hayley Moore at Ascot last Saturday.
But Chacun hasn't counted himself out yet – albeit there's still time for a problem to flare up with this hard-to-train horse – so Ascot remained the only sensible (and sporting) option for a trainer long-suited in top-class two-mile chasers, established and presumptive. Nonetheless, most of us didn't dare believe the clash would truly be on until both horses were walking around the paddock, so conditioned are we to disappointingly one-sided affairs these days.
Unmistakably, Henderson was fizzing with confidence in the days preceding the Clarence House. "I don't think we could have had him any better," he has since acknowledged. Indeed, it was Mullins who, as the date loomed, came across as the more reluctant to engage fire – but thankfully he didn't have any better ideas.
Throw in a proper Grade One third-man in First Flow, at a track that suits him ideally, and there was nowhere else to be for a racing fan at 3.35pm last Saturday other than at Ascot or, failing that for reasons beyond your control, pacing nervously in front of your telly.
Beforehand, my view was that both horses were closely matched in ability but if Energumene were to beat Shishkin anywhere, it would be in this race. Energumene's tendency to adjust right and Shishkin's to adjust left, I felt, advantaged the Irish raider at a track that more than any other in Britain exposes a preference to race left-handed. (It's the siting of the fences, as discussed previously in this series of columns.)
It's since been argued that these traits have been overstated. Whilst they are undoubtedly not the first details you'd mention when summarising these two now-proven top-class chasers, I disagree. In my opinion, they were the exact reason why Shishkin looked so vulnerable for much of the latter half of this race – and why Energumene's widely envisaged method of revenge is for the birds.
Why was Shishkin temporarily labouring? He's never been the silkiest traveller and the flat spots he tends to hit, just before his race-closing turbo kicks in, have long drawn comparisons with his former stable companion and direct predecessor among the two-mile kings, Altior.
That said, de Boinville made an interesting distinction when this notion was put to him by Nick Luck. "Altior in a later stage of life was similar to that," he said on Luck On Sunday, implying that the older horse was quicker than Shishkin in his younger days.
Certainly, his mount's fleeting troubles at Ascot could not possibly have been caused by the gallop Paul Townend set on Energumene alone. Whilst it was a good even pace, it was nothing that a horse as classy as Shishkin shouldn't be able to deal with comfortably. No, his problem was shifting left at his fences, wasting energy and losing ground on almost all 13 occasions that 2m1f around Ascot requires participants to leave the floor. These fine margins matter against a horse of Energumene's quality, but ultimately they just didn't add up to enough.
Yet their cumulative effect was to pile pressure on Shishkin, especially given jockey Nico de Boinville had agreed with Henderson that their tactics were to "keep Energumene in his sights". Hence his mount's uncharacteristic scruffiness. The worst example was a significant peck at the sixth, but at the eighth it also caused him briefly to surrender second to First Flow. After each leap, Shishkin had to recover his position against a swift-jumping leader controlling an even pace.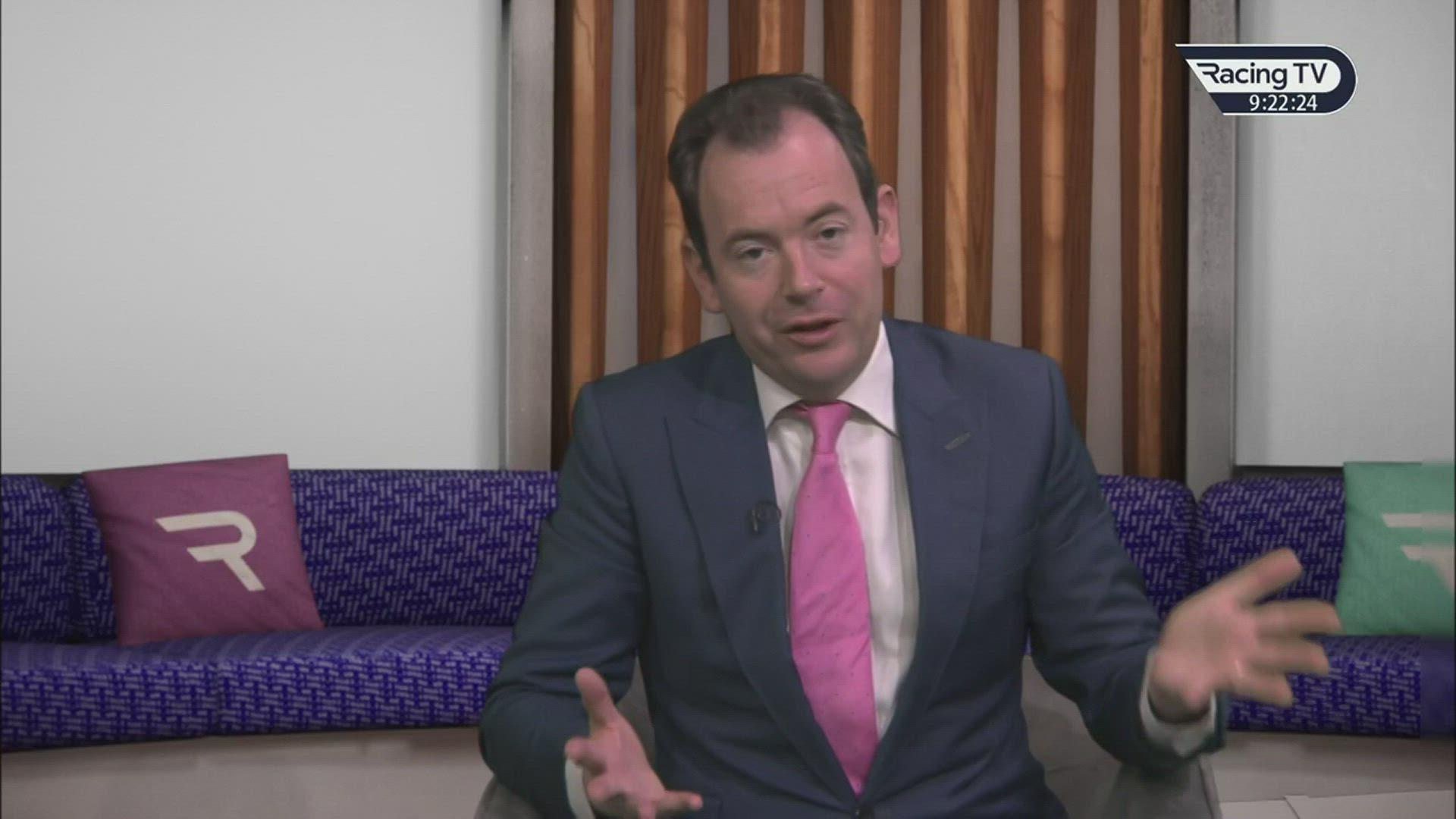 De Boinville reflects on an epic encounter
"We were slightly on the back foot, trying to keep tabs on him," de Boinville admitted on Luck On Sunday. "If I'm being honest, turning in I thought we were cooked and what was going through my head was: do you know what? This has been a fantastic race and both horses have acquitted themselves well and it was just amazing to be a part of it!
"It wasn't until he started to pick up and respond and finish off that flat spot, and then really start to get going coming to the last that I was definitely really thinking: the game is back on."
From looking and feeling beaten, Shishkin got up to win by a length. The sectional breakdown of the race shows that after Energumene established his lead on the run to the first fence, neither horse's times deviated from an optimal pace until the straight, where Shishkin hit a brief flat spot prior to rallying and Energumene began steadily to slow down. Yes, the runner-up might have jumped two out more cleanly, but that wasn't the difference between victory and defeat.
So, what was? To my mind, it comes down to three feasible explanations. First, that Energumene's best trip is beyond two miles. I've argued that view before, so I risk confirmation bias, but how do we explain him having not gone too fast early on for a horse of his intrinsic quality and yet still slowing down appreciably at the end? We can discount any notion of him lacking fitness – as Mullins has since said: "If he goes to Cheltenham in the same shape [as Ascot], I'll be happy." So, might he not be able to maintain that pace at two miles because he's more of an intermediate-distance chaser?
Second, that he isn't much of a fighter – that a physical or mental issue caused him to tie up in the straight. Yet there have been no signs of this previously and Mullins hasn't mentioned any concerns since, so this explanation has to be the rank outsider of three.
Third, that the disparity in ability between him and Shishkin is greater than I thought, greater than Saturday's official margin, and greater than their British Horseracing Authority performance figures of 177 and 175. For me, the answer is option 1 or 3, or perhaps a combination of options 1 and 3. Essentially, I believe Energumene is a high-class galloper whereas Shishkin possesses top-drawer two-mile gears.
Which isn't to say I don't think Energumene should take Shishkin on again in the Betway Queen Mother Champion Chase, although I think he's most likely to be beaten further. It's the sporting thing to do, there isn't an obvious alternative from Mullins' perspective at this stage, and one bad blunder from Shishkin could swing the balance back in his rival's favour.
When I suggested Energumene at 14/1 for the Ryanair last April, it was in the scenario that stablemate Allaho could be redirected elsewhere – the likelihood of which receded when Chacun Pour Soi promptly thumped him over two miles at Punchestown. The only factor that would cause such a redeployment now is a setback to Allaho and, happily, there's no sign of that.
But whilst we now know that a right-hander's haven like Ascot is no debar to Shishkin producing an elite performance, we don't know whether Energumene can perform in the polar opposite circumstances. He adjusts right and Cheltenham's Old Course is an ever-turning left-hander. Logically, why should he produce a better performance there? The likelihood is surely that he will be less good.
"Does our fellow jump a little right on occasions?" Mullins mused, when asked by Racing TV's Gary O'Brien last Sunday to consider how a Betway Queen Mother Champion Chase rematch might pan out. "But other times he jumps straight. We never worried about it before.
"I was going [to Ascot, knowing] our horse was in great order… We got the run of the race, he jumped well, did everything Paul wanted him to do, did everything Paul set out to do, so have we anything left in the locker? You wonder about that. We've a left-handed track in Cheltenham, a more undulating track than Ascot – they're the unknowns.
"Then we'll look at the race [at Ascot], look at the way we rode it, the tactics we employed – should we change them? Could we change them? Should we stick to what we're good at? I don't know. They're the things we're going to be asking ourselves time and time again."
It's been argued by some that using his slick jumping to exert pressure on his pursuers could see Energumene skating clear on the speedier Old Course – exploiting Shishkin's flat spot and perhaps even forcing an error. Or that a blueprint for success could be sheer all-out aggression from before halfway, like Tony McCoy's on Edredon Bleu in the 2000 Champion Chase that conjured an epic finish with Direct Route?
Yet I can't help but feel the mistake is more likely to come from the lower-jumping, right-adjusting Energumene at Cheltenham – a track he'll be facing for the first time, whereas Shishkin has won there twice – especially if he's asked to force the issue more than was the case at Ascot. The fast he goes, the greater the likelihood of a chance-ending error.
Plus, a horse who couldn't sustain an optimal two-mile pace to the line at Ascot could be beaten much further here if raising the tempo further out. Nonetheless, it's probably the only play – as Mullins' resigned tone in that interview betrayed.
"We'll have to get him back now and build him up again for the next race and find some way of beating Shishkin. It could be tough. Shishkin has the advantage now of having run around Cheltenham and won around Cheltenham. It's going to be new to Energumene," he admitted, before referring the issue to the Closutton think tank.
"Just chatting to Paul, Patrick [Mullins], Ruby [Walsh] and David [Casey, his assistant], everyone has different little theories about where we can improve and, as Ruby said, we've only got to get a length. But that might be harder done than said."
There are three final matters to consider in the fallout from Ascot: A Contextualisation, An Imponderable and A Developing Sub-Plot. The BHA's rating of 177 positions Shishkin 2lbs higher than the best achieved by Altior. Racing Post Ratings disagree with the BHA's assessment, with Altior peaking in their charts at 183 for his seven-length defeat of Min in the 2018 Champion Chase whilst Shishkin occupies 181+.
Timeform have Shishkin on 181p, ahead of Altior on 180 but still a long way behind their historical two-mile champion chaser: Sprinter Sacre on 192p. Incidentally, the Henderson-trained dual Champion Chase hero was parading at the age of 16 at Taunton last Saturday, safe in his enduring legacy whilst lesser mortals duked it out at Ascot.
Of course, returning to Cheltenham against top-class opposition in his chasing prime could see Shishkin improve his ranking yet further. As has been widely observed – including by the Mullins camp – it's the Clarence House winner who's got the most obvious scope for producing a better performance there, via a round unblemished by errors and energy-wasting left-handed adjustments.
For pessimists, one scenario that could prevent either new heights from Shishkin, or a compelling rematch is The Imponderable: the fear that one or both of the Ascot principals could recoil from this effort and thereby underperform seven-and-a-half weeks later at Cheltenham.
So far, it would appear that Energumene has taken last weekend's demands the harder. Mullins mentioned he'd returned to Closutton tired and having "lost a lot of weight", noting that this was the first time they had travelled the horse to Britain. Reading between the lines of his interviews, the trainer seemed to betray more than once some concern about getting his horse back to his pre-Ascot state of wellbeing.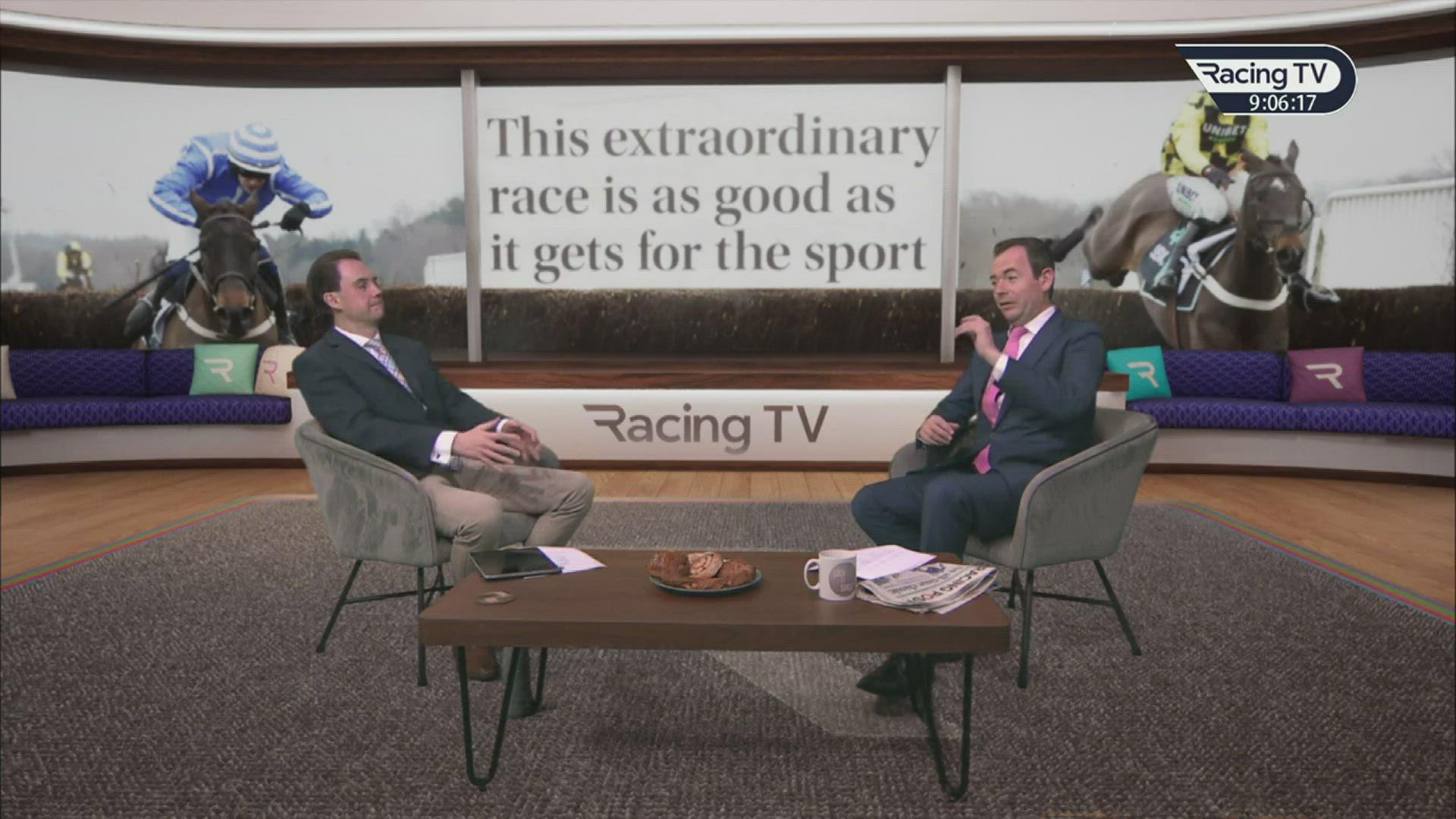 Henderson had good news to relay about Shishkin the day after his triumph
By contrast, Henderson's team reported Shishkin was sound and had eaten up well. "He was entitled to be tired but he's come out of it great. He's bouncing and happy," the trainer reported on Luck On Sunday. Of course, his horse only had to travel down the M4 home to Lambourn and, unlike his Irish rival, faces another home fixture at Cheltenham next. Of course, it's impossible to assess whether or how this will have an effect come March, but it's nonetheless a popular chin-stroking take that periodically preoccupies racing's Twittersphere since the much-cited aftermath of the infamous Altior v. Cyrname duel of November 2019.
It was said they were "never the same again" initially by those involved and later by those observing, whenever it was convenient to do so and as if direct causation had been scientifically proven. For me, however, this is a bad touchstone because Henderson admitted he gravely underestimated Cyrname, especially first time out, and that rival turned out to be one-dimensional.
There was an interesting discussion between Paul Nicholls and Nick Luck on the latter's podcast last week about whether modern training methods mean that top-class horses are almost always fitter when encountering each other these days and therefore require longer between their races in which to recover after pushing each other harder.
Certainly, rivals such as the Skeltons will be hoping that the comparative freshness of a horse like Nube Negra, who heads to Cheltenham unraced since his Tingle Creek flop in early December, will count in his favour come March. Grace Skelton, wife of trainer Dan and director of Alne Park Stud where that horse's sire Dink stands, articulated as much on the same podcast series on Monday. Even having recommended this horse each-way for the Queen Mum at 25/1, I think he'll need something seismic to beat Shishkin.
Incidentally, Nicholls plans to run Greaneteen either in Newbury's Game Spirit in mid-February or against Chacun Pour Soi in the Ladbrokes Dublin Chase a week earlier, for which he, Gary Moore's Editeur Du Gite and the Jonjo O'Neill-trained Sky Pirate are the only British entries.
Talk of the Dublin Chase brings me back to A Developing Sub-Plot that warrants exploring – namely, which horse will Townend ride in the Champion Chase, and how will the presence of both Closutton horses in the same race at Cheltenham impact on each other's tactics?
The natural assumption is that Townend will stick with Energumene, given he's the 3/1 second favourite and Timeform currently ranks only Shishkin ahead of him amongst this season's active chasers. He's also 1lb superior to his stable companion, their hitherto top-rated in this division.
But what happens if Chacun Pour Soi bestrides the Dublin Chase in a style similar to his triumphs there for the past two years – or better, as produced when winning Punchestown's Champion Chase last April? Granted, the ten-year-old first has to make it to the starting lines at Leopardstown and Cheltenham, given last season was his first and only to be untroubled by setbacks, but roll with me. As Patrick Mullins advised the Sporting Life podcast, the Champion Chase is "not just a two-horse race".
Then, Townend would face a choice between a horse who's been beaten by Shishkin, with no obvious angle to reverse the form except for the unknown – and potential negative – of Cheltenham, and a horse yet to face Shishkin, over whom there's a lingering doubt about his ability to reproduce his best form at that track.
Remember, the Closutton camp are less convinced than many that Cheltenham is not Chacun's bag. They believe a more aggressive ride, such as that subsequently executed at Punchestown, would have seen him to better effect than getting caught up in a steadily run affair last March. Personally, I think he didn't look comfortable on the Old Course at any stage when finishing only third to Put The Kettle On, but that's not the point.
Assuming Team Mullins don't repeat what they deem to have been a past mistake – and, as humans are involved, this cannot be guaranteed – this could surely impact on how the Champion Chase will be run. Who leads, Energumene or Chacun Pour Soi?
The latter would want Energumene to go faster than he did at Ascot – and that might yet be the tactical reboot favoured by their team for the younger horse's Round II with Shishkin. But any hope of Energumene slowing the pace down and kicking away would be minimal in this scenario. More likely is the potential for an unrelentingly run edition, either via Energumene setting out determinedly and Chacun Pour Soi taking over or, more likely, the older horse making the running and Townend refreshing Energumene's tactics by sitting second.
The problem for both of them is, Shishkin doesn't mind it any which way they serve it and if the pace isn't to de Boinville's liking, just as he did on Altior, he has the horse to intervene.
Ryanair Chase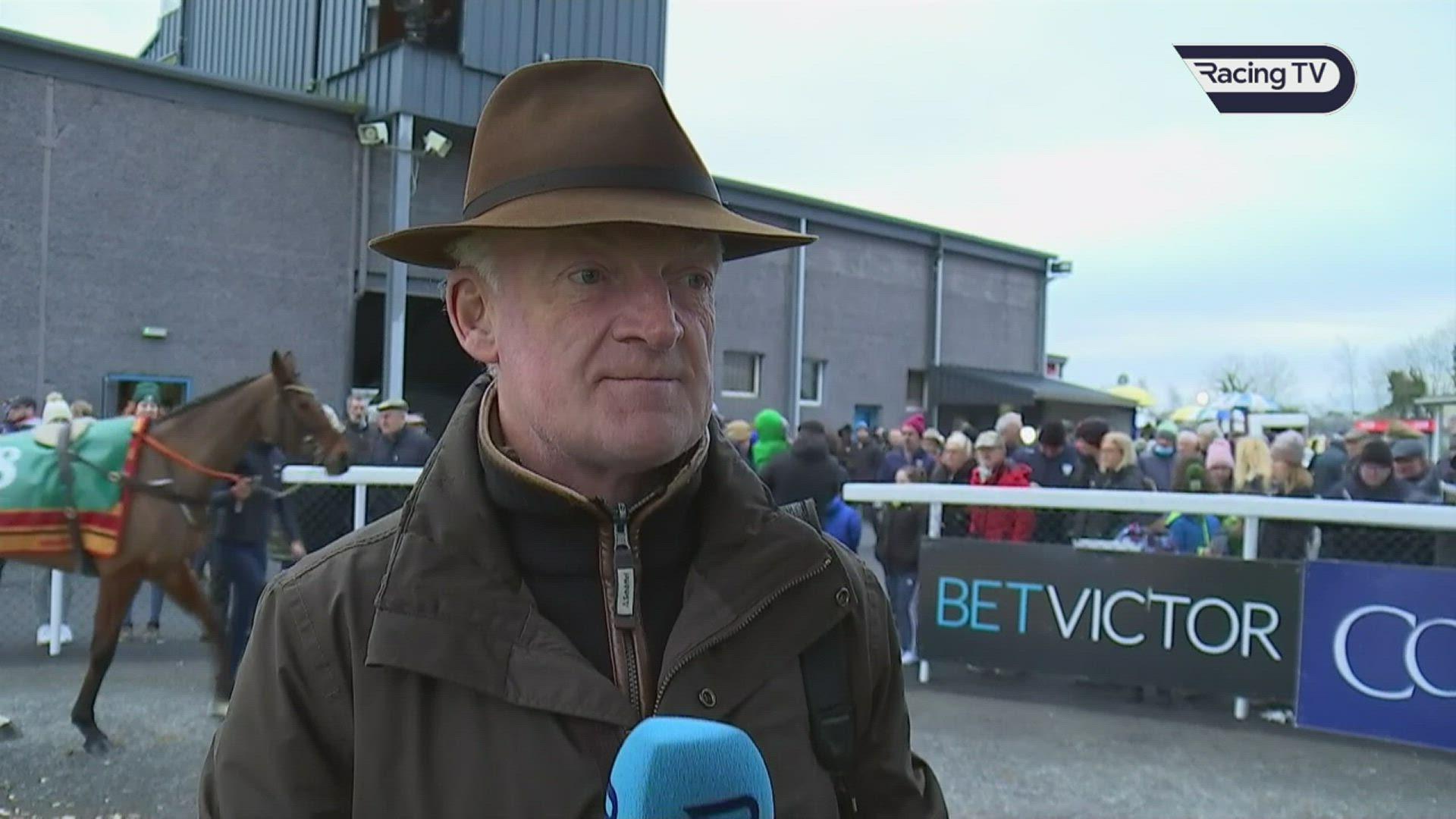 Willie Mullins gave his views on Allaho and Energumene to Gary O'Brien on Sunday
Allaho's task in seeking a repeat win of the Horse & Jockey Hotel Chase at Thurles last Sunday was made easier by the first-fence blunder of Fakir D'Oudairies. Perhaps the eventual runner-up was staging some sort of silent protest at again being asked to confront a rival who'd humiliated him by 12 lengths last term at Cheltenham and by eight lengths last time out in the John Durkan?
Willie Mullins commented afterwards that he'd been a little concerned by Allaho's jumping at the first three or four fences, putting this down to ring-rustiness and the distractions of the nearby racecourse stables and parade ring. This was a hyper-critical review given his reigning Ryanair winner largely jumped much straighter than is usually the case, particularly at a right-handed track.
His trainer did allow that he was "flying" at the business end, however, and it's certainly fair to agree that Allaho's jumping got more efficient as the race developed – bar for the last, where he'd powered down to it and was then given the option to pop by Paul Townend, causing a hybrid compromise that his mount nonetheless landed without once looking unsafe.
Given the modern bookmaking eagerness to price up races in March as if they're being staged this Saturday, it's mildly surprising Allaho isn't trading at odds-on NRNB to retain his Ryanair crown. Similarly, it would appear to be an omission that no firm has yet ventured even a defensive 'betting without Allaho' market.
I suppose there's still the theoretical possibility that stablemates Chacun Pour Soi or Energumene could switch up in trip, but it's hard to craft a case for any of his likelier rivals – especially if, like me, you think Shan Blue needs a flat track to be at his best.
King George winner Tornado Flyer, bashful would-be second Asterion Forlonge and John Durkan runner-up Janidil – all stablemates at Closutton – remain in the potential mix, to a greater or lesser extent but none looks so utterly suited to this particular New Course task as Allaho. Tornado Flyer in particular found the early stages of last term's Ryanair magnified his tendency to jump scruffily early on.
On that day, Allaho pulverised all rivals, forcing jumping errors, under an aggressive ride from Rachael Blackmore. With Townend at the controls this time, he looks all set to become the first horse since Albertas Run to triumph twice in that Festival race and only the second dual victor in its 18-year history.
Allaho played himself into form and fitness last season, having begun discouragingly behind Min at Punchestown before again seemingly failing to stay three miles at the top table in the Savills Chase. This improvement with racing may have been on Mullins' mind when – hallelujah – opting against the mooted notion of heading straight to Cheltenham after his seasonal debut. The greater polish in the horse's jumping perhaps bore out that decision.
Each-way at a decent enough ante-post price, Fakir D'Oudairies was my only way into the Ryanair in this column last year and he's probably in the same kind of form now. However, he only finished second because someone had to, having made mistakes, and looked far better suited by Aintree next time out – admittedly against second-rank opponents, Politologue aside (who bled).
Back at Thurles on Sunday, third-placed Notebook was beaten 21 lengths. He is neither this class nor seemingly equipped with sufficient stamina. It was a huge relief to read that Battleoverdoyen walked away from his thumping fall at the last.
At Lingfield, that same day, the inaugural running of the Fleur De Lys 2m6f conditions chase at the new Winter Million fixture went to Two For Gold, with both Dashel Drasher and Bristol De Mai carried out on their shields in second and third. Neither the winner (advantageously positioned to register a career-best here) nor the third is entered at the Festival but the former could again lock horns with the runner-up in the Ascot Chase over 2m5f next month.
Dashel Drasher is an improbably game and versatile horse – an utter credit to trainer Jeremy Scott, jockeys Matt Griffiths and Rex Dingle, and to everyone else who's played a part in making him one of the best features of British jump racing right now.
Here, having seen off the early attentions of Lieutenant Rocco and Bristol De Mai, he came back for more when headed by the far more patiently ridden winner – even getting his head back in front after the last, only to be worried out of it on the line.
After last term winning the same Ascot Grade One that represents his next target this season, Dashel Drasher was declared for the Ryanair, only to be withdrawn due to drying ground. He does have form left-handed, primarily on flat tracks but also at a much lower level as a novice hurdler at Cheltenham, so it wouldn't be surprising if Scott goes down this route again.
He's got just shy of a stone to find with Allaho, however, whose run style presents a problem because although the terrier-like Dashel Drasher doesn't need to dominate, he's never met any rival capable of such sustained aggression before. Cyrname raised the white flag against him at Ascot last year; he won't find Allaho so flaky.
It was devastating to lose Master Tommytucker to a fatal blunder three out, just as he was creeping into contention after consenting to settle under a wide patient ride from Harry Cobden. That night, after leaving a huge hole in our racing landscape, he was the subject of a moving tribute from Paul Nicholls' assistant trainer, Harry Derham, which I urge you to read (see below).
Waiting Patiently – last seen when pulled up in the Betfair Chase – continues to live up to his name in the hands of new trainer Christian Williams, as he missed this long-identified Lingfield target despite appropriate ground. Perhaps we'll also catch him in the Ascot Chase – a race he won for his former trainer Ruth Jefferson back in 2018 prior to finishing placed behind Cyrname the following year. He is without a Festival entry.
Fanion D'Estruval missed the Fleur De Lys in favour of Ascot's 2m5f handicap chase 24 hours earlier – and, under an accomplished attempt from amateur rider Lucy Turner, only just missed out to an exquisitely daring waiting ride on Phoenix Way from Kevin Brogan.
Fanion finished fifth, beaten 54 lengths, in last year's Ryanair and although he's an improved horse as a six/seven-year-old this season, he is still likely to find the demands of Cheltenham at this level too much for his relatively modest frame.
If you've listened to Paul Nicholls' interview last week on the Nick Luck Daily podcast (mentioned above), you'll know it's not impossible that 2019 Ryanair winner Frodon could be supplemented for the Festival, having not been handed an engagement at the entry stage. Nicholls mentioned the Ryanair when disclosing that such a strategy had been discussed with his owners. Prior to that, Frodon looks most likely to head to the Irish Gold Cup after not being entered for Saturday's Cotswold Chase.
Talking of potential supplementary entries, First Flow isn't entered in the Ryanair which now looks like an oversight. He was put in his place – a phrase I deplore because it's usually loaded with unconscionable meaning, but is fully justified in this context – with a 19-length defeat by Shishkin in last Saturday's Clarence House.
It was arresting to hear rider David Bass assert that, in his opinion, his mount ran better in defeat than when winning that same Grade One by seven lengths from Politologue in 2021. That's not a view borne out by any ratings organisations, of course, and might have been a function of First Flow travelling better for longer tracking an optimal pace rather than pressing or setting an overly strong one last year. He was still shrugged off from three out.
Prior to this, he had conquered new horizons when stepping up to 2m4f and winning the Grade Two Peterborough Chase at Huntingdon. Now, perhaps a Ryanair replete with Allaho isn't the time or place to explore this trip at Cheltenham – his existing Ascot Chase entry does look more appealing – but it's worth considering that his right-handed bias is likely to be less of an obstacle on the New Course than on his two past attempts at the Old.
Boodles Cheltenham Gold Cup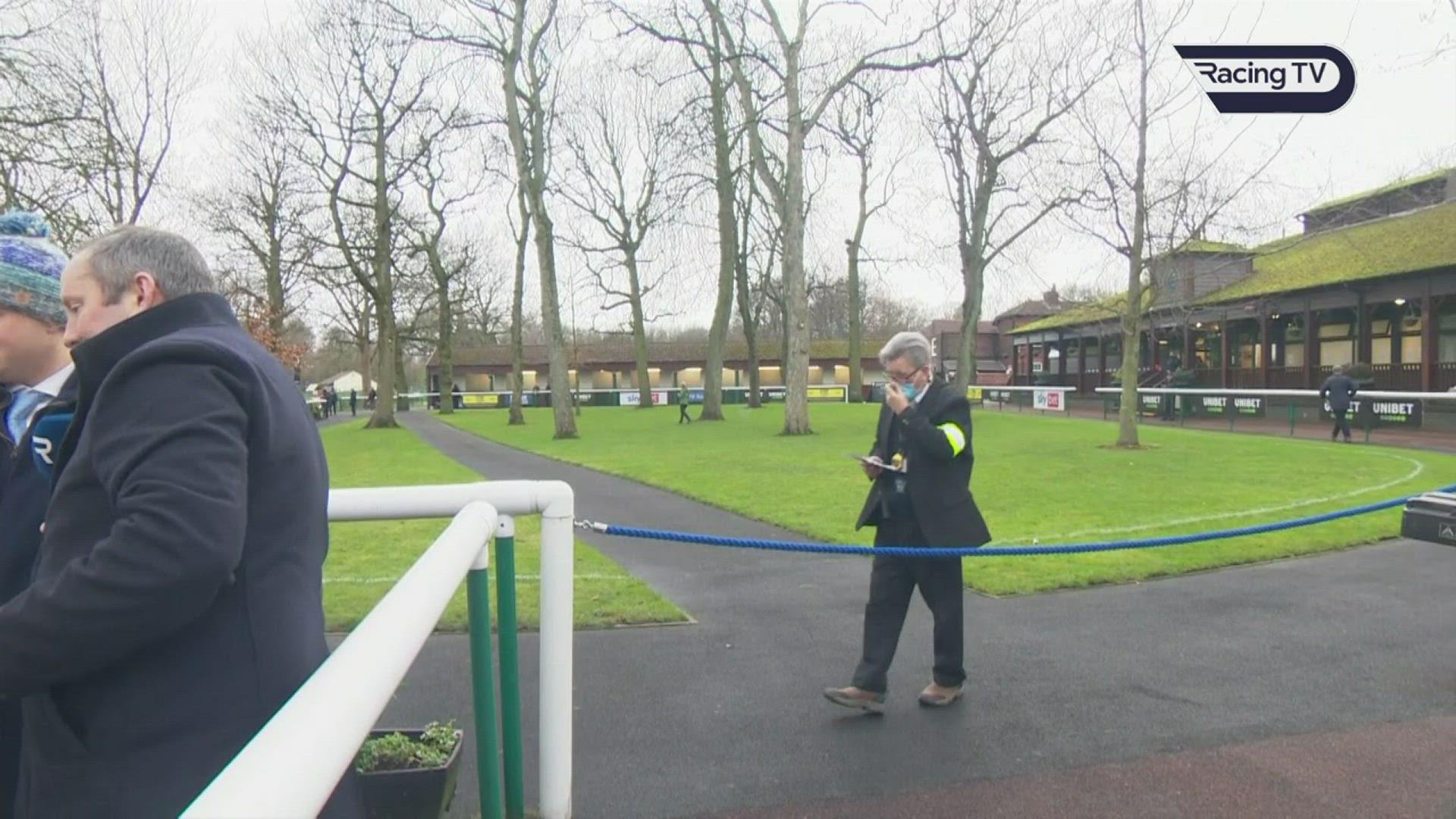 Great suit, great interview: Rich Ricci spoke with Niall Hannity
After winning back-to-back editions of the Peter Marsh Chase – his latest on Saturday a career-best from a mark of 163 – Royale Pagaille heads to the Gold Cup, according to Rich Ricci. Trainer Venetia Williams was more noncommittal, of course. "We've got to have another go," his owner told Racing TV presenter Niall Hannity in an interesting exchange at Haydock.
It was a first visit to the north-western track for Ricci, who enthused about the local welcome he received, happily signed multiple autographs and posed for selfies with racegoers. I'm not sure whether it was the vibe intended by Jockey Club Racecourses, but he compared the ambience favourably to his homeland racing experience. "It's almost like an American track," he said.
Ricci also referred to the injury Royale Pagaille sustained last year during the Festival's centrepiece event – for which the jewellers Boodles were this week announced as the new official sponsors, supplementing their support of the Fred Winter and leading jockey trophy. Having "torn off the front of his foot", the horse was lame for about three months and so was entitled to build here on his seasonal debut 22-length second to A Plus Tard in the Betfair Chase.
Royale Pagaille still tends to jump low, although perhaps not as heedlessly as previously, so Cheltenham and its undulations are likely still to be against him. Deeper ground would also be preferable. However, on figures, he's worth his place in the line-up and can be backed at 20/1 non-runner-no-bet with Bet365 if you're so inclined.
Back in fourth, fellow Gold Cup entry Remastered – who notably took a purler four out when holding every chance in the Ladbrokes Trophy – was given a ground-saving inside ride by Tom Scudamore until switched to the stands' side to deliver his challenge in the straight. That petered out almost as soon as it emerged, approaching three out. On all evidence to date, he isn't graded class in open company.
It's interesting to note that Al Boum Photo holds an engagement in the three-mile handicap hurdle at next month's Dublin Racing Festival, having also briefly held an entry in this week's Galmoy Hurdle. This indicates – even if the horse doesn't line up, as I suspect he won't – that Mullins is deadly serious about having wanted to get more match practice into the dual Gold Cup hero this time around.
Unibet Champion Hurdle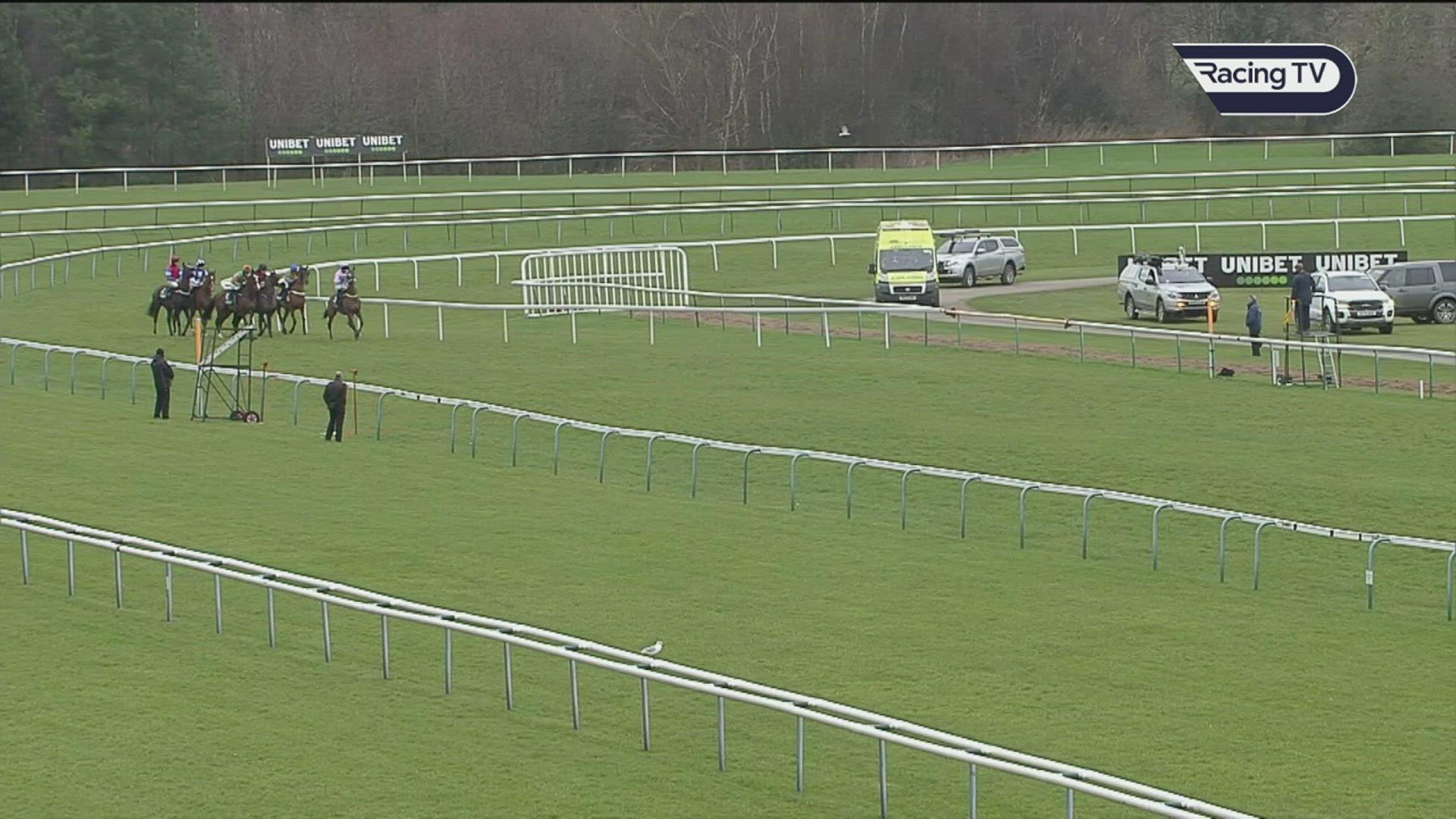 Watch how Tommy's Oscar breezed to the front
It should have been no surprise that Tommy's Oscar took a seamless step into graded company in 'The New One' Unibet Hurdle at Haydock last Saturday, as he'd already posted form good enough to win most renewals and was officially ranked 11lbs superior to his closest-rated rival. It was his handicap origins and the relative obscurity of his training operation that caused him to be sent off as long as the 4/7 favourite.
In reality, he also benefitted from a cool ride from Danny McMenamin – who allowed front-runners Navajo Pass and Global Citizen to race some 30 lengths clear in the early stages. This extreme shape of the race may have happened by accident, with Kielan Woods seeking to poach an easy lead on Global Citizen and titleholder Navajo Pass switching from reluctance to hair-trigger when Brian Hughes galvanised him into action.
These were no slouches to let loose on the lead – even if their recent form was underwhelming, both had been ranked in the 150s in their prime and were proven suited to flat tracks. It would have been a comfort to McMenamin that there were two to take each other on, but Global Citizen still finished a clear second, well clear of anything else.
Tommy's Oscar moved smoothly throughout, fully settled whilst essentially making the running in the chasing pack, and bore down easily on the leaders in the straight. Shortly after Global Citizen claimed Navajo Pass approaching two out, where the looming presence of the favourite may have prompted a less-than-fluent jump, Tommy's Oscar breezed past and won by five lengths.
This, his fourth success of the current campaign didn't represent an enhancement in form but trainer Ann Hamilton and husband Ian – who rightly pronounced themselves "chuffed to bits" to have a horse of this ability – are now persuaded to give the Unibet Champion Hurdle a spin (provided Niall Hannity drives the van). It's all up for grabs for second behind Honeysuckle, after all, and any horse can have an off day, step on a stone or make a chance-ending mistake.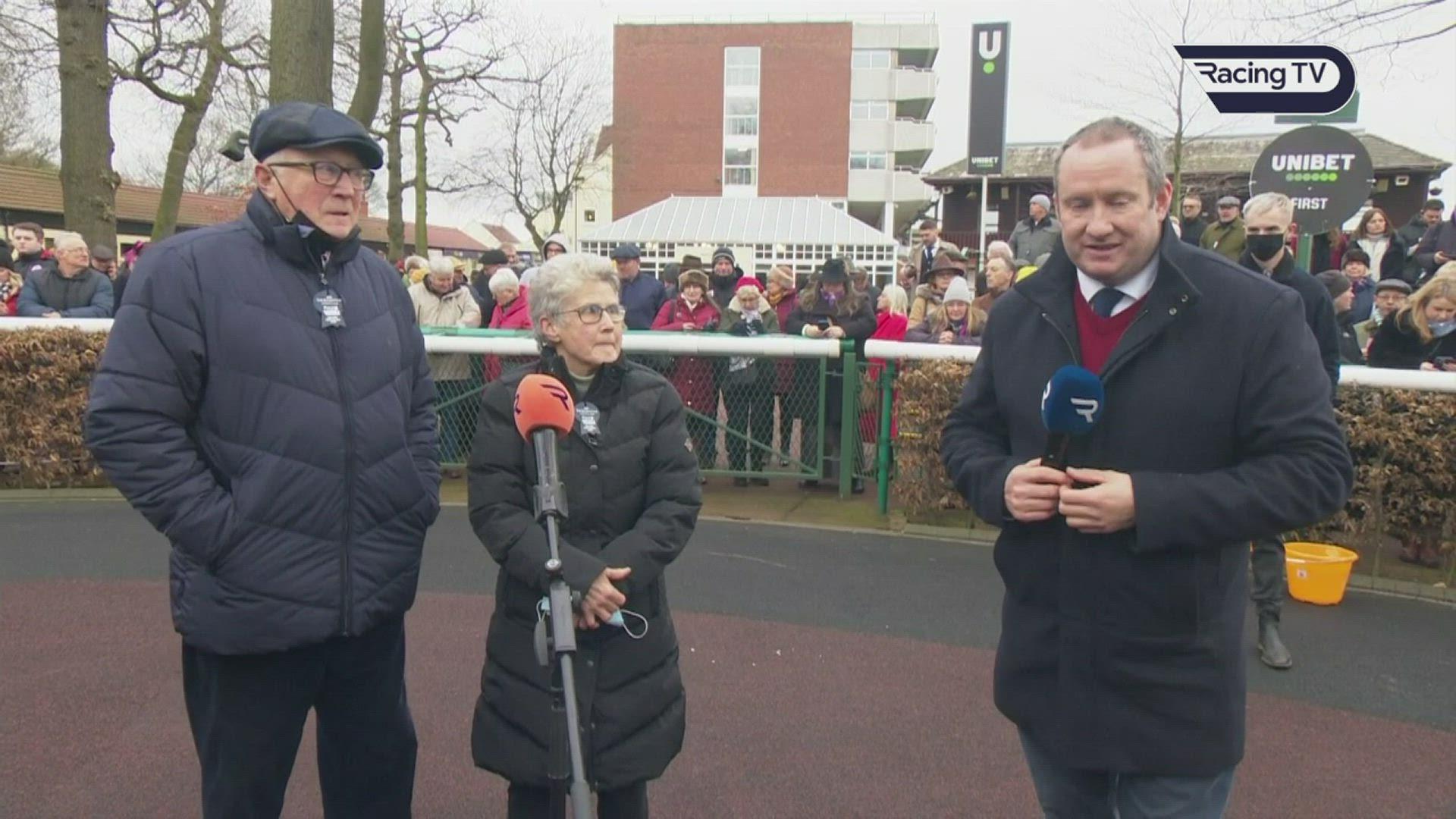 The Hamiltons look ahead to Cheltenham with their stable flagbearer
There's no doubt the form consistently posted by Tommy's Oscar this season fully justifies this decision. The specific concerns are twofold, however. First, that he's best on flat tracks – a point the Hamiltons have themselves raised. Second, that he adjusts right. It made no difference against inferior rivals even at a sharp track like Haydock, but that won't be the case alongside the likes of Epatante and Sharjah at Cheltenham's forever-on-the-turn left-handed Old Course.
Just ask Goshen, who did incredibly well to finish just over a length behind Brewin'upastorm at Lingfield last Friday when seeking to hang right at all stages. If only he'd done something memorably disconcerting to jog trainer Gary Moore's mind before making that entry, eh?
Novice chasers
(This column was written before news broke that Ferny Hollow is out for the rest of the season with a suspensory ligament injury. Evidently, his absence from the Cheltenham Festival has numerous repercussions for various races, but we must hope that this talented horse returns at full strength next season.)
Inexplicably undeterred by our Road To Cheltenham analysis, Henry de Bromhead has confirmed Bob Olinger heads straight to the Turners Novices' Chase without garnering further experience at the Dublin Racing Festival.
Concerns about his propensity to be careful in a Festival race in which the first fence comes up awfully quickly, often casting the dye on a field's relative racing positions, are clearly not shared. And who can blame him? Nobody's arguing that Bob doesn't have the engine of a top-class horse. It's just the price I can't like.
Edwardstone – Britain's great bay hope for the Sporting Life Arkle – had the form of his Henry VIII triumph doubly franked over the weekend by runner-up War Lord, who could yet reoppose at Cheltenham, and fifth-placed Minella Drama.
The latter was stepped up to two-and-a-half miles for the first time over fences at Haydock last Saturday and won by more than nine lengths from Hardy Du Seuil. Rarely will you see a more vivid example of idling, the speedometer on the bottom left of Racing TV's coverage dropping right down after the last, only to rev back up again after a few tail-flashes in fleeting protest against jockey Brian Hughes' brandishments.
Donald McCain described the winner as "a genuine Grade 1 performer". "It's been a slow process with him because he is wild in everything he does," the trainer explained. "You keep him away from other horses, his tail goes round and he does this, that and the other, but he's very, very talented. It was always the plan to come here, but we felt we needed to run him a few times over two miles first to get the freshness out of him. He's learning his job well."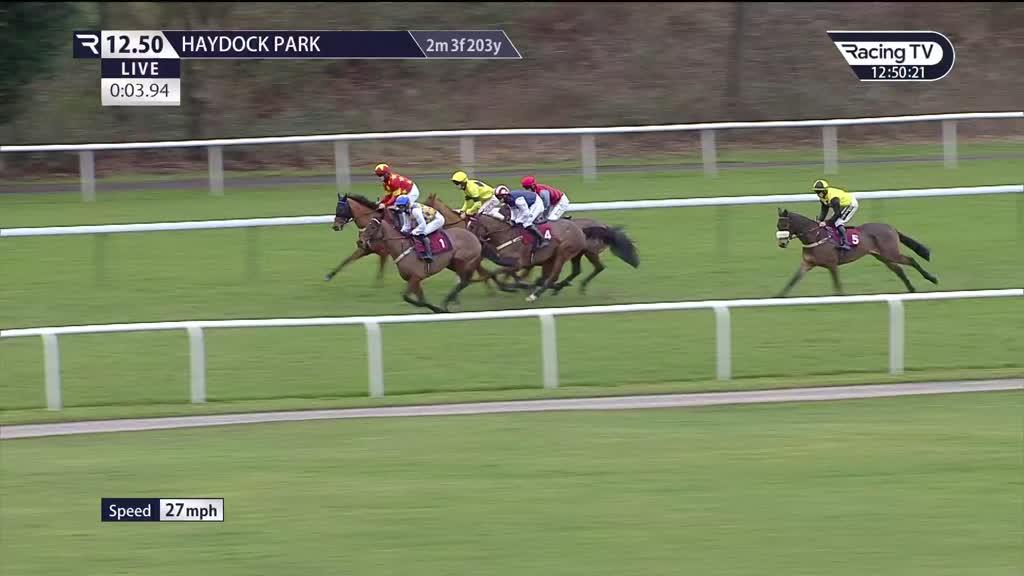 Minella Drama enhances his reputation at Haydock
McCain has designs on the 2m4f Manifesto Novices' Chase at Aintree but jockey Brian Hughes prefers Ayr's Future Champion Novices' Chase over the same trip – which in 2022 is the week preceding Liverpool and their proximity to each other would rule out both.
Joe Tizzard regards War Lord as a potential Arkle or Turners Novices' Chase candidate following his defeat of Faivoir and Il Ridoto at Lingfield last Sunday. The winning grey looked to be getting the worst of his duel with front-running Il Ridoto for much of the straight, but his stamina kicked in from the last and his main adversary even capitulated into third near the line.
"I think War Lord is getting better," Tizzard said. "He can step up in trip when we need to but, on this ground, we don't need to yet."
Fantastikas's victory at Lingfield two days earlier also underpinned the form of L'Homme Presse's Dipper success. Upped to a more suitable near-three miles, this success qualified him for the NH Chase, should trainer Nigel Twiston-Davies wish to take up that entry. The horse also holds an ambitious entry in the Brown Advisory.
He jumped increasingly left in the final throes of the race and ultimately only just clung on in a head-bobber with Queenohearts. The favourite Broken Halo burst a blood vessel.
Novice hurdlers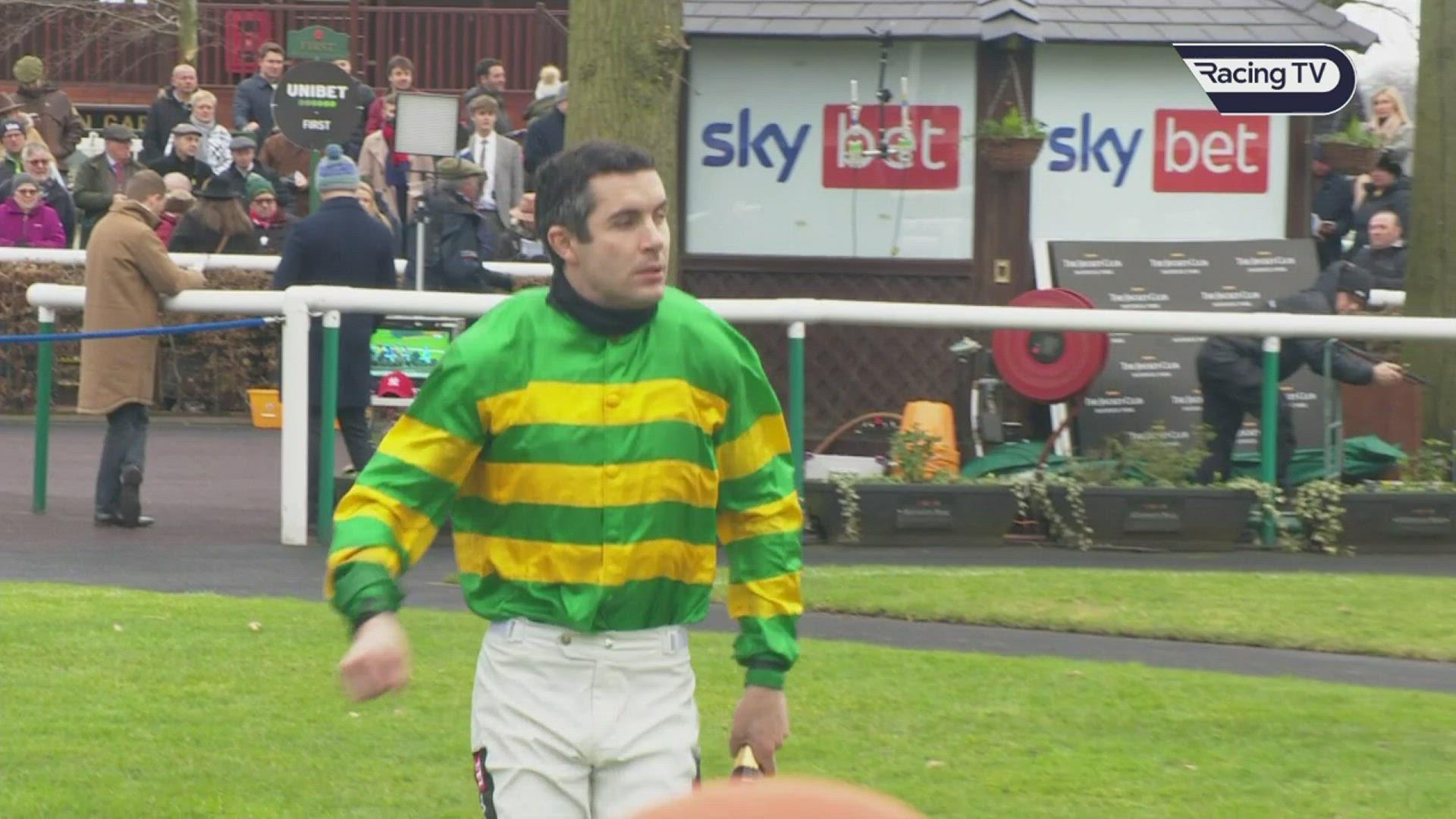 Aidan Coleman told Niall Hannity about Jonbon's latest success
Jonbon was evidently sent to Haydock for further experience – and that's what he got. Having sweated up beforehand, he was faced with a steadily run race for the Sky Bet Supreme Trial Rossington Main and was required to quicken twice to settle matters – once when checked three out by Donny Boy jumping out to right into his path and again when ridden to lead after the last.
His post-race reviews were unfairly muted, given he jumped neatly and coped with new tactics. The workmanlike aspect of this victory to the eye, as with Jonbon's angled head carriage when chasing a quickening pace in the straight, was surely more of a function of the way this race was run rather than exposing any deficiencies in the winner.
Literal comparisons with Constitution Hill, on a linear line through third-placed Might I (who received 5lbs from Jonbon and had conceded 3lb to his stable companion), are a bit frontbench Tory. (I'll let you fill in those blanks, quite literally.)
Rather than allow Jonbon to stride on, as he did when faced with a slow pace on his previous two hurdling starts at Ascot and Newbury, this time Aidan Coleman asked him to settle without cover and win a pouncing race – good preparation for the likely mechanics of the Sky Bet Supreme, albeit that will surely incorporate a strong tempo with Dysart Dynamo and Constitution Hill on the scene. The evidence to date suggests Jonbon will perform better for it, too.
His temperament continues to be a point of discussion and the lathered state in which he lined up did nothing to turn down the volume. Yet it continues to be the case that any pre-race blemishes are utterly absent from his on-the-job demeanour. I guess it's possible that trainer Nicky Henderson could apply a red hood, for the preliminaries only, or earplugs to be removed at the start at Cheltenham, but he wouldn't want to do anything that altered Jonbon's attitude to racing.
Some bookmakers eased him to third-best in the Supreme betting following this three-length defeat of the likeable and advantageously positioned Richmond Lake. But I think that was more to do with wanting, pre-race, Dysart Dynamo to be outright second favourite than anything much that Jonbon did. That's understandable – as I've said before, I think the Double D should be favourite in this market.
He's also second or third favourite behind stablemate Sir Gerhard in the Ballymore market, vying with Journey With Me. The latter's trainer Henry de Bromhead has intimated that he could take a quieter route to Cheltenham than had been projected, via a Naas auction movice in mid-February rather than the Dublin Racing Festival.
De Bromhead also intimated that Largy Debut, who bled and hung right when flopping behind Mighty Potter in the Future Champions Novice Hurdle over Christmas, might not take up his Cheltenham entries and instead wait for right-handed Punchestown at the end of April.
Stablemate Grand Jury, the Lawlors Of Naas runner-up, holds an entry in all three Festival novice-hurdle contests. Leopardstown Christmas winner Watch House Cross, who only lacks an Albert Bartlett entry, has an option at Punchestown next Monday instead of the Dublin Racing Festival.
Last week's shake-up in the Albert Bartlett Novices' Hurdle market was sadly caused by a setback to ante-post-favourite Blazing Khal, whom trainer Charles Byrnes reported to have sustained a minor injury necessitating "a couple of weeks off". Trading as short as 4/1 at the time, the dual Cheltenham winner won't be rushed to the Festival but will instead be targeted at the Punchestown version at the end of April.
Ginto is now the marginal ante-post favourite for the Potato Race, although he sits jointly alongside Journey With Me in some books. Ginto's stablemates at Gordon Elliott's yard, Hollow Games and Gerri Colombe, are only a point or three longer.
Their trainer continues to be helpfully clear about his team's likely intentions, having confirmed that Hollow Games, rather than Ginto, will represent him in the Grade One Nathaniel Lacy & Partners Solicitors Novice Hurdle at the Dublin Racing Festival. Either the Ballymore or the Albert Bartlett remain potential targets for both horses, dictated by the ground.
Elliott also reiterated his view that last Sunday's Thurles novice hurdle winner Gerri Colombe will improve for a more galloping track and greater ease in the ground. His jumping had lacked fluency when dispatching fellow Albert Bartlett entries Idas Boy, who recovered his form for first-time cheekpieces, and Churchstonewarrior.
Having raced wide and consistently lost ground at his hurdles, Gerri Colombe overcame a slow jump three out to challenge Ida's Boy at the next and they both dropped Churchstonewarrior on the run to the last. That horse, who'd looked potentially flattered when fourth behind Ginto in the Grade One Lawlor's Of Naas, was making a relatively quick reappearance. Ida's Boy produced the better final leap but was ultimately mastered by more than a length.
Gerri Colombe is unbeaten after five starts in three different disciplines – Points, bumpers and now twice over hurdles. He gives the impression both of still-untapped potential and of just doing enough to win. He will need to be highly talented to seize a race as searching as the Albert Bartlett, however, which – as mentioned previously – rewards experience at least as often as it does talent.
Finally, it's worth mentioning the smart mare Love Envoi, who scooted away with Lingfield's Winter Million Mares' Novices' Hurdle – a contest that was one of the better fits for this inaugural fixture within the wider programme. Harry Fry's progressive mare is now unbeaten in four starts, three over hurdles. She travelled strongly and looked well at ease on testing ground.
Juvenile hurdlers
Days after announcing that exciting juvenile In This World would miss the rest of this season, Dan Skelton unleashed a seemingly smart debutant at Ascot. Seemingly because Doctor Parnassus comfortably dispatched more experienced rivals – none of whom appeared to be at their best – by ten lengths off a muddling pace in the opening race last Saturday.
The Paul Nicholls-trained Irish Hill was sent off favourite to follow up his Taunton success in first-time cheekpieces, but he didn't jump well enough and was beaten before getting to the straight. Twilight Twist, who'd shaped better than the bare form behind Interne De Sivola at Cheltenham in December, was too keen and beaten even further out.
Restitution – beaten 29 lengths in third by Iceo on his hurdling debut – put up a fight, leading until collared by his rangier rival at the last. Doctor Parnassus was previously a maiden in ten starts for David O'Meara on the Flat but was deemed good enough to contest the Melrose and is a half-brother to Metier, who'd coincidentally returned to winning ways for Harry Fry at Lingfield the preceding day. The size of him suggests he might have been too immature for a three-year-old campaign on the level, but he's now a different proposition for his new trainer.
"Doctor Parnassus is quite a trainable, robust juvenile and that helps as you can train him harder and get him fitter," Skelton said. "I'm not sure whether to stick to small fry or to go to the Adonis, but he'll run before Cheltenham."
The following day at Warwick, Saint Segal justified prohibitive odds of 1/7 to win a juvenile hurdle by three lengths without being challenged or asked to come out of cruise control. The Grade One Finale runner-up raced freely, but there were signs that he was learning to be more tractable. He wasn't entered in the JCB Triumph Hurdle this week, but the Boodles Fred Winter and an alternative campaign in France remain open to him.
Although Gordon Elliott this week entered both Triumph favourite Fil Dor and stablemate Pied Piper against their elders in the Sky Bet Supreme Novices' Hurdle this week, he has stressed that the juvenile event remains the Festival target for both of them. Both are owned, like Supreme and Ballymore entry Mighty Potter, by Caldwell Construction but are likely to take each other on at Cheltenham.
The Racing TV Euros12 Per Month This Weekend Only Spring Juvenile Hurdle will be Fil Dor's next race, whilst Pied Piper will be in action sooner in this Saturday's JCB Triumph Hurdle Trial at Cheltenham – also known as the Finesse by those of us who like to be able to differentiate which damn race we're talking about.
Lydia's portfolio:
Advised 26/04/21: Energumene at 14/1 (general) for the Ryanair Chase
Advised 10/11/21: Nube Negra each-way at 25/1 with Bet365 for the Champion Chase
Advised 30/12/21: Galvin at 6/1 (general) for the Cheltenham Gold Cup
Advised 06/01/22: Telmesomethinggirl at 13/2 with Bet365 for the Close Brothers Mares' Hurdle
Advised 06/01/22: Burning Victory at 16/1 with Paddy Power for the Close Brothers Mares' Hurdle
Advised 13/01/22: Hollow Games at 8/1 (with various firms) for the Albert Bartlett Novices' Hurdle
Advised 13/01/22: Dinoblue at 8/1 (general) for the Dawn Run Mares' Novices' Hurdle
Advised 20/01/22: Galopin Des Champs at 8/1 for the Turners Novices' Chase
Ruby's portfolio:
30/12/21: Al Boum Photo at 16/1 (general) for the Cheltenham Gold Cup He wishes he'd said each-way. But he didn't.