Joe Tizzard is savouring the prospect of an early-season showdown between Native River and Might Bite in Haydock's Betfair Chase on Saturday.
The pair, trained by Tizzard's father Colin and Nicky Henderson respectively, went toe-to-toe in the Cheltenham Gold Cup last term – with Native River eventually proving four and a half lengths too good after an enthralling battle which rendered the other 13 runners mere bystanders on the day.
Native River enjoyed an extended break following that gutsy triumph, while Might Bite went on to notch a seven-length success in the Betway Bowl at Aintree, and assistant trainer Tizzard is eager to see how the pair shape up on their seasonal bows, when they will be faced by a maximum of seven other rivals.
Might Bite is Evens with Betfair, with native River 11-4. Bristol De Mai, the runaway winner last yearm is 5-1, with Thistlecrack, also trained by the Tizzards and an intended runner, being 8-1.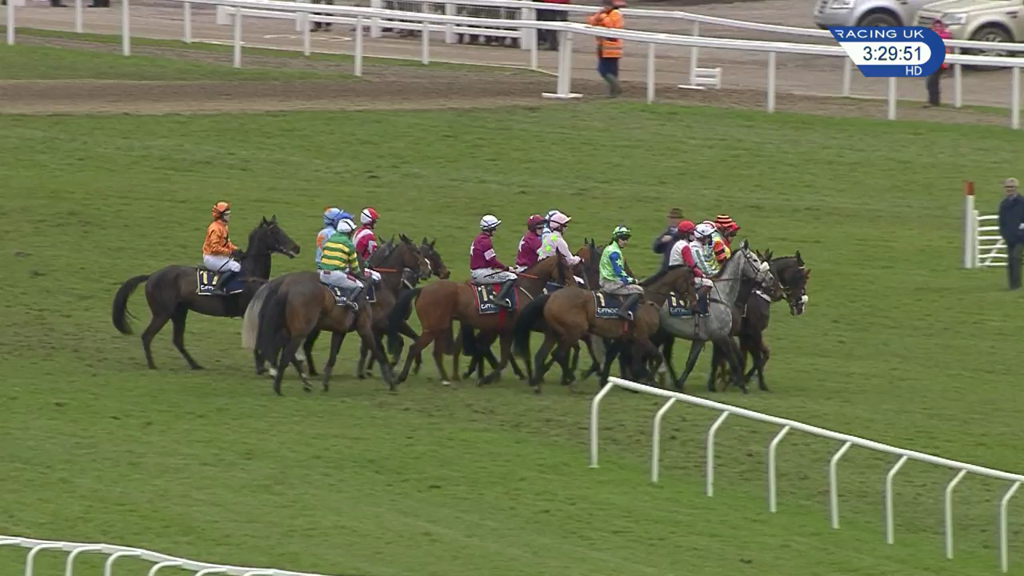 Rewatch last season's Gold Cup
Tizzard said: "Of course we are (looking forward to taking on Might Bite). It was a hell of a duel in the Gold Cup, and I'm glad we came out on top.
"It was good to watch. It was nice to see Might Bite bounce back at Aintree and slaughter the rest that day, because it just franks the form even more.
"It is nice to have those two competing all the time, and it would be great for racing and great for us. We have got massive respect for him, but we are not going to hide away from him. We are looking forward to it."
He added: "With Native River, it has always been the plan to go straight to Haydock. He has been back in since the middle of July and hasn't missed a day. Touch wood, he is a very sound horse and is really good.
"In fairness, we could have probably run him again after the Gold Cup last year. He came out of it really well but he just jarred himself up a bit the year before and we didn't want to take any risks again. So we turned him out and now we have had a proper preparation this year. I can't wait to run him.
"Native River handles Newbury well and I think Haydock has a nice, galloping straight, so you can wind it up from a long way out. I don't think the course will be a problem - he has been pretty good around a lot of tracks. He managed to win a Hennessy, a Welsh National and around Aintree, so we are not worried about it at all."
While Native River is undoubtedly the Tizzard team's number one hope, they have an admirable second string to their bow in Thistlecrack – an impressive winner of the 2016 King George VI Chase, who has had his problems since.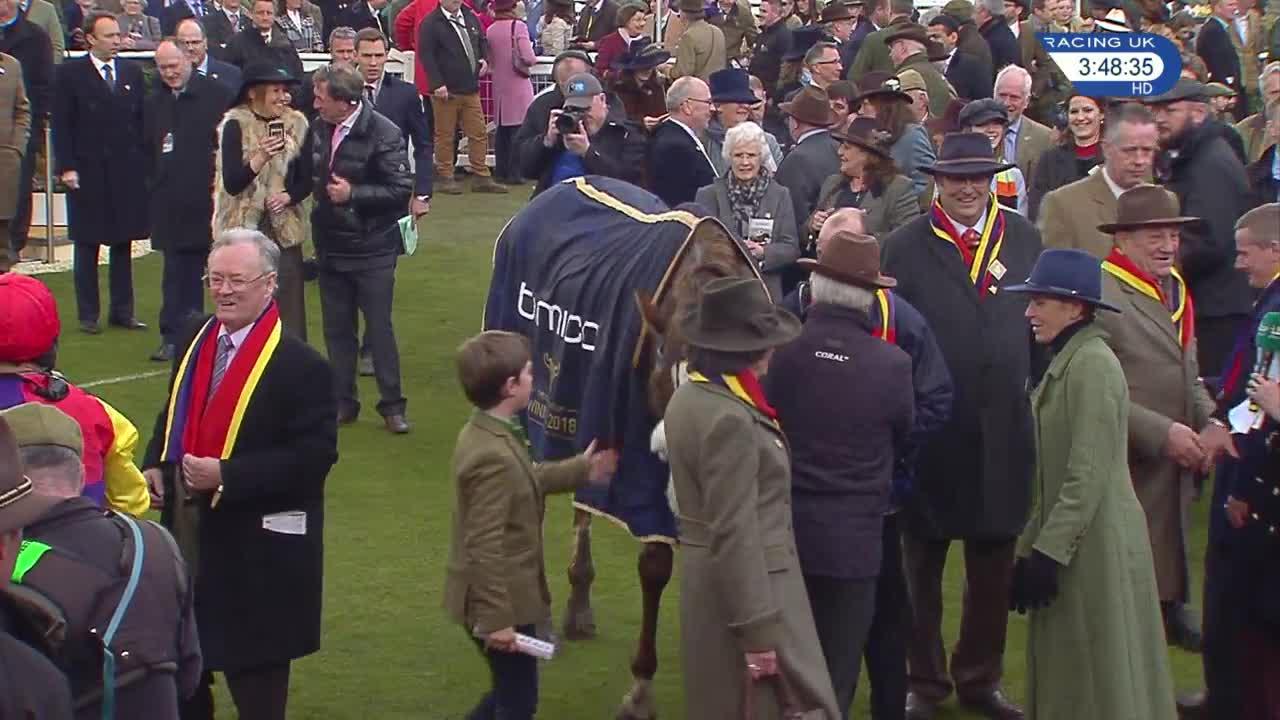 Now a 10-year-old, Thistlecrack was forced to bypass an intended run in last month's Charlie Hall Chase at Wetherby because of the quick ground, but Tizzard expects him to take his chance on Saturday – with the going currently reported to be good to soft.
Tizzard said: "We were always fighting a battle with Thistlecrack last year physically - he was on and off, not 100 per cent sound. We ran him at Newbury knowing that it would bring him on. He was big that day and then we thought he ran a really good race in the King George, when we started to think that he was coming back.
"But he was sore coming out of it and had a stress fracture of his hind leg, so he did the best part of three months stood in his box, which mended it. He was ready to run at the back end of the season but we ran out of time and ran out of ground.
"He only had six weeks turned out - he's quite a burly, big horse and we didn't want him to be out in the field and get too fat. He has been back in since the beginning of July and could have run three weeks ago, so we have just been waiting for the ground to come right and he is ready to go.
"Thistlecrack will run on good to soft or good - it was just quicker than that at Wetherby, where it was good to firm. Hopefully, we have had enough rain and it will be fine. If the ground stays as it is, we have no problem running both of them.
"He came back from the King George sore and we couldn't get to the bottom of it for two or three days, so we sent him off. He was completely bone-scanned and that's what showed it.
"We wanted to get a run into Thistlecrack at Wetherby. He would have got away with no penalties and, if the ground had been right, it is a good little race. We didn't have a Cue Card this year and, had it been a fraction softer, Thistlecrack would have gone.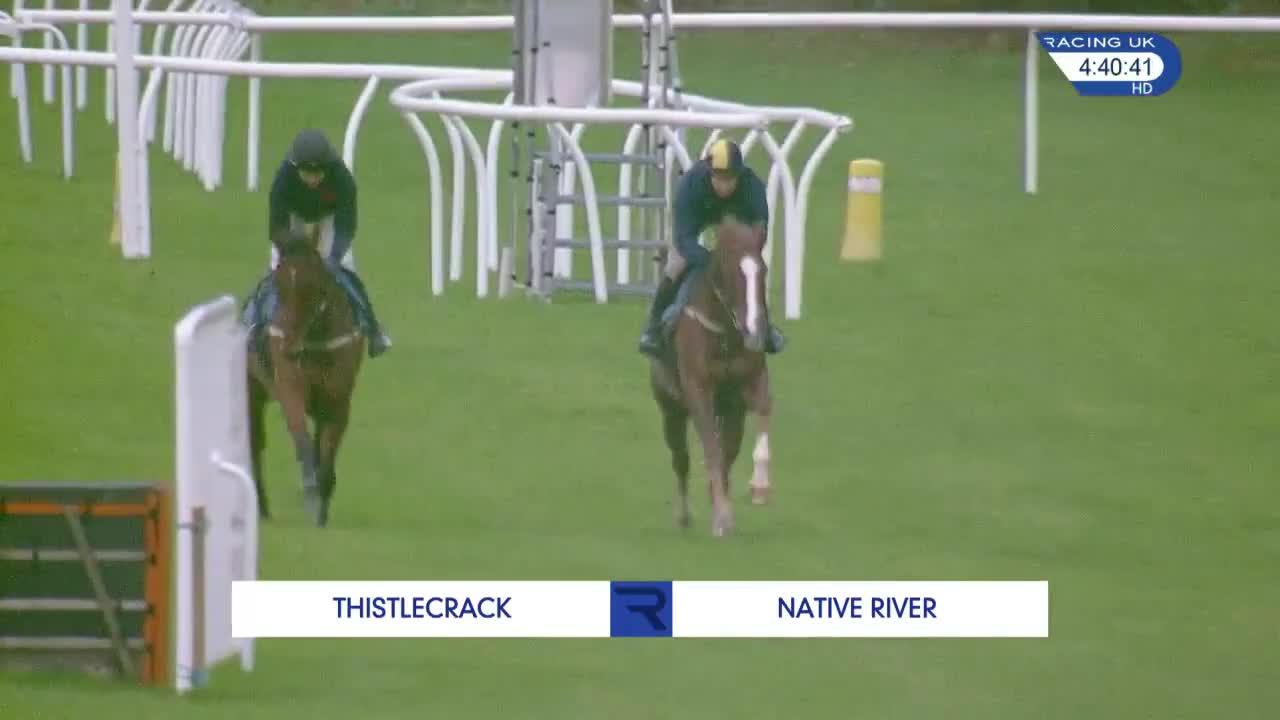 Native River and Thistlecrack galloped together at Exeter last week
"He not a young horse, he is getting older, so this is probably his last season to be at the top of his game and we need to get him out in these big races as often as possible.
"It has been frustrating not getting Thistlecrack to a Gold Cup. We were so excited about running him in it, especially after he won the King George, but that's horses. We still think we have one more chance with him and hopefully we will get him there.
"Obviously, the question mark with him is are we ever going to get him back to the old Thistlecrack? At home, we think that we have got him back to virtually there. He is working particularly well and looks well."
Both horses geared up for Saturday's Grade One feature with a racecourse gallop together at Exeter last week, and Tizzard was more than satisfied with how that worked out.
He added: "They both went down to Exeter last Wednesday – we just had an away day. We didn't want to gallop them particularly hard, because we can do that at home. We just wanted to take them for an away day to get their blood up and let them enjoy themselves.
"They had a two-mile gallop, and Tom (Scudamore on Thistlecrack) and Dicky (Richard Johnson on Native River) had a chance to sit on them both again. They went a bit quicker up the straight.
"Native River had a school on Sunday morning over fences and he schooled absolutely beautifully. We will just do standard stuff on the way up to the race."
Betfair Chase Betting: The sponsor bets: Evens Might Bite, 11-4 Native River, 5-1 Bristol De Mai, 8-1 Thistlecrack, Clan Des Obeaux, 10-1 Politolgue, 12-1 Shattered Love, 25-1 Don Poli, 33-1 Outlander.
To Win the Jockey Club Triple Crown: 9-1 Any Horse, 12-1 Might Bite, 33-1 Native River, 66-1 Thistlecrack, 200-1 Bristol De Mai, 200-1 Politologue