Racing TV presenter Angus McNae analyses the Course Track sectionals to highlight three horses to follow from last week, with a 14-1 Betfred Derby hope catching his eye at York's Dante Festival.
The best time performance from last week was produced in defeat by Highfield Princess in the 1895 Duke Of York Clipper Stakes at York's Dante Festival.
She raced up with a strong pace, and was picked off late by Azure Blue who she was conceding five pounds to. It was a tremendous effort that suggests she will have strong claims of recording more Group One glory this season.
Below, I have three more horses that are worth adding to your Racing TV Tracker based upon the sectionals they clocked last week.
---
Add an unlimited number of horses into your Racing TV Tracker and never miss a winner again! Click here for more details.
---
Noble Style
There is a big day ahead for Noble Style, but predicting when is the hard part, and he finished fourth in the Listed Carnarvon Stakes at Newbury on Saturday which was won by the impressive Shaquille.
The race was run evenly, as evidenced by the Finishing Speed Percentage (FSP) of 101.48%. The winner, who is a very useful type, made all and won decisively by two lengths.
Noble Style raced towards the rear and was poorly positioned with the way the race developed. He also seemed to be found out by the early pace, possibly due to racing over a mile in the QIPCO 2000 Guineas last time out.
He was the slowest horse through the first furlong (14.52s) and the second slowest through the second furlong (10.86s).
He dropped to last place again through the third furlong where he recorded an 11.00s furlong, and was the only horse in the third furlong not to dip under 11.00s.
Once he warmed to his task, he finished his race off well, and his final three furlongs of 34.59s was the fastest in the race (the winner recorded 34.73s).
If you break those numbers down further, his 11.38s in F5 and 12.21s in the final furlong were the quickest in the race.
A return to sprinting seemed to be a shock to the system, according to the Course Track numbers, but his final two furlongs showed that the speed he produced en route to victory in the Gimcrack at York last year is intact.
A stiff six furlongs at Ascot in the Commonwealth Cup will suit him, and he will be sharper for this effort. He is a best-priced 12-1 for that race, which seems to be fair.
---
Mostabshir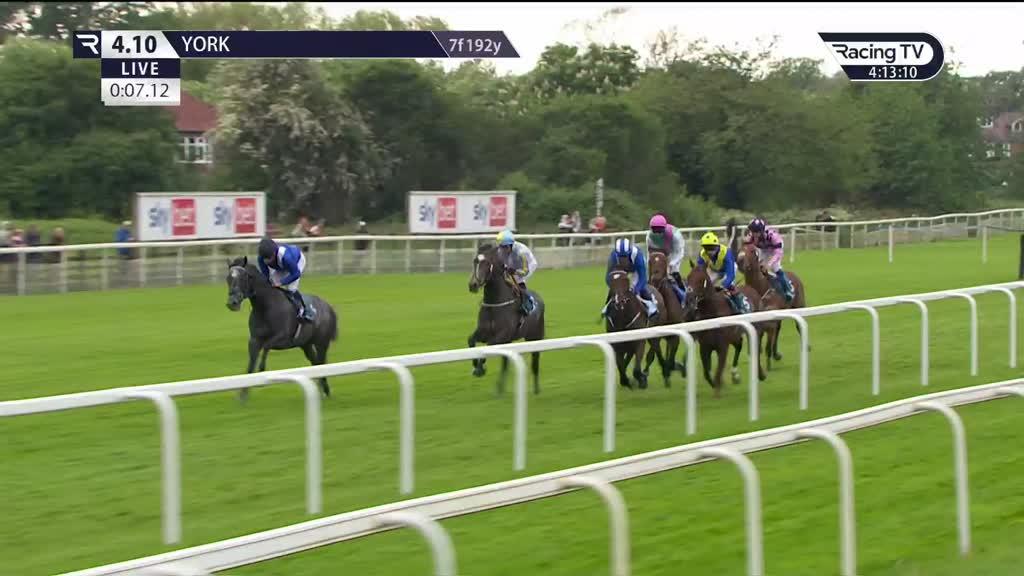 We saw a number of slowly run races at the Dante Festival, most notably the Musidora and Middleton Stakes.
The Novice Stakes that Mostabshir won on the final day was another tepid-tempo race, but it was won in fine style. This race is an object lesson in not dismissing all slowly run contests as being misleading.
Mostabshir received an easy lead, with his rivals racing keenly behind him. His first four furlongs were pedestrian, and the Course Track sectionals show that he dictated matters at the following speeds:
F1: 14.42s
F2: 13.48s
F3: 13.85s
F4: 13.41s
There is nothing remarkable in those figures for an eight furlong contest, but what is impressive is the way Mostabshir quickened.
He went from a fourth furlong of 13.41s, to a fifth furlong of of 11.85s. That's a 1.56s quicker furlong, which equates to him running the equivalent of nine lengths quicker in the fifth furlong than he did in the fourth.
He then went even faster through the next three furlongs recording individual splits of 11.10s, 10.76s and 11.48s. That is a sustained burst of speed and, given that his rivals effectively gave him a head start, he was always going to be impossible to catch.
His FSP of 113.58% is indicative of the steady early pace resulting in a fast finish, but it also tells us just how strongly Mostabshir finished this race. The overall time for his final three furlongs was 13.58% quicker than the previous five.
His raw speed will enable him to be competitive in much better company.
---
---
White Birch
The Al Basti Equiworld Dubai Dante Stakes has been described as something of a muddling affair won by The Foxes, with Passenger taking up a lot of column inches after a luckless passage through the race.
All of the noise after the race did not take into account what the Course Track sectionals told us, which was that White Birch is the contender to take out of the race.
He was held up in a contest that wasn't strongly run, although it wasn't a crawl, and the FSP for the winner of 105.79% suggests it was just an ordinary gallop, allowing horses to finish strongly. White Birch was held up having been slowly away and made his challenge away from the principals towards the stands' side.
His final three furlongs of 34.26s was the best in the race, and the winner clocked 34.63s. If you look closer at the data, you will see that through each of the final four furlongs, White birch was quicker than The Foxes, and he didn't beat him because he was at a positional disadvantage.
Below are the final four furlong splits for the winner compared to White Birch:
The Foxes: 11.51s 11.09s 11.56s 11.98s.
White Birch: 11.38s 11.06s 11.46s 11.84s.
White Birch did take a little while to gather momentum, but these figures show just how strongly he finished the race. He will have no trouble staying a mile and a half, and the Betfred Derby is surely worth a go. He looks to have at least good place prospects at 14-1.
This is a classic example of why Course Track numbers are so valuable. Whilst all the noise surrounded Passenger and The Foxes, the data told us what actually happened in the Dante, and that White Birch has slipped under the radar.
Win a Table for four in the Premier Lounge at Sandown on the Sky Bet Sunday Series fixture in August! Click here to enter.