By Andy Stephens and Harry Allwood at Spurles Farm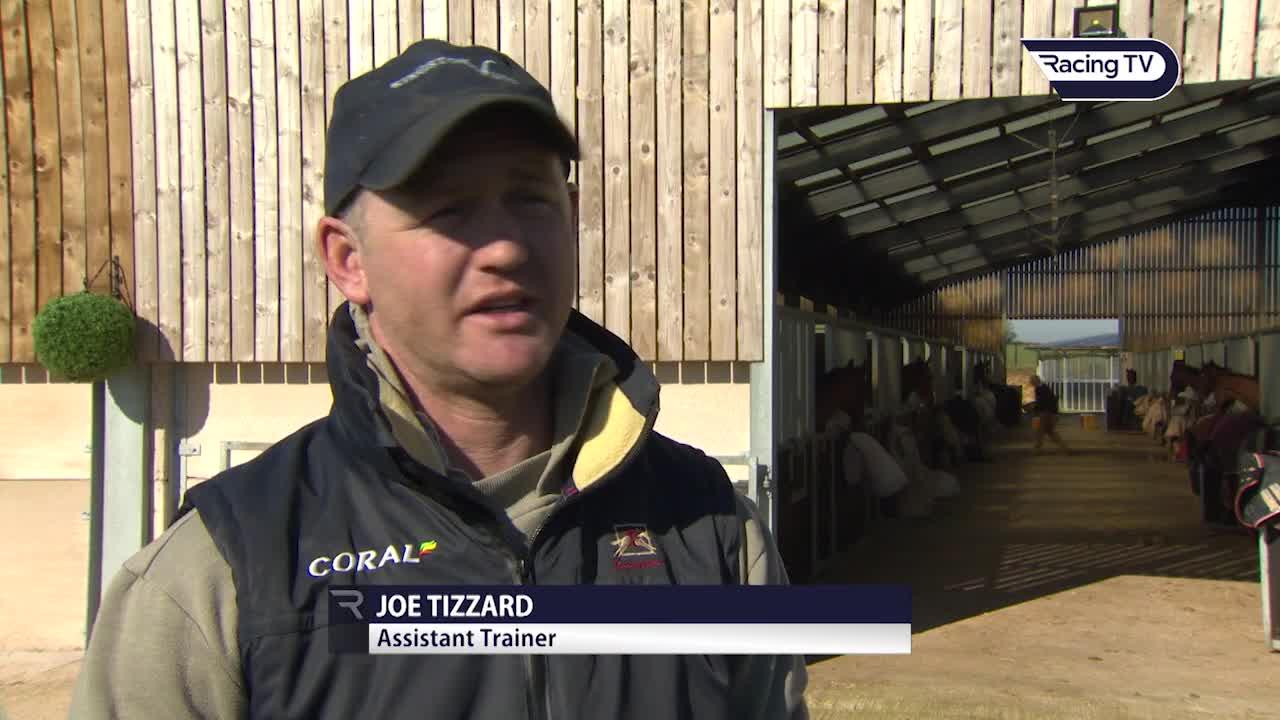 Listen to what Joe Tizzard told Nick Lightfoot about the yard's Festival contenders
Colin Tizzard realised a lifelong dream last year when Native River landed the Cheltenham Gold Cup and the nine-year-old will spearhead his Cheltenham Festival team next month.
Thistlecrack is also on track to have his first crack at the Magners Cheltenham Gold Cup. The 2016 King George VI Chase winner is set to be one of three runners in Cheltenham's blue-riband race for Tizzard, the other being Elegant Escape.
Tizzard has trained six Cheltenham Festival winners and has a strong hand for next month's four-day bonanza.
Here's what the 63-year-old told Racing TV about his leading lights on Monday (February 25).
CYRUS DARIUS
Race: Coral Cup Handicap Hurdle or County Hurdle. Best odds: 50-1.
He had ulcers which explained why he ran disappointingly at Cheltenham last time. He seems to be fine now and we could run him this weekend just to see where we are with him.
He is a very good horse who has very good previous form. We will have a go at some of the big festivals with him just in case we can get him right again so the Coral Cup or County Hurdle are possibles.
ELEGANT ESCAPE
Race: Magners Cheltenham Gold Cup. Best odds: 25-1.
Tizzard gives his reaction to Elegant Escape's latest run at Cheltenham
Elegant Escape has won a Welsh National, finished second in a Ladbrokes Trophy and chased home Frodon at Cheltenham this season.
He has done everything right, is a young, improving horse and off a rating of 162, he doesn't have to find much to figure in the Gold Cup. When he was second to Frodon the last day, the winner did pick up again in the closing stages, but significantly, we had got caught five or six lengths behind him at the top of the hill and then had to make up those lengths turning in, before his effort just petered out late on.
My immediate thoughts after that was that the Welsh National might have taken a bit more out of him that we first thought. He has had six weeks off since and he looked very good on the gallops this week.
Elegant Escape is a younger horse and he is still improving with every start. His last run was his highest-rated performance. He is a big, strong horse who is doing it at the moment.
ELIXIR DE NUTZ
Race: Sky Bet Supreme Novices' Hurdle. Best odds: 10-1.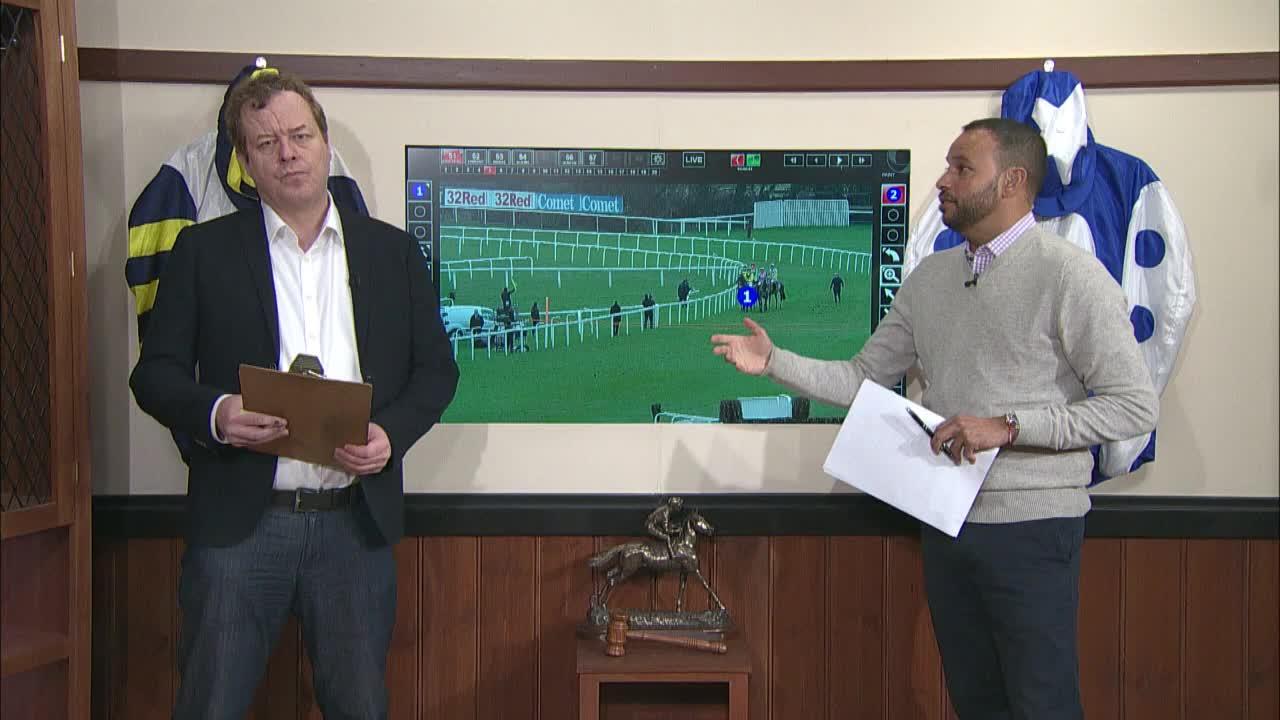 Our experts analyse Elixir De Nutz's Grade One Tolworth Hurdle victory
Elixir De Nutz is in good form. He was absolutely brilliant in a gallop at Wincanton last Monday. We could have another little away day, but we might leave him be as he looks very fit. His form stands up to anybody else's in the Supreme Novices' Hurdle.
He pulls quite hard and goes well from the front, so we will be making the running on him.
FOX NORTON
Race: Ryanair Chase. Best odds: 16-1.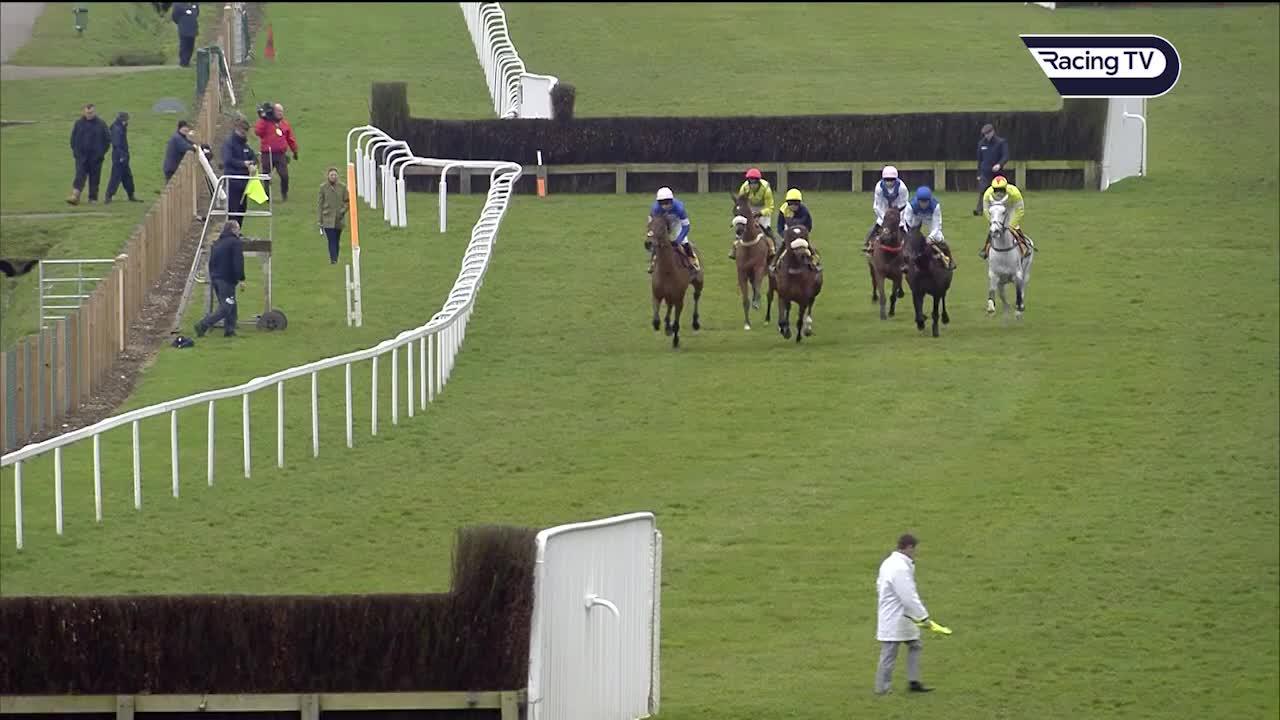 Fox Norton finished third behind Cyrname in the Betfair Ascot Chase last time out
Fox Norton is slipping under the radar a little bit. I thought he ran a lovely race at Ascot in the Ascot Chase. He jumped a bit flat and sometimes he has a little bit of back trouble, so he had to have a little bit of medication in his pelvis.
I think the Ryanair Chase is the plan at the moment. It all hinges around Altior and if Altior lines up in the Champion Chase, then we might go for the Ryanair, but we will keep the door open for the time being.
It was his second run back and he was much calmer last time. He was only beaten a couple of lengths by Waiting Patiently which is good form. I think he is more of a two and a half-miler and ground-wise, he is probably better off on softer ground.
KILBRICKEN STORM
Race: Sun Racing Stayers' Hurdle. Best odds: 25-1.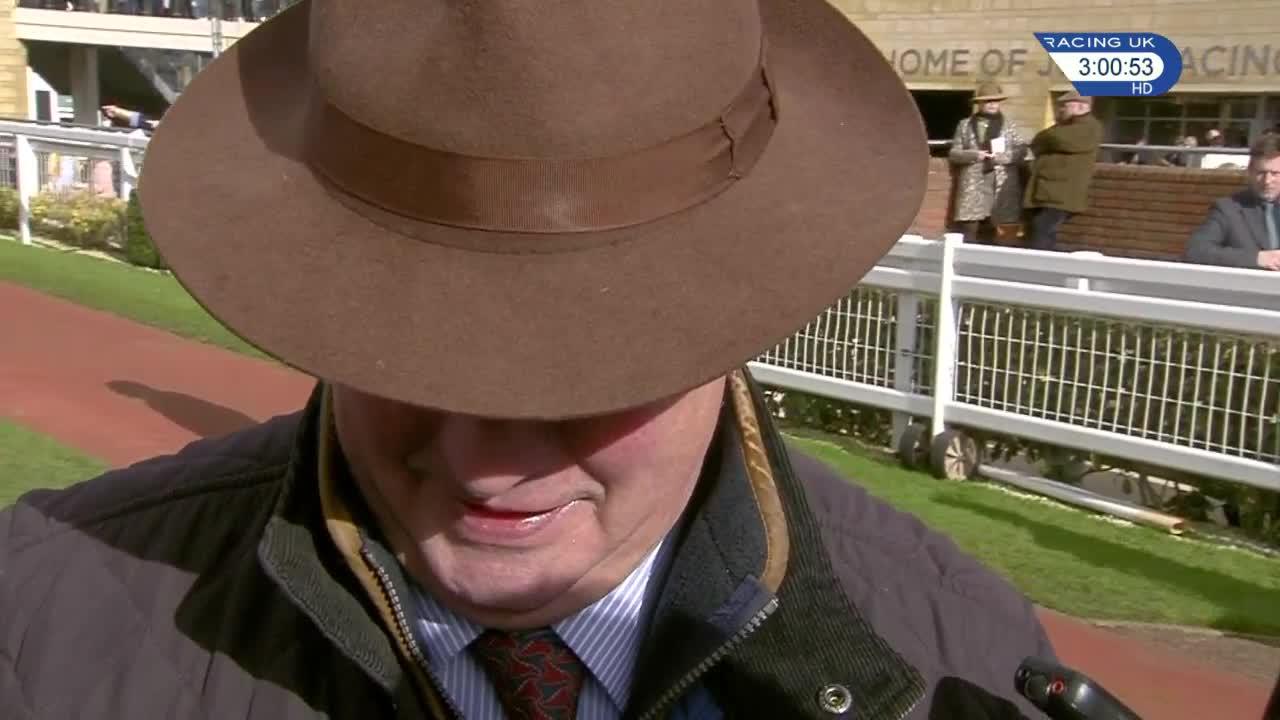 Tizzard after the victory of Kilbricken Storm last year
Kilbricken Storm is a bit of a forgotten horse. He was very good with Elixir De Nutz, Master Debonair and Native River at Wincanton last week.
He finished right upsides them and was brilliant. We started off this season going novice chasing and he was alright at Ffos Las first time up, but at Newbury he ran no sort of race and he had to have six weeks off after that race.
Since we've started back, he has been very straightforward and he runs in the Stayers' Hurdle too. He won the Albert Bartlett quite easily last year and I've been very happy with him.
He was the one I took out of my Wincanton gallop and came out of that fresh as a button - he's in lovely form. I'm not too worried about him not having a run over hurdles this season as he's had two runs and a racecourse gallop, so we just have to hold our nerve a bit.
LOSTINTRANSLATION
Race: JLT Novices' Chase. Best odds: 7-2.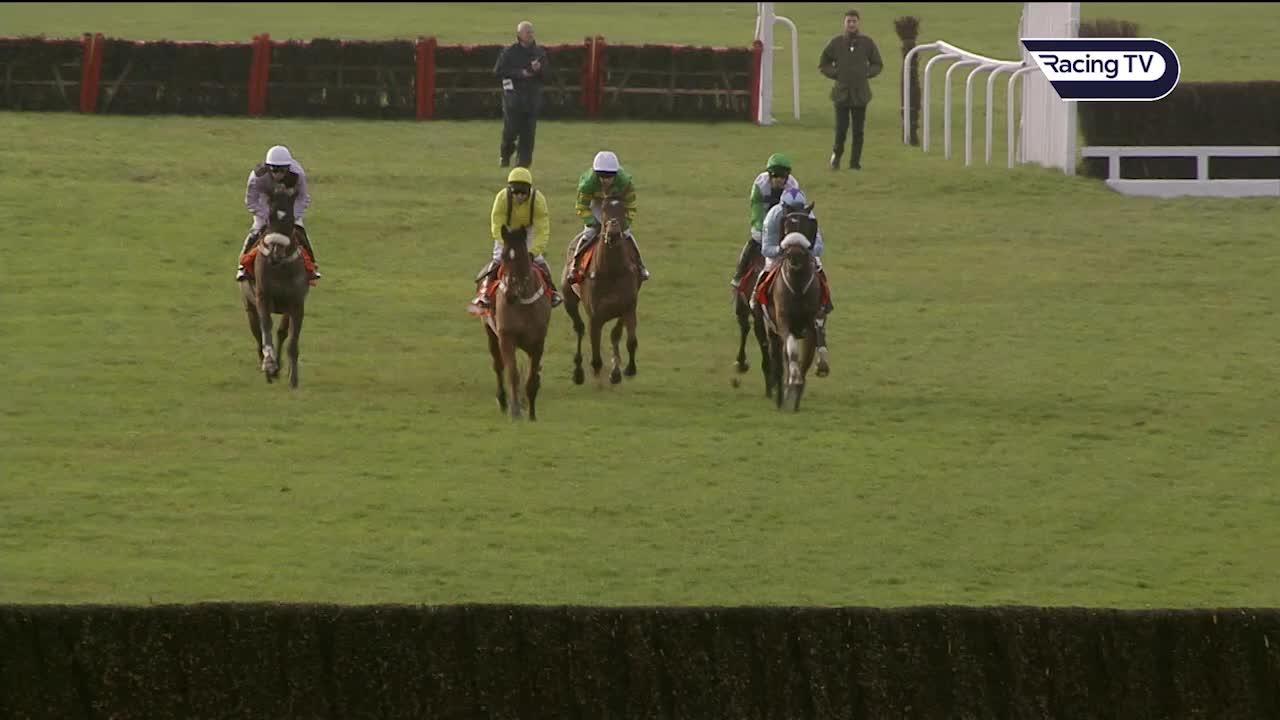 Lostintranslation found only Defi Du Seuil too good in the Grade One Scilly Isles Novices' Chase last time out
Lostintranslation was second to Defi Du Seuil at Sandown last time and that is good form. He is just a lovely horse and he also has winning form round Cheltenham and the track will suit him. I'm sure they'll go a good pace, he can jump off pretty handy and he is a big, strong horse.
Whatever he does this year, I see him as a Gold Cup horse for next year - he is more about stamina than speed, but the JLT Novices' Chase is going to be the target this year.
He was slightly done for speed at Sandown, but that won't happen at Cheltenham because there will be plenty more horses in the race and the stamina should come into play a bit more - he is a lovely horse for the future."
MASTER DEBONAIR
Race: Weatherbys Champion Bumper. Best odds: 16-1.
Master Debonair won a bumper at Cheltenham in November
He is well-bred and goes for the Weatherbys Champion Bumper. He has won two of his three bumpers and did it well at Cheltenham last time. He was very good in a gallop at Wincanton. He won't need to do any more work now.
He has won on autumn ground at Cheltenham, but spring ground will be fine. He is not a big horse and has form in the bag - whether it is good enough is anyone's guess. Hopefully, we will aim for the Supreme Novices' Hurdle with him next year - he is a good horse.
MISTER MALARKY
Race: RSA Insurance Novices' Chase. Best odds: 33-1.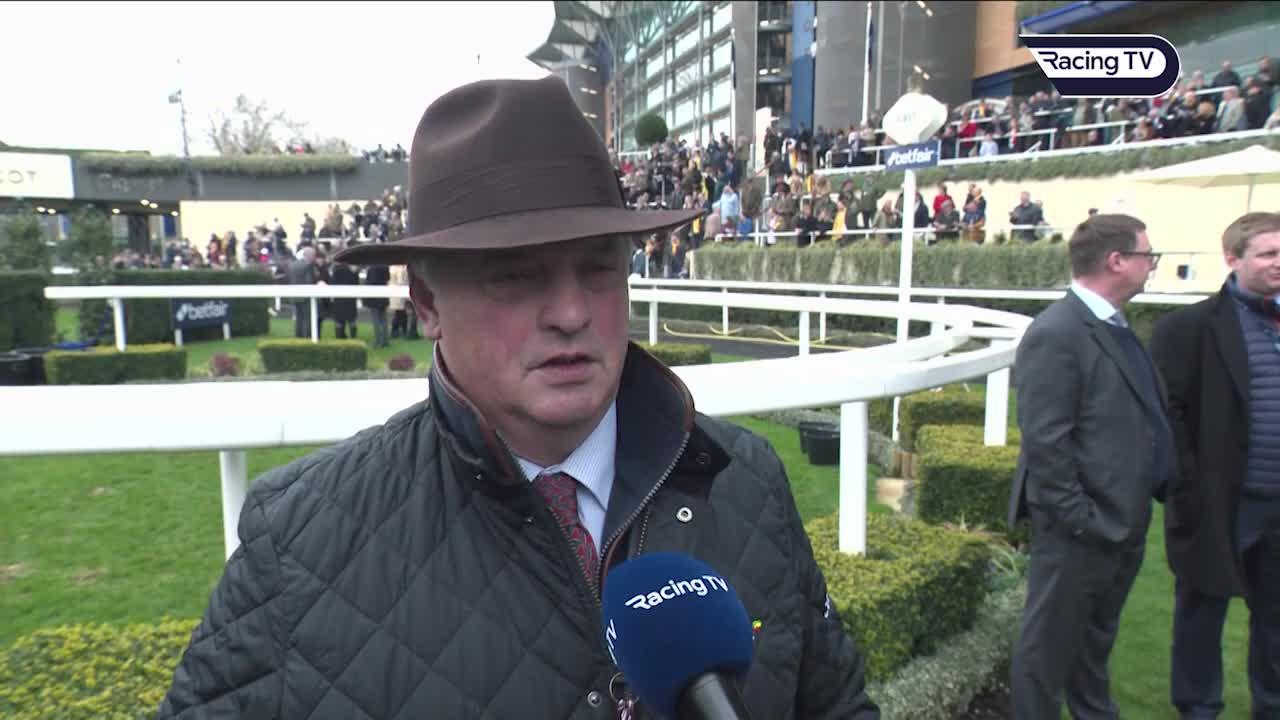 Watch what Tizzard had to say to Racing TV after Mister Malarky's success at Ascot
He has been a revelation over fences and is rated 148 so he is good enough to run in any of the big novice chases at Cheltenham, including the RSA Insurance Novices' Chase.
The ground was quite quick at Ascot the last day when he won, so hopefully the ground will be softer at Cheltenham. He jumps very well and is a thorough stayer. The owners are interested in the RSA.
He is also in the National Hunt Chase over four miles, but at the Cheltenham Festival, all of the leading Irish amateurs usually have rides for the big Irish trainers, so finding the right jockey for the amateur race is definitely something that comes into play.
We had exactly the same conversation when Native River ran in the four-miler and Mister Malarky is similar in that he is a horse who stays very well.
The four-miler people say is an easier race than the RSA, but I don't think it is as some very good horses have run in it and have then been damn good three-milers the year after. It might come down in the end to whether we can get a top professional on Mister Malarky and if we can't then the RSA could be where he ends up.
MOLINEAUX
Race: Ultima Handicap Chase. Best odds: 66-1.
I was disappointed he got beat at Exeter last time, but he will be entered for two races at Newbury this weekend as he probably won't get into the handicap races at Cheltenham off his current mark of 131. We don't want to leave him until Cheltenham and he doesn't get in.
It probably wouldn't hurt him to have another run quickly too and on better ground, you can usually do it. The idea is if he wins at Newbury and comes out the race fine, he would have a penalty which would make sure we get into Cheltenham.
NATIVE RIVER
Race: Magners Cheltenham Gold Cup. Best odds: 6-1.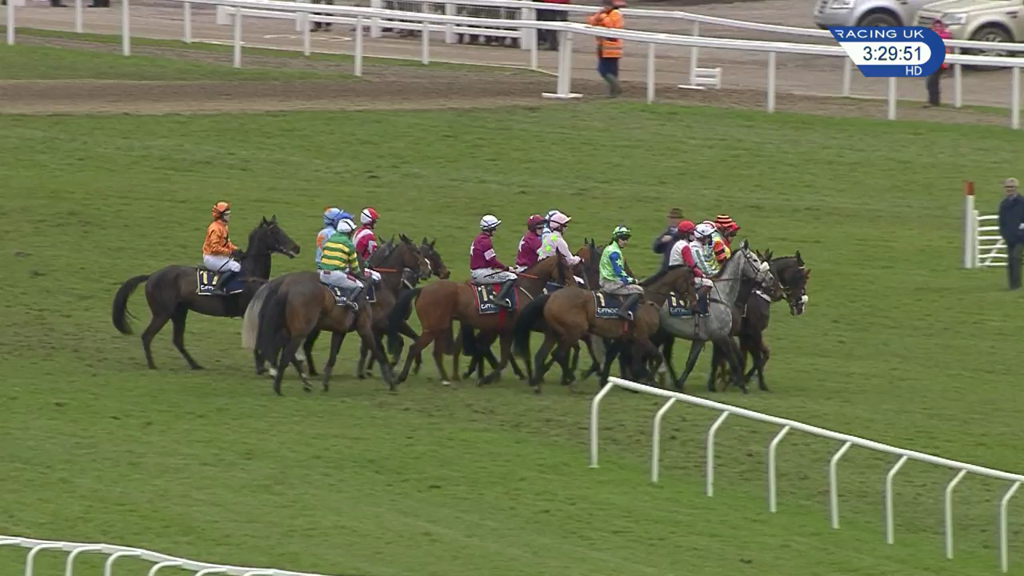 Native River will bid to become the first back-to-back winner of the Cheltenham Gold Cup since Best Mate
Native River is in good form. He got beat by a good horse at Haydock on his first start of the season and going into the King George, we were concerned about his performance at the track in the Kauto Star Novices' Chase where he was always looking to go out left-handed and he did exactly the same in the King George.
Five fences from the finish in the King George, you thought he was going to be pulled up, but then he stayed on really strongly and, if the race had been another couple of furlongs, he could have been right up with them at the finishing line.
The Gold Cup is a longer race at three miles and two furlongs and the King George is run 56 seconds faster than the Gold Cup, so that obviously brings Native River, with his stamina, right back into it. Most of his wins have come on left-handed tracks, but you cannot necessarily say that he doesn't act as well right-handed.
He was alright at Wincanton in a recent racecourse gallop. I'm not going to say he was very good as he has never won a gallop on our uphill gallop at home in his life. He is just a stamina-laden horse and he looks fit. Looking at him this morning, he looks fine and we probably won't go for another away day with him.
We'll probably school him on Thursday in the indoor school just for a bit of practice and then we will hold our nerve with him and hope Cheltenham put on plenty of water this week and then it rains, so we have nice heavy ground!
We don't want Cheltenham being quick ground - we want to have it on the slow side. Last year, we only had one run with him before the Gold Cup which he won well. He was right on his game in the Gold Cup last term. We've got two runs into him this year, he's had a racecourse gallop and you can guarantee that Richard Johnson (regular jockey) will want to get out in front and make a pace of it which worked for us last year.
It would be nice to have some company for him up front this time around as the more pace, the better. Native River is a thorough stayer.
Presenting Percy is obviously a very good horse and connections have their reasons for only running him once. He is a very good horse and has been favourite all winter.
I think there are at least half a dozen horses with a chance of winning the Gold Cup this year and it is a very open renewal as there is no Kauto Star, Denman or Best Mate in there. I think it will come down to stamina because three miles and two furlongs round Cheltenham, nothing is left to chance and it is a stamina race.
Native River is not a slow horse and has won over two miles before. Heavier ground will slow some of the other horses in the race, but obviously not our lad. Ironically, we used to think Native River didn't necessarily like heavy ground earlier on in his career because he does have a beautiful, low action, but we know that softer ground will play to his strengths more than quicker ground.
If Native River is on song, which he should be, he has got as good a chance as he had last year.
Winning one Gold Cup is hard, to win two in a row, you need to be very good. It is a championship race and not many horses win back-to-back championship races. You need to be right on the day, but I'm happy with Native River coming into the race. We have not run the legs off him this winter and he should have plenty of petrol left for a spring campaign.
RUSSIAN HAWK
Race: Albert Bartlett Novices's Hurdle. Best odds: 33-1.
He got beat at Ascot the other day, but is a fantastic looking horse and he will be exciting to go chasing with next year.
I would maybe run him in the Albert Bartlett, but the owners would like to run him at Sandown Park on the Saturday before Cheltenham. He wants a stamina test, so he would want it softer than good ground.
If it came up soft or heavy at Sandown then we would go there, but if it came up good ground, then we might wait and head to Cheltenham where he might run into a place in the Albert Bartlett. He is on the improve, and is a lovely, big horse.
SLATE HOUSE
Race: Racing Post Arkle Novices' Chase. Best odds: 66-1.
He needs a good run and he might end up running at Aintree rather than Cheltenham. He broke a bone on the back of his knee towards the back-end of last season and spent two months in his stable, so that is why he has been a bit slower to get going this term and it takes them a while to get back to where they were.
If he did go to Cheltenham, he is in both the Arkle and JLT, but I think we will run at Newbury on Saturday and then see where we are.
THE RUSSIAN DOYEN
Race: Close Brothers Novices' Handicap Chase. Best odds: 25-1.
The Russian Doyen scored at Newbury last time out
He has won two starts this term and he is a beautiful horse.
Looking at him now, that is the biggest and strongest that I have seen him. He is on the improve, and the Close Brothers Novices' Handicap Chase could be the race with him.
THISTLECRACK
Race: Magners Cheltenham Gold Cup. Best odds: 16-1.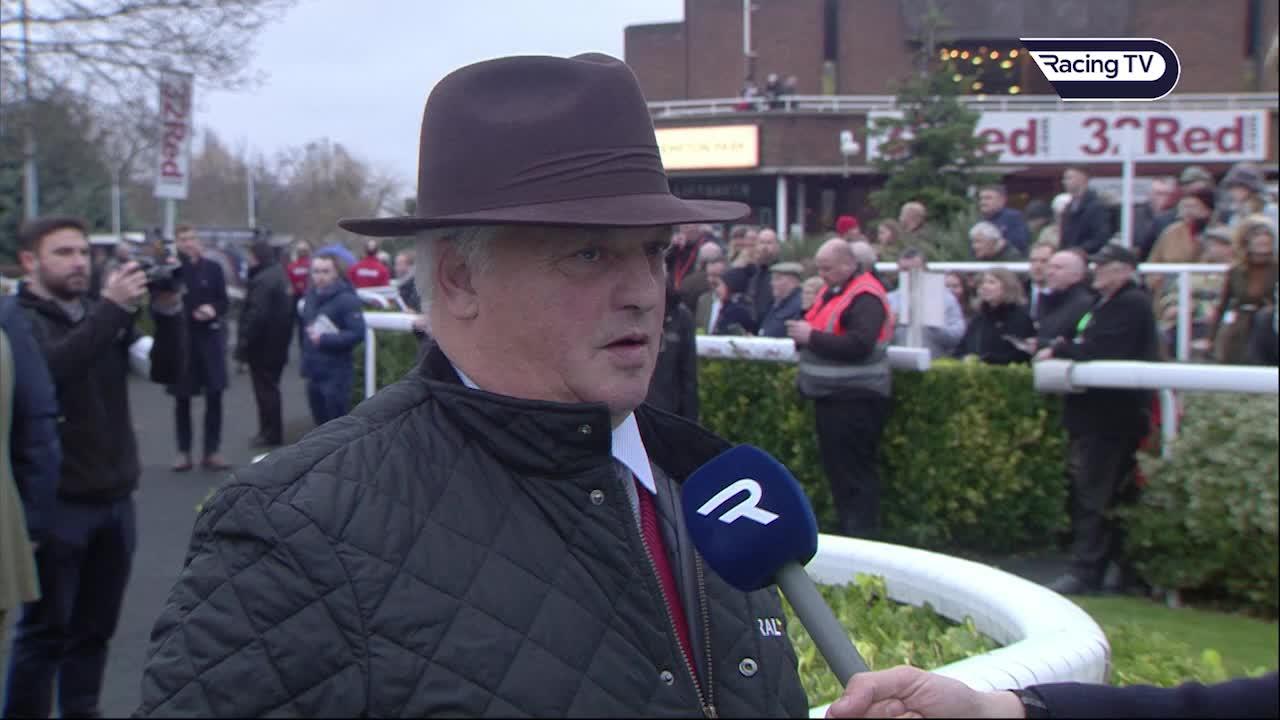 Tizzard reflects on Thistlecack's King George defeat
Thistlecrack is a cracking horse. He was an excellent hurdler and has won a Stayers' Hurdle at The Festival. He ran well in the King George and got close to Clan Des Obeaux. I think he has as much of a chance as anything else in the race. Thistlecrack has proved that he is good around Cheltenham, he is just a good horse. He is 11 years old, but he has been lightly-raced in recent seasons.
I think Thistlecrack is probably a better horse going left-handed, but keeping him sound has always been the biggest issue and we didn't race him till he was seven.
He is fine at the moment and won't do too much more, except for maybe having a school on Wednesday. We thought coming off the bend with Thistlecrack at Kempton Park that we were going to win as the only horse who was travelling well with him was Clan Des Obeaux, the rest were beat.
We probably didn't need to kick on as quick as we did at Kempton if we had the race again, but that won't happen in the Gold Cup. He is in good form.
The betting would suggest in terms of my horses in the race that Native River holds the best chance of winning. My opinion is that Native River has been there and done it so arguably he does have the better chance.
But Thistlecrack and Elegant Escape, on their given day, have a great chance in the race. To have three lovely staying chasers rated in the high 160s is everything you want. Gold Cup horses are almost like freaks. You have to look after them and make sure they are all fit and well, but you also need a huge amount of luck.
ULTRAGOLD
Race: Glenfarclas Cross Country Chase. Best odds: 14-1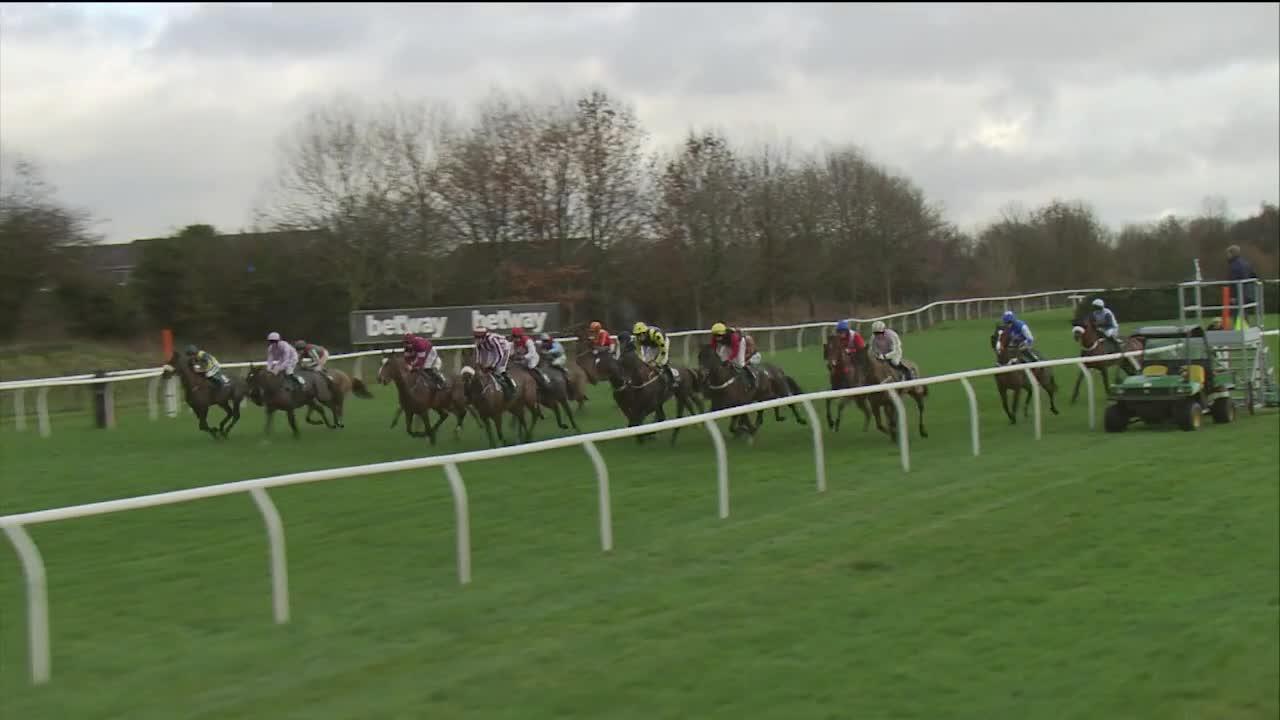 Ultragold finished third in the Becher Chase in December
We have had a brainwave with him that we are going to run in the Glenfarclas Cross Country. It seemed a good prep race for Tiger Roll last year before the Grand National and that is our thinking with him.
We have run him at Cheltenham for the last two or three years and he's done quite well, but it has always been a good prep for him before Aintree.
He is in the Ultima and tomorrow we'll put him in the Cross Country as I think he has got a better chance of winning that race. We will take him up to Cheltenham to school over the Cross Country fences in the next couple of weeks to school, then Ultragold will head to the Grand National.
VISION DES FLOS
Race: Unibet Champion Hurdle or Coral Cup. Best odds: 100-1 and 12-1.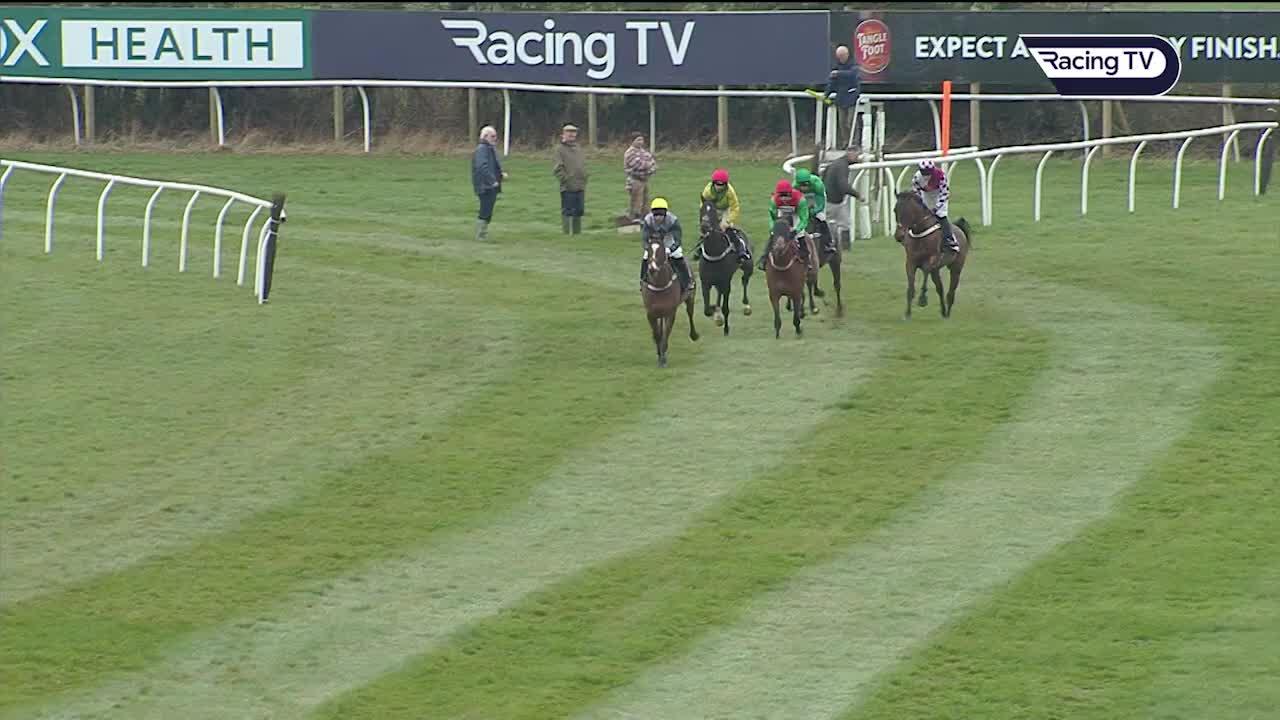 Vision Des Flos finished a close third in the Kingwell Hurdle before his victory at Fontwell
Vision Des Flos won the National Spirit nicely at Fontwell yesterday. He is a lovely horse and if he had not unseated his rider on his first chase start earlier this season, then I think we would have gone chasing for the rest of the year. As it was, we decided to revert back to hurdling as he was only a five-year-old at the time and we have run him in all the big two and two and a half-mile hurdles.
Yesterday was his easiest race this term and he travelled supremely well throughout. I'm sure the Champion Hurdle will be run at a frantic pace and he travels well enough to run in those two-mile races, so we wouldn't be afraid to go for the Champion Hurdle with him.
There are probably at least five horses higher rated than him in the race, but we will make a decision nearer the time. He is also entered in the Coral Cup, so it is something we don't need to decide today.
WEST APPROACH
Race: Sun Racing Stayers' Hurdle. Best odds: 33-1.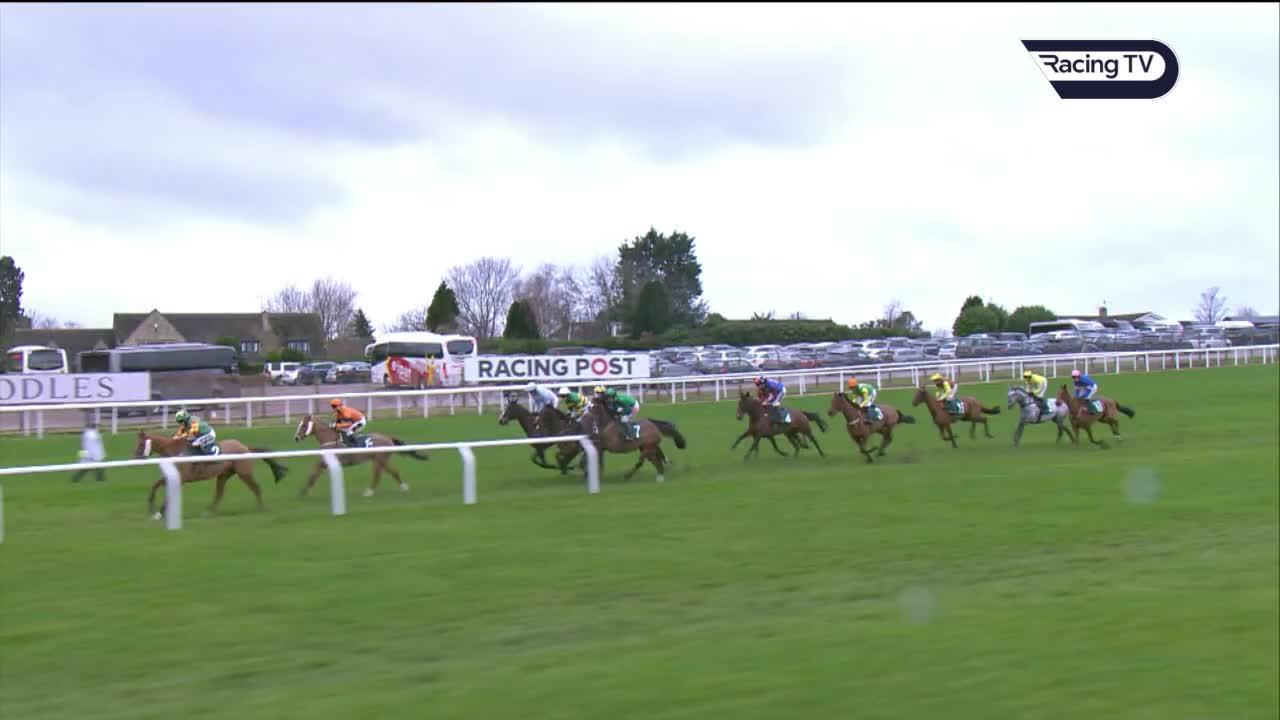 West Approach finished second behind Paisley Park in the Cleeve Hurdle on Festival Trials Day
West Approach is a decent horse and has finished second to Paisley Park the last twice. We went back hurdling because over fences, he just used to frighten himself and would jump too high.
We've had a go twice at Paisley Park and I've been pleased with both of his runs. West Approach will run in the Stayers' Hurdle and we will sit on the tail of Paisley Park this time around. He has plenty of pace for a three-miler and if we could cover him up a bit then he would have a good chance in the Stayers'.
WANT TO READ MORE STABLE TOURS?:
Click here for the Nicky Henderson Stable Tour
Click here for the Willie Mullins Stable Tour
Click here for the Gordon Elliott Stable Tour
Click here for the Paul Nicholls Stable Tour
Racing TV, the home of British and Irish racing, is the only place where you can watch all 28 Cheltenham Festival races. Join here >>> https://www.racingtv.com/join