By Nick Seddon
Fergal O'Brien feels that the progress of his team is there for all to see as the trainer looks to build on last year's record-breaking campaign with another season to remember.
O'Brien is heading into his second season following the successful merger with fellow Cotswold trainer Graeme McPherson, with the move back in October last year following record campaigns for both teams.
After 128 winners and passing the £1m mark last season - and comfortably for good measure - the newly formed O'Brien-McPherson Racing aspire to reach the very top of the training ranks.
Read more from both below on the journey their association has taken and future ambitions, but first O'Brien updates you on some nice prospects and big hopes for the new campaign here.
CAPTAIN CATTISTOCK
"He could still be on a good mark and he'll start either at the Showcase Meeting or the November Meeting at Cheltenham. His first target will be the Edinburgh National once again. We'll see how we go there and I'd love to get him into the Grand National. Nic Brereton who owns him and sponsors me has always dreamed of having a runner in that race, so it would be lovely if we could do that."
PAINT THE DREAM
"He was smashing last year and we've got a bit of a divided camp on whether he'll stay or he won't stay. Our only way to find out is hopefully aiming him for the Hennessy (Coral Gold Cup) at Newbury and then we'll see where we go from there."
POETIC MUSIC
"She was sixth in the Champion Bumper when it went very heavy - she wants a bit of soft ground but it was very soft that day. She travelled really well down the hill and didn't quite come back up it but she's only a four-year-old and ran a blinder. She's come back in looking a monster and hopefully we can move forward with her this season. She'll go over hurdles."
PUNCTUATION
"He's a lovely horse and from a nice jumping family. Charlie (Longsdon) was just a bit unfortunate with him and it didn't happen for him there and when we got him we were able to give him a break because that's what he needed.
"Paddy was very good with him at Warwick the first time and I thought he was very good at Newbury last time. I thought going to the last there that we'd be second, but he absolutely winged it and put his head down and really tried. He wants a bit of cut in the ground and two and a half miles minimum. Hopefully there's a nice race in him somewhere."
BONNTTAY
"She was great for us last year and she's three from three. She got a heart murmur but if we can get that right she's got a massive engine. She's got a great temperament and does everything you'd want her to do, we just need to get over that heart murmur. She literally lives with an ECG machine on her and it's so far so good."
SILVER HALLMARK
"Nothing went right for him last year - he was either right and then the ground was wrong or the ground was right and he wasn't. He's a lovely horse and he's got a huge engine in him. He beat McFabulous on his first hurdles run at Chepstow and I probably haven't placed him the best since, but he's won a Grade Two Chase for us (Altcar Novices' Chase) at Haydock Park.
"On his day he's very good and I think he's got stronger this year. I think if we can get a few more runs into him, there's a good race in him."
HURRICANE HARVEY
"He's really struggled since he's won his Grade Two - he was very high in the handicap and then ran a blinder in the Badger Beer at Wincanton last year. We struggled from then on in, but he's going to start off over hurdles in the next two to three weeks and we'll see how we go."
PULL AGAIN GREEN
"He was a superstar for us last season and he'll go novice chasing this term. Paddy wanted to stick over hurdles with him but he's such a good jumper that I just felt that handicap hurdles might be a bit tough for him. He's a big beautiful horse so fingers crossed he makes up into a nice chaser."
MORTLACH
"We call him the cash cow, because he's won six for us and he's been placed in all of his other races! He's been a great horse for us this summer, but I can't see him going too much further into the season. He might go to Wincanton at the end of October but he's done a lot of miles and has been a busy horse. He's very straightforward though and a pleasure to train."
SHALLOW RIVER
"He'll want further in time and I think he showed that in his bumper win at Wincanton. He was very good in his hurdle race at Huntingdon and he's a lovely horse."
CRAMBO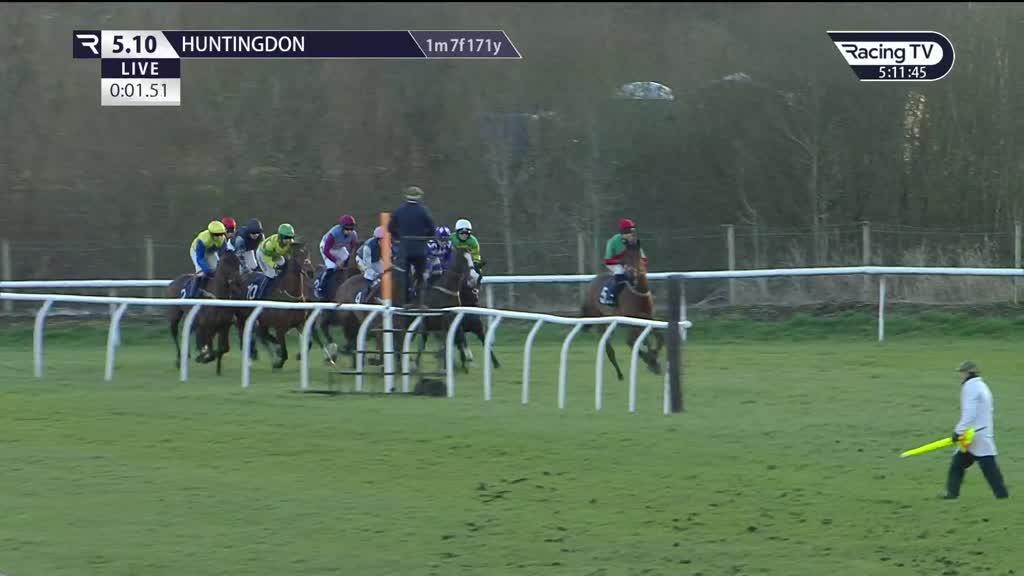 O'Brien is excited about dual-bumper winner Crambo
"We went to Huntingdon in March having already won a bumper and I said to the owners that this was a nice bumper and they had backed the Olly Murphy horse (Butch). They don't normally miss the target when they back one but Connor Brace said he still wanted to ride him the same and drop him in, because he can be quite keen in his races.
"When they turned for home it looked like he was going to be second - Adrian (Heskin) looked to be travelling really well - and he just took off under Connor. He said he was never going to get beat that day, so he's really exciting. He jumps really well and I'm looking forward to him."
O'Brien on McPherson
"I've always got on with Graeme, but before this we'd have just been friendly rivals. I knew him from the time he moved to the Cotswolds really, I saw him hunting and at point to points originally and he represented us once in a legal case and we've just got very similar values.
"He's very much a family man and he's a very good KC and he's been brilliant. He's let us get on and do what we do and he's very important, we still touch base on who is riding what and things like that. It's worked well.
"It was very difficult to start with and it didn't help I suppose with the fact that Graeme was very busy, as he was away in the Caribbean. It sort of exacerbated any problems we did have because we were so far apart but on the whole it's worked very well for everyone. There are some great facilities at Martins Hill and it compliments Ravenswell really well as they're very different in a lot of ways.
"We've got a great team of people there and for us it was just a case of trying to integrate all of our staff together. We've got a set number of horses there now and it's got its own team of people, Dave Killahena runs the place over there and we leave it to him really. He's done a great job and I can't fault him."
McPherson on O'Brien and his new role
"I prefer the backroom! I'm very happy and I'm still based at Martins Hill, so I've really enjoyed my role and just taking a step back. Ferg does an amazing job as the trainer and being the front of the business.
"The honest answer is probably yes, that I have a better work-life balance now. It got to the stage when I was training myself that I was struggling to do everything to the level that I wanted to do it and now it does mean that I can take more of a backseat on the horses, I can carry on doing the legal work and my family is all growing up as well – I don't want to miss out on that!
"We had an amazing year in 2020-21 and we got to a point where we were regularly banging out 20-30 winners a year, which for a medium-sized yard we were delighted with. Our prize money levels were good and the quality of horses was going up and up. I'm delighted that it's not just been maintained, but we've progressed and we've had plenty of winners out of Martins Hill through the year.
"The transition was strange and it wasn't easy, we were the first people ever to try something like this and the first couple of months were just a case of working everything through. By the spring everything had fallen into place and both teams were working amazingly across the two yards and the last six months in particular have been superb.
"My role essentially means I would do anything and everything! I'll talk to the owners, I'll go racing and I'll be here at Martins Hill and I'll turn my hand to anything that needs doing. I've very much taken a step back now, so Ferg and Sally are the talent!
"The really nice thing is that we're improving our winners while maintaining the same sort of strike rate. It's not like we're sending out far more runners but the same number of winners, the percentage is as good if not better than ever and that's a tribute to the hard work that goes on in the team.
"We were talking about progress recently actually and we've noted that we got to that half century of winners quicker than last year. If we can still be top of the charts further into the season than we were last year it would be fantastic and I know Ferg has a target of getting as close to 150 winners as possible. If we could do that it would be amazing.
"I genuinely hope that in the near future that Ferg is champion trainer. Considering the dedication, the professionalism and the effort he puts in, nobody would deserve it more."
O'Brien on champion trainer talk
"Paddy Brennan has always said about me being champion trainer and I genuinely mean it when I say it isn't on my radar. It certainly isn't something I would ever think about because we just want to train as many winners as we can with the horses that we've got.
"The good horses will come along, if you stay doing what you're doing regularly enough it will follow and that consistency is something I crave and I'd rather have that over a Cheltenham Festival winner.
"I know it's easy to say when you haven't had one, but I genuinely look at the Cheltenham Festival and think that it isn't the be all and end all. If you gave me 80-100 winners every season for the next 10-15 years and not a single Festival winner in that time, I would take that and quite happily think that was a successful career.
"There are plenty of good trainers that haven't had a Festival winner and plenty of ordinary ones that have, so it is what it is and if it comes it comes. Training over 100 winners for the first time was a huge thing for us, I'd spent 18 years at a yard in Nigel Twiston-Davies that had won Gold Cups and Grand Nationals but had never hit the three figure mark for winners, so to hit 104 and then back it up with 128 was massive and I'd take that over Festival winners.
"You don't need unlimited resources to make an impact, Harry Fry had a Festival winner with a horse that cost £35,000 last year with Love Envoi, so it's an old drum that people like to bang. If you do your homework and work hard you'll find the right horses for you.
"Two years ago we'd have been talking about four or five horses but the fact we can talk about 10+ is a sign of progress for sure."
CLICK BELOW FOR STABLE TOURS AND MORE
HORSES TO FOLLOW FROM RACING TV'S PRESENTERS AND PUNDITS
And click here for Dan Overall's 20 Winless Ones To Watch
Add an unlimited number of horses into your Racing TV Tracker and never miss a winner again! Click here for more details.