Andy Stephens reports on the opening day of the Book 1 Yearling Sale at Tattersalls and finds two familiar rivals again doing battle.
Horses have been sold by Tattersalls in Newmarket for more than 250 years and during all ofthat time the general premise has remained the same. Find a horse you like and then work out if you can afford to buy it.
At the Book 1 Yearling Sale there is no shortage of thoroughbreds that fit into the former category. But the second part of the equation is trickier.
Dreams are for free but at Europe's premier yearling sale there is generally a hefty supplementary fee to fuel them. You may well have clapped your eyes on a prospective star - Blue Point, Japan and Phoenix Of Spain have been among recent sales - but the progeny of super sires such as Galileo, Dubawi and Frankel do not come cheap.
The world's most powerful and knowledgeable horsemen are all gathered in one place to identify the cream. However, each know there are no guarantees when playing God with equine genetics.
The thoroughbreds on parade begin with an advantage in life when it comes to racing – the blood of champions is pumping through their veins - but those here today will not turn two until the new year.
Nobody knows how fast they can gallop or what stamina reserves they might possess. All we do know is that one whinneys, another will excitedly shout back.
Like most things in the sport, it is all about making calculated gambles.
One of the first horses that Sheikh Mohammed bought at the sales was a son of the legendary Northern Dancer at Keeneland in 1983. He paid a world record $10.2 million for him but the colt, named Snaafi Dancer, was so slow that he never raced.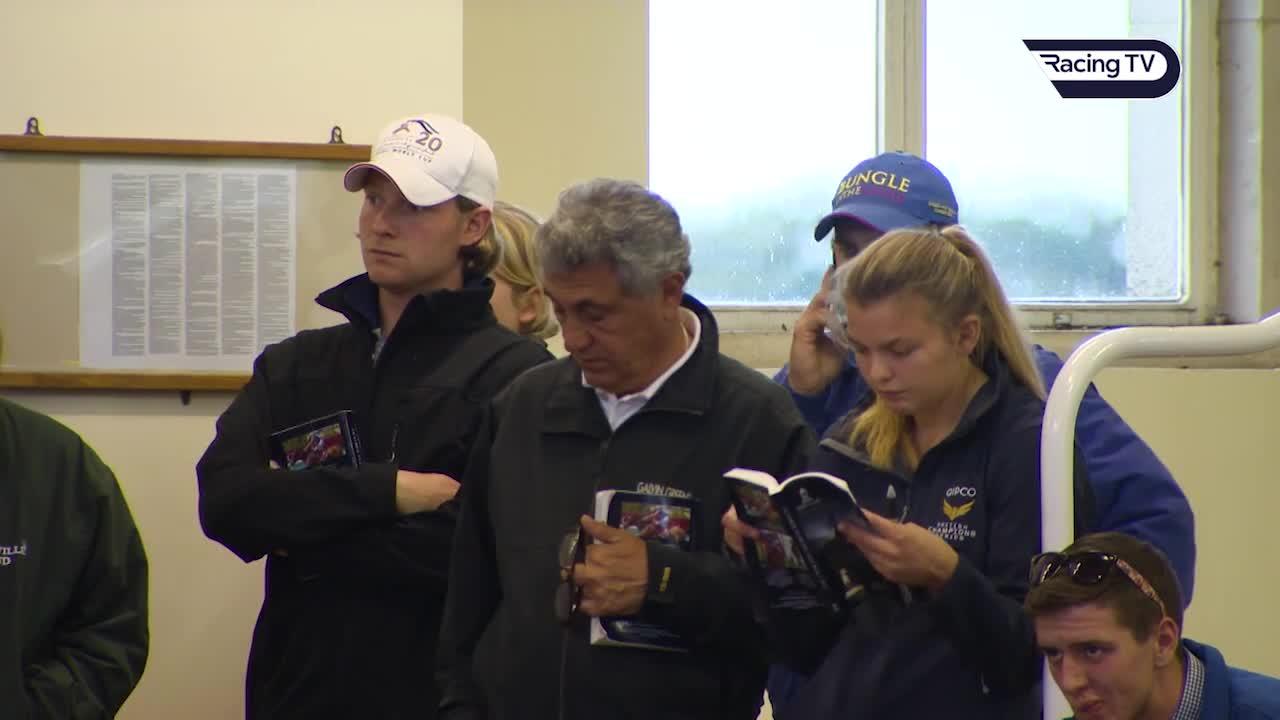 Jimmy George and John Gosden tell us more about the Tattersalls Yearling Sales
The Sheikh cut his losses and sent him straight to stud but that did not work out either. His purchase was more or less infertile and sired only four foals.
You could have forgiven the Ruler of Dubai for walking away and investing in a more reliable currency but, 36 years later, he seems as committed as ever.
He arrived at Tattersalls casually dressed and took a liking to Lot 148, a son of Dubawi out of Alina, making him a half-brother to St James's Palace winner Barney Roy.
Coolmore, with equally deep pockets, also took a shine to the bay. Financial fireworks were guaranteed, much to the delight of consignors, Hazelwood Bloodstock.
With Charlie Appleby to his left and Simon Crisford on his right, the Sheikh shrugged off the attentions of Coolmore and secured the prize he wanted for 3,600,000gns – a record amount for a yearling paid anywhere in the world this year.
Once the hammer fell, he turned and walked away from the auction room without showing any emotion. It was left to Anthony Stroud, bloodstock agent for the Sheikh, to reveal his delight.
"He is a really athletic horse, a really good mover," he said after placing his winning bid against MV Magnier. "Sheikh Mohammed picked him out. He was his favourite of today. Of course, we stand the sire Dubawi, and the colt is out of a Galileo mare.
"Night Of Thunder is turning into a useful stallion and we also now have Too Darn Hot – the sire lines are very important. It all traces back to Dubai Millennium, who was so important to Sheikh Mohammed.
"He cost more than we thought, but you need to go so far to get this sort of horse."
Adrian O'Brien of Hazelwood Bloodstock said: "He is a beautiful horse and never missed a beat. It is an unbelievable figure to sell for and I am over the moon. I am so grateful to my clients for this quality of stock."
Referencing the fact that the two biggest powerhouses in racing, Godolphin and Coolmore, went head to head over his colt, O'Brien added: "It is ideal, what you dream of, and what you hope for."
In total, 164 Lots were sold for 35,408,000gns on the day.
So the average price was 260,353gns, similar to last year.
The auctioneers extol the virtues of the young animals before them and rattle off bids at incredible speeds. They seem to be able identify invisible winks and nods. Nobody is making it easy for them by waving their arms around or shouting "over here".
Horses come and go at pace, which is a good job because before Thursday there are 552 Lots to get through. And then, after a pause, comes the Book 2 Sale, then Book 3 and Book 4.
It's an exhausting process but bargains can be found and anyone is welcome to attend with no admission fee and ample parking.
Last year, more than 7,000 horses went through the ring at Tattersalls last year for a combined cost of 330 million guineas.
One of them was bough by James Tate and Saeed Manana at Book 3 for only 6,000gns. They named her Under The Stars and this season she's won £138,000 in prize-money, won a Group Three and mixed with the best.
"She's been great all year. For six grand, we could not ask for much more," Tate said. "Saeed and I stood in Book 3 picking them out. I remember when she came, she was in amongst another couple of smallish fillies and we joked we'd got the midgets' barn and that they could not see over the doors.
"It's only when you start working them [that you find out what you've got]. When she was working nicely enough and not blowing I thought maybe she will have that little bit extra."
Tate will be on the hunt for a similar steal over the coming days. The trouble is, so will everybody else.