Jason Kiely spoke exclusively to Colm McCormack and Guillaume Macaire ahead of Sunday's 127th Velka Pardubicka, which is live on Racing UK. Watch last year's full replay won by Charme Look and Jan Faltejsek.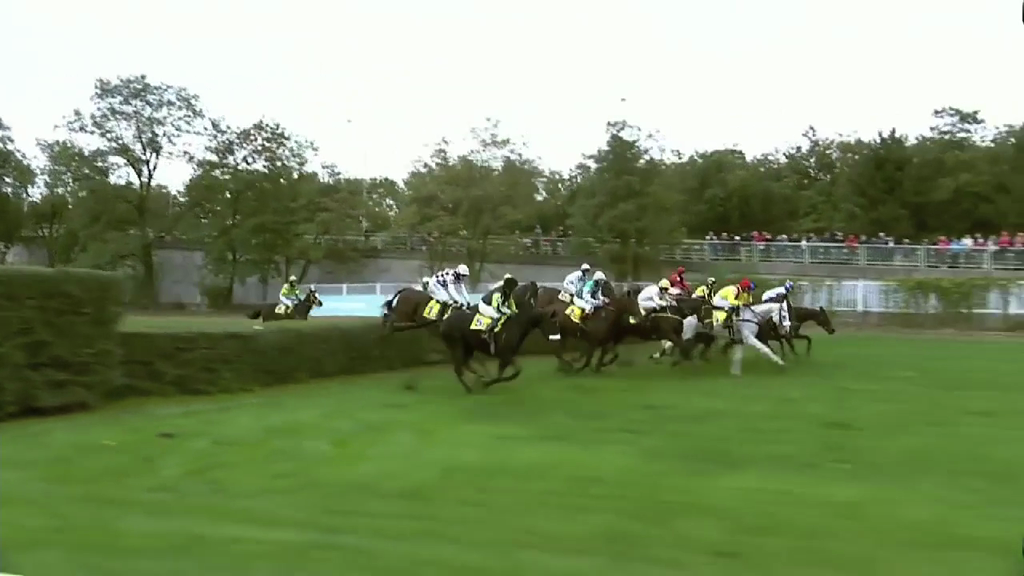 By Jason Kiely
Colm McCormack will attempt to become the first jockey based in Britain to win the Velka Pardubicka for more than 20 years when he takes his first ride in the legendary cross-country contest in Prague on Sunday.
The Irishman, who is based in Saltburn in north Yorkshire, teams up with Champion French trainer Guillaume Macaire as they try to win the 127th running of the £170,000 race.
Over two million people worldwide will watch 20 brave horses and riders take on 31 obstacles and four and a quarter miles in what is dubbed the Czech Grand National. It is staged across ploughed fields and huge hedges and the Taxis Ditch, the fourth fence, is the most famous of the obstacles as a ditch of four metres in length, which is a metre deep, with a hedge measuring just over a metre and a half.
McCormack won the 'Jump ride of the year' award at the Lesters last year for his miraculous efforts aboard Fiddler's Flight at Sedgefield last season – he lost his irons when his mount blundered at the last but they made up three lengths to win.
The 27-year-old is hoping some of that dogged determination will stand him in good stead as he attempts to emulate Charlie Mann's victory aboard It's A Snip in 1995 when he rides 11-year-old Songe D'Estruval, one of two runners for Macaire.
"I was happy to receive the call from France a few weeks ago, I'm really looking forward to it," McCormack told Racinguk.com.
"I've watched a lot of videos and spoken to lots of the lads that have ridden the race in the previous years and they have all said the same thing, 'it's fast-paced and every man for himself'."
"If I can get a good position over the water jump and the big taxis jump I'll be happy. The pace slows through the ploughed field so I'm hoping to have found a rhythm by then and be able to ride a race.
"My horse has won 14 races in his life - he has got so much class so you never know. We will try our best and hopefully, we have a clear run."
Jet-setting McCormack has already ridden 33 winners for Macaire across the Continent and has great admiration for the Royan-based handler.
"I've been lucky enough to ride many winners for Mr Macaire over the last few years. I've ridden in Grade Ones for him and had winners in France, Belgium and Italy. His horses have lots of the class, they know their job."
Runners negotiate the fearsome Taxis Ditch
(Pardubice racecourse)
When back in Britain McCormack is kept busy riding for Dianne Sayer, Gillian Boanas and John Norton.
Macaire will make the 2,100 mile round trip to the east of Prague and is hoping for a big run from his two representatives. The eight-year-old Virtus D'Estruval will be ridden by Jan Faltejsek, no stranger to British racegoers due to his exploits with Knockara Beau and who has won the race in four of the past five years.
"I feel Virtus D'Estruval has the right attributes for such a difficult race, he is relaxed and he jumps well," Macaire said.
Guillaume Macaire has never won the Velka but is the current champion Jumps trainer in France
(Racingfotos)
"I think my horse will enjoy this unique race and hopefully he can get some points to take the lead in the Crystal Cup, a European championship designed for cross country horses. Jan Faltejsek is riding him, which is lots of help because he has won it four times.
The 61-year-old admitted it was difficult to prepare a horse for the idiosyncratic event he has never won.
"To be honest, I have had this idea in my head for a long time for these horses. I have not had many runners here in the past but it has been a very useful exercise, I now know what type of horse I need.
"Both of my horses have lots of experience and I feel they can be well placed so we can take a chance. And why not? They have done it all in France."
Legendary jockey Josef Vana, now 65 and who has won the race eight times, rides Ange Guardian, whom he trains himself, while Urgent De Gregaine, a winner over the cross-country course at Cheltenham in January, represents Emmanuel Clayeux and Felix de Giles, a former conditional jockey with Nicky Henderson.
Watch the 127th running of the Velka Pardubicka live on Racing UK in the company of international experts Mark Johnson and Claude Charlet, who will be in the Racing UK studio to guide viewers through the action from the Czech Republic on Sunday.