Racing TV ambassador Ruby Walsh answered an abundance of questions during a Facebook Live chat on Wednesday and offered some revealing insights. Click here to watch a full replay of the chat on our Facebook page.
Former champion jump jockey Ruby Walsh pinpointed Envoi Allen as the novice hurdler he is most looking forward to seeing this season as he revealed his horses to follow during a live question and answer session on Racing TV's Facebook page on Wednesday.
The Racing TV ambassador answered over 50 questions with various topics discussed, including if Douvan can return to his best, how good he thinks Klassical Dream is and an early nap for the Cheltenham Festival!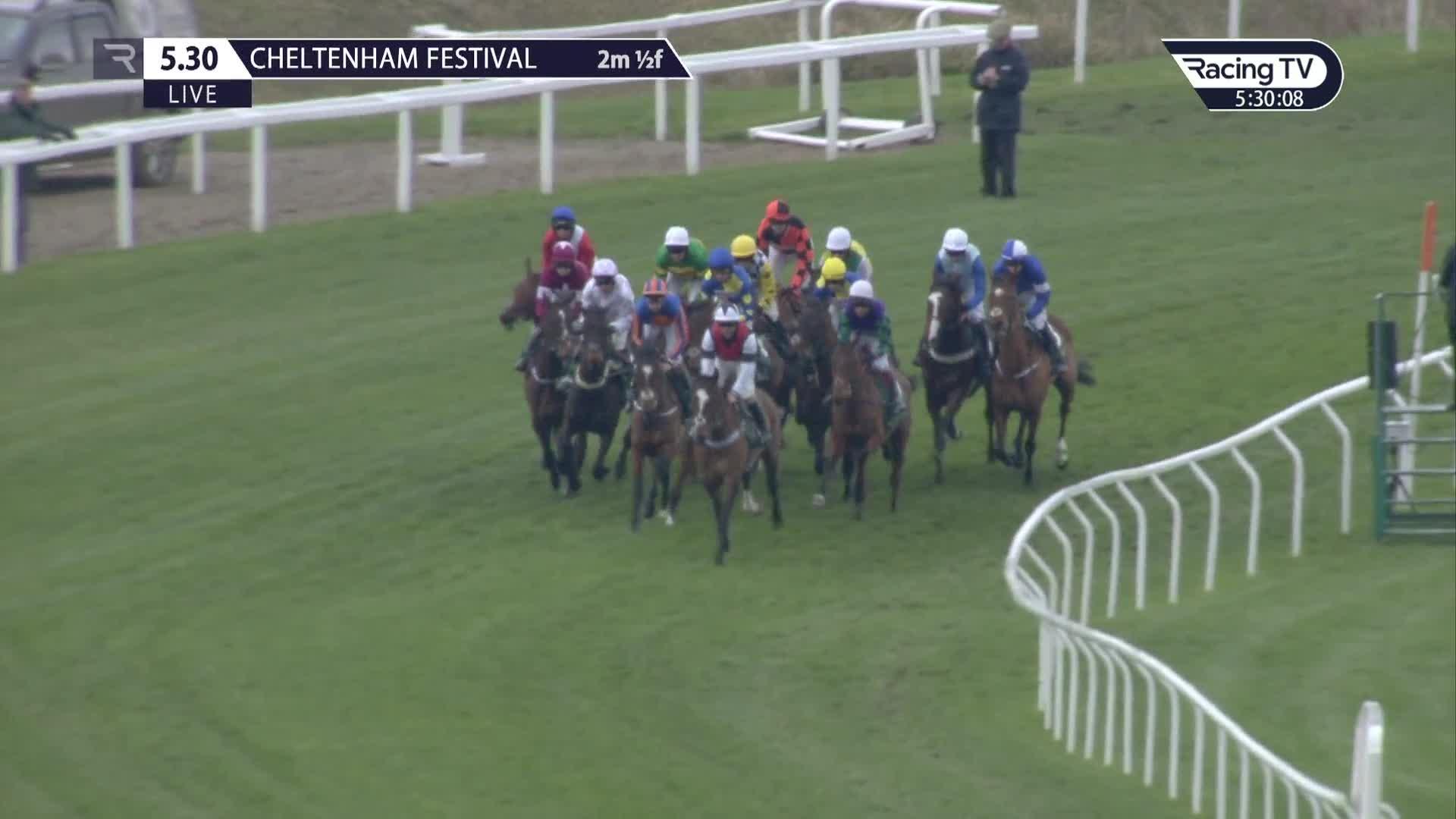 Watch how Envoi Allen won the Champion Bumper
When asked for his novice hurdler to follow for the season ahead, it would have been expected that Ruby would have chosen a Willie Mullins-trained horse, but he instead opted for Gordon Elliott's Envoi Allen who is unbeaten in four starts in bumpers and was successful in the Champion Bumper at the Cheltenham Festival when last seen. He said:
"The novice hurdler I am most looking forward to this season is Envoi Allen and in the novice chase department, there are a few I am looking forward to. I think Melon will make a really good novice chaser, as will Carefully Selected, Allaho and Henry De Bromhead's Minella Indo."
Walsh also provided a revealing update on the classy Douvan who was travelling strongly when falling four out in the Champion Chase at the Festival in March before finding Un De Sceaux too good in the Champion Chase at Punchestown. When asked if Douvan will return to his best, he said:
"Do horses ever return to their best after lay-off's like he had? Not too often, I'm afraid. He's in full training and, fingers crossed, everything goes according to plan with him. I wouldn't be surprised if we saw him go up in trip this season."
Walsh also revealed the horses he would have liked to have ridden during his career, who he thinks will win the Cheltenham Gold Cup plus if he believes Paisley Park can be as dominant in the Stayers' Hurdle division as the mighty Big Buck's.
Ruby Walsh on Racing TV's Facebook Live: A selection of questions and answers:
Will Buildmeupbuttercup win the Cesarewitch for Willie Mullins on Saturday?
She is in really good form and Frankie rides her, but the trip would be my only concern for her. I thought she was going to win the Ascot Stakes, but she faltered in the last furlong and I think the Cesarewitch is a better race.
When a yard has a superstar like Yorkhill lose his way, what would they be doing to try and get him back on track?
Well you name it, and we're trying it! We try everything from changing their routine, change his lot, change his rider and changing his stable. We have tried everything with Yorkhill but unfortunately it doesn't seem to be working!
Can Paisley Park be as dominant in the Stayers' Hurdle division as the mighty Big Buck's?
There's every chance he could be. He has a great style of racing for Staying Hurdles. He races behind the bridle, he is an economical jumper and he doesn't kill himself so three-mile races aren't going to wear him out, so there's definitely every chance that could happen.
Will Willie Mullins run Al Boum Photo or Kemboy in the Betfair Chase at Haydock?
I don't believe Willie has ever had a runner in the Betfair Chase as it comes quite early in the year for us and it's hard to get a prep run into a horse in Ireland beforehand, so I think it is doubtful.
Do you fancy Kemboy to beat Altior in the King George?
I think Altior is an incredible racehorse, but the one guarantee you have with Kemboy is that he will stay. People may think Altior will stay, but nobody knows for sure whether he will or won't.
Altior v Cyrname over two miles at Ascot – who wins? And do you believe the ratings?
I don't believe the ratings because if you look at what Min did to Politologue at Aintree, he did the very same thing as Cyrname did at Ascot, yet we know what Altior is capable of doing to Min.
How good of a Supreme did it ride last season compared to previous seasons and do you think Klassical Dream can make the step up to Champion Hurdle class?
I think he most definitely could. I think with the sad demise of Espoir D'Allen, it has opened the whole Champion Hurdle division up. I think Saldier could be a dark horse in that division as well.
With regards to the Supreme, it is hard to gauge different years with the ground and opposition being different each year, but it rode a good race. Klassical Dream was very good and does not have to improve much to be a Champion Hurdler.
If you could ride one legendary racehorse, which one would it be?
I would love to have ridden Istabraq and Sprinter Sacre, oh and Altior!
Can you give us a horse to follow for the season ahead, one that is under the radar?
There are not many horses that are under the radar in Willie's yard any more, but we saw very little of Carefully Selected last year and if we keep getting the rain fall we are getting then he could be one to follow in the novice chase department.
Which three horses you are most excited to see back in action this season?
It's always a great thrill to watch Altior; he's an incredible horse. I'm also looking forward to seeing how Klassical Dream gets on in the open champion hurdle division and to see if Tiger Roll can win his third Grand National. It will be great for racing if he does complete the hat-trick.
Who is the best jockey riding right now?
I'm sticking with my generation. Richard Johnson, Davy Russell, Barry Geraghty – they're still the best.
What was the favourite Paul Nicholls-trained horse you rode?
We were very lucky to come across Kauto Star, Master Minded, Big Buck's and Denman at the same time – they were all incredible horses. I must say I enjoyed riding Silviniaco Conti, but Azertyuiop was the first big horse myself and Paul Nicholls had together. He won the Arkle and the Champion Chase, so I'll go for him. Twist Magic was another cracker and I really enjoyed riding him.
Who do you think is one to watch this season?
If Klassical Dream keeps improving this season, like he did last season, then he is definitely one to watch.
It's going to be fascinating to watch Altior going up in trip as well. If him and Cyrname clash at Ascot, then that would be amazing.
What was your favourite racecourse?
In Ireland I loved Punchestown, I was so lucky around there. I had a slight preference for the new course at Cheltenham over the old, and I always enjoyed riding a two-mile chaser around Sandown.
Who wins the Champion Hurdle this season?
I think it is probably a match, but if you are looking for a bit of value, then it would have to be Saldier.
Click here to watch a full replay of the live chat with Ruby Walsh on our Facebook page.
What was it like to ride your 50th Cheltenham Festival winner aboard Black Hercules?
It was brilliant and it is something I never thought would happen or would achieve. I didn't think it was likely between the last two fences, I didn't even think it was likely at the back of the last! But pleasant surprises are always nice.
Do you think Altior will be better over three miles?
Does he have to be better? He's an incredible horse!
Who was better, you or AP?
ME!
Who will be Willie Mullins' best challenger at the 2020 Cheltenham Festival?
Benie Des Dieux – she will take some beating in the Mares' Hurdle.
Is Chacun Pour Soi the real deal?
I have only ever ridden him at home, but I was incredibly impressed with his victory at Punchestown, and at Naas on his first start for Willie. The form of his Punchestown victory is rock solid and the only negative he has is that he has only had two runs over fences, so it could be hard for him in the beginning going into open company. I don't think he is limited to two miles and I think he will go up in trip, but he is a very, very good horse.
Kauto Star or Denman?
Kauto Star. Denman was an incredible horse - his Gold Cup win, his victory in the Hennessy when he gave all that weight away to What A Friend, but I have always been a Kauto man and I think what he achieved was remarkable.
Who is the greatest two-mile hurdler of all time?
I think that is Hurricane Fly. His record in Ireland was incredible and, I know he only won two champion hurdles, but what he did was amazing. I loved him. Without doubt, people would have said Istabraq, and it would be hard to argue against that, but I rode Hurricane Fly and I'm biased.
Who will win the Cheltenham Gold Cup this season?
I think Willie will win it again! It's a toss-up between Al Boum Photo and Kemboy and it just depends on the ground on the day. If it's soft, it will suit Al Boum Photo, and the better the ground the better it will suit Kemboy.
Which race would you like to ride in again for the pleasure of it, or to rectify the result?
I would go for Papillon winning the Grand National. I would love to experience that again. And I would also love another go on Commanche Court in the Gold Cup when Best Mate beat him – that's the one I would like to rectify!
Are you going to make a comeback, or are you going to go into training?
I most certainly am not going to come back, ever! You should never say never, but I have no intentions of ever going into training.
How is retirement?
Retirement is great. I am busier than ever and have more jobs now than I ever had, but I'll find my way and see how I get on.
What does the future hold for you now you have given up riding?
I hope you will see a lot of me on Racing TV. I'm also on the Radio on a Monday and Tuesday night which is good fun. I've been making a fair few mess-ups on there, but I will try to iron those out!
Is it the end of the road for Faugheen or can you see him winning again?
Faugheen is back in training and looks a million dollars. I hope he can and whatever Willie decides to do will be the right decision for the horse, but he is progressing in the right direction and we're happy with him.
Do you think Richard Johnson will beat AP's winners record?
Mathematically it is possible, but it is going to take him another three years maybe and he's 42 now, so injury will determine that as it is definitely not as easy to get over injuries as your get older. I think he is an incredible jockey.
What do you miss about riding?
Winning! What do I not miss? Falling and all the driving!
Can Tiger Roll win another Grand National?
I think that would be incredible for racing if he did, but I do believe the handicapper has to a lot him his rating and make him do it on merit and not give him a chance.
Do you still rate Master Minded as the best jumper of a fence you have ever ridden?
Master Minded was spectacular as a two-mile jumper over fences. His style of jumping was to lift his shoulders and never arch his back. He got all the height in front and had terrific power. He was amazing when he got it right.
What was the best finish you ever won?
I enjoyed getting back up on Champagne Fever to win the Supreme and beat Sir Anthony – I got a kick out of that one!
Is Draconian back in training?
He is and he is back cantering away, so fingers crossed everything goes to plan for him.
Which race was more of a thrill? A two-mile or three-mile chase?
For a thrill, a two-mile chase, especially at Sandown where there was so much jumping in the back straight. A three-mile chase was more taxing as there were more tactics involved.
What is your best advice for race riding?
I think race riding is all about tactics. A lot of people seeing a race are only seeing the last two furlongs and I think most races are won or lost way before then. So. tactics, pace, it really is all about pace, not position. You need to learn as much as you can about pace.
If you didn't take up horse racing as a career, what would you have done?
Well, I was most definitely not an A student! I'm never afraid of work so I'm sure I would have survived but thank God I didn't have to think of anything else.
When will The West Awaits run and will it be in a bumper of novice hurdle
It's sure to be a bumper but, like all of Willie's, it probably won't be until the middle of November around the Cheltenham Open meeting. Morgiana Hurdle weekend is when most of Willie's tend to get going.
Who is the most under-rated jockey you ever rode with?
I think one who finally got the recognition they deserved was Noel Fehily. Without doubt, he was a brilliant rider.
What is your favourite Police Academy film?
The first one! Like every film, the rest of them are useless after the first one!
Messi or Ronaldo?
Ronaldo left United, so it has to be Messi!
Click here to watch a full replay of the chat on our Facebook page.