Ruby Walsh believes the coming weeks and months will provide "a golden opportunity" for racing to showcase itself to a broader audience.
It is unclear when racing in Britain or Ireland will be able to resume because of the coronavirus pandemic but authorities either side of the Irish Sea are preparing for a possible resumption this month.
Prime Minister Boris Johnson said on Thursday: "We are past the peak of this disease and we are on the downward slope."
The last meetings in Britain took place on March 17 but in Ireland the action continued a week longer, without spectators, before stopping.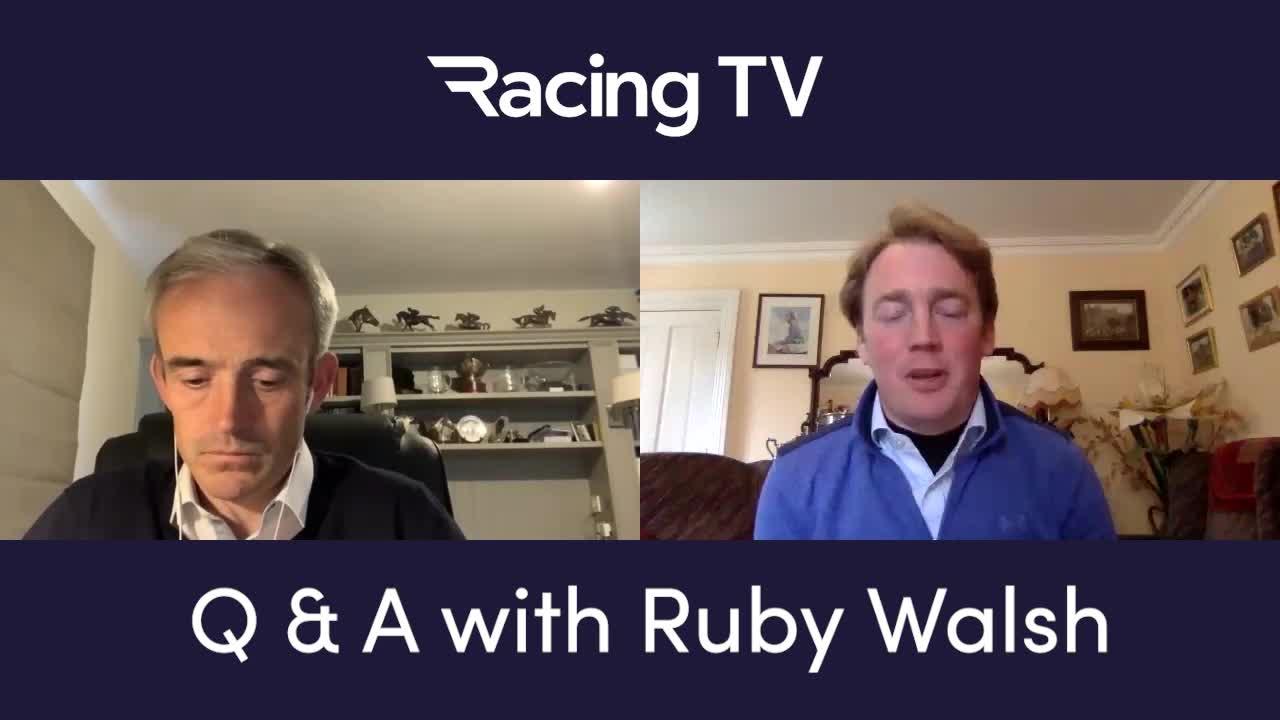 Ruby answered numerous questions asked by Racing TV social media followers
Speaking in a Question and Answer session for racingtv.com, coinciding with the great jockey's retirement from riding a year ago, Walsh said those initial meetings behind closed doors offered a foundation for Horse Racing Ireland to work on.
"They have a blueprint and they refined it from one meeting to the next," he said to interviewer Bernard Condren. "Racing has some big challenges to face and overcome but I think it can and, being a solitary sport, it has a bigger chance of resuming [sooner] than a lot of team sports.
"There is a golden opportunity for racing to showcase itself to a much broader audience in the coming weeks and months."
With regard to social distancing on a racecourse, he said: "It's not that difficult to do it once you close the gates and there are no spectators, no bookmakers and no owners. I don't even know if trainers need to be there, apart from those with smaller numbers of staff.
"You could go even further. With no connections, jockeys would not need to congregate in the parade ring. They could walk straight out ten minutes before the off, get on the horse and go straight to the start."
![
He added: "With enough will - and if you were looking to make it work - it is easy to do it and I think you can keep people a safe distance apart while you are at it.
"They have an opportunity to make a case but this country will be led by the health people. When they make a decision that's when we will know when there is a resumption of normal life, let alone racing. Everyone will be guided by what they say."
It is all a far cry to 12 months ago when the Walsh retired on the spot after guiding Kemboy to victory in the Punchestown Gold Cup. The paddock was bulging with his friends, family and well-wishers eager to be part of his farewell.
Reflecting on his new media career, which of course includes lots of continued work for Racing TV, he said: "It's been a good year and I enjoy it. I see racing in a whole different light from outside the weighing room rather than within it.
"I'm lucky I decided to retire last year because I don't think it would be so easy to sort out a new career right now."
Racing TV followers on Twitter, Facebook and Instagram were encouraged to send in questions for Walsh's Q&A session and responded with a multitude on a wide range of topics.
He had a good go at answering most, including what scared him, what he and Tony McCoy said to each other after both remounted in the 2001 Grand National plus what he would do if he were the Taoiseach (prime minster of Ireland) for the day.
Walsh was also asked if he had started betting now that he had stopped riding and said: "I have had the occasional bet and can't say I enjoy it. I hate losing money and betting hasn't really lit my fire."
The 40-year-old rode many wonderful champions over jumps and believes a few of them could have also been household names ion the Flat.
"I think Big Buck's would have won an Ascot Gold Cup," he said. "Estimate beat Simenon a neck and I think Big Buck's would have been a superior horse to Simenon.
"Annie Power could have been a hell of a good Flat horse, and so could Faugheen. They'd have all been top-class staying Flat horses."