Comparisons stink, particularly if you're on the wrong end of that equation. It's especially hard to take if you think the eclipsed party, in that tiresome racing parlance, "doesn't get the credit they deserve".
Honeysuckle now finds herself in this invidious situation – a 16-race unbeaten dual Champion Hurdle winner, who hasn't even yet had a chance to take on Johnny Big Potatoes. It's hardly surprising the #outrage has been mighty.
Constitution Hill is, of course, the young upstart. Since March, number-crunchers and visual kidz have been united in the knowledge of the threat he represents to the queen of the two-mile hurdling division, veteran of 12 Grade One triumphs.
But there was always the chance he got lucky in the Supreme – a race that developed in a manner tailormade for showcasing his particular talents. As of Saturday, however, his disciples are ever more certain he is All That. I, too, am a believer.
This is not to 'disrespect' Honeysuckle, whatever that means. She neither knows nor cares what I think, nor even what her most ardent fans might think. What any of us think will not affect whether in actuality she wins again at Cheltenham next March – and if she does, those who underestimated her will be forced to reassess. But a key part of the fun in following this sport is trying to work out what will happen in the future – and how, and why.
It is a universal truth that horseracing is simultaneously much ado about nothing and everything that is life. So, it follows that using data to anticipate future outcomes and – more heinously – to make historical comparisons is both nerdishly dull and disgracefully speculative. Stand by to be bored or incensed. Probably both.
Two-mile hurdlers
I think I've seen the greatest hurdler of my lifetime in Constitution Hill. Clearly, in CV terms, he has a hell of a long way to go before his tangible achievements can be compared to those of Honeysuckle, let alone Istabraq, Night Nurse or Monksfield – to name but three illustrious antecedents. However, on a point of sheer talent, I don't think I've ever seen a horse to compare in terms of innate potential, straightforward rideability, jumping accuracy and pace.
I'm not alone. Timeform, the ratings organisation that since 1948 has expressed the merit of horses based on times achieved in races and since 1975/76 has produced end-of-season chase and hurdle rankings, believes Saturday's brilliant Fighting Fifth winner is the sixth-best hurdler they have ever assessed.
With a rating of 177p – the 'p' signifying that he is open to further improvement – they say he has just 5lb to find on their all-time top-ranked Night Nurse, whose pre-eminence on a rating of 182 has stood since 1977.
Night Nurse won fewer Champion Hurdles than many horses ranked below him – just two, in 1976 and 1977, compared with three for Istabraq (1998-2000), See You Then (1985-87), Persian War (1968-70), Sir Ken (1952-54) and Hatton's Grace (1949-51). Yet trophy cabinets are not the only measure of brilliance in horseracing. They can say as much about the opposition as the winner.
As Timeform's historic rankings illustrate above, Night Nurse operated in a vintage era for two-mile hurdling. He routinely faced one or more of Comedy Of Errors, Monksfield, Bird's Nest, Lanzarote and (latterly, when he was no longer so swift) Sea Pigeon – all of them, touchstone names in this sport. It was also common for top-class horses to concede lumps of weight in handicaps of that era, so there was an abundance of collateral form with which to underpin those dizzy rankings.
To achieve his high ratings, Istabraq largely had to rely on thumping rivals by wide margins – more often than not stablemate Theatreworld at Cheltenham – because the strength in depth of his generation was not comparable to that of Night Nurse. That's why Timeform's peak assessment of 180 for that 23-times winner relies, a little uncomfortably, on his failure to concede 5lb to the top-class Limestone Lad (177) over 2m4f in conditions that strained his stamina.
Faugheen earned his peak Timeform rating of 176 via trouncing stable companion Arctic Fire by 15 lengths in the 2016 Irish Champion Hurdle, whereas the 22-times Grade One-winning hurdler Hurricane Fly was awarded 174 at best.
What do you mean you missed it? Watch Road To Cheltenham: Episode 2
This, which Ruby Walsh argued only a fortnight ago, exposes a flaw in ratings – in that if your horse beats only proven inferiors, encounters races that unfold non-ideally and/or doesn't tend to win flashily, then he or she will not attain as big a figure that a record of dominance – such as that of Hurricane Fly – would imply. However, given a mere segment of a race can reveal latent ability expressible via sectional times, these extenuations can only account for so many relative shortcomings over a period of time.
Honeysuckle's hierarchical standing to date – a current Timeform rating of 165 – is further limited by her 7lb sex allowance, meaning she has not racked up truly elite numbers during her dominance of the two-mile hurdling scene for the past two seasons.
Yet even among mares, she has not achieved the heights of 1984 Champion Hurdle winner Dawn Run, whom Timeform rated 173 (in an era when Britain employed a 5lb allowance for mares). More recently, despite only racing against males on six occasions over hurdles, Annie Power achieved 170+, achieved when extending her Cheltenham dominance over My Tent Or Yours with an 18-length demolition in the 2016 Aintree Hurdle on her final career start.
Yet Honeysuckle has won 12 Grade One races, ten in open company, and thus far has proved impervious to course, ground, pace, opposition or tactics. Davy Russell described the various tactical scenarios: "You take her on, you don't take her on; you get her to make the running, you take her on five from home, four from home; inside or outside, cover her up or not...". The result has been the same.
A reminder of how Honeysuckle made it 16-from-16
However, data provides us with the facility to make a meaningful pre-clash comparison between Constitution Hill and Honeysuckle by contrasting their performances in winning the Sky Bet Supreme Novices' and Unibet Champion Hurdles over an identical course-and-distance two hours apart in March. The novice completed in a time more than five seconds faster than the mare – an accomplishment that eclipsed Golden Cygnet, who had reigned as Timeform's highest-ranked novice since 1978.
Yes, Constitution Hill received the ideal set-up that day thanks to Jonbon and Dysart Dynamo softening each other up to some degree and, yes, Honeysuckle's race was steadily run, but the novice's success ultimately translates to a 27+ lengths superior performance.
Such breakdown analysis also shows that Constitution Hill quickly established a large comparative lead over Honeysuckle which then diminished between the fourth and seventh hurdles, but – most remarkably, given the tempo at which the Supreme was conducted – he steadily extended again from the second last. All this despite breezing into an unassailable lead on the home turn whereas Honeysuckle was still in the process of quelling her opposition until well after the last.
However, as both Walsh and Russell argued a fortnight ago, Constitution Hill still had to prove he could replicate his Supreme dominance. Let's call this the Hawk Wing Principle: until horses repeat an extraordinary performance, there is always the possibility they benefitted from a perfect set-up, like the 2003 Lockinge (below).
Total cosmic convergence is unlikely to happen twice; a horse must prove he or she can achieve similar heights under different circumstances. Newcastle on Saturday checked that box, with the winner making his own running.
Yet it also doesn't follow that because Constitution Hill's career trajectory was so steep as to achieve greatness on merely his third career start, that this improvement will continue as he moves into the second phase of his story. Precocious freak though he is, there are rational limits.
Most immediately, what we learn from time and performance analysis of his latest two starts is that he doesn't need to improve to beat Honeysuckle. More academically, he started from such a high base that any progress he is able to express could potentially launch him to the top of the historical hierarchy. His most closely fought tussle might prove to be with shadowy bygones.
There is, of course, much to be said for consistency and longevity. Honeysuckle has already proved she possesses both of those qualities whilst Constitution Hill has barely begun. There is also something to be said about finding a way to win whatever the circumstances – a trait the mare also holds in abundance. Yet the uncomplicated manner in which Constitution Hill gallops suggests he, too, is likely to be invulnerable to whatever scenario stands in his way.
Advised by Nicky Henderson not to risk "a silly tactical race", Nico de Boinville set off with purpose on the five-year-old at Newcastle last Saturday. His mount tackled the two miles in push-button style – settling beautifully on the lead, jumping fluently and ending the contest with a sustained burst of acceleration after three out.
On his first attempt at open company, Constitution Hill thus beat a six-times Grade One-winning hurdler, to whom he was conceding the 7lb sex allowance, by 12 lengths on the bridle. I'm not arguing Epatante was at her very best. She tends to build on seasonal debut and usually peaks at Cheltenham. A jolting mistake three out, when she landed uncomfortably on her hind legs, couldn't have been timed worse.
However, there is little reason to think she didn't run comparably to her dead-heat with Not So Sleepy in this race last year, with that rival a few pounds below his level 12 months ago. Finishing last of five and switching back from chasing, Tommy's Oscar was around a stone and a half below his best.
The evidence of Newcastle perhaps removed (bar injury, ailment or other disaster) the one scenario in which you could have imagined Constitution Hill being downed – being beaten to the punch in a crawl.
The fact he can make his own weather if the pace is too slow is a critical asset. So, he's something of a tactical brick wall for Rachael Blackmore because Honeysuckle also tends to make her move – specific racecourse permitting – at the same juncture in a race. The problem is that de Boinville's mount does it more powerfully.
It will come down to how long the mare can live with his injection of pace. I say she won't, but she might just fuel an enormous performance from Constitution Hill in the process – and, provided the effort doesn't cause her to wilt late on, she herself may record a career-best. He's everything you would want to enable Honeysuckle fully to express her ability – but, oh, so much more.
In the aftermath of the Fighting Fifth, Henderson indicated he'd like to provide Epatante with a fair chance of winning a third Christmas Hurdle by not running her upstart stable companion alongside at Kempton. It's therefore a distinct possibility that Constitution Hill will head over to Ireland for Leopardstown's Matheson Hurdle on 29 December.
Don't scoff – the Seven Barrows handler has plundered that meeting before with Bobs Worth in the 2013 Savills Chase and can be aggressive in his campaigning of what he perceives to be a dominant horse. Just remember Sprinter Sacre and even Altior in their youthful pomp – or even Shishkin taking on Energumene in January's Clarence House. It's when there are vulnerabilities to manage that he can become defensive, I think.
If Constitution Hill has indeed booked his flight to Dublin, the Matheson Hurdle becomes even more interesting – and Sharjah's hopes fade of becoming its most successful winner outright with five victories. He was already set to face his year-younger stablemate, State Man, who downed him in the Morgiana, and Pied Piper, who has graduated from the juvenile ranks with two successes already. Now there's a monster coming over the hill to Foxrock.
State Man is also slated to take on Honeysuckle in the Irish Champion Hurdle, where stablemate Vauban could yet appear – unless, as outlined by Ruby Walsh on Road To Cheltenham last week, trainer Willie Mullins aims to fly him low until Cheltenham. After many arid years in terms of competitive abundance, the two-mile hurdling division is tentatively promising to flower.
Honeysuckle herself takes her first public steps of the season at Fairyhouse this Sunday, seeking to win her fourth Hatton's Grace on the bounce. She is mostly set to meet rivals accustomed to racing over further, including Ashdale Bob, Sire Du Berlais and, perhaps most substantially (if on a going day), Klassical Dream. The first pair among that trio would hold a fitness advantage over the mare, as would a revivified Darver Star – the 2020 Champion Hurdle third who, after an abortive attempt at fences, has returned to something approaching his best hurdles form over the summer.
Back to last weekend's action and about 20 minutes after dominating that electrifying edition of the Fighting Fifth, Henderson enlisted reinforcements.
First Street duly registered a substantial weight-carrying victory in Newbury's Coral-sponsored Gerry Feilden Hurdle, giving four-year-old filly Grivetana – well-handicapped according to her trainer, Paul Nicholls – almost two stone and a two-and-half-length beating.
First Street was resuming the progress he'd established in last term's novice campaign, finishing third over the course and distance in the Betfair Hurdle and then, conceding 1lb, finishing just over a length behind State Man in the Festival's County Hurdle from a mark of 142. He'd subsequently blown out at Aintree behind Jonbon in the Top Novices' Hurdle at Aintree, perhaps unsuited by the more marked emphasis on speed.
Rider James Bowen, who climbed back aboard with de Boinville billeted for duties in Newcastle, suggested Henderson may now wish to dispense with the hood that had been so important to First Street during his novice season. His mount jumped fluently and found plenty after stalking the game front-running Grivetana in the straight.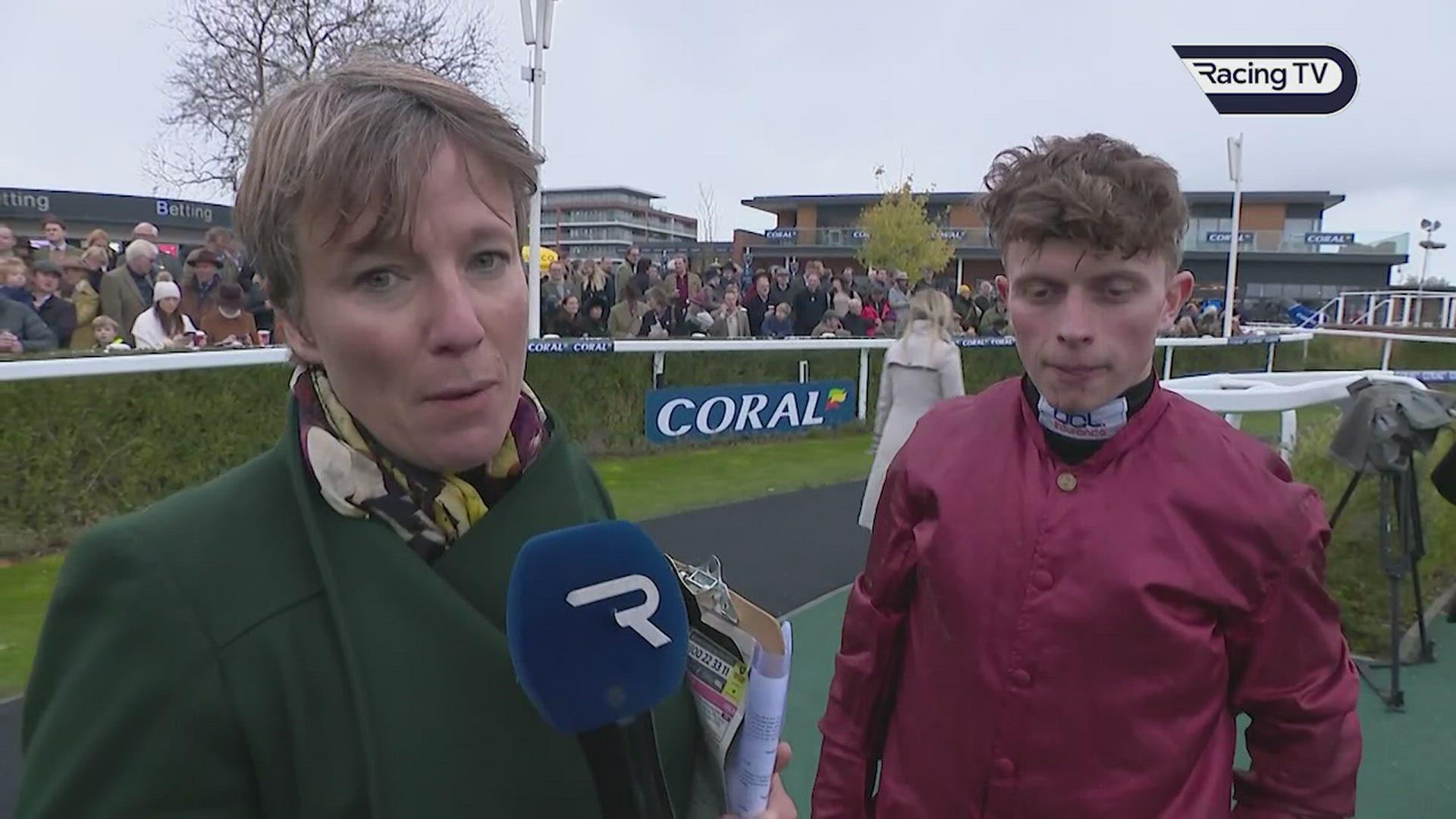 James Bowen gives a post-race assessment of First Street's performance
"We thought he was going to be a bit keen but those days are gone with him now really," Bowen said. "Once he dropped [the bit] after the first quarter mile, he was nearly hard enough to get awake again. Turning in, I was just trying to get him to latch on but once he got upsides... I was kind of racing then. But then he got to the front and kind of thought he'd done enough."
Asked whether his mount would get further, Bowen added: "He would, definitely... But without the hood, it might just light him up a bit and he'd probably just travel and be on it the whole way rather than nearly going lazily about it in the last half of the race. He stays two miles well; I think there's no point in stepping up just yet anyway."
Henderson was inclined to nominate a quick reappearance in Cheltenham's International Hurdle on Saturday week as First Street's potential next step. There, he would likely encounter impressive Greatwood winner I Like To Move It. Both would appreciate the extra accent of stamina offered by 2m1f on the New Course.
Alternatively, should Saturday week come too soon for First Street, he's also entered in Ascot's Betfair Exchange Trophy, a competitive two-mile handicap hurdle on 17 December.
Epatante's comprehensive defeat by her younger stable companion at Newcastle, combined with her evident liking for two-and-a-half miles in April's Aintree Hurdle, suggests she is likely to head for the David Nicholson Mares' Hurdle next March – via Kempton's Christmas Hurdle. That's a great shame for Cheltenham's main hurdling event but unfailingly logical in the circumstances.
She's now mixing it with Brandy Love as ante-post favourite for that less prestigious Grade One – a mare who missed her engagement in Cheltenham's Dawn Run Mares' Novices' Hurdle in March due to one of the racecourse vets ruling her to be lame on her right hind leg. She subsequently beat Love Envoi, the winner of that Grade Two in her absence, by eight lengths in a first-time hood at Fairyhouse the following month.
Typically, she jumped out to her left – but not as wildly as back in January when beaten by stablemate Allegorie De Vassy, who goes chasing this term. In his mid-November Racing Post stable tour, trainer Willie Mullins reported that Brandy Love had not yet returned to Closutton from pre-training, so not surprisingly she does not yet hold any entries.
Her trainer then considered her to have "a favourite's chance" at Cheltenham, but he would have been reckoning without a mare as talented as Epatante potentially switching targets. Brandy Love is yet to take her first steps outside of novice company, so the lag in her comparative rating is to be expected but she has about a stone to find on the 2020 Champion Hurdle heroine.
Similarly, in his Racing Post stable tour dated mid-October, Gordon Elliott felt Queens Brook would "take some stopping" in the David Nicholson "if we get a clear run with her". She finished just under two lengths second to the Henderson-trained Marie's Rock in March despite a poor preparation.
Queens Brook left her disappointing seasonal debut at Limerick long behind at Punchestown earlier this month when trouncing Heaven Help Us by six lengths, but she also has a good 10lb to find on a peak Epatante.
The latter's sub-par defeat by Marie's Rock in April was plausibly explained by hard races at both Cheltenham and Aintree beforehand.
However, the winner – who wears her head at a jaunty angle – was progressive last season and did particularly well to pick up the now-retired Stormy Ireland when she had kicked on after pinging two out at the Punchestown Festival. Marie's Rock shouldn't be underestimated again.
Staying hurdlers
The Coral Long Distance Hurdle produced a classic of its type, with two top-drawer ten-year-olds engaged in a compelling duel of archetypes – a zestily fresh front-runner against the dourest of patiently ridden stayers. This was essence of Champ versus pure-distilled Paisley Park.
A good run from Champ was always likely, given his strong record both at the track and when fresh; what we were to expect from the mercurial Paisley Park was less straightforward, given his habit of losing his position and playing mind games with Aidan Coleman at the start. There was a clue beforehand – Champ looked typically well in the paddock whilst Paisley Park, whom trainer Emma Lavelle said would improve for the run, was alert and statesmanlike.
In the race itself, it soon became apparent that the latter was in munificent mood. He jumped off without the slightest hint of drama, even travelling sweetly exiting the back straight for the final time and making stealthily inexorable ground on front-running Champ. In doing so, he readily passed Thomas Darby, who'd won a preposterous edition of this race 12 months earlier but here regressed sharply from his encouraging Wetherby seasonal debut.
By this point, both the well-backed outsider Tea Clipper (punters perhaps anticipating he would emulate his stablemate, Sebastopol, by springing a shock) and wide-margin Wetherby winner Proschema had long been struggling. The former had weakened from a prominent position before the eighth flight and the latter stuttered into five out, finding nil afterwards, and was pulled up.
Champ's more fluid jumping finally got Paisley Park off the bridle in the straight, especially after the third last. Aidan Coleman's mount rallied bravely, however, and – brought towards the stands' side rail so that the two principals were split by the width of the track – he only just failed by a diminishing neck to reel in the leader. Jonjo O'Neill Jnr had managed to save enough in front, despite his mount's enthusiastic approach.
Having been loudly applauded by an appreciative crowd whilst unsaddling, both riders spoke engagingly about their perspectives on the race, Coleman ruing that Paisley Park didn't jump the last few hurdles more cleanly.
Aidan Coleman's post-race debrief after Paisley Park went down fighting at Newbury
Both horses now roll on to Ascot's Long Walk Hurdle on December 17, in which they finished first and third last year. Champ obviously won't be running as fresh – and that's when he was by far his most impressive last season – and Lavelle will be hoping for rain for Paisley Park.
They could encounter a brace of mares – the previously-discussed Queens Brook, trying a new trip under Rules, and Miranda. Having previously shaped promisingly on the Flat and sporting first-time cheekpieces, Miranda thumped Martello Sky and Molly Ollys Wishes with a career-best performance over three miles at Kempton earlier this month.
Dashel Drasher, a non-runner at Newbury last Friday due to the ground, and Not So Sleepy, who would be stepping up markedly in trip, are also entered at Ascot.
More immediately at Fairyhouse this Sunday, a number of staying types will take on Honeysuckle over the intermediate trip of the Hatton's Grace – potentially including Klassical Dream, who would be facing the unbeaten mare for the first time.
It will be interesting to see how he is ridden against her: aggressively, as per the Christmas and Galmoy Hurdles, more patiently as per the Stayers' Hurdle and the Grande Course de Haies d'Auteuil, or somewhere in between, like Punchestown's Champion Stayers Hurdle?
Finally, in news from off the track, Gordon Elliott reports that last term's Champion Hurdle runner-up, Zanahiyr, has undergone an operation to augment his breathing following his sorry showing in the Lismullen Hurdle. His next target is Leopardstown's Jack de Bromhead Christmas Hurdle on December 28, for which Bob Olinger and Klassical Dream currently vie for favouritism.
Staying chasers
Your move, Galopin Des Champs. Protektorat, Bravemansgame, Envoi Allen and now L'Homme Pressé have all taken their first steps of the season, resulting in respective career-best efforts from each. Meanwhile Ahoy Senor has some recovery work to do, starting by taking on – among others – Grand National hero Noble Yeats in Saturday's Many Clouds Chase at Aintree.
Bar for an inexplicable but sizeable blunder at the sixth, L'Homme Pressé was impressive when carrying top-weight of 12st, from a mark of 164, to victory in the Rehearsal Chase at Newcastle last Saturday. He responded positively to that error from the next fence, however, jumping with poise when taken on by Happygolucky, clever when putting himself right at the 12th, and having long settled the race when thriving Into Overdrive made late inroads. Rider Charlie Deutsch didn't even need to get remotely serious with the winner.
Having enjoyed a fiercely progressive novice campaign, culminating in his three-and-a-half-length Brown Advisory triumph over Ahoy Senor at the Festival, L'Homme Pressé signed off on a low when beaten 18 lengths by that rival in Aintree's Mildmay Novices' Chase. It was reassuring to see him back on song here, recording a performance that demands to be taken just as seriously for top staying-chase honours as Protektorat's Betfair Chase success.
Winning owner Andy Edwards was suitably delighted afterwards. "He's just class. First run of the season, to do that. Venetia [Williams, L'Homme Pressé's trainer] said he was ready to race but would come on a lot for that.
"The scare, that woke him up where he nearly went, that was probably the best thing to happen because he was flying away thinking 'oh this is easy'. Once that was done, he woke up and was very clever at his fences after that. He's only jumped three fences since Aintree, he's only schooled once, because of the ground and travelling to Ascot. That was the only thing I was concerned about – he might be a bit ring-rusty around his fences.
"We said if they go off silly to tuck him in behind and just follow but he just travelled so well and all of a sudden, he was in front again. It's wonderful and we're very lucky."
Edwards added that a great deal of rain would need to fall if L'Homme Pressé is to take up his King George engagement, so – like Protektorat – he must be regarded as doubtful. "The Gold Cup remains the ultimate aim but there is a lack of options beforehand," Edwards told the Racing Post. "It's four weeks and two days to the King George, so the timing would be right, but it's completely dependent on the ground.
"It needs to be soft. It isn't a question of 'safety'; it's a question of Kempton being a flat and sharp track. That's not his ideal set of conditions, so we would prefer it to be soft ground. We won't be worrying about it; it will be what it will be. We're left in there and can make a decision closer to the time."
For some unfathomable reason, Ahoy Senor has also stood his ground at the latest forfeit stage for that Grade One event, despite Kempton being the last place you'd want to run him (again).
Willie Mullins scratched all of his entries, confessing – subsequent to the forfeit stage, natch – that titleholder Tornado Flyer had suffered a setback that will cause him to miss not just Christmas but the entire season. Whilst stablemate Allaho is also sidelined (hopefully only until early next year), Galopin Des Champs is headed – as advertised – for Punchestown's John Durkan Chase on December 11.
Finally for this division, Paint The Dream outclassed his opposition at Newbury last Friday, conceding weight all round and dishing out a 12-length beating to The Widdow Maker. That career-best effort, under the changed tactics of a patient ride, will push him back into graded company this season.
Given his liking for Newbury and the way in which he travelled over 2m4f, trainer Fergal O'Brien might consider the Betfair Game Spirit but jockey Connor Brace nominated the mile-longer Denman Chase. Both are staged on the same card next February.
Novice chasers
It was a two-fence shoot-out for McFabulous, whose achievement in winning the Grade Two John Francome Novices' Chase at Newbury last Saturday is therefore hard to determine. The second of those two fences was the actual fourth last, where he outjumped the higher-rated ex-hurdler and odds-on favourite Thyme Hill and stretched away to win by six-and-a-half lengths.
Having originally been booked to ride stablemate Gelino Bello – whom trainer Paul Nicholls withdrew due to the ground being too quick – Harry Cobden set off in front from the outset on the winner, and immediately assumed control of the race. Initially attended by the wider-racing and officially 21lb-inferior Mortlach, McFabulous had bowled into a four-length lead by the third.
Meanwhile, Thyme Hill jumped much as he had done on debut at Exeter – that is, unconvincingly. Settled in last and a shade keen early, he guessed at the third and braked going into the fourth prior to ballooning the open ditch as if scared of it. Thereafter, he was deliberate – either getting in too close or giving the fences too much air.
Urged up the inside of smooth-travelling McFabulous exiting the back straight by usual partner Tom O'Brien, Thyme Hill made a passable impression of a good jump at the fifth last, albeit nodding on landing, but lacked his rival's appetite for the next. With that, it was all over. Indeed, he only had two lengths to spare over Mortlach – admittedly the more accomplished chaser, if innately less talented.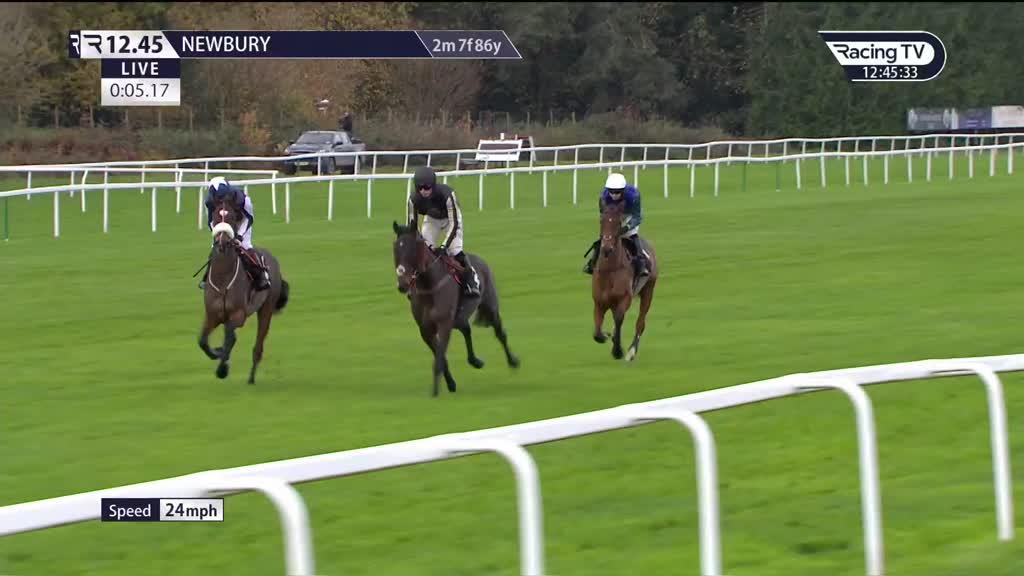 Watch the full replay and make up your own mind where Thyme Hill should be going next
McFabulous's jumping looked good by comparison but in truth he was rarely tested. He had a bit of a wobble going into the sixth and was even more careful than Thyme Hill at the water, but he flew four out and that broke what little nerve his main rival had been holding together.
Having brought Nicholls his 11th success in this Grade Two, McFabulous now heads to the Kauto Star Novices' Chase at Kempton – a race his trainer, like Nicky Henderson, has won five times. Gelino Bello could yet join him there, depending on how he fares at Exeter this Friday.
McFabulous wasn't exactly famed for his gumption as a hurdler, albeit Nicholls always insisted he needed a triumvirate of factors to be at his best: good ground on a flat, right-handed track. It may well be that the rhythm of chasing combined (his trainer would add) with greater maturity may yet see him in a better light. But I won't take any short prices about him at the highest grade just yet.
As for Thyme Hill, he looks like he hates chasing. There is one potential mitigating factor to consider: as O'Brien cited immediately post-race, his mount tends to lose condition if his outings are not well spaced out. Independently of this observation, one of my paddock spies had noted the horse looked less well than previously at Exeter.
I'd also noted that Thyme Hill raced with his tail held high – an awkward carriage he even retained after being unsaddled – but, having looked through his past video-form, this is not a new development. Perhaps it just appears more obvious over fences?
Speaking after Zanza's success in the following race, trainer Philip Hobbs was not inclined immediately to draw stumps on Thyme Hill's chasing career and plans to seek a lower-level race in which to find some confidence. However, a return to hurdles was clearly an option, so expect this horse's name to appear among entries for the Paddy Power Stayers' Hurdle in the new year.
Newbury's other graded novice chase, Friday's Coral Racing Club Berkshire over 2m4f, was also underwhelming. It was won by Sebastopol, the 22/1 outsider of the quartet who carried a 5lb penalty for his Listed success at Chepstow in early October. Having got off the mark over fences back in mid-March, he loses his novice status as of now - December 1.
Something of a character, he was nonetheless the most capable and straightforward in this field and his experience over the larger obstacles – this was his 11th chase start – helped him to pop away as his callow rivals betrayed their various weaknesses.
Life will be a lot tougher in open handicap company from a mark of 147, but big-field strongly run races might turn out to suit him better. His Swinton Hurdle third offers such hope, but first his enterprising trainer Tom Lacey is considering Sunday's Grade Two Peterborough Chase. Deep winter ground, should it ever come, will be avoided.
The market expected 2/7 favourite Stage Star to follow up his Warwick debut success, which had looked a deep contest on paper but in actuality fell apart around his ears. Here, he failed to convince with his jumping – taking off too early on at least three occasions and paying the price for such guesswork with a mistake at the eighth.
Pressed for the lead by Sebastopol from after three out, he was under pressure disappointingly quickly and started to hang badly left, to the extent that Harry Cobden had to haul him right to get back on course for the run-in. Even so, his mount almost collided with the railing.
A baffled Cobden expects that a physical problem, such as a pulled muscle, will come to light because he had needed to counteract Stage Star's inclination to hang badly left throughout the race, and his mount was even taking the bends on the wrong leg. Although Nicholls believes the horse needs good ground, his rider was even wondering whether he was letting himself down.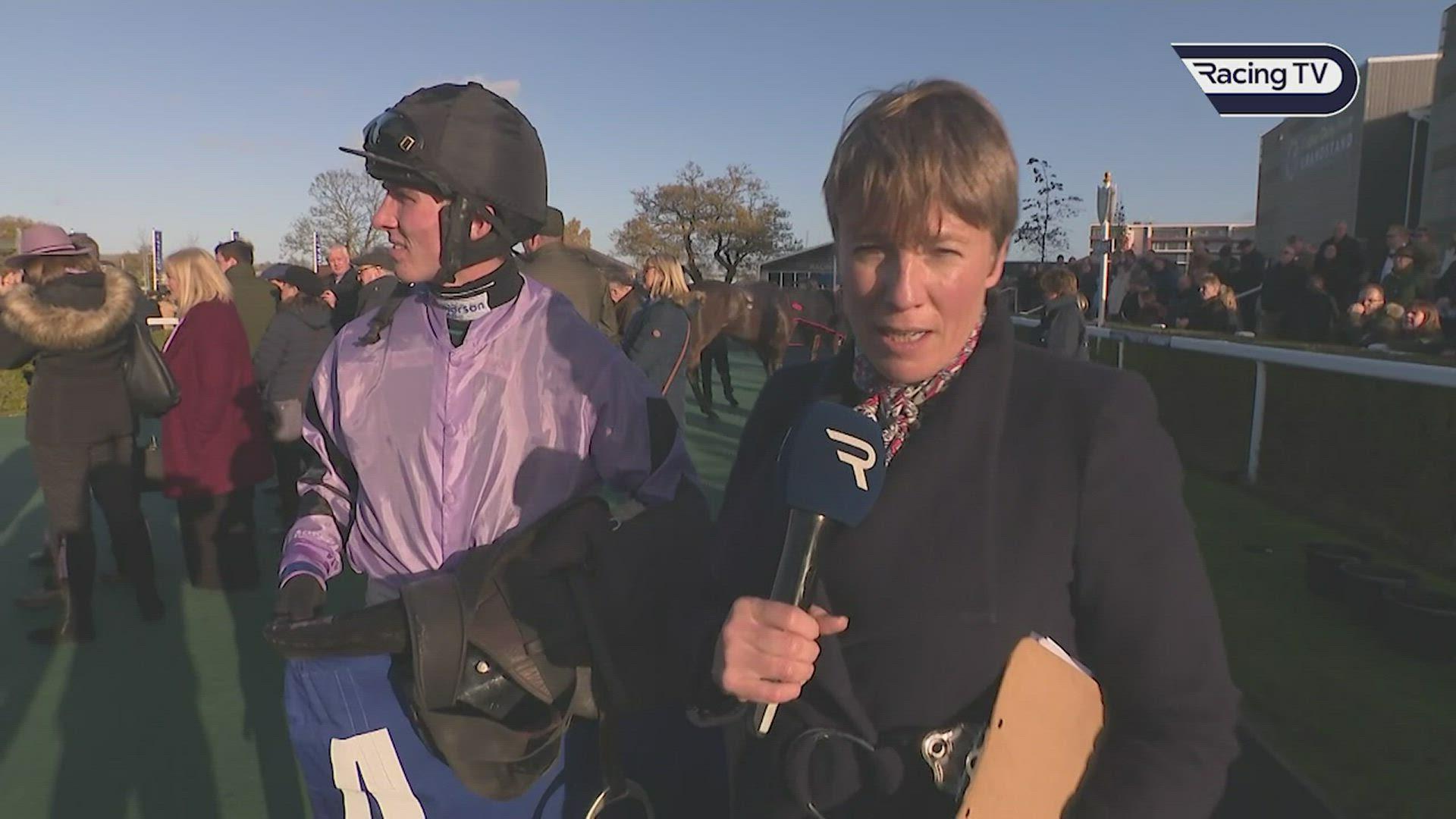 Harry Cobden talked to Lydia Hislop immediately after Stage Star's defeat
Back in third on a tough ask for his chase debut, the scopey Wonderwall shaped with some promise when fleetingly looking threatening on the approach to the second last. Trainer Richard Spencer had prioritised the benefits of a small field and a galloping track over the suitability of grade – and there was plenty to encourage him here.
Back in fourth, Agent Camprond dropped any attempt at subterfuge and was instead engaged in open warfare. Holding his head on one side, he played chicken with Aidan Coleman over whether he would take off at the first fence at all, begrudgingly leaving the ground at the last minute and as briefly as possible. He continued in that sulky fashion for some time – as if Coleman had dragged him to the races despite having promised to take him Christmas shopping instead.
He got slightly better in the mid-part of the race, albeit often screwing right at his fences, but he flung himself over five out, slowed suspiciously into the third last and clambered over the rest at an ever-slowing pace. As Jonathan Neesom pointed out on Racing TV, it took Camprond a long time to learn how to jump hurdles. It's going to take some feat of nerve to out-wait him this time.
This race also had been stripped of some interest beforehand when Beauport, who'd impressed when winning on chase debut at Carlisle, was withdrawn due to the ground. He reappeared – and was beaten – at Haydock on Wednesday in a performance that we'll look at on this week's show.
In the earlier novices' limited handicap chase, again the horse with the big reputation faltered. This time, it was the Henderson-trained Balco Coastal, well-backed into 13/8 to make a winning chase debut. Perhaps losing confidence after taking a liberty with the first fence, he made a variety of novicey errors and was never going to get involved. Ultimately, he wasn't beaten as far as his poor jumping merited, however, and he could learn plenty from this.
The winner Frère D'Armes hailed from 2lb out of the handicap but, as at Kempton on debut, reaped the full benefit from fluent jumping and a willing attitude. He did well to wear down the front-running Aucunrisque, who has also taken well to fences. Trainer Dan Skelton is mulling over a long-range Grade Two target over 2m4f at Kempton in February – and he might be forced to think that far ahead because his winner returned with a cut to his leg.
"I'll need a vet's opinion," he said. "I hope it's cosmetic and I'm not in a massive rush with him. I don't think we want to ask him too many big questions too soon. I'd rather give him time and the cut will force that, but I don't think that's a bad thing. Even if he didn't run until February, I wouldn't mind. We'll see how the novice [division] looks, but something like the Pendil could suit."
2021 Betfair Hurdle winner Soaring Glory – due to make his chase debut – was the notable non-runner in this event, again due to the ground, but he instead he took on rivals at level weights over two miles at Carlisle two days later. He may as well not have made the journey, looking tentative over his obstacles and never really travelling. A bad blunder five out ended his bid.
The race nonetheless provided an impressive winner in Bass Rock, who jumped with notable efficiency on his chase debut and dispensed with two fair rivals – front-running Llandinabo Lad and improving Jetoile, both of whom had experience of fences – by eight lengths and a further three. Described by trainer Sandy Thomson as "quite a burly horse... who will definitely come on" for this run, he's an interesting recruit – particularly as he's likely to be better when upped in trip.
At Navan that same day, Fil Dor made an accomplished start to his chasing career when dispensing with fellow chase debutant Saint Roi by four lengths, with a further yawning 24 lengths back to the third. The winner adjusted slightly right at first but soon became more fluent. He jumped through to attend Saint Roi more closely from the fifth last, led narrowly two out and sealed his success with the more fluent leap at the last.
As Ruby Walsh identified in Show 2 of this series, Gordon Elliott had clearly schooled Fil Dor over fences prior to him running clumsily over hurdles earlier this month. The four-year-old will now have his sights raised over fences at Leopardstown this Christmas as part of a team long-suited in talented novice chasers.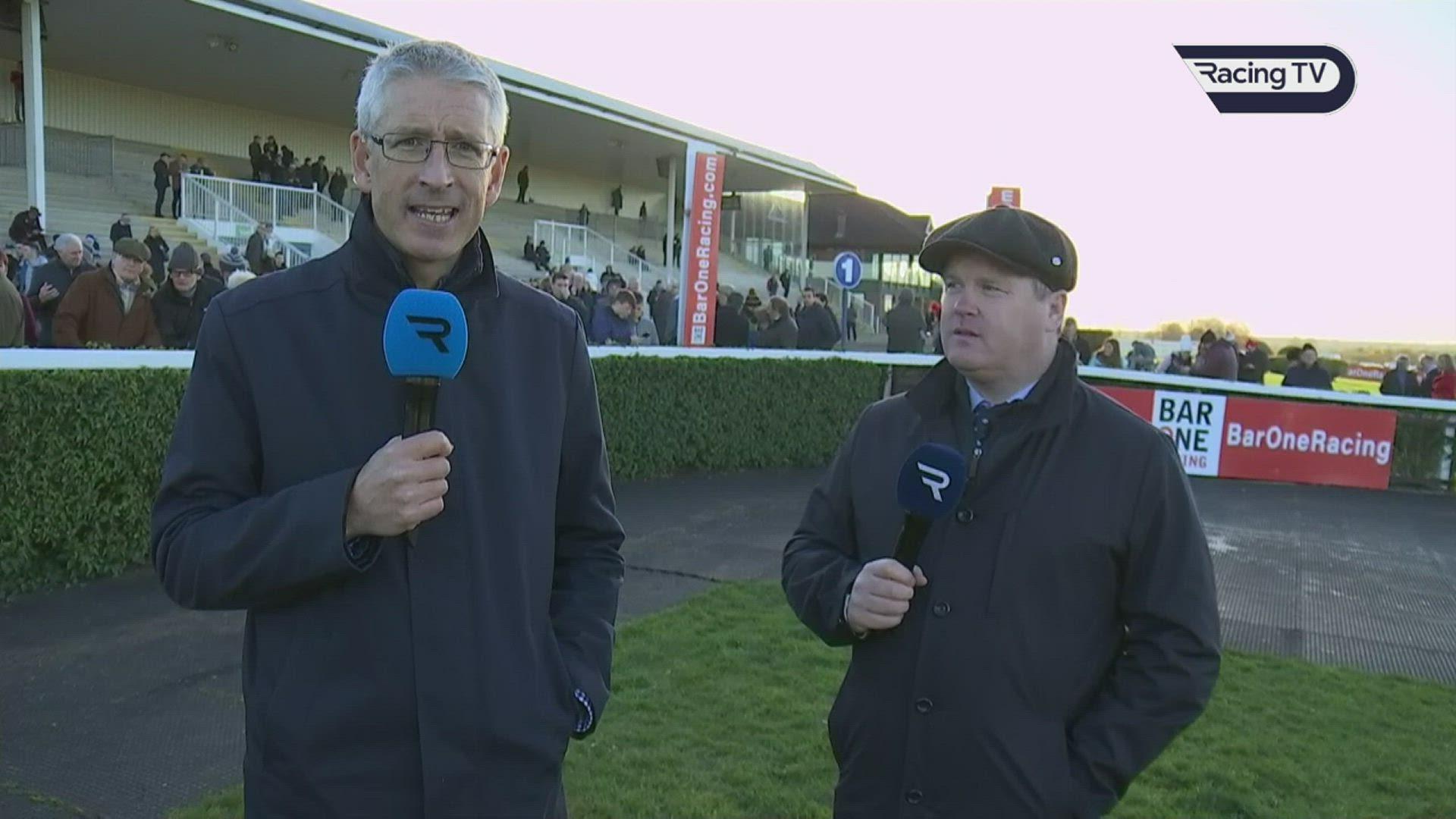 Fil Dor's trainer Gordon Elliott gives his assessment of Navan victory
The runner-up, who won the 2020 County and, after missing much of 2021, finished fourth in last season's Champion Hurdle, persistently adjusted right over fences. However, he lacked the benefit of a recent run and was conceding 8lb to his younger rival.
On the previous day at Gowran, Classic Getaway thwarted better-fancied stablemate Minella Cocooner despite the latter poaching a cheeky lead at the start and getting a solo in front until joined by the eventual winner and Journey With Me, his nearest market rival, three out.
There, Journey With Me made a mistake which might have frightened him because he appeared to hurl himself diagonally in hope at the next, giving himself no chance of clearing it and Rachael Blackmore even less of staying on board. He had already weakened at the time, however.
Neither of the remaining pair jumped the last three fences smoothly but Classic Getaway had nosed ahead at the last and landed less awkwardly than Minella Cocooner, enabling him to register a victory of almost three lengths. There was a further 27 back to Whatdeawant, who'd been dropped at the entrance to the straight, resulting in a Willie Mullins clean sweep.
Burdened by a massive price-tag, Classic Getaway had a chequered novice-hurdling career – beaten at short odds when pulling too hard on debut and breaking a blood vessel when pulled up behind stablemate The Nice Guy – who's sidelined for the season – in the Albert Bartlett in March. He ended the season on a respectable note at Punchestown, albeit demoted from second to third for causing interference. This was much better, so perhaps fences are his thing.
It was straight-up disappointing that Minella Cocooner, as the highest rated hurdler in the field and having jumped well under an easy lead, couldn't manage to win. He was without his usual hood and racing over a trip short of his best, but still.
At least it wasn't as alarming a performance as Journey With Me's contribution. He hit the deck when already beaten by Sir Gerhard in the Ballymore and then performed poorly at Punchestown. He's in dire need of a confidence booster.
At Thurles last Thursday, The Goffer won the 2m6f beginners chase despite being outjumped for most of the race by Indiana Jones. However, that rival stopped suddenly soon after entering the straight whereas the winner stayed on strongly. The odds-on favourite Churchstonewarrior kept on dourly for second after a poor round of jumping.
We're all over it! Join Racing TV now to watch the best action during the 2022-23 Jumps season!