Last weekend's action – even the Gold Cup winner's defeat – was largely overshadowed by the controversial inaction of three high-profile declarations at Ascot. I don't propose to repeat myself here by reprising the wider issues at stake, but if you'd like to read about that you can find my thoughts here.
We will also briefly address the subject from a different angle in this week's show. That's where you'll also find our latest analysis of the novice chasers and hurdlers, plus a pair of hurdling mares.
Enjoy the latest episode (episode 3) of the Road To Cheltenham with Lydia Hislop and Ruby Walsh on our YouTube page
Two-mile hurdlers
State Man, Ireland's highest-rated novice hurdler from last season, made an exemplary transition into open graded company in Sunday's Morgiana Hurdle, beating senior stablemates Sharjah and Saldier. In what proved to be a Willie Mullins benefit, even though he 'only' ran three of his six entries, the winner appears to have graduated into pole position within Closutton's two-mile hurdling squad.
The Punchestown Grade One event was named in memory of the late Michael Rafferty, who passed away in June and, under the name @AnaglogsDaughtr, was a highly popular and much-missed member of Twitter's enthusiastic horseracing community.
My Road To Cheltenham co-presenter Ruby Walsh has long been a fan of State Man, having made him the bet of the Festival in the hurly-burly of a County Hurdle despite it being only his fourth career start. The horse's subsequent demolition of Punchestown's Grade One Champion Novice Hurdle underlined why.
His fall on his Irish hurdling debut last December clearly caused him to be shuffled farther back in last season's Closutton novice-hurdling pack than his talent merited, but he's been vastly progressive ever since. On Sunday, he accounted for a six-times Grade One winner by four comfortable lengths – despite having generally been agreed to have been "a touch burly" in the paddock.
"Our fella ballooned the first and he was getting better as he went along, but I think we've got a lot more work to do on his jumping [to] get him to be sharper," Mullins observed. "That'll come, too, just with experience. So, we might give him another... we might go again at Christmas, maybe again for the Dublin Racing Festival. He's going to need those couple of runs, I think, to sharpen up his jumping."
That sounds like he'll probably be present and correct in both the Grade One Matheson Hurdle at Leopardstown over Christmas and in next February's Irish Champion Hurdle, where he would face the champion Honeysuckle – if everything goes to plan for both protagonists.
It's therefore not surprising State Man is now 6/1 third favourite for the Unibet Champion Hurdle – remarkably, just two points longer than the 16-race unbeaten mare who has bestridden* this division for the past two seasons. But he will indeed have to eradicate less-than-fluent jumps, such as here at the fifth, if he's going to cut it in that rarefied league. [*not a neologism, I discover!]
Asked in an informative interview which you can watch below with Racing TV's Gary O'Brien whether State Man has the other requisite attributes to be a proper top-notch two-mile hurdler, Mullins added: "I think he has. Who knows how much he can improve? He's got the pedigree. I think he'll improve his jumping, and he seems to have an engine – and that's the most important thing."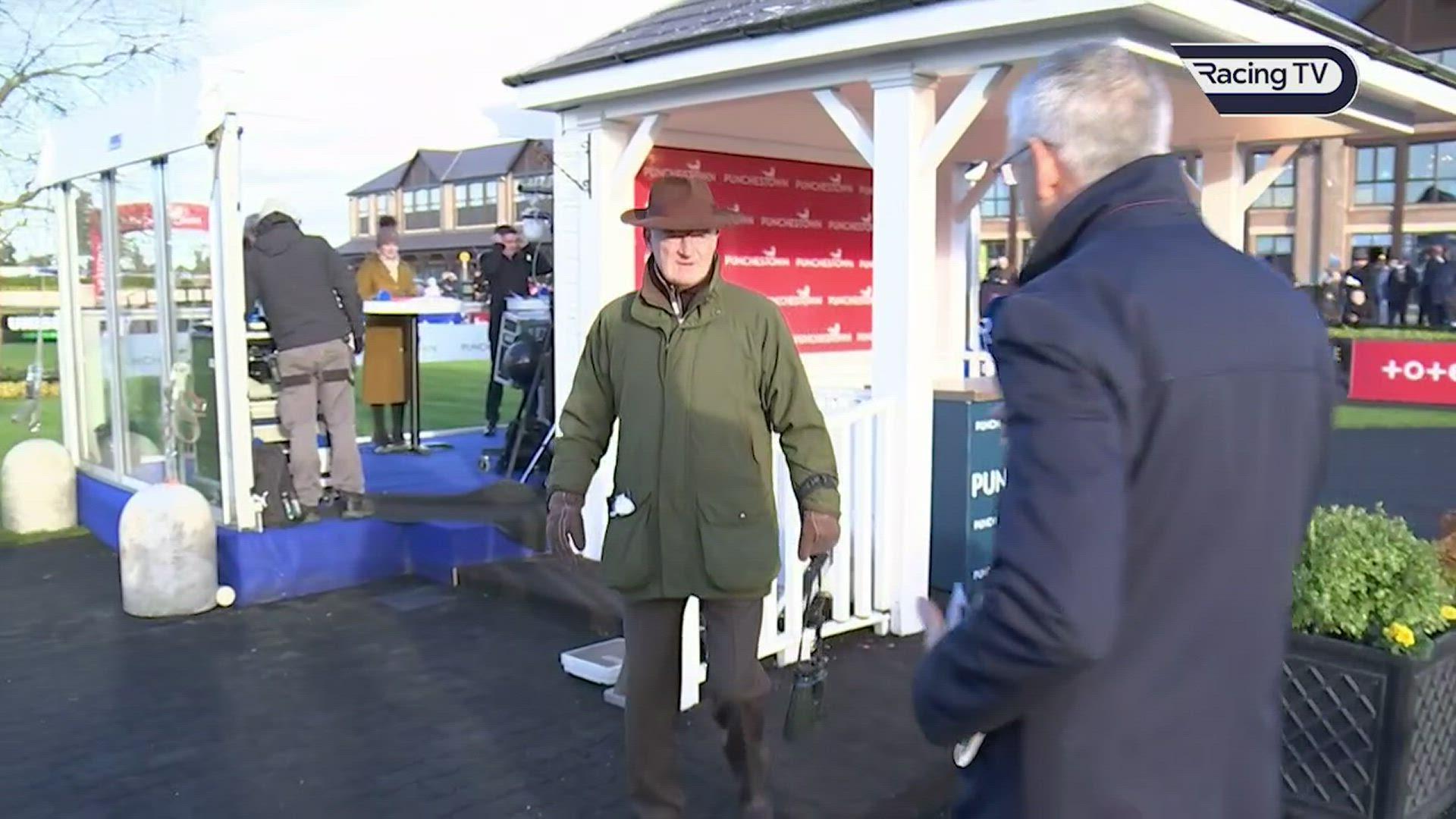 Mullins also admitted he was "a little disappointed" with Sharjah, in that "he couldn't get to" State Man. That horse's primary target will, of course, be an attempt at a fifth straight win in the Matheson – a record that would eclipse, on paper at least, those of Istabraq and Hurricane Fly in that race.
Sharjah was returning from almost a year off on Sunday after sustaining a setback in the second half of last season, and the course layout over Christmas at Leopardstown suits him ideally. But he's also rising ten now, and may well have most to fear from friendly fire. He was caught slightly out of position and responded flat-footedly when Paul Townend injected pace entering the home turn after three out at Punchestown, and only made inroads on the winner when it was all over.
Mullins later reported that he'd run that Morgiana trio in preference to any of Ballymore winner Sir Gerhard, last season's top juvenile Vauban or the mare Echoes In Rain because they were "working better".
Given State Man has stepped forward over hurdles, you might now reasonably expect to see Sir Gerhard next over fences but, after a long pause and much puffing-out of his cheeks, the trainer did admit he's "not bursting to run" either him or Vauban.
"They haven't just shown me what I want to see," he stated succinctly. "There's no point with horses like that just running them for the sake of running them. They'll come in their own time, when they're ready – I hope!"
Of course, the longer this applies to Sir Gerhard, the less likely he is to go chasing this season because it would make little sense to have a truncated campaign in a new discipline. However, he has schooled over fences already according to Ruby Walsh. Mullins is clearly still keeping Vauban's difficult second album under wraps, however.
In the much-discussed absence of Constitution Hill at Ascot last Saturday, an event to warm the cockles took place when The Peoples' Favourite, Goshen, tanked through the Coral Ascot Hurdle and saw off Brewin'upastorm, to whom he was conceding 6lb, by more than eight lengths.
After he'd appeared to hate fences at the track last month, I'd suggested he'd be better off back on the Flat these days. I couldn't have been more delighted to be wrong.
As for Constitution Hill, he is entered against stablemate and titleholder Epatante in Saturday's Betfair Fighting Fifth Hurdle – and, excitingly, trainer Nicky Henderson has now confirmed that they are set to clash.
With Epatante also pencilled in to attempt a third Christmas Hurdle victory at Kempton, from a calendar perspective running them both this weekend very much leaves open the possibility raised by Henderson last Saturday – also believed by few – that heading over to Ireland for the Matheson Hurdle is a possibility. It would be fabulous if Henderson bucked our lazy expectations again. He's got a really good horse and he knows it.
Staying chasers
Rachael Blackmore didn't look happy on A Plus Tard as early as the first circuit of last Saturday's Betfair Chase. Her mount, the Gold Cup winner and top-rated chaser in last season's official Anglo-Irish Jumps classifications on 180, wasn't ever travelling or jumping with any appetite. Meanwhile, Protektorat moved through the race with a zest reminiscent of his putative main rival 12 months earlier.
Held up in last position, at times A Plus Tard spent too long in the air; at others, he shuffled over his fences begrudgingly – without quite making an error, until nodding at the 14th. He was kept to the wide outside of the five-strong field and, more characteristically, jumped out in that direction. His rider could be seen moving her hands even before her body language became more evidently concerned, when she explicitly nudged her mount along after the 12th.
Blackmore was again seeking a response entering the home turn, just as Harry Skelton craned his neck – perhaps disbelievingly – to try and see where the 1/2 favourite was. Within 30 seconds that information was superfluous to him because he'd launched the strong-travelling Protektorat at Bristol De Mai's lead four out and A Plus Tard had slowed to haul himself over that fence, already beaten. Blackmore immediately pulled him up.
On landing, Protektorat bounded away with the alacrity of a top-class staying chaser at the peak of his powers and stretched further clear for his rider's polite request. Eldorado Allen, who can be relied upon to function creditably at this high level over three miles, emerged to give sole optimistic chase without ever looking likely to threaten the main prize.
The old grey soldier Bristol De Mai – three times a winner of this event, including an outstanding performance when triumphing by a record-breaking 57 lengths for a Grade One in 2017 – was flattered to keep his lead as long as he did, having made a rash of niggling errors when his devoted rider Daryl Jacob asked him to stretch in the back straight. He was caught for third in the final half-furlong by his year-younger but just as popular rival, Frodon, who'd kept plugging away after losing his pitch with a mistake at the 11th. Both were soundly beaten.
The scenes of celebration between the brothers Skelton after Protektorat crossed the line were joyful to watch.
Afterwards, they both spoke feelingly about working together as part of an ambitious team – and the support and inspiration they receive from their father, the Olympic gold-medallist showjumper Nick, who was present in full voice at Haydock.
Dan, who was promptly congratulated by his former boss Paul Nicholls, also spoke memorably about "when I used to work for him and you used to almost fall over these trophies in the dark" in the days of Kauto Star and Denman. "The truth is it's a lot harder than Messrs Nicholls, Henderson, Mullins et al make it look and this has been a culmination of why I started training. I just really wanted to be part of these days, and to do it is just brilliant," he added.
Skelton also confessed he'd entered Protektorat in the King George – whom he believes (with evidence) needs to race left-handed – only for the off-beat scenario were Kempton abandoned for frost or snow and the race rescheduled at Cheltenham. That's a scenario that right now feels not just optimistic but outlandish given the prevailing ground conditions.
Their route to the Cheltenham Gold Cup will therefore be either via the Cotswold Chase on Trials Day or Lingfield's Fleur de Lys Chase – a 2m6f conditions event created as part of last season's brand new 'Winter Million' concept that undermined the British Horseracing Authority's strategic ambitions for revising its graded jumping programme when plonked on top of pre-existing Pattern races.
It is a day "worth quite a lot of money", however, as Skelton rightly noted. Referring to his mount's soaring efficiency in the back straight, Harry said he'd "never had a feeling like that" and, at the age of seven rising eight, it does look as though Protektorat has come of age. He's now ranked behind only Allaho, A Plus Tard and Galopin Des Champs among chasers in this division – and in that order – by Timeform.
In last season's Gold Cup, having made an early mistake, he was brushed aside by A Plus Tard at the second last but would probably have finished a clear third and closer to the late-faltering runner-up Minella Indo had he not made a serious blunder at the final obstacle. He subsequently disappointed with an end-of-term-type effort at Aintree, after which he underwent wind surgery for the third time.
With the next generation of chasers now dominating that ante-post market, he is the only one yet to have advanced his case with an actual run this season. 10/1 is a more-than-fair price, with fellow 10/1 shot L'Homme Pressé having been a no-show at Ascot (but entered under top-weight in Newcastle's Rehearsal Chase this Saturday) and favourite Galopin Des Champs' odds of 11/4 (best) assuming his smooth return.
Protektorat would only need to replicate this career-best effort to go close to glory in a typical Gold Cup, or even seize it in a lesser one.
Were it not for concerns that Eldorado Allen is better going left-handed, I'd expect this consistent character to hit the frame at outlandish odds in the King George. Perhaps trainer Joe Tizzard might be tempted by Leopardstown, either at Christmas or during the Dublin Racing Festival? If his sights are aimed slightly lower, a repeat in the Denman Chase is the obvious choice.
A Plus Tard was pushed out as far as 12/1 (now 10/1 best but mostly 8/1) after this listless comeback, his first underwhelming effort in at least two years given the valid reason – making up too much ground too rapidly – for his Savills Chase defeat last Christmas. Those prices might be an overreaction but for the scale of his defeat.
I was at Ascot on Betfair Chase day and so didn't see the preliminaries in any detail live, but I read with interested this Twitter thread from some racefans who were present.
You'll see that comments range from comparisons between A Plus Tard's pre-race demeanour last Saturday and that of 12 months earlier, to observations that he did not want to lead the pre-race parade and, from former jockey and TV analyst Richard Pitman, that "he would not quite go up to inspect the pre-start fence" – both instances clearly shown on ITV Racing.
Trainer Henry de Bromhead, who received a local's welcome in Lancashire, is still searching for answers.
"His bloods have been checked and his heart," he reported two days later. "His bloods were [also] done [the previous] Monday and they were perfect. I think the racecourse [vet] checked his heart straight after and he scoped and he was perfect. He's moving perfect. People were saying he was a bit reluctant to go down to the start; I didn't see that. Genuinely, I don't know."
Responding to the theory that the Gold Cup takes a lot out of horses, he said: "But he came back [from his summer off] looking great, we were delighted with him and his work has been amazing. He worked really well ten days or two weeks ago.
"Could it be as simple as the ground? I definitely felt we didn't travel as well or jump as well as we did last year, or as we normally would, but he can do that. I thought in the Gold Cup at stages he wasn't blowing me away. I just hoped like the previous year he'd lock on turning in and I thought for a little bit he was starting to travel, but he got in tight to one of them and that was it.
"Rachael said she was never happy and I felt it was too bad to be down to the ground. We're stunned, really, about it."
The contrast with last year's flawless Betfair Chase success was yawning – when Blackmore was able to take a pull after a jaunty jump four out, draw clear by 22 lengths on the bridle and yet deliver a tremendous time performance. De Bromhead still hopes to get A Plus Tard back for a second pop at the Savills Chase on December 28 but it's a steep road.
"Of course, you'd prefer to have a reason, without it being a career-ending one, but sometimes you don't and they come back anyhow," he concluded with characteristic optimism. Blackmore's immediate post-race comments were troubling, however. "When I did decide we were going to pull up, A Plus Tard did stop very quickly under me," she said. "He was very easy to pull up."
Two races earlier, Hitman had been found an ideal opportunity by trainer Paul Nicholls, who's still operating under a remarkable strike-rate. This six-year-old's seasonal-debut form, when second to Riders On the Stormin the Old Roan Chase, had already been franked by third-placed Ga Law's Paddy Power Gold Cup success – and this was much easier pickings.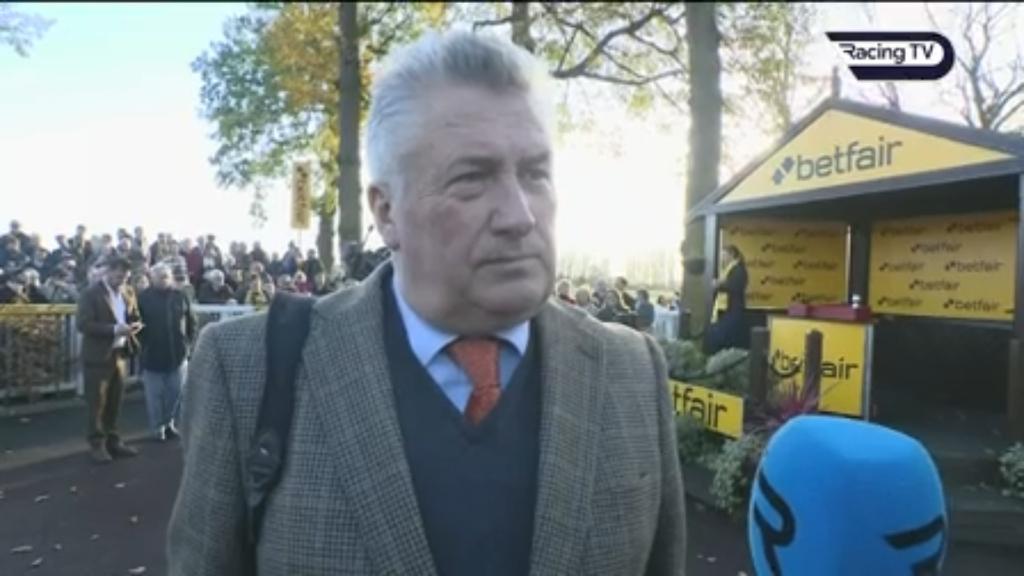 Paul Nicholls was fairly effusive about Haydock winner Hitman
With a minimum of 10lb in hand against three lesser rivals in Haydock's 2m5f graduation chase, he jumped slickly, bar one minor blemish at the tenth, under a positive ride and won unchallenged – which is how some analysts believe he likes it best. I'm on the fence about that.
He now heads to the King George, his first attempt at three miles, and his trainer's insistence that he's "just becoming the finished article now" is striking. His jumping is certainly less scruffy than it once was, but will be rigorously tested at Kempton.
Tornado Flyer looked palpably fitter than Blue Lord prior to just failing by a neck to claw him back in last Thursday's Clonmel Oil Chase. Conceding 4lb to the winner, he'd made the running under slow fractions controlled by Danny Mullins but was vulnerable to his stablemate, ridden for speed by Paul Townend – albeit the stiff finish over a new trip of 2m4f nearly undid them.
Victory in last year's King George, when the race fell apart around his ears after an overly strong early pace, remains the standout performance of Tornado Flyer's career to date – his typical early mistakes usually ruthlessly exposed in the highest company. That's what happened in the Gold Cup, and Punchestown against an electric Allaho was unsurprisingly the same story. Even a spin over hurdles in France last May was littered with errors.
This was his best effort on paper since last Christmas at Kempton, but you suspect he'll need another perfect storm to replicate that victory. Trainer Willie Mullins has indicated Tornado Flyer may accompany Blue Lord to the John Durkan prior to heading back over the Irish Sea to South-West London if that stepping-stone goes well.
He's also mentioned that Punchestown race on December 11 for Galopin Des Champs, and confirmed on Sunday that last term's most unlucky Cheltenham Festival loser "could run shortly". But any notion that he'll pitch up for the King George, for which he's drifted to 6/1, is plainly for the birds. "It was just an entry as far I was concerned," Mullins said dismissively.
Intermediate chasers
Willie Mullins is now considering a campaign over intermediate trips for Blue Lord after his Clonmel Oil Chase victory, having originally labelled him "a Champion Chase type" and mapped out a two-mile route to that destination in his pre-season stable tours. Such are the doors that can open when you don't require every race to be ideally framed around your horse's perceived needs.
"Blue Lord might get an entry for the Champion Chase, but if I can find a programme over two-and-a-half miles, the Ryanair Chase would look a possibility," he said. Of course, Closutton also houses Allaho – the dominant chaser, certainly in this division, but it's good to have reinforcements when your general is taking some enforced R&R.
Winning rider Paul Townend reported: "Anchoring him at the back, I was giving away the advantage of him jumping so well, so I'm delighted with him. I think he's straightened up since last year. He is maturing and he's [had] no problem getting two-and-a-half [miles]. I winged the second last. He's promised a lot and had a great season last year, but he feels physically stronger."
Blue Lord's best effort came in mildly fortunate circumstances last February when leaning on errant-jumping mare Rivière D'Etel after the last and surviving a stewards' enquiry to win the Irish Arkle. In the Cheltenham version, his jumping was a shade upright initially and he ballooned the water prior to dragging his hind legs through the fourth last before being unable to match Edwardstone's surge and fading noticeably up the final hill.
It was a consistent – rather than progressive – novice campaign over the minimum trip, but he appeared to settle much better than usual under anchoring tactics over further at Clonmel.
Two-mile chasers
Having missed two intended targets due to unsuitably quick ground, Edwardstone has enjoyed a day trip to Lambourn for "a proper workout" on Nicky Henderson's grass gallops. If this is Phase II of the latter's masterplan to transfer all pre-Festival racing to Seven Barrows, it is quite simply brilliant.*
Last term's Arkle winner had been withdrawn from both Cheltenham's Shloer Chase and from last Saturday's Jim Barry Wines Hurst Park Handicap Chase, where he was due to carry top-weight. A buoyed Alan King reported that Edwardstone is now on target to return in Saturday week's Tingle Creek "if all goes to plan between now and then".
That's excellent news for the make-up of Sandown's Grade One event on Saturday week, in which he will face – among others – an improved Greaneteen. Further spice would be added were Willie Mullins persuaded to run either Gentleman De Mee, who appeared to very much need his reappearance run in the Poplar Square, or Ferny Hollow, who missed his intended engagement at Navan, also due to unseasonably quick ground.
*asterisk indicates 'joke' is intended – a joke that (hurrah) doesn't work so well now that Constitution Hill is taking on Epatante!
Ante-post wagers
No cheeky selections: