This was a relatively quiet week, or stark-staringly dull, depending on which side of the Irish Sea you reside as a racegoer. All Britain's most significant race meetings fell to a second bout of wintery weather while Ireland's weekend fixtures at least managed to scrape through the frost.
Among Britain's lost races, only Ascot's Clarence House will be rescheduled – for a lesser pot but added as the ninth race at Cheltenham's Festival Trials Day this Saturday. But trainers and owners are also rueing the loss of the Jumps element to Lingfield's lucrative Winter Million weekend, and others are complaining that turnover-generating handicaps should be favoured over small-field graded events when the British Horseracing Authority chooses which races to reconvene.
It's an ineluctable fact that the Levy Board only has so much money to allocate to races – and its ongoing budget relies on the healthy realisation of levy, via turnover, from past and future races scheduled in the calendar.
A race's original sponsor is unlikely to have a relationship with the replacement host racecourse, so generating comparable investment from a new sponsor or the new host track is difficult because they are unlikely to get a comparable additional return for their money.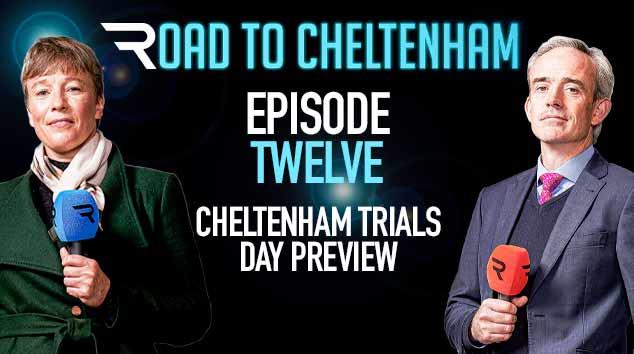 Watch the latest episode of Road To Cheltenham
There is a Levy Board framework of the optimum turnover-generating number of meetings (and thereby, usually, races) per day per typical week – a paradigm British racing exceeds – and when you add extra meetings, or extra races, onto that pre-existing framework, you may not generate as much – or perhaps even any – additional turnover. Punters' pockets cannot always expand to fit.
Yet the Levy Board sustains the same, or comparable, cost per rescheduled race. A competitive race that doesn't poach runners from elsewhere would be a no-brainer to re-stage. However, equally, pure profit-and-loss cannot be the only measure from the perspective of the sport.
It's already apparent that Britain does not currently have in training sufficient quality horses to sustain its existing programme of Jumps Pattern races, or indeed the overlapping constituency of top handicaps. When one handicap is lost, another is coming along next week or the week after, so knowingly to create or exacerbate any duplication would not be a responsible use of resources for the greater good – although to the individual trainer or owner, of course, who might have targeted (say) a three-mile handicap on a right-handed flat track, this can be frustrating.
In theory, under its own rules of existence, the Pattern should not contain duplications because its role is to create a programme whereby the best horses compete against the best over the course of a season – hence these races are prioritised for rescheduling, even if they sometimes (or often, these days) generate small fields. However, in practice some dilutions have occurred and these become more glaring once the pool of available horses becomes depleted, as it is now.
Furthermore, the Pattern does not have control over non-Pattern races and this creates a further tension. On the Flat, flashing-the-cash enterprises from well-monetised nations have threatened the world's traditional top races. Over Jumps in Britain, alongside problems of its own creation, its Pattern can be threatened by big-money handicaps or conditions events.
---
LYDIA'S ROAD TO CHELTENHAM: CLICK HERE FOR PREVIOUS COLUMNS
---
Lingfield's Winter Million initiative, for example, exploited one of the many loopholes that have existed since the Office Of Fair Trading ruled in 2004 that centralised control of the fixture list was anti-competitive, thus ceding power to racecourses – both individually and collectively. Much of racing's ills, as experienced by its customers – whether trainers, owners, punters or racegoers – can be linked to this moment in time.
Of course, that merely by plonking these Lingfield races on top of pre-existing Pattern contests, Arena Racing Company (ARC) drew runners and generated such a hubbub of fevered anticipation among the training and owning ranks is a damning indictment of the host racecourses of those more established events. However, at a time when it was known that the crisis of uncompetitive small fields in graded races was being examined by an industry working group, the creation of this meeting came across as a hard-faced three-word gesture.
Although it launched successfully in 2022, in the prior decade 60 per cent of Lingfield's scheduled jumps fixtures in January and February had been abandoned – as highlighted in the sixth of last season's Road To Cheltenham columns. In short, the loss of this fixture in 2023 should not have come as a surprise to anyone who researched it. More often than not, it might prove folly to build your season around it.
ARC have, of course, sunk a lot of investment into improving Lingfield's drainage to minimise the chance of abandonments, so it's frustrating that its latest meeting was lost to frost – and, of course, it was not alone in falling to such weather last weekend. However, its future will surely hinge on trainers and owners continuing to target it with their better horses – and even attracting some Irish raiders to consider it instead of the Dublin Racing Festival.
---
Chasers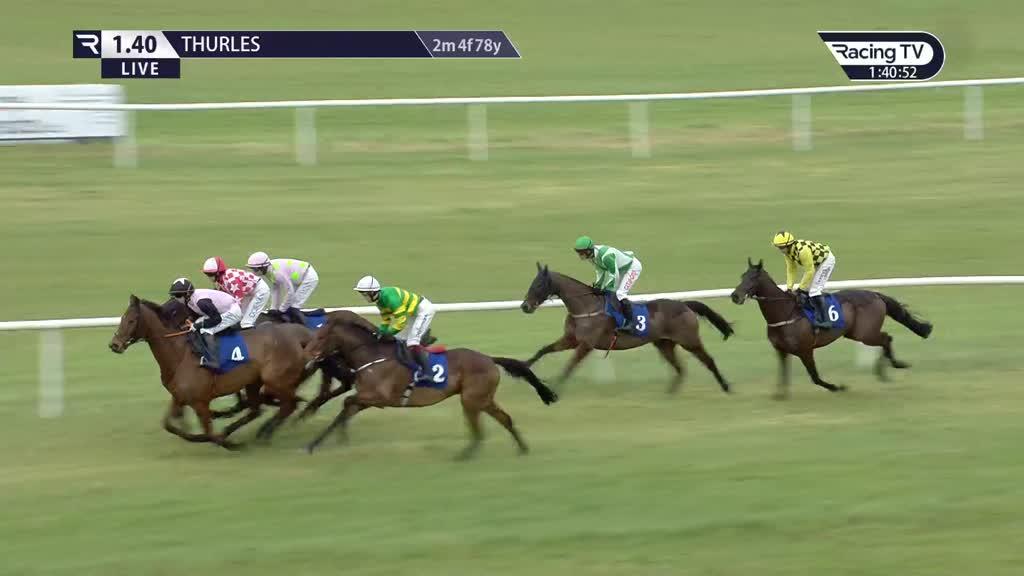 Expect Willie Mullins to enter anything with legs – the Closutton cat, assistant trainer David Casey's chair, Ruby Walsh (if he ever goes there these days) – for every race at Cheltenham from now on. If, having glanced down the entries to date, you were understandably of the view that this was already his policy, how do you explain Haut En Couleurs not being in the Ryanair? Oops.
So, it would have been with mixed feelings that Mullins trained his binoculars on the final fence in the Horse & Jockey Hotel (Kinloch Brae) Chase at Thurles last Sunday. That personal conflict would have quickly resolved to unalloyed frustration as the likeliest winner contrived to crumple to the ground – meaning that in one neat move, not only had the horse confounded his trainer's expectations and potentially blown his handicap mark but also failed to collect any prize money to offset the cost of a potential supplementary entry. Cue Europe's tiniest violins from Mullins' peers.
Bryan Cooper had been content to watch his rivals get on with things on Haut En Couleurs, who'd shaped well on debut when fourth behind Galopin Des Champs in the John Durkan in December.
There is a school of thought about whether right-handed tracks suit him ideally – generated by his Punchestown defeat as a juvenile (when he also did too much too soon) and bolstered by his worst completed novice-chasing effort having come at that right-handed venue in April. He does adjust left but it caused him minimal issue at Thurles and might not have been a factor in – it certainly wasn't the whole story of – his final-fence cropper.
As is customary, Lifetime Ambition made the running, taking over on the inside and looking for the first fence. You can see why so many of us want him to try the Topham over Aintree's Grand National fences this April – he's a great jumper and may just have needed the run when largely negotiating that course fluently on his seasonal debut in the Grand Sefton in December. Positively ridden here, he was joined and headed on landing four out and then weakened.
With cheekpieces re-applied for this drop back in trip, French Dynamite was always prominent and took up the running at that stage, despite a minor nodding error of his own. However, Chacun Pour Soi and Fakir D'Oudairies immediately moved up on his outside, the latter urged along to do so at a track where the emphasis on speed probably does not suit him ideally – as demonstrated when (understandably) thumped by Allaho in this race last year.
Lack of stamina may ultimately have been an exacerbating factor in the performance of Chacun Pour Soi, but he offered supporters only this fleeting hope. He had lost points for artistic impression at five of his first eight fences – either lacking fluency, jumping left or big or low, screwing the seventh and making a straight-up error at the sixth.
Yet from approaching three out until jumping into the lead at the next, it briefly seemed possible Paul Townend would pull victory from the fire. Fakir D'Oudairies was more explicitly under pressure at that stage, as was French Dynamite. Haut En Couleurs was still travelling strongly on their heels, however. As Cooper moved him through to challenge and then lead inside the straight, Townend was swiftly waving the white flag. Chacun Pour Soi emptied quickly and was eased off to finish an 18-length third.
Driven towards the last, Cooper asked Haut En Couleurs relatively long – whereas they'd been popping away until this point – and his mount reached for it on command, brushing through it and failing to find a leg on landing. French Dynamite made a much worse blunder, but landed better and then skipped around his prostrate rival, but his effort was spent. Meanwhile, Fakir D'Oudairies had been sticking on doughtily and inherited a lead he was never likely to surrender from there.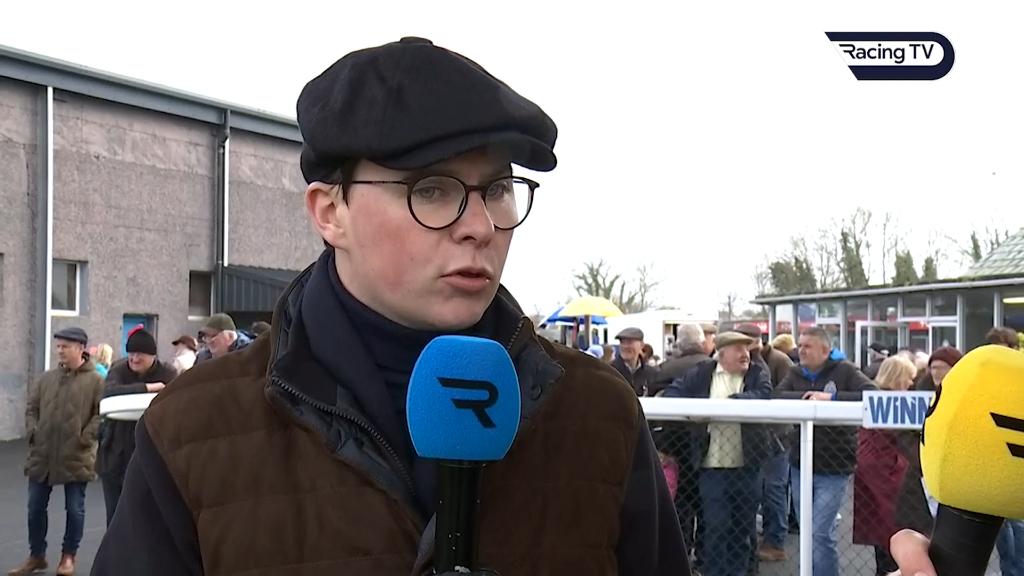 Afterwards, trainer Joseph O'Brien observed that hios winner had "got a little bit outpaced off the turn into the straight" but that rider JJ Slevin "felt he was coming good down the straight and he was galloping all the way to the line".
"I suppose you'll never know whether he would have beaten the horse that fell or not," he conceded. "But JJ felt he was going to come and give him a fright anyway. Either way, [we're] very pleased to win and very pleased with his performance."
O'Brien added that, immediately after Fakir D'Oudairies had finished second in the John Durkan, he had considered heading straight to the Spring festivals but changed his mind. "I don't think the track necessarily plays to his strengths," he agreed with Racing TV presenter Gary O'Brien. "You can see that, particularly off the turn and into the straight – similar to this race last year, he just got a bit outpaced – but I feel that as he's getting a bit got older, he's just needing a bit more work and he needed to run somewhere."
His next stop is likely to be a clash with an improved Pic D'Orhy in next month's Grade One Ascot Chase – a race Fakir D'Oudairies won last season. The O'Briens concurred that the trainer would be monitoring the Ryanair – a race this horse sidestepped in favour of a successful Aintree raid last term – to see whether Allaho makes it… and in what expected shape.
The moral winner was rated 149 going into this, which Mullins blamed for failing to consider the Ryanair as an option when those Cheltenham Festival entries were made. Instead, Haut En Couleurs is entered in the Paddy Power Stayers' Hurdle and, before that, the 2m5f Bulmers Handicap Chase at the Dublin Racing Festival. He's only been raised 6lb for this, which might underestimate him, so he could yet win the necessary funds. I think he would have repelled Fakir D'Oudairies had he stood up.
Mullins could draw no positives from Chacun Pour Soi's performance when invited to find some by Gary O'Brien. "None," he baldly admitted. "He didn't impress Paul during the race. He got to the front but Paul just wasn't happy with him. Maybe age is catching up with him."
It certainly looked that way. He wasn't at his best last season – solely his one-sided romp in the Dublin Chase wasn't that far off on paper. He was also going fine in the lead in last year's Betway Queen Mother Champion Chase when blundering and unseating Patrick Mullins five out, but was explicitly superseded in the Closutton rankings by Energumene at his favourite Punchestown in late April.
---
Novice chasers
As ante-post favourite for the Festival's Mrs Paddy Power Mares' Chase even prior to jumping a fence competitively in public, Allegorie De Vassy was confidently expected to impress in a Grade Two at Thurles last Sunday. However, the 1/8 favourite for the Coolmore NH Sires Mogul Irish EBF Mares' Novice Chase almost came a cropper at the first – or rather, Paul Townend almost did.
Intent on leading from the outset, the mare had already established a clear advantage on the long run to the first fence. As on her chase debut at Limerick, she clearly locks onto her obstacles – pricking her ears and giving them her full attention – and appears to enjoy the athletic test of jumping, but she nonetheless took Townend by surprise in her approach.
Jinking right, she left her jockey leaning left out of the saddle on take-off. She then jumped a tad airily and, although she didn't touch the fence, she almost ejected him. Had he not then performed a skilful recovery, this episode would have won Townend a golden raspberry. He landed on Allegorie De Vassy's neck, his upper body thrown wholly to her right, and, clinging on, managed to right himself in time for the relatively quick second fence, even getting his irons back.
At that fence – and most others that followed on this 14-obstacle journey – she did the same sort of thing but the difference was her rider was ready for her – giving her room to adjust right, which she did whether short or long. She jumped some fences well but also guessed at four out, dragged her hind legs through the second last and stumbled slightly after the final obstacle, after jumping right. Nonetheless, she won on the bridle.
The Gavin Cromwell-trained mares, Brides Hill and Malina Girl, filled second and third spots, beaten 19 and 40 lengths respectively. The former failed to build on her second to Journey With Me at Naas, when she picked up the pieces to nab Flame Bearer for second, and she also mimicked the winner's righthanded bias at some fences. The latter was beaten more than twice as far by the winner than when they met at Limerick in December.
Winning trainer Willie Mullins later ascribed the first-fence scare to not having been able to school Allegorie De Vassy in preparation for this outing due to the jumping strip at Closutton being frozen. Resolving always to include a recent dress-rehearsal in her future preparation, Mullins added: "I said to Paul before the race: 'Just let her at it and let her jump – she's well able to do it' and it probably mightn't have been the right thing to say to him. In future, he'd probably keep a good hold of her head going to the first, anyway… But she likes to get on jumping – and she likes to be let jump. She was just too exuberant, I think, going to the first… I don't think I'm worried about it.
"I imagine as she goes up in class, there's going to be horses around her. We felt today the best thing to do was to just go ahead and go from the start… We didn't see anything in the race that, tactically, was going to come with us but I imagine in the future that will happen. She'll be an easier ride and easier to keep straight then."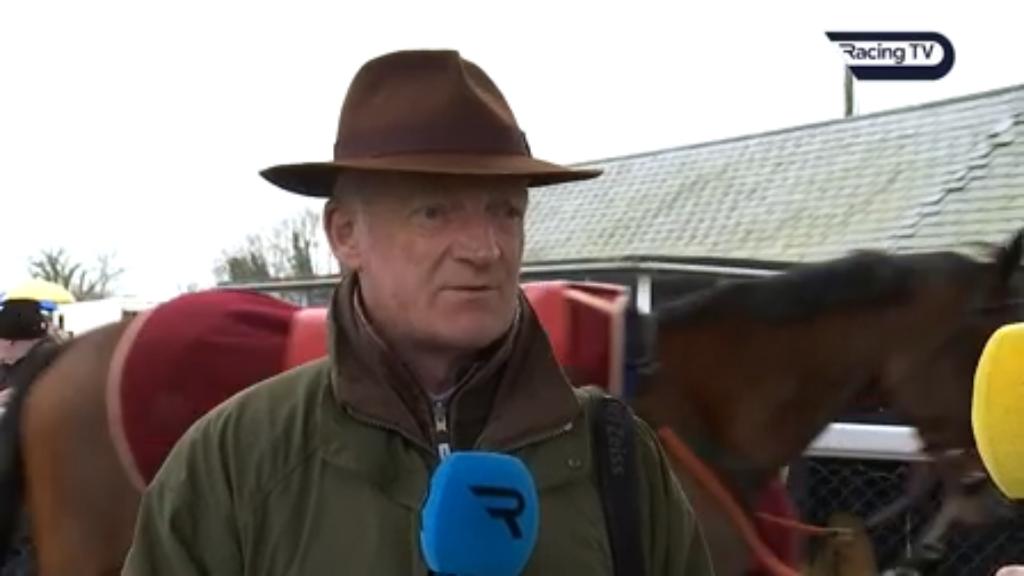 Willie Mullins: "I just cleaned my binoculars - the guy beside me in the stands said 'I bet you're sorry you did that!'"
I'm less phlegmatic. Allegorie De Vassy is yet to race left-handed for Mullins, having been counted out of last season's Cheltenham Festival due to chipping a bone in her hock, but ran four times at such tracks – all over hurdles – when trained by Marcel Rolland in France.
The Racing Post's close-up comment from her fifth behind La Danza at Auteuil in November 2020 reads: "jumped right fifth and lost place." She has since improved markedly for maturity, experience and her new yard but it remains a concern.
Were the Mrs Paddy Power staged on the Old Course rather than the New, I wouldn't even have her on my mind. But a persistent right-handed bias is debilitating, even there – as Mount Ida can testify. She managed that deficiency against inferiors in the 2021 Kim Muir, but couldn't cope upped in grade against comparable mares at Cheltenham last March.
Although Allegorie De Vassy is undoubtedly a great raw talent in the mould of Benie Des Dieux or Vroum Vroum Mag, she faces serious rivals without that kink in the form of fellow novice Impervious and proven performer Scarlet And Dove, not to mention titleholder Elimay. Even though the last-named mare hasn't been at the peak of her powers for a couple of seasons now, she's a tough competitor.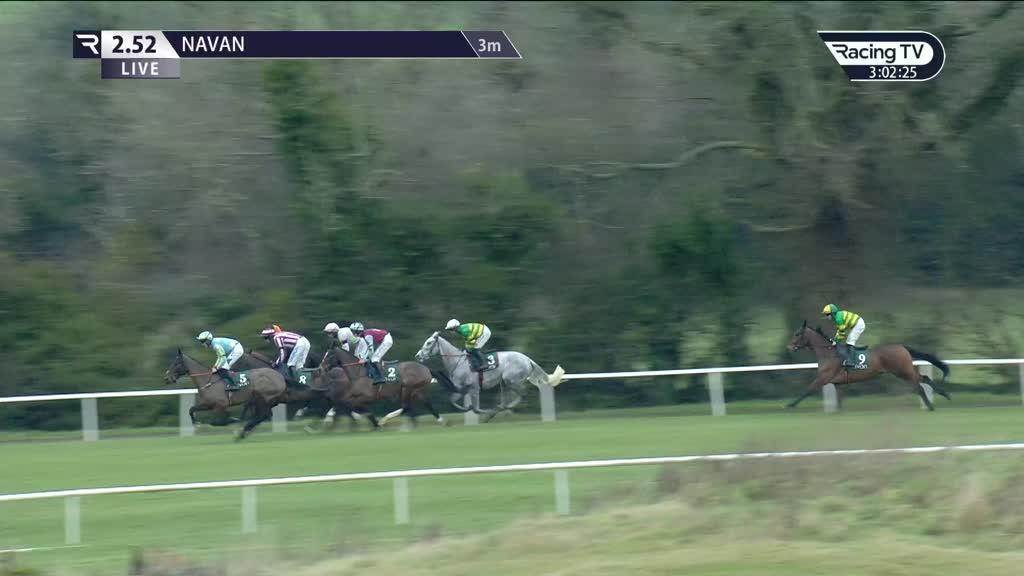 Mahler Mission scores handsomely at Navan
The previous day at Navan, Mahler Mission won over fences at the third attempt after leading from the first fence – and being headed only briefly at the seventh – in a three-mile beginners' chase. Bar for a careful jump at the fifth, this was a much-improved display – building on his staying-on third behind Must Be Obeyed at Punchestown on New Year's Eve and leaving behind his disappointing debut, when probably racing on the worst ground, behind Chemical Energy at Cheltenham in October.
He jumped four out particularly well and slightly scrambled over the next but settled the race soon after, drawing away from a bunch of mildly disappointing rivals. Runner-up Tenzing, whose jumping wasn't up to scratch on his previous two starts, lost his position early and stayed on to pick up the pieces whilst Shantreusse, who'd maintained a pitch closest to the winner, weakened tamely approaching two out to finish fifth.
Third-placed Gars De Sceaux made mistakes on his first start in more than a year, but not as many as Capilano Bridge, who struggled to hold a competitive position from an early stage as a result. He'd previously been blown away by James Du Berlais at Fairyhouse. Aione never travelled and was pulled up before two out, Townend reporting he'd made "a respiratory noise in running", and Islo jumped appallingly, detached from the outset.
Mahler Mission is entered in the NH Chase and also in a Grade Three at Naas this Sunday, should trainer John McConnell fancy a quick reappearance. It's not as if he needs to qualify for his nominated Cheltenham target, however, as he's already won over three miles.
This horse was a decent novice hurdler, beating The Real Whacker – the latter then too gawky to do himself full justice – in the Grade Two River Don this time last year, prior to finishing a well-held seventh in the Albert Bartlett and winning a Listed event at Perth in April. This race fell apart behind him, however, and may flatter.
---
Novice hurdlers
Willie Mullins had seemed to lack a credible Albert Bartlett candidate until Embassy Gardens dotted up in the 2m7f novice hurdle at Thurles last Sunday. Paul Townend's mount – the 5/6 favourite – ended up with little to beat but he did so, hard held, by 35 lengths.
His jumping took some time to warm up – airy at the first two and then dragging his hind legs through the third with a mistake so significant that he slowed markedly and lost his pitch. Meanwhile, previous Fairyhouse victor Kilbree Warrior was setting a decent pace with a clear lead and cheek-pieced Clonmel winner Santonito had been racing alongside on his inner. Meanwhile, Cardamon Hill was on the back foot from his second-flight error and Meetingofthewaters was as involved as he ever was, which is to say not at all.
Embassy Gardens recovered quickly from his blunder, however, with a sound jump at the fourth and then moving into second at the fifth. Three flights later, Santonito made a mistake of his own, following up with a scrappy jump and gradually weakening thereafter. Then, it became a matter of when the favourite, now jumping fluently and travelling strongly, would take the leader's measure.
Townend afforded a look behind on the home turn as, with increasing urgency, Richard Condon asked Kilbree Warrior to keep up. The decisive move could be delayed no longer than on the home turn, however, as Embassy Gardens carried his rider into the lead and drew further clear, despite getting into the bottom of the last and flicking through it. He clearly benefitted from the step up in trip but there is room for improvement in his jumping.
Asked by Gary O'Brien whether he'll be able to sharpen that up, Mullins said: "I don't want to run him again, I think. I'm certainly not going to run him over three miles again, anyhow, before Cheltenham. We'll probably just run him in a schooling hurdle and do a bit more schooling at home. But this fellow has jumped plenty. I'm sure it will come together."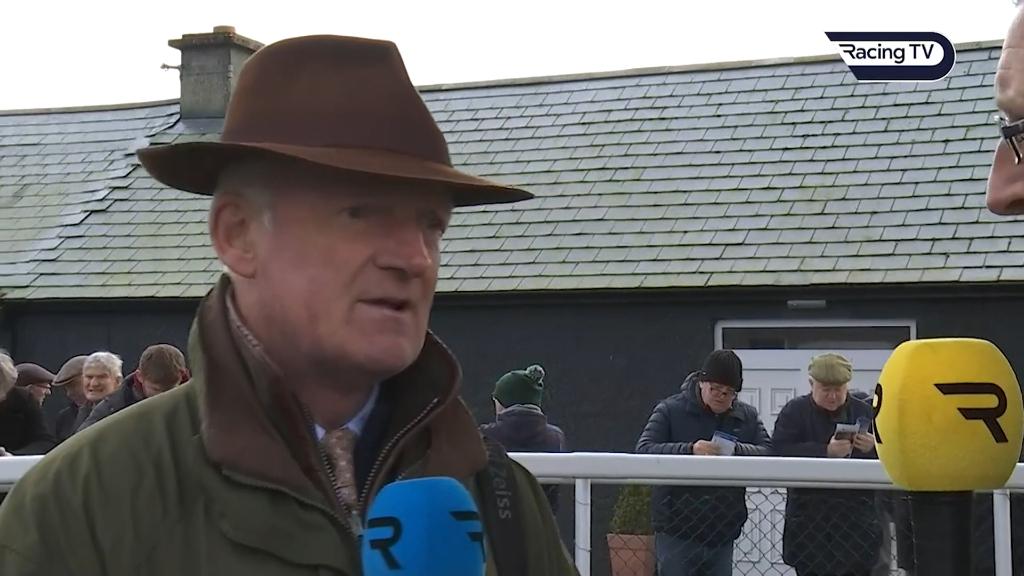 "He galloped them into the ground" - Willie Mullins on his "very impressive" Embassy Gardens
Mullins also asserted the Albert Bartlett would be his Festival aim, despite owner Sean Mulryan's company being the title sponsor of the Ballymore – a factor that has come into play in the past. The Mulryans only have Embassy Gardens and the outclassed maiden hurdler Doctor Brown Bear in 'their' race, so Mullins might need to make a good case.
The winner had previously been beaten at odds-on by Itswhatunitesus on his debut at Cork in November and could manage only fourth next time out at Leopardstown over Christmas, left behind in the straight over 2m4f by Good Land in particular. The latter is ante-post favourite for the 2m6f Nathaniel Lacy Novice Hurdle at the Dublin Racing Festival and only entered in the Ballymore at Cheltenham, despite having been relatively short in the Albert Bartlett market.
At Navan the previous day, Mullins trained his first winner for Gigginstown Stud in more than six years when Shanbally Kid emerged best from a four-way battle at the last for the 2m4f maiden hurdle. The O'Leary brothers had split with the Closutton trainer back in 2016 when "unable to reach agreement… on an increase in training fees", despite the alliance having then amassed 17 Grade One successes within just five years.
Supasundae's half-brother Striking, fresh and keen after a 103-day break, took the field along until joined at the third last by the winner's stable companion Aime Desjy, whom he'd repeatedly inconvenienced by jumping right. Second-season novice Hemlock then nipped up Striking's inner with a daring move after landing, just about threading through on the charge to the next.
Shanbally Kid had already been niggled along at the top of the straight and a less-than-fluent jump at the third last caused Townend to switch him around Monalee's half-brother Monty's Star as they both set off in pursuit of the front trio. That latter raw-looking rival had not only been jumping right but making mistakes, losing ground at most obstacles, and yet still had enough ability to be rallying to the cause.
At the second last, Hemlock reached for a narrow lead and got away from the flight quicker than Aime Desjy whilst Striking weakened quickly, ultimately finishing a well-beaten ninth. Meanwhile, Shanbally Kid and Monty's Star were looming – the latter there producing his best leap of the entire contest but lacking the focussed application of the winner. By the last, Shanbally Kid had joined Hemlock in the air and swiftly left his rivals behind on landing, Townend letting him roll left to impede a late challenge that did not come.
To his credit, the gawky Monty's Star rallied for second on his belated hurdling debut and first outing in the best part of a year. He will do better for experience, when upped in trip and perhaps at a right-handed track. Aime Desjy was short of room near the line, bar for which it would have been close for third between him and Hemlock, the latter carrying his tail high.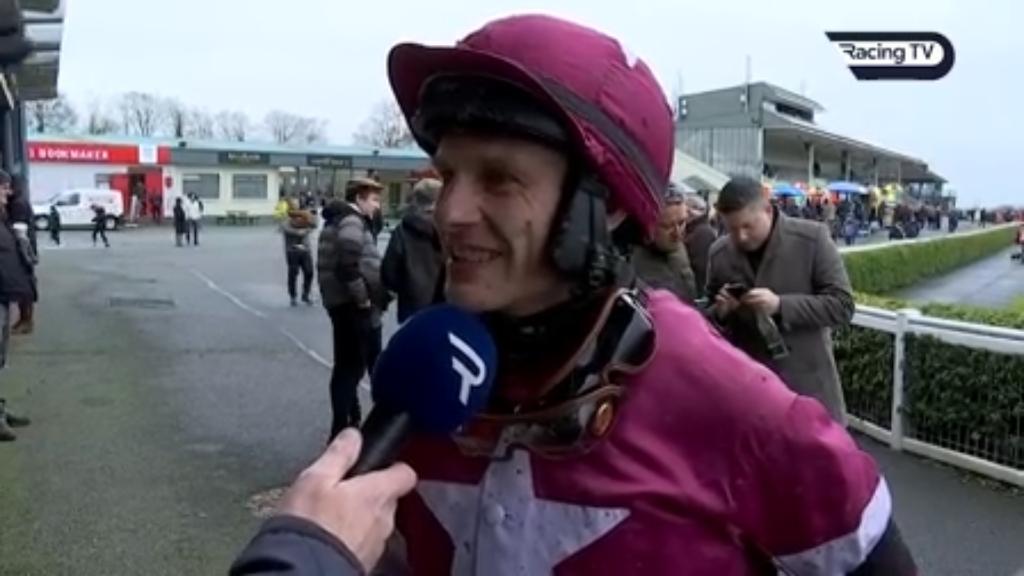 "I think there's a bit more to come from him," said Paul Townend on Shanbally Kid
Townend later suggested he'd hit the front sooner than ideal because he hadn't been confident enough in his mount's jumping to meet the last a length down. "He's still quite a raw individual," he explained. "I settled the race really quickly and then he was just doing enough. I'd say there is a bit more in the tank. The further he went, the better he jumped and he should progress again. You'd be going out in trip with him rather than back."
Both the winner and runner-up are entered in the Ballymore and Albert Bartlett, the latter trip striking me as more suitable should either of them head to Cheltenham. Of course, de Bromhead already has Hiddenvalley Lake for the three-mile Grade One, who was shortened as favourite this week when it emerged he has no alternative Festival target to date. Hemlock is engaged solely in the Potato Race whilst Aime Desjy has been ambitiously signed up for the Ballymore and Supreme.
In the opening race on the same card, Path D'Oroux triumphed for the second time over obstacles in a highly eventful two-mile rated novice hurdle. It's possible he might have won anyway but it remains true that his three most potent rivals failed to finish – Landrake fell, bringing down Spirit Of Legend at the second last, and poor Intranet sustained a fatal injury when landing awkwardly two out.
Eventual runner-up Ifiwerearichman set a steady pace, jumping increasingly out to his right, but he was only clinging on as he veered into the third last. It was there that Davy Russell produced Landrake to challenge, only for their wires to get crossed and his mount take a crumpling fall, rolling right and taking his legs from underneath Spirit Of Legend.
Russell had been seeking to strike first, Landrake dropping down in trip after two successes over further – including a defeat of Ruby Walsh's Albert Bartlett selection Corbetts Cross link to last week's show at Clonmel in November – whereas Rachael Blackmore's unfortunate mount, a winner over 2m4f at this track that same month, hadn't been asked for his effort at the time. Russell was stood down for the rest of the day as a result of Landrake tumbling onto him.
Intranet sidestepped the trouble and was briefly niggled to match Path D'Oroux two out, only to flatten that hurdle and sustain his injury. That unfortunate happening left the winner in front and, although he failed to join Keith Donoghue in seeing a good stride at the last and got in too close, he needed minimal galvanising to draw away from Ifiwerearichman by almost five lengths.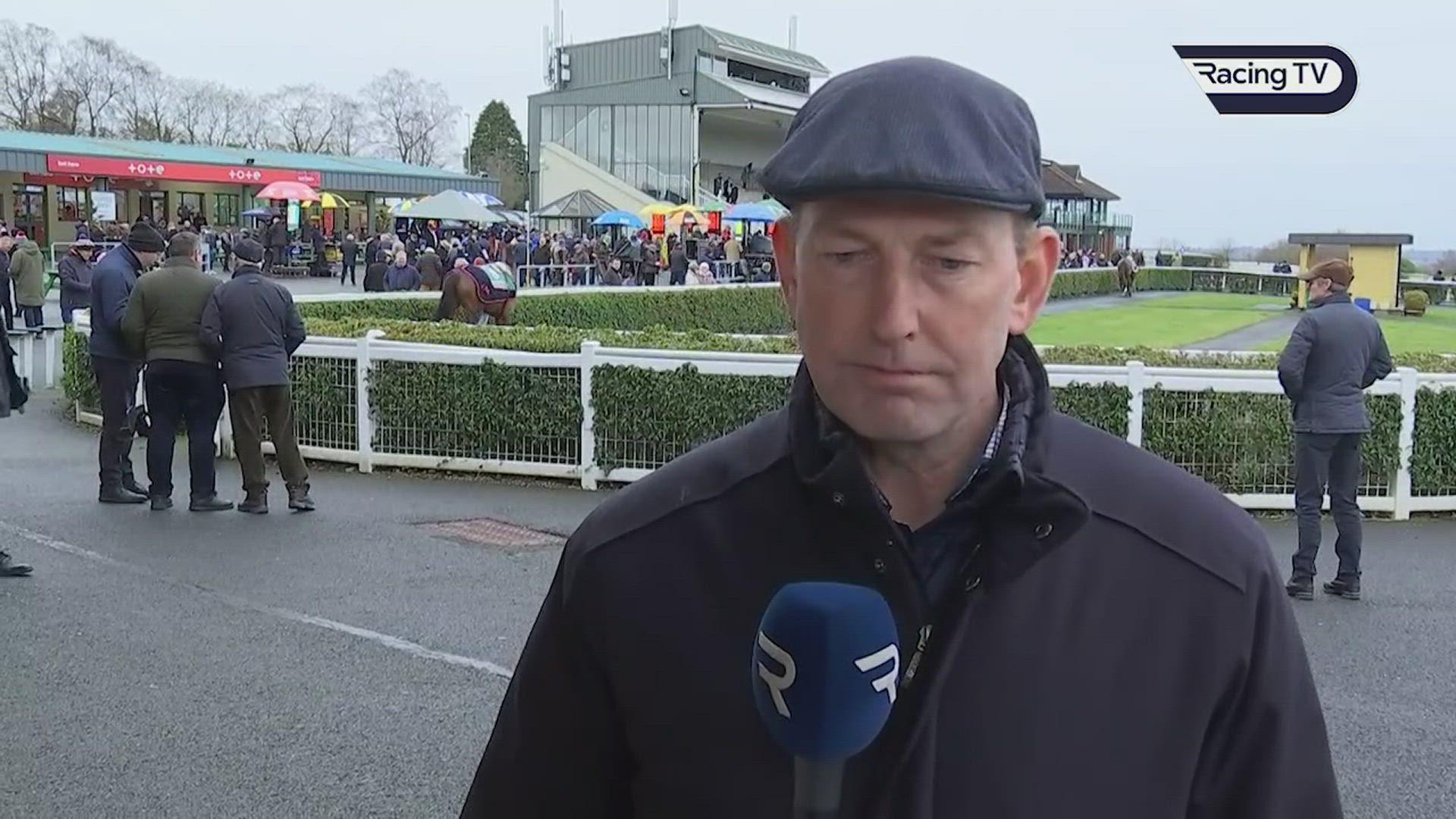 Gavin Cromwell suggests Festival targets for Path D'Oroux in conversation with Kevin O'Ryan at Navan
Afterwards, winning trainer Gavin Cromwell indicated an attempt on the County Hurdle was foremost in his mind, although he would also make an entry in the Martin Pipe. He noted Path D'Oroux had travelled into the Royal Bond well but "stopped very quickly" after doing too much too soon – in common with several rivals – when pulled up behind Marine Nationale in the Royal Bond. He'd since finished a well-beaten fourth behind Facile Vega in Leopardstown's Christmas Grade One over two miles.
Belle The Lioness – who'd previously chased home the ill-fated Intranet at Punchestown and then fellow mare Liberty Dance last time out in a Listed event – got off the mark over obstacles in an auction maiden hurdle at Thurles, the race prior to that of Embassy Gardens. She was sent off the 2/7 favourite, but it was far from a cakewalk.
She led from the second but was hampered by Picinisco, who ejected his rider skywards at the first before running across the approach to the next flight and bumping the winner twice before take-off. Belle The Lioness jumped that hurdle remarkably well in the circumstances but was fired up by her close encounter as the loose horse at first accompanied her towards the next. Mercifully, her stalker soon became distracted but some damage had been done.
She then made mistakes at the fifth and both final flights – putting in an extra stride two out and getting in too close to the last – which opened the door to Mollys Glory and Arthor, whose riders were being rewarded for their hard work from some way out. Although they galloped ever closer in the straight, Belle The Lioness was holding them at the line. Third-placed Arthor emerged best at the weights, however, and can do better when upped in trip.
Winning trainer Henry de Bromhead acknowledged afterwards that making the running with this mare was not ideal but he'd agreed those tactics with Blackmore when it appeared likely there would be no other pace angle in the race. For future reference, the winner will be ridden more patiently – tactics that suit Cheltenham's New Course, where she heads for the Festival's Dawn Run Mares' Novices' Hurdle.
De Bromhead also reported stablemate Magical Zoe – whose Grade Three form at Down Royal is working out well and whose chance my Road To Cheltenham co-presenter Ruby Walsh finally came around to last week (innocent face) – heads straight to the Festival despite not having run since the first week of November.
Another of the yard's novice mares was in action over the same course and distance in the closing handicap – and Popova achieved literally more in defeat than Belle The Lioness did in victory, but promises less potential improvement than her stable companion. In a steadily run race from a mark of 119 on handicap debut, she was settled too far off the pace to lay down a serious challenge to winner Hey Johnny when the race finally got going after three out.
A winner at the same track on her Rules debut, Popova had been thumped by the useful Harmonya Maker at Fairyhouse last time out – already well beaten, disputing third, when making a complete Horlicks of the last. This was her best effort yet and a handicap looks within her grasp.
A brace of mares fought out the finish to Monday's novice hurdle at Ffos Las when hat-trick seeker Endless Escape successfully gave favourite Vicki Vale 5lb and a two-length beating.
The winner had previously triumphed by substantial margins in an open novice at Lingfield and when perhaps twice lucky in a mares' novice at Wincanton on Boxing Day – left in front when clear leader Roccstar Bayproved un-steerable on the home turn and never quite challenged by the better-travelling Passionate Pursuit, who unseated her rider two out.
Here, although a little keen early on, Endless Escape showcased her unfussy tenacity – jumping soundly, getting on top of her main rival approaching the last and pulling away under pressure to the line. She adjusts right at her hurdles but steps up to Listed class at Sandown next for the 2m4f Jane Seymour Mares' Novices' Hurdle, so that shouldn't inconvenience her.
"She wants further, so Sandown should suit her nicely," trainer Ben Clarke observed. "She doesn't want fast ground and 'good-to-soft, soft in places' would be the quickest we'd run her on as she's a proper winter horse."
Just as she had when pulled up in the Grade One Challow Hurdle at Newbury, Vicki Vale over-raced but also adjusted markedly left – a characteristic she'd previously displayed when making a winning Rules debut at Hereford in November. The primary mission for the Skelton team will be to get her to calm down.
Finally, a tip. Now is the time to back Banbridge for Cheltenham. He's already shown a great proficiency for fences and even boasts a success around the Old Course at two miles – the exact venue of the Arkle.
You can forget about his Drinmore defeat last time out. He looked leaden-footed from the outset – whether due to the heavy ground, a relatively quick reappearance or both – and probably did well to finish as close as third. He's more accurately judged on what he did previously.
The quandary is whether to back him for the Arkle or the Turners. I suspect he might be more effective in the longer race but your approach to this may depend on your preferred betting method, as he's overpriced in both markets.
Your choices are: NRNB with William Hill, perhaps splitting your stake over both races – 14/1 for the Arkle and 10/1 for the Turners. Alternatively, Sky Bet (for example) offer him at 12/1 to win any race. Or you can Go Big, choosing a race at the best price on ante-post terms – 20/1 is widely available for the Arkle but it's 16/1 standout with Bet365 for the Turners, although 14/1 elsewhere would also be acceptable.
Of course, much will depend on the Irish Arkle on Saturday week – not just in the case of Banbridge himself but also in influencing where Willie Mullins deploys his troops. The Closutton master's modus operandi is to win races, so it's entirely possible his best horse will avoid Jonbon at Cheltenham and run in the Turners, provided he thinks that horse – whether it's Sir Gerhard, Appreciate It, El Fabiolo, Saint Roi, James Du Berlais, Flame Bearer or something else – would stay 2m4f. Of those, it's Appreciate It whom I'd fear the most at this stage.
I'm going to take a relative risk by backing him each-way at the widely available 20/1 for the Sporting Life Arkle Challenge Trophy Novices' Chase. Despite the various quotes from connections that they see him as a staying chaser of the future, I feel that's the best target for him at this stage – and staying further than two miles is an asset for my choice of race anyway.
_Ruby's portfolio _
Advised 01/12/22: Noble Yeats at 66/1 for the Boodles Gold Cup with William Hill
Advised 19/01/23: Corbetts Cross at 25/1 for the Albert Bartlett with Coral or Ladbrokes
_Lydia's portfolio _
Advised 01/12/22: Ahoy Senor at 25/1 for the Boodles Gold Cup with various bookmakers
Advised 14/12/22: Hiddenvalley Lake at 8/1 for the Albert Bartlett with Bet365 or William Hill
Advised 05/01/23: The Real Whacker at 12/1 for the Brown Advisory with Paddy Power or Coral
Advised 19/01/23: Impaire Et Passe at 6/1 for the Ballymore Novices' Hurdle with various firms
Back now: Banbridge each-way at 20/1 for the Sporting Life Arkle with various firms
Win hospitality for two to The QuinnBet Grand National Trial Day at Punchestown! Click here for more details.