Watch Richard Johnson secure his landmark 3,500th victory at Warwick and watch Stewart Machin's interview with the champion jockey.
[(full)Watch Replay](//)
Richard Johnson secured his 3,500 career success at Warwick on Tuesday when He's A Goer became the champion jockey's 87th-winner of the season.
Johnson was forced to do it the hard way when his mount almost threw him at the start of what proved to be an eventful heat.
The three-time champion then guided his Tom Lacey-trained partner through the field in the 2m novice hurdle and even a bad blunder at the last could not stop the 41-year-old from reaching the landmark.
"He did show a few odd tendencies in his bumpers and has not been straightforward and Tom and the team have done very well with him," Johnson said.
"Tom has always felt he had ability, it was just a matter of him going in the right direction. Hopefully the penny is starting to drop."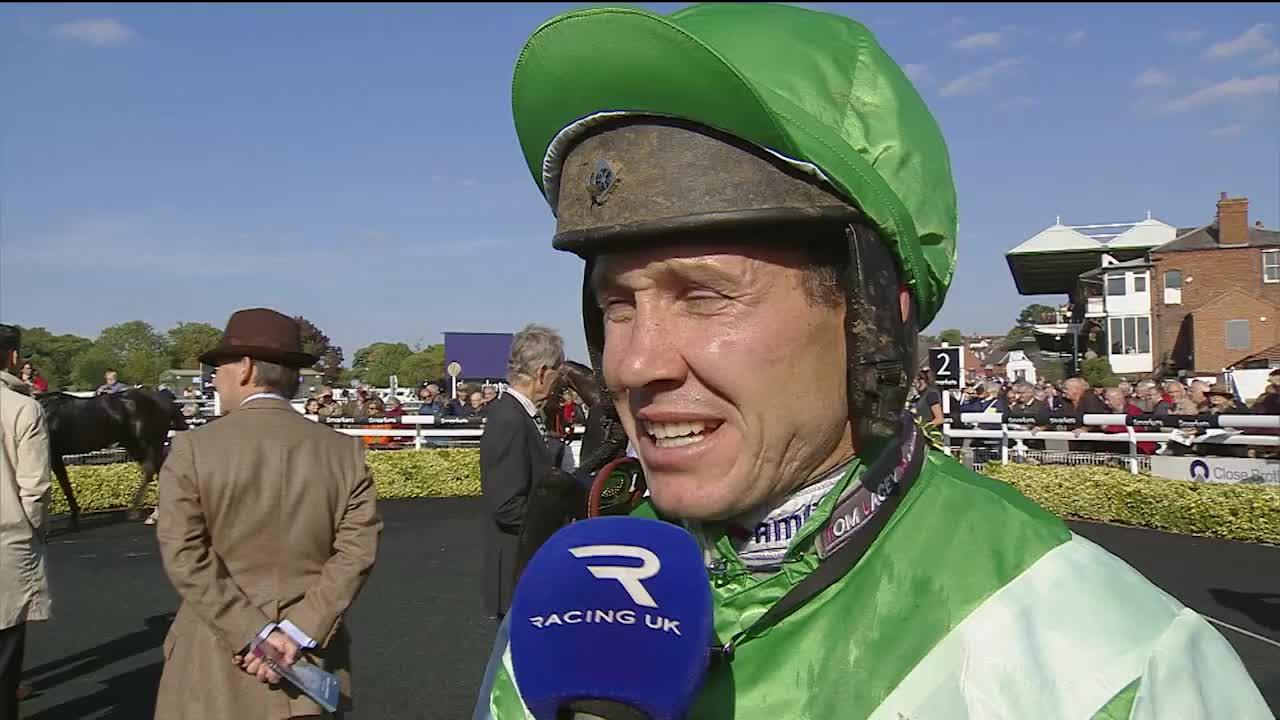 Johnson is still over 800 shy of Sir Anthony McCoy's record of 4,358 winners and is a best-priced 1-2 to secure a fourth consecutive championship, having largely operated in McCoy's shadow for 16 successive years.
Johnson has ridden 830 winners from 4,202 rides in the past five years and Lacey was fulsome in his praise of the jockey.
"It's lovely to be part of it, but this is all about Richard," he said.
"His work ethic is an example to anyone, he's a complete and utter gentleman and he's just a joy to be around. There is no ego or anything with him and I think you'll struggle to find anyone who has a bad word to say about him.
"He comes into our yard as much as he can and his dedication to the sport really is amazing."
Of He's A Goer, he added: "He is a bit quirky, but we've been loathe to put any headgear on him because he's only four and he's free enough, so I think he might be too keen if we put a pair of blinkers on him.
"We've just had to wait for him to put it all together, but his work at home has always been better than what he's shown on the track."