Wayne Hutchinson announced his retirement from riding after more than 20 years this week. Our Will Hayler recalls one of Hutchinson's most memorable days in the saddle.
When you close your eyes and dream that instead of them, it's you in the saddle, who do you become?
Are you Jamie Spencer on Kyllachy in the 2002 Nunthorpe Stakes, turning sharp left from the stalls to turn a nightmare draw into a perfect spot, picking your rivals off for fun one by one?
Perhaps you imagine you are Richard Hughes on Sole Power in the same race 12 years later, weaving your way through standing traffic, switching lanes on a horse travelling two to everything else's one?
Maybe you prefer a bit more blood and thunder and you are AP McCoy, pushing, shoving, kicking, heaving, willing, carrying, forcing Wichita Lineman to success in the 2009 William Hill Trophy at the Cheltenham Festival?
Or, maybe, like me, you're Wayne Hutchinson riding Smad Place to victory in the 2015 Hennessy Cognac Gold Cup, the race now known as the Ladbrokes Trophy.
Among the many things that made this race so memorable was the admittance almost immediately after the race that rather than being the result of being a tactical masterplan hatched among connections, Hutchinson had in fact almost gone off-grid.
"I wasn't quite as forthcoming as usual with the boss beforehand," said the jockey. "Because I knew he might not be too enthusiastic about it. But I said I'd let him find his rhythm so technically I did have free rein to put my own plan into place."
The victory was given extra poignancy at the time by the recent death of one of trainer Alan King's team, groom John Goggin.
King described it as "a bold ride". "I wasn't expecting him to be that aggressive," he said. "I'm not sure they were the tactics that we discussed, but that doesn't matter now. We were going to have Smad Place handy but I was in a state of shock with a circuit to go!"
Smad Place did not immediately go to the front. Watch the replay and you'll see another old favourite, The Giant Bolster, jump the first couple in the lead. But against a sea of brown manes, Smad Place is always standing out.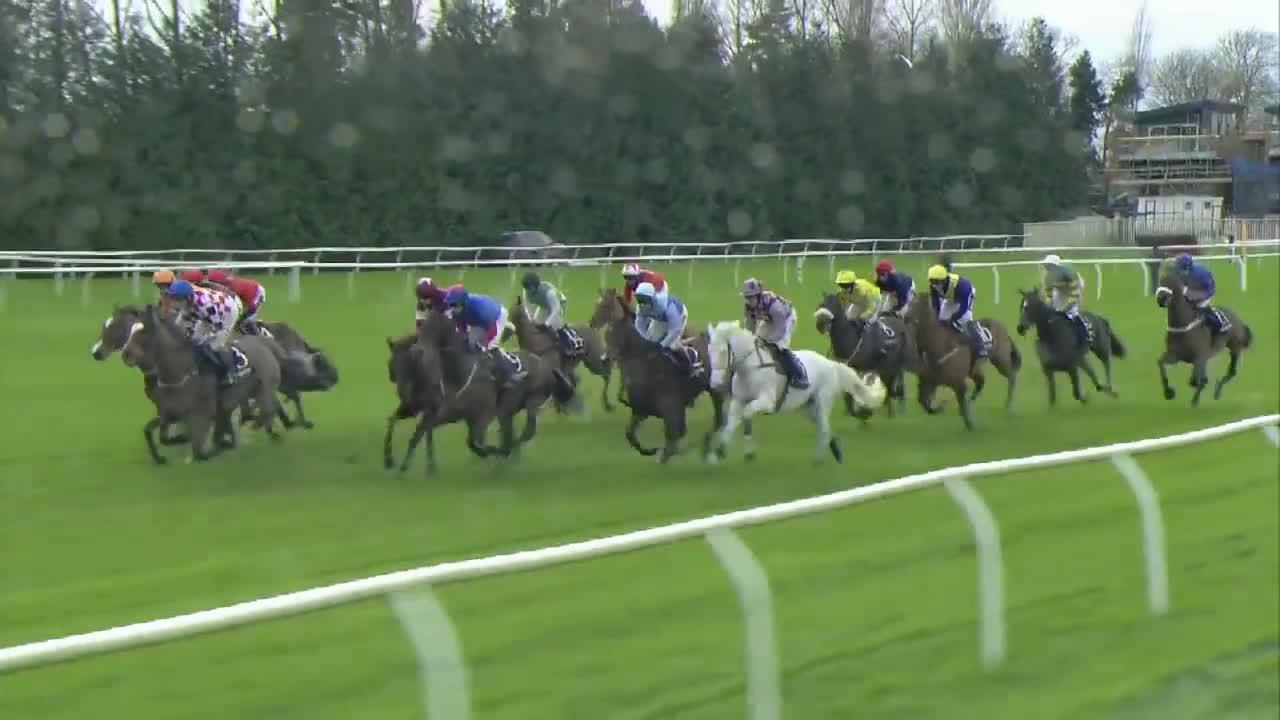 Watch the replay of the 2015 Hennessy Gold Cup in full
By the time they reached the open ditch in the home straight for the first time, his natural exuberance had taken him two lengths clear. Over the water jump and heading out that lead was up to five.
What followed from that point was an exhibition of jumping, horse and jockey united in common purpose as they measured every obstacle with precision.
Heading to the cross fence, Fingal Bay drew back alongside. Hutchinson barely twitched in response as he allowed his partner's fluid jumping to re-establish the advantage.
The first shake of the reins came four out. But like a basketball player throwing a dummy, Hutchinson was almost immediately back sat still, Smad Place's relentless gallop as strong as ever, their rivals fighting to get on terms.
Three out, the open ditch again, and Smad Place makde his first semblance of an error, skewing slightly right on landing. Was he tiring? By no means.
Heading to the final fence, Hutchinson pulled out the whip for the first time. Two quick taps. The grey responded. The gap to his chasers suddenly opened up again. Seven clear at the last, he winged it. From that point, he simply pulled further and further away.
"A performance of elan and exuberance", said commentator Richard Hoiles. The winning margin was 12 lengths. It looked longer through my rose-tinted spectacles.
"I'm absolutely thrilled to bits – Smad Place was fab," said Hutchinson afterwards.
"Smad Place loved being out in front at Kempton in his previous race, going from fence to fence in his comfort zone. I was really confident that that was the way to ride him.
"I put my neck a little bit on the line because I don't think the boss thought I was going to be that positive. Smad Place has been placed in two World Hurdles and was keen with me last season in the Cotswold Chase, hit a flat spot and then stayed on again. So I thought he wanted to use his gears and get on with things – thankfully Smad Place has proved me right and kept me in a job!
"He enjoyed himself and so did I. He was almost foot perfect – he might have got in tight to one in the straight but that would be nit-picking. When you are on a horse of his quality, they do the work for you – it is a case of just steering. He jumped from fence to fence and was just relentless."
It was typically unassuming of Hutchinson to downplay his role in that victory.
Speaking on Monday, he said his future now is "very much an open book" and that he "wants to see what happens". If he grabs the opportunities in the same way he took charge of that Hennessy Gold Cup, he'll succeed in whatever he wants to do.