Racing TV pundit and former top jockey George Baker is one of nine beneficiaries of the support of the Injured Jockeys Fund taking part in the 9 Lives Challenge for the charity over the days ahead.
Baker, who suffered serious brain injuries in a fall in 2017 that led to his retirement, had to learn to walk again afterwards and still suffers from the effects of that accident to this day.
But he has signed up to run 40 miles over the course of the next nine days and has been teamed up with Frankie Dettori, who will also be doing the same thing.
Bookmakers Sky Bet have given George a further chance to raise money for the IJF by offering him a £25 free bet every day of the challenge, with any proceeds going to the charity. They've also offered to boost the prices of any winners that George is able to find.
Racing TV will be sharing daily video diaries from George on its Twitter page and also letting people know what his daily tips each day.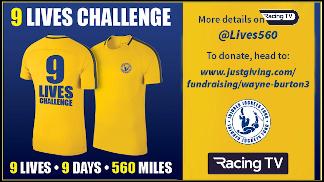 George told Rishi Persad about why he had taken up the challenge
The 9 Lives Challenge is the brainchild of IJF beneficiary, Wayne Burton, who explained: "I sustained a life changing injury in 2008 breaking my back in a hurdle race at Exeter racecourse. I have no idea where I would be right now without the support from the IJF. I came up with an idea to give other beneficiaries a challenge while the world is very upside down right now.
"Myself and other beneficiaries will be challenging ourselves to train to do as many miles as we possibly can to complete the mileage it would take to travel from Oaksey House to Peter O'Sullevan House to Jack Berry House back to Oaksey House, which is around 560 miles in total. We will be doing this challenge in different forms – walking, pushing a wheelchair, cycling, running and swimming."
Among those involved is Tony McCoy, president of the IJF, who will be teaming up with Burton over the days ahead.
He said: "This is a brilliant idea of Wayne's and to cover 560 miles in total in lots of different ways is a real challenge for the beneficiaries. I hope people donate as this will inspire them to keep going and I shall be cheering them on every day and be getting out there too to help them achieve their mileage target."
To support the challenge and donate, head to: https://www.justgiving.com/fundraising/wayne-burton3