Geoffrey Riddle heard what the panel for the Unibet Cheltenham Festival preview night on Monday had to say - and did not say. Read his sketch of the evening below.
By Geoffrey Riddle in East Garston
Apparently they don't talk about it. Not at all. For countless years, Jessica Harrington has stayed with Nicky Henderson at Seven Barrows during the Cheltenham Festival.
The favour is reciprocated during Punchestown although, presumably, somebody had already booked in to Moone for last month's Dublin Racing Festival, which left Henderson with no alternative but to have zero runners and stay at home.
Despite their shared history, at the Unibet Cheltenham Festival preview night here on Monday night, Henderson and Harrington maintained that they haven't yet discussed the Timico Cheltenham Gold Cup, despite being responsible for three of the top four in the betting in Might Bite, Sizing John and Our Duke.
And they added the topic would probably stay off limits during the four or so days they are holed up together in Lambourn next week.
Thankfully, they were happy enough to share their thoughts with the assembled throng in the Queen's Arms Hotel in East Garston, near Lambourn.
Harrington revealed Sizing John was showing his own sparkle in a gallop on Monday. She admitted, too, she ran him back after the John Durkan too quickly. "They are not machines," she said.
By the time you read this Noel Fehily will have ridden Our Duke in a piece of work in Ireland and, for the record, Harrington has never worked both horses together so believes there is not much between them. Forever the diplomat.
But then the cracks appeared. Perhaps it was the quarter glass of red wine that Henderson nursed throughout the hour and a half. In vino veritas, as they used to say in Ancient Rome.
Harrington sipped what looked like a gin and tonic, but of course it could easily have been sparkling water with ice and a slice. For the whole performance Henderson played with a light blue metal bottle top that he had taken from a Hildon Sparkling Water, adding to the possibility that Harrington stayed off the booze.
Little by little it all started to come out. Henderson joked that they had concocted a plan to keep 4-1 Gold Cup favourite Might Bite on the straight and narrow. Sizing John or Our Duke would run up Might Bite's inside, thus preventing the Gold Cup favourite from repeating his wayward antics in last season's RSA Chase when he forgot he was a in a horse race and simply wanted to go home.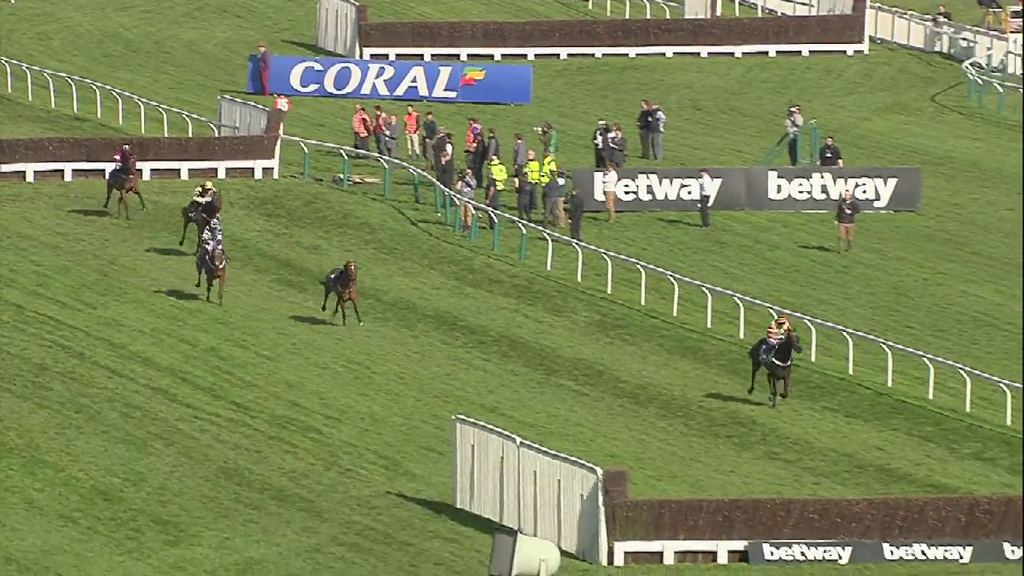 "Yes. We've got a little battle plan formed that we are not telling everybody about," Henderson started to elaborate. "We've got some ideas. Maybe we'll run him with one cheekpiece, but how to declare it?
"Or Jessie says she'll keep one of her horses on Might Bite's right!"
Harrington shot back: "Did I?"
Henderson then hit the half volley out of the ground. "You will if you want a bed for the week!"
It seemed the cheekpiece idea was simply playing to what was a rather sober and somber crowd, but afterwards Henderson warmed to his theme.
"We might try an eyeshield with only one eye cowl, or an eye cover," he added. "That said, it is a bold move to do that for the first time in a Gold Cup. And I remember Fred Winter telling me that he would never put a horse in a race with first-time headgear without trying it out at home first. He did that once, and the horse died and nearly killed him, too. I have never forgotten that."
For what it is worth, here are the BHA Rules of Racing regarding, equipment. http://rules.britishhorseracing.com/Orders-and-rules&staticID=126401&single=1&id=10112
Henderson and his team have scrutinized these rules. They are looking in to other ideas at how to keep Might Bite true, but, realistically, the talented son of Scorpion is likely to turn up next Friday free from any accouterment. Seven Barrows believe in him.
When discussing the chances of the big three – Might Bite, Buveur D'Air and Altior, the Festival's most successful trainer with 58 victories suggested that it was actually the King George VI Chase winner who was too short of the triumvirate.
Altior made a successful return to action at Newbury last month
(Racingfotos)
The enthusiasm with which he discussed Buveur D'Air's hurdling, and Altior's hulking physique, was infectious. With his thumb and index finger he outlined the thrillingly small measurement Buveur D'Air leaves between his hooves and a hurdle as if he was asking a French barman for a whiff of Cognac after a good dinner, which, of course, he had just had.
"He's fun," he said. "When you see very good hurdlers you are very lucky. See You Then was the same. He got to A to B incredibly quickly. Binocular was very good. JP McManus says that Istabraq was not that sort of hurdler. The margin is almost zero, it is just that high. Every time. In and out, and away. He is very good at it and it just frightens you. You get that half inch wrong and you wouldn't want to know what happens. He has got to be deadly accurate."
Henderson wears his heart on his sleeve and although you think he appears to be an open book, he is actually quite hard to read. Listen to his words carefully, or, indeed, try to transcribe them, and his sentences meander down cul de sacs only for him to U-Turn to say something wholly different.
Perhaps Henderson read Hamlet at Eton. "Do not deceive yourself," said Polonius, and it is clear the 67-year-old knows himself well.
"Jessie might think she knows what I am going to do (in the Gold Cup), but as I don't know what I'm going to do yet, how can she?"
Nico De Boinville will partner Might Bite once again in the Gold Cup
(PA)
You wouldn't want to play poker against him. Nor Nico De Boinville.
Throughout the course of the evening, where Paddy Brennan and Adrian Heskin also chipped in, the champion trainer must have uttered 10,000 words.
By contrast, De Boinville spent most of his time on the dias staring into the distance, motionless, like a meditating Jedi and said approximately 27.
But what words. At one point Brennan launched in to an emotional recollection of his relationship with Ryanair-bound Cue Card and his disappointment at their fall in the Charlie Hall Chase.
De Boinville's ancestors, many of whom faced the guillotine during the French revolution, used to own a chateau in Lorraine before they were forced to flee to Britain. With their DNA coursing through his aristocratic veins the jockey reached for his rapier and ran Brennan through.
"Low sun, wasn't it?" De Boinville said, with a grimace.
The comment raised the first real laugh after the hour mark. It was that sort of night. De Boinville said little else, but he certainly built on Henderson's belief that Divine Spear would run very well in the Close Brothers Novices' Chase. Take the hint and snaffle the generally available 14-1.