Owners Garth and Ann Broom tell Andy Stephens about the joy and terror of watching Gold Cup hero Native River in action ahead of his title defence on Friday.
The owners of Native River have said they will be delighted if he makes the frame when he defends his Cheltenham Gold Cup crown in the £625,000 showpiece on Friday.
Back-to-back winners of jump racing's premier contest are a collector's item and since 1972 only triple winner Best Mate has managed the feat.
The attritional nature of the three-and-a-mile contest has often left a mark on its recent victors. Lord Windermere, the 2014 winner, was the last to even defend his title 12 month later, and he was pulled up.
Garth Broom, the owner of Native River, speaking exclusively to racingtv.com on the eve of the highlight of the whole Festival meeting, said: "If he comes in the first four I'd be delighted. He finished third two years ago before winning last year and to win or be placed three years in a row would be quite something.
"A lot of Gold Cup winners don't come back the next year, or at all. Twenty-four hours can be a long time a horse's life and we are not there ourselves yet."
Broom and his wife, Anne, bought Native River as a four-year-old after Tom Malone, a bloodstock agent, phoned to tell them he had "quite a nice horse here" for them to look at.
"We usually go for big, strong bays. Tom told us he was a chestnut with four white feet and a big white blaze – not our type at all - but he was just down road and so we went out of courtesy.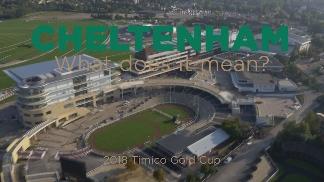 "As soon as he pulled him out he was almost cat-like, he just flowed and was very light on his feet. Driving home I said "I like that horse' and Anne said "So do I" and so we took a punt on him."
Five years later, the bond between them and their horse, nicknamed Garfield, is strong and the couple will watch their pride and joy with a degree of mix of excitement and terror. Many owners juggle the two emotions.
"He usually freezes, while I'm usually shaking and grabbing hold of a friend," Anne Broom said. "At every fence, I say 'jump'."
Garth found himself unfrozen once Native River had leaped the final fence 12 months, when his gripping duel with Might Bite was reaching a thrilling denouement.
"I was shouting so much on the run-in that I lost my voice for two days," he said. "It was surreal. Winning the Gold Cup? That's the Holy Grail. You dream of having a horse good enough to run in it, let alone win it. I'd have thought I had more chance of going to the moon than doing that."
Anne nods her head in agreement. "For the first few months afterwards we would rewatch it most nights on television – just to make sure it happened. Even now, if one of ours disappoints and we need cheering up, we will watch it again."
Native River, disputing favouritism with the soft ground in his favour, is trained by Colin Tizzard on the border of Dorset and Somerset and will be joined in a field of 16 by two of his stablemates, Thistlecrack and Elegant Escape.
The different sets of owners are all acquaintances who have been on a similar journey, which could make for an interesting conclusion if the trio are locked together at the finish.
"We are all good friends, and we also know Paul Barber [part-owner of Clan Des Obeaux, another leading Gold Cup fancy] really well," Garth said. "We are friends before and after, but it's every man for himself during the race."
Being in the thick of the Gold Cup is a far cry from when the couple, who met at Taunton racecourse, began racing horses in their distinctive yellow, purple and red colours.
"Our early ambitions were simply to have have local, West Country winners – then we discovered how hard they were to win. They still are!
"We had a double on New Year's Day but have not got our heads in front since. We've lost a few photo finishes, perhaps we are due one at Cheltenham.
"This year there is perhaps not quite the same pressure. Last year we were in with a very good chance and went there with feeling that if it didn't come off then it never would.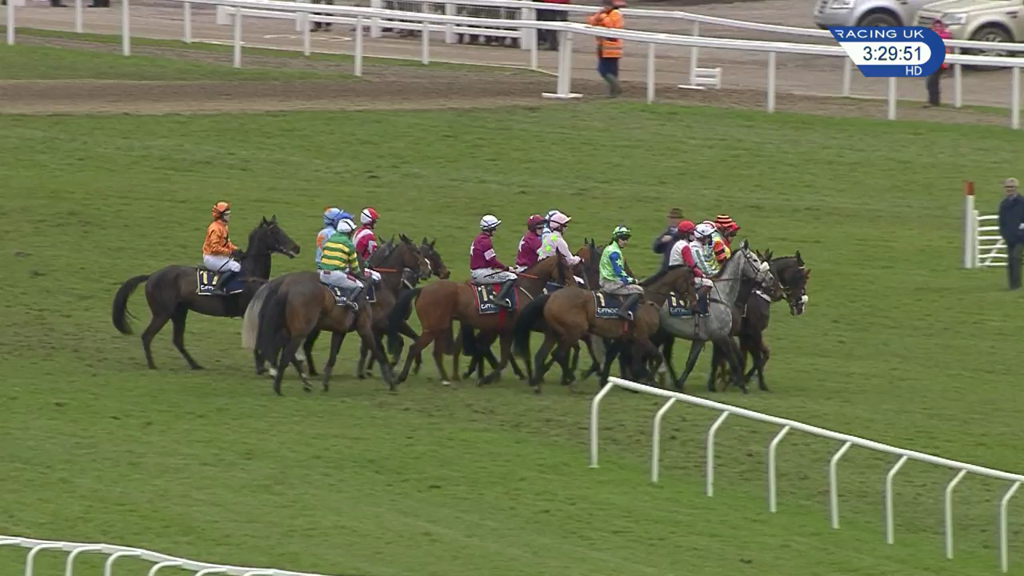 Watch how Native River won the Gold Cup last year
"I'd say any one of half a dozen horses can win it this time. If there was odds-on shot like an Arkle, Kauto Star or Best Mate you'd think we are running for place money but it's very open and we've got as good a chance as anybody else – possible slightly better as he's proved himself, whereas other haven't."
Whatever happens, they will continue to race Native River sparingly. Last season he ran only twice, albeit after being injured in the first part of the campaign, and this campaign he has had just two more outings.
"He seems very tough but you can't abuse that – you've got to look after them," Garth says. "You can only go to the well so many times, especially in these top races. That's why we don't over-race him, to win a Grade One race or top handicap you have to put it all in.
"Horses like him are so rare. You hope all your geese will end up as swans but most of them end up as ducks."
Racing TV is the only channel showing every Cheltenham race live with over 32 hours of unrivalled coverage! Click here to join now