Find out what connections had to say when the weights for the iconic Aintree race were revealed on Tuesday.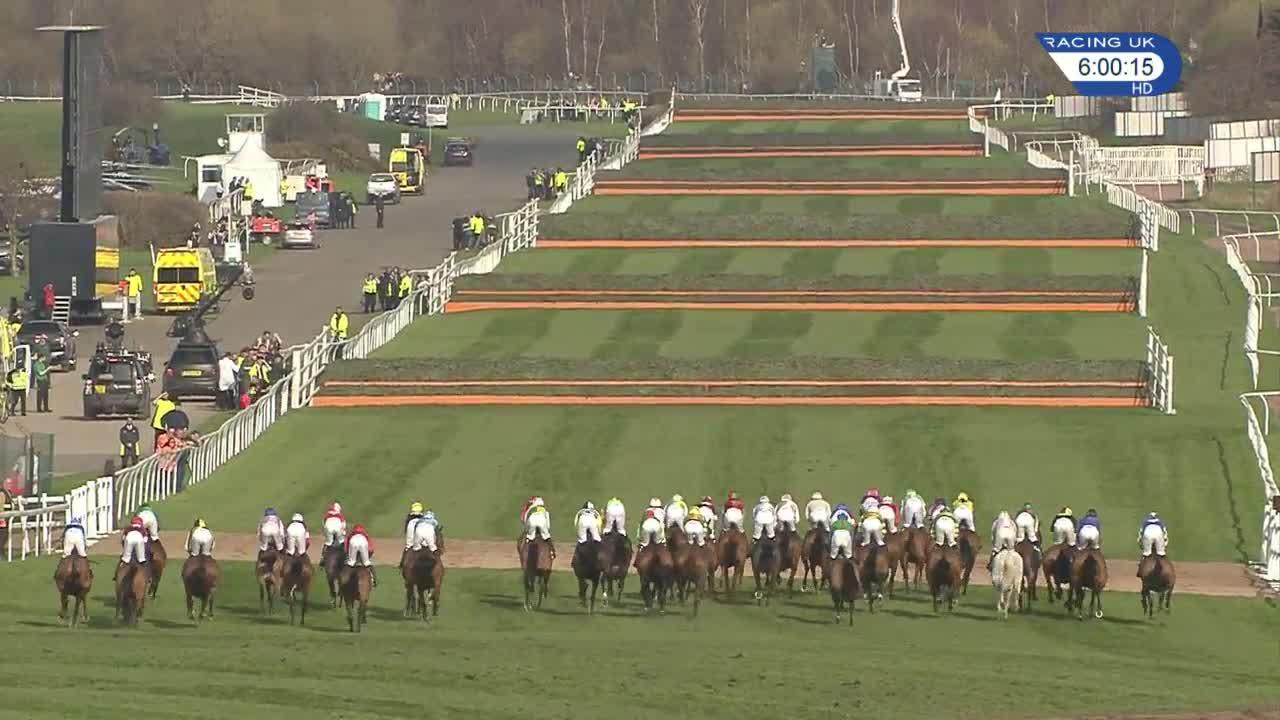 Watch expert analysis of last year's race
WILLIE MULLINS:
Pleasant Company (10st 11lb), Rathvinden (10st 10lb), Total Recall (10st 10lb), Acapella Bourgeois (10st 5lb), Pairofbrowneyes (10st 2lb), Some Neck (10st 2lb), Up For Review (10st 2lb), Livelovelaugh (10st), Polidam (9st 13lb), Isleofhopendreams (9st 12lb)
"I was delighted with Pleasant Company last year (second), but never thought he was going to get there. Maybe he will this year. It's been the main plan for him this year, as it has for a few others.
"Rathvinden may go for the Bobbyjo Chase at Fairyhouse or the Leinster National at Naas. Those are the two races most of mine will have to go for as there are no other suitable ones. It will probably be Naas for him.
"Up For Review ran well in the Thyestes after Paul (Townend) took him wide. I hadn't realised how well he ran – it was a fantastic trial.
"Polidam and Isleofhopendreams might not get in. Livelovelaugh ran well the other day and needs further.
"I was disappointed with Some Neck the other day, while Pairofbrowneyes still needs to qualify despite having won over two miles and seven and a half furlongs at Gowran – which would be like four miles elsewhere!
"Total Recall might run too free for a National horse. Acapella Bourgeois could be a nice horse, but has had his problems. If I could get him back he could be anything."
NICKY HENDERSON:
Valtor (11st 2lb) and Kilcrea Vale (9st 5lb)
"The problem is we have done well in the Topham, with six or seven winners, but they lose the plot when they have to go round twice! We have been second twice in 40 years.
"This year we have Valtor who was very cleverly bought by Mr Munir. He hadn't won for three years and we got him going with a couple bits of pieces of work and then launched him at Ascot, when James Bowen rode him. He won by 20 lengths that day so Henderson's first move to try and win the Grand National saw Valtor raised 16 pounds!
"He is on doctor's orders after he ran at Cheltenham last time when something went wrong and it will be a long road to get him back."
JOE TIZZARD:
Son of trainer Colin Tizzard. The yard's entries are: Elegant Escape (11st 4lb), Sizing Codelco (10st 10lb), Royal Vacation (10st 8lb), The Dutchman (10st 3lb), Ultragold (10st 3lb)
"The owner quite rightly wants to run Elegant Escape in the Cheltenham Gold Cup first, so that's his plan for now, but he ticks a lot of boxes for a Grand National and we'll make a decision after the Gold Cup.
"I'm not sure Sizing Codelco will make it, we might be looking more at the Scottish National for him.
"Royal Vacation is a Grade One winner who had a bad season last year, but he's come good again. He's got a quiet chance – if he got into a rhythm he's got a bit of class.
"The Dutchman has had a setback and might not make it, but this has been the plan for Ultragold as he's got such a great record over the fences.
"He's our main one off 10st 3lb. He got three-mile-five at Warwick and deserves to run in a Grand National."
GARY MOORE:
Traffic Fluide (10st 10lb)
"I wanted him to be under 11st ideally, so I'm happy with that.
"I think we'll definitely aim at Aintree now. I've never had a runner in the National before, but he looks like a National horse to me.
"I'll definitely need to give him a run beforehand as he hasn't run since the start of November.
"We'll see what happens, but I'll probably give him a run over hurdles somewhere.
"I'll build some National-type fences at home and pop him over a few. I don't think he'll have a problem as he's quite a clever horse."
SUE SMITH:
Vintage Clouds (10st)
"It looks like he's on a nice weight, but the big question is if he gets in.
"The experts seem to think he will do, so we'll just have to see.
"I'm very pleased with him. There's a possibility he could go for the Grimthorpe at Doncaster, but the ground can sometimes be quite quick at that meeting.
"If it is quick at Doncaster, he'll go to the (Cheltenham) Festival again."
LUCINDA RUSSELL:
One For Arthur (10st 10lb)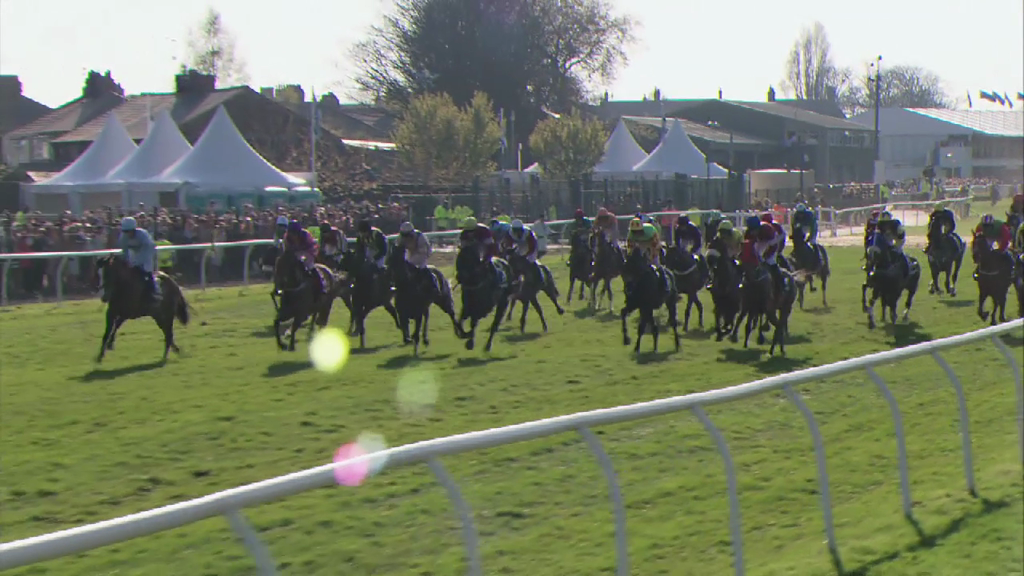 Relive One For Arthur's success in 2017
"Obviously 10st 10lb is a super weight. Whether the weights will go up or not, we'll have to wait and see.
"We're happy with him at home and we think we've got his jumping sorted out. He was quite sore in his back and his sacroiliac joint after his last run at Haydock, but he's having plenty of physio and doing plenty of schooling.
"It doesn't look like he'll be able to run at Haydock on Saturday because of this new vaccination rule. He's only a couple of weeks out.
"He could go to Kelso on March 2 and then hopefully on to Aintree from there.
"Obviously the National is the plan, but I don't know if the owners would want to run him if the ground came up good to firm."
JONJO O'NEILL
Minella Rocco (10st 11lb)
"The plan with Minella Rocco in the long-term is the Randox Health Grand National. Aintree was the plan for him last year, but the ground just went against him.
"He had a hiccup earlier on in the season and that had also prevented us from running him. He returned at Cheltenham the other week and we are also hoping to run him at Ascot on Saturday, but we're still not sure about the injections (flu), so we'll have to wait and see if that will happen or not.
"After that, we would hopefully like to go to Aintree. I was a bit disappointed with Minella Rocco's first run back. He ran and jumped OK for a while, but he was well back. He hadn't run for a long time, has had a few injuries and he'll need a few runs to get him back where he needs to be."
PAUL NICHOLLS:
Black Corton has 10st 11lb; Warriors Tale (10st 9lb); Give Me A Copper (10st 1lb)
"We have three entries in the Grand National and they are not all likely to run. Warriors Tale would be ground dependent and we could run him in the Topham instead if the ground was soft.
"Black Corton has 10st 11lb which is a nice weight and Give Me A Copper has always been a horse I felt would be suited by Aintree and the fences. The Ultima (at Cheltenham in March) is next up for him and if all goes to plan there, then we could be tempted to run in the Grand National off 10st 1lb.
"It's great to be at Liverpool and it was lovely to win the race with Neptune Collonges. It would be nice to find a horse who could emulate him and win it again. It is such a hard race to win and you need a lot of luck in running so a lot can happen in the event."
NIGEL TWISTON-DAVIES:
Bristol De Mai (11st 10lb; Blaklion (10st 12lb); Ballyoptic (10st 11lb); Go Conquer (10st 13lb)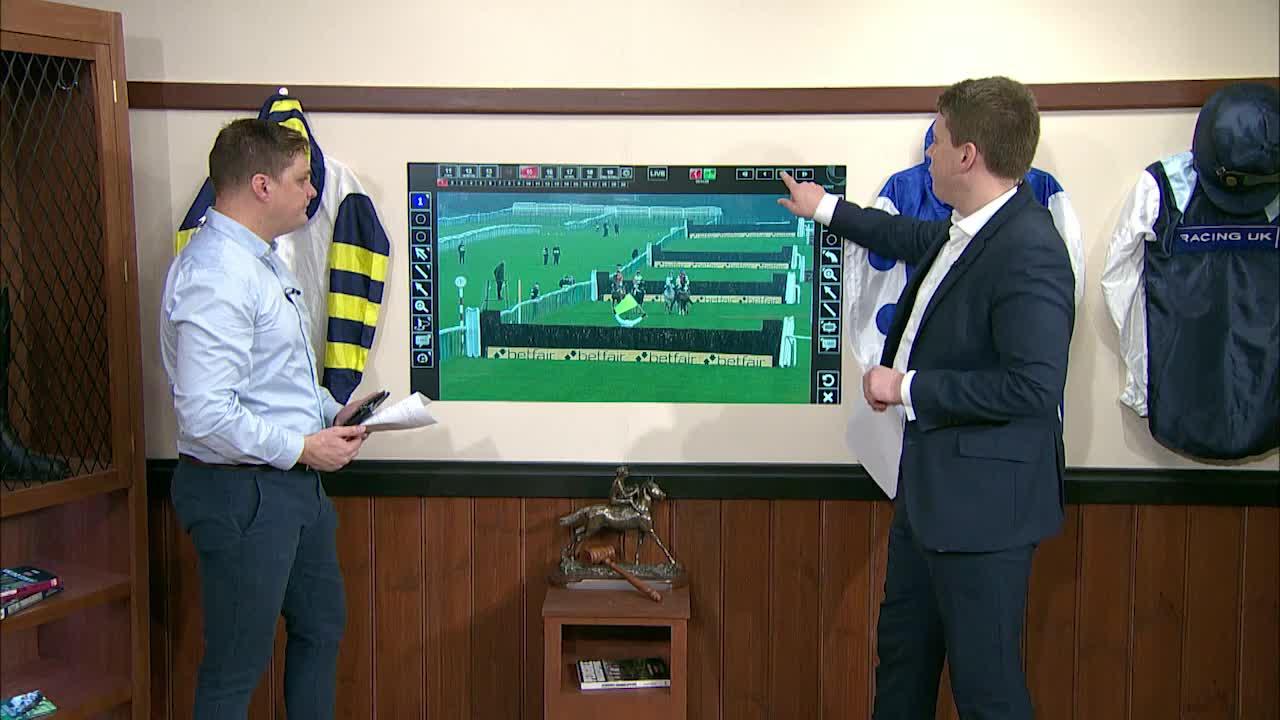 "I will have to speak to the owners and Anthony Bromley before making any plans about Bristol De Mai (11st 10lb). The Cheltenham Gold Cup (on March 15) is his first target and if everything goes well, then we will make a plan after that.
"I am delighted with Bristol De Mai's weight and it definitely concentrates the mind more on the race than we would have been otherwise. We will talk about it and then make a plan.
"Blaklion (10st 12lb), Ballyoptic (10st 11lb) and Go Conquer (10st 13lb) are all other horses who could run in the race, but we will make a decision nearer the time.
"Blaklion is very much the forgotten horse this year. He was brought down at the first in last year's Grand National and ran well at Warwick on his latest start. I expect he could run well in the race this time around. Bristol De Mai is the class horse, but Blaklion a year ago was favourite for the Grand National."
DAVID PIPE:
Ramses De Teillee (10st 5lb), Daklondike (10st 4lb) and Vieux Lion Rouge (10st 2lb).
"Ramses De Teillee had a wind op during the summer and has progressed this year, finishing second to Elegant Escape in the Welsh National. He has a lovely weight.
"Ramses De Teillee, Daklondike and Vieux Lion Rouge are in the Grand National Trial at Haydock on Saturday and probably a couple of them will run there."
HARRY FRY:
American (10st 10lb) and The Last Samuri (10st 6lb)
"The Last Samuri is in good form. We were looking at the Eider at Newcastle, but now the handicapper has dropped him to a mark of 150 we'll probably go for a veterans' chase at Newbury on March 2.
"Hopefully that will tee him up for another crack at the National, if that's what the owners want to do. He would be our first runner in the National, which would be hugely exciting.
"Plans are a little bit more up in the air as far as American is concerned. Obviously he needs heavy ground to be at his best.
"He's entered at Kelso this weekend, but the ground won't be soft enough for him there so we'll look elsewhere.
"He has a Cheltenham Gold Cup entry, but he'll be on a recovery mission wherever he goes after his last run at Newbury and there are no definite plans for him at this stage."
WARREN GREATREX:
Missed Approach (10st 1lb)
"I'm happy with the weight and this has been a plan all season.
"Obviously he won the Kim Muir last year. We ran him in the Becher, he ran very well and we've saved him until the weights came out.
"He'll either run in the Eider at Newcastle or wait for Kelso in early March.
"We've been very happy with him. He's got a bit of class and seems to rise to the big occasion.
"Just to have a runner in the race is amazing and to win it would be out of this world."
ROBERT WALFORD:
Walk In The Mill (10st)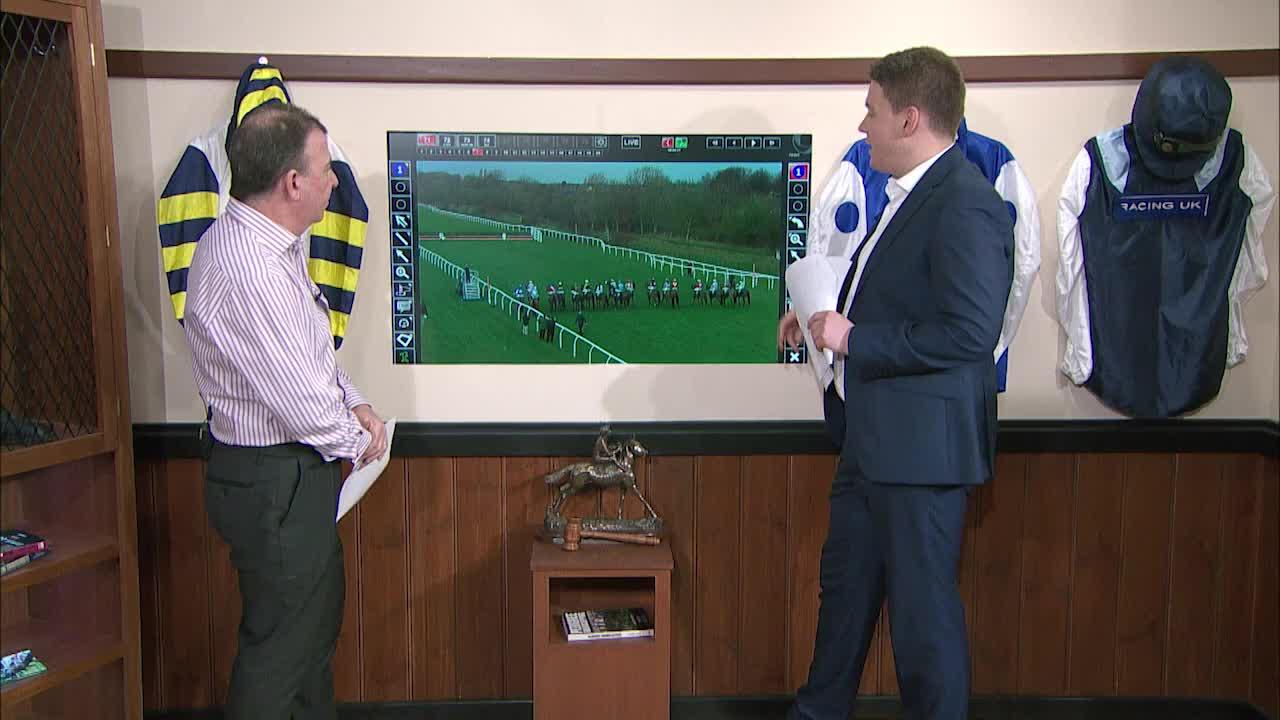 How good was Walk In The Mill's Aintree success
"In the last few years a mark of 144 would normally get you in, so hopefully it will this year.
"He's in very good form and I'm looking forward to running him.
"If the ground came up soft he could go for the big three-mile chase at Kempton (888Sport Chase, February 23). I don't think he'd win that, but it would be a nice prep race.
"We hope he will run somewhere before Liverpool. I'd prefer to run him over fences if possible, but he is still a novice over hurdles so we've always got that option if we need it."
DR RICHARD NEWLAND:
Abolitionist (10st 1lb)
"Hopefully he'll get a run, that's the main thing. He's 59th on the list and that would normally get you in, but it could be cutting it fine.
"He's ready to run and could have run this weekend, but he can't because of this flu vaccine situation.
"He'll be entered in the Kim Muir at Cheltenham and there's also the Pertemps Final, but I'd doubt he'll get into that.
"If he doesn't go to Cheltenham then there's a veterans' chase at Newbury he could go for.
"He's in very good form and has been trained all season with one day in mind."
PHILIP HOBBS:
Rock The Kasbah (10st 9lb)
"I'm happy with his weight and he's in good form.
"The plan is to go straight to Aintree and on his best chance he'll go there with a good chance."
ENDA BOLGER:
Auvergnat (10st 8lb)
"His mark looks high enough, but he'd definitely get a run at least, which is good.
"The cross-country in Cheltenham is on his agenda and that's his number one target.
"We'll see how he goes in Cheltenham first, but he's a horse that stays well."