Watch David Fitzgerald's interviews with stipendary steward Simon Cowley and trainer Dan Skelton after a race was called off at Cheltenham on Thursday due to the weather.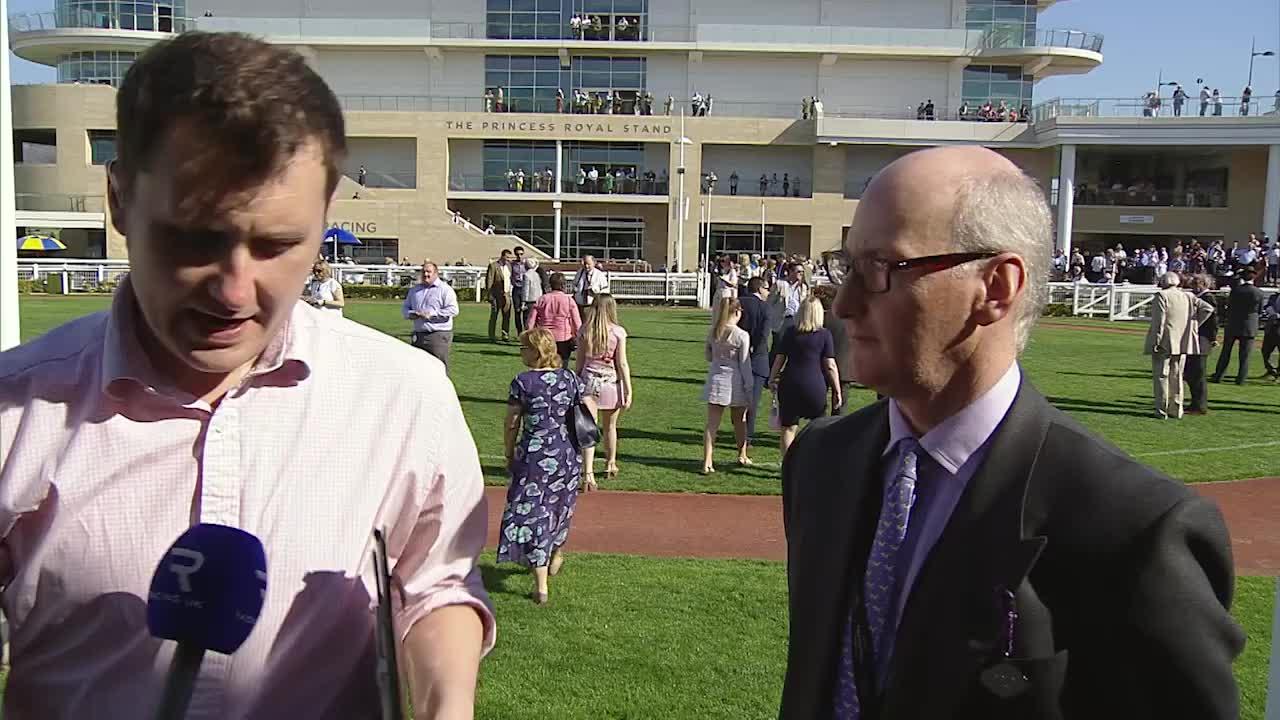 By Will Hayler
Temperatures soared on and off the track at Cheltenham on Thursday after a race was abandoned due to hot weather on a ground-breaking card where all seven races were restricted to fillies and mares.
Officials at the track had already moved to provide extra water supplies after the winning post aware of the almost-unimaginable transformation in the weather that, just little more than a month ago resulted in snow still sitting on the track, had given way to the hottest April temperatures on record for 70 years.
After feedback from the jockeys taking part in the first three races, however, the stewards held an enquiry and chose to cancel the fourth contest, a three-and-a-quarter mile chase.
With the connections for that contest already out in the parade ring, there was understandable disquiet from some of those set to be involved.
Grand National-winning trainer Donald McCain was due to run Same Circus in the race and was not happy with the decision to abandon.
"I just think it's an appalling decision as I don't know how you can differentiate between distances," McCain said.
"If it's too hot to race - which I don't think it is by the way - then it's too hot and the whole meeting should be abandoned.
"Hopefully nothing happens in the remaining races because if it does they've given people every opportunity to give them stick.
"Is it any more testing for a staying chaser to run in a staying chase than for a juvenile filly to run over two miles at Cheltenham? I don't think it is.
"If they had abandoned altogether I might not have agreed, but I probably wouldn't have said anything. I think we should have raced."
However, McCain's view was not shared by all, with Dan Skelton able to understand the stewards' call.
"I didn't have a runner in the race, so it's easy for me to say they made the right decision," he said.
"These conditions are unprecedented so we have to act accordingly.
"These horses are coming out of the winter with coats that have still got a bit of growth on them. I think they're overheating because of the time of the year rather than the extreme temperature. What's to blame, what's not to blame and where you draw the line is not for me to say – it's way above my pay-grade. But I understand why they've made that call.
"I had a runner in the three-mile-two race yesterday and he finished not distressed, but nearly distressed, took a lot of cooling down and it's not a pleasant experience. We saw what happened to that Scottish guy in the marathon at the Commonwealth Games and that sort of thing doesn't happen in the short-track races – three miles two is an extreme distance."
Stipendiary steward Simon Cowley said that the decision had been based upon "a mixture of science and instinct".
"Trainers know their horses very well and they may feel confident their horses can run," he told Racing UK.
"But as stewards we have to take a round view and take account of the image of the sport. So far the risk can be managed well enough but a three-mile two-furlong chase in these conditions might be asking a little too much."
Cowley said that the option to reschedule the race later had been looked at but ultimately ruled out.
"We looked at all possibilities and we were assured by the racecourse executive that the temperature was not going to drop significantly, even into the evening," he added.
While the following three races all took place without event, the meeting did continue in a somewhat muted atmosphere with horses being taken away to be cooled down rather than returning to the winner's enclosure.
Dame Rose, who had finished fourth in the opening contest, collapsed after the winning post and vets were not able to save her. The BHA said a post-mortem would be held into the mare's death in a bid to establish whether the temperature had been a factor.
Furthermore, the decision to call off the race comes in the light of an inquiry already announced by the BHA into the circumstances behind six recent deaths at the Cheltenham Festival.
"While we appreciate that this decision may be frustrating to some, it was discussed at length with vets, jockeys, trainers and the racecourse and we hope that those affected will understand that the decision was taken with welfare in mind," Robin Mounsey, the BHA's head of media, said.
"The safety and health of our participants is the number one priority for everyone involved in the sport.
"In unseasonal weather such as this, races run over longer distances may carry an increased risk of horses becoming too hot, especially when the heat has come on so quickly and horses haven't had a chance to acclimatise.
"Hot weather provisions have been put in place across the country, such as extra water and tired horses not returning to the parade ring after races, but the decision was made to cancel this one race as an extra precaution."
Cheltenham's owners Jockey Club Racecourses later announced that they would compensate the owners of all horses declared to run in the abandoned race.
Ian Renton, Regional Director for Cheltenham and the South West, Jockey Club Racecourses, said: "These were exceptional circumstances today and we fully support the stewards' decision to abandon our fourth and longest distance race due to the heat. As a sport, it's imperative we put the welfare of horses first.
"As such, we also think it is an appropriate gesture of goodwill to the owners of all declared horses in the race to receive compensation towards the travel expenses they will have incurred."
With the jockeys having already weighed out for the race, they will also receive their riding fees as if the race had taken place.