Watch how the former Liverpool and England striker suffered two tumbles before looking more comfortable in gallop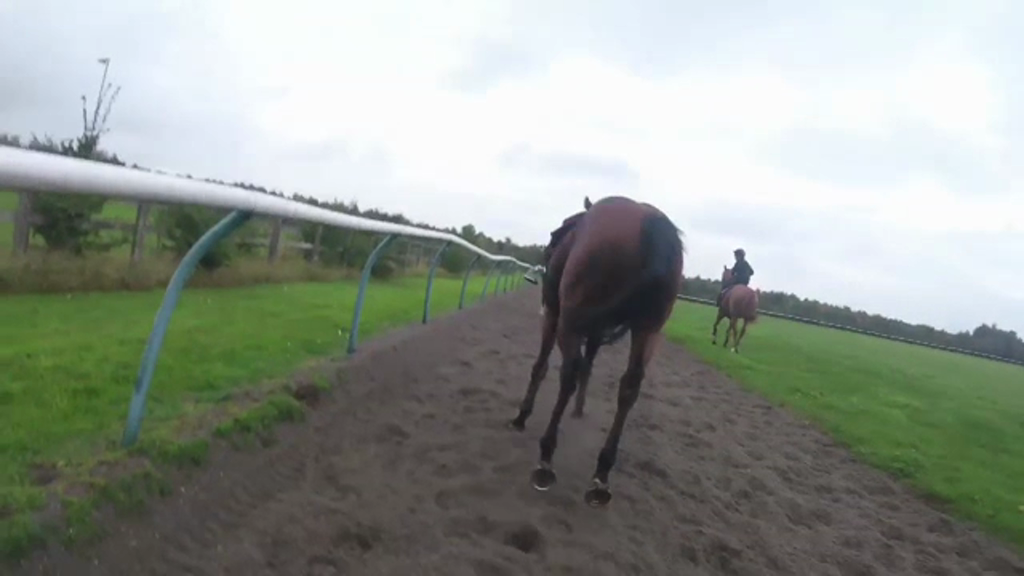 By Andy Stephens
Michael Owen is excited about making his race-riding debut this month despite suffering two falls during his latest training preparations.
The former England striker will ride at Ascot on Friday November 24 to help raise funds for the Prince's Countryside Fund and attended the British Racing School in Newmarket to help fine tune his technique ahead of the seven-furlong contest.
Having spent time learning to ride at his own Manor House Stables operation in Cheshire, Owen admitted that he thought the transition would be easy but was only one tumble away from the kind of hat-trick he would not have wanted.
The 37-year-old, who played for Liverpool, Real Madrid and Manchester United among others during his distinguished football career, was soon put on his backside by one of the School's horses during an assessment day. Then, after getting back on, he was deposited for a second time.
"Today was really insightful and, if anything, it has brought me on a lot but also put me back a couple of strides because it was the first time I've fallen off of a horse – twice!" Owen said.
"It's made me think that they're not machines. I've been doing some practice back at home and it felt very easy and I thought I would breeze it. Today, there's been wide open spaces, horses you don't know and it's been very, very different. It's made me think to myself that I need to do some hard work between now and Ascot.
"We've learned a whole range of different skills and obviously part of that was sitting on horseback, doing a bit of walking, trotting and cantering, which were very different from what I'm used to. It was a big learning curve."
As part of the training day, Owen also had to undertake the standard fitness test for all jockeys hoping to gain a licence to ride.
With such emphasis on core muscles, the tests included planks, squats on balance boards and seated wall squats, as well as a conventional bleep test to ensure sufficient cardio standards.
"It was a tough fitness test, it was obviously specific to what you're going to be doing so some of it was not what I would have normally done in my career," he said. "A lot of strength work and balance and posture and core, work on your thighs, so it was interesting and quite punishing at times.
"I found in life that a lot of things look easy on the eye. You go to a stadium or you watch on TV and everything looks quite easy, and then you try and do it yourself and you think it's quite hard. Then you see the jockeys up close and what they do and it's nigh-on impossible.
Owen, a successful racehorse owner and breeder, had never ridden before this year
"It's people at the very top of their games and very top of their sports and they are exceptional at it. I think you can only get that respect from trying it yourself and realising how difficult it is and then when you consider they're half your weight and controlling half a tonne of animal. It's fascinating how good they are and how difficult it has been to understand how to do it."
However, it was not all pain and anguish on the day as Owen and his competitors - who will include previous race winner Sheikh Fahad al Thani and one of Britain's leading eventing riders, Harry Meade – were later sent off up the gallops at near full speed – a pace at which the former Liverpool striker looked much more at ease.
That should instil confidence in Owen, who is fortunate enough to be able to call on a couple of horses from his own yard, at Tom Dascombe's in Cheshire, to hopefully lead him to success on the day. But does he consider himself a good bet on the day?
"I'm in a fortunate position that I have two horses in my stables that are within the right band and age to run in the race: one is a good boy who is quite safe and the other is quite a hard puller I'm told, that's not so safe but he's a bit better," he said.
"I'm swayed to the one who gives me the best chance of winning if I'm honest. Taking part has never been the game for me, I always want to win. However, this is probably an exception and just getting across the line will be an achievement considering I haven't sat on a horse for the first 37 years of my life."