Racing TV's Gordon Brown catches up with the team behind a fascinating Scottish challenger for Wetherby's Bet365 Charlie Hall Chase, which will be shown live on Racing TV on Saturday week.
Geoff Adam has some longstanding unfinished business to tidy up as the Borders owner bids to make it third time lucky in the bet365 Charlie Hall Chase.
Adam's striking white-and-red-starred silks were twice carried in the prestigious Wetherby event by classy Pat's Jester, fourth to Barton Bank in 1993 having been agonisingly touched off by a neck twelve months earlier by Tipping Tim.
Now, nearly 30 years later, it is the turn of Aye Right, an upwardly-mobile young chaser affectionately known as 'Jock' in the Roxburgh yard of his trainer Harriet Graham.
Adam is on the board at Kelso where Aye Right made his seasonal return recently and the Melrose-based retired company director said: "It would be a dream to get anywhere near what Pat's Jester achieved - at the end of the day this young fellow has won seven races and we've had such fun with him already.
"Pat's Jester was some horse and he gave us some wonderful memories. And not just as a chaser either as he also won a Scottish Champion Hurdle, a Bula Hurdle and an Ekbalco Hurdle.
"We were really pumped up for that first Charlie Hall as I thought we had a right chance. His jockey Neale Doughty is an old mate of mine and I said beforehand not to use his stick if he was going well coming to the last. But I've got a picture of him giving him a whack, the winner jumped it a wee bit tidier than him, and he was just run out of it.
"We had a great laugh with Tipping Tim's owner Jenny Mould before and afterwards and I was delighted when he went on to win what was then called the Mackeson for her as she was a lovely lady."
The Flat-bred Pat's Jester, who cost IR3,600gns as a yearling, won on the level, initially for Pat Rohan and then for now-retired Dick Allan with whom he spent the bulk of his career. He was also the bridesmaid a few weeks after Wetherby when a six-length runner-up to The Fellow, ridden by the late Adam Kondrat, in the King George VI Chase.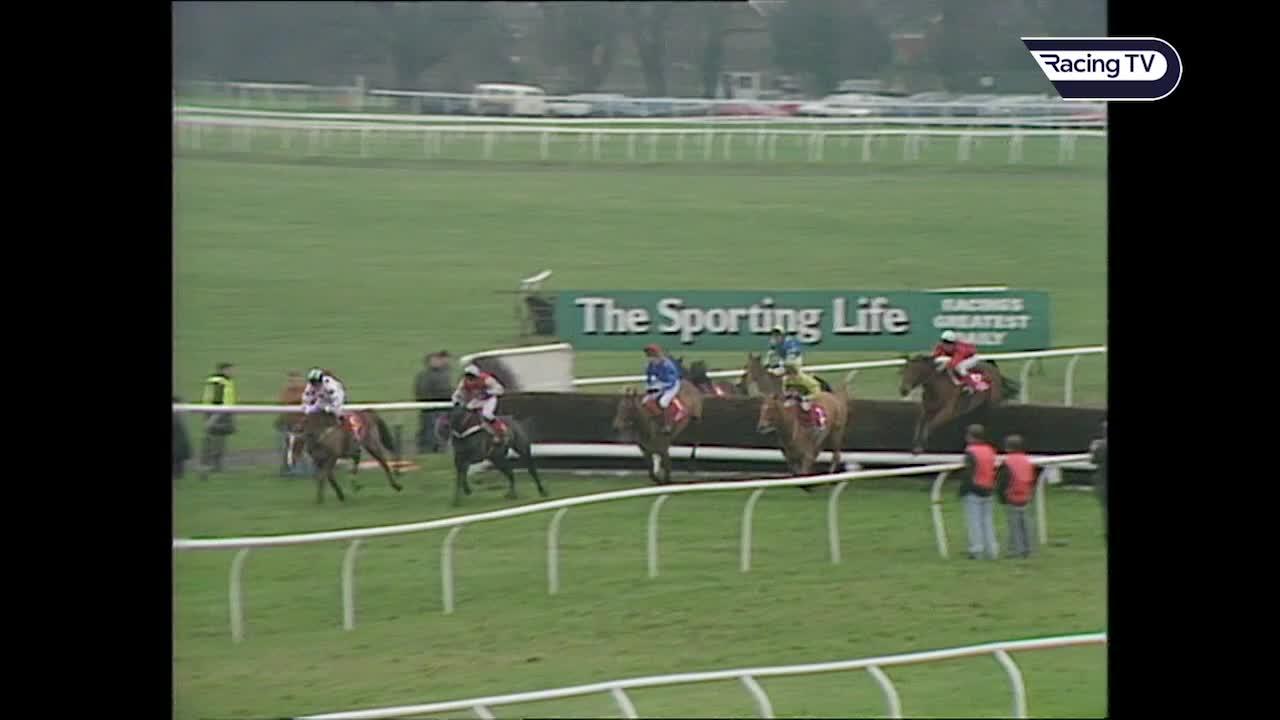 Pat's Jester jumps brilliantly up the straight but can't quite repel The Fellow in the King George
His owner recalled: "As I love saying when I tell the story: that day at Kempton he beat everything from Ireland, England, and Europe except The Fellow!
"'Pat' was travelling so well at the fourth last that our party were all getting a bit carried away with themselves - what could we possibly do to celebrate something like this?
"Turning for home everything else seemed to be going backwards but little did we know that Adam was only giving The Fellow a breather. It was a hell of a race and occasion and, even in those days, the prize money for second was still almost £17,000."
Fast-forward to the present and Aye Right was named by Adam who explained: "It is a kind of Glaswegian expression which can mean good or moderate depending on how you pronounce it - but so far it's all been very positive!
"He's a tough wee individual who loves his work and eats every morsel of food that is put in front of him. And despite what my wife and Harriet say, it was me who picked him as a youngster because I love horses by his sire Yeats!
"There certainly won't be any pressure on at Wetherby because of any bets. I used to back horses quite heavily but at the end of the day I get far more pleasure out of just watching them rather than having the stress of knowing you've had a big, thick bet. The other thing is when you're talking about valuable races unless you are putting thousands on you are wasting your time."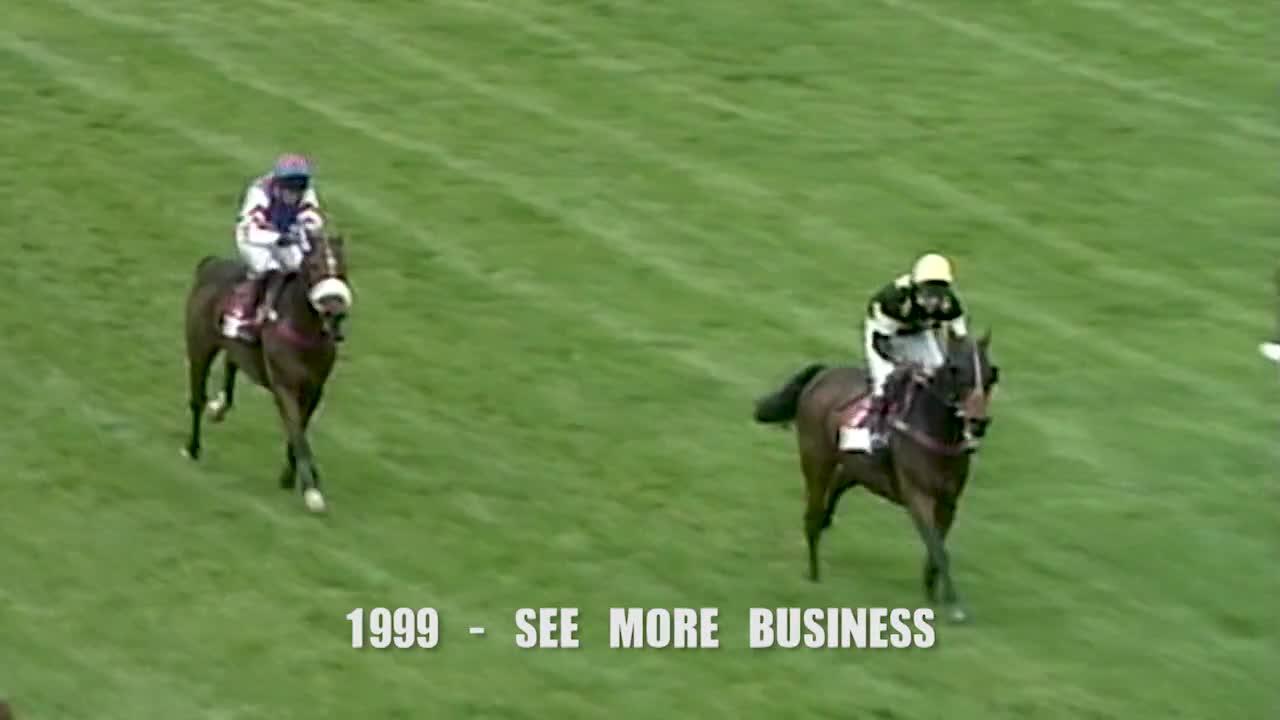 From See More Business to Menorah - enjoy some great memories of the Charlie Hall Chase
As far as Graham is concerned you can feel the excitement in her voice as she chats about the star of her stable near Jedburgh which boasts stunning views across the borders right up to the Cheviot Hills which separate Scotland from England.
"We've liked him from day one since he arrived from the Distillery Stud near Annan," she said. "He's always been incredibly straightforward, professional and tough - he just does his job comes home, eats his tea and next day goes out in his field and gets very, very muddy!
"He's just always been a horse that has been so easy to train. He goes to his owner for the summer and he came back this time looking stronger and a bit more substantial. physically. One would hope, all being well, for the next two or three seasons he will be at his peak.
"One thing that makes him a true professional is if, for example something goes wrong and he puts in a bad jump, he doesn't seem to be bothered. In the RSA he made a few pretty big mistakes and a lot of horses would have pulled themselves up but he just got over it and carried on.
"He's not the biggest but he's sturdy and everything about him is in the right place. He's got good hind-quarters and he uses his physique really well and has taken nicely to chasing, not that he was a slouch over hurdles."
Aye Right - 'Jock' to his friends - enjoys the view at home
Ayr Right made his autumn return under regular jockey Callum Bewley at Kelso when going under by a length and a half to Nuts Well in a 2m 1f chase some 25 minutes after Sottsass had scooped the Prix de I'Arc de Triomphe.
Graham added: "That was always a prep-run. I was surprised he finished that close to be honest and I think he thought he had to go round again. His jumping to start with was a little hesitant but it warmed up as the race progressed even if the distance was shorter than ideal.
"I would say the race was part of the programme to get him to the Charlie Hall. Our one disadvantage here is we can't work him with lots of others because we only have six horses in training. Probably the only horse that we have that works well with Aye Right is Dancewiththewind who is another nice horse of Geoff's that won nicely at Kelso - he may also go to Wetherby.
"We do take them down to Newcastle racecourse every now and again and give them all a good blow round. But there is nothing like a race to really tighten them up and get their eye in.
"He's only had four races over fences and we threw him in at the deep end for his chase debut last season at Doncaster in the three-runner Grade 2 race won by Sam Spinner. We all thought he would have won that race but he unseated Callum six out when the winner made a worse mistake and survived.
"Then he won a match easily enough at Newcastle before coming fifth in the RSA Chase, which was a different level, although he was far from disgraced. There is a race at Kelso the week before Wetherby but we all discussed way back in the summer we would try for the Charlie Hall and after that we wouldn't be frightened to travel south again depending on how he gets on - if there is an opportunity we think we have a chance in, we will take it."