Welcome to the final Road To Cheltenham column before Christmas. Like you, I'm looking forward to some tremendous festive clashes over the course of the coming fortnight – and I'll be reflecting on those events in a bumper two-column week immediately afterwards.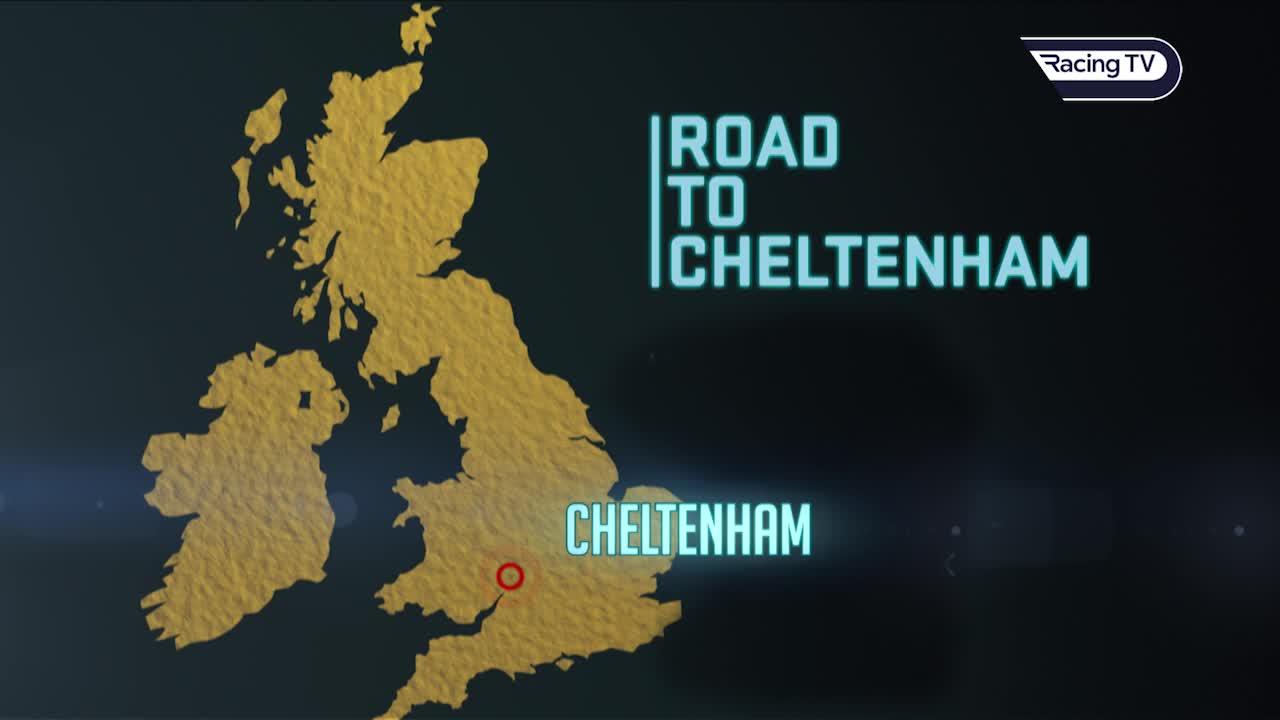 Watch Episode 5 of Road To Cheltenham in full
One horse who is not yet certain to appear as advertised is Champ, whose participation in the Savills Chase hinges on the quality of his work this weekend – that's according to trainer Nicky Henderson, as published in the Racing Post after publication of this column yesterday.
"We'll probably just work him over the weekend and then see," he said. "The coronavirus restrictions for travelling aren't a problem – I just want to see where he is. He schooled this morning and we think he's jumping very well, but we'll see."
UNIBET CHAMPION HURDLE
The frustrating omission of three of the eight intended obstacles in the Unibet International (Bula) Hurdle at Cheltenham last Saturday was deemed to place nimble jumper Song For Someone at a disadvantage. But this improving horse – the flagbearer at breakthrough trainer Tom Symonds' yard – was good and game enough to win anyway.
The contest had been billed as a comeback vehicle for Goshen, last season's JCB Triumph Hurdle sensation for both the right and wrong reasons and hitherto second favourite for the 2021 Unibet Champion Hurdle.
But after fizzing his way through most of Saturday's contest, his chances had been snuffed out before the home turn and he cut a sorry figure in the straight, eased down and adrift of the field. This was one of those occasions when a diagnosis – atrial fibrillation – was actually good news, as it gives the Moore family something definite to work on.
Unlike the rest of the ten-strong field, however, Song For Someone was just as much of a known unknown in open graded-race terms as Goshen when the starter's flag fell. Yet, following his narrow defeat of a luckless Silver Streak, his ante-post odds persist in comparatively underestimating his form. Abacadabras and Saint Roi have achieved little or no more than him to date yet they're trading at around a third his odds.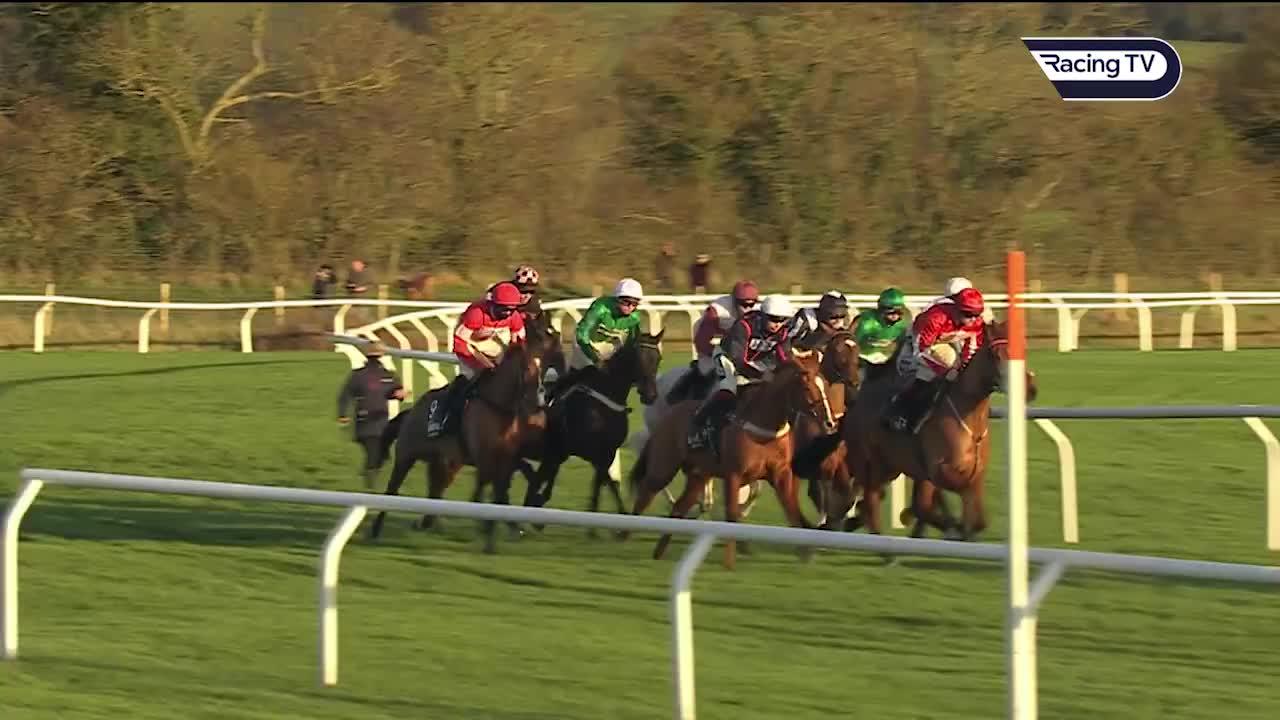 Watch a full replay of the Unibet International Hurdle
Song For Someone boasts the priceless asset of utter straightforwardness. He settled happily on the outer fore of the field, responded when the pace lifted, dug in when at risk of being outpaced and battled determinedly under pressure to lead narrowly as they bypassed the final hurdle, pulling out enough to repel Silver Streak's rallying challenge by a nose. He's now a triple Grade Two winner at the age of just five.
Symonds – who's operating at an elite 26% strike rate this season and is already just three winners away from eclipsing his best-ever tally with more than four months to go – had long been cognisant of the calibre of his horse. Even prior to victory in last season's rescheduled Kingwell Hurdle, he'd floated the idea of a Champion Hurdle entry to owners Sir Peter and Lady Gibbings. "Don't be ridiculous" was reported to be their response then. It's a more alluring option now.
Yet Symonds was characteristically measured in his post-race assessment. "It would need to be very soft for him to figure. I'm not downing him, but I just wonder if he has the tactical speed in a Champion Hurdle," he told the Guardian's Greg Wood. "I was surprised when he won a Kingwell, in the nicest sense."
Symonds may be young but he's wise beyond those years. He is not a trainer who's easily seduced by the siren call of Cheltenham. In his tenth season with a licence, Song For Someone was merely his 22nd runner at the track.
Cheltenham's New Course, host to this career-best success, places a great deal more emphasis on stamina than does the Old Course, where the Champion Hurdle is staged. It therefore wouldn't be a surprise if the latter part of this horse's season were primarily framed around the 2m4f Grade One Aintree Hurdle instead. The Champion Hurdle could be a stop en-route, however.
Song For Someone is also still entered in Leopardstown's Grade One Matheson Hurdle on 29 December. A 17-day turnaround would be the quickest in the horse's career to date for Symonds, but he raised the possibility of "Ireland" with Nick Luck on Racing TV last Saturday. It was a vague enough mention potentially to refer to the PCI Irish Champion Hurdle in February or the season's-end Punchestown Festival, however.
It's possible – but I would argue not definite – that Silver Streak would have won with a clear passage in the home straight. He was sitting on the heels of the leaders at what functioned as the last hurdle – usually two out – and disputing third at the bypassed final flight. But he was shuffled back to sixth soon after and forced to switch and wait to some degree. Once unimpeded, Silver Steak responded generously to Adam Wedge's urgings and only just failed to get up, in receipt of 2lb from the winner.
Of course, a fortnight earlier the likeable grey had been ushered out of the Grade One Fighting Fifth at the second hurdle by the loose Not So Sleepy, who was intent on disruption. A superbly consistent horse, Silver Streak also finished third to the ill-fated Espoir D'Allen in the 2019 Champion Hurdle and a never-quite-involved sixth to Epatante in March.
A positive ride in a race that placed increased emphasis on stamina at a track that does the same, Ballyandy stuck on for third in the International and confirmed that trainer Nigel Twiston-Davies seems to have eked a couple of pounds of further improvement from him this season. He remains closely-matched – perhaps marginally superior to – with fourth-placed Sceau Royal over hurdles, albeit the latter has been busy this autumn and prefers a sounder surface.
This was also a reliably creditable effort from an ultimately out-speeded Summerville Boy in fifth, whose jumping on this drop back in trip was cleaner than can often be the case. Ch'tibello, winner of the 2019 County from a mark of 146, finished a close-up sixth but was receiving 4lb or more from the front five, while Call Me Lord – who triumphed in this race last year – was beaten further by the winner here than he was at Ascot. He seems out of sorts.
Nico de Boinville took a circumspect view when unable to get involved on Verdana Blue from the distant final hurdle. Soft ground doesn't suit this mare but, given her underwhelming seasonal debut in conducive circumstances, she might not currently be operating at her best either.
Free-going fellow mare Stormy Ireland appeared to be ridden with little expectation, held up in a change of tactics with a wide trip after fluffing the first. This reversion to hurdles was her third start for Paul Nicholls, following two underwhelming efforts over fences, and in form terms languished more than a stone shy of her best at this discipline when trained by Willie Mullins.
Immediately after Goshen trailed in last of ten, beaten 29 lengths, rider Jamie Moore told the stewards his mount had "hung badly right throughout" and his father Gary suggested the horse had raced too freely in the early stages, unsuited by the hurdles in the straight having been omitted. Before the end of the day, a cardiological explanation had emerged.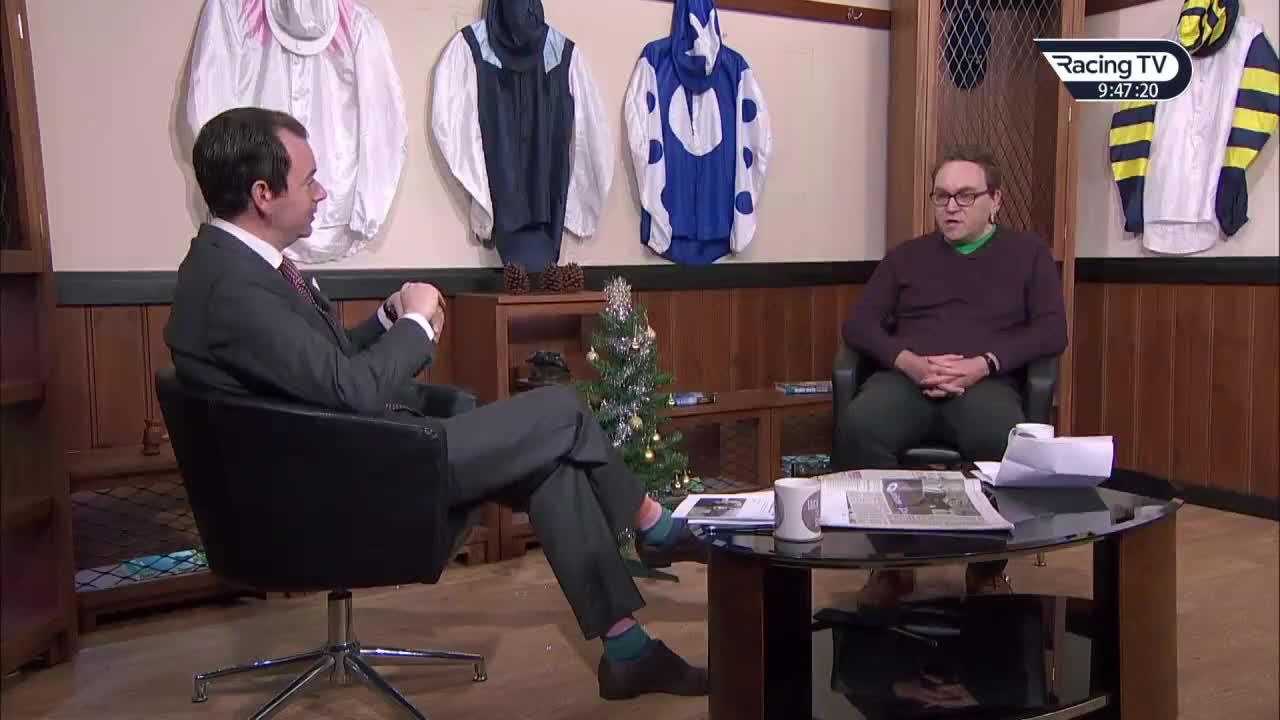 Gary Moore explained on Luck On Sunday why Goshen ran below-par in the International Hurdle
It's well documented that such a diagnosis is no debar to subsequent success. Denman won a second Hennessy, Sprinter Sacre a second Champion Chase and Faugheen a Grade One novices' chase following the discovery of the same affliction.
When interviewed on Luck On Sunday, Gary Moore referred to getting "the lady in Lambourn" down to his yard to check Goshen over – presumably referring to Professor Celia Marr, who managed the recoveries of both Sprinter Sacre, whose heart self-corrected, and Denman, whose required treatment. Accordingly, Moore isn't yet prepared to write off this season.
"Definitely not," he said. He cited Goshen's interrupted preparation for the International – "niggly problems all the way through" that had already manifested in missed assignments in the Elite, Ascot and Fighting Fifth Hurdles when the horse was at times neither scoping satisfactorily nor pleasing his trainer sufficiently at home. "I think he might have needed that race," Moore added.
"It was a mess of a race," he reflected. "The first two hurdles were gone and then the horse was always over-racing. There were a lot of disappointments... but we learned one thing: don't restrain the horse. Let him use his stride and let him get on with it. I think he gets claustrophobic. He doesn't want to be amongst horses... he doesn't like being crowded...
"We were trying to hold him up rather than let him use his stride because I don't think horses last [if they're] always out there making the running. So, we tried to hold him up... and it was the complete wrong thing to do."
What Goshen did in the International is irrelevant to the question of whether he's good enough to win a Champion Hurdle. You might argue that, given everything that was wrong that day, with and for him, it bodes well that he was still able to press for the lead at the (admittedly distant) last.
If you fancied him before Saturday, you're just risking whether he'll recover his health in time for March at roughly three times the price he was. For some, given that he appeared such a huge talent in the Triumph, 25/1 might be worth it – even if the four-into-five-year-old season frequently proves a difficult second album. For the rest of us, if he does turn up at Cheltenham in March, we know for sure from Moore Snr's observations that a strongly-run race is in prospect.
Another horse who could re-emerge from the sidelines in – or perhaps even just before – the Champion Hurdle is Buveur D'Air. At Sandown two Saturdays ago, Nicky Henderson reported that the former dual titleholder had worked the previous day and is "on his way back, I hope".
He "won't be quite ready" for Kempton's Christmas Hurdle, where stablemate and usurper Epatante is due to defend her crown, but Henderson has lightly pencilled in the Contenders' Hurdle at Sandown in February – a race he has used as a stepping stone to the Festival three times previously with Buveur D'Air. "Even if he had one run before the Champion Hurdle, that would do – the main thing is, he's back in action," his trainer observed.
Not since the great Sea Pigeon won his second Champion Hurdle in 1981 as an 11-year-old has a horse aged in double digits triumphed in Cheltenham's premier hurdles contest. Prior to that, you have to go back to fellow legend Hatton's Grace winning the third of his consecutive successes, aged 11, in 1951. Were he to defy age and injury, the rising-ten Buveur D'Air would emulate Hurricane Fly by regaining his crown, as that mighty hurdler did at the age of nine in 2013.
Before the next Road To Cheltenham column update, two critical events will have been staged in this two-miling division, both important Grade Ones. At Kempton on Sunday week, the Ladbrokes Christmas Hurdle seems likely again to feature the likes of Silver Streak and Ballyandy functioning as moving targets for Epatante to pick off at will.
At Leopardstown two days later, the Matheson should hopefully be a different ball-game. Willie Mullins can perm up to four horses: Sharjah, titleholder for the past two years and second in the Champion Hurdle, Sicknote Saldier, the 2019 Morgiana winner who's participated just once in each of the last two seasons, Saint Roi, last season's County Hurdle victor, and fellow Festival conqueror, the mare Concertista.
Word is that Henry de Bromhead is less likely to be represented by unbeaten five-times Grade One heroine Honeysuckle, who waits for the Irish Champion Hurdle, than by Aspire Tower, while Abacadabras – with Petit Mouchoir in tow as his useful front-running support act – looks likely to pitch up for Gordon Elliott.
The ante-post market currently speaks in favour of Saint Roi reversing this term's Morgiana form with Abacadabras – perhaps under more positive tactics, as Ruby Walsh suggested in our first Road To Cheltenham show of this series.
Want to have the chance of winning a million from Paddy Power? Click here to opt in for Paddy Power's Millionaire Chase!
PADDY POWER STAYERS' HURDLE
Saturday's edition of the Grade One Porsche Long Walk Hurdle looks an absolute belter, not only with Thyme Hill reopposing Paisley Park in a level-weights scenario but also Roksana racing at her best trip, the 12-year-old Thistlecrack making his long-awaited return and the fiercely progressive Main Fact thrown in for good measure.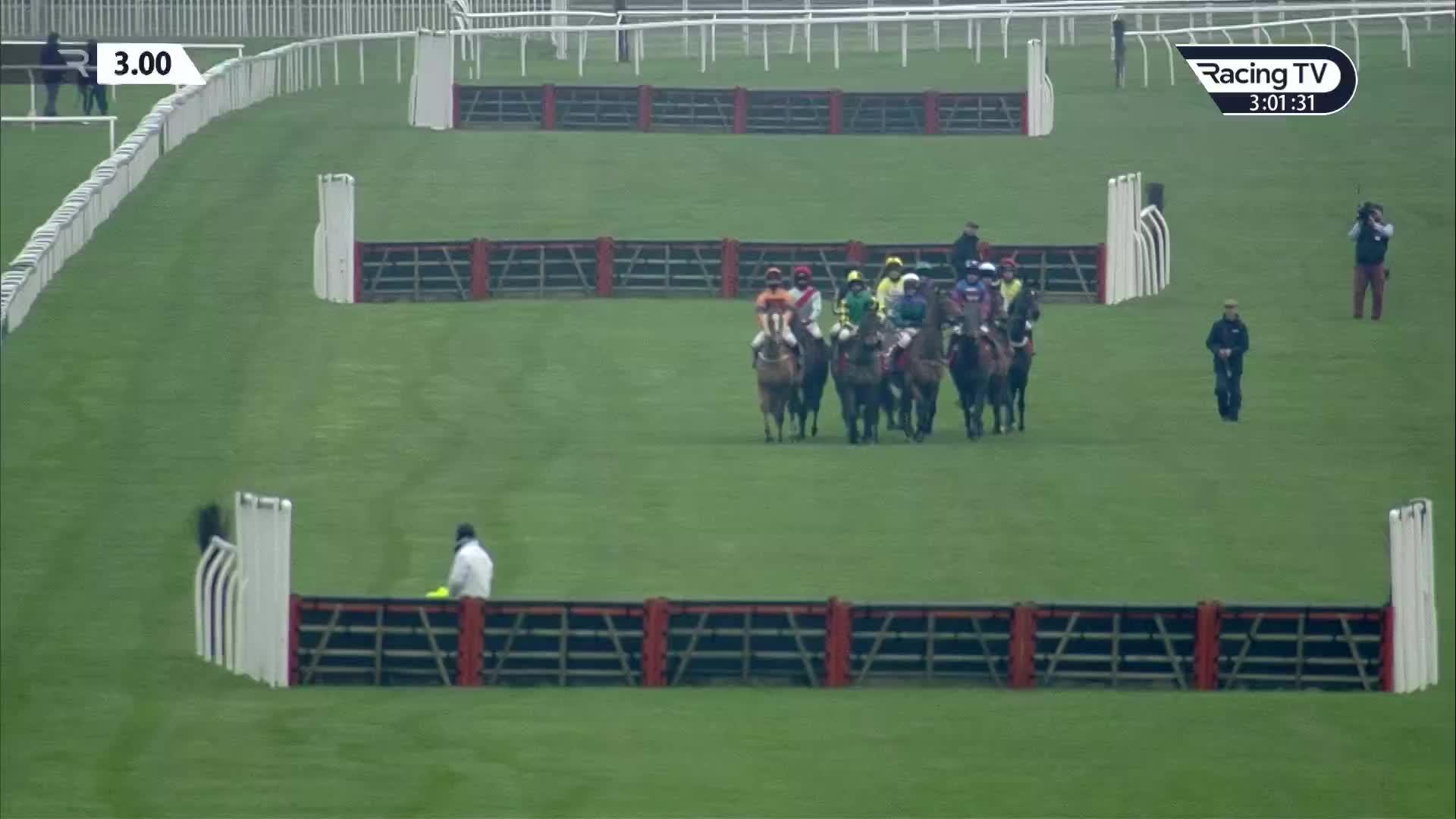 Thyme Hill and Paisley Park fought out the finish of Newbury's Long Distance Hurdle when last seen
Conditional Fergus Gillard keeps the ride on Main Fact, despite being unable to claim his 5lb in a graded contest. Veteran Thistlecrack, last seen when runner-up to Paisley Park in the 2018 Long Distance Hurdle, suffered a setback when being prepared for the King George last year.
"He's been a bit fragile but is in one piece at the moment and we'll take it day by day," assistant trainer Joe Tizzard told the Racing Post. "We're keen to keep a low profile and let him run his race. We're entering last-chance saloon but he's been brilliant and is ready to go."
With Lil Rockerfeller, Portrush Ted and even The Worlds End on his first start for Olly Murphy also signed up at this stage, you'd hope it would be a strongly-run event that will examine Thyme Hill's stamina more rigorously than did either the Albert Bartlett or the Long Distance Hurdle. Paisley Park's connections will also be able to play their cards without inhibitions, now that his comeback from heart arrythmia is safely under his belt.
You would imagine dual Pertemps winner Sire Du Berlais, whom Gordon Elliott has entered at Ascot for owner JP McManus, will wait for the seemingly easier opportunity of Leopardstown's Christmas Hurdle against the likes of Ronald Pump. The Long Walk is perhaps inconveniently spicy from Elliott's perspective because he also has the aspiring Fury Road, for Gigginstown, and would no doubt have preferred to keep them apart this Christmas.
RYANAIR CHASE
Nico de Boinville was intent on riding Mister Fisher more positively in the rescheduled Fitzdares Club Loves The Peterborough Chase than on either of his previous two visits to Cheltenham – when pulled up in the Paddy Power Gold Cup and fourth in the Marsh Novices' Chase at the Festival. (More races that are touchstones in our calendar should be sponsored in this celebratory and respectful manner, by the way. Well done, Fitzdares.)
Always in the first two or three, de Boinville was chivvying his mount to hold his position on occasions during the final circuit and moved out to again press the leaders at the third last. That was the critical juncture, witnessing the departure of exciting youngster Fanion D'Estruval.
Charlie Deutsch's mount was moving comfortably at the time and, while it was too far out to call him the winner, he would have had to check out quickly in order not to be involved... had he stood up. Of course, this point is paramount and that low-slung French style of jumping is frequently vulnerable to a downhill fence. He remains a horse to follow closely.
Kalashnikov made a less pivotal error at the same fence and required reminders from Jack Quinlan to get himself back involved – which, of course, he doughtily did. But he couldn't quite master the winner. Mister Fisher gave him a sniff of it at the last, when getting in too close, but then pulled away again up the hill.
This was an encouraging return to fences from the runner-up, after showing a flash of his old ability on his seasonal debut over hurdles last month. He'd undergone wind surgery during his summer break after breaking blood vessels on his final two starts last season. Maybe he will move up in trip now, for a decent three-mile handicap chase?
In the backwash, Glen Forsa weakened markedly from the home turn after an aggressive front-running effort that would have put you in mind of the Grand Annual, were it not now reverting to the Old Course from 2021. Dolos and Bun Doran were unsuited by the combination of trip and track, so someone had to inherit third – and that was Clondaw Castle, who shaped as if still in good form but no lover of Cheltenham.
Top Notch, who won the Peterborough Chase at its Huntingdon home in 2019 and its temporary base at Taunton in 2017, ran with a disconcerting lack of zip. This was his first run for 335 days and since an operation to correct his breathing, yet he was in trouble a long way out and Daryl Jacob looked after him.
So, what did the winner achieve? A near two-length defeat of a resurgent but not-quite-at-his-best Kalashnikov, conceding him 3lb, comfortably amounts to a career best from Mister Fisher but the proximity of a never-involved Clondaw Castle bothers me. I don't believe he ran to his Newbury form. But it suggests the winner is more versatile in terms of ground than has been deemed the case, as this was straight-up soft stuff.
In a trend that appears to be catching on this season, the Ryanair has been identified as his second-half target and his sound jumping should help keep him in the game if Min turns on the two-mile-speed boosters again.
Yet even though he ended up too far off the pace in a speed-dominated Marsh last season, Mister Fisher has got a large gap to bridge with the likes of Samcro and Melon. My instinct is that he's not quite good enough in what promises to be a strong renewal.
BETWAY QUEEN MOTHER CHAMPION CHASE
The Ladbrokes Desert Orchid Chase might not be the race Nicky Henderson ideally envisaged for Altior's comeback, following news, courtesy of the Nick Luck Daily Podcast that Henry de Bromhead intends to dispatch Put The Kettle On to Kempton this Christmas. That makes three-of-a-kind for that Grade Two contest – a trio of Arkle Chase winners lining up – as Paul Nicholls plans to run Duc Des Genievres there, too.
It poses an invigorating tactical conundrum for Altior, whose jockey Nico de Boinville will be wary of allowing Duc Des Genievres too much rope on the lead but also mindful that the mare is just as strong a stayer at the trip as is his mount.
Combine that with the grey having hinted at a revival on his seasonal debut for Nicholls, dextrous jumper Put The Kettle On wielding her deadly 7lb sex allowance and Altior's propensity to roll out to his left at Kempton's fences... Well, it makes you wonder whether the Tingle Creek, at a track that plays more to Altior's strengths, might have been the better option after all.
Whatever, if Altior turns up on Sunday week, this contest should tell us exactly how things stand with the dual Champion Chase and four-time Festival winner.
Meanwhile, Politologue has delighted Nicholls by promptly recovering from his second Tingle Creek success and thus enabling his trainer to target next month's Matchbook Clarence House Chase at Ascot rather than head straight to the Queen Mum. He couldn't even bring himself to say the latter idea out loud at Sandown without immediately raising this caveat.
Relive Politologue's Tingle Creek victory
"You wouldn't know he had a race last week. He was bouncing," Nicholls said. "We will just tick him over now and tune him up for Ascot, now we know what we are doing with him."
Interestingly, the trainer has also continued to press his psychological advantage since Sandown, saying again that "Politologue is the one they have all got to beat in the Queen Mother". Leave off, man! He's on the ropes!
Of course, Nicholls – head down, punching – is right to say Politologue sets the standard within this season's form in this division, although that placeholder could be seriously challenged either at Kempton or, perhaps more particularly, at Leopardstown that same day.
The latter Grade One Paddy's Rewards Club Chase primarily features – at least – a clash between Chacun Pour Soi and Notebook, both of whom have already made winning seasonal debuts. It's noteworthy that Willie Mullins clearly wasn't prepared to see the former outpointed by a fitter rival, as he was last term by the latter's stablemate A Plus Tard (who steps up in trip this Christmas).
I have assumed that Min will again sit out this Christmas gig, in favour of waiting for the Dublin Chase, but I suppose we won't truly know until the declarations are published – five seconds or so after Mullins has made his final deployment decisions.
Finally, Nicholls will wait for the Betfair Exchange Game Spirit Chase with his Haldon Gold Cup winner, Greaneteen, who was comfortably beaten by Politologue at Sandown last time out.
"He is only a six-year-old and he has already had a couple of hard races and I don't want to overdo it with him," he said. "There is a lot to come from him yet and he will definitely be treated as a Queen Mother horse. He will keep on improving, he just wasn't good enough on the day in the Tingle Creek but he is taking steps forward all the time and slightly better ground would suit him."
So, wherever Henderson might choose to turn with Altior, a Nicholls-trained opponent awaits. Even if that sound of wicked laughter is just in his head, the Seven Barrows trainer understandably hasn't entered a horse in the Listen To Paul Nicholls On Betting.Betfair Handicap Hurdle at Haydock this Saturday. Just in case.
MAGNERS CHELTENHAM GOLD CUP
Although five Irish-trained horses are still at this stage entered for the Ladbrokes King George VI Chase, only Monalee looks likely to make the trip – even though the right-handed, flat track would surely suit Kemboy better?
As usual, however, Paul Nicholls appears to hold a vice-like grip on Kempton's premier Grade One as he bids to extend his dominance by winning it for the 12th time. If it's courtesy of Clan Des Obeaux, that horse would join an elite band of multiple winners including Wayward Lad (three times), Desert Orchid (four) and his trainer's very own great, Kauto Star (five).
The key point of difference from last year is that Clan Des Obeaux lines up following a taxing seasonal debut, trailing Bristol De Mai around his happy heavy hunting-ground at Haydock. However, as discussed in the second edition of this series, it is evident that Nicholls has deliberately front-loaded Clan's season because Cheltenham is no good for him and therefore he was fitter for the Betfair Chase than might otherwise be the case for a seasonal debut.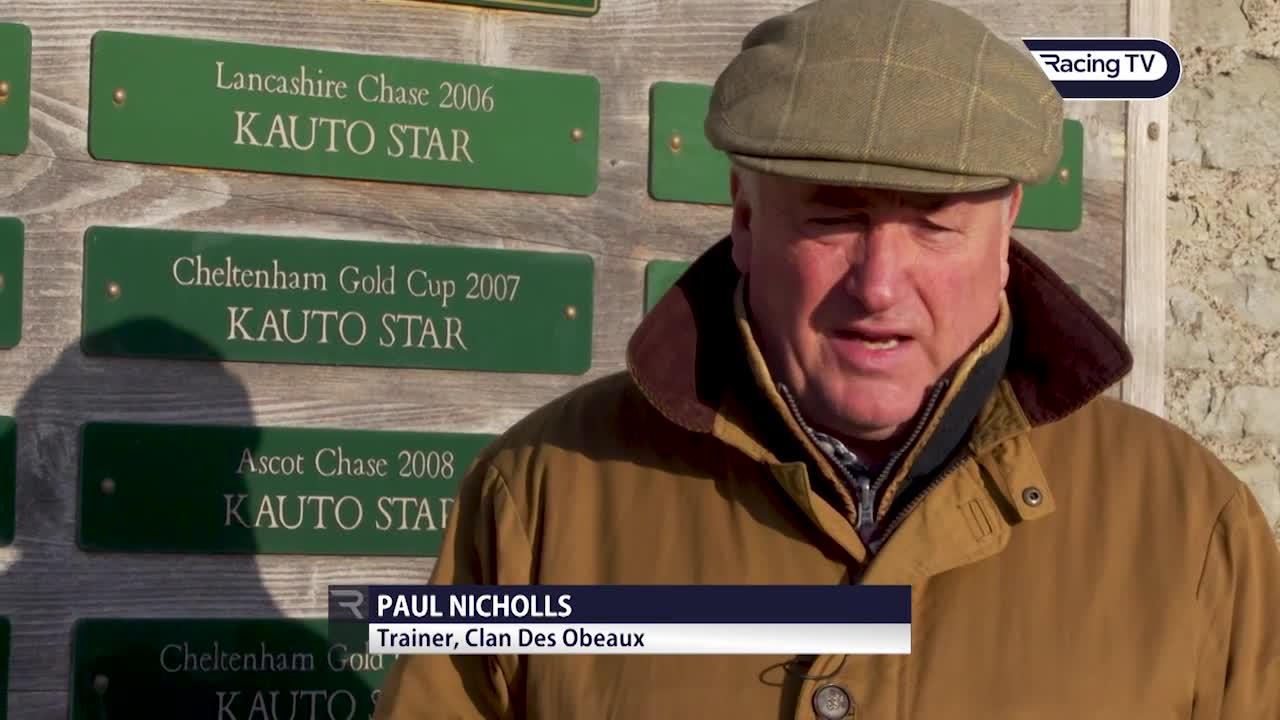 Paul Nicholls discusses his King George team
"I have been very pleased with Clan Des Obeaux since Haydock," Nicholls duly reported earlier this week. "He did have a hard race. It was more testing ground than we would have liked, but he was very fit going into the race, which helps… He is very good around Kempton and that's what we are focussing on."
So, that's the Clan Plan.
The Cyrname Game is to deliver him – tenderly, precisely, concentratedly – in the best possible shape to seize the calibre of prize that his lofty position in the last two Anglo-Irish Jumps classifications says he merits.
Nicholls doesn't have to convince the number-crunchers – nor now probably the likes of Henderson, once he downed Altior, to both their chagrin – but rather the wider public of Cyrname's true merit. Hence the judicious prep in the Charlie Hall, allowing the maximum recovery time whilst also stretching him out for his first success over three miles.
"I definitely don't think Cyrname was anywhere near his best last year," Nicholls said, referring to his listless 21-length defeat by his stable companion 12 months ago in the King George and the effects of his encounter with Altior. (As is now by overarching consensus agreed. Take note Lord Frost and Michel Barnier. This took a mere 12 months!)
"If Cyrname turns up on his A-game, as he was in the Charlie Hall, then it will be a very interesting race and Clan might have to put in a personal best. Cyrname has had a great prep, come out of that race well and looks fantastic. I am very, very happy. We are in a completely different place to where we were last year. It will be a lot closer and different to last year, that's for sure."
If Cyrname translates his very best form – all of which is around 2m 5f at Ascot – to Kempton, then Clan Des Obeaux will need to produce a career best indeed. Equally, the calibre of Clan Des Obeaux's form around Kempton means that Cyrname will need to improve on his Wetherby form to date in order to trouble him.
It's going to be one hell of a horserace, reminiscent of those heady days when the same yard served it up to themselves with Kauto Star vs Denman. All power to their elbow! Competition like that is what energises this sport, ensuring it remains relevant to its fans and inspires new advocates.
Nicholls will also field Frodon, whom he has implied jacked it in when outjumped and headed by Native River in the Many Clouds Chase last time out – which is exactly how it looked. "He just threw his toys out of the pram when he got headed," Nicholls said. "It doesn't suit him when those fences [omitted due to the low sun at Aintree] come out."
He added: "He has come out of the race fine – it's just a matter of freshening him up. There is not much else to run him in, so we will let him take his chance and Mr Vogt [his owner] would love to have a runner in the King George.
Team Ditcheat will be completed by Real Steel, potentially the flagbearer among the team of horses Jared Sullivan re-routed to Nicholls from Willie Mullins from this season. Perhaps on the basis of his debut third to Imperial Aura at Ascot last month, his new trainer may have changed his mind somewhat about his requirements.
In his racingtv.com stable tour in October, Nicholls described him as a "a Ryanair horse" who "looked a non-stayer" when sixth in last term's Gold Cup. Now, he thinks "three miles is probably his trip". These assertions are not mutually exclusive, of course, but you wouldn't call them unequivocal either.
Real Steel shaped second-best at Ascot, picked off late for the runner-up spot, but this is an immeasurably tougher assignment. "He needed the run and he will improve for it," Nicholls said. "You would have to say he is playing for places on all known form, but he will give a good account of himself."
The most substantial threats to Nicholls' strangehold come from Monalee and Lostintranslation. It was encouraging to hear Henry de Bromhead was so relaxed in the Nick Luck Daily podcast about the former's seasonal debut, commenting that he's frequently "sluggish" first time up. I had been alarmed by Monalee's Thurles effort, when he appeared to check for exits more than once when approaching a fence and latterly hung both left and right.
On the other hand, I was inclined to mark up his Gold Cup fourth, in which he shaped as though disadvantaged by a relatively tactical affair when squeezed out at the top of the hill and then rallying late near the line. Whether he'll be able to hold his position at Kempton must be under some doubt and I wonder whether his jumping will withstand the relentlessness of a King George, as he can make a critical error at the wrong time.
It's all-systems-go for Lostinstranslation. Following his abject Betfair Chase display, assistant trainer Joe Tizzard had floated the idea of missing Kempton if the ground were testing – a factor, along with breathing issues since corrected, he and his father also believe contributed to the horse pulling up in last year's King George.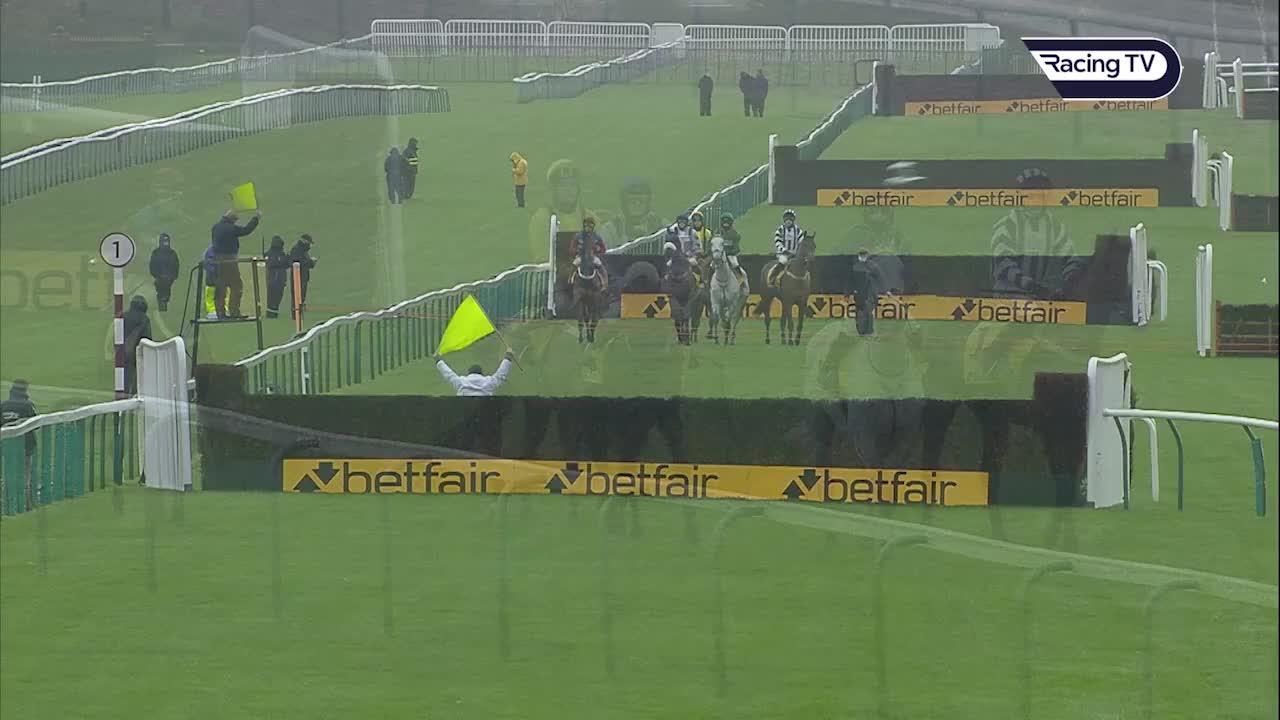 Lostintranslation was disappointing on his return in the Betfair Chase
"He's come out of his run at Haydock well," said Tizzard. "The ground went very heavy and it was a lacklustre run, but we've done all the tests and he came back clean... He worked beautifully on Tuesday and we still have complete faith in him. If we get him right, he can be competitive in these top races and we're delighted with him at the moment."
His best form – last season's Betfair Chase success or his Gold Cup third – is comparable with Cyrname's Charlie Hall success, but it's nagging me that he could recoil more from Haydock than Clan Des Obeaux, even though he got less involved. He was exhausted when clinging on for third.
If Nicholls looks set to dominate at Kempton, one way or another, the Grade One Savills Chase two days later at Leopardstown is more complicated. The betting is dominated by a pair of chasers in their second season over fences, bidding to prove that the next generation is in the ascendancy – yet off the back of two very different preparations.
It's been smooth-sailing in graduation territory for Monalee's stablemate Minella Indo, who particularly impressed with his defeat of Milan Native in a Wexford Grade Three in October, whereas Champ has been recovering from an operation to correct his breathing and is set to be thrown in deep for his first outing outside novice company. Allaho, closely matched with them both on their RSA Insurance Chase form, failed his first big-league test in the Punchestown fog earlier this month.
Awaiting them in the Savills are last year's winner Delta Work, whom trainer Gordon Elliott maintains is a Gold Cup horse, his revivified new stablemate Presenting Percy and the 2018 winner Kemboy – all representing the old-ish guard in this division.
Plus, there's the intrigue of Samcro, Melon and A Plus Tard potentially trying three miles for the first time. (Stop right there if you're contemplating tweeting me about Melon finishing a distant 12th in the 2019 Grande Course de Haies d'Auteuil. You know very well what I mean.)
In a very different way to the King George, this, too, has the makings of an utterly compelling contest. Merry Christmas!
NOVICE CHASERS
This division really gets pumping over Christmas, with a series of Grade Ones and plenty of other informative clashes on the horizon, but there were still some performances to note from the past week.
It was great to see the well-regarded Captain Guinness back on track, in every sense, at Punchestown last Friday after he was found to be suffering from a heart problem when pulled up behind Unexcepted on his chase debut at Tipperary last month.
In a beginners' chase, he led from start to finish and jumped well, bar for getting in a shade close to the last, to beat Midnight Run by almost five lengths. The runner-up deserves some credit, too, as he finished miles clear of the rest and this appeared a large step forward from his chase debut behind Asterion Forlonge at the same track in November.
"He took a little blow turning in, so hopefully he will come on from that," winning trainer Henry de Bromhead reported. "Obviously, he was very disappointing the first day and hopefully we can keep the heart right. Rachael said it's very testing ground and she thinks he'll be better on nicer ground.
"He did a piece of work since Tipperary and worked well. He's just been tipping away since and we keep monitoring the heart. Certainly, before and after he runs now, we will always check his heart."
Captain Guinness would have returned at the Punchestown meeting partly lost to fog two Sundays ago and this reschedule race comes a little too close to Christmas for de Bromhead to consider taking up his entry in the Grade One Racing Post Novice Chase at Leopardstown on Boxing Day. A re-match with Unexcepted in early January could therefore be on the cards, with the Irish Arkle to follow if all goes well.
Something of a headlong character, Captain Guinness had surely done too much when hampered at the third and second last in last season's Supreme, ending up on the deck due to the latter incident. Here, the dashing nature of his jumping was notable and he shaped like a bang two-miler.
With reference to this division and its Christmas contests, it's worth mentioning Sizing Pottsie's comfortable success in a supposedly competitive handicap at Fairyhouse last Saturday from a mark of 149. Although he no longer retains novice status, his exploits pay a handsome compliment to Felix Desjy, who beat him at Punchestown last month.
At Cheltenham on Saturday, Fusil Raffles ground out victory in the 2m4f novices' chase while his more fancied stablemate Chantry House looked sluggish at his fences and could never get involved. Lieutenant Rocco, who actually jumped and travelled best for most of the race, split the Nicky Henderson-trained pair and shaped with promise for handicaps when stepped up in trip. Quel Destin, who was pulled up, surely has a problem.
Fusil Raffles was conceding weight all round and bouncing back from a poor run at Cheltenham's November meeting, when he was pulled up and soft ground was blamed. Yet it was certainly soft on the New Course on Friday, so perhaps switching to a more galloping track was pivotal. His trainer sees him as a Marsh Novices' Chase candidate and plans one run beforehand.
This effort supplants – at least for now – previous Ascot winner Chantry House in the Seven Barrows pecking order for that Festival race, but his rider Nico de Boinville said he struggled to jump out of the ground and was slowly away from his fences as a result.
Another collateral formline worth mentioning is Le Patriote's success at Hereford last Friday, where he dispensed with error-prone chase debutant Elixir De Nutz by 15 lengths – although things might have been interesting had Fast Buck (another of Paul Nicholls' acquisitions from Willie Mullins) kept his feet two out. Le Patriote had previously finished a distant third behind subsequent Sandown disappointment, Eldorado Allen, at Cheltenham.
Of course, the star turn in this division last week was Chatham Street Lad, who dismantled the Caspian Caviar Gold Cup Chase by 15 lengths. This was a revelatory performance from a horse who – perhaps terrifyingly from a British perspective – appeared hitherto unconsidered among the upper ranks of Irish novice chasers. Taken literally, this success puts him bang in the Marsh Chase picture.
In Doncaster's December Novices' Chase, Hurricane Harvey appeared to relish the step up in trip as he needed every inch of the track until the second-last fence to master the likeable Milansford and land that Grade Two event.
Afterwards winning trainer Fergal O'Brien frankly described him as "not a natural" but clearly regards his innate ability quite highly, as he had been considering a shot at the Grade One Kauto Star Novices' Chase at Kempton's Christmas meeting but feels it "might come a bit soon".
"He takes a bit of work and we do plenty of jumping with him at home," O'Brien said. "He's honest, goes on any ground and gets the job done."
I wouldn't be inclined to mark the form down because of the proximity of the runner-up, who looks like an excellent staying-handicap recruit to chasing from Pointing. Equally, it didn't strike me as Grade One stuff.
I very much enjoyed the victory of Happygolucky in Cheltenham's extended 3m1f novices' Chase last Friday – he's my kind of chaser. This was a new career high, stepping up to a trip that has long threatened to suit ideally, but he was paddling a shade up the hill after putting the race to bed decisively between the final two fences.
Trainer Kim Bailey plans to take him to Warwick next, for next month's Grade Two novices' chase that he won with Two For Gold last season, and the emphasis that track places on jumping should suit ideally. His trainer also mentioned the Festival, but in terms of the National Hunt Chase rather than the Contest Formerly Known As The RSA.
Back in second, The Mighty Don picked up the pieces after being unable to get involved in the meat of the race. Although he's not the most convincing jumper, this former high-class hurdler would relish a marathon trip at a galloping track with less demanding fences.
Third-placed Hold The Note – a second-season novice, who was third in the now-defunct Northern Trust Novices' Handicap Chase at last year's Festival – responded positively to a first-time visor but continues to shape as though better over a shorter trip.
If Happygolucky ends up in the NH Chase, he could encounter Court Maid – previously the wide-margin Porterstown Handicap Chase winner – who could manage only third in a Cheltenham handicap on that same Friday card.
It was a quick turnaround from Fairyhouse and, in-running, the mare appeared to have no chance of bridging the gap to the long leader Storm Control, perhaps explaining the circumspect view that Robbie Power appeared to take from three to two out. Of course, circumstances quickly changed when the winner lost concentration and pulled himself up on the hill, only to rally cheekily when he sensed the cavalry coming.
The mare was therefore very much flattered to finish so close, but she is exactly the type of grizzled competitor who wins a NH Chase. This was her 24th career start, albeit she's still a novice over fences. She's 16/1 with Bet 365 and worth a small interest at that price, if you can get it. She's 10/1 in most other places.
JUVENILE HURDLERS
The week's best performance in this division took place at Doncaster last Saturday, rather than at Cheltenham or Fairyhouse that same day. It came from Monmiral, who won the Grade Two Summit Juvenile Hurdle and maintained his unbeaten record after travelling strongly and jumping fluently with a good, efficient technique.
He got the second last wrong, losing his back legs briefly as he took the lead off the earlier clear front-runner Gold Desert, but recovered to negotiate the last with confidence. Pushed out firmly to the line, he galloped on strongly to triumph by 11 lengths. Rider Sean Bowen later commented that "he'll be better with a lead for longer – he was just looking around in front".
This was Monmiral's second outing for Paul Nicholls, having previously won both his sole French start for Francois Nicolle and his UK debut at Exeter last month, when he jumped left at times. He hails from the family of La Landiere, who ran up a sequence of seven wins in the 2002/03 season, culminating in the Cathcart. Ah, the Cathcart. sighs nostalgically
Monmiral's victory was not just sweet to the eye but also on the figures. He clocked marginally the quickest overall time of the three two-mile hurdles staged at Doncaster that day. The other two being his more experienced stablemate and an improver in his own sphere, Wild Max – a five-year-old carrying 11-4 from a mark off 138, with a 7lb claimer riding – in the handicap hurdle and the inexperienced five-year-old L'Incorrigible, carrying 10-12 in the novices' hurdle.
All three ran remarkably similar fractions but three-year-old Monmiral was carrying 11-3. Mark Olley, the British Horseracing Authority handicapper who assessed this race, has understandably introduced him on an official mark of 143. That pegs him only around 2lbs behind what Zanahiyr achieved last month, when beating Saint Sam by 15 lengths at Fairyhouse, on BHA terms - which I think undervalues the Gordon Elliott-trained winner.
It might be that Zanahiyr has more race craft than Monmiral at this stage in their respective careers, but Doncaster undoubtedly upheld Nicholls' pre-race estimation in his betting.betfair column that this juvenile is "smart". He's currently best of British.
Given his trainer's front-foot attitude, you'd wager he's more likely than not to run in the JCB Triumph Hurdle – future dual King George winner Clan Des Obeaux ran in it, after all, and finished sixth for the yard in 2016. That makes the existing 16/1 for the Festival too big.
Nicholls' competitive instincts could well see Monmiral pitching up in the Grade One Finale Hurdle at Chepstow on Sunday week. If so, he's likely to meet Nassalam there – the Gary Moore-trained juvenile, who strolled to a second processional success at Fontwell last week (albeit jumping left throughout) and looks a high-quality recruit.
Prior to entering recent Sandown winner Elham Valley at Cheltenham last Saturday, and then withdrawing him after he failed to eat up, trainer Fergal O'Brien had also mentioned the Finale as a possible target. However, he looks several cuts below either Monmiral or Nassalam on form to date.
In Elham Valley's absence, Adagio found Cheltenham's JCB Trial a straightforward matter. Patiently ridden, Tom Scudamore produced him between horses approaching the last, which he jumped soundly before running on strongly up the hill. Unlike the later International Hurdle, the juveniles took in all eight obstacles and recorded a much slower overall time, starting more steadily and yet scarcely making any time up on Song For Someone's fractions.
This defeat of the relatively experienced Historic Heart – who was a shade better for first-time cheekpieces – and recent Newcastle winner Son Of Red was by no means top-drawer stuff, although it's fair enough for trainer David Pipe to suggest he was played too soon in sapping ground at Cheltenham in November when outstayed by the Gordon Elliott-trained Duffle Coat.
"Hopefully, he's progressing with each run – he's not short of pace," Pipe added on Saturday. "He's very professional and Scu's ridden a patient race. He's won nicely in the end. I expect we'll all want to go to the Triumph, but he could get an entry in the Fred Winter."
The latter target – the Festival's juvenile handicap, sponsored by Boodles, that will be staged on the Tuesday in 2021 – looks a great deal more realistic than the Grade One. Neither Elliott nor jockey Robbie Power disguised the sense that Adagio's Cheltenham conqueror, Duffle Coat, is down the yard's juvenile pecking order – behind Zanahiyr and presumably also Down Royal winner Quilixios, whom we might see in the Grade Two Knight Frank Juvenile at Leopardstown on St Stephen's Day.
Fairyhouse's juvenile contest last Saturday offered a chance to tether the form of Willie Mullins-trained Youmdor's Gowran success of last month to something more solid. The third and fourth, Complete Fantasy and Toughari reversed form with each other, but both finished behind the improving Peckham Springs in what appeared an unremarkable event.
Selections:
Advised 02/12/20: Zanahiyr at 5/1 (general) for the JCB Triumph Hurdle