Watch analysis of Sea Of Class and Lah Ti Dar from our team at York and read Andy Stephens' report from the Knavesmire.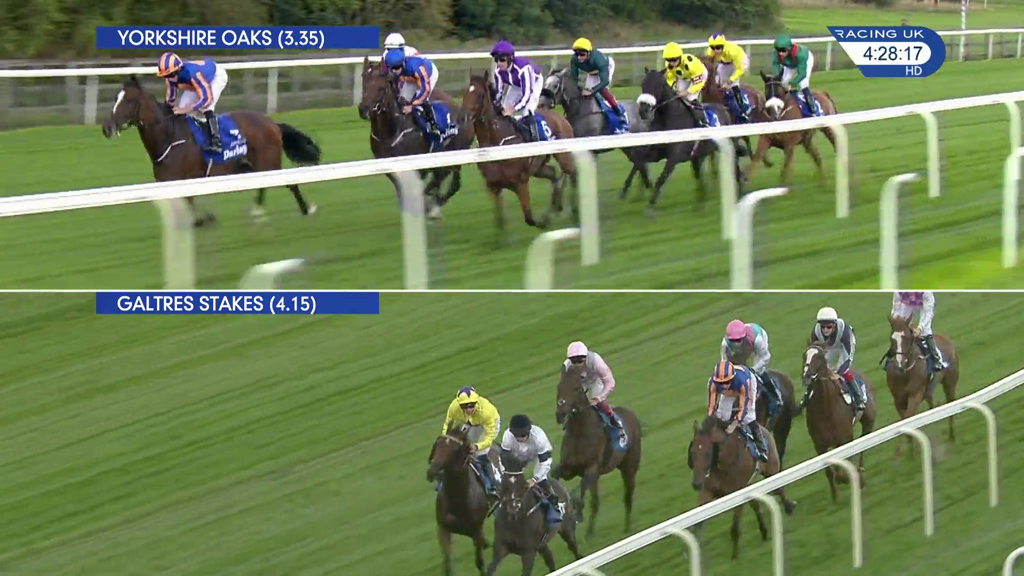 York boasts 356 pubs and there will be debate in plenty of them on Thursday night about which of Sea Of Class and Lah Ti Dar put up the most striking display on the Knavesmire earlier in the afternoon.
The buzz that Sea Of Class created when sauntering to victory in the Darley Yorkshire Oaks had just calmed when Lah Ti Dar turned the next race, the British EBF & Sir Henry Cecil Galtres Stakes, into a procession.
Neither of the triumphant trainers, William Haggas and John Gosden, would commit to definite future targets.
But it seems long odds-on that Sea Of Class will be supplemented for the Prix de l'Arc de Triomphe for which she is the new 5-1 favourite and, if Frankie Dettori's opinion counts for anything, then Lah Ti Dar will be bound for the St Leger.
Dettori, who had earlier ridden Mark Johnston's record 4,194th career winner in Poet's Society, is adamant that the final Classic of the season is tailor-made for the daughter of Dubawi, who galloped on remorselessly to thump admittedly inferior rivals by ten lengths on her first start in more than three months.
Sea Of Class carried 8st 12lb and covered the mile and a half of the Knavesmire in 2min 30.44sec. Lah Ti Dar was burdened with 4lb more over the same course and distance but won in a time just 0.78sec slower.
When the season began few, if any, would have heard of either as they were unraced as juveniles.
Instead, just about every racing fan in the land was salivating at the heights stablemates Enable and Cracksman might achieve in the middle-distance division.
But a day can be a long time in the life of a racehorse, let alone a period of months, and as we approach the autumn Enable (herself a dazzling Yorkshire Oaks winner 12 months ago) has still to be sighted on a racecourse this year because of injury and Cracksman's reputation - and rating - has dipped rather than been elevated.
The pair still might meet in the Arc but, if they do, they will surely have a new kid on the block to deal with in the shape of Sea Of Class.
Haggas said: "She's not in the Arc yet and I stress it is a 'yet'. There is a lot of water to pass under the bridge, but I imagine Mrs Tsui [the owner] will be keen to pay the supplementary fee.
"The plan is to keep her in training next season, but if she won everything this year then it might be different."
Has ever a horse been better named?
Sea Of Class swept through from last to first at the Curragh last month without James Doyle using his whip and the jockey was at it again.
The 30-year-old resisted reaching for his stick even when she did not immediately quicken when he shook her along approaching two out but, once she engaged top gear, she strode clear in exhilarating fashion.
The winning margin in Ireland had been just a neck but this time she had two and a quarter lengths to spare over a rock-solid yardstick in Coronet.
Haggas says how Sea Of Class fares for the rest of the year could have a bearing on whether she stays in training as a four-year-old.
He grew frustrated only once, when mention of the filly skipping the Oaks was brought up.
"It's in the past, don't keep talking about it," he said. She missed Epsom because of a combination of inexperience/soft ground and Doyle was also anxious about her not being streetwise enough.
"Because we waited, that's why are seeing the horse we are seeing," he said. "We could easily have lost her."
Gosden's midsummer headaches with Lah Ti Dar were of a different nature. She suffered from what he described as "a strange viral problem" that no other horse in his yard was affected by.
"Her bloods were all wrong and she was very down on herself. She was very ill," he said. "She missed a long hot summer and she's a fresh filly for the autumn with plenty of ability.
"She did everything right today. Frankie got off and said 'she's got to run in the St Leger'.
"I said I think we'd better discuss it with all the owners and management but he was emphatic about it and often the feel a jockey gets when they immediately jump off a horse is the one to listen to. She certainly stays well, doesn't she?"
Gosden admitted to being impressed by Sea Of Class half an hour or so earlier, her victory being achieved at the expense of his reliable Coronet, who Gosden said would be freshened up and targeted at the Fillies & Mares race on Qipco British Champions Day at Ascot.
"I think she's (Sea Of Class) a gorgeous filly," he said. "The Arc is shaping up with the horses from England and Ireland. We are very happy with our two main ones, Cracksman and Enable, so let's hope we all go there and make a race of it."