Wesley Ward is delighted to be back in Britain as he saddles another strong team of runners for Royal Ascot next week.
It is 12 years since the then little-known American became the first US-based trainer to land a winner at the showpiece meeting, with Strike The Tiger claiming a 33-1 victory in the Windsor Castle. The following day, he sent out Jealous Again to win the Queen Mary Stakes.
The outbreak of coronavirus meant Ward was forced to watch on from his base in Kentucky as Campanelle provided him with a fourth Queen Mary win and an 11th Royal Ascot triumph overall under Frankie Dettori last summer.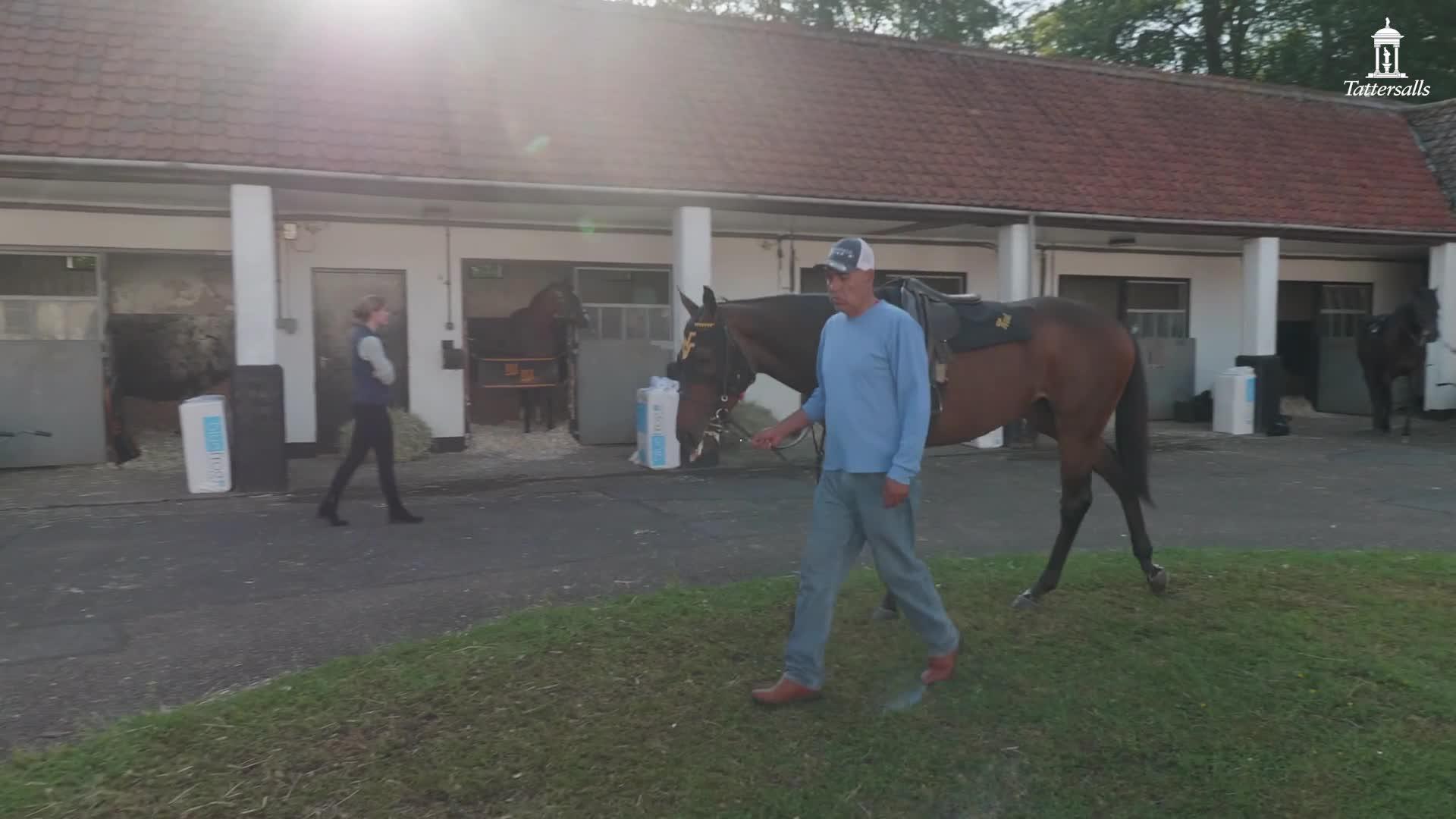 Campanelle was purchased at Tattersalls in Newmarket
But the relaxation of restrictions means the popular handler will be on course this time – and with fast ground forecast, confidence is high that he can add to his tally.
"The sun is shining, and the horses are looking fantastic, so we're golden at the moment," said Ward. "The horses have settled in really well and I feel I have a strong squad. They have all proven worthy of bringing over, thanks to the performances back home, and now it is just a question of whether they are good enough. They are certainly going to bring their A-game to the table, although whether that is up to the level of their competition, we are going to find out."
A team of nine horses has made the trans-Atlantic trip, including seven two-year-olds.
The first juvenile in action will be Kaufymaker, who will bid to become Ward's first winner of the Coventry Stakes on Tuesday.
Ward added: "We're going to head to the Coventry with the filly (Kaufymaker), and she will probably tell the tale.
"All the two-year-olds are training great, but if you were to line them all up, she would be the one that would be in front – that's going six furlongs, I'm not sure about five.
"I think Kaufymaker will be a good measure of how my horses are going to run. If she wins then we'll be tough (to beat) – and if she gets beaten then we may be outclassed!
"I am really excited by Kaufymaker. She is bred by a wonderful owner of mine and was raised on my farm in Florida. She is similar to Strike The Tiger in that respect.
"She won on the dirt at Keeneland and then when we worked her on the grass, she took to it like a duck to water. Of all the workers I have had on the grass coming into the meeting, she has risen to the top. That is why I am giving her the biggest assignment. The Coventry Stakes is a race I have been dying to have a real big chance in and I think she is going to give me it. She is the best I have and that is why I am putting her in here.
"She has a big, long stride and I think it is a bit of an advantage at this time of the year to have a filly against the colts. If you look at all the times of the races over the years, especially in the States, the fillies are always faster. The same applies to the breeze-ups for the most part. It is like boys and girls in school – for whatever reason girls mature that little bit faster."
Ward confirmed running and riding plans for the rest of his squad, with American ace Johnny Velazquez travelling to partner the majority.
Ward said: "We've got Kaufymaker and Maven in the King's Stand on Tuesday; then on Wednesday we've got Twilight Gleaming in the Queen Mary, and both Ruthin and Napa Spirit in the Windsor Castle.
"On Thursday, in the Norfolk we've got Lucci and Nakatomi, and on Friday we've got Campanelle in the Commonwealth Cup and Golden Bell in the Albany – that's the line-up.
"Johnny is riding all of them, except for Napa Spirit and Campanelle, who will be ridden by Frankie (Dettori), and Nakatomi will be ridden by Oisin Murphy. Johnny arrives today. He's doing fantastic and is really looking forward to coming over again."
Campanelle is a leading fancy for the Commonwealth Cup and Ward said: "She was purchased at Tattersalls and brought back over to the States to be broken and trained. She had her initial debut over there [America], which we won, and we then brought her back over for Ascot and then also for France where she won the Prix Morny.
"She has mentally developed [since last year]. She's well-travelled and seasoned. You can see where she's really matured and settled in now. She's carrying her weight a lot better this year."
He added: "The goal for Campanelle since the Breeders' Cup has always been the Commonwealth Cup. We sent her down to Barbara Banke's farm in Ocala and she was prepared well by Ian Brennan. She was sent back to me and did some eye-opening breezes down in Florida.
"We then moved her back to Keeneland where she looked like she was going to be something but the day before her prep race she must have bruised her heel on a rock. We gave her a little time to get those heels back in order and every work she has done since has shown that she belongs in this race. Frankie worked her last Sunday and was all smiles when he got off her.
"The fact she has not had a prep race is no issue at all for me. My sprinters generally come off the bench fresh and fire first time out. Stayers generally need a run to bring them where you want them, but these sprinters almost run better first time out.
"Everything about this race looks real suitable for her. We know she likes the track and the distance, and even if the bit of rain materialises towards the end of next week, which I saw on the forecast this morning, she won't mind it."
Touching on his other runners, he said: "In regard to Twilight Gleaming and Ruthin, sometimes you have to readjust because of what you see from them in their workouts once they're over here. With both horses being owned by Barbara Banke of Stonestreet stables, you have to go with what you see. To me, Twilight Gleaming might be a shade better, which is why she is going for the Queen Mary Stakes and Ruthin will slot in for the Windsor Castle Stakes alongside Napa Spirit. We are going to use a figure 8 bridle and tongue tie on Ruthin, to help her get some more air, and I think that could make a big difference to her.
"At home, we have been working Lucci and Nakatomi together. Nakatomi was coming out on top, but then they had a workout in Newmarket on the Limekilns and Lucci turned the tables. He just bounced straight through to the front and would not give up the lead. They will both go for the Norfolk Stakes.
"Golden Bell goes for the Albany Stakes. She is actually one I would not mind a bit of dig in the ground for, which is not something you would usually here me say. The night before she worked at Keeneland, we had quite heavy rain, and she just flew through the ground. With her and Campanelle, I might have to do a little rain dance the night before!"
Get a FREE Racing TV Sports Jacket! Click here for more details.