The horse who once carried a health warning for those attempting to exercise him is a reformed character still mixing it with the best at the veteran stage of his career, Andy Stephens reports
Leopards may not be able to change their spots, but horses can. Judicial carried a health warning in his younger days but the sprinter is a reformed character and on Saturday he will attempt to add another chapter to his remarkable story when he returns to the track where it all began for the bet365 Hackwood Stakes at Newbury.
There have been few dull moments since Judicial's first day on the racecourse, six years ago, when he split fellow debutants - and future stallions - Strath Burn and Profitable. He was belatedly awarded that race when the winner was among several horses at the time to be disqualified after eating feed contaminated by poppy seeds. By that time Judicial had already gone one better, making him the rarest of things in the equine population: a two-time maiden winner.
Three wins from three races as a juvenile, when trained by Roger Charlton, masked the fact that he was already gaining a reputation as a complex character and a gelding operation at the end of that year didn't rectify that. He ran just once in the summer as a three-year-old, trailing home last in a big field at Goodwood, and Charlton suggested a switch to a smaller yard may benefit him.
Camacho trained less than 20 horses at her Yorkshire base at the time and was the recipient. Her long-time husband and assistant, Steve Brown, picks up the story.
"Roger recommended Judicial might be better in a smaller environment because there were one or two instances of poor behaviour at Beckhampton and that he was possibly going the wrong way a little bit," he said. "When he arrived with us he was very strong, very strong-willed. He had his own way of doing things and you would be a little bit guarded about riding him. There was a slight element of danger attached.
"Roger was forensic in the detail of what he thought might work and be helpful. We stuck to it rigidly and, like all these things with horses, if you are patient enough it improves over a period of time, but with him we are talking years rather than months. Then, suddenly, it's like flicking a switch: he's become this lovely character that everyone would look forward to riding.
"Over the years I think he has learnt to work with us, to the point now that if you ask the lads he's probably one of the best rides in the yard. Credit must also go to Nicola Scathard, who has looked after him since day one here. As time has gone on he has become more amenable.
"He's a pleasure to have around the place, although he always has been. He's never been a problem as a person, it was more just the riding and exercise part of things that could be tricky. We feel very blessed to have him and he's given us some great days. Hopefully, there are still more to come."
Judicial will line-up under Callum Rodriguez at the weekend having won 15 of his 37 races. Brown identifies him as an all-or-nothing performer, which probably accounts for him being placed on only four other occasions. He has a penchant for stiff tracks with uphill finishes and is the course record holder over five furlongs at both Beverley and Pontefract.
Indeed, if you group together all his performances at Beverley, Pontefract, Sandown and the July Course at Newmarket his form is a compelling 111111. Newbury's flat terrain is probably less ideal but was an obvious next stop after a dirty scope ruled him out of last week's Darley July Cup.
Brown said: "His pre-race scope before the July Cup wasn't 100 per cent. We took the decision to give him a five-day treatment rather than run him. That seems to have worked the oracle. We've got a little penalty to carry, but we've earned it so we don't mind that."
Judicial wins last year's Beverley Bullet
Since 2014, a year has never passed without the Elite Racing Club flagbearer winning at least one race and he has been a good friend to the 9,500 or so syndicate members who have been loyal to him. Wins at 20-1, 16-1 (twice) and 14-1 mean that any of them placing a £10 win bet on him every time he has run would have made a profit of more than £680.
He has spent much of his career racing over the minimum trip but looked better than ever when landing the Group Three Chipchase Stakes over six furlongs at Newcastle on his latest start. His rating has risen to a career-high of 110 ahead of his assignment at the weekend.
"He seems to have found a little bit of improvement for going up a furlong," Brown said. "He's much more settled than earlier in his life, allowing his jockey to put him where he wants to be in a race, which has not always been the case. He's more tractable and obviously that helps conserve energy for when it's required.
"He settled beautifully at Newcastle, where the six furlongs takes some getting. The time of the race wasn't great but it was run in awful conditions – driving rain and blowing a gale. He stood up to it well. When he gets to the front he doesn't do much and I'd say that he was maybe good value for the length and a half he won by. He gets there, goes clear and thinks that will do.
"He's a happy horse and thriving. I'm not sure we've seen the best of him yet over six furlongs."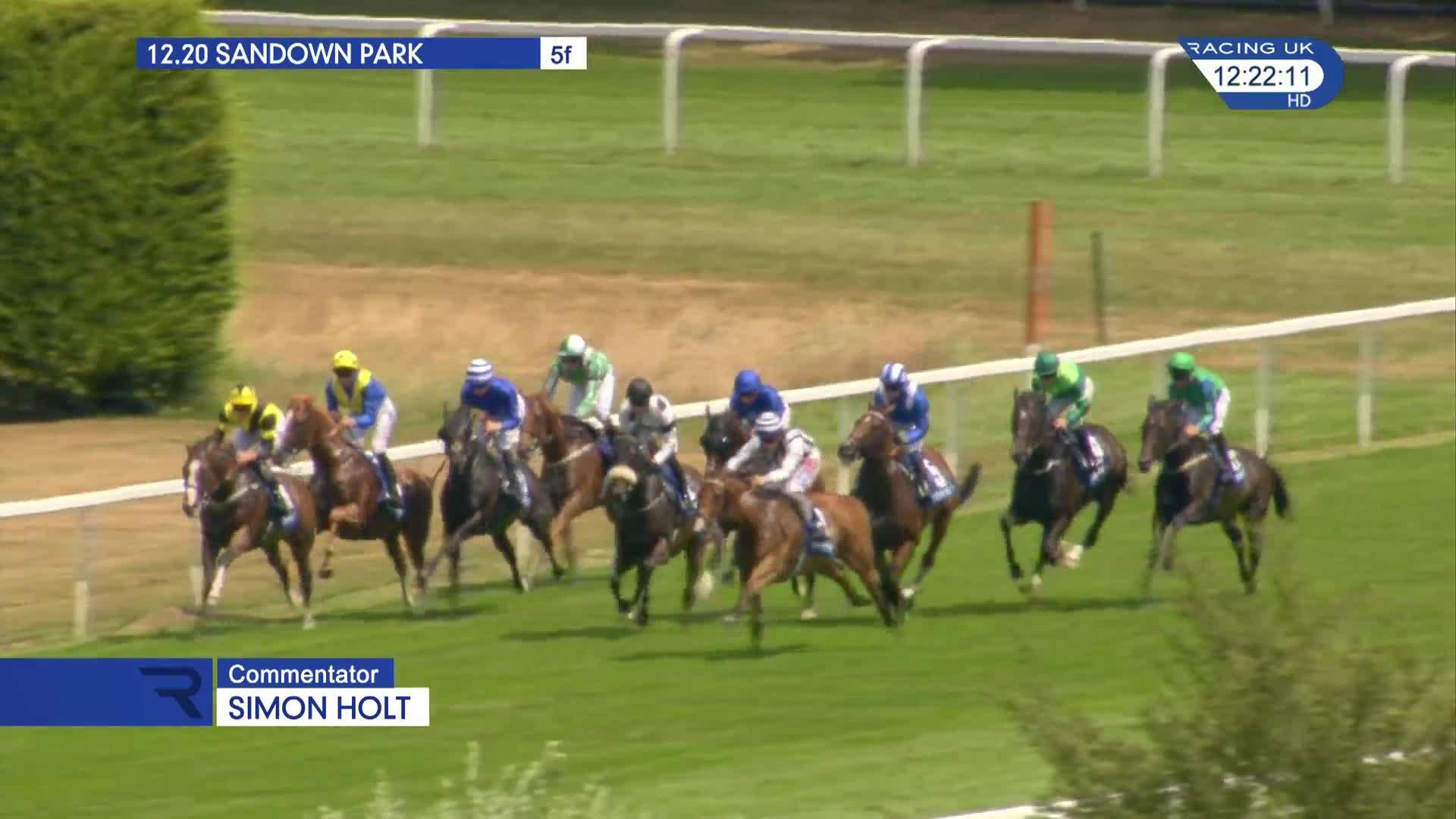 Judicial wins the Group Three Coral Charge at Sandown in 2018
Judicial is 5-1 favourite with the sponsors for Saturday's race and, if he fails, it will not be because of a lack of stable form. The wellbeing of the yard, which Camacho took over from her father, Maurice, more than 20 years ago, has been further advertised by the recent victories of Edgewood, Big Les and Lyons Lane. Brown said: "We are having a good little run, thankfully, which makes life a bit easier and enjoyable for everyone."
He says his fondly remembered days working with Luca Cumani in the mid 1990s were enlightening and on training in general said: "It's like one big Rubik's Cube. You are always trying to work it out to get the right result. That's the beauty and the challenge of these magnificent creatures.
"No matter what level they are at, we try and treat them all the same and give them all the same opportunity. They all have a similar routine, for all that we tweak one or two, but on the whole it's just a big puzzle. Sometimes you get the right result, and sometimes you don't."
The right result on Saturday would be a sixteenth win for the horse who was once such a handful but, aged eight, can still mix it with the best around. "When we first got him we probably had 16 or 18 horses, whereas now we've got 35," Brown said. "He's done great things for us and raised our profile a touch. He will always have a fond place in our hearts."