Mark Johnston, Britain's winning-most racehorse trainer on the Flat, talked listeners through his record-breaking career as he appeared on BBC Radio 4's Desert Island Discs.
In conversation with Lauren Laverne, the 60-year-old Glaswegian touched on his humble beginnings, his previous career as a vet and on his relationship with his wife Deirdre.
Raised on an East Kilbride council estate, Johnston hails from a family with no prior experience with horses or connections to racing.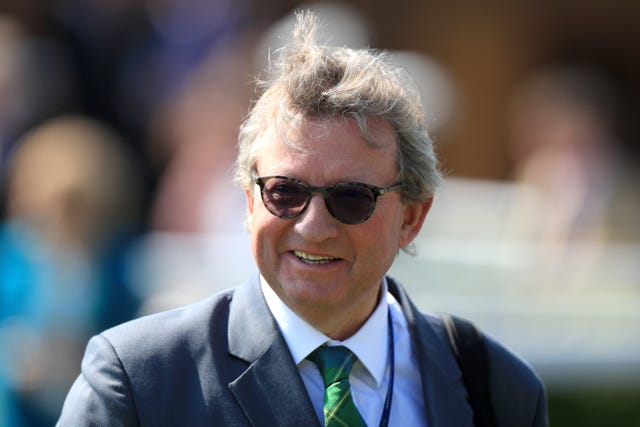 Despite this, Johnston became enamoured with the sport after joining his father on weekend trips to the bookmakers shop.
"I suppose that's what first got me hooked," he told Laverne.
"The turning point was when my dad bought a horse and put it in training when I was about 14 and then he also dabbled with breeding horses.
"He was buying at the lowest level. I think the first mare he bought was 110 guineas and he would send them to cheap stallions and dream of breeding a Derby winner. He didn't even breed a selling plate winner, sadly.
"I often joke that he taught me how not to do it – in fact he certainly did teach me how not to do it – but he passed his passion for it on to me and that's what made me decide at quite an early age that training horses was what I wanted to do."
Having spent his childhood initially in Glasgow and then latterly in East Kilbride, one of Johnston's selections was a song he felt captured the culture of the city – fellow Glaswegian Paolo Nutini's 2009 hit 'Pencil Full of Lead'.
Johnston's first Classic winner was the colt Mister Baileys, who won the 2000 Guineas at Newmarket in 1994 after claiming the Royal Lodge Stakes at the same track and the Vintage Stakes at Goodwood the previous season.
Asked by Laverne if the victory was a game changer for the trainer, who was at that point based in Lincolnshire and under significant financial strain, he replied: "It was a game changer, very much a game changer.
"We could buy another yard and we could keep going. It was onwards and upwards from there, but that was a very sticky period in the early nineties.
"We had borrowed quite a lot of money from the bank and it was very, very tight. It doesn't seem like a fortune now with the scale of our business, but we owed something like approaching £20,000 in VAT and we didn't have any money to pay it. We were in serious trouble and that was the point we thought it was going to end.
"We couldn't afford to stop – we had to have runners, we had to have winners."
One of Johnston's most prolific horses was the 10-times winner Attraction, who was victorious in a procession of Group races, including both the English and Irish Guineas in 2004.
"Her limbs were sort of off-set at the knees and she had this shuffling gait," he said of the filly.
"My first stable jockey was Bobby Elliott and he rode her in a gallop in the April of 2003. She was unnamed at the time and he said 'this is not half bad, you better get it named quickly'.
"So we did, she won first time out. She won again on her second start, then she went to Royal Ascot and won a Group Three race and then to Newmarket and won a Group Two race. This is all as a two-year-old.
"After that she fractured a hind pedal bone and there were grave doubts through that winter as to whether she'd come back as a three-year-old and continue to race. So we decided we'd shoot straight for the big one and go straight to the 1000 Guineas at Newmarket."
Johnston cites the race as one of the few times he has been affected by the pressure of training and the expectations of owners.
"A lot of owners, maybe some trainers, seem to get very down in defeat. I don't get that down. Provided the horse comes back in one piece, there'll be another day.
"But there are those big races where you really believe you've got the best horse and you'll be disappointed if it comes second. I would feel that I had done something wrong, I was certainly nervous when Attraction went to the 1000 Guineas."
The many highs and lows experienced by a trainer inspired one of Johnston's other song selections, with the Scot choosing the Dixie Chicks' 'Not Ready To Make Nice'.
He said: "I get hate mail on occasion, emails and text messages. Usually when a favourite is beaten, some of them can be quite nasty. During the Iraq war – the Dixie Chicks, the lead singer made a statement somewhere in Britain. I think at a concert, and she said 'not everybody from Texas supports the war, we're from Texas and we don't support the war', and they had death threats.
"It brings everything into perspective for me, this song, 'Not Ready To Make Nice', was a bit of a comeback song for them and it makes me realise that there's people a lot worse off than me in that sense."
Johnston reflected on his unlikely rise to prominence in a sport often inhabited with those born into considerable wealth, explaining that he was not always made to feel welcome by his contemporaries.
"I suppose I never imagined that I would be a part of it," he said.
"I didn't come from a racing background, I didn't know how to get into racing. It was unthinkable for me as a teenager to think that I would brush shoulders with the likes of Sir Michael Stoute. I certainly couldn't imagine socialising with him or staying in his house. Or Joe Mercer, who was the champion jockey at the time, staying in my house.
"I had talked of being a trainer, but I didn't really know what it involved, so I phoned the Jockey Club and I'll never forget the man speaking to me.
"He was secretary to the licensing committee, I said 'I'm a vet in practice' and he said 'just because you're a vet it doesn't mean you can train a horse'. I wish I could meet him now! But at least it sort of flagged up to me that it wasn't going to be plain sailing, it wasn't going to be straightforward to get a trainers' licence."
The trainer's first base did not include any gallops, so horses were trained on a beach that was also used as an RAF bombing range.
"The planes would come over low, they would drop bombs. When Bobby Elliott first came in to ride out, he was getting off one horse and getting on another one when the first bomb went off and he ran for cover. People weren't always so calm about it, but the horses soon got used to it," he said.
"I experimented with things like putting Guinness into the feed and then I tried to put fat into the feed. I bought lard and melted it in a pan and poured it into the feed and none of the horses would eat it. I had lots of crazy ideas like those, we were small and the spotlight wasn't on us so we could afford to make a few mistakes."
Johnston, who chose Alexandre Dumas' adventure novel 'The Count of Monte Cristo' as his book of choice and a pair of binoculars as his luxury item, dedicated one of his song selections to his wife and business partner, Deirdre.
Picking the track 'Romeo and Juliet' by Dire Straits, Johnston said: "Looking back, I don't know how anybody can do it without a partner that works in the business. I certainly couldn't have done it without her.
"We got married on Oaks day, when Oh So Sharp won the Oaks at Epsom. We listened to it on the radio driving from the church to the reception, so we weren't going to miss out even on our wedding day.
"This comes from that, what I describe as a tumultuous relationship with Deirdre while she was at college and I was at university.
"I think I put this on a cassette tape and sent it to her, there's a line in it about not realising it was only the time that was wrong. I think I was right there, eventually the time was right and we got back together."