Tom Peacock spoke to Joe Colliver as the 26-year-old rider gears up to ride Sam Spinner in the Sun Bets Stayers' Hurdle at the Cheltenham Festival for trainer Jedd O'Keeffe.
Joe Colliver and Jedd O'Keeffe after Sam Spinner won in December
(Racingfotos)
By Tom Peacock
Joe Colliver does not seem to be fazed at the prospect of riding one of the most likely winners of one of the Cheltenham Festival's prestige events.
At 26, he has not only fitted in plenty of helpful and less desirable life experience, he has represented his country on the international sporting stage already.
The ride on Sam Spinner, one of the great hopes of a resurgent northern National Hunt scene in the Sun Bets Stayers' Hurdle, should therefore be a walk in the park, particularly with the belief he has in a horse who gave him a breakthrough victory in the Grade One Long Walk Hurdle at Ascot just before Christmas.
"Until probably the Thursday morning, it won't have sunk in what's happening," Colliver told Racinguk.com.
"In some senses I'm glad we've had the snow, it's going to make it a bit softer down there. He's definitely not ground-dependent, it doesn't have to be bottomless but I think it would just play into our favour a little bit. I think he's got a great chance. There aren't any set tactics, he doesn't have to make it, he doesn't have to have a lead. He's pretty straight-forward. If something wants to go quicker than him, I'll let them go quicker. If no-one wants to go on, then Sam Spinner will go on."
Bred at The Glanvilles Stud in Dorset without the most fashionable of staying chase pedigrees, Sam Spinner caught the eye of trainer Jedd O'Keeffe at the Doncaster sales in May 2015 and changed hands for a paltry £12,000.
Nine months later, he was to have a chance meeting with Colliver.
"I'd never even seen him before I rode him on his debut in a bumper at Catterick and I was actually very lucky to get on him.
[(full)Watch Replay](//) Watch Sam Spinner and Joe Colliver win first time out at Catterick in 2015
"He'd been declared at Wetherby the week before and Henry Brooke was down to ride him, but instead he went in an amateur riders and conditionals' bumper so obviously Henry couldn't ride.
"I was very impressed and he just seems to have got better and better, I don't know why really. Jedd just told me he was a nice horse and a bit of a work in progress, but he had certainly taught him plenty."
The pair were to beat the more experienced Raised On Grazeon by a length and a quarter and hopes could start to build.
"He was a big store horse and everyone knows that any horse I have like that never win first time out," O'Keeffe explains. "We are very much of the view that we want them to enjoy the experience and be better for the run, so for him to win like that was great."
(Click here for trends, statistics, history and full replays of the last ten Stayers' Hurdles)
Colliver was to partner Sam Spinner in his second bumper but Brian Harding, who also served as his mentor and jockey coach, was in the plate for the victorious start of the gelding's novice hurdle career at Newcastle.
"Jedd had already said he'd use me if Brian wasn't available, so I was always hoping to get back on him at some stage," the jockey explains.
"I think Brian had an injury and I got back on him at Catterick again. About a week before Jedd said to me 'don't get riding your claim out' as he was running with a double penalty. He carried something like 12st and I only claimed three but it was better than nothing, but by the time he ran I'd actually already ridden another winner at Catterick and lost my claim."
[(full)Watch Replay](//) Watch Sam Spinner win at Catterick in February last year
Once Harding had retired, Sam Spinner was his.
"Joe has been in for a lot of schooling with us and I think the key is that he just hasn't complicated things," O'Keeffe explains. "The horse is so straight-forward and they've definitely developed a good partnership."
Sheffield-born Colliver, who is largely serious but not without a dry sense of humour, reveals his affectionate side when he talks about the white-faced galloper.
"Oh, he's great, you literally just sit on him, steer him, he does everything else. You can't say a bad word about him; you tell him where you want to go and he'll do it for you.
"He's an absolute gent. Wouldn't hurt a fly. He's there in his box and he puts his head over your shoulder if you're stood at the door. He won't pull any faces, most will put their ears back. He's happy enough to see you anyway - one of the only ones that is, I'd say!"
He is still surprised at the improvement his mount has made. "God yeah," he enthused. "I said to Jedd when I first rode him that he's a nice horse, but I'd have never thought he'd win a Grade Three, let alone a Grade One and be favourite for the Stayers' at Cheltenham. Obviously the way he won at Haydock in November you couldn't rule him out, but it just didn't seem real."
If Colliver sounds outwardly calm about Cheltenham, there is a knowing chuckle from wife Andrea in the background when O'Keeffe is asked if he feels the same. A Flat trainer of some repute who recovered from throat cancer, he is now in considerable demand under both codes.
"I think there is a bit of nervous excitement in there," he says.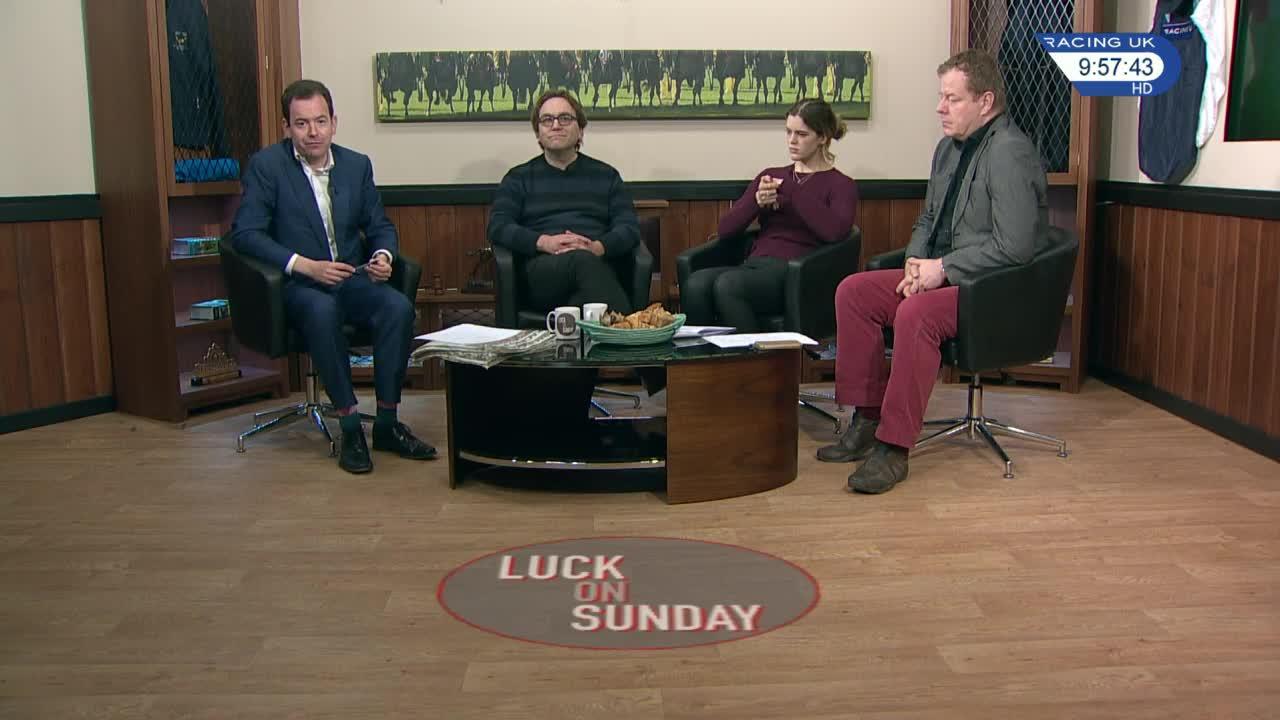 Watch Jedd O'Keeffe's interview in Luck On Sunday
"Even so, there isn't anything more we could do with him. It hasn't always been relaxing with the weather we've had, trying to get him ready, but he hasn't missed any work. We know he's a good horse and hopefully he'll prove it."
The pair both learned their professions with Middleham trainer Micky Hammond, where O'Keeffe served as an assistant for the best part of a decade before taking out his licence in 2000. Colliver arrived in 2008 from the Northern Racing College and worked his way up from stable lad.
Although Sam Spinner's pilot has been riding since he was three, his was not a conventional horsey background.
"My dad was a security guard, my mum rode horses before she had me and my sister, but I don't really know how we came to getting a pony," he recalls. "It kind of turned up in the back garden one day and we had a pony. I remember the first time I sat on it, I kicked it in the belly, it set off and I fell straight off the back of it. I've kind of had the bug ever since!
"I didn't necessarily want to be a jockey but I always had days off to go and do something with ponies, maybe hunting or going off to some event. I always managed to skive a day off school, that was probably why liked it even more."
His specialty was a game called horseball, a sort of fast-paced mixture of polo and rugby.
"I played for Britain and I've been all over Europe playing that but when I got my licence I didn't really have time to do both.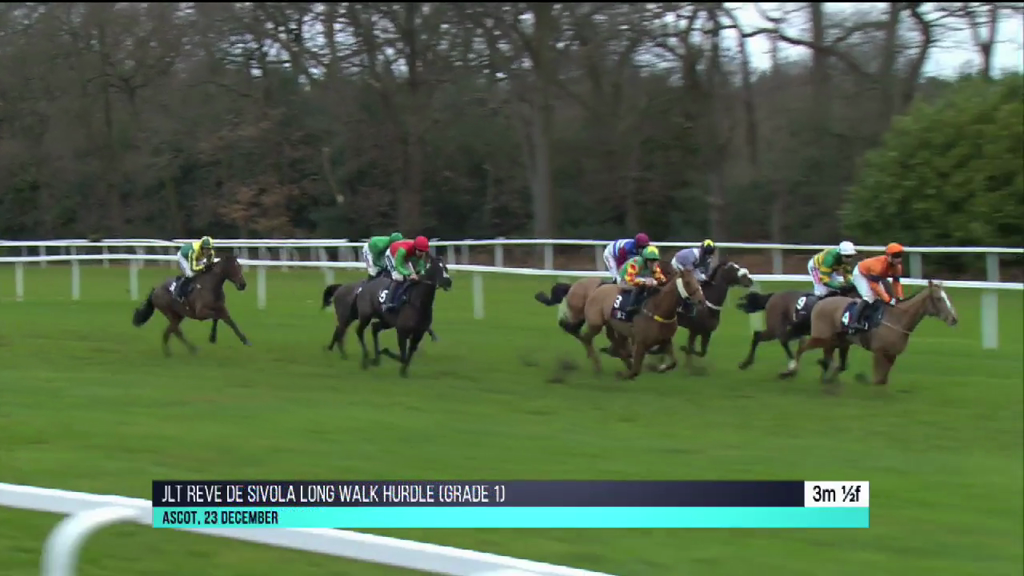 Watch in-depth analysis of Sam Spinner's Long Walk Hurdle win from the Betting Lab
"It was very time consuming, travelling to all these events for a weekend and racing in the week. I couldn't do both and you don't get paid for doing horseball, it's a very expensive hobby, very money-orientated, and luckily mum and dad paid for that.
"They do have a world championships, it's slowly getting bigger and more expensive at the same time. The first time I went abroad, I was about 14 or 15 in France, and I played for the men's squad a couple of times. I kept it going but I'd given it up by time I was 19 or 20.
"My mum actually got me into the racing school. I left school with hardly any GCSEs so it had to be something to do with horses that I had to do. I went to Ian Williams for about three weeks, then Micky's, and I've been there ever since."
As those more familiar with recent racing news will be aware, the tale does not continue neatly on from a first winner in January 2011 to Sam Spinner. In the early hours of Boxing Day 2015, Colliver crashed his car into a wall in Leyburn while twice over the drink-drive limit and fled the scene, later paying an accomplice £2,000 to say he had stolen the vehicle.
The foolish act earned him a 10-month custodial sentence, although he only had to spend three at Her Majesty's pleasure in the end and could resume his job with Hammond.
"Somebody's given me a second chance," he said.
Sam Spinner is a best-priced 11-2 for Cheltenham glory
"I suppose everyone has given me a second chance thinking about it. I'd definitely say I've grown up a lot more. I was probably a bit naive about life before, but I'm a lot more awake now, let's say.
"You get into your routines, the routine of everything that goes on in there. Everyone sort of keeps themselves to themselves really and to be fair I got a job in the gym and I was down there every day from eight until half four, five o clock. It made time pass a lot quicker."
This will not be Colliver's first Festival appearance and he feels he should have already got himself off the mark.
"I had my first ride on a horse called Hollins in the Martin Pipe a few years ago. We finished sixth beaten a few lengths but it was only my 13th ride.
"If I'd had any idea what I was doing, I'd have won. I rode Alderbrook Lad in the same race a couple years after that, and then rode Just Cameron in the Champion Chase when Sprinter Sacre last won it.
"I'd say it'll be slim pickings other than that, although American Craftsman will run in the Fred Winter for Jedd if he gets in."
Slim pickings are all that the bulk of National Hunt jockeys can manage on a daily basis and Colliver is no different. The dozen or so victories he has on the board for this season is roughly in line with his usual standard.
"It would be nice to get more rides and more winners, but it doesn't always work like that, does it?" he said.
"I've been very lucky and very well supported. I've probably just ridden for the people I used to ride before, they've all stood by me pretty well. Hopefully I might get a Cheltenham Festival winner for them."